Rowing Your Boat Gently Down the Streams of River Wonders
The Mandai Wildlife Reserve is a haven for anyone who loves nature, wildlife, and adventure. It has several themed parks, and one that might specifically pique your interest is River Wonders. 
Formerly known as River Safari, River Wonders is a river-themed zoo and aquarium—the first of its kind in Asia! It boasts several cool features, such as a river boat ride, freshwater exhibits, and a section dedicated to pandas (my personal fave).
Curious to know more about this particular zoo? This article has everything you need to know about River Wonders—from what attractions to expect, where to dine, and more.
Things to Know
Address: 80 Mandai Lake Rd, Singapore 729826
Operating Hours: Monday to Sunday—10 am to 7 pm
Background
— From: kumiss_wang
The idea of River Wonders, which was then known as River Safari, started in 2007; construction for the park began in 2009 and ended in 2011. The end product is a park with 12 hectares of space, making River Wonders the smallest park in the reserve.
Despite being smaller than its neighbors, River Wonders is still a pretty popular spot. This is because of its tropical rainforest setting, river theme, and extensive array of wildlife (around 11,000 wild animals and 400 plant species can be found here!). 
In fact, the reserve has reported that River Wonders welcomes one million visitors every year, which is a pretty impressive number.
How to Get There
Bus/MRT: In terms of public transportation, riding both the MRT and the bus is the best method to get to River Wonders. You simply have to take the train to any of the following stations, then hop on a connecting bus:
Khatib (NS14): Mandai Khatib Shuttle
Choa Chu Kang (NS4): Bus 927
Ang Mo Kio (NS16): Bus 138
Springleaf (TE4): Bus 138
Mandai Heartland Express: If you're visiting on a weekend or a public holiday, you can ride the Mandai Heartland Express, which takes you to and fro the reserve and three heartland locations.
The stops are in Heartbeat@Bedok, Sengkang MRT Station, and Our Tampines Hub.
Taxi/Ride-Hailing App: If you prefer riding a taxi or booking a ride from a ride-hailing app, the pick-up/drop-off point is at Mandai Wildlife West. 
Car: If you're driving to River Wonders, the parking lot is at Car Park 2 in Mandai Wildlife East. The rates are S$3 for the first hour and S$2 for every additional hour or part thereof.
If your vehicle doesn't have an IU or cash card, the rate is S$10 per entry.
Park Layout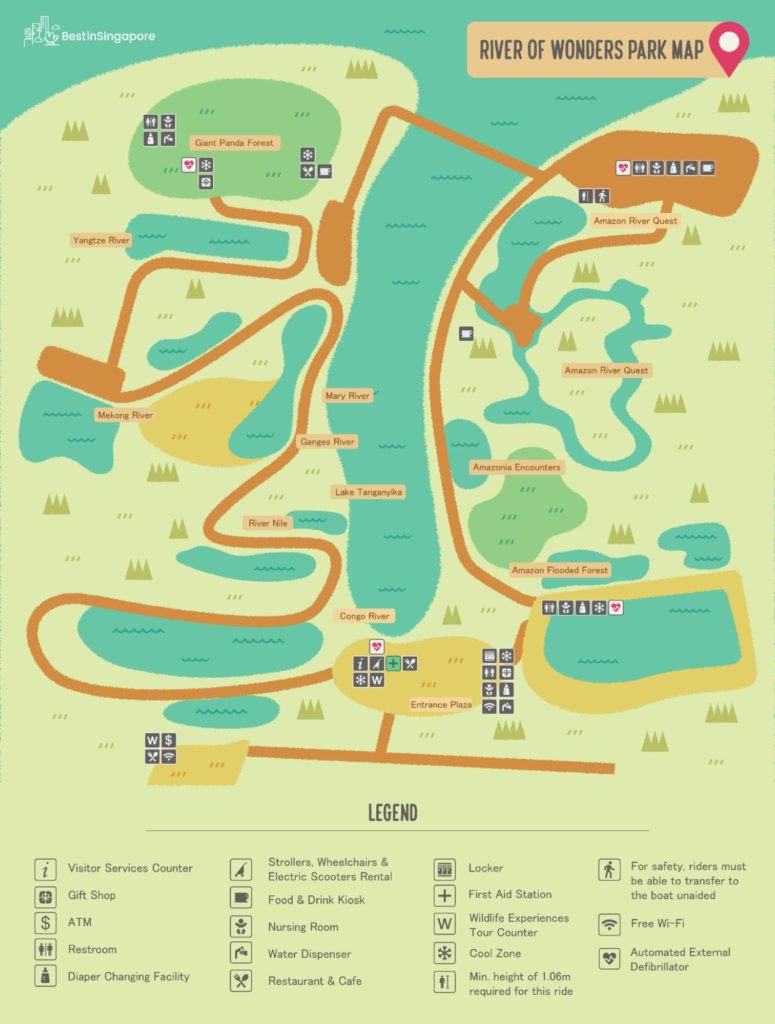 As expected, the centerpiece of River Wonders is a "river" (actually, it's part of the Upper Seletar Reservoir), and the zones and exhibits are located by the riverbanks. The two riverbanks are connected by the viewing deck at the far end of the park.
Currently, River Wonders has 11 zones, each housing certain species of animals. We'll talk more about each zone in the next few sections.
Admission Fee
— From: wisperjing
If you only want to visit River Wonders out of all the parks in the reserve, here are the ticket prices:
Non-Resident—S$42 (adult), S$30 (child ages 3–12 years old)
Resident—S$37.80 (adult), S$27 (child), S$20 (senior citizen ages 60 years old and above)
If you want to visit another park in addition to River Wonders—or even visit all of them—you can purchase multi-park tickets. Here are your options:
Two-Park Admission. With this, you can visit two parks of your choice. It costs S$96 for adults and S$66 for children, and the ticket has a flexibility of seven days.
ParkHopper Plus. With this option, you can visit all parks; it also saves you up to 40%. It costs S$118 for adults and S$90 for children, and just like the previous option, you need to use it within seven days.
Sometimes, the reserve holds promotions that let you save even more when buying a ticket to River Wonders, so keep an eye out for that. I recommend checking the website or their social media to see if there are any active promotions.
Best Time to Visit
— From: bench011860
I believe that the best time to visit River Wonders is between 10 am and 11 am. During this time, the park has only opened, so there aren't that many people yet; in other words, you won't have to contend with queues for the ride.
I would also recommend coming here during weekdays instead of weekends or public holidays. The weekends and public holidays are peak visiting days, so there will be a lot more people here.
What to Expect
Entrance Plaza
— From: kimfamily.travel
Simply put, the Entrance Plaza is the first place you'll come across in River Wonders, and it serves as the main hub. It's here where you can find the visitor services counter, so if you have any questions about the park, feel free to ask away.
It's also in this plaza where facilities like lockers and rentals for strollers, wheelchairs, and electric scooters can be found. And if you ever get hurt for some reason, there's a first-aid section here as well.
River Gems
— From: stillwithcherrxlove
Right next to the Entrance Plaza is River Gems, which is a zone dedicated to freshwater habitats. Here, you'll be able to get a glimpse of the animals and plants that thrive in rivers and along riverbanks.
My favorite things to spot in this exhibit are pearl gourami and pearl danio because they shimmer when swimming. Other animals I like seeing here are the fahaka pufferfish, cardinal tetra, and harlequin rasbora.
Amazon Flooded Forest
On the other end of the Entrance Plaza is the Amazon Flooded Forest, and it's definitely a highlight. After all, it's the largest aquarium in the park; in fact, it's so big that you can view it from different levels!
The atmosphere here is also top-notch. There's a cavern that's dimly lit, with the only light coming from the aquarium, so you'll feel like you're wandering through a forest; meanwhile, walking under the tube tunnel gives the impression of being underwater.
The stars of the show in this exhibit are undoubtedly the manatees and arapaimas; they even have the largest tank all to themselves! Aside from them, I also love seeing the giant otters and even the imposing piranhas.
Congo River
The Congo River is the deepest river in the world; its deepest point is 220 meters! Aside from its depth, the river is also known for its violent rapids, magnificent waterfalls, and, of course, a thriving ecosystem of colorful fish.
To properly honor this one-of-a-kind river, River Wonders has a dedicated zone for it, also named Congo River. This exhibit shows off some of the most vibrant fish you'll ever see, such as the blue cichlid, blue neon cichlid, and lemon cichlid.
You can also spot African dwarf crocodiles here. Even though these crocodiles aren't as big as their fellow reptiles (they can only grow up to five feet), they're still imposing; they're also pretty cute if you ask me.
Lake Tanganyika
Nearby the Congo River exhibit, you can find Lake Tanganyika—another exhibit dedicated to a real body of water of the same name. This lake is the longest and second deepest freshwater lake in the world; it's also the oldest lake in Africa.
Lake Tanganyika was formed when the same tectonic plate that created the Great Rift Valley moved millions of years ago. Because of this unique formation, the lake is home to many species that can't be found elsewhere.
In this particular exhibit in River Wonders, you can spot Tanganyika killifish, Lake Tanganyika sardine, and sleek lates.
Ganges River
— Form: mandaiwildlifereserve
The Ganges River is one of the most popular rivers in the world, and for Hindus, it's the holiest of them all because it's said to be Mother Ganga, the goddess of creation and abundance.
Created after a convergence of Himalayan springs, this transboundary river is about 2,500 kilometers long, and it supports half a billion people daily.
It's also home to an impressive array of freshwater fauna, which is, unfortunately, greatly threatened by pollution.
In the Ganges River exhibit in River Wonders, the main highlight is the Indian gharial. Though it looks like a crocodile or alligator, it's technically not either; though all three are related to each other.
The Indian gharial is critically endangered; it's believed that there are only 200 of them left in the wild, possibly even fewer. River Wonders tries to help protect this species by taking care of several Indian gharials within its premises.
Nile River
— From: ryowatanabee
Another world-famous body of water in the world is the Nile River. It's considered one of the longest rivers in the world, and ever since the Stone Age, it has served eleven countries in Africa, including Egypt, Tanzania, Ethiopia, and Kenya.
Because of its long history, the Nile River boasts a thriving ecosystem of aquatic life, and that's what the eponymous exhibit in River Wonders honors.
The tigerfish is undeniably the most popular fish in the exhibit; it's related to South American piranhas, so it's a powerful predator. Aside from that, it can grow up to a meter long and can eat fish that are half as long with its terrifying fang-like teeth!
Mekong River
A transboundary river in East Asia and Southeast Asia, the Mekong River is sometimes referred to as a giant home for giants because it houses more than 850 species of fish, putting it just after the Amazon in terms of the number of species found.
As if that's not impressive enough, the fish in the Mekong River are huge! With River Wonders, you don't have to travel to the Asian mainland just to spot these river giants!
The massive Siamese carp, in particular, is sure to blow your mind. Other huge animals you can find in the Mekong River exhibit include the Mekong giant catfish and giant freshwater stingray.
Mary River
Named Moocooboola by the indigenous Kabi tribe, the Mary River is a major river system in Australia, and it hs captured the interest of researchers because there are many fascinating animals that are only found here and nowhere else.
For example, there's the Australian lungfish, which gulps air into its modified swim bladder, allowing it to survive in stagnant water. There's also the banded archerfish, which spits out water to kill its prey, and the mudskipper, which can jump about on land.
All these three species can be found in the Mary River exhibit in River Wonders, so be on the lookout for them!
Yangtze River
The Yangtze River is also known as Chang Jiang in China, which essentially means "long river." And it truly is a long river; it runs a length of 6,300 kilometers, making it the longest river in all of Asia; it also holds about 40% of China's freshwater!
This river serves millions of people every day in China, and it's also home to all kinds of animals like Chinese alligators, red pandas, and Chinese giant salamanders. Even giant pandas can be found in the Yangtze Basin!
The Yangtze River exhibit in River Wonders features all these animals as well, so you're in for a treat. Other species you might want to see are ancient sturgeons, grass carp, Chinese softshell turtles, and phoenix barbs.
Giant Panda Forest
Giant pandas are some of the most beloved animals, but unfortunately, they're an endangered species, and they're mostly found in China. Fortunately, River Wonders has the Giant Panda Forest, and it's the largest panda exhibit in Southeast Asia.
This 1,500-square-meter exhibit is designed to simulate the natural habitats of pandas, which is why its temperatures and humidity levels are strictly controlled. There are also lush plantings, boulders, and water features.
Take your time enjoying the sight of giant pandas lazing around or chomping bamboo shoots. Also, keep your eye out for the adorable red pandas!
Amazonia Encounters
Amazonia Encounters is another zone dedicated to the wonders of the Amazon rainforest. It simulates the environment of the rainforest, so strolling here is an immersive experience.
Additionally, you'll come across some of the creatures found in the forest, such as the white-lipped tamarin, golden-headed lion tamarin, and Azara's agouti.
Once Upon a River
Location: Boat Plaza
Timings: Monday to Sunday—11:30 am, 2:30 pm, and 4:30 pm
Once Upon a River is the interactive show in River Wonders, and it showcases many river animals. In this show, a professional hosts a talk about these animals, which then show off their cleverness with tricks!
The best part of this show is that it's interactive, so if you volunteer, you'll be able to direct animals to perform certain actions. You can also pet some of them if you want; I personally really love befriending the capybara and the green iguana.
Amazon River Quest
Admission Fee: S$5 per person
The Amazon River Quest is arguably the most popular activity in River Wonders. This is a boat ride that's designed to simulate a journey along the Amazon River, so be ready to immerse yourself in the wilderness and spot all the animals!
Some of the animals you'll see while your boat meanders through the water are giant anteaters, jaguars, and Brazilian tapirs. These animals might be camouflaged amidst the lush vegetation, so stay alert at all times.
If you're planning to ride the Amazon River Quest, just keep in mind the following rules and regulations:
Riders must be at least 1.06 meters tall. Children who are between 1.06 meters and 1.35 meters tall must be accompanied by an adult.
You're not allowed to ride the boat if you fit any of the following criteria: you're an expectant mother, you experience motion sickness or dizziness, or you have health conditions like heart issues, hypertension, or a back or neck disorder.
River Discovery Tour
— From: rex_cabs143
Timings: Tuesday, Thursday, and Sunday—3:30 pm to 5 pm
Price:
Standard—S$400 per 1.5 hours (Tuesday and Thursday), S$500 per 1.5 hours (Sunday)
WildPass Holders—S$360 per 1.5 hours (Tuesday and Thursday), S$500 per 1.5 hours (Sunday)
Friends of Wildlife/Friends of WIldlife Plus—S$320 per 1.5 hours (Tuesday and Thursday), S$400 (Sunday)
Roaming around River Wonders on your own sounds nice, but if you don't know where to go and what to look out for, you might be overwhelmed. For this reason, you might want to book the River Discovery Tour.
With the River Discovery Tour, you'll accompanied by a tour guide who will take you around the park, all the while educating you about the different animals you pass by. You'll also get priority access to the Once Upon a River show!
The best part is that this tour is for groups, so you can enlist seven more people with you. You know what they say: the more, the merrier!
Manatee Mania
— From: species_with.nadiaa
Timing: Monday to Sunday—2:15 to 3:15 pm
Price:
Standard—S$118.40 per person (Monday to Friday), S$148 per person (Saturdays, Sundays, public holidays)
WildPass Holders—S$360 per 1.5 hours (Tuesday and Thursday), S$500 per 1.5 hours (Sunday)
Friends of Wildlife/Friends of WIldlife Plus—S$320 per 1.5 hours (Tuesday and Thursday), S$400 (Sunday)
Are you a big fan of manatees? Then, you shouldn't pass up the opportunity to try Manatee Mania in River Wonders!
Manatee Mania is like a backstage pass that allows you to get a close-up interaction with manatees. You can watch professionals train these adorable creatures, and if you're up to it, you can even hand-feed them!
Just keep in mind that to book this pass, you need at least one other person with you. For groups, the maximum number of members is eight.
River Trail Keeper Talk
— From: tawan.yeah
Location: Starts at Elephantnose Fish and Eastern Bottlenose exhibit
Timing: Monday to Sunday—2:15 pm
If you still can't get enough of the animals in River Wonders, then you should attend the River Trail Keeper Talk. As the name suggests, this event is hosted by professional keepers, so you'll get to hear about these animals from the people who know them best.
The best part is that you don't just learn the basic information about these creatures; the keepers will also tell you all about their interesting quirks. You'll also get to interact with the animals!
Glamping with the Manatees
Location: Amazon Flooded Forest
Price: S$1,299–1,500 per tent
Glamping with the Manatees is a staycation experience that you'll definitely remember forever. This service lets you pitch a tent at the Amazon Flooded Forest and sleep right by the aquarium where the manatees swim!
You'll also get the chance to peek behind the scenes. You can observe as wildlife facilitators and animal ambassadors feed and care for the manatees; if you have any questions about anything, feel free to ask them.
Glamping with the Manatees also gives you access to Breakfast in the Wild at Singapore Zoo and provides you with dinner in Ulu Ulu Safari Restaurant at Night Safari.
Where to Shop
River Wonders Shop
— From: olsen_song
Location: Entrance Plaza
Operating Hours: Monday to Sunday—10:30 am to 7 pm
You can't leave River Wonders without having some sort of souvenir. For that reason, why not stop by the River Wonders Shop and see if there's anything you like there?
This shop sells a lot of shirts for all ages; there are also many plush toy options if you have children (or if you just really love plush toys). I personally love the giant panda plushies; they're just so adorable and cuddly!
House of Kai Kai & Jia Jia
— From: snors.snors 
Location: Giant Panda Forest
Operating Hours: Monday to Sunday—10 am to 6:30 pm
If you're a massive panda enthusiast, then you'll love browsing the House of Kai Kai & Jia Jia. This shop in the Giant Panda Forest exhibit is filled to the brim with panda-themed souvenirs; you might be tempted to buy everything!
The plush toys are the bestselling products, which is understandable because they're so cute, but you can also find panda t-shirts and slippers. There are also other panda toys (like LEGO pandas), which is great news for all the young panda fans.
River Wonder Photo Kiosk
— From: keithzhaernelle
Technically, River Wonder Photo Kiosk isn't a souvenir shop, but it does offer memorabilia, so it's still worth nothing.
As you can expect, the River Wonder Photo Kiosk is the park's official photo booth, and you can get customized photos to remember your time here. You have a variety of photo options and themes to choose from.
Where to Eat
Starbucks
— From: nomninjas
Location: Entrance Plaza
Operating Hours:
Sunday to Thursday—9:30 am to 6:30 pm
Friday, Saturday, eve of public holidays, and public holidays—9:30 am to 7 pm
Pricing: $
At the Entrance Plaza, you can find a Starbucks, and it's the best place to go if you want a cup of coffee to energize you. You can also order breakfast here because they sell a good variety of pastry options.
If you're planning to stop by here, I recommend picking a seat by the floor-to-ceiling windows. That way, you can treat yourself to a view while sipping your drink and munching on your croissant.
Mama Panda Kitchen
— From: xiao0feizhu
Location: Giant Panda Forest
Operating Hours: Monday to Sunday—10:30 am to 6:30 pm
Pricing: $$
If there's a panda-themed souvenir shop, best believe that there's also a panda-themed restaurant. Mama Panda Kitchen specializes in Chinese cuisine, and the dishes served here are all presented with a panda theme.
The paus are shaped like panda's heads, and the coffee has a panda foam art. There are still other examples, but these are the two that come to mind because they're so cute!
Aside from the panda-themed dishes, you can find dumplings and noodle bowls. If you're with children, there's a dedicated kid's menu as well.
Panda-Mania Tour
— From: veg_alice
Location: Giant Panda Forest
Operating Hours: Monday to Sunday—10:15 am to 3 pm
Pricing: $$$
If you can afford to splurge, I highly recommend you try out the Panda-Mania Tour, which is a unique dining experience in the Giant Panda Forest.
With this tour, you'll get to enjoy a hearty and indulgent four-course meal in the VIP room in the Giant Panda Forest. This room also comes with a view of the exhibit, so you can watch all the adorable pandas while you dine.
Aside from the lunch, you'll be provided with your own wildlife guide, who will educate you more about pandas and give you a tour around the exhibit.
You'll also have reserved seats for the Once Upon a River show, so you can interact with various river animals. 
Tips
— From: nicholascsc007
Download the Mandai App. The park layout of River Wonders can get confusing for some people. To ensure that you'll never get lost, download the app because it provides you with an interactive map. It also has suggested itineraries.
Put on comfortable shoes. You'll be walking around a lot, so make sure that your feet will be prepared for that.
Wear insect repellent. Insects can still be found in River Wonders, despite the efforts of the park staff. So, for extra protection, bring an insect repellent and apply it generously on your skin.
Bring sunscreen and a cap. Many exhibits in River Wonders are outdoors, so you'll be under the sun for some time. So, apply sunscreen and wear a cap so as to protect your skin.  
Bring a water bottle. There are many water refill stations in the park, so bring your own water bottle so that you can keep yourself hydrated at all times.