Keep Calm and Walk On: Top 20 Walking Places in Singapore
Care for a walk around town? For such a dense city, Singapore offers a lot of walkable spaces!
If the weather permits, let our guide below walk you through the best walking spots in Singapore! Exploring the city on foot will feel like a walk in a park.
What are the most popular spots for a walk in Singapore?
1. Waterfront Promenade
— From visit_singapore
Address: 1 Esplanade Dr, #01-K5, Singapore 038981
Website: https://www.ura.gov.sg/Corporate/Get-Involved/Shape-A-Distinctive-City/Explore-Our-City/Marina-Bay 
Operating Hours: Open 24 hours
The Waterfront Promenade is a popular scenic spot that offers beautiful city and bay views during the day and night. People flock here for an evening stroll and watch the city slowly come to life.
The spot is located within the Marina Centre, so it's not hard to miss it when you're visiting the iconic neighbourhood.
The Waterfront Promenade is also a great spot for an early morning stroll, but once the afternoon sun hits the sky, it's best to head over to any of the nearby restaurants for a quick break. 
Pro Tips:
• To avoid the crowd, visit early in the morning and catch the sunrise from the viewing deck.
• If you'll go in the afternoon, bring an umbrella with you.
2. Henderson Waves (The Southern Ridges)
— From nparksbuzz
Address: Henderson Road, The Southern Ridges
Website: https://www.nparks.gov.sg/gardens-parks-and-nature/parks-and-nature-reserves/the-southern-ridges 
Operating Hours: Open 24 hours
If you've been to Mount Faber Park before, then you've probably heard about the famous Henderson Waves footbridge.
Standing over 30 metres off the ground, Singapore's highest pedestrian bridge is a unique walking space in the middle of the city.
Located within the Southern Ridges, the 274-metre-long footbridge grants you panoramic views of lush greenery and pockets of city life.
It's the perfect spot for a breezy and quiet walk around the Southern Ridges, and it's best enjoyed when you take your time.
Walking the distinct waves of the bridge is also a treat at night! Since it's open for 24 hours, many locals catch the sunset from the bridge and walk its whole length until it lights up. 
Pro Tip: The Henderson Waves lights up at night, starting from 7:00 pm, and stays lit until 7:00 am. Visit the bridge just before sunset to enjoy the great view!
3. OCBC Skyway
— From gardensbythebay
Address: 18 Marina Gardens Dr, Singapore 018953
Website: https://www.gardensbythebay.com.sg/en/things-to-do/attractions/ocbc-skyway.html 
Contact Details: +6564206848
Operating Hours: Monday to Sunday, 9:00 am to 9:00 pm
If you find yourself in Gardens by the Bay, take a stroll around the OCBC Skyway, a 128-metre-long suspended bridge located between Supertrees Grove.
The attraction offers a relatively short walk (around 15 minutes), but you can have unobstructed views of the Gardens from 22 metres above ground. You can take as many photos as you want from 9:00 am to 9:00 pm every day!
Since the bridge is found within Supertrees Grove, you also have great views of the giant man-made trees.
There are admission fees to enter the bridge, and rates differ by age and citizenship. If you're a local, then you'll enjoy discounted tickets at the booth! 
Pro Tips: 
• The management won't force you to walk the bridge for only 15 minutes, but try to be considerate of the crowd during your visit. Staff members will only allow a few people at a time for safety reasons.
• Non-residents pay a slightly higher admission fee than locals. It's a lot more cost-efficient to book your tickets using a package offered by your travel agency. You may also take advantage of promos. Plus, buying your tickets online will save you time (you get to skip the lines at the booth!).
4. Jurong Lake Garden
— From nparksbuzz
Address: Yuan Ching Rd, Singapore
Website: https://www.nparks.gov.sg/juronglakegardens 
Operating Hours: Open 24 hours
Jurong Lake Garden is a large park that houses a lake, a forest, a boardwalk, and playgrounds within its many sections. Taking a walk around here with your family is a great way to spend quiet afternoons.
The spot also has its fair share of lush greenery, amplified by the beautiful Japanese and Chinese gardens.
People come by here to practice yoga, learn skateboarding, go cycling, or host picnics by the lake.
There are also cafes nearby if you wish to get refreshments after a long walk!
Pro Tip: Jurong Lake Garden is located inside a residential area and is accessible through multiple MRT stations. You can get off at The Japanese Garden, Chinese Garden, and Lakeside Station, depending on where you want to start your walk!
5. Woodlands Waterfront Park
— From nparksbuzz
Address: Admiralty Rd W, Singapore 759956
Website: https://www.nparks.gov.sg/gardens-parks-and-nature/parks-and-nature-reserves/woodlands-waterfront-park 
Contact Details: +6518004717300
Operating Hours: Open 24 hours
Located at the northern tip of Singapore, the Woodlands Waterfront Park offers 27-acres of pet-friendly and walkable spaces facing the Straits of Johor.
There are multiple dedicated running and cycling paths within the park, which makes it perfect for a long walk by yourself or with a furry friend!
Visit the coastal promenade for waterfront views once you reach the northernmost part of the park. It's a good spot to sit down and take a break!
If you're craving a little adventure, go off the road and challenge yourself with a trek along the undulating terrains.
Just make sure to bring a bottle of water along. You might break a sweat or two!
Pro Tip: Don't be surprised when a monkey jumps out of nowhere! The Woodlands Waterfront is a sanctuary for animals too, so locals are no strangers to the monkeys lurking about. Just make sure to keep your distance (and food) from them!
6. Fort Canning Park
— From nparksbuzz
Address: Fort Canning Park, Singapore
Website: https://www.nparks.gov.sg/gardens-parks-and-nature/parks-and-nature-reserves/fort-canning-park 
Contact Details: +6518004717300
Operating Hours: Open 24 hours
Fort Canning is a solid walking space in Singapore for history buffs out there! The whole park is a historical landmark with roots dating back to World War II, so if you're down for a walk down memory lane, this is the place to go!
The large park complex surrounds a small lake which you can view from the hilltops of the park. It may take you hours to walk around Fort Canning completely, but the historical park is best enjoyed by taking your sweet time.
There are tours available too if you wish to dive deep into the historical significance of the park. The whole course will run you through Fort Canning's underground bunkers and military structures, which could be a great addition to your walking activity.
Otherwise, you can rely on the park's multiple information plaques placed around the whole area! You can also visit the National Museum afterwards; it's only a stone's throw away from the park. 
Pro Tip: Fort Canning Park is very hilly, which could be challenging for some visitors. Stock up on some snacks and water before your visit, and wear comfortable clothing and shoes.
7. Kallang Riverside Park
Address: Cnr Kallang Road and Crawford St, Singapore 397732
Website: https://www.nparks.gov.sg/gardens-parks-and-nature/parks-and-nature-reserves/kallang-riverside-park 
Contact Details: +6518004717300
Operating Hours: Open 24 hours
Kallang Riverside Park is a haven for locals and tourists who love a good blend of calm and thrill. Sports fans consider this park to be a favourite because of its plethora of fitness and water sports facilities.
Taking a walk here is a fantastic way to spend your mornings, especially if you like to squeeze in a mini-workout session.
There's fitness equipment and a number of jogging paths that will allow you to keep your heart racing when you feel like it.
Once you've finished your walk, head over to the park's designated cafes and picnic areas for a well-deserved break.
We recommend visiting the park in the early mornings to catch Dragon Boat teams rowing their hearts out in the Kallang River!
Pro Tip: Visit Kallang Riverside Park between the months of September and March to catch various species of birds during their migratory season. Keep an eye out for herons and egrets while you're there!
8. Changi Point Coastal Walk
— From skywhites 
Address: 6 Changi Village Rd, Singapore 509907
Website: https://www.nparks.gov.sg/~/media/nparks-real-content/gardens-parks-and-nature/diy-walk/diy-walk-pdf-files/changi-point-coastal-walk.pdf?la=en 
Operating Hours: Open 24 hours
Another top waterfront walking space in Singapore is Changi Point Coastal Walk, tucked between Changi International Airport and Changi Village Hawker Centre.
The coastal walk is smaller compared to most walking spots in this guide. It's easy to go multiple rounds of walking here!
The highlight of the spot is the view. The boardwalk has six sections: Creek Walk, Beach Walk, Sailing Point Walk, Cliff Walk, Kelong Walk, and Sunset Walk.
The whole stretch takes you through each of these sections, starting from the Creek Walk and ending at the Sunset Walk. Each section has points of interest that are related to the terrain, flora, and fauna integrated into the surroundings.
You can finish the whole boardwalk in just under an hour, but feel free to go back and forth several times for a satisfying walking session! 
Pro Tip: Follow Changi Point Coastal Walk's route map and start your walk an hour before sunset. This gives you enough time to walk the whole boardwalk and arrive at the Sunset Walk in time for the sunset. 
9. TreeTop Walk
— From nparksbuzz
Address: 601 Island Club Rd, Singapore 578775
Website: http://www.nparks.gov.sg/gardens-parks-and-nature/parks-and-nature-reserves/central-catchment-nature-reserve/treetop-walk 
Contact Details: +6518004717300
Operating Hours: Tuesday to Friday, 9:00 am to 4:45 pm, Saturday and Sunday, 8:30 am to 4:45 pm
Accessible by hiking trails in the Central Catchment Nature Reserve, the TreeTop Walk offers a unique walking experience above ground. The suspended bridge is over 250 metres long and connects the peaks of Bukit Peirce and Bukit Kalang.
From the bridge, you get a birds-eye view of the lush greenery within the reserve. The TreeTop Walk isn't long, but it does pack a lot of natural points of interest from above!
Since you'll have to go through portions of the MacRitchie Trails to get to the TreeTop Walk (which takes roughly an hour or two of walking), consider taking your time on the bridge before descending back to the hiking trails within the reserve.
During your break, you can get a closer look at some unique flora and fauna surrounding the suspended bridge. There are resting huts along the course of the bridge if you wish to sit back and relax for a while before resuming. 
Pro Tip: The best time to visit the TreeTop Walk is on weekdays between 10:00 am and 3:00 pm. Admission is free. 
10. Singapore Botanic Gardens
— From azgood
Address: 1 Cluny Rd, Singapore 259569
Website: http://www.sbg.org.sg/ 
Contact Details: +6564717138
Operating Hours: Monday to Sunday, 5:00 am to 12:00 am
At the Singapore Botanic Gardens, you get 82 hectares of unrivaled natural beauty.
Nicknamed the "Green Lung of Singapore," the UNESCO World Heritage site is a popular walking space for nature lovers and walking enthusiasts in need of peace and quiet.
The large garden boasts sprawling flora. Taking a walk here is a feast for the senses, as the scenery takes you away from bustling city life (Orchard Road is just a few minutes away!).
To maximise your time in the Singapore Botanic Gardens, start your walk from the Botanic Gardens MRT station and make your way down to Tanglin Gate.
Taking this route lets you through the Eco-Lake, Ethnobotany Garden, Evolution Garden, and Symphony Lake.
The whole garden complex is massive, so it's best to dedicate a whole afternoon to exploring!
Try to visit as many points of interest as you can within the day. You won't regret it!
Pro Tip: The Singapore Botanic Gardens is a massive garden complex comprising several sections. While the main garden complex is open from 5:00 am until midnight, there are certain portions that are open for a limited amount of time. 
Grab a map by the entrance and make your way down to these points of interest before they close!
11. East Coast Park 
— From eastcoastpark
Address: E Coast Park Service Rd, Singapore
Website: https://www.nparks.gov.sg/gardens-parks-and-nature/parks-and-nature-reserves/east-coast-park 
Contact Details: N/A
Operating Hours: Open 24 hours
East Coast Park is Singapore's largest park, spanning over 180 hectares and stretches across three districts!
The best walking space at East Coast Park is along East Coast Beach. A walk down the shores of the quiet beach makes for a romantic time with your partner!
If you prefer to walk alone, though, we won't judge you!
Before you end your long walk around East Coast Park, don't pass up on the opportunity to watch the sunset from Bedok Jetty.
The jetty is another underrated walking spot within the area where you can take a relaxing stroll or chill next to anglers wishing for a good catch.
If all that walking made you hungry, East Coast Park has a strip of seafood restaurants that sell fresh fish, crabs, and other seafood right by the beach! 
Fun Fact: East Coast Park is built entirely on reclaimed land, and East Coast Beach is 100% man-made! The prevalence of sports facilities along the coast made East Coast Park the location for the first-ever youth Olympic games. 
12. Lower Peirce Reservoir Park
Address: Old Upper Thomson Road, Lower Pierce Reservoir Park, Singapore
Website: https://www.nparks.gov.sg/gardens-parks-and-nature/parks-and-nature-reserves/lower-peirce-reservoir-park 
Contact Details: +6518004717300
Operating Hours: Open 24 hours
Lower Peirce Reservoir Park is home to a lush forest dotted by rubber and palm trees. As a walking space, the park offers some of the most serene spots in Singapore—and it's very solo-traveler-friendly!
The Lower Peirce Reservoir Boardwalk is the main walking space in this large park. The 900-metre boardwalk will take you around the reservoir's forests, but if you're looking to cut your walking session short, the park alone is a good spot to chill.
You can explore the whole park in under an hour, but we highly recommend taking as much time as you can here, especially in the mornings when it's not super crowded and the weather is cooler.
Aside from the park, you can visit the fishing pier and lake. The park is also pet-friendly, so it's a very ideal spot to take your furry friend out for a walk with you! 
Fun Fact: Lower Peirce Reservoir was originally named Kallang Reservoir because of its proximity to the Kallang River. Built in 1912, the reservoir is the second-oldest in Singapore right after the MacRitchie Reservoir. 
Where can I go for walks at night in Singapore?
1. Marina Bay
— From marinabaysg
Address: 2 Bayfront Ave, Marina Bay, Singapore
Operating Hours: Open 24 hours
Who would pass on a walk around one of Singapore's most iconic entertainment districts? A stroll down Marina Bay is exciting during the day, but it gets even more enchanting once the sun sets!
With towering skyscrapers and glistening lights around you, a night walk around Marina Bay will leave you appreciating the bustling city life of Singapore. Marina Bay is no botanic garden with lush greenery, but it has a lot to offer in terms of entertainment!
The whole entertainment complex is clad with stores, restaurants, and bars, so you won't have to worry about finding a spot to rest after taking a walk down the whole boardwalk.
Plus, if you manage to stick around a little later, you might just catch Spectra, a fountain show just across at the iconic Marina Bay Sands Hotel. 
Pro Tip: Catch Spectra: A Light and Water Show everyday between 8:00 pm and 9:00 pm at the Marina Bay boardwalk. Head over to the spot between Louis Vuitton and the Apple Store to get unobstructed views of the show! 
2. One Fullerton
Address: 1 Fullerton Rd, Singapore 049213
Operating Hours: Open 24 hours
Now, we're not just talking about walking around One Fullerton Shopping Mall alone but the shopping complex and the Merlion Park as a whole.
Nothing beats a late-night stroll around Merlion Park to catch the iconic Merlion Statue in its lit-up glory.
One Fullerton has walkways that surround the whole shopping complex, with access to Merlion Park from the northeastern entrance.
A great perk to walking around One Fullerton at night is the fantastic views of Marina Bay. You can see the Singapore Flyer from the boardwalk as well!
The further up you walk, the closer you'll get to the Merlion Statue, where hundreds of locals and tourists flock to take pictures.
It's a fantastic spot to walk around during the day, but the charm of the city's nightscape makes a late-night walk here far more interesting.
Not only will you see the Merlion glow, but you will also get a panoramic view of Marina Bay and the Singapore Flyover lit up! It feels romantic, for sure. 
Pro Tip: Visit Merlion Park in the late afternoon, and take a break on the steps near Merlion Jetty for a great view of the sunset. Once the night arrives, walk down the whole stretch of One Fullerton to end the evening. 
3. Gardens by the Bay
— From gardensbythebay
Address: 18 Marina Gardens Dr, Singapore 018953
Operating Hours: Monday to Sunday, 5:00 am to 2:00 am
We hope you're not bored of gardens yet because Gardens by the Bay is up next on our list! This large complex of modern greenhouses and parks has plenty of safe walking spaces.
Located just across from Marina Bay, the Gardens is easily accessible through the Dragonfly Bridge. You can start your walk from there and make your way around the whole garden complex until you reach the Flower Dome or Cloud Forest.
Most of the iconic attractions here have admission fees, but access to the main garden complex itself is free of charge.
You can choose to remain within the main garden grounds, but it doesn't hurt to treat yourself to a visit to the Cloud Forest, Flower Dome, and OCBC Skywalk.
Walking around the Gardens at night is a feast for the eyes, and although it's advisable to visit the complex during the day, there's a lot to appreciate when you choose to walk around at night.
Surround yourself with clouds of colourful lights as you walk from Dragonfly Lake to the Bay East Garden. A walk down here will be unforgettable!
Pro Tip: There are currently at least seven attractions within the Gardens by the Bay complex, including the Supertree Light Show. Visit the Dragonfly and Kingfisher Lakes, Bay South, Bay East, and Bay Central Gardens while you're at it!
4. Night Safari
— From mandaiwildlifereserve
Address: 80 Mandai Lake Rd, Singapore 729826
Operating Hours: Monday to Sunday, 7:15 pm to 12:00 am
A trip to Night Safari is a late-night adventure you won't want to miss out on with friends. Even if it's way past your bedtime, you'll be glad you got out of bed to walk around this unique walking destination.
The Night Safari, as the name suggests, opens at 7:00 pm and closes by midnight, giving visitors unlimited access to the Night Safari's main attractions. Private walking tours are available for visitors who want insider scoops on nocturnal animals.
Don't worry about getting lost here, as you'll be accompanied by expert tour guides. It's a fun and unique walking spot with a purpose, as every paid ticket contributes to the zoo's conservation efforts (a win-win!). 
Pro Tips: 
• Don't miss out on the feeding stations located at designated animal attractions.
• Use the walking trails to discover the wonders of nocturnal animal life, and bring along friends with you! 
5. Orchard Road
— From orchardroad.sg
Address: Orchard Road, Singapore
Operating Hours: Open 24 hours
We can't forget about Singapore's most famous shopping paradise: Orchard Road. Orchard Road never sleeps, and it's the ideal walking space for night owls.
The bustling boulevard stretches over two kilometres and is clad with dining spots, luxury stores, and distinctive hotels. 
Get lost in its electric charm as you walk down the whole boulevard at night. From left to right, you'll find evidence of why Orchard Road is Singapore's swankiest and most stylish district. 
Pro Tip: For a more eye-opening walking experience, look for outdoor art installations and artworks along Orchard Road. Don't hesitate to walk the whole stretch at night. It's fairly well-lit!
Walkable Districts in Singapore
1. Little India
— From andrearogalas
Point of interest: Serangoon Road
Flanked with mosques, street art, and shophouses, Little India is an ethnic district that will capture your heart and stomach.
The district's main commercial road, Serangoon Road, is packed with eye-catching shophouses, hip eateries, and boutiques that will make you want to come back regularly.
Walking around Little India can get a little overwhelming, especially with the number of people who flock to the area for their daily dose of shopping and haggling.
If you want to get away from the bustling areas of Little India, make your way to Tan Teng Niah along Kerbau Road for a quieter walk.
Immerse yourself in Little India's rich history by strolling around the colourful heritage shophouses, starting from Tan Teng Niah, then to Little India Arcade, and make your walk back to Serangoon Road for a snack.
If you want a nice place to chill after your stroll, head over to Little India's Dunlop Street and search among dozens of cafes to wind down. 
Fun Fact: Little India's Tekka Centre Market has been operating since 1915. The market, originally named Kandang Kerbau, houses eateries selling vegetarian meals and authentic Indian cuisine. 
2. Chinatown
— From chinatownsingapore
Point of interest: Pearl's Hill City Park
In case you're wondering where to start your walk around Singapore's Chinatown, you have five distinct neighbourhoods to choose from.
Each neighbourhood houses Buddhist temples, hawker centres, and shops that are worth visiting.
Don't be intimidated by the district's maze-like streets. There's a safe place to chill at almost every corner in this busy town!
Begin your stroll by visiting Chinatown's cultural spots like the Chinatown Heritage Centre and the Buddha Tooth Relic Temple and Museum.
If you make your way down south of the temple, you'll end up at Maxwell Food Centre, Chinatown's iconic hawker centre selling authentic Chinese food.
Looking for a more quiet spot to walk around? Head over to Pearl's Hill City Park for a relaxing and nature-filled stroll.
Once you've gotten your fill of lush greenery, walk over to Potato Head Singapore for a delicious and satisfying meal! 
Fun Fact: Singapore's Chinatown is the only one of its kind in the world where three temples of three different religions are found within one district. Here, you can find the Buddhist Buddha Tooth Relic Temple and Museum, the Hindu Sri Mariamman Temple, and the Muslim Masjid Jamae. 
3. Sentosa Island
— From chinatownsingapore
Point of interest: Sentosa Boardwalk, Palawan Beach
Although entry to the Sentosa Island's biggest attractions is subject to ticket fees, there are plenty of walking spaces in the island that are free of charge!
Now, before you start a scenic walk around the island, you must visit the Sentosa Boardwalk first. The boardwalk stretches across Straits View and connects the main island to Sentosa.
The most popular way of getting to the tiny island is through the Sentosa Gateway, but for people who prefer to walk, the Sentosa Boardwalk is another safe option.
The best time to visit the boardwalk is just before sunset! There are plenty of areas to rest and unwind there, but if you still have energy, we highly suggest crossing over to visit Palawan Beach!
Palawan Beach offers a scenic seaside stroll along the shores of Sentosa Island.
Fun Fact: Sentosa Island could only be accessed by cable car or ferry before the Sentosa Gateway was built. Today, you can reach the island via car, bus, or on foot from VivoCity Mall!
Is Singapore a walkable city?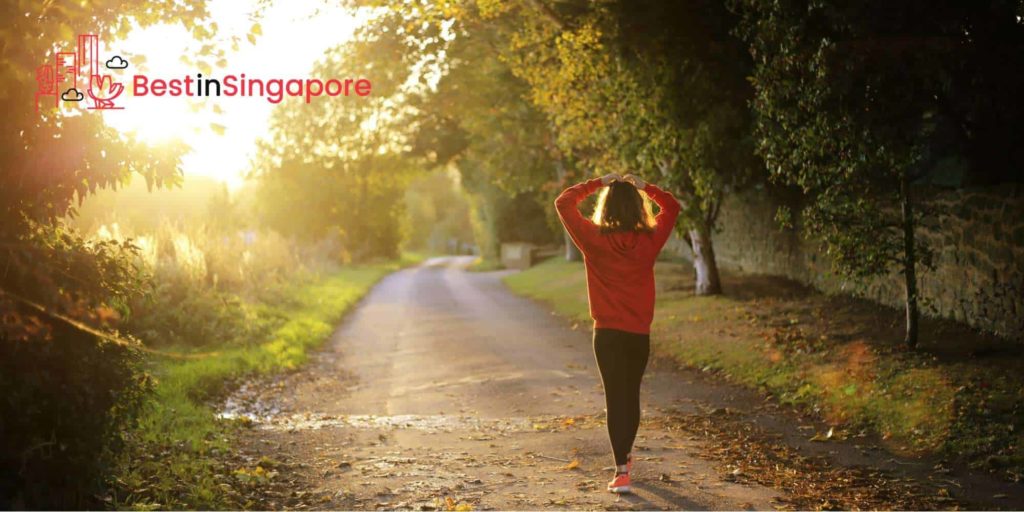 Thanks to Singapore's efficient city planning, the tiny nation is widely known to be one of Asia's most walkable cities, despite its dense population and small size.
The city-state is designed for easy walking, and with the help of an efficient public transportation system, it's not hard to get from one place to another without a car on the island.
Singapore's walkability is also thanks to the city-state's mostly-safe neighbourhoods. Not only is it easy to get around the island, but the neighbourhoods are relatively safe and welcoming for pedestrians.
Walking Tips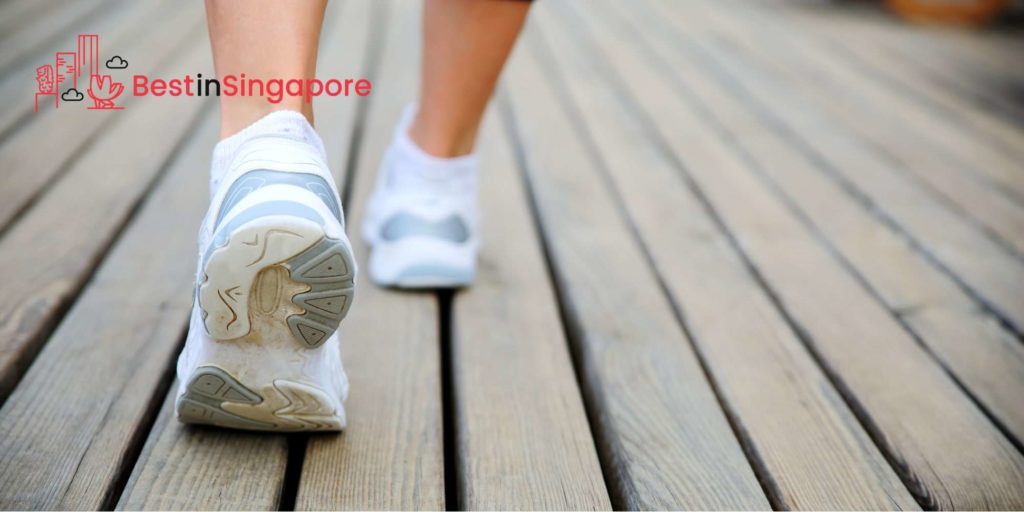 Always stay hydrated. With Singapore's hot and humid weather, you're bound to break beads of sweat as you stroll around the city. Staying hydrated keeps you from fainting or overexerting your body.
Book tickets to attractions ahead of time. This will save you from waiting in line.
Avoid peak hours. Crowded walking spaces can cause inconveniences, so research the spot's peak hours and avoid visiting during that time frame.
Set up a step calculator. If you're going on a walk for fitness reasons, set up a step calculator to monitor the number of steps you take per walking session. It's also good information to have if you're planning a DIY walking trail in the future.
Wear comfortable clothing and shoes. This will allow you to move freely and prevent injuries.
Keep your phone with you at all times. Organise a list of emergency contacts you can call in case you find yourself in a potentially dangerous situation.
Bring basic first aid. While we hope the need for the kit doesn't arrive, it's still good to be prepared.
Avoid bringing large bags. Keep your overall attire for walks simple and hassle-free. Bringing large bags can get uncomfortable.