The 7 Best Umbrellas in Singapore
Getting your hands on the best umbrellas in Singapore is an effective way to protect yourself from the scorching sun and unexpected downpours that frequently torment the island. Lucky for you, we've just created a list of the ones worth spending money on.
We included the best umbrellas in Singapore for any weather. The ones we chose are also durable enough to last for a long time.
Before revealing our picks though, we're going to share some tips on how to pick the right umbrella that will match your needs as a commuter. We'll also reveal some of the most common umbrella fabrics and their pros and cons.
Let's start!
How to Pick the Best Umbrellas in Singapore
Looking for the best umbrellas in Singapore is easier said than done, given that there are thousands of options to choose from that come in a variety of sizes, colours, materials, and features.
Worry not, though, because we'll make things easier for you by revealing the factors you need to take note of when shopping for an umbrella. Knowing these factors will make it easier to know which one matches your everyday needs.
One of the first considerations should be your purpose of getting one. After that, checking the UV and wind protection, portability, and durability has been proven to be beneficial in the long run.
Anyway, allow us to elaborate on each point below.
1. Purpose
It's important to first assess how often the umbrella will be used. Singapore is a scorching-hot tropical country, but there are sudden downpours that always catch people off guard. And so, the unexpected shifts in weather are something worth considering.
That said, there's no need to explain that commuters need to equip themselves with an umbrella when going to and coming from the office. A portable umbrella made with quality materials would be ideal for both warm and wet seasons.
If you want an umbrella for the rainy season in Singapore, it's generally better to purchase a sturdier and larger umbrella. It's more difficult to use a small umbrella when the rain is fiercer than normal.
2. UV and wind protection
It rarely becomes windy in Singapore, but when it does, the wind gets more intense than anticipated. Most of the umbrellas can protect you from light rain showers, but only the best ones can protect users from strong winds and heavy rains.
Some of the best umbrellas in Singapore have been tested against winds of up to 60 mph. On top of that, they have a canopy diameter of no less than 102 centimetres that prevents them from flipping outwards.
Double-layered umbrellas are designed to offer optimal protection against unforgiving and strong winds. You might want to check them out if you're after an umbrella with top-notch wind protection features.
Aside from strong winds, the harsh sunlight is another enemy you need to prepare for. It's a good thing that some of the best umbrellas in Singapore come with UV protection to protect your skin from damage.
3. Portability
We recommend lightweight and portable umbrellas to commuters for a hassle-free commute to work. Nobody wants to struggle to carry a large and heavy umbrella that they can't fit inside their bag.
You can never go wrong with an umbrella that weighs half a kilogram, but going for something lighter can make one's everyday commute much easier.
On top of that, make sure that they can fit inside the side pocket of your backpack and purse.
4. Durability
It's worth noting that large and heavy umbrellas aren't always the most durable. What determines the strength and durability of an umbrella are ultimately its materials.
Umbrellas with fibreglass and aluminium frames are considered to be more durable compared to metal ones. Apart from being strong enough against harsh winds, they don't rust easily or at all.
Some of the best umbrellas in Singapore come with warranties as well, so you might want to consider saving money when you need to have your umbrella repaired.
Common Parts of an Umbrella
Almost everyone has an umbrella, but only a few of us know their parts. We believe it's important to know what constitutes an umbrella to know if you're making the right choice.
1. Handle
We recommend going for an umbrella that it's easy to hold, even when it's wet. An ideal umbrella should have a comfortable grip that can be held by hands of all sizes.
Most customers usually go for a rubber-coated handle because of its reliable grip, but be careful because low-quality rubber attracts dirt and becomes sticky over time.
One way to know if the rubber is high quality is when it's soft, smooth, and easy to run your hands all over it.
2. Shaft
An umbrella's shaft should be strong and sturdy enough to keep straight in all types of weather. If it's too light, it won't be able to hold itself against harsh winds and strong downpours.
It's an added bonus if your umbrella's shaft is rustproof, but umbrellas like this tend to be a lot more expensive. We suggest going for a shaft made out of aluminium, fibreglass, or nickel-plated steel for guaranteed durability.
3. Canopy
The canopy is the most important part of an umbrella because it's what keeps you safe from the rain and sunlight. Your umbrella's canopy should be wide enough to cover your entire body, not just your head.
In terms of materials, most canopies made out of polyester or pongee are waterproof and don't need to be opened for hours to dry.
4. Ribs and stretchers
These are the parts that tend to break easily when there's a strong gust of wind. There's a huge chance of them snapping when your umbrella flips from inside out due to the harsh winds.
To prevent this from happening, we suggest going for an umbrella made out of flexible fibreglass that bends with it but won't break.
The Best Umbrellas in Singapore
Anyway, now that you know how to choose and what to look for in the best umbrellas in Singapore, it's time to move on to our picks!
Let's start our list with the cheapest yet durable umbrella we could find!
1.   Xiaomi Mi Automatic Umbrella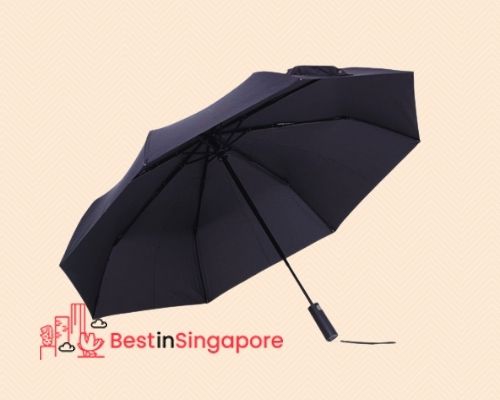 | | |
| --- | --- |
| BEST FEATURE | Teflon coating |
| MATERIALS | Polyester, aluminium, high-quality steel, and fibreglass |
| WEIGHT | 420 grams |
| FOLDED LENGTH | 24 centimetres |
| PRICE | S$29.90 |
It's no surprise that the Xiaomi Mi Automatic Umbrella made the cut to our picks for the best umbrellas in Singapore. It may be the cheapest option on our list, but it comes with impressive features that are usually found in premium and expensive umbrellas.
For one, it's a portable and lightweight umbrella that weighs only 420 grams. It's designed to be kept inside your backpack's side pockets and even the smallest of purses, so no need to worry about struggling to carry it while commuting.
It comes with an efficient sunlight-shading and heat-insulating feature that blocks harmful ultraviolet rays. On top of that, its fabric is made out of Teflon, so it dries faster than other umbrellas.
It's engineered to last for a long time, having been made with premium polyester, aluminium, and fibreglass. All of these are materials considered to prolong the lifespan of an average umbrella.
It comes with a safety anti-rebound structure that prevents it from rebounding while closing. It's made possible by an SPCC41 iron rod that provides extra strength and toughness. Shiba
Pros
Low price
Teflon coated
Fast-drying
With a security lock device
With hidden umbrella beads
Offers protection against UV rays
Cons
Suitable only for adults
Only comes in 1 colour
2.   ARTBOX Magic Umbrella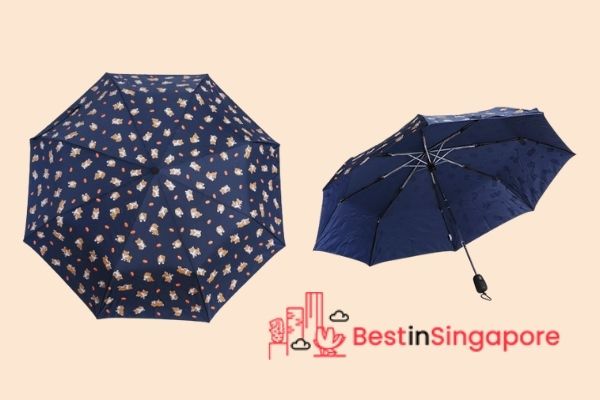 | | |
| --- | --- |
| BEST FEATURE | Adorable patterns |
| MATERIALS | Polyester, aluminium, FRP, and ABS |
| WEIGHT | 450 grams |
| FOLDED LENGTH | 57 centimetres |
| PRICE | S$44.40 |
If you're after a compact umbrella with a cute design, then we'd like to recommend the ARTBOX Magic Umbrella. It features an adorable pattern of a Shiba inu, making it the perfect option for those who love dogs.
It's an automatic umbrella made out of high-end polyester fabric and a premium aluminium frame, so there's no doubt about its durability. It has a total FOLDED LENGTH of 97 centimetres, but it shrinks down to 57 centimetres when folded.
In line with that, it's a lightweight and portable umbrella that can fit inside anyone's bag or side pockets. It's a commute-friendly umbrella that can make anyone's train ride or bus ride a lot more convenient.
You need to be extra careful when folding it though because it's a 4-fold umbrella. It's a great feature to fight strong winds, but some users struggled to open and close it in the beginning due to the multiple-fold design.
Pros
Lightweight and portable
Adorable Shiba inu patterns
Can be used by men and women
Cons
No safety features
No warranty
Its multiple-fold design may be difficult for some
3.   Samsonite Compact Auto Open/Close Umbrella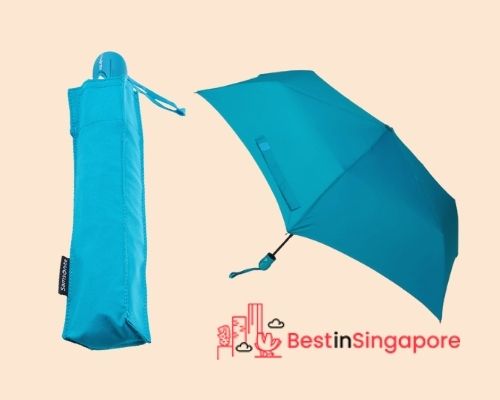 | | |
| --- | --- |
| BEST FEATURE | Automatic open and close |
| MATERIALS | Teflon-coated polyester and aluminium |
| WEIGHT | 227 grams |
| FOLDED LENGTH | 26 centimetres |
| PRICE | S$44.30 |
Since Samsonite is one of the trusted names when it comes to bags and umbrellas, we're not surprised it ended up on our list. Here's the Samsonite Compact Auto Open/Close Umbrella, and we're sure that it's one of the best umbrellas in Singapore.
It features a Teflon-coated polyester as its fabric and a frame made out of high-quality aluminium. In terms of durability, we're confident that it can handle multiple summers and rainy seasons without breaking down.
In terms of size, it's one of the smallest umbrellas we've ever laid our eyes on, with a diameter that can extend for only 97 centimetres. It'd be a great match for small and thin people due to its extremely compact build.
It doesn't fall short when it comes to portability as well. Due to its compact build, you won't have a hard time finding a place for it inside your bag as it's small enough to fit inside the tightest of spaces.
When it comes to protection against strong winds, its high-end aluminium frame will make sure that it won't flip inside out. It features a wind guard canopy designed to keep everything in place amidst harsh winds and rainfall.
The only downside is that it doesn't have protection against UV rays, but most users already tend to look past that.
Pros
Teflon-coated polyester
Compact and portable build
Designed with a wind guard canopy
Smaller than the average umbrella
Cons
No protection against UV rays
Not ideal for larger and taller people
Limited warranty coverage
4.   Fulton Magnum-1 Auto Black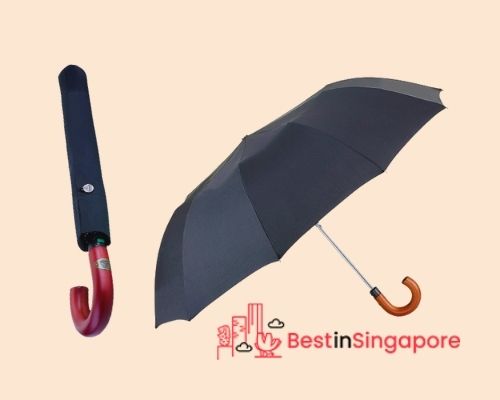 | | |
| --- | --- |
| BEST FEATURE | Wind-resistant frame |
| MATERIALS | High-performance polyester, high-quality steel, and dark wood |
| WEIGHT | 520 grams |
| FOLDED LENGTH | 49 centimetres |
| PRICE | S$56.00 |
If there's an umbrella designed to go against strong rain and harsh winds, it's the Fulton Magnum-1 Auto Black. It's an umbrella that comes with a wind-resistant frame to protect users from unrelenting winds that occasionally torment the island.
Another feature worth noting is the wide span of its canopy, which measures a little over 105 centimetres when opened. In fact, some users have even mentioned that it can comfortably fit two people under it.
On top of that, it comes with a Teflon-coated canopy for improved water repellency. It means that rain droplets quickly slide off the canopy, so there's no need to leave it open to dry for a long time.
Its wooden handle has received praise from users for being easy to hand on either hand. It's made out of genuine wood, so we're sure that it's not going to tear down easily.
It may be more known for its impressive wind-resistant features, but it offers protection against UV rays too, making it an all-around umbrella that can handle hot and wet seasons.
Pros
Wind-resistant frame
Offers UV protection
Can comfortably fit two people
Easy to open and close
Made out of premium materials
Cons
Heavy and bulky
No warranty
Expensive
5.   Under Armour Golf Umbrella Double Canopy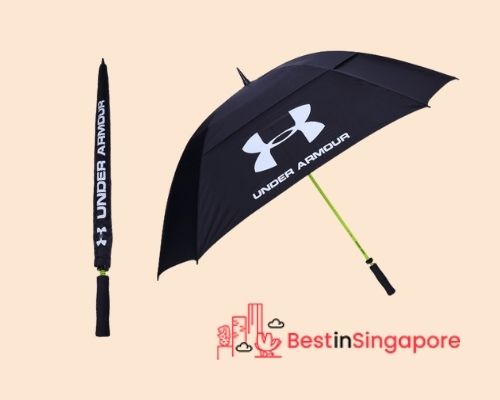 | | |
| --- | --- |
| BEST FEATURE | Double canopy for increased coverage |
| MATERIALS | Nylon and textured rubber |
| WEIGHT | 315 grams |
| FOLDED LENGTH | 172 centimetres |
| PRICE | $89.00 |
If you don't mind carrying around a long umbrella while commuting, then we recommend checking out the Under Armour Golf Umbrella. It mainly functions as a golf umbrella, but even non-golfers purchase it for its increased coverage.
Speaking of coverage, it has a double canopy that can comfortably fit 3 people under it. It's the only umbrella in our list that can be shared with 2 people.
It's designed with a patented Storm Technology to protect users from heavy downpours, harsh sunlight, strong winds, and other elements. We like to call it an all-around umbrella that can handle Singapore's shifting weather conditions.
The Under Armour Golf Umbrella features a tiered system of rain and wind protection engineered to keep the users dry in any wet weather situation. Its waterproof canopy
removes the need to open it to dry for hours on end, unlike with most umbrellas.
In terms of comfort, the Under Armour Golf Umbrella Double Canopy has a long textured rubber handle that's easy to grip for hands of all sizes. You can hold it for more than an hour and not feel a strain on your hand.
Its FOLDED LENGTH is longer than all our other picks, so only go for it if you're willing to carry a long umbrella while on the train or bus. It may not be the most comfortable one to carry around, but its protective features are unbeatable.
Pros
Double canopy
Excellent wind resistance
With a textured rubber grip
Can comfortably fit 3 people
More ideal for golfing but can be used beyond it
Cons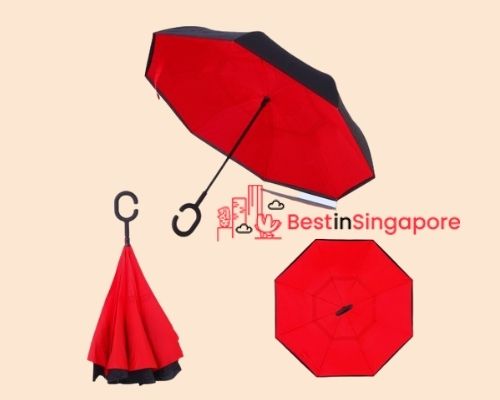 | | |
| --- | --- |
| BEST FEATURE | Inverted Umbrella |
| MATERIALS | Pongee Solid Fabric |
| WEIGHT | Contact shop for more information |
| FOLDED LENGTH | 25CM |
| PRICE | Request for Custom Corporate Gift Printing Prices |
If you're looking for a high quality umbrella that's also fashionable, then consider buying Yellow Inch's custom umbrella, UM 08! It's a double layer inverted umbrella, offering durability in style. You can choose the color you want, and even put the print you wish to have, may it be a name or a logo.
It's perfect for personal use, or even as an item to give away in corporate events.
For large scale orders, do contact Yellow Inch as they offer packages! Order on the website and get your very own UM 08.
Pros
Customizable
Portable
Double-layer
Cons
No warranty
Closing system may be weird for some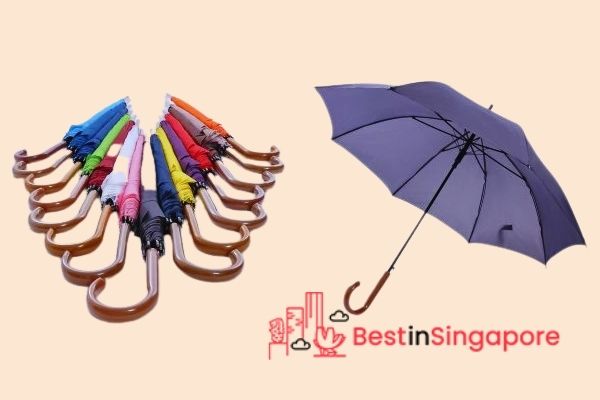 | | |
| --- | --- |
| BEST FEATURE | Colorful options |
| MATERIALS | 190T imitation nylon fabric |
| WEIGHT | 440 g |
| FOLDED LENGTH | 24″ |
| PRICE | Enquire for more information |
Hak Kim Trading Company's LL509G is a simple umbrella that's perfect for everyday use. It comes in various colors for you to choose from.
It has a a length of 24 inches, which provides user with ample coverage from the weather. It's lightweight and sturdy so you can reliably use it for a long period of time.
The automatic opening feature ensures easy usage if you're on the go. It's definitely a great gift idea to consider.
Pros
Automatic opening
Simple design
Numerous color options
Large size for better coverage
Cons
Not as portable as compact umbrellas
Types of Umbrella Fabric
Some of the common umbrella fabrics today are nylon, polyester, pongee, plastic, and satin. All of them have been proven to keep the user dry during rainy days, but each of them comes with its own pros and cons.
Nylon
Nylon is perhaps the most common of all the umbrella fabrics. It's not permeable to water and can effectively block harmful UV rays, especially if it's tightly woven.
It dries quickly too after being exposed to water, so you won't have to leave it open to dry for hours. It's quite durable as well because of its high resistance to fungi, insects, mould, and other chemicals.
Since it's a commonly used material, umbrellas with nylon panels are among the cheapest one, making it the top choice for most people. The downside of this fabric is that it easily shrinks when exposed to air humidity.
Polyester
In terms of durability, polyester comes as a close second to nylon. It's known for being incredibly resistant to stretching, shrinking, wrinkling, abrasions, and even chemicals, which explains why it's commonly used in fashion umbrellas.
Polyester is also lightweight, so it won't weigh down your umbrella in any way. It's also a low-maintenance fabric, so your umbrella can be washed and wiped without any hassle.
Most umbrella manufacturers use polyester when creating panel designs because it's highly responsive to dye. One downside is the static build-up every time it comes into contact with another surface, which can be irritating for some people.
Pongee
Pongee is a Chinese fabric made of thin unbleached threads, commonly used in high-end umbrellas. It's a tightly woven fabric that feels cotton-like, making it stand out from other umbrella fabric. 
Like the two other fabrics, pongee is waterproof, so raindrops just slide off of it without soaking. It's known for its topnotch protection against UV rays as well.
However, umbrellas made out of pongee tend to lean towards the expensive side, so it's not the top choice for most people.
Satin
Satin stands out for its shimmering and thick properties, which explains why it's another fabric used in fashion umbrellas. It's not as common as the three other fabrics though, so umbrellas with satin canopies are quite expensive.
If you're looking for an umbrella that will make you stand out from a crowd, then go for a satin umbrella. Taking care of a satin umbrella is another story though, so be prepared that it's not going to be easy.
---
That's it for our picks for the best umbrellas in Singapore. If you've used any of these umbrellas in the past, share with us your experience with using them.
If you know other umbrellas that should've been on our list, don't hesitate to tell us their names, and we'll check if they're worthy to be added to our roster.
And oh, if you're also looking for work, school, travel bags, you might want to take a peek at our list of the best backpacks in Singapore. We feature some of the most in-demand backpacks there!