The 6 Best Face Serums in Singapore
If your current skincare routine doesn't work well with your skin concerns, then maybe it's time to upgrade it with the best face serum in Singapore!
Unlike basic skincare items such as cleansing, toning, and moisturising products, face serums are formulated with a higher concentration of active ingredients to reach the deeper layers of our skin. Face serums can solve various skin problems like uneven skin tone, dry or dull skin, acne, and signs of ageing.
Want to know more about the many skin health benefits of face serums? See our list below to find out how they can help your skin look more radiant and youthful.
Benefits of Face Serums
If you're somehow still not sure whether face serums are indeed good for the skin, then let us help you decide! Here are the key benefits of adding face serums to your skincare routine!
Absorbs quickly into the skin – Compared to moisturisers, serums have lighter and thinner formulations. And so, they absorb more easily into the skin and don't feel heavy or greasy when applied.
Provides more visible results – Since they have higher doses of active ingredients, they're proven to provide better and faster results than most skincare products. They produce instant benefits like reduction of dryness, dark circles, large pores, fine lines, blackheads, and whiteheads.
Reduces signs of fatigue – Face serums solve dull and tired skin complexion through its cellular regeneration and repair features, so your skin will always look fresh, bright, and moisturised despite having sleepless nights due to work/school tasks.
Smoothens and refines skin texture – A face serum's ingredients don't include any additives, allowing for deeper penetration into pores. This way, the skin layer underneath is enriched with vitamins, which leads to the surface of the skin becoming firmer, smoother, and softer.
Offers long-term skin protection – They contain antioxidants that help fight environmental stressors which can speed up the ageing process. This is why face serums can make your skin look plumper, younger, and more natural.
Retains moisture – Face serums hydrate the skin by maintaining the natural moisture and strengthening the skin barrier as well to give you a healthy-looking complexion.
How to Choose the Right Face Serum
Are you now fully convinced to buy one? If you are, then you must also know that there are thousands of face serums available in the market, so it might take you a long time to find the one that's most suitable for your skin's needs.
Each face serum is specially designed to target specific skin issues and skin type. If you pick the wrong one, it may even worsen your skin condition.
To save you from long hours of shopping and possible skin-damaging effects, take a look at our buying guide below.
1. Know the different types of face serums
As mentioned earlier, face serums contain certain formulas that are intended for specific purposes. That's why it's important to know the differences between each type.
Hydrating Serums – First, we have hydrating serums that offer extra moisture to the skin. They're the ideal type for those who have dry or oily skin type.
Antioxidant Serums – These serums help shield your skin against free radicals that cause cell damage and premature ageing. They're perfect for people who are often exposed to environmental factors that affect the skin, including UV rays, pollution, smoke as well as indoor heating and cooling.
They're capable of healing and repairing skin cells and preventing visible signs of ageing. Despite they're compatible for all skin types, some may contain irritating ingredients that may cause skin allergy reactions so make sure to check the ingredients label.
Brightening Serums – If you have uneven or dull skin tone, dark spots, post-acne marks, or hyperpigmentation, brightening serums would be a great option. They boost instant radiance and luminous effect by removing dead and pigmented cells.
Anti-ageing Serums – Much like its name suggests anti-ageing serums help regulate collagen formation and plumps the skin—targeting fine lines, wrinkles, and loss of elasticity and firmness of the skin. They can also help solve dullness, pigmentation, and dark spots.
Clarifying Serums – This face serum is ideal for dealing with acne problems might seem like a never-ending battle for some people. If you're one of them, you should try using clarifying serums.
They help treat active breakouts and prevent them from happening again. They deep clean pores and regulate oil production, making them an excellent option for those who have oily skin and clogged pores.
2. Identify the typically-used ingredients in face serums
Face serums feature a wide range of ingredients and each serves a specific skin health benefit. Here are some of the most common ingredients to watch out for.
Vitamin C – It's a potent ingredient that helps build collagen, boost skin immunity, and tighten up the skin. They're usually found in anti-ageing serums, so for those who are experiencing visible signs of ageing, it's recommended to use a serum with this ingredient.
Hyaluronic Acids – This ingredient treats dehydrated skin by locking in the natural moisture of the skin and increasing skin barrier protection. Serums with these hyaluronic acids are good for dry or flaky skin.
Antioxidants – As stated above, antioxidants protect the skin from possible damages caused by stress and environmental factors. Green tea, beta-carotene, and grape-seed extracts, as well as berries and pomegranates, are rich in antioxidants.
So for those who are often exposed to extreme heat or cold—be it on indoors or outdoors—look for serums that come with these ingredients.
Retinols – If your skin is prone to breakouts, use a serum that contains retinol. It's a form of Vitamin A that helps control oil and breakouts, speed up skin's cell turnover, and prevent clogged pores, resulting in greater protection against frequent acne breakouts.
Plant-based active ingredients – They provide natural brightening effects and relieve sunspots, scars, and patchy skin. To achieve that radiant and flawless glow, look for serums that contain plant-based active ingredients like liquorice.
Anti-inflammatory ingredients – For people with sensitive skin, it's strongly recommended to use a serum with anti-inflammatory ingredients like zinc, aloe vera, and arnica. This is to prevent redness, breakouts, inflammation, and other skin reactions.
Best Face Serums in Singapore
Now that you know which kind of serum matches your skin's needs, let's see our selections for the best face serums in Singapore for all skin concerns and skin types!
1. Face Republic Hydro Boost Serum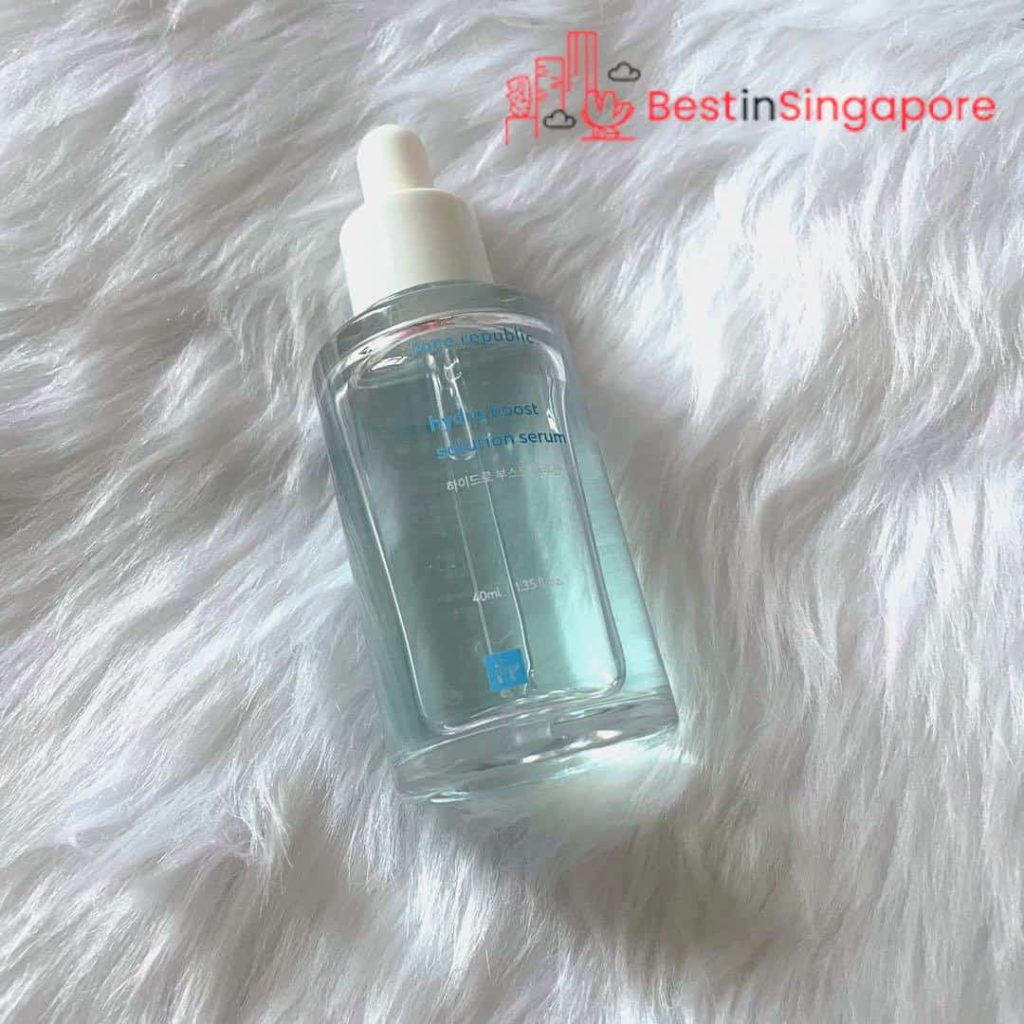 | | |
| --- | --- |
| INGREDIENTS | Water, Butylene Glycol ,Glycerin, Propylene Glycol,1,2-Hexanediol, Pentylene Glycol, Hyaluronic Acid, Hydrolyzed Hyaluronic Acid, Hydrolyzed Sodium Hyaluronate, Sodium Hyaluronate, Hydroxypropyltrimonium Hyaluronate, Sodium Hyaluronate Crosspolymer, *Sodium Acetylated Hyaluronate, Carbomer, Tromethamine, Cellulose Gum, Xanthan Gum, Adenosine, Disodium EDTA,Allantoin, Melia Azadirachta Leaf Extract, Melia Azadirachta Flower Extract, Coccinia Indica Fruit Extract, Aloe Barbadensis Flower Extract, Solanum Melongena (Eggplant) Fruit Extract, Ocimum Sanctum Leaf Extract, Corallina Officinalis Extract, Curcuma Longa (Turmeric) Root Extract |
| PRODUCT SIZES | 40 ml |
| PRICE | $22.00 |
Face Republic's Hydro Boost serum hydrates and regenerates the skin. It does so by utilizing a unique combination of 7 types of hyaluronic acids.
It provides many benefits to one's skin. It not only moisturises the skin, but also bolsters its regeneration.
With prolonged use, you can expect healthier, plump looking skin. There's no doubt that this lightweight and potent serum is the perfect addition to your skincare routine.
Fragrance-free
0.0% skin irritation
Lightweight 
2.   Drunk Elephant B-Hydra Intensive Hydration Serum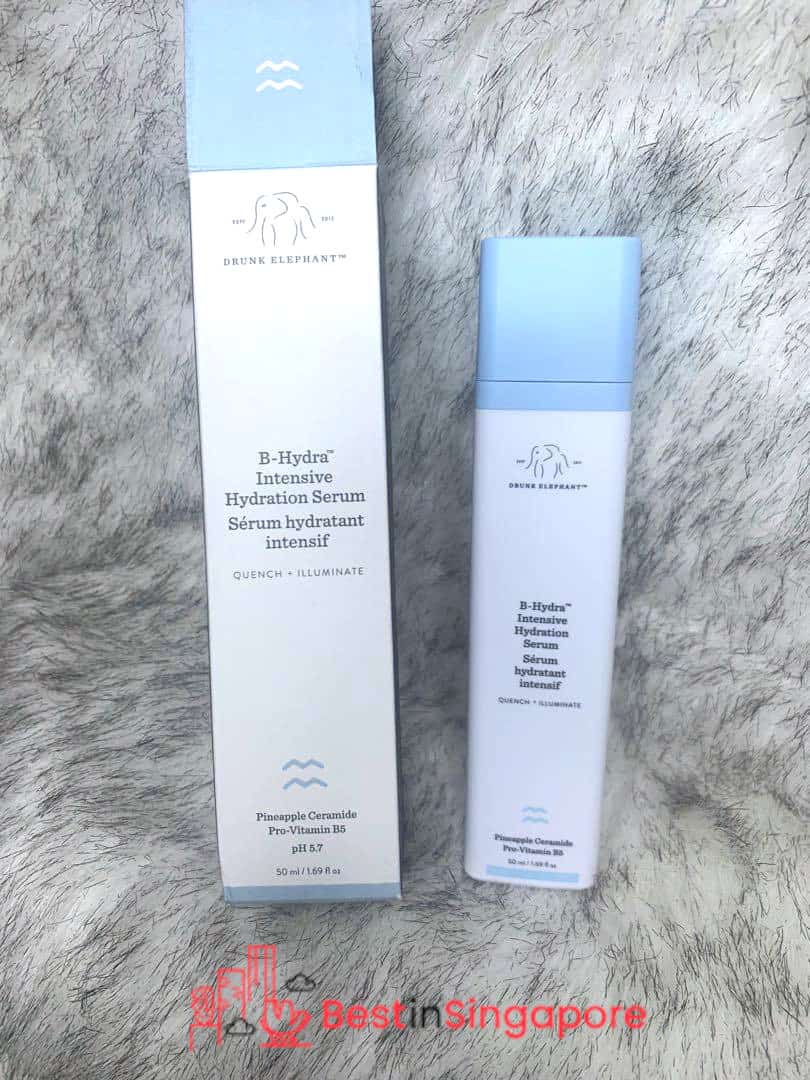 | | |
| --- | --- |
| INGREDIENTS | Water/Aqua/Eau, Coconut Alkanes, Ammonium Acryloyldimethyltaurate/VP Copolymer, Glycerin, Pentylene Glycol, Sclerocarya Birrea Seed Oil, Wheat Amino Acids, Ananas Sativus (Pineapple) Fruit Extract, Berberis Vulgaris Root Extract, Citrullus Lanatus (Watermelon) Fruit Extract, Lens Esculenta (Lentil) Fruit Extract, Pyrus Malus (Apple) Fruit Extract, Coco-Caprylate/Caprate, Panthenol, Sodium PCA, Sodium Hyaluronate Crosspolymer, Dipotassium Glycyrrhizate, Niacinamide, Cyclodextrin, Sodium Hyaluronate, Sodium Lactate, Phenoxyethanol, Hydroxyproline, Trisodium Ethylenediamine Disuccinate, Citric Acid, Caprylyl Glycol, Chlorphenesin, Ethylhexylglycerin |
| PRODUCT SIZES | 50ml |
| PRICE | $83.00 |
If you're struggling to fix dull complexion due to your super dry skin, you should try the Drunk Elephant B-Hydra Intensive Hydration Serum.
It's formulated with biocompatible ingredients that can easily be absorbed into your skin, maintaining a well-balanced hydration 24/7.
This hydrating and lightweight serum keeps your skin moisturised and improves your skin tone and texture, leaving you with a replenished complexion.
It's made without any essential oils, silicons, and fragrance so it's also compatible with sensitive skin.
As it delivers consistent hydration and moisturisation throughout the day, your skin will certainly look healthier and more illuminated, whenever and wherever you are.
24/7 deep hydration and moisturisation
Reduces drabness and dryness
Smoothing effect on wrinkles and fine lines
Lightweight serum
Suitable for dry and sensitive skin
Free of essential oils, silicones, and fragrance
Vegan and cruelty-free
Quite expensive
Works better if mixed with moisturiser
Customer Reviews
The Drunk Elephant B-Hydra Intensive Hydration Serum is well-loved by many beauty enthusiasts who say they've experienced remarkable results after using it. Users also mentioned the long-lasting hydration and excellent absorption to the skin.
Most of them were also impressed with the sleek and aesthetically-designed packaging of the product. They said that it was so easy to use and it protects the formula well so it'll stay fresh and not become damaged by the air.
A customer gave this review:
"I absolutely LOVE this stuff!!!! I have very dry skin and have tried so many moisturizers, serums, potions and lotions that I was quite ready to give up the search. I am so happy that I found this product! I initially received a sample of the product when I bought the Drunk Elephant C-Firma day serum. After using up the sample, I went hunting for the full size version since I just HAD to have it, but oddly enough my local Sephora store did not carry it. I was able to order the full size version from Sephora's website and received it quickly. The product absorbs nicely and leaves my skin so supple and soft. It has a pleasant "cooling" effect and there is no nasty smell (that I can detect). It's also a nice consistency when applying it to the skin. I will definitely be purchasing this one again when my current bottle is empty."
3.   Aveeno Maxglow Serum and Primer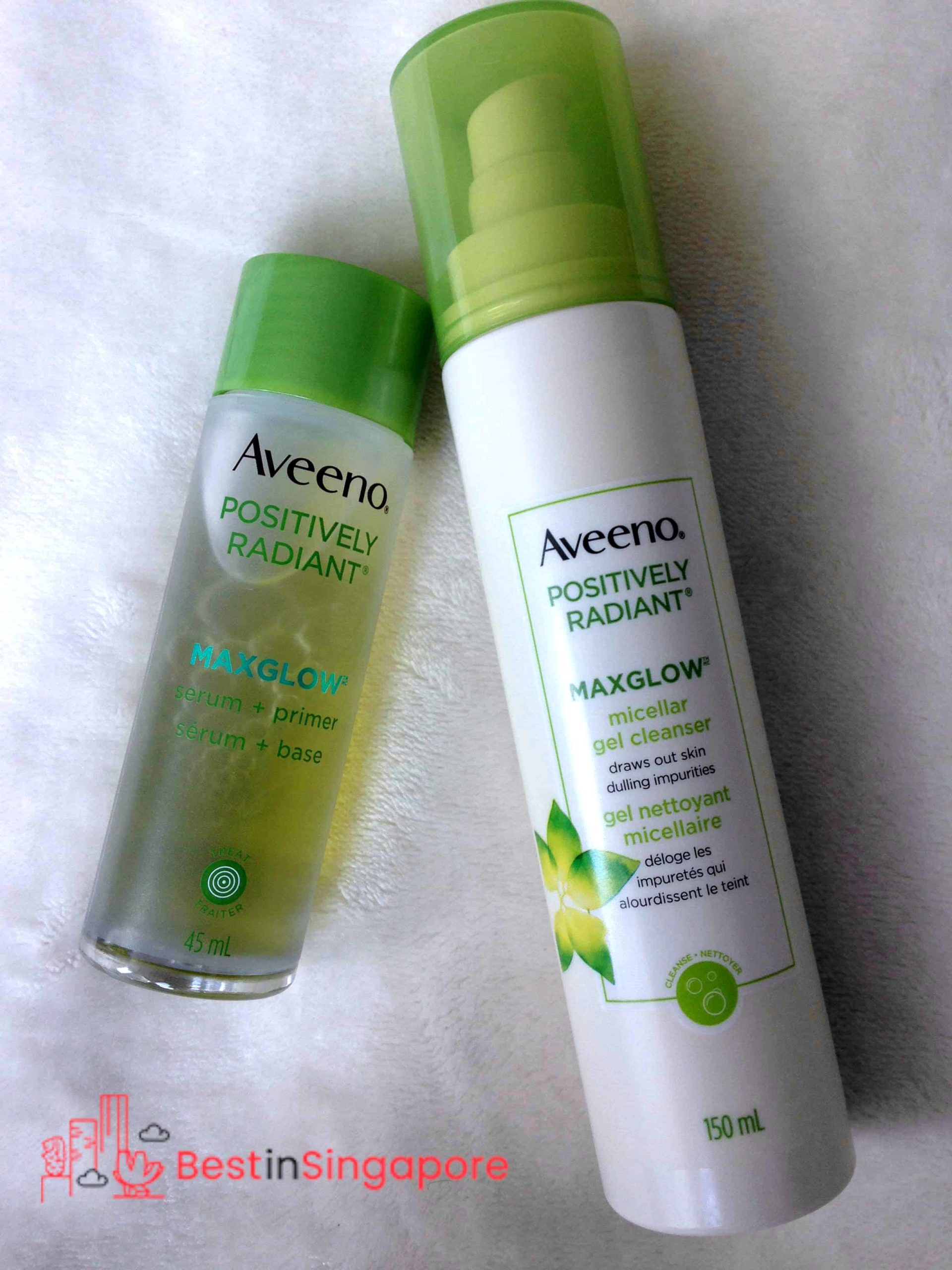 | | |
| --- | --- |
| INGREDIENTS | Water, Coco-Caprylate/Caprate, Macadamia integrifolia Seed Oil, Helianthus Annuus (Sunflower) Seed Oil, Panthenol, Simmondsia Chinensis (Jojoba) Seed Oil, 1,2-Hexanediol, Pentylene Glycol, Sodium Chloride, Phenoxyethanol, Yeast Extract, Butylene Glycol, Fragrance, Actinidia Chinensis (Kiwi) Fruit Water, Benzophenone-4, Xanthan Gum, Tromethamine, Glycine Soja (Soybean) Protein, Yellow 5, Yellow 6, Blue 1 |
| PRODUCT SIZES | 45ml |
| PRICE | $69.25 |
With the Aveeno Maxglow Serum and Primer, you can easily create a glowy base for a dreamy and radiant makeup look!
As its name suggests, it's a multitasking skincare item that offers the combined benefits of primer and serum, giving you have a smooth canvas for makeup in just a single application.
This serum soothes and enhances your complexion by hydrating and brightening your skin. It contains a fast-absorbing liquid formula that illuminates and primes the skin, providing natural glow—with or without makeup.
Apart from these benefits, it also boosts moisture retention for soft and healthy skin texture.
Due to its multiple skincare and cosmetic benefits, it has truly become one of the best face serums in Singapore!
Brightens and primes the skin
Lightweight and fast absorption
Not too sticky, thick, and watery
Hypoallergenic and non-comedogenic
Free of paraben and phthalate
Inefficient bottle design
Doesn't dry immediately
Customer Reviews
Many customers said that the Aveeno Maxglow Serum and Primer is indeed light, absorbs easily on the skin, and doesn't leave an oily finish. Some said that it's the ideal serum to use as a makeup base but can also be used on its own.
However. since it isn't packaged with a pump or drop style, customers had a hard time getting the serum out of the bottle. Despite this, they were still satisfied with the skincare benefits of the product.
A customer shared this experience:
"Started using this and also started rolling at the same time, was a bit red the first few days but afterwards I was asked if I went to the beach because I looked tan and glowing! I was super nervous about the product because of the oily texture because this type of product would make me look greasy and not Dewey. BUT I was pleasantly surprised it didn't break out nor did I look greasy! However, the packaging is horrible – i spent the first 2 weeks cleaning the cap after every use because it would goop all over and clog up so I couldn't unscrew for the next use. And when traveling it just leaked EVERYWHERE. Thank goodness I always put these types of liquids in a separate bag within my cosmetic bag, but it is a slippery mess and requires a soapy wash just to handle! I don't even know what type of container for teenagers so I could prevent this! I would recommend trying this product out because it really provides that radiant flow… but Aveeno – there needs to be new packaging, I have lost over 1/2 the product because of the poor packaging design and have only been using it since mid August and am practically empty! This is the only reason why I am hesitant to repurchase."
4.   SkinCeuticals CE Ferulic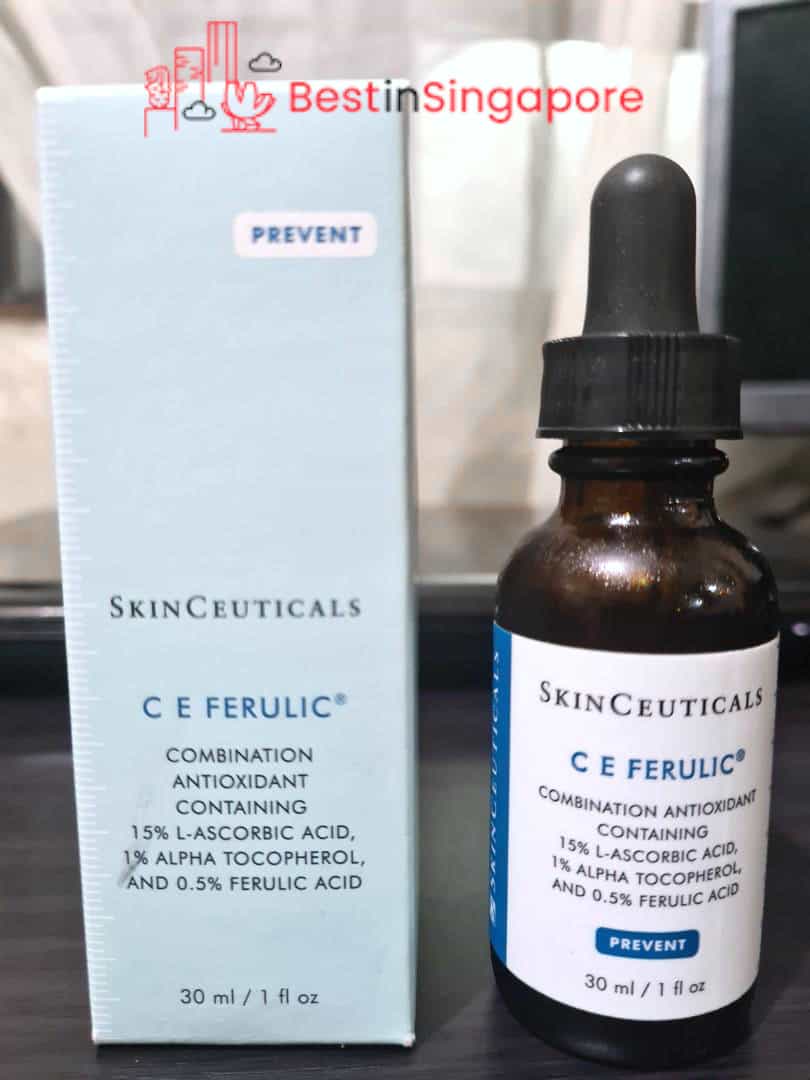 | | |
| --- | --- |
| INGREDIENTS | Aqua / Water / Eau, Ethoxydiglycol, Ascorbic Acid, Glycerin, Propylene Glycol, Laureth-23, Phenoxyethanol, Tocopherol, Triethanolamine, Ferulic Acid, Panthenol, Sodium Hyaluronate |
| PRODUCT SIZES | 30ml |
| PRICE | $215 |
The SkinCeuticals CE Ferulic is an anti-ageing serum that focuses on reducing fine lines and wrinkles and loss of skin's firmness. For those who are noticing visible signs of ageing, this can be the best face serum in Singapore to have.
This serum features a high level of vitamin C that helps improve various skin conditions like dehydration, discolouration, and ageing. It also serves advanced environmental protection through its antioxidants ingredients.
If you already use other anti-ageing skincare products, it's advisable to use the serum before applying them, so your skin can receive proper skincare layering.
Once the serum is absorbed into the skin, it can last for a minimum of 72 hours, ensuring that your skin will be in good condition for the whole day!
Reduces signs of ageing
Brightens skin complexion
Suitable for all skin types
Deals with skin dehydration and discolouration
Prevents environmental damage to the skin
Must be used within only 3 months of opening
Not available in a smaller size
Customer Reviews
The SkinCeuticals CE Ferulic has become a holy grail product for most beauty enthusiasts. Most of them said that, after using the serum, their skin becomes plumper, younger-looking, and brighter as well.
Some even mentioned that they've been using the product for several years, proving that it deserves a spot on our list. A customer left this feedback:
"I was introduced to this product well over a decade ago by my esthetician. I am now in my mid-50s, and believe that this product is one of the primary reasons my skin looks so good: I felt my skin was starting to show my age, and this serum has given me brilliant results. When most folks find out my real age, almost all remark that I look nowhere near it, and mention my skin. I want to give credit where credit is due. Skinceuticals is an amazing line, and I cannot recommend this product more highly. It is expensive, but I have found it to last a very long time."
5.   Mario Badescu Anti-Acne Serum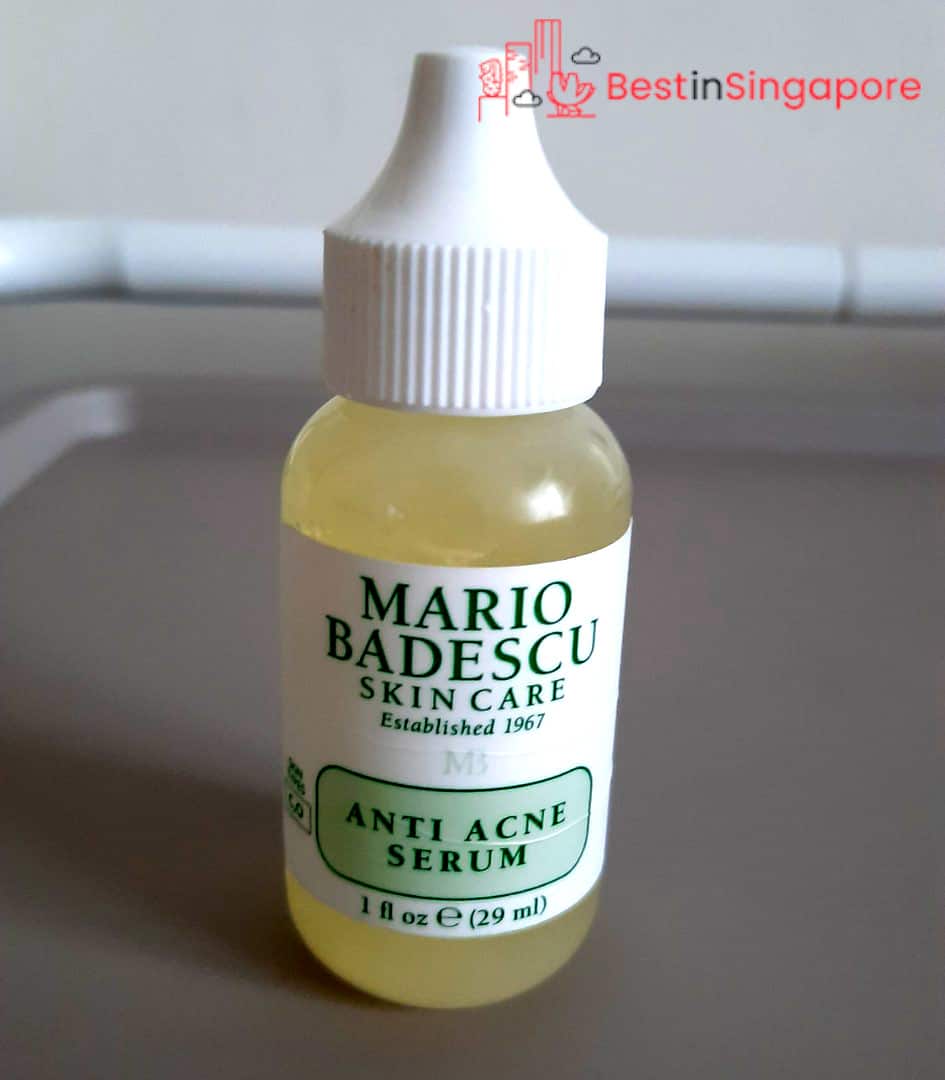 | | |
| --- | --- |
| INGREDIENTS | Aqua (Water, Eau), Glycerin, Triethanolamine, Isopropyl Alcohol, Salicylic Acid, Propylene Glycol, Carbomer, Thymus Vulgaris (Thyme) Leaf Extract, Sodium Chloride, Methylparaben, Propylparaben, Diazolidinyl Urea, CI 19140 (Yellow 5), CI 15985 (Yellow 6) |
| PRODUCT SIZES | 30ml |
| PRICE | $38.40 |
As we all know, it has always been hard to find the right product that can fully combat acne problems. But with the Mario Badescu Anti-Acne Serum, you can be sure that your acne-prone skin will be fully protected from breakouts.
This lightweight and oil-free serum contains Salicylic acid and Thyme extract that exfoliates the skin and prevents pimples and pore congestion. It doesn't only prevent acne, but also clears active breakouts, leaving your skin smooth and clear.
It works best during the night so your skin can recover from being exposed to environmental aggressors that cause possible acne concerns.
Suitable for combination, oily, and troubled skin
Hydrates the skin
Fast-absorbing and non-drying serum
Cleans and minimises pores
Customer Reviews
Customers said that the Mario Badescu Anti-Acne Serum is gentle and soothing on the skin. Most users shared that it's also capable of clearing bumps, whiteheads, and blackheads.
A customer wrote this review:
"THis product really helped me with my acne 🙂 I am currently suffering from some weird cystic acne around my chin area and I break out almost every day. This anti acne serum has really helped to calm that area down. Hopefully it will continue to do its magic 🙂 "
6.   Allies of Skin Triple Hyaluronic Antioxidant Hydration Serum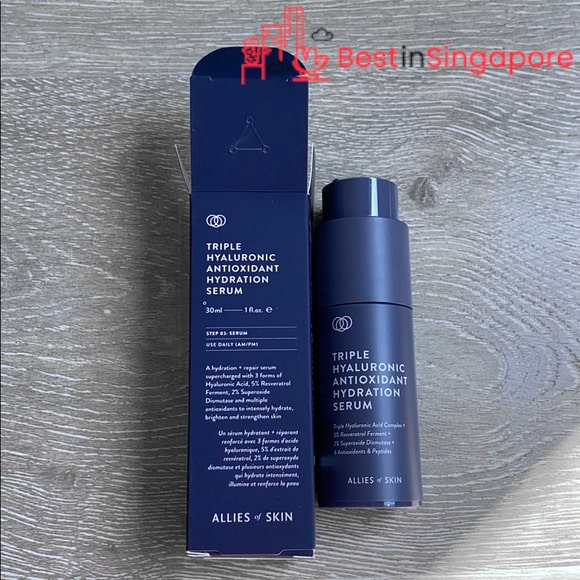 | | |
| --- | --- |
| INGREDIENTS | Aqua (Water), Niacinamide, Dimethyl Isosorbide, Glycerin, Superoxide Dismutase, Triethyl Citrate, Sodium Hyaluronate (L), Cassia Angustifolia Seed Polysaccharide, Pichia/Resveratrol Ferment Extract, Hyaluronic Acid, Fragaria Vesca (Strawberry) Fruit Extract, Glycyrrhiza Glabra (Licorice) Root Extract, Epigallocatechin Gallate, Phospholipids, Sphingolipids, Palmitoyl Tripeptide-38, Honey (Mel), Adenosine (D), Astaxanthin, Tocopheryl Acetate (D-alpha), Sodium Polygamma-Glutamate, Sclerotium Gum, Ethylhexylglycerin, Xanthan Gum, Rosa Damascena Flower Oil, Pelargonium Graveolens (Geranium) Oil, Sodium Gluconate, Corn Starch (modified), Polysorbate 20, Hydroxypropyl Cyclodextrin, PPG-3 Benzyl Ether Myristate, O-cymen-5-OL, Phenoxyethanol, Citronellol, Geraniol, Linalool |
| PRODUCT SIZES | 30ml |
| PRICE | $105.00 |
The Allies of Skin Triple Hyaluronic Antioxidant Hydration Serum provides strong protection against skin damages that are usually triggered by environmental factors.
Whether your work requires you to stay outdoors or indoors, this can be the best face serum in Singapore for you.
This serum is made with a powerful blend of antioxidants that helps reduce inflammation and damage. It also deeply nourishes, hydrates, brightens, and enhances skin complexion.
Aside from these, it also has anti-ageing properties that allow for firmer, smoother, and suppler skin!
Cool and calming on the skin
Improves elasticity of the skin
Long-lasting radiance
Customer Reviews
Customers were impressed with fast absorption and long-lasting skin protection of the Allies of Skin Antioxidant Hydration Serum. They also loved its herbal smell and non-greasy texture that feels natural on the skin.
A customer posted this feedback:
"This serum has lots of good active ingredients, a lot of which I personally don't see in many other serums. Also there's no denatured alcohol which is great. Just make sure you shake the bottle. It has a herbal/rose sorta smell to it and its light reddish colour. This may not be to everyone's liking but it doesn't bother me and the smell goes away after some time. This also mixes well with other products I use. I noticed my skin in a week was more clearer and less inflamed. This isn't moisturising enough but serums for me are not for this purpose, they are there to get active ingredients/antioxidants into the skin. So I always use a moisturiser afterwards with any serum which works more on moisturising my skin. This was gentle enough for me to under the eyes too. A few pumps were enough to cover my whole face/neck. I am beginning to like this brand. It seems a little unique. I am happy with this and already ordered another bottle."
FAQs About The Best Face Serum in Singapore
---
That's it for our list of the best face serums in Singapore! Have you already decided which one fits you the best?
If your skin's main concern is discolouration and dark/red spots, then you might want to consider these best CC creams in Singapore. They can also be used as sunscreen, foundation, and moisturiser as well.