What You Need to Know about Arab Street in Singapore
Singapore is a melting pot of various cultures, so if you're vacationing in this country soon, your itinerary should include checking out the cultural landmarks. One cultural landmark I definitely think you should check out is Arab Street.
Arab Street is one of the most popular neighborhoods in the country and for good reason: it's vibrant and lively, with gorgeous street art and trendy eateries. Shops selling from clothes to lush Persian rugs are also here, which will delight shopaholics.
There are so many things to do and see here, and that's why I decided to write this article. If you're considering visiting this neighborhood, continue reading because this has everything you need to know about Arab Street in Singapore.
The Basics of Arab Street in Singapore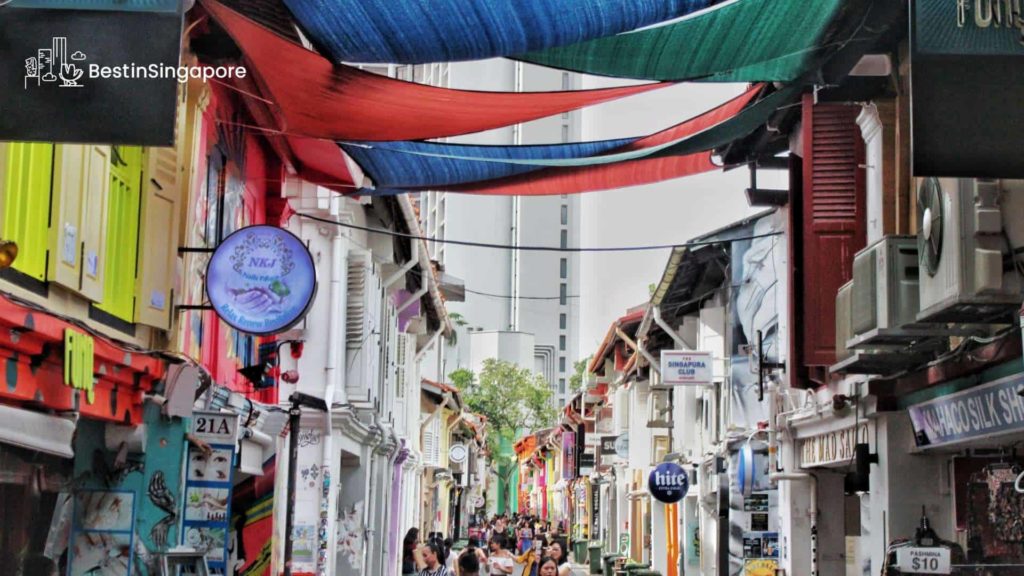 Located between Victoria Street and Beach Road in Kampong Glam, Arab Street was the designated area for the Muslim community in the 1800s. Muslims from various ethnicities resided here—Malaysians, Sumatrans, Yemenis, and Javanese.
Urbanization eventually got Arab Street to shed much of its distinctive character, but it still shows a bit of its cultural heritage. The streets and walls are filled with art and graffiti, so an explosion of color is what greets visitors whenever they visit.
The current Arab Street also houses many iconic attractions like mosques, quaint stores, and old shophouses with handicrafts, textiles, and Persian rugs. Culture is still very much alive here.
How do I get to Arab Street?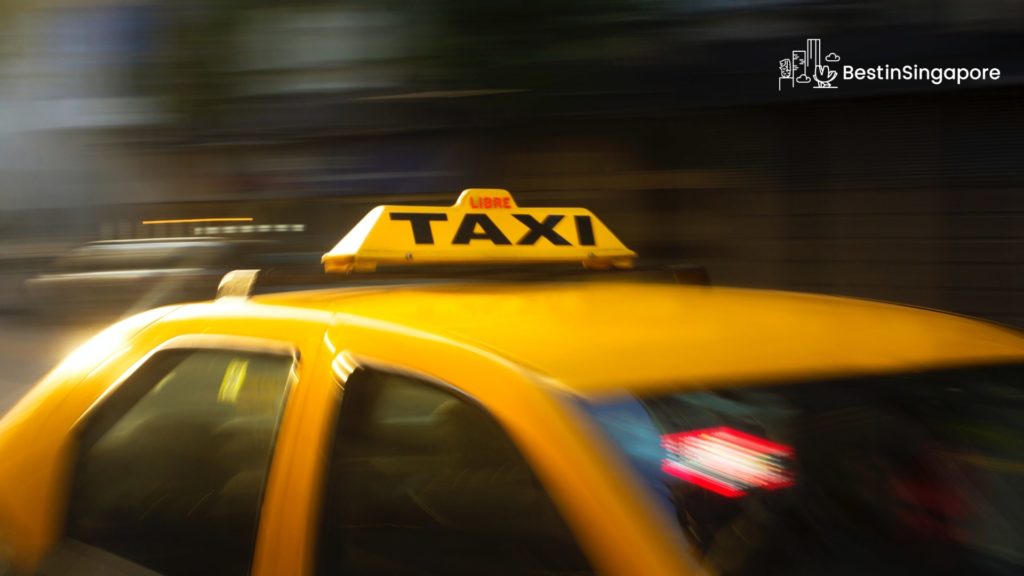 Riding a taxi is the fastest way to get to Arab Street. You can stop anywhere on the street, though, of course, it's ideal if you have a specific location where you want to disembark.
Public transportation is another way to reach Arab Street. If you choose the bus, ride bus no. 2, 12, 33, 133, or NR7, and if you're riding the MRT, take the Green Line, then alight at the Bugis Station, which is only five minutes away.
Where can I park on Arab Street?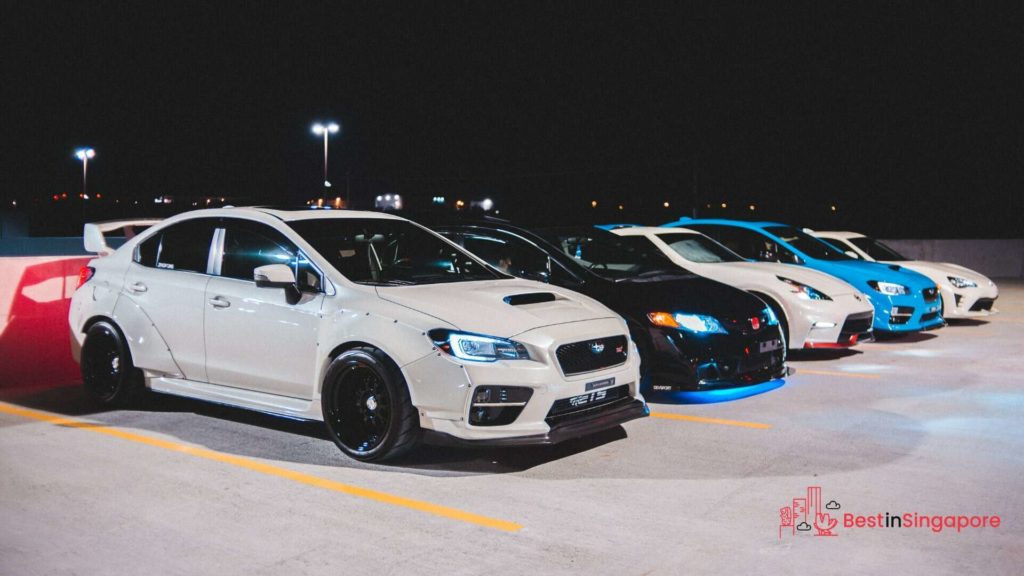 If you're driving to Arab Street, you can park anywhere on the surrounding streets. For suggestions on where to park, refer to the table below:
| Carpark ID | Location | Rates |
| --- | --- | --- |
| A0010 | Arab Street | S$0.60 per 30 minutes (daily) |
| J0022 | Jalan Pinang | |
| Q0002 | Queen Street (Arab Street/Rochor Road) | |
| B0002 | Baghdad Street | |
| J0012 | Jalan Pisang | |
What are the attractions to see on and near Arab Street?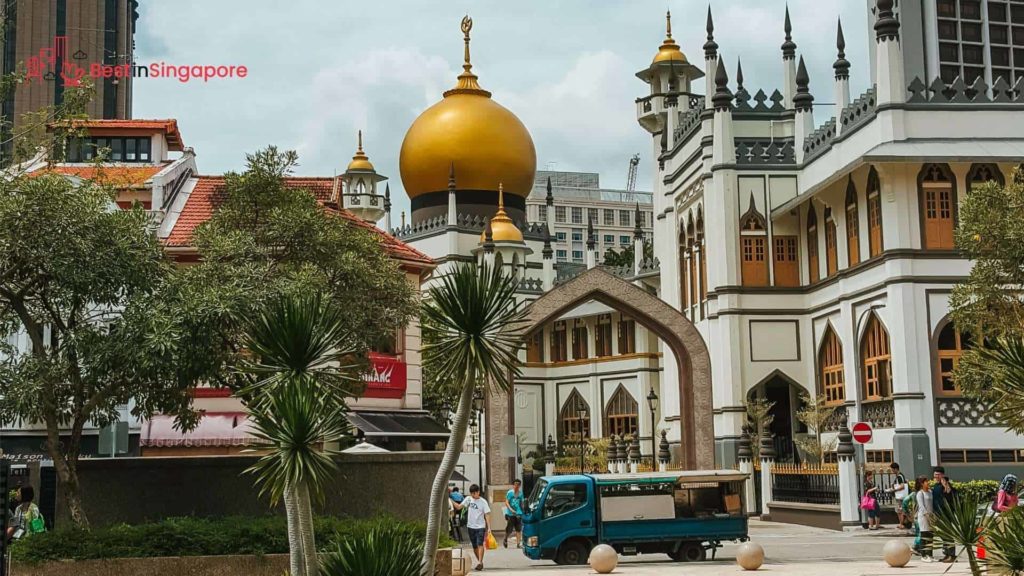 Most visitors may come to Arab Street to shop and dine, but you can also stop by here to do some sightseeing. There are several attractions worth seeing on Arab Street, and here are some that you definitely don't want to miss out on.
Masjid Sultan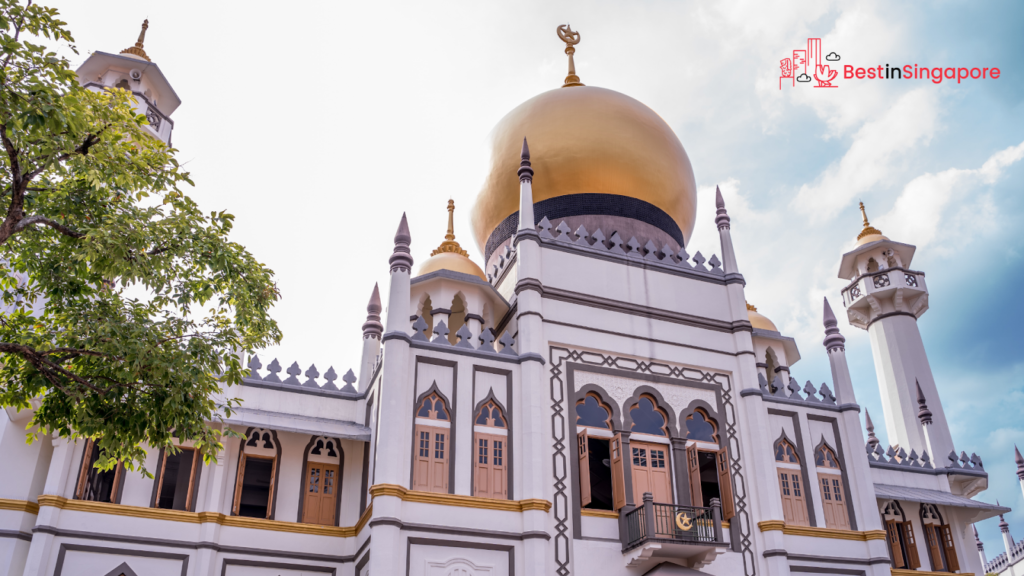 If I were to pick the highlight attraction on Arab Street, it will have to be Masjid Sultan (more commonly known as the Sultan Mosque). And how can I not choose this?
Even when I'm still far from the mosque, I can already see it from a distance. Its grand structure towers over everything on Arab Street, and its gold roof is striking.
Sometimes, I actually think the mosque is a beacon that beckons everyone to come closer.
The Sultan Gate is just as impressive-looking, and once one steps inside, one notices even more details in its architecture.
The base of the domes is adorned by glass bottles, and I learned that these bottles were actually donated by the local population at the time.
Another thing I like about this attraction is its history: it was originally constructed in 1824 and reconstructed in 1928. Despite being around for more than a century, the mosque still looks regal, so I can understand why it has become a national monument.
The Projector
Do you enjoy watching movies, specifically indie ones? Then, you'll love The Projector, which is a retro-themed movie theatre located inside Golden Theatre.
The Projector is primarily known for showing indie and foreign films that you normally won't find in any other cinemas in the country. So, this is really a perfect place for passionate film buffs—or even for those who just want to expand their horizons.
But what if you're just a casual movie watcher (I can totally relate)? Well, there are a few blockbuster movies shown here as well.
I was able to snag tickets to the recent John Wick movie and the award-winning Everything Everywhere All At Once.
Operating Hours: 4 to 10:30 pm (weekdays), 1 to 10:30 pm (weekends)
Estimated Cost: S$10.50 for the ticket (standard price)
Malay Heritage Center
If you're fond of history and museums like me, then you definitely don't want to pass up the chance to check out the Malay Heritage Center. Opened in 2005, this heritage center showcases Malay culture and heritage in Singapore.
I've visited this heritage center numerous times before, and I remember being so impressed with the historical artifacts on display. My favorite artifacts to check out are the furniture because the details are so intricate that I feel the urge to examine them.
I also remember enjoying the digital animation videos based on classical Malay folklore. Sure, I enjoy anything that's remotely related to any kind of folklore, but the animations were so creatively done that I can't help but be impressed.
Sometimes, the heritage center organizes Malay cultural programs and workshops as well, so if you're able, I suggest you join. You'll be able to learn more about Malay culture, which in turn will allow you to appreciate it more.
Haji Lane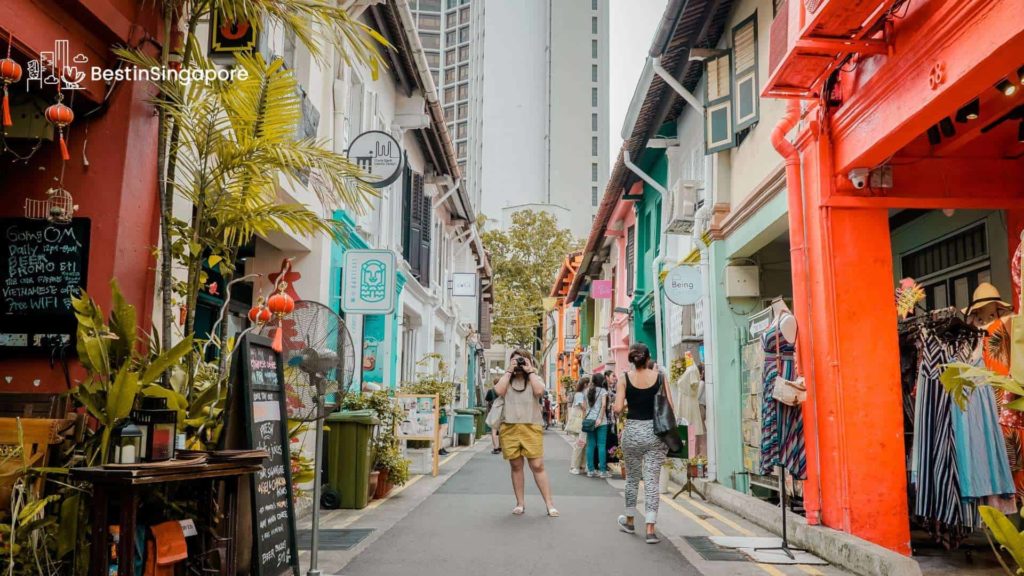 What if you're browsing through Arab Street and none of the shops or restaurants have called out to you? Then fear not because you can always check out the neighboring streets and areas, and one neighbor that I recommend is Haji Lane.
Despite being one of the narrowest streets in Singapore, Haji Lane exudes a lot of character and charm just like Arab Street. The boutique shops are quirky, the graffitis are colorful and eye-catching, and the restaurants give off mouthwatering smells.
Sometimes, when I come by this street, I see just as many people taking photos as they are shopping or dining. And I get it; with the vibrant stores and street art, it's hard not to take photos on your phone or camera.
Children Little Museum
History lovers, here's another museum that I'm sure you'll love. On the outside, the Children Little Museum may seem like another humble building, but it's a treasure trove inside.
This museum focuses on toys of the past, so inside, you can see all kinds of playthings from a bygone era.
I once visited the museum with my grandparents, and they stopped me more than a couple of times to show me a toy that they used to have and tell me stories from the past.
But even if you're just visiting by yourself, you'll still find the museum interesting. The collection really just gives you an insight into how toys for children have evolved throughout the years.
The Gem Museum
Another interesting and unique museum near Arab Street that I always recommend to Singapore tourists is The Gem Museum.
Unlike your typical museums, which focus mostly on history, this one is all about gemstones. Isn't that exciting?
The Gem Museum is the one and only of its kind in Singapore, so if you're fascinated with gems, rocks, and minerals and want to learn more, this is the only place you can go to.
The collection is varied and with so much information that you won't look at rocks the same way again (in a good way). If you can't get enough of the gems, you can always buy one from the shop.
When I visited here, I purchased a diamond because I was born in April and I believe the birthstone for that month is the diamond. Next time I'll visit, I'll look for amethyst and peridot because those are the birthstones of my sibling and mother, respectively.
Address: 9 Perak Road, Singapore 208130
Operating Hours: 12 to 5 pm (Tuesdays to Fridays), 11 am to 3 pm (Saturdays), closed on Sundays and Mondays
Admission Fee: Free
Amazing Chambers Singapura
Are you traveling to Singapore with friends and you're looking for activities that get your adrenaline pumping? Then, I have a suggestion for you: try out Amazing Chambers Singapura, which is an escape room.
I only went here once with my friends (I wouldn't have gone because I get scared easily, but ultimately, peer pressure won), and we chose "Sang Nila Utama and The Lost Crown." In a nutshell, it was a nerve-racking experience (I panicked the entire time).
There are so many rooms to choose from, and I just know that no matter which room you pick, you'll have a blast (or panic if you're like me). Playing an escape room is truly one way to make your Singapore trip with your friends memorable!
Address: 73 Sultan Gate, Singapore 198497
Operating Hours: 11 am to 8 pm (Wednesdays to Sundays), closed on Mondays and Tuesdays
Price: S$24.90–38.90 (depending on whether you have discounts or if you're booking during peak hours)
Trapped Escape Room Singapore
Trapped Escape Room Singapore is another escape room establishment near Arab Street, and this is one I haven't been to (once was enough for me), but my friends have sworn that it's worth checking out as well.
From what I can tell, Trapped is more focused on horror-themed rooms: they're usually inspired by popular horror movies, such as A Quiet Place, The Purge, and Hide and Seek. Thank God I didn't go, but if this seems like your thing, I suggest going for it.
One thing that really stands out about Trapped is that it's the largest of its kind in the country. So, there are a lot of options to choose from, which is actually exciting.
Operating Hours: 11 am to 10:30 pm (daily)
Price: S$23.90–38.90
Motion Art Space
Motion Art Space has got to be one of my favorite spots on Arab Street, and if you're an art lover—or you're looking for a unique experience—you might be interested in taking an art workshop here as well.
At Motion Art Space, you get a chance to create your next masterpiece using motion technology.
In other words, art jamming and Newton's law of motion are combined. Isn't that exciting?
Best of all, they offer multiple packages, so there's something for everyone. I usually choose the Single Package because I like going alone, but you can book a session for you and your partner—group sessions are available as well.
They even have options for double dates and big groups!
Address: 36A Arab Street, Level 2, Singapore 199735
Operating Hours: 10 am to 9 pm (Mondays to Saturdays), 10 am to 8 pm (Sundays)
Price: S$69–119 (depending on which package you pick)
What are the best restaurants on Arab Street?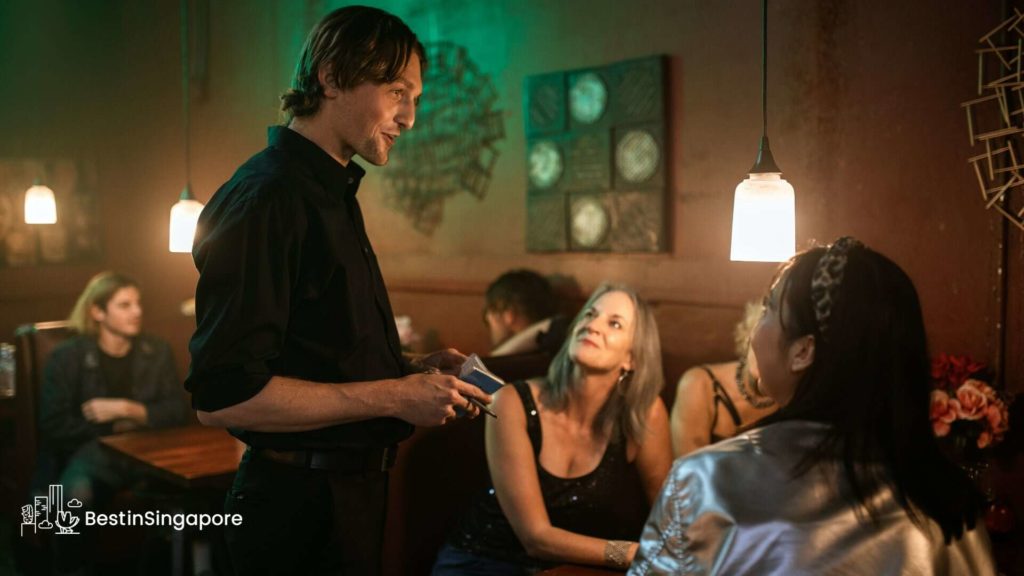 One of the best ways to immerse yourself in a particular culture is through food. And luckily for you, there are many amazing restaurants on Arab Street.
Here are a few that you should check out.
Kampong Glam Café
Only three minutes away from Masjid Sultan, Kampong Glam Café is one of the places in the area where you can get delicious local meals at an affordable price. The best part is that their menu is varied: there are rice meals, noodles, and even Western dishes.
Of course, my go-to orders in this café are the rice meals (nasi goreng pattaya will always have my heart). Even though their dessert menu isn't as extensive (only brownies and Malay kuih), I still order them because I can't resist my sweet tooth!
Working Title
I have to admit: the name of this restaurant—officially stylized as (working title)—is what caught my eye (I mean, I can't be the only one who thinks it's creative!). But thankfully, the dishes here are so tasty that they made me stay.
Working Title specializes in breakfast and brunch, but it's their burgers that take the cake.
Their burgers are loaded with home-ground patties and savory cheese, and with a side of perfectly fried fries, it's easy to feel full after eating a few bites.
Because of this, I say Working Title is the ideal place to go if you're positively starving after a long day of exploring Arab Street. You'll devour their dishes and fall into a food coma in no time.
Operating Hours: 12 to 10 pm (Sundays to Fridays), 12 to 11 pm (Saturdays)
Fika Swedish Cafe and Bistro
Are you a big fan of Swedish-style meatballs? Then I have a recommendation on Arab Street for you: Fika Swedish Cafe and Bistro.
As you can guess from the name, this restaurant specializes in home-cooked, traditional Swedish food and pastry, so you can find a meatball dish to satisfy your cravings. And to really get your money's worth, I suggest trying out their other meals as well.
My personal favorite will have to be the crêpes—and not because they're sweet, surprisingly enough. Instead, they're more on the savory side (e.g. mushroom and grilled chicken crêpes), and let me tell you, they taste so good!
Blu Jaz Café
If you're looking for a unique dining experience, Blu Jaz Café might exactly be your jam. Not only do they serve elegantly plated meals (seriously, their meals look like they're made for Instagram), but they also have live music occasionally to accompany you.
From what I know, they invite bands and DJs to play music every Wednesday, Friday, and Sunday, and they also have standup comedy if that's more your thing. For me, this café just gives off calming vibes, which is why I come here often.
House of Kebab
Kebab lovers, here's a restaurant on Arab Street that I know you'll love: House of Kebab. I may be biased, but I really do think this restaurant serves some of the best kebabs and shawarmas that I've ever tasted in my life!
As if that's not good enough, House of Kebab also serves other authentic Turkish and Lebanese cuisines. So, while you're here, don't miss out on the chance to get your fill of their moussaka, falafel, and signature lamb chop!
Good Luck Beerhouse
Do you just want to find a place to unwind and grab some drinks with your buddies? Then I suggest stopping by Good Luck Beerhouse.
Good Luck Beerhouse boasts serving 100% local craft beers, so when you order drinks here, you're also supporting local breweries.
There are also other drinks. I personally prefer the sake here as well as the various cocktail offerings.
And if you're hungry, you can find several hearty meals to fill your empty stomach. With dumplings, burgers, fries, and more—you'll leave this place extremely full!
% Arabica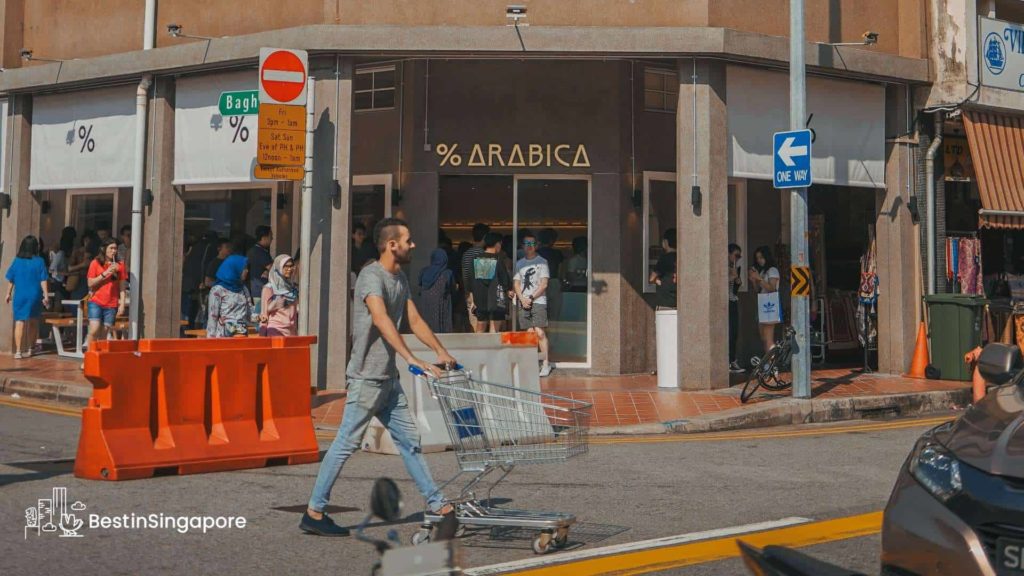 If you're exploring Arab Street, you might notice that there's a coffeehouse with a long queue. That, my friends, is % Arabica, and once you get a taste of their coffee, you'll understand why so many people are always clamoring for this shop.
% Arabica is a globally well-known brand: they currently have locations in 20 countries (more coming soon), and in Singapore alone, there are six branches. What makes this coffee shop stand out is that it sources beans from all over the world.
I've already tasted their hot Kyoto Latte and Dark Latte, but my favorite has to be the Spanish Latte.
It has condensed milk in it, so the sweetness undercuts the acidity perfectly. It seriously tastes so good, and I definitely recommend you try it.
Nasrin Turkish Restaurant
Nasrin Turkish Restaurant specializes in delicious Turkish food served in a posh yet cozy ambiance. The dishes are also beautifully presented on their plates; I confess that sometimes, I spend a longer time taking photos than eating my meal.
For me, this place is perfect for couples who are on a romantic date, but if you just want to treat yourself to a fancy meal, go for it as well.
I recommend ordering the roasted lamb leg. It's S$28, which is quite a hefty price tag, but its delicious taste makes up for the price.
Address: 21 Arab Street, Singapore 199844
Operating Hours: 11 am to 11 pm (Tuesdays to Thursdays, Sundays), 11 am to 12 am (Fridays and Saturdays), closed on Mondays
All Things Delicious
With a name like All Things Delicious, you'll naturally expect that the dishes here are all delicious. And luckily, this restaurant delivers; all the meals I've tried here have been delectable, and that's a good sign.
What I love about this restaurant is its very extensive menu: there are all-day breakfast meals as well as sandwiches, pasta dishes, and affordable rice bowls. And of course, they also have many choices of cake, which is absolutely my favorite part.
Seriously, I've been to this restaurant multiple times, and I still don't think I've made a dent in their menu. There's just so much to try, so I'll always find the time to come back here until I've tasted everything they serve.
Operating Hours: 8 am to 7 pm (daily), closed every last Monday of the month
Important Note: This restaurant is temporarily closed for renovations. It will open again sometime in late April.
Overrice
Are you just looking for a restaurant that serves you a fulfilling meal without breaking the bank? Then, you better head to Overrice!
Overrice specializes in easy yet hearty rice bowls with affordable price tags. And if you're not in the mood for rice, you can choose to try their pita pockets and their snack bites instead, which are just as delicious and hearty, in my opinion.
Most of their dishes are within the S$8–15 range, so this is really the restaurant for people on a budget. Sometimes, this is where I go to eat if I don't have much money and I still want to do some shopping around the area.
What are the best shops on Arab Street?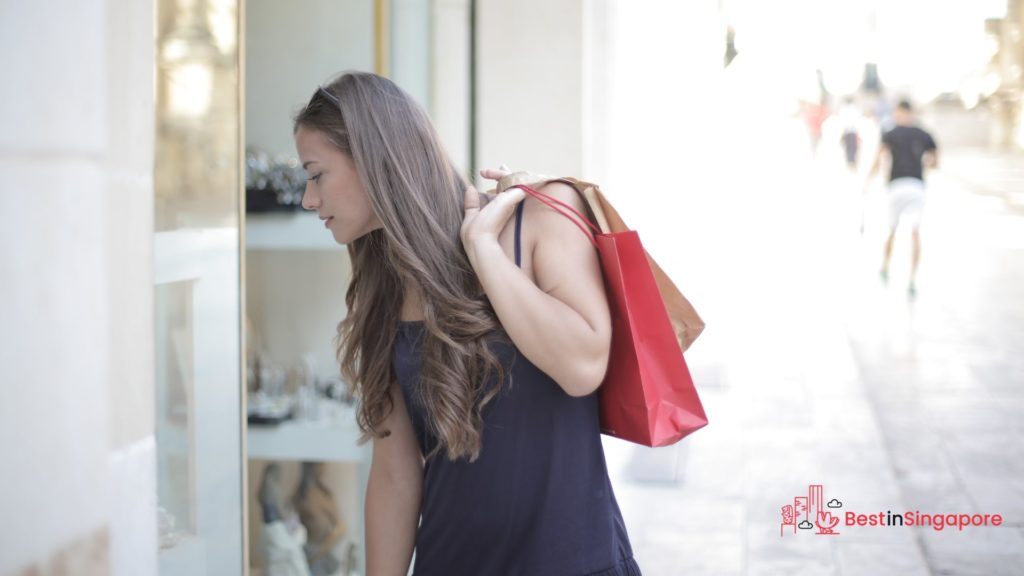 Aside from the attractions and eateries, Arab Street is also a shopper's paradise. There are so many stores selling all kinds of things.
If you don't know where to start, here are some of the best shops on Arab Street.
Sifr Aromatics
Sifr Aromatics may seem like a charming little studio on Arab Street, but once you step inside, you'll feel like you've been transported to the land of fragrant scents.
Inside, you can find rows upon rows of in-house perfumes, scented candles, aromatic jewelry, and infused balms. If you want, you can even request custom aromatics.
I tried this once before (only once because it was expensive), and it took about a few hours because the atelier really interrogated me about my favorite scents. At the end of the session, they gave me a 50 ml Eau de Parfum based on what I shared.
And wow, it smelled divine! Its base scent was lavender, which is my favorite and one that I know people might find extremely basic, but somehow Sifr Aromatics made it smell new and nuanced.
Their products can get pricy, so if you don't have the means yet, feel free to just roam around the shop. Your nose will thank you all the same.
Achakzai Trading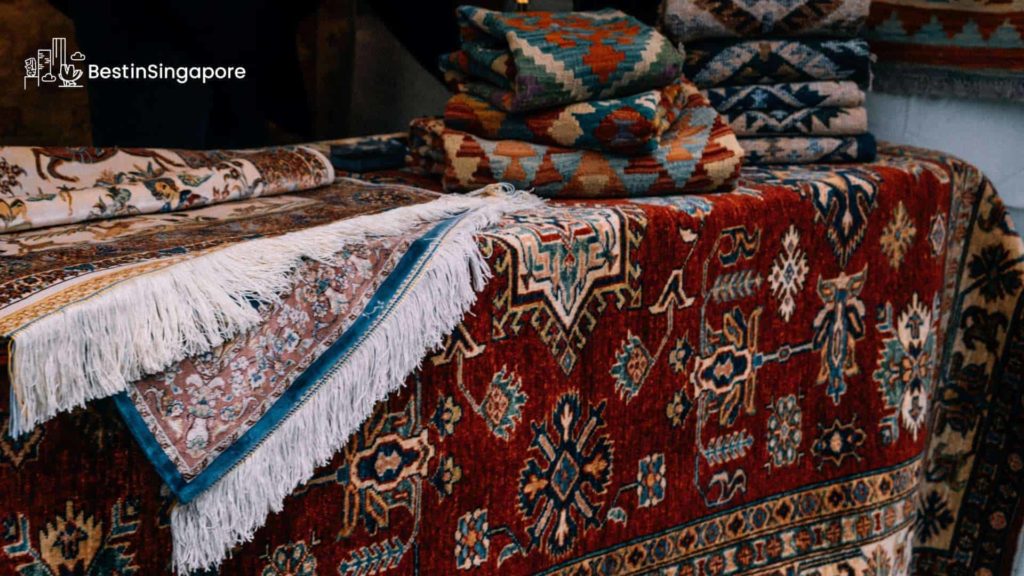 If you're willing to splurge, then why not treat yourself to a nice Persian rug for your house?
Sounds interesting? Then, I suggest heading to Achakzai Trading on Arab Street to start your search.
This store specializes in rugs, mats, and carpets from the Middle East, and let me tell you: even if you're not planning to buy anything, the beauty of these products will tempt you. The products are also incredibly well-made, so feel free to give in to temptation.
I myself have bought a Persian rug here. It's crimson with complicated geometric designs in various other colors along the perimeter.
It's on my living room floor, and it's always a conversation starter when I have guests around.
Sarvan's Carpets
If you've been to Achakzai Trading and none of the products have caught your attention, then another store I recommend you check out is Sarvan's Carpets. This one is smack-dab in the heart of Arab Street, so it will be hard to miss.
This store also features a great variety of rugs, carpets, and mats with intricate designs and vivid colors, so you might find one that you like here. I haven't bought anything here myself, but I did accompany some of my friends when they purchased a rug or carpet.
The items they bought resembled the rug I bought from Achakzai Trading in the sense that theirs are also woven in vibrant textiles and feature complicated geometric designs. I've also touched their rugs, and they felt so soft!
DWiz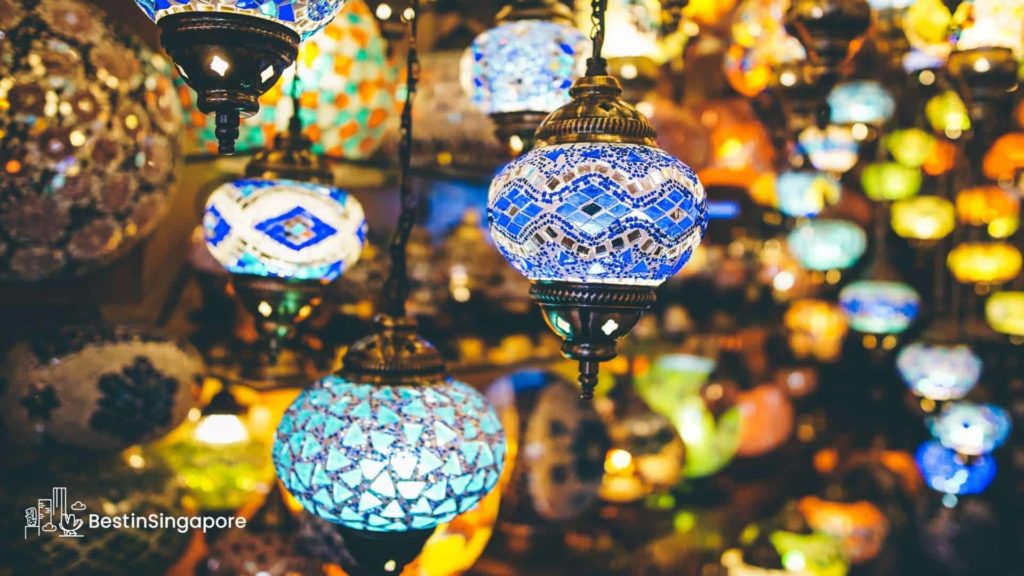 Another piece of home furniture that I love to buy is a lamp—specifically a Turkish lamp.
If you haven't seen Turkish lamps, you're missing out. They're much more aesthetically pleasing than normal lamps, with elaborate mosaic designs.
If I got you intrigued with that description, then allow me to suggest that you go to DWiz on Arab Street. This store has some of the best Turkish lamps I've ever seen, so I know you'll find one that will capture your eye.
If lamps aren't your thing, no worries. DWiz also sells other ceramic works, so be sure to check out all their offerings.
Street Markets
Hidden gems aren't just reserved for stores and shophouses on Arab Street. You can also unearth them on the street markets.
What I love about street markets is that everything is in one place, so you can take a few steps and you can already see lush textiles, gorgeous bags, and vintage clothes.
As a result, I always end up buying something. It's so hard to practice self-control here!
You don't even have to buy anything if you don't have the budget for it. You can just browse the products of each stall.
Surrounding yourself with creatively crafted products is a satisfying feeling on its own.
What is the best way to see Arab Street?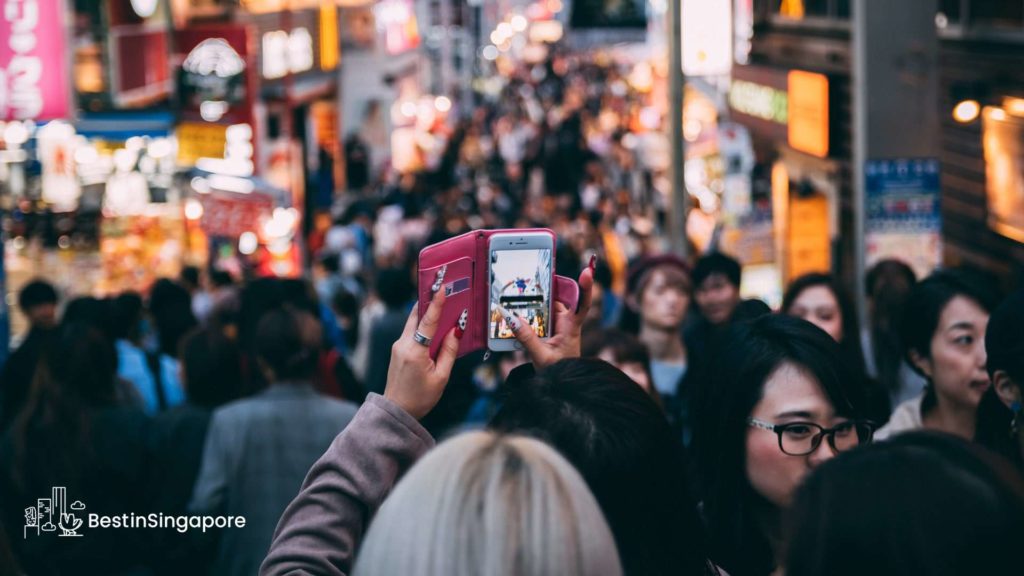 The best way to see and experience Arab Street is by going on a walking tour of the area. This place offers so many things to do and discover, and with tours, you'll have an itinerary to keep you on track of the landmarks to check out.
There are other benefits that you can get from participating in a walking tour. Firstly, you get to meet and befriend other like-minded people, and secondly, you get to visit other locations in Singapore because organizers want you to have an immersive experience.
My Recommendation: the Kampong Glam Walking Tour
If you don't know which walking tours to check out, my favorite—and also one that other people have raved about—is the Kampong Glam Walking Tour, which is organized by Monster Day Tours.
What makes this tour great is that it's completely free! You just have to show up at the meeting point, which is Lavender MRT Exit B, and join the group. Your tour around the Muslim Quarter will last about 2.5 hours.
If you're interested, simply join the group every Tuesday, Thursday, or Saturday at 9:30 am.
FAQs about Arab Street in Singapore