12 Shops for the Best Carpets in Singapore – Reviewed
Finding the best carpets in Singapore might make anyone feel spoilt for choice since there are so many options available.
But when you have to consider your budget, interiors, and other factors, you can whittle down the choices to something more manageable.
Today's post will look at some of the finest carpets in the country and the shops that offer them. We'll also look at rates in the next section.
How much do carpets cost in Singapore?
As the table below shows, there's quite a wide price range for carpets in Singapore depending on the material used, the complexity of the design, and other factors. However, we thought of grouping the rates by size and shape.
| CARPET SIZE/SHAPE | AVERAGE COST (depending on the material, design, texture, and other factors) |
| --- | --- |
| 120 x 160 cm | S$75 to S$200 |
| 200 to 240 cm x 135 to 170 cm | S$300 to S$5,000 |
| 200 x 300 cm | S$300 to S$17,000 |
| 300 x 400 cm | S$350 to S$23,000 |
| Round rugs (150 x 150 cm, 200 x 200 cm) | S$550 to S$2,500 |
| Runner rugs (from 142 x 200 cm to 305 x 245 cm) | S$30 to S$600 |
Luckily, the costs are more straightforward when it comes to carpet services.
For instance, carpet tile or wall-to-wall installation costs will still depend on the company doing it, but most would charge per square foot of installation. You can expect to pay anywhere between S$2 and S$5 per square foot.
As for carpet or rug cleaning, it's usually around S$3 per square foot. Again, the kind of cleaning, solutions and tools used, the carpet material, and other factors will influence the final invoice.
The good news is that most companies do offer clients an initial job assessment, so it would be wise to take them up on it.
The Shops with the Best Carpets in Singapore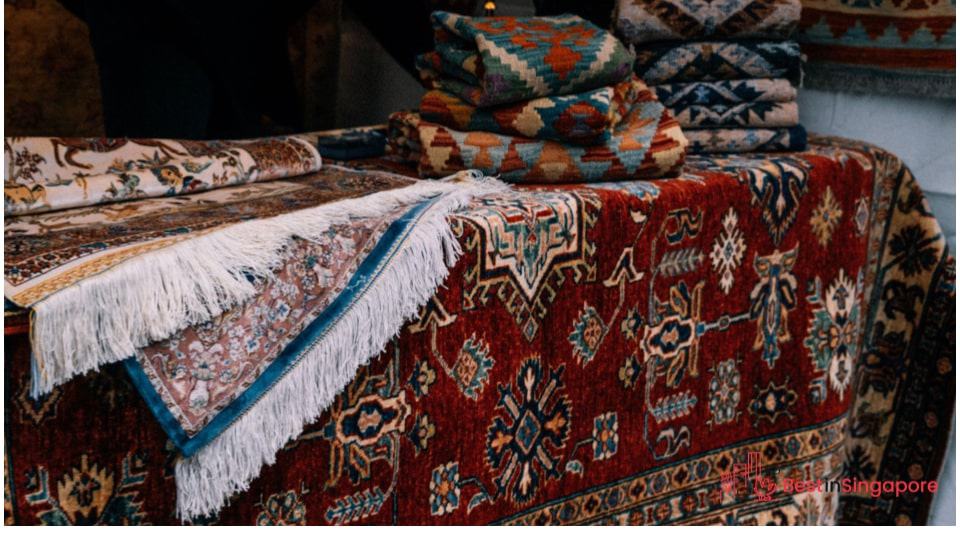 We came up with a list of the shops carrying the best carpets in Singapore using the following criteria:
1. The Carpetier TM
"Beautifying homes, one carpet at a time."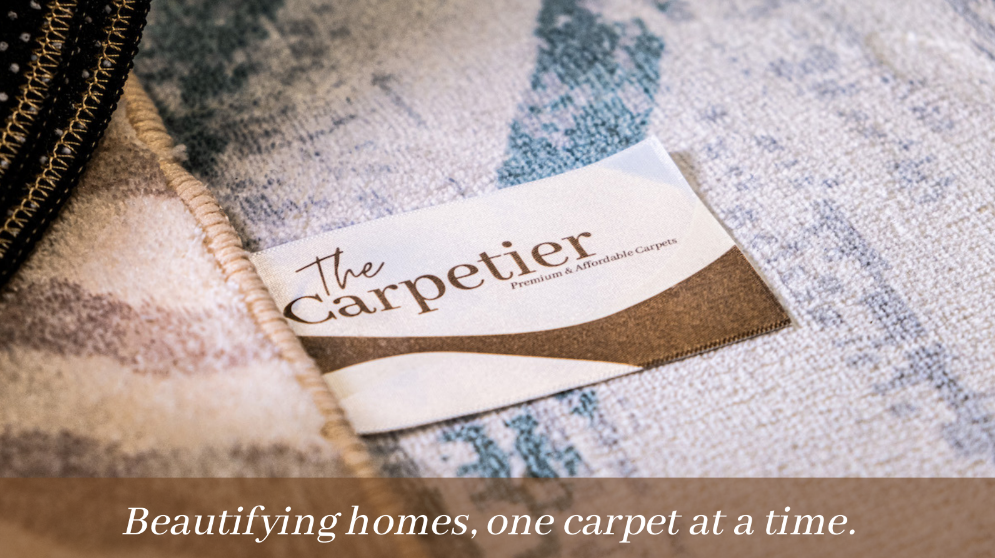 | Title | Info |
| --- | --- |
| SERVICES | Collections of locally designed carpets. Sourced and made from East Asia / Southeast Asia, Free carpet delivery, Customized carpets, Home carpets, Office carpets. |
| WEBSITE | https://thecarpetier.sg/ |
| ADDRESS | 59 Ubi Ave 1, Bizlink Centre, #07-03, Spore 408938 |
| CONTACT DETAILS | +65 8444 0178 |
| OPERATING HOURS | Monday to Friday : 10am to 5pm. Viewing or self collections on Saturdays & Sundays can be arranged. |
The Carpetier carries a beautiful selection of carpets courtesy of its in-house designers. There are collections that will suit a range of styles and moods, from Nordic-inspired to abstract pieces.
Its prices are quite affordable too. Most of the carpets start at under S$90 for 120 x 160 centimetres, though bigger pieces can be had for a little over S$200. Not to mention, they also have persian style rugs which are intricate and beautifully designed. With this range of selections, It is not hard to see why they cater perfectly to new homeowners looking for suitable rugs for their homes.
They offer flexible payment options as well. For online purchases, they accept card payments or PayNow, while for offline purchases at their store, they accept cash and PayNow as well.
New carpet designs come every three months and can be viewed at The Carpetier showroom. The showrooms are open only on weekdays, 10am to 5pm. However they may open on Saturday and Sundays if you contact them prior to arrange for viewing.
If there's one thing The Carpetier has shown us thus far is that it's easy enough to elevate the look and feel of any room without splurging too much. Standard deliveries are also free of charge!
Good range of carpet collections
Affordable rates
Free standard delivery 
New carpet designs every 3 months
No carpet cleaning services available
Customer Reviews
Super pretty designs and the fur is thick and soft
"Absolutely love the 2 carpets that I just purchased from this seller, super pretty designs and the fur is thick and soft as well. I received many compliments on the carpets! Will definitely recommend it to my friends and family! Thanks for the awesome service seller!" – Sally Lai
Amazed by the selections
"Went down to the showroom to view their carpet selection. Was amazed by the selections they have. The quality was very good as well! Fast and pleasant transaction overall!" – Siti Aysha
2. Ling Carpets
"Spruce your space with affordable carpets."
Title
Info
SERVICES
Home and office carpets, carpet delivery
WEBSITE
https://www.lingcarpets.com.sg/
ADDRESS
38 Changi Road Singapore 419701
CONTACT DETAILS
6346 3800
OPERATING HOURS
Monday to Sunday: 10 AM to 8 PM

Closed on the last Tuesday of every month
Ling Carpets has been around since 1990 and has supplied many Singapore homes and offices with affordable carpets and rugs. And when we say affordable, we mean you can get a striking 160 cm x 230-centimetre carpet for just S$75!
If you're in the market for high-pile rugs, Oriental carpets with a contemporary twist, and gorgeous floral or abstract designs, you can find them at Ling Carpets.
Clients also have the option of buying a carpet online via its website for convenience, but we think nothing compares to running your hands on a shaggy carpet! There's free shipping for purchases over S$600 and free two-day shipping for in-stock items.
What's a bit disappointing is that a lot of the models are currently out of stock. But the showroom staff is quite helpful at doing stock checks, so it's a good idea to approach them.
Free 2-day shipping available for in-stock items
Many affordable options
Free shipping for purchases over S$600
Closed on the last Tuesday of every month 
No carpet cleaning services available
Many items are currently out of stock
Customer Reviews
Excellent customer service
"Excellent customer service. Very friendly and approachable." – Abdul Salim Harun
Everyone is friendly and detailed in explaining
"Today I just bought 2 carpets and really love it a lot. Uncle and everyone are friendly and very details in explaining everything. I was recommended by friends and I travel all the way to the shop and choose. Everything is nice. Thanks." – Mavis Lim
3. The Orientalist
"The Orientalist woven art"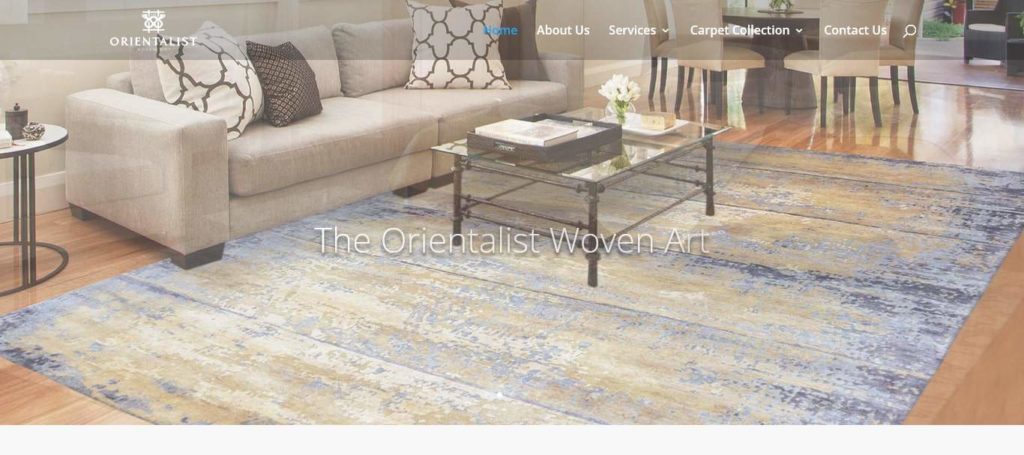 | Title | Info |
| --- | --- |
| SERVICES | Carpet customisation, hand-knotted carpets, modern and collectable carpets and rugs, carpet cleaning |
| WEBSITE | https://theorientalist.com/ |
| ADDRESS | 315 Outram Road #12-03 Tan Boon Liat Building Singapore 169074 |
| CONTACT DETAILS | +65 67320880 |
| OPERATING HOURS | Daily: 10 AM to 8 PM |
For classic silk carpets and even those considered collectables, you can't go wrong with The Orientalist. While other carpet shops in Singapore tout the functionality of their wares, this one unabashedly celebrates the artistry and craft behind each piece.
It's also the only shop for carpets in Singapore that's the exclusive global distributor of Persian carpet masters like Rajabian and Masoumi.
Known for excellent hand-knotted carpets, The Orientalist wants to continue this fine tradition by offering it to residents and business owners.
Small wonder The Orientalist's client portfolio carries noteworthy names like The St. Regis Singapore, Marina Bay Financial Centre, Joo Chiat Shophouse, and others.
On that note, you can expect a lot of the carpets and rugs to have higher price tags at The Orientalist. Runners can go for as much as S$2,800, though occasional sales can lower it to just around S$800.
We're glad to note that the company also offers professional carpet cleaning, customisation, and even restoration services. But an assessment will be needed first to determine the full service fee.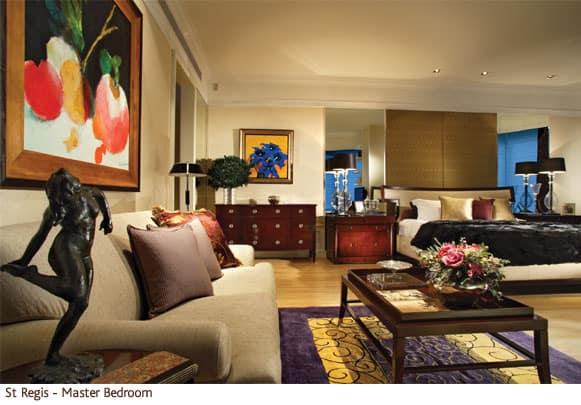 Impressive client portfolio
Carries classic silk and antique rugs
Offers professional carpet cleaning and restoration services
Doesn't readily provide a price guide 
Carpet prices tend to be higher
Customer Reviews
Astounding range of finest handmade rugs
"Astounding range of Spectacular kind of Finest Handmade Rugs, I do personally like all these Rugs, some Tribal Woven Rugs also same as I have Few in my Collection. Stay well my friends, thank you." – Chobi Ziegler
Fantastic showroom and carpets
"I miss the orientalist carpets showroom. That is a fantastic showroom and carpets in the world. There are familiarity and careful." – S.M. Sohrab Hossain
4. Hassan's Carpets
"The legacy of trust"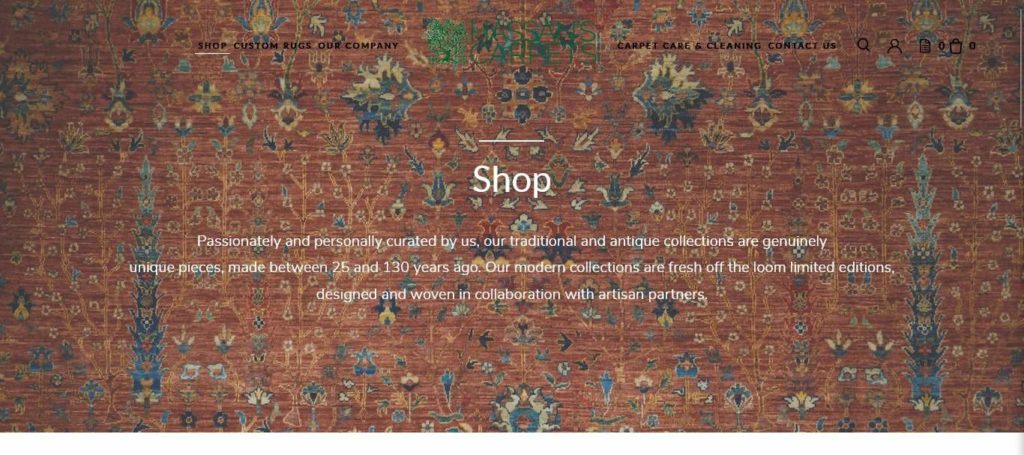 Title
Info
SERVICES
Modern and unique, vintage carpet pieces, custom rugs, rug cleaning and restoration
WEBSITE
https://www.hassanscarpets.com/
ADDRESS
315 Outram Rd, #02-06 Tan Boon Liat Building, Singapore 169074
CONTACT DETAILS
+65 67375626
OPERATING HOURS
Monday to Saturday: 11 AM to 7 PM

Sunday: 11 AM to 6 PM
Hassan's Carpets places special emphasis on the legacy that comes with a well-made luxury carpet. It's a company that has a history (covering four generations) as rich and intricate as its rugs.
Clients can also ask for advice if they want to invest in an antique rug or carpet because Hassan's has the knowledge and experience about it. After all, the shop carries unique, hand-knotted pieces made from 25 to 130 years ago.
With that in mind, it probably won't come as a surprise that Hassan's Carpets do come with bigger price tags than most. Antique and collectable rugs go upward of S$6,000, while contemporary pieces are already around S$5,000 even on sale!
That said, the craftsmanship, materials, and legacy behind a Hassan's carpet are for more discerning customers. But we appreciate that it offers home consultation, carpet appreciation, and carpet care services.
Custom rugs available
Offers carpet cleaning and restoration services
Open daily
Pricier carpets compared to others
Shortened hours on Sundays
Customer Reviews
Very honest Persian rug dealers
"The best place to buy carpet when in Singapore. 7 yrs ago I bought a few big ones from this gallery when I was living in Singapore, they used to have a gallery in Orchard Rd. Tanglin Shopping Center. They are very honest Persian rug dealers, the price is reasonable & don't mark up so high. I was very happy with my 3 big carpets. Most of my carpet I bought from them." – Chico Ayo
Enjoyed the whole experience tremendously
"Thank you for your patience and for letting us try the carpets at home until we found the perfect ones. We enjoyed the whole experience tremendously. Great place to hang out!" – Shem Leong
5. The Carpet Shop
"Singapore's Online Store for Carpets & Home Accessories"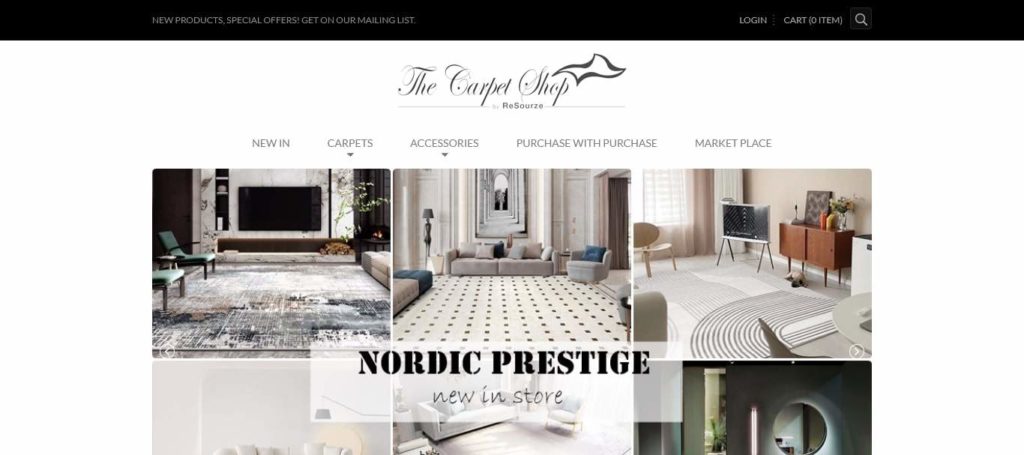 Title
Info
SERVICES
Online carpet store, retail and wholesale carpets, carpet customisation, home accessories, gift cards, used furniture marketplace, delivery
WEBSITE
https://www.thecarpetshop.com.sg/
ADDRESS
Commune Collaborative Space

315 Outram Road #11-09

Tan Boon Liat Building Singapore 169074

CONTACT DETAILS
WhatsApp: 96855368
OPERATING HOURS
Daily: 10 AM to 7 PM
Established in 2011, The Carpet Shop is the first online carpet shop in Singapore. Its carpet collection is made up mostly of Nordic pieces that have a muted elegance and quality.
Because it's an e-commerce shop for carpets and other home accessories like throw pillows and table runners, it doesn't have a physical showroom. It also features a marketplace that encourages furniture recycling, which we think is a neat idea!
However, it does have some select pieces at the Commune Collaborative Space if you want to see what matches your Scandi-style furnishings. It might be worth calling ahead to see if certain models in the online shop are available for actual viewing.
What we love most about The Carpet Shop are its numerous discounts and promos. There's an automatic S$10 off every purchase from the Nordic Prestige series, and a generous buy now, pay later scheme if either debit or credit card is used.
Free delivery for local carpet orders
Regular promotions and discounts offered
Encourages furniture recycling
Open daily
Only select carpet models can be viewed at Commune spaces
No actual showroom
Customer Reviews
Completed the look of the room
"Bought a carpet from the Nordic series. Completed the look of my living room." – Christine Kwong
Well-packaged carpet received within the estimated delivery period
"I have ordered a carpet last month but the design was not available and the owner offered me two options. 1. Refund the amount 2. Choose another design. I chose the second option and I received the well-packaged carpet within the estimated delivery period. I'm pleased with the purchase." – Jaya Rajesh
6. Living DNA
"Singapore's modern rug authority"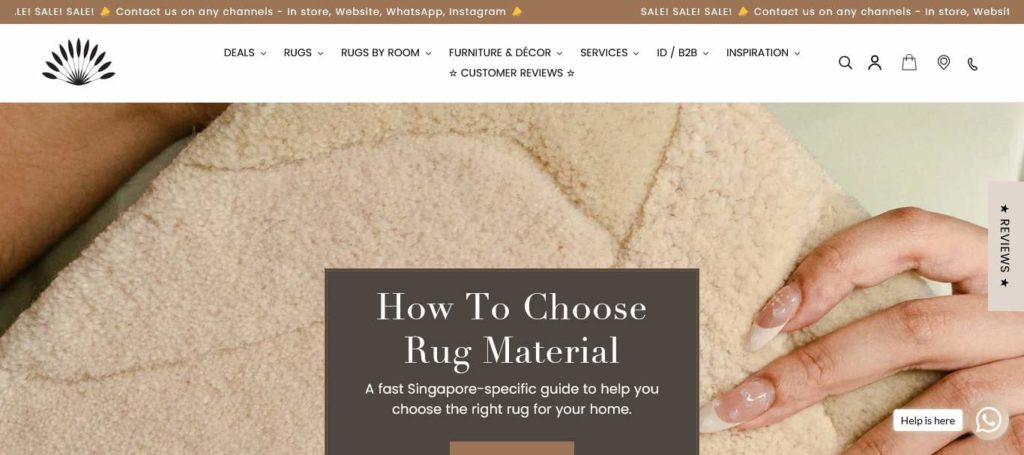 Title
Info
SERVICES
Home trial service, professional rug cleaning, furniture and decor, carpets and rugs, bespoke rugs, trade programme, styling advice
WEBSITE
https://livingdna.sg/
ADDRESS
01-10B Furniture Gallery, [email protected],

18 Tampines Industrial Crescent,

Singapore 528605

CONTACT DETAILS
+65 8511 3584
OPERATING HOURS
Tuesday to Sunday 11 AM to 6 PM

Closed on Mondays
Living DNA has a vast collection of modern designer rugs that potential customers might not know where to start looking.
That's why we're happy that the company offers a home trial service so clients can test the look and feel of a carpet before committing to it. This particular service makes it easier for clients to visualise if a rug fits with their overall home theme.
There are more customer-centric features to appreciate with Living DNA. We like the free video styling advice they give, aside from the professional rug cleaning services available.
The models, especially most of the bestsellers, are pretty affordable and come with flexible instalment plans. But some of the rugs can get quite pricey with certain intricate 160 x 230-centimetre pieces costing over S$1,000.
Allows home trials
Free video call styling advice
Professional rug cleaning available
Closed on Mondays
Some rugs are quite pricey 
Customer Reviews
Impressed by the wide range of rugs
"I chance upon Living DNA online while searching for a soft and easy-to-maintain rug for my living hall. Impressed by the wide range of rugs available for selection, I visited their showroom today. I was served by Nadia, a very pleasant and knowledgeable lady. With her help, I decided on the Rove Washable Rug. I'm glad that I took her advice and picked the right size rug that fits nicely into my hall. Thank you Nadia!" – Phil Lam
Excellent service including delivery
"Excellent service including delivery of a choice at home and exchange – very friendly too." – Vincent
7. The Cozy Lounge
"Always handmade, always beautiful"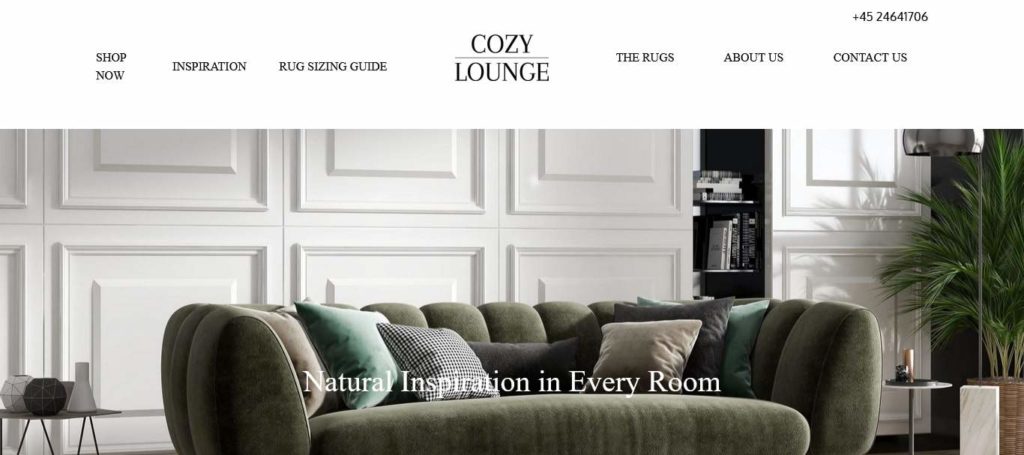 | Title | Info |
| --- | --- |
| SERVICES | Handmade Indian and Moroccan rugs and dhurries, custom rugs, shipping and delivery, home accessories |
| WEBSITE | https://www.thecozylounge.com/ |
| ADDRESS | #02-43, Badger and Fox Singapore, 163 Tanglin Road, Singapore 247933 |
| CONTACT DETAILS | +45 24641706 |
| OPERATING HOURS | Daily: 11 AM to 6 PM |
The Cozy Lounge is all about custom handmade rugs that are handmade in India and Morocco. It used to be part of a company called The Ruby Slipper, which has since split into two home accessories shops.
The company places special emphasis on the artisanal quality of its pieces borne from countless generations of textile weaving skills. The Cozy Lounge takes pride in supporting local carpetmakers in India while ensuring that no child labour is involved.
We also like that it features a look-book to help potential clients visualise how certain carpet designs will look in different rooms. There's also a rug sizing and care guide that are extra helpful for first-time carpet owners.
But what's confusing for us is that prices are indicated in euros and not Singapore dollars. This makes it somewhat difficult for customers to determine if certain handcrafted Indian and Moroccan rugs are within their budget.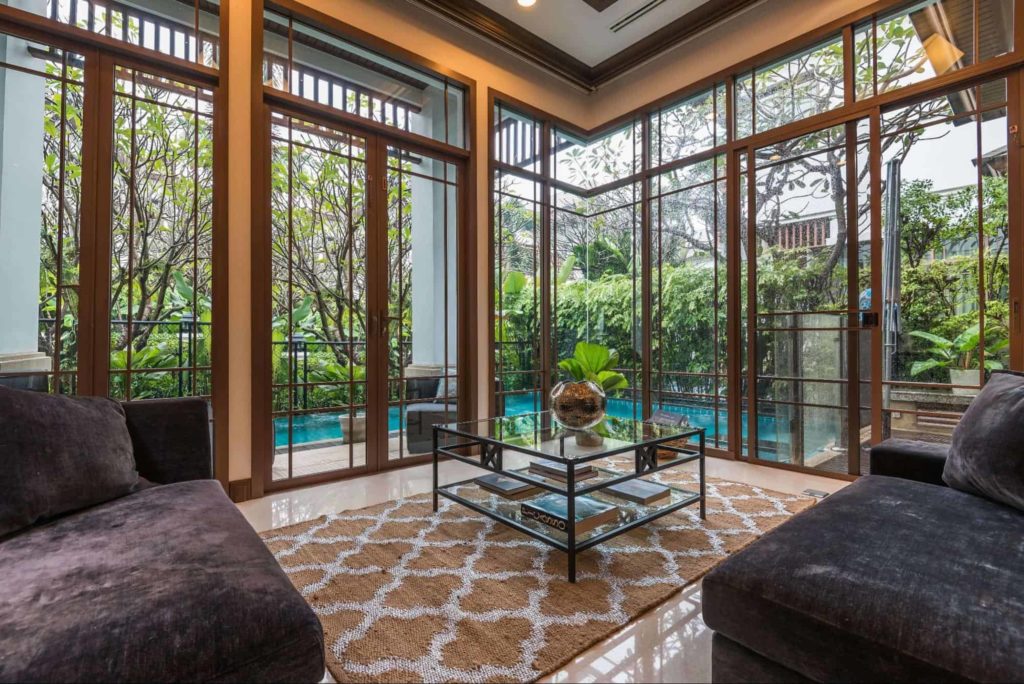 Customisable Indian and Moroccan rugs
Uses sustainable practices and values
Open daily
Prices are in Euro
No carpet cleaning services available
Customer Reviews
Products are beautiful and can adapt to the hot and humid climate
"Being a mom, a pet owner and an interior stylist I look for products that are beautiful but most importantly can adapt to our hot and humid SINGAPORE climate. The Ruby Slipper (The Cozy Lounge) rugs are exactly that.
Light enough yet durable and easy to wash with a damp sponge. But above all, I appreciate the extra effort that Ruby Slipper (The Cozy Lounge) staff provide. They are knowledgeable and very kind with their time." – Julia Blank
Liked the simplicity of the pattern, Indian touch, and brightness of the colours
"I was instantly attracted to the fact the rugs were adapted to Singapore's weather and lifestyle, and I found the choice of patterns and colours totally suitable for my situation. I liked the simplicity of the patterns, their Indian touch and the brightness of the colours, and I felt they could fit perfectly. I immediately sent an email to Lucy, who responded less than an hour later; I really appreciated her responsiveness." – Juliette Genillard
8. Crate and Barrel
"Your dream home made into reality"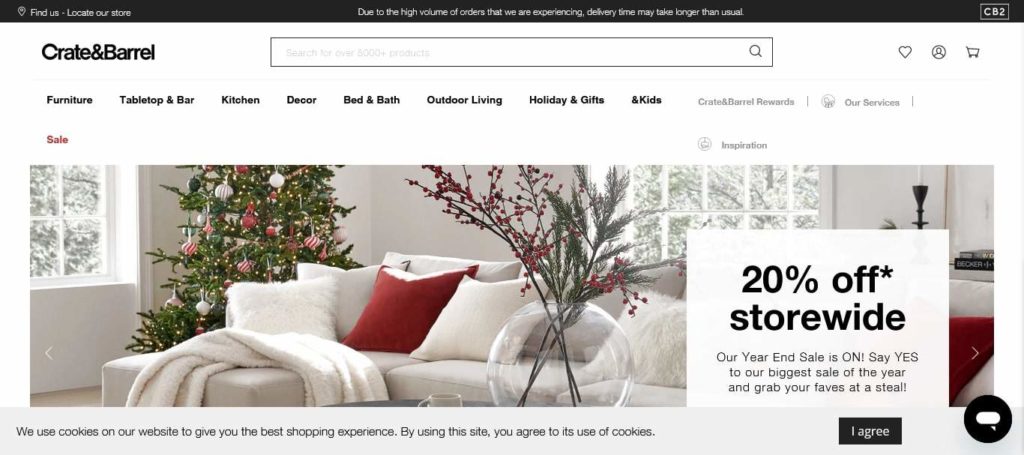 Title
Info
SERVICES
Home furnishing and decor, interior styling, high-pile area rugs
WEBSITE
https://www.crateandbarrel.com.sg/
ADDRESS
2 Orchard Turn, #04-21/22

Singapore, S238801

CONTACT DETAILS
+65.6634.8488
OPERATING HOURS
Daily: 10 AM to 10 PM
Though more of an American retail company than one touting local or regional wares, Crate and Barrel make it to our list of the best carpet shops in Singapore for several reasons.
For starters, it's got a good selection of high-pile rugs which are perfect for sound insulation in certain parts of the house. For another, most of the rugs and carpets are quite affordable—with some on sale at the time of writing!
The designs are mostly contemporary, though we saw a couple that are Oriental-inspired. Most of them are made in India as well.
However, some of the larger rug designs we liked are unfortunately sold out, like the Belagga Rug and the Erria Clay Rug. We aren't sure about restocks since they were on-sale items.
With home accessory shops like Crate and Barrel, customers are advised to be flexible about delivery schedules.
High-volume orders can mean delays and rescheduling, especially during the holidays, so it's best to read the company's shipping policies and charges.
Good range of contemporary rugs
Offers home styling assistance
Regular discounts and promos
Open daily
A lot of the larger designs are sold out
Not a carpet-focused shop
Possible delivery delays
Customer Reviews
Pleasant and helpful with queries
"We were attended by Irfan from Crate & Barrel ION today who assisted us with our purchase. Irfan was pleasant and helpful with our queries. Our past experiences were also nice (then Orchard Central), sales reps are always friendly and positive. Always a pleasant experience to shop at Crate & Barrel." – Sitti Nur Naqiah
Warm and sincere service
"Been patronising Crate and Barrel since its arrival in Singapore. In times of the covid era, it has become an employee's world, yet Jack.M's warming and sincere service really strike me. Jack.M is truly Crate and Barrel's asset! Not to purposely add on to Jack.M's workload, but yes do look for him if you are looking for something from Crate and Barrel." – Nygin Pow
9. HipVan
"Not just different, but better"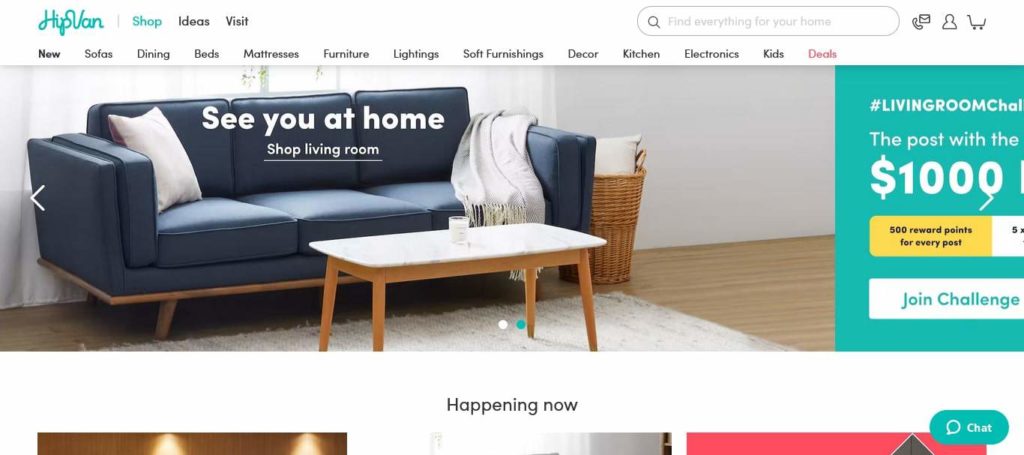 Title
Info
SERVICES
Home furnishing, home decor, electronics, lighting, delivery
WEBSITE
https://www.hipvan.com/
ADDRESS
Suntec City Mall

#02-728/729/730

3 Temasek Blvd, S(038983)

CONTACT DETAILS
+65 6291 1725
OPERATING HOURS
Sunday to Thursday: 11 AM to 9 PM

Friday to Saturday: 11 AM to 10 PM
HipVan isn't a carpet-focused shop, but it carries some pretty affordable rugs and carpets in both its online shop and showroom. We were happy to see lots of high-pile, jute, and low-pile models that are ideal for contemporary interiors.
It's a homegrown company with a mission to bring quality yet affordable home items to locals. And it offers free deliveries for orders S$250 and up.
HipVan is generous with its return policy which allows customers to return items within 100 days, no questions asked. We also love that HipVan can hold orders for up to three months—for free!
What can we say? HipVan is a good place to shop for carpets in Singapore, though it isn't really a carpet shop per se.
And because it doesn't specialise in carpets, it may not be suitable for you if you're looking for intricate handmade designs.
Free delivery on orders over S$250
Affordable rates
Hold-your-order is free for up to three months
Open daily
Not a carpet-focused shop
Not suitable if you're looking for intricate handmade designs
Customer Reviews
Prompt delivery
"Prompt delivery and the delivery guy is very helpful and polite." – Cindy T.
Efficient and product quality are good
"Efficient and product quality is good! Delivery was also fast and the delivery man was polite. Thank you for the great customer experience." – Lim C.
10. IKEA
"Creating a better everyday life for many people"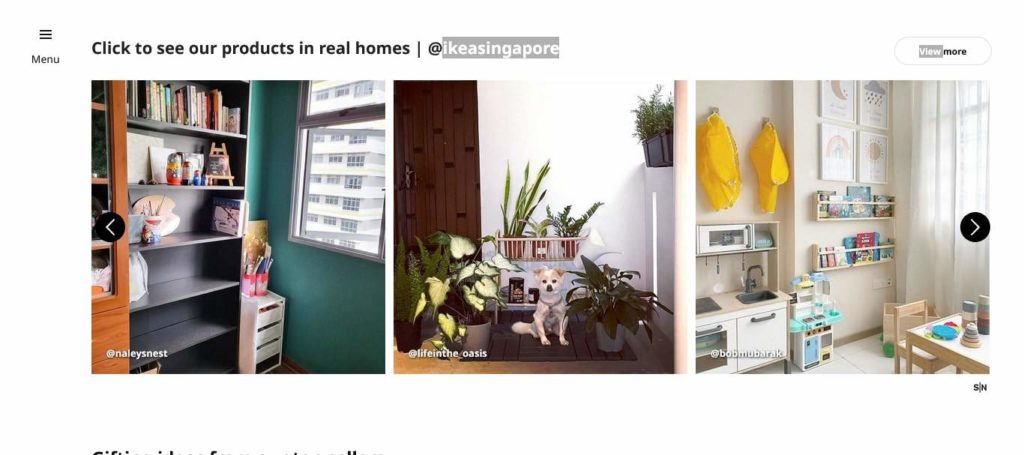 Title
Info
SERVICES
Online and in-store Swedish home furnishing and decor, assembly, installation, made-to-order home items, spare parts, gift cards, online planning service, interior design, gift cards, buying guides
WEBSITE
https://www.ikea.com/sg/en/
ADDRESS
IKEA Alexandra

317 Alexandra Rd, Singapore 159965




IKEA Tampines

60 Tampines North Drive 2, Singapore 528764

CONTACT DETAILS
+65 6786 6868
OPERATING HOURS
IKEA Alexandra

Sunday to Thursday: 10 AM to 10 PM

Friday to Saturday: 10 AM to 11 PM




IKEA Tampines

Sunday to Thursday: 11 AM to 10 PM

Friday to Saturday: 11 AM to 11 PM
For most people, IKEA hardly needs an introduction. But since we're specifically reviewing shops that sell carpets in Singapore, we figured this entry needs a good review.
Affordability-wise, it's a good place for shoppers on a budget. And since IKEA helpfully stages rooms and spaces with other affordable furniture, customers can instantly see how a rug will look with other interior elements at a glance.
We find it a good place to shop for area rugs since IKEA offers plenty of medium and large options, from flatwoven models to high-pile ones. And since it's open daily and has two locations in Singapore, it offers a convenient shopping experience.
The only downside we see is that most of the carpets and rugs are Nordic-inspired. So if you're looking for something more exotic or vintage, IKEA's design sensibilities might not be the best match for it.
Affordable rug options
2 locations in Singapore
Open daily
Mostly Nordic-inspired designs
Not a carpet specialist
Customer Reviews
Upgrade living at affordable prices
"Time to upgrade your living at affordable prices… make it & feel like going home every day to enjoy the perfect moments when you step back after a hard day of work… sit down at a comfortable chair and eat your dinner or watch your favourite shows with your family members… have a good sleep like in a hotel mood every night… wow… waking up every morning to a nice big mirror to put on your makeup or dress up for the challenges awaiting for you at work…lol… living well to enable to meet with all the challenges in life… Enjoy." – Alan Lin
Lots of DIY and home improvement stuff
"Huge space, can be a bit of a maze for new shoppers. Good car park facilities and pretty convenient to bring purchases to the store in the car. Lots of DIY & home improvement stuff. An awesome place for the creative kind."– Georgina M.
11. Lotto Carpets
"We know what is best when it comes to carpet"
| Title | Info |
| --- | --- |
| SERVICES | Handmade carpets, carpet viewing, natural washing and restoration |
| WEBSITE | https://lottocarpets.com/ |
| ADDRESS | 23 Depot Lane, #01-01/02, Singapore 109753 |
| CONTACT DETAILS | +65 6472 7460 |
| OPERATING HOURS | Daily: 10 AM to 7 PM |
You can check out Lotto Carpets for antique carpets from the 16th to the 19th centuries if you're in the market for collectable rugs.
But don't feel intimidated by the rarity of its products. Its unpretentious gallery feels more like a treasure trove than a modern-day carpet showroom in Singapore.
Lotto Carpets is run by six generations of handmade carpet businessmen, with a special emphasis on careful curation. The company believes that carpets are more than just floor covering but are works of art for families to enjoy.
With that in mind, one would think that its price range would be prohibitive. Surprisingly, there are lots of affordable pieces at Lotto Carpets, including 7-foot-long ones for under S$700!
The company also allows home trials so clients can see if a carpet matches their interiors. However, Lotto Carpets is pretty strict about taking pictures of the wares while on a trial, so this should be noted by potential customers.
Owing to its impressive legacy and quality carpets, it's perfectly understandable that there's a 15-per cent service charge on top of the goods' prices. But we do wish Lotto Carpets would throw in the occasional promos or discounts to entice more clients.
Offers antique and vintage carpets
Customised carpet care packages for different businesses
Allows home trials
Open daily
No promotions offered
Prices are subject to 15% service charge 
Customer Reviews
A treat to visit the gallery any given day
"We have known Imran and his father for years; bought our very first carpet from him. Imran's passion for his craft is evident when you speak with him. He persuaded me to restore a carpet that I thought was on its last legs and I am glad we did. He has such familiarity with his inventory that he can pull out carpets from memory and pieces he thinks will speak to you. We love being in the gallery and it is a treat to visit on any given day, if only just to look at the fine pieces there." – Ellesse Neuteboom-Law
Takes time and effort to understand a carpet purchase
"Imran the owner will personally serve you. He takes time and effort to understand your carpet purchase. In our quest, he brought 6 carpets we short-listed at his shop to our house to let us compare and eventually chose the one that's now lying in our living room. Thanks, Imran." – Tony Teo
12. Bungalow 55
"The best rooms have something to say about the people living in them."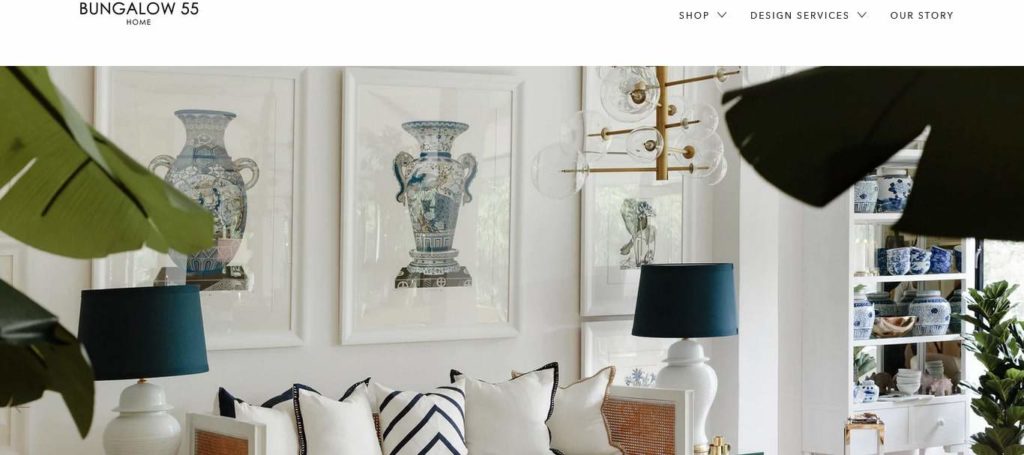 | Title | Info |
| --- | --- |
| SERVICES | Carpet and rug collections, in-store consultation, made-to-order rugs, at-home styling, interior projects, home decor items, delivery |
| WEBSITE | https://www.thebungalow55.com/ |
| ADDRESS | Block 8D Dempsey road # 03-04, Singapore, Singapore |
| CONTACT DETAILS | +65 8318 5358 |
| OPERATING HOURS | Daily: 10 AM to 5 PM |
For contemporary homes with a minimalist, muted theme, check out Bungalow 55. It features imported home accessories, furnishing, lighting, and even art for fresh, put-together interiors.
We like that the shop offers interior design services that include in-store consultations and at-home styling. Purchases done with these services also come with a 10-per cent discount!
But since it isn't really a carpet shop per se, there aren't as many options for rugs and floor coverings at Bungalow 55 compared to other shops.
Still, we think it's worth looking at what the shop has to offer, especially since custom-order rugs are part of the menu.
A note of caution, though: they don't come cheap. A handwoven abaca fibre rug costs over S$10,000!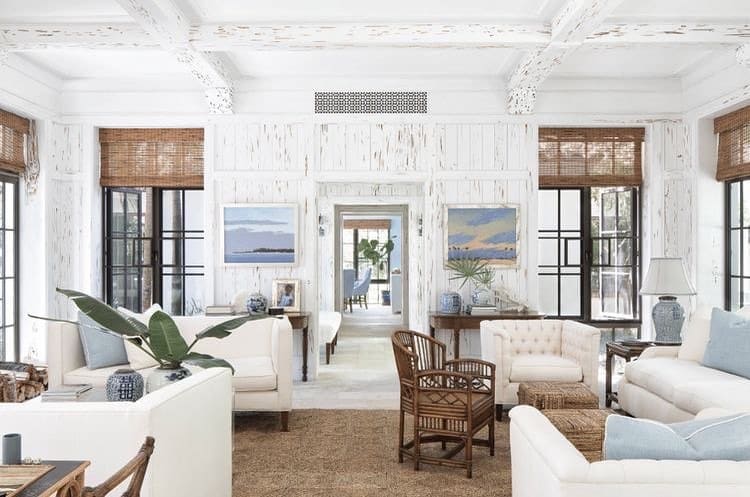 Offers made-to-order rugs
In-store and interior design services available
Free next-day delivery for online purchases over S$150
Open daily
Not a lot of rug options readily available
Custom-made rugs can be quite costly
Not a carpet-focused shop
Customer Reviews
Excellent taste interior design and beautiful custom makes
"I have been visiting this shop for a few years now and have never had a single bad experience. The customer service is excellent and I never seem to leave the shop without buying something! The store owner Nina has excellent taste in interior design and even does some beautiful custom makes. My favourite furniture store in Singapore by far." – Katie Grey
Wisely curated and colourful items
"What I love about popping into this boutique is how they make everyday elegance seem so easy! Through their featured fabrics and timeless accessories, you can create a special feeling in your home. Their array of wisely curated and colourful items is definitely set out to tempt you into gift-giving, whether to yourself or a best friend. Great decor accents indeed!" – Ice Qu
FAQs about Carpets in Singapore
---
More Resources on Carpets