Top 27 Stores Selling the Best Home Decor in Singapore
Shopping for the best home decor in Singapore might be one of the most fun things ever if you like filling your surroundings with beauty. But of course, you need to find good furniture stores in order to make the most of it.
If you don't know which stores sell the best home decors in Singapore, that's fine — because we're doing a roundup of the ones worth checking out today.
Most of the stores we found sell everything from carpets to lamp shades. At any rate, here are the stores we discovered:
1.  Masons Home Décor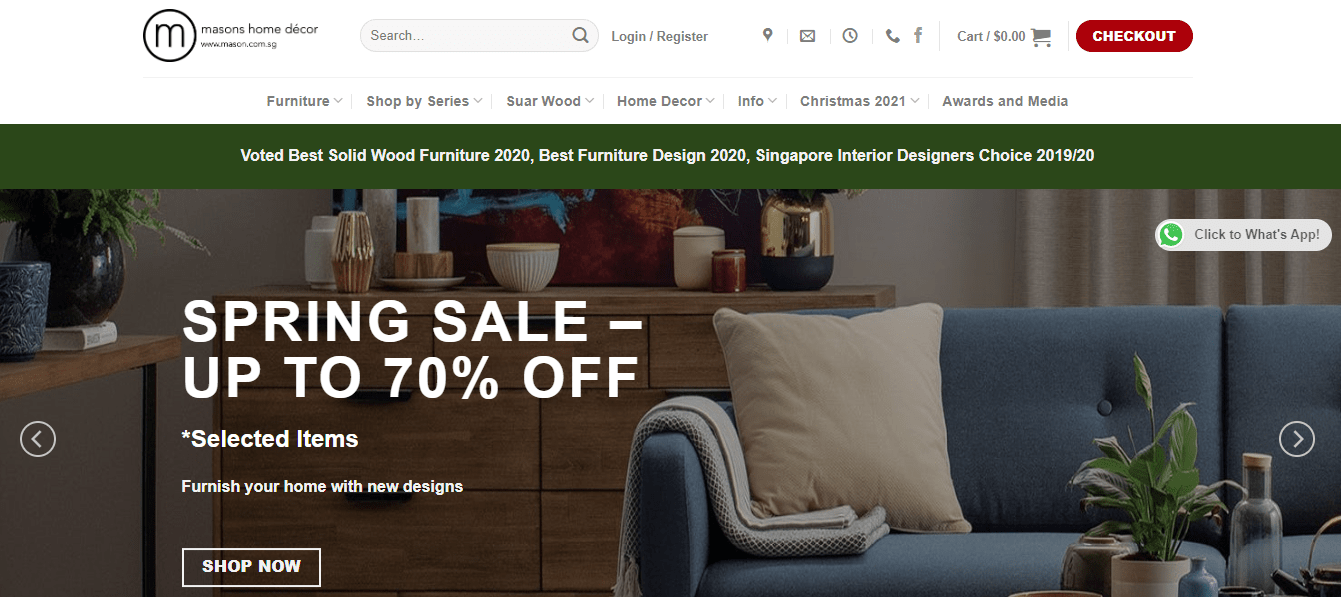 BEST FOR 
Famous Designers
SERVICES
Carpets, Rugs, Lamps, Cushion, Towels, Terrariums, Clocks, Painting, and Wall Hangers
WEBSITE
https://www.mason.com.sg/
ADDRESS

5 Pereira Rd, #04-01, Asiawide Industrial Building, Singapore 368025

CONTACT DETAILS
+65 9618 3746 | +65 9384 4885 |

[email protected]

OPERATING HOURS
Monday – Saturday, 11:00 AM – 7:00 PM
Masons Home Decor has been providing Singaporeans with quality and durable home decor for quite some time now. It's known for collaborating with globally renowned designers in producing some of the best home decor in Singapore, including bed frames, lamp shades, coffee tables, and many more.
Unlike other home decor stores, all of its products are made from environmentally friendly materials. Customers can be assured that they aren't taking home products made with toxic chemicals that could be harmful for their families.
What's more, Masons Home Decor also offers free delivery right to your doorstep. No need to struggle with having to take home the household items.
Highlights
Made by famous designers
Environmentally friendly decor
Free delivery
Customer Reviews
Take a look at some of the comments posted on Google Reviews:
"It was a delight visiting their showroom. Everything was just pretty. They have varieties of Christmas trees and a lot of decors to choose from. Ms. Zen was very nice and accommodated all our questions and requests. Will definitely recommend this shop to our friends who are looking for Christmas decorations."
"Initially I wanted to buy a dining table from IKEA but they don't have the color I want anymore.I came across Mason's website and saw something similar to what I wanted. Surprisingly the material and quality of the table is better than what I expected it to be.  Table is super sleek and sturdy. A really good purchase! Thank you Masons!"
2.  Nook and Cranny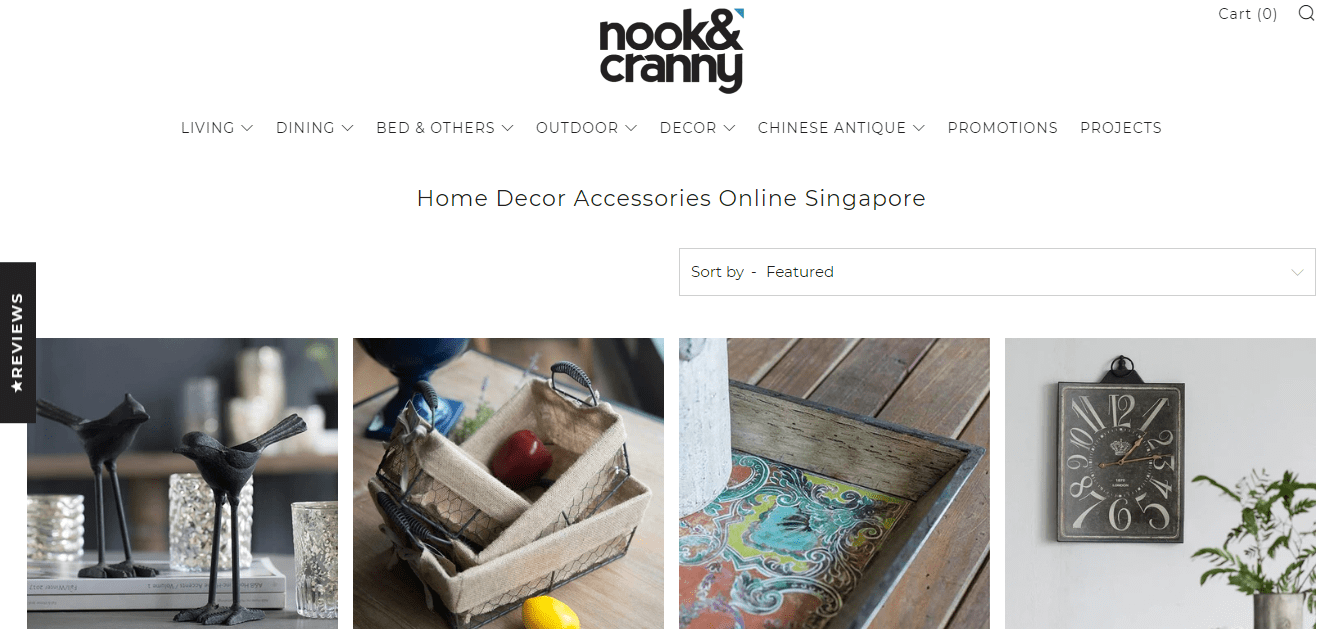 | | |
| --- | --- |
| BEST FOR  | Online Shopping |
| SERVICES | Candle Holder, Baskets, Trays, Wall Clock, Lamps, Lanterns, Terrariums, |
| WEBSITE | https://www.nookandcranny.com/ |
| ADDRESS | Singapore |
| CONTACT DETAILS | 9383 1176 |
If you have no time to roam around different stores, then Nook and Cranny would be the perfect option for you! It's an online shop that primarily sells household items and home decorations designed to make your space livelier.
Some of the products offered include wall clocks, terrariums, lamp shades, trays, bookshelves, study desks, among others. Almost every item sold by Nook and Cranny has a vintage and antique vibe, making them ideal for people who like collecting anything vintage.
We consider it one of the online shops with the best home decor in Singapore because all items are affordable besides being beautiful. Nook and Cranny proves that you don't need to spend a lot of money to make your home look more gorgeous.
Highlights
Affordable items
Fast delivery
Antique and vintage vibes
3.  Printcious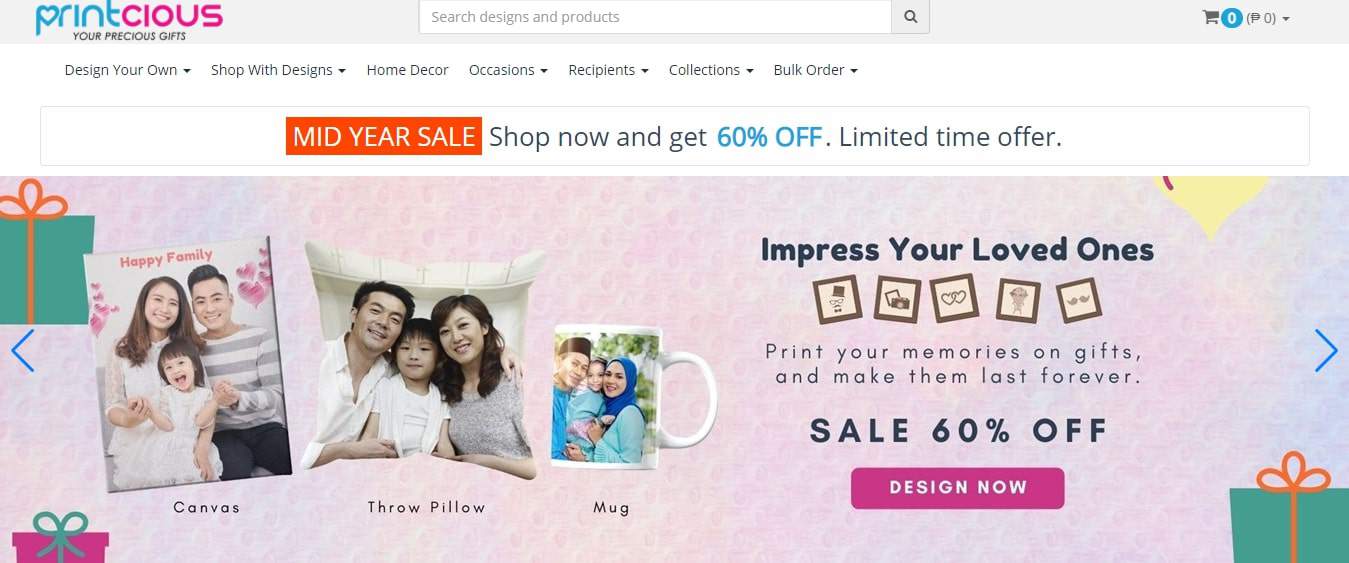 BEST FOR 
Printed items
SERVICES
Personalised mugs, pillows, bags, luggage tags, keychains, coasters, phone cases, pins, lanyards, shirts, clocks, mouse pads, and stickers
WEBSITE
https://www.printcious.com/sg
ADDRESS
Singapore
CONTACT DETAILS
+60103171614 |

[email protected]

OPERATING HOURS
Call their hotline for more details
If you want a gift to celebrate your friendship with someone, Printcious might have what you're looking for. It's a printing shop that personalises any item that you can think of, from throw pillows down to coffee mugs.
Other people may consider personalised items a thing of the past, we think giving one is a sweet and sincere gesture. It's a common gift idea among older people, so surprising your parents with a personalised mug will definitely make them smile.
Printcious also offers personalised gift sets, which typically include a shirt, mug, mouse pads, and a set of pins. You can add other items to the set as well, like phone cases, keychains, cushions, puzzles, and even pillows.
Another reason to consider giving personalised gifts is their budget-friendly price. On top of that, Printcious rewards its customers with discounts as large as 80% off, proving that there's no need to spend hundreds of dollars for a gift.
Highlights
Custom-made gifts
Frequent promos and discounts
Responsive customer service
4.  Vanilla Home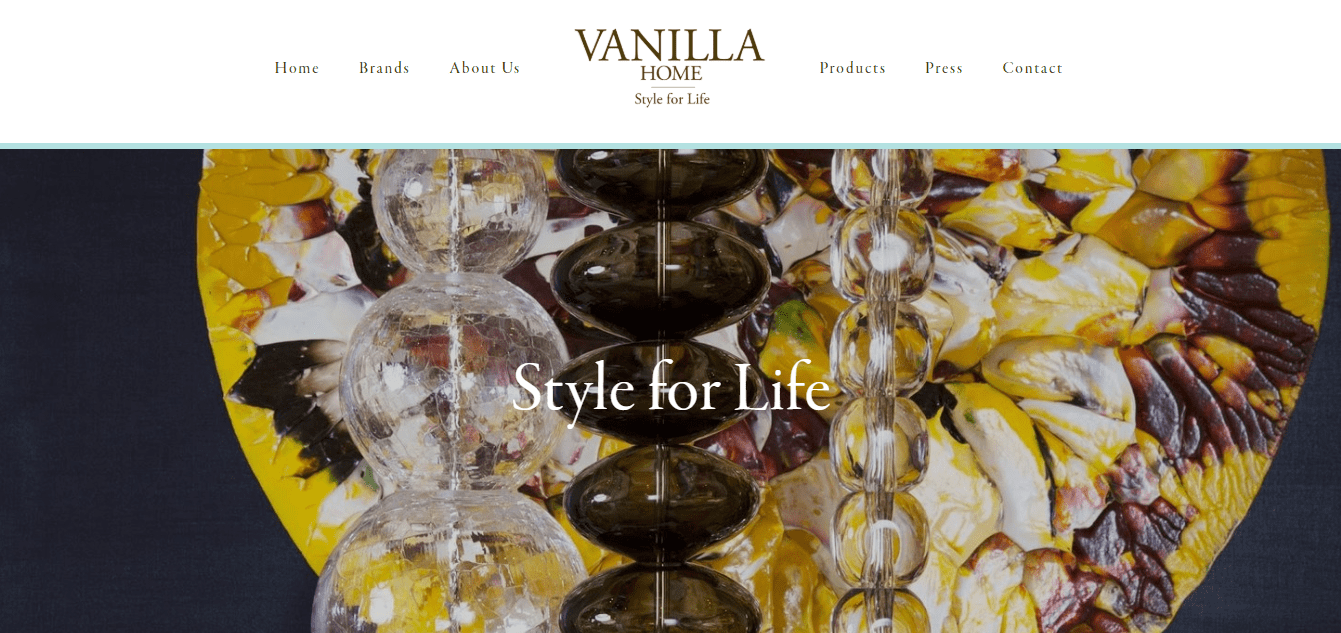 BEST FOR 
Art Pieces and Accessories
SERVICES
Accessories, Lamps, Furniture, Sculpture, and Art
WEBSITE
https://www.vanilla-home.com/
ADDRESS
51 Cairnhill Cir, by appointment only, Singapore 229784
CONTACT DETAILS
+(65) 6324 6206 |

[email protected]

OPERATING HOURS
Monday – Friday, 10:00 AM – 6:00 PM
Established in 2002, Vanilla Home has been making households in Singapore better through quality and sophisticated home decorations ever since. As one of the top stores with the best home decor in Singapore, it sells more than 40 brands of high quality decor from almost 40 countries.
If you're looking for a store with a wide variety of home decor items, then Vanilla Home is the right match for you. It's also one of the few home decor stores on the island that sell paintings, sculpture, and other art pieces made by renowned artists all over the world.
We highly recommend Vanilla Home to people looking forward to filling their homes with gorgeous art pieces and home decorations.
Highlights
Art decorations
Durable items
Excellent customer service
Customer Reviews
Here's what customers have to say about the products of Vanilla Home:
"By far, the most exquisite shop in SE Asia for art, decorative objects, accessories and fabulous wares for the home. Not only does Vanilla Home have the most incredible curated selections Ive ever seen but the shop is always so tastefully styled it makes it impossible to leave without buying something! It's my one-stop-shop whenever I need a special gift."
There is no place like Vanilla Home for exquisite home and lifestyle accessories!!! The only place of its kind in Singapore, and housed in a charming shophouse on Club Street, it is a true oasis for people who love beautifully crafted objects. I visit the store every week just to browse and enjoy the ambience of the beautiful store!
5.  HipVan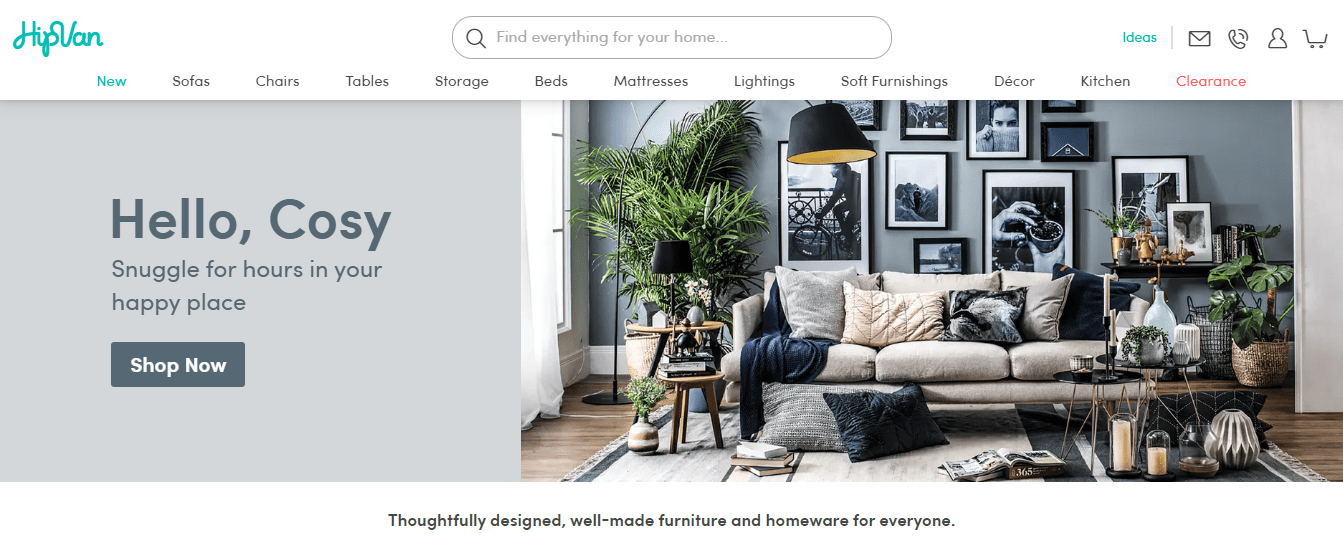 BEST FOR 
Fair Prices
SERVICES
Sofas, Chairs, Tables, Storage, Beds, Lightings, Mirrors, Clocks, and Cutlery
WEBSITE
https://www.hipvan.com/
ADDRESS
19 Kallang Avenue, Kallang Basin Industrial Estate, #01-155, Singapore 339410
CONTACT DETAILS
+65 6291 1725 |

[email protected]

OPERATING HOURS
Monday – Friday, 9:30 AM – 6:30 PM
HipVan is one of the most trusted home decor stores in Singapore, with more than 100,000 trusted customers since it started in 2013. We name it one of the top stores with the best home decors in Singapore for its affordable and reasonable prices.
On top of home decor, HipVan also sells household furniture such as beds, tables, sofas, mattresses, and many more. It's definitely one of the few stores in Singapore that have a complete list of items that you need to make your home brighter and more appealing.
If you have no time to drop by HipVan personally, don't fret… because it also sells most of its products online with no additional charge for delivery.
Highlights
Online shopping
Affordable items
High quality and durable
Customer Reviews
Here are some comments posted on Google Reviews:
"I would highly recommend HipVan. The delivery men did their best to move the heavy wood cabinet in the right place. The quality – price ratio of the cabinet is more than decent and exceeded my expectations. I did a lot of research on several online retailers and I'm glad it worked out perfectly with my order from HipVan. Item came on time and brand new."
"HipVan came and repaired the armchair I bought even though there was no official warranty. The chair leg has come off. They were quick to reply and even checked on the other 3 legs and did preventative measures. They definitely went above and beyond. So glad I purchased them."
6.

Honpo
BEST FOR 
Wallpaper
SERVICES
Product Sales, Tool Rental Services, DIY Wallpaper Classes
WEBSITE
https://honpo.com.sg
ADDRESS
Oxley Bizhub, 61 Ubi Rd 1, #01-31, 408727
CONTACT DETAILS
Tel: +65 90893266
Email: [email protected]
OPERATING HOURS 
Mon-Sat: 09:00 – 18:00
(Sundays on appointment-basis)
Your wallpaper is important in putting your interior together. Make sure to get the best from Honpo's collection.
Honpo is well-known wallpaper specialist in Singapore due to their extensive range of products and wallpaper designs. They have most, if not all, of the most popular designs in store — from classics like industrial and marble to more abstract styles.
Their staff is passionate when it comes to helping their clients find the perfect wallpaper for their home. They offer free tool rental services and DIY wallpaper classes as well. Satisfaction is guaranteed if you decide to take advantage of their services. 
Highlights
Wide range of products
Various wallpaper designs available
Passionate and helpful staff
Free tool rental services
7.  Kids Haven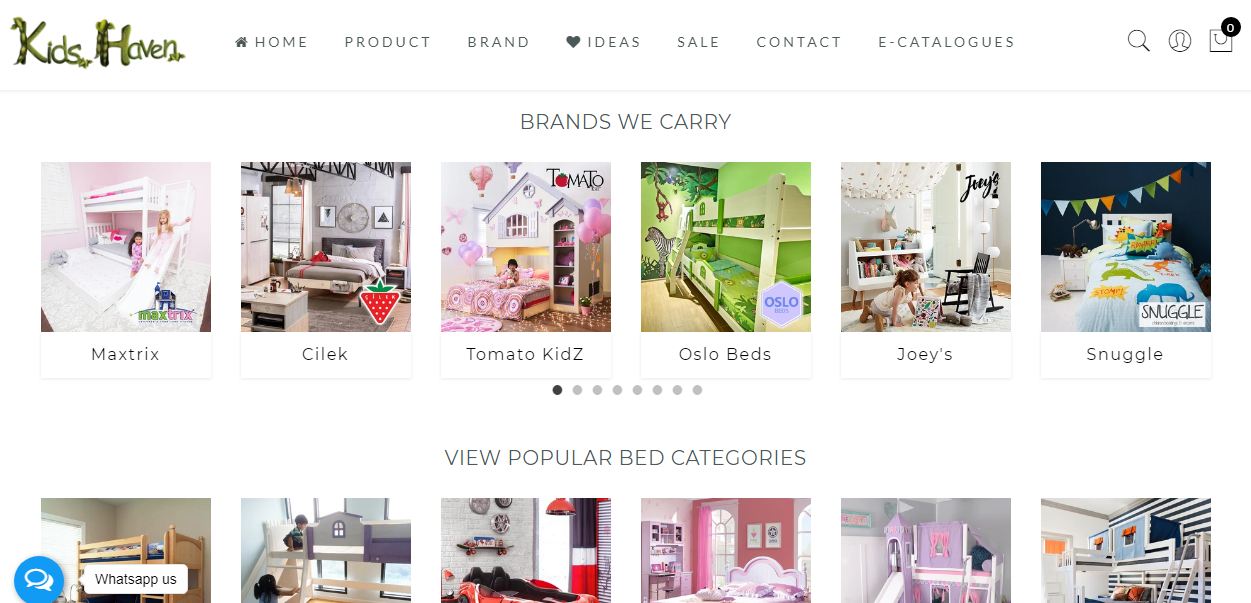 Looking for the best home decor in Singapore that your kids will surely love? If so, Kids Haven should be on your list, as it features a whole collection of adorable furniture and accessories that'll suit any concept!
They have a variety of wall art frames, wallpapers, murals, wall decals, and other decorative crafts such as name cards, photo frame, quote plaque, and more. If your kids want a superhero or a princess theme in their bedroom, you can just pick decor from their dynamic collections and instantly match them to create the ideal look for your kid's room!
Highlights
Full range of furniture sets for kids
Collections from well-known brands
8.  Shang Antique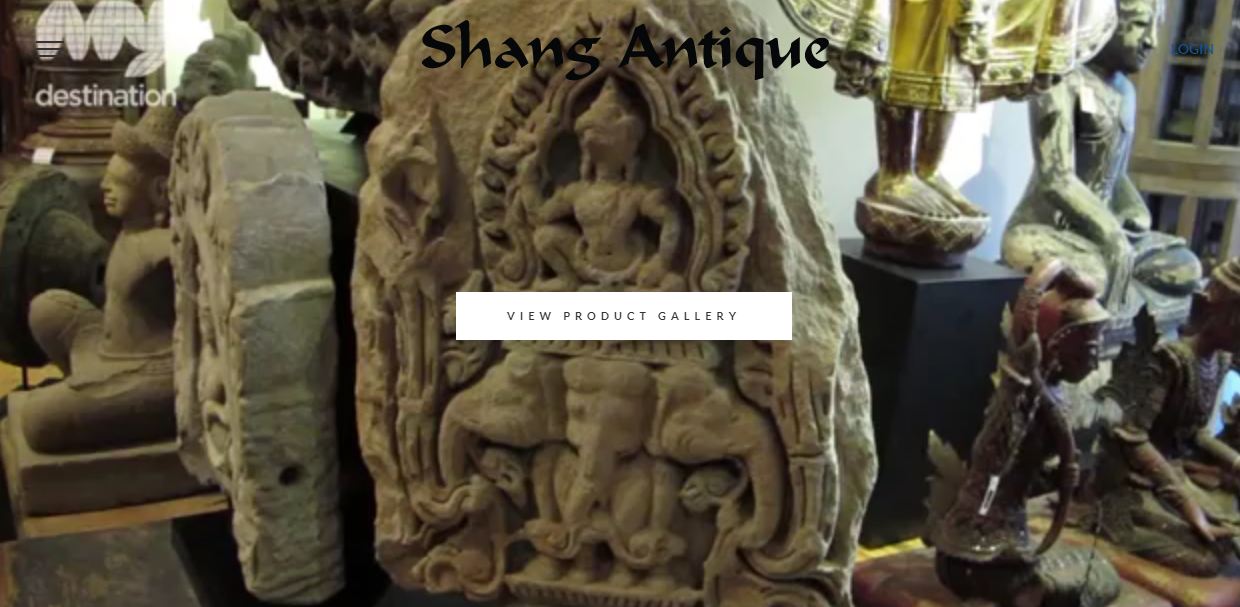 BEST FOR 
Art and Craft, Antiques
SERVICES
Lacquerware, Bronze, Art painting, Antique
WEBSITE
https://www.shangantique.com.sg
ADDRESS
Shang Antique Pte Ltd 296 River Valley Road Singapore 238337
CONTACT DETAILS
+(65) 63888838 |

[email protected]

OPERATING HOURS
Monday – Sunday, 11:00 AM – 7:00 PM
Shang Antique's collection is filled with timeless home decor that exudes a classic vintage vibe. So, if you want to display some authentic antiques at your place, then they might have the best home decor in Singapore for you.
Their precious collections come from different parts of the world. The pieces are categorized into artifacts, stone, wood, shell, porcelain, ivory, bamboo, and more.
This shop also offers well-designed outdoor furniture such as hanging chairs, daybeds, sofa, patio, and more. Every piece will surely add beauty and elegance to your home.
Highlights
Authentic antiques
Overseas shipping
9. The Cinnamon Room
As an award-winning shop, The Cinnamon Room has truly proven that they have some of the best home decor in Singapore! It's especially true if you're searching for contemporary rugs suitable for your interiors, as they have a variety of collections including their signature Hide rugs as well as new lines of hand-woven Dhurries, unique Jute rugs and weatherproof Outdoor rugs. 
The Cinnamon Room offers a unique boutique shopping experience and personalised service in the Chip Bee Gardens neighbourhood within Holland Village. In addition to carpets and rugs, you'll find eclectic gifts including Singapore-inspired Elephant Parade Elephants that symbolise the history of the island. You'll also find unique designs for home decor including cushion covers, lanterns and tealights, tray, Artworks, and more.
Highlights
Cultural designs
Collaborative rug designs
Customer Reviews
The Cinnamon Room has received a lot of praise from the customers complimenting the modern and innovative designs of their rug collections. Here's feedback from one of their customers:
"We like the broad range of contemporary and unique designs that The Cinnamon Room offers in their range of cowhide rugs. The rugs reflect current trends and styles in home décor, and the prices and quotes for bespoke rugs are very reasonable for their outstanding quality. Visha Nelson is very knowledgeable and helpful. She advised us on the design features, suitability, and dimensions of our bespoke pieces. Visha's pleasant nature and expertise made shopping at The Cinnamon Room an overall enjoyable experience."
10. LivingwithArt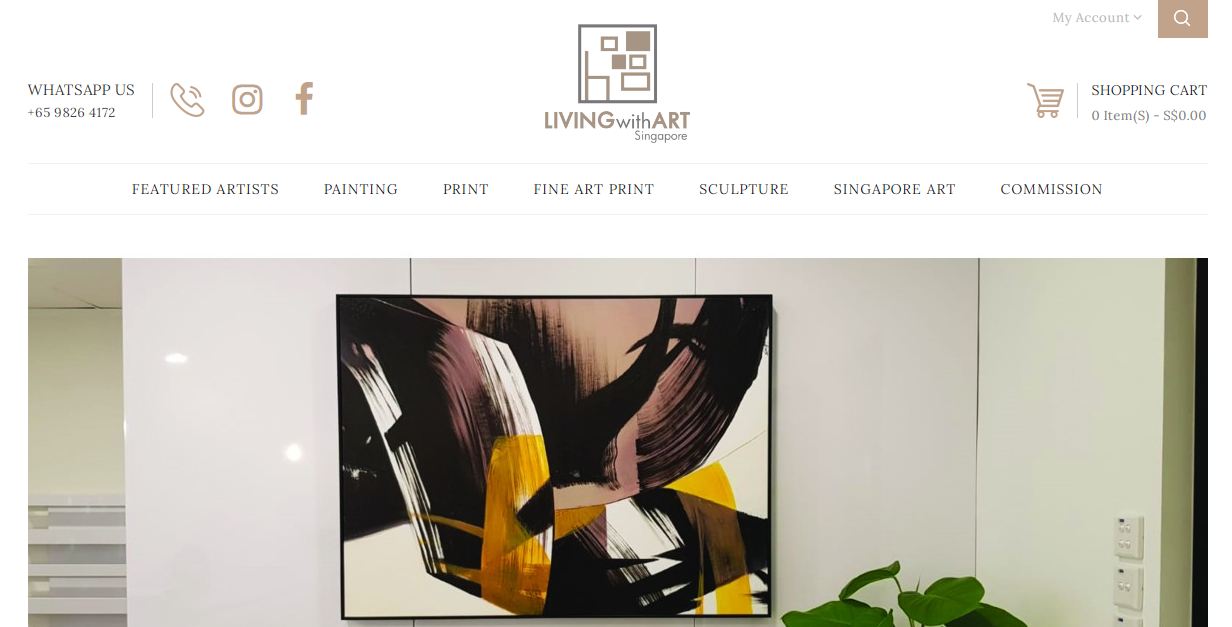 BEST FOR 
Customised artwork design
SERVICES
Painting, Fine Art Print, Sculpture, Singapore Art, Customised Artworks
WEBSITE
https://www.livingwithart.com.sg/
ADDRESS
315 Outram Road, #02-05 Singapore 169074
CONTACT DETAILS
(65) 6917 6503  |

[email protected]

OPERATING HOURS
Daily, 11am–7pm
For those who want to decorate their place with different art masterpieces hanging on the walls, then you should see the breathtaking collections of LivingwithArt. They feature paintings, wall decals, wallpapers, art clocks, and more!
All of their pieces are made by renowned artists from all over the world, so you can see different styles and patterns. If you've got a particular design in mind, they also accept personalised designs, so you can have your own artwork displayed at home.
Highlights
Masterpieces by famous artists
Art project service
Customer Reviews
Most customers had a satisfying experience choosing from the wide art collection of LivingwithArt. A customer posted this feedback:
"Amazing range here and diverse in curation. Likely the biggest collection in Singapore I've seen by far, and so many beautiful pieces at approachable prices it is hard to choose."
11. The Godown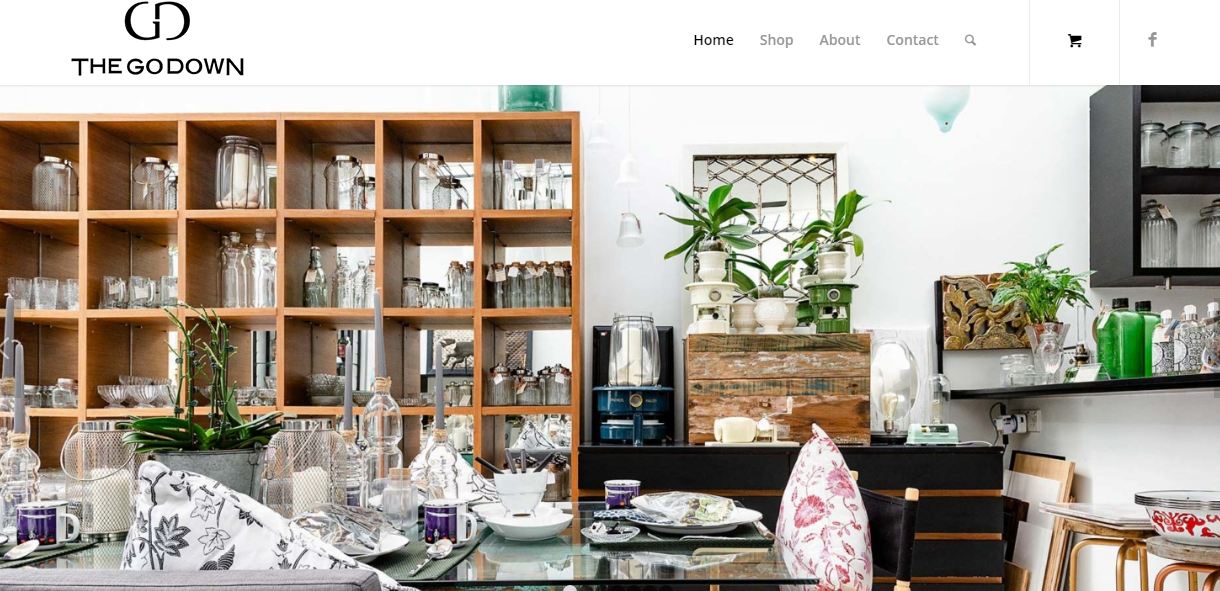 BEST FOR 
Modern and vintage items
SERVICES
Lamps, Wall racks, Kettles, Pillow Cushions, Clock, Plates, Tea Dispenser, Candle Pillar, Diffuser
WEBSITE
http://www.thegodownstore.com/
ADDRESS
100D Pasir Panjang Road The Meissa #02-08 Singapore 118520
CONTACT DETAILS
+65 6333 8966 |

[email protected]

OPERATING HOURS
By appointments only
If you're attracted to rare and unique items, The Godown Store offers rediscovered pieces that you've never seen before. They also have a wide array of modern lifestyle home decor  — there'll definitely be something for you!
They have items for bed and bath, dining and entertainment area. Furniture, decor, accessories, and special pieces such as pipe racks, dog statues, paintings, and more are also available at their shop.
Locals and tourists are very fond of their collections thanks to their unique pieces. This is why they indeed have some of the best home decor in Singapore.
Highlights
Modern home furnishings
Vintage collectibles
12. Born In Colour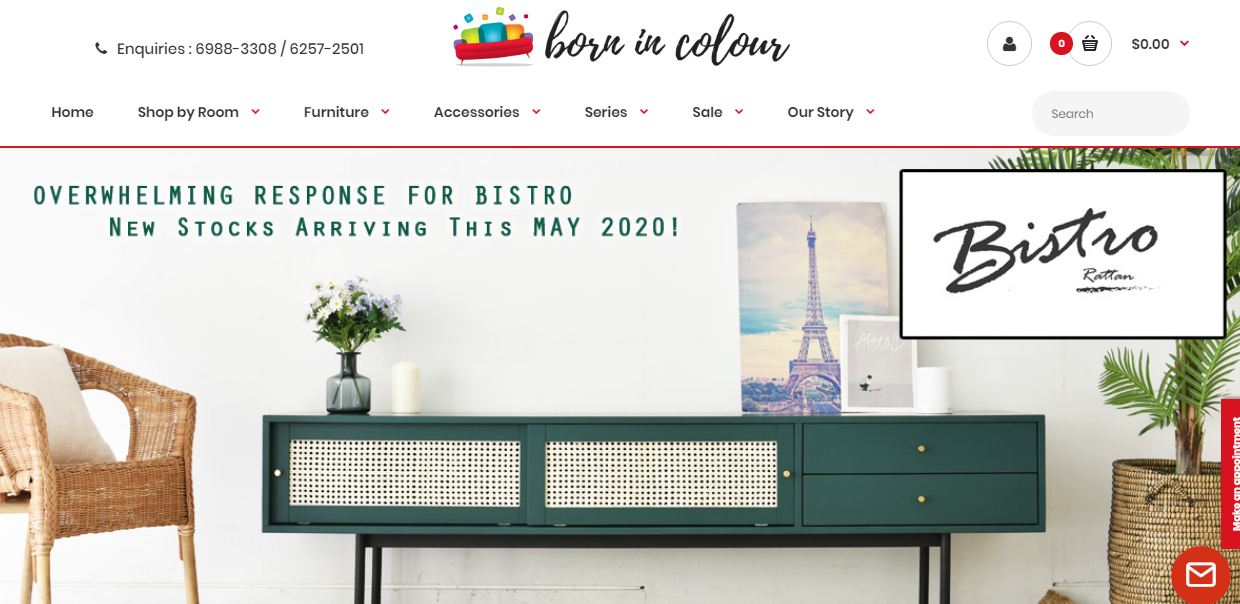 For sophisticated and well-designed home decor, Born In Colour offers a broad series of trendy, compact, efficient, and functional designs that'll perfectly suit your humble lifestyle. All of their pieces feature an ergonomic design, ensuring a strong and durable build. 
Their collections include modern, retro, minimalist, and industrial styles, so if you prefer one of these concepts, then they might have the best home decor in Singapore for you! They also give design consultations by providing interior design tips, recommended furnishings, and more! 
Highlights
Styled collections
Affordable selections
13.

Bungalow 55
BEST FOR 
Durable Home Decors
SERVICES
Accents, Artificial Plants, Bed, Linens, Bespoke Furniture, Candles, Handicrafts, Cushions, Mirror, Lighting, and Tableware
WEBSITE
https://www.thebungalow55.com/
ADDRESS
8D Dempsey Rd, #03-04, Singapore 249672
CONTACT DETAILS
+65 8318 5358 | 

[email protected]

OPERATING HOURS
Monday – Friday, 9:30 AM – 6:30 PM
Shopping for home decor can only be worth it if all products bought are durable. It's a good thing that there are stores that sell quality and durable home decor, such as Bungalow 55 — it's one of the top options for the best home decor in Singapore.
It also has a wide collection of home decor and furniture made by renowned designers all over the world, including lamps, lighting, chairs, rugs, pendants, consoles, wall clocks, and many more.
You may also shop for their products online if you don't have spare time to drop by their showcase store.
Highlights
Wide collection of items
Made by famous designers
14. Singapore Trading Post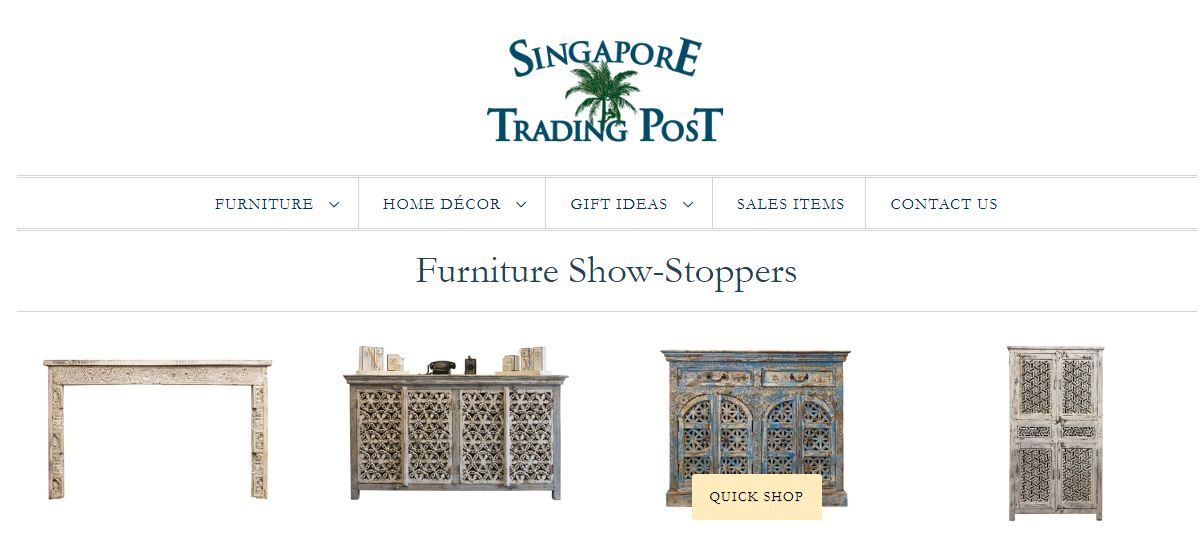 Singapore Trading Post offers various collections coming from all around the globe: they mostly feature vibrant and often antique pieces. When it comes to their furniture, they have complimentary consoles, carved cabinets, and more!
They also have a vintage collection of Singapore-inspired gifts that you can share with your friends and loved ones. Most especially, they have an amazing ice bucket collection filled with classic wine coolers designed for intimate events or grand celebrations. 
If you still don't have any interior concept in mind, their personal in-house stylist can give you advice on what design best suits your space.
Highlights
Classic home decors
Design consultation services
Customer Reviews
Customers have recommended the cultural collections of Singapore Trading Post which many have considered to be the best home decors in Singapore.
"Located on the second floor of this calm and quiet place in Cold Storage jelita building is a nice posh shop with a very wide range of collection of antiques and collectibles. Worth visiting and having a look. The prices are pretty reasonable. Pls give it a try and you will be Glad you did."
15. Martlewood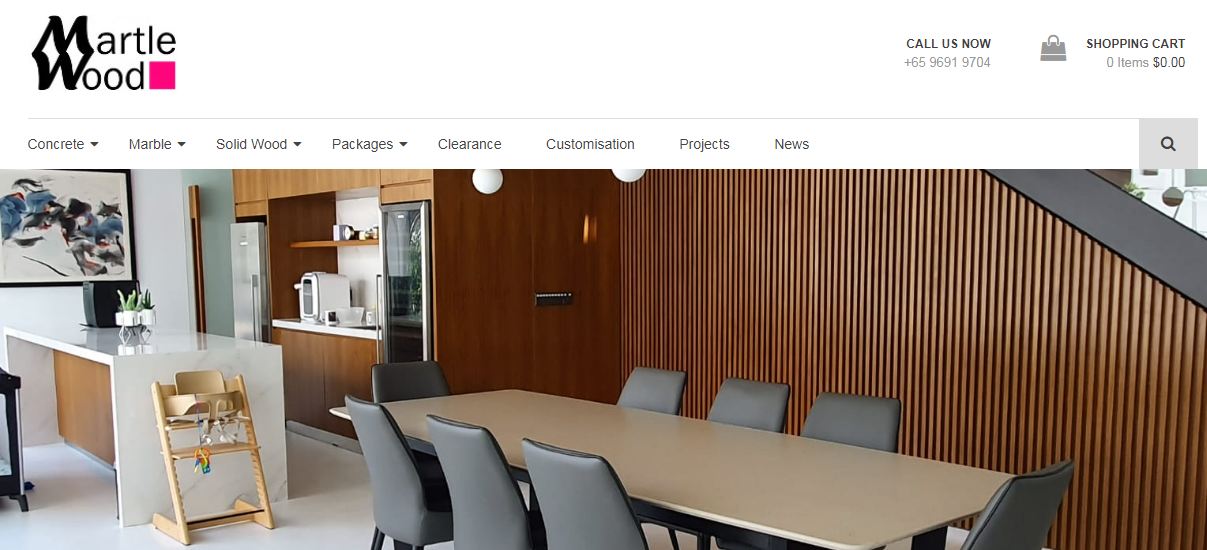 BEST FOR 
Custom-made furniture
SERVICES
Dining Tables, Consoles, Shelves, Kitchen Counterops
WEBSITE
https://www.martlewood.com/
ADDRESS
10 Admiralty St #03-48 Northlink S757695
CONTACT DETAILS
+65 9691 9704
OPERATING HOURS
Weekdays (appointment preferred)
1200hrs – 1700hrs
Saturday (appointment preferred)
1100hrs – 1800hrs
Closed on Sundays
If you're very particular with the choice of material and quality, then you'll certainly have a blast with the collections of Martlewood! They feature various statement pieces made with a variety of stone based materials such as marble, granite, quartz, and concrete, complemented with solid wood and metal — all designed with a sophisticated and functional style.
Also, their furniture selections can come in packages. For example, if you'd like to fill your dining area with a certain material, then you should take a look at their fabulous catalogue of dining packages.
If you've got a personal design in mind, they can also bring your visions to life as they cater to special requests and create furnishings.
Highlights
Customisation of furniture
Unique material selection
Customer Reviews
Customers were very delighted with the furniture and home decor that they purchased at Martlewood. Some of them also mentioned the excellent customisation services that go beyond their expectations.
These are the reasons why they truly have the best home decor in Singapore. A customer shared this story:
"We were looking for stools for our kitchen island which served as our dining table. Ready made chairs did not fit the bill due to the height of our island. We turned to customisation and was delighted that Martlewood designed a storage stool that has perfect functionality and blended so well with our theme. Sharon provided very insightful advice and unique solutions which led to the materialisation of the final product. We appreciate her effort in understanding our needs and designing the product according to our lifestyle. She was detailed and had keen insights in effective space utilisation. A definite plus point for all homeowners! We received many compliments on the stools when we had guests over. Considering the superb quality and lifespan of the product, it was one of our best purchases!"
16. Wandewoo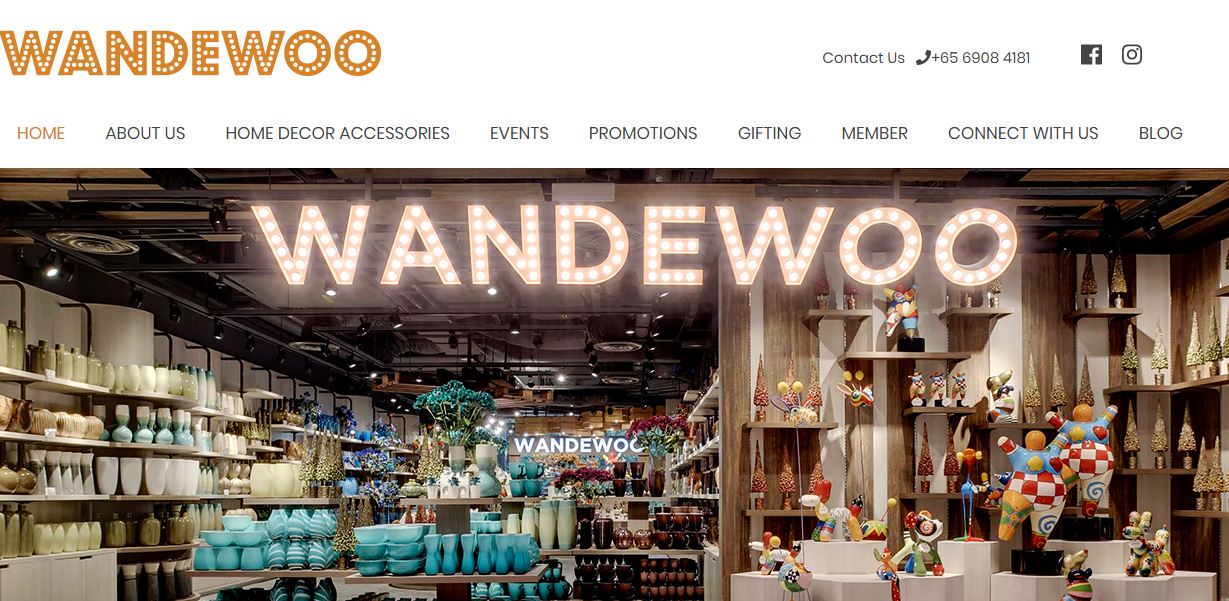 BEST FOR 
Unique Handmade Accessories for Home
SERVICES
Decorative Accent pieces, Vases, Planters, Flowers, Sculptures, Photo Frames, Jewelry Boxes, Table Clocks, Food Trays, Bowls, Jugs, Drinking Glasses, Coasters, Wall Decor, Luxe Chess Game Set, Cushions, Doorstops, Musical Boxes, Diffusers, Soy Wax Candles and more
WEBSITE
https://www.wandewoo.com.sg/
ADDRESS
6 Raffles Boulevard #02-42 Marina Square Singapore 039494
CONTACT DETAILS
+65 6908 4181 |

[email protected]

OPERATING HOURS
Monday – Sunday, 11:30 AM – 8:00 PM
Wouldn't it be nice if your home were filled with decorative crafts and arts pieces featuring unique designs? If you think so too, then you'll love the lifestyle selections of Wandewoo — they're filled with handmade, hand-sculpted and hand-painted home decor and accessories.
As you take a look around the shop, you'll see a varied collection of colourful fibreglass sculptures, stylish doorstops, and specially carved homeware.
Each piece is curated by creative artists and designers from all over the world so you can have the best home decor in Singapore.
Highlights
Complimentary gift wrapping services
Customised floral arrangements (by appointments only)
17. Decordinary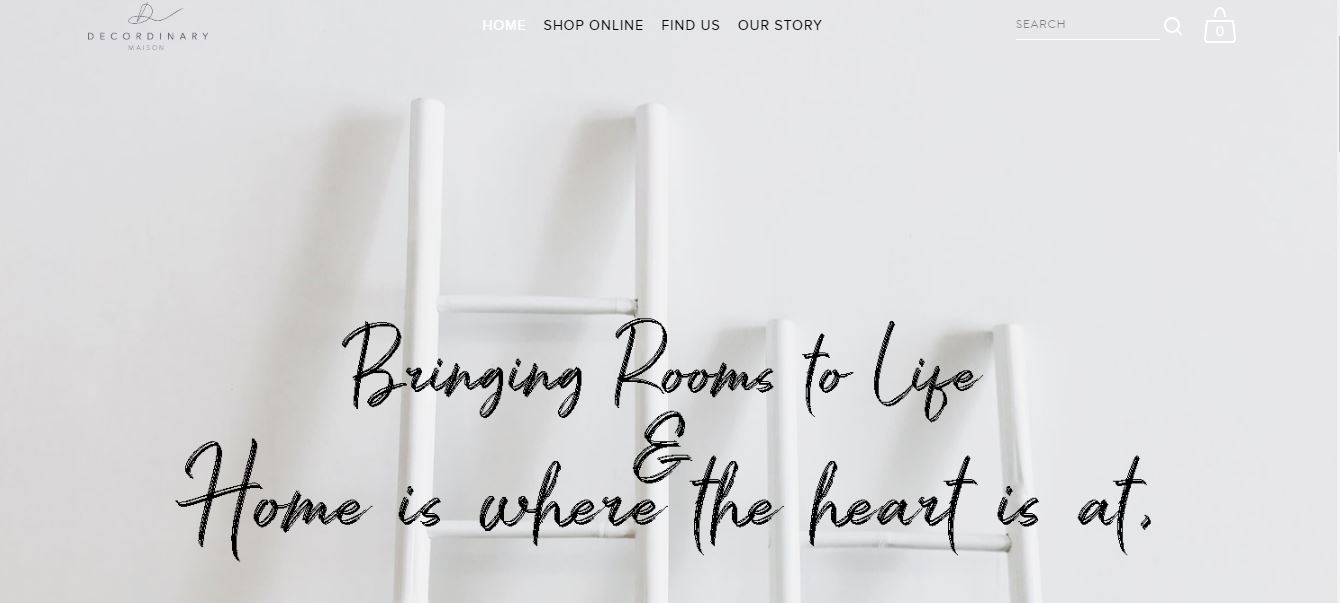 | | |
| --- | --- |
| BEST FOR  | Home decors as self-representation |
| SERVICES | Candle Holder, Soap Dispenser, Ring Holder, Baskets, Jewellery Box, Acrylic Tray, Wallpaper, Accessories |
| WEBSITE | https://www.decordinary.com/ |
| ADDRESS | 240 Macpherson Road #01-01A Pines Industrial Building Singapore 348574 |
| CONTACT DETAILS | (65) 6848 6686 |
| OPERATING HOURS  | Customer service : Mon – Fri 9:30 am to 6:00 pm |
As soon as some guests have arrived at your home, they'll instantly know a part of your personality through your place's interior design. This is why Decordinary features various selections of home decors complementing every individual's home.
They provide the best home decors in Singapore with unique designs coming from different global nations. Their collection is the perfect choice for those who want their home to reflect their own vision in life. 
Highlights
Modern and unique home decor
Lifestyle designs
18. Kulture Home Deco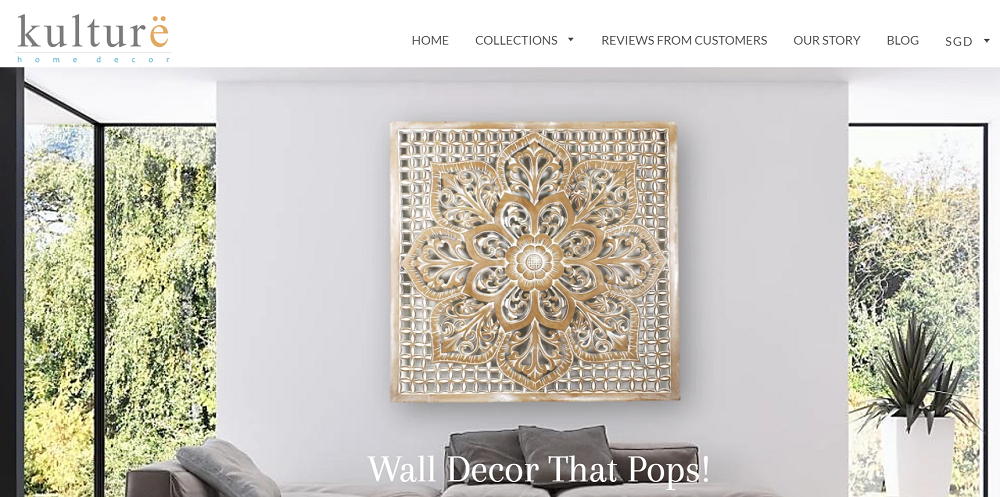 | | |
| --- | --- |
| BEST FOR  | Eye-catching wall decoration |
| SERVICES | Decorative panels, Bed headboards, Accessories, Decorative panels and wood carvings, Furniture, Hand carved wood mirrors, Natural rattan mirrors |
| WEBSITE | https://kulturedeco.com/ |
| ADDRESS | 10 Anson Rd, International Plaza, Singapore 079903 |
| CONTACT DETAILS | https://kulturedeco.com/pages/contact-us |
| OPERATING HOURS  | — |
Kulture Home Decor was born out of co-founders Esi and Charles' desire to respectfully incorporate and show off the many cultures that they have witnessed throughout their travels before they settled down in Singapore.
The result? A brand whose catalogue contains one-of-a-kind, handcrafted designs that feature high quality materials like wood and rattan.
Kulture Home Decor is also dedicated to making the process of purchasing furniture and decorations easier for their clients, so they offer to deliver any and all orders to your doorstep as well.
Highlights
Unique handcrafted decors
Features design styles from various cultures
19. Chisel & Log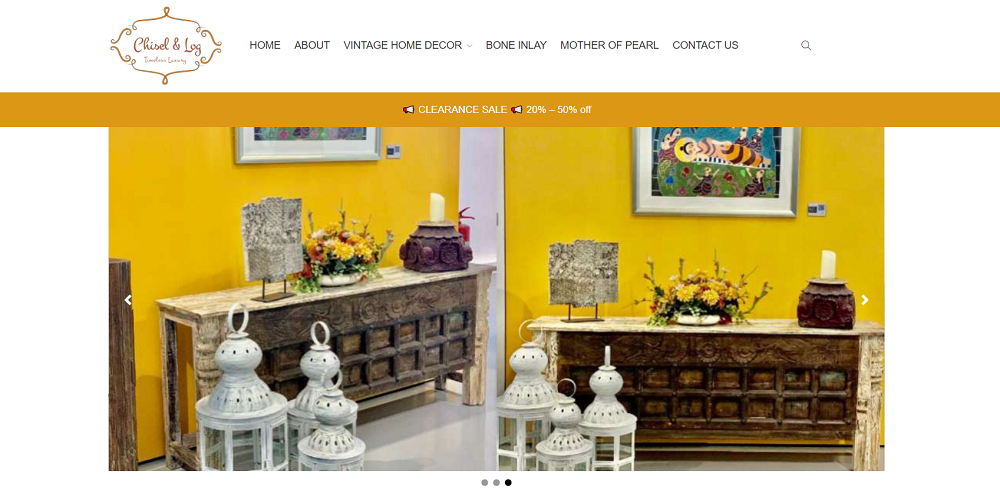 BEST FOR 
Vintage home decor
SERVICES
ALMIRAH
ARMCHAIRS/BENCHES/STOOLS
ARMOIRE
BENCHES / STOOLS
BONE INLAY
CONSOLES/CHEST BOXES/COFFEE TABLES
CUSHIONS / THROWS / RUGS
MIRRORS / WALL PANELS
MOTHER OF PEARL
ONE OF A KIND VINTAGE FURNITURE
SIDEBOARDS/BOOKSHELVES
VINTAGE CANDLE STANDS
VINTAGE HOME DECOR
WEBSITE
https://chiselandlog.com/
ADDRESS
ArtSafe Pte. Ltd.
8 Changi South Street 2,
U-Freight Logistics,
Singapore 486632
CONTACT DETAILS
[email protected] | +65 91075714
OPERATING HOURS 
By appointment only
Chisel & Log is a furniture and home decor company committed to providing artistic furniture that's inspired by deep rooted Indian heritage.
Every item on the shop's sizable catalogue is of high quality and offered at the best value. The shop offers a unique collection of upcycled furniture which still retain the rustic craftsmanship of the artisans from a century ago. A visit at the store is a must to explore all the hidden gems.
Highlights
Upcycled furniture
Carved furniture
Bone inlay products
Mother of Pearl products
20. Wihardja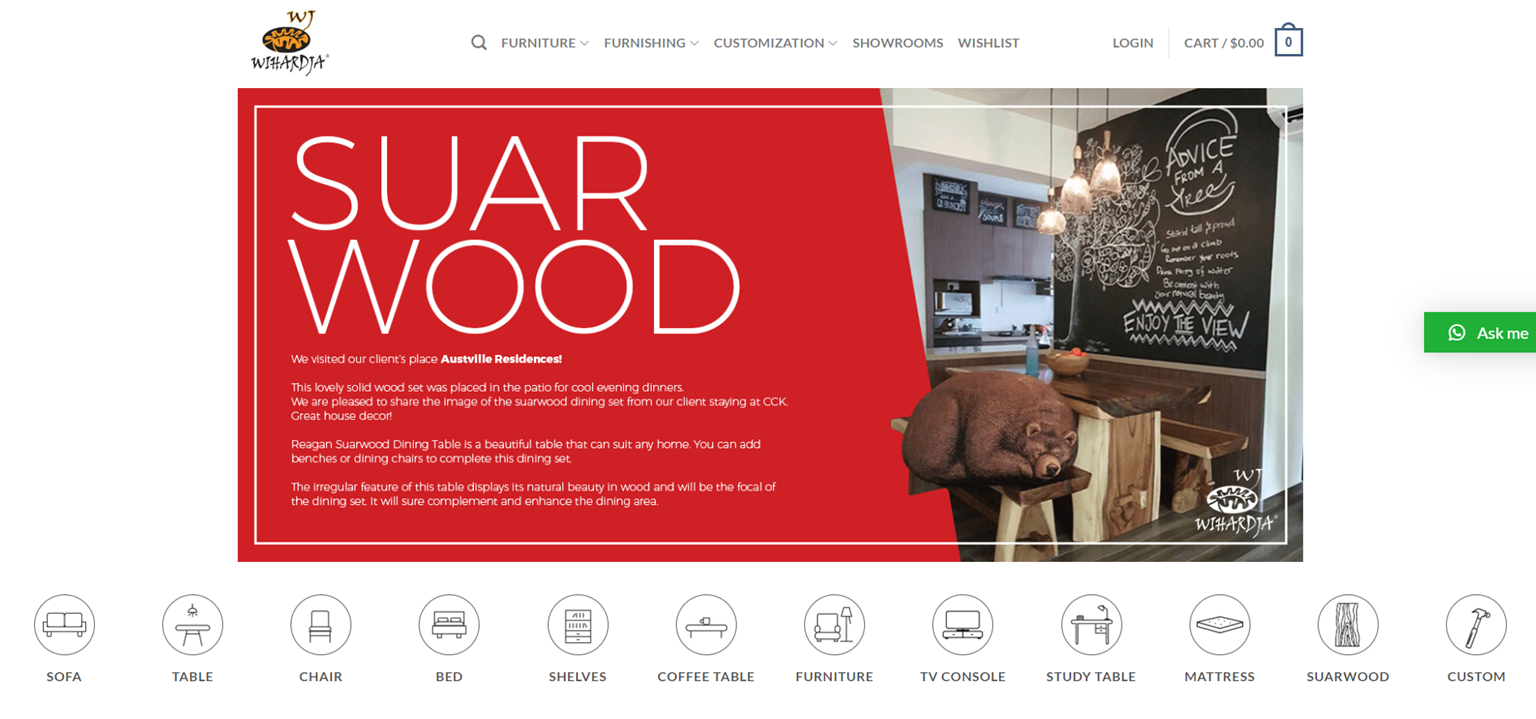 BEST FOR 
Sturdy Wood Fixtures
SERVICES
Furniture selling, Furnishing, Customization
WEBSITE
https://wihardja.com.sg/
ADDRESS
East Showroom -MacPherson
1 Genting Lane, #04-02
West Showroom – Sungei Kadut
24 Sungei Kadut Ave, #04-00
CONTACT DETAILS
https://wihardja.com.sg/contact/
OPERATING HOURS 
East Showroom – Open: 11.30am – 8pm
(Closed on Wednesday) West Showroom – Open: 11.30am – 7pm
(Open Everyday)
Wihardja is a furniture manufacturer that handles clients from all over the world. They're a team of expert carpenters and draftsmen with many years of experience on their belt. Their passion is uncanny, as they continuously work on creating amazing design for each of their collections.
The main materials they use are teak and suar wood, which are both high quality and great for many kinds of furniture. May it be for home décor or office furnishings, they have a wide selection for you to choose from. With Wihardja, you can find whatever you need.
Highlights
Low Cost Prices
Trendy Designs
High Customer Satisfaction
Customer Reviews
Here are some of the reviews left by Wihardja's customers on their website:
"The showroom provides a variety of furniture for home owners to choose. The environment is cool and quiet. Excellent for making good decisions in purchasing the furniture. The salespersons are friendly and welcoming. Will come again in the future if more furniture is needed." 
"I like the place, spacious and the range of furniture. We were greeted by a pleasant salesperson. She was helpful and patient. Would definitely come back for more and will surely recommend this place to friends. Thank you for the good service." 
"Informative and helpful. Suprised that we could custom made our furniture. Will come back definitely."
21. MistyDaydream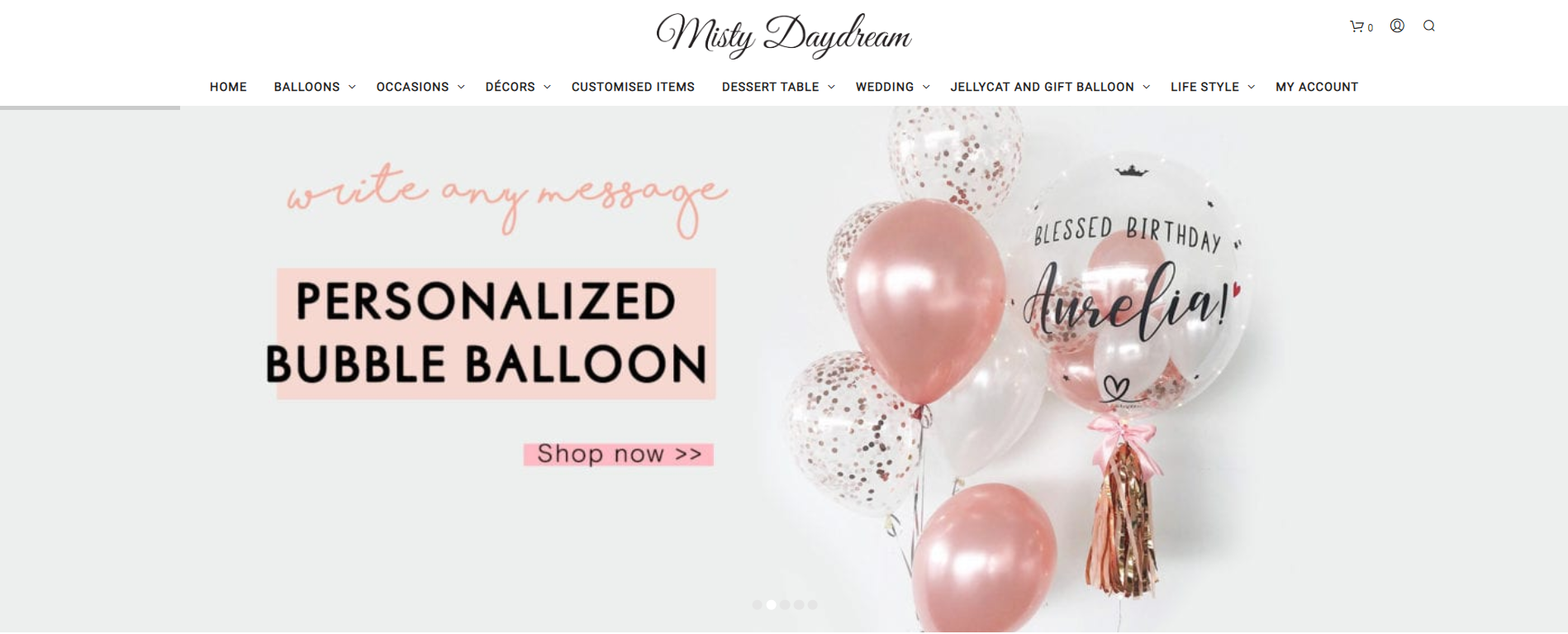 BEST FOR 
Party Supplies
SERVICES
Helium and Bouquet Balloons
Custom Name Bottles
Custome Name Mugs
Cake Toppers
Name Signage
Gift Balloons
Party Decors
Party Supplies
Custom Handphone Case
Custom Bridal Robes
Other Items
WEBSITE
https://mistydaydream.com/
ADDRESS
No 3 Ang Mo Kio st 62, Link @ Amk #08-28 Singapore 569139
CONTACT DETAILS
+65 8222 7491 | [email protected]
OPERATING HOURS 
10:30am – 6:30pm
Looking for a one-stop shop for all of your needed supplies? Then you came to the right place! Misty Daydream is a premium party decorations & supplies shop located in Singapore.
Despite offering a huge range of event decorations and supplies, you'll be shocked to know that they sell their products and services for an affordable price! They have everything that you need, be it for birthdays, weddings, bachelor and bachelorette parties, anniversaries and more.
Their goal is to bring a bit of colour to every special occasion, creating an atmosphere that will get everyone in the mood to party. You will never get disappointed as soon as you acquire their services and get to see their amazing items!
Highlights
One-Stop Party Supplies Shop
Affordable Rates
Wholesale Prices
Customer Reviews
Here is a review left by a very satisfied client:
"Made an order to surprise my friend's new born during CB period.
What's owning a jelly cat without getting it personalised right?
Thus, managed to find this online store that does it. Name is beautifully embroidered on this pastel blue bunny jelly cat. Delivery took about a week to arrive with my note typed on such beautiful card. Will definitely use your service again!" – Marie Wong
22. Decor Viz System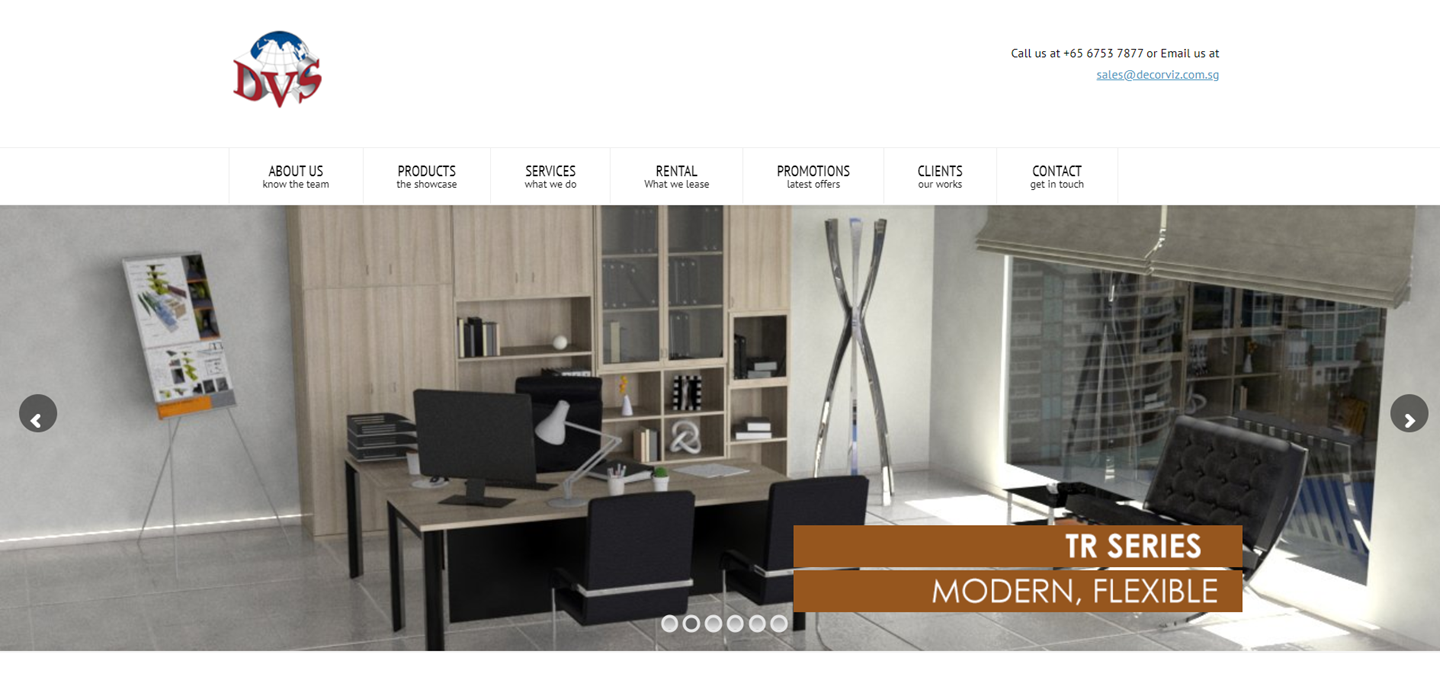 BEST FOR 
Fully customised decor
SERVICES
Tables, Chairs, Stools, Sofa, Compactors, System Furnitures, Acoustic Panels, Racking, Desking System, and more.
WEBSITE
http://decorviz.com.sg/
ADDRESS
7 Gambas Crescent #01-30/31/32
[email protected]
Singapore 757087
CONTACT DETAILS
(T) 6753 7877
(F) 6481 7877
OPERATING HOURS 
Mon-Fri 9am to 6pm | Closed on weekends
Decor Viz System is a highly recommended decor company in Singapore. They're composed of highly skilled individuals who are dedicated to their work, providing only the best furniture and decor to the country. They make sure to cater to every client, providing a wide range of products under various categories and price ranges.
They offer many items to choose from: system furniture, cabinets, tables, compactors, racks, chairs, sofas, and more. Whatever you can think of, they probably have in stock. The options per fixtures also vary, so you will definitely be able to get something that suits you and your tastes.
To wrap it all up, each item you'll purchase from Decor Viz System comes with a one year warranty. If you ever have an item that's in need of repairs, you simply have to send it over for them to have a look and, if needed, fixed– as long as it is in the time frame.
Highlights
Stylish designs
Durable fixtures
Expert staff
23. Finn Avenue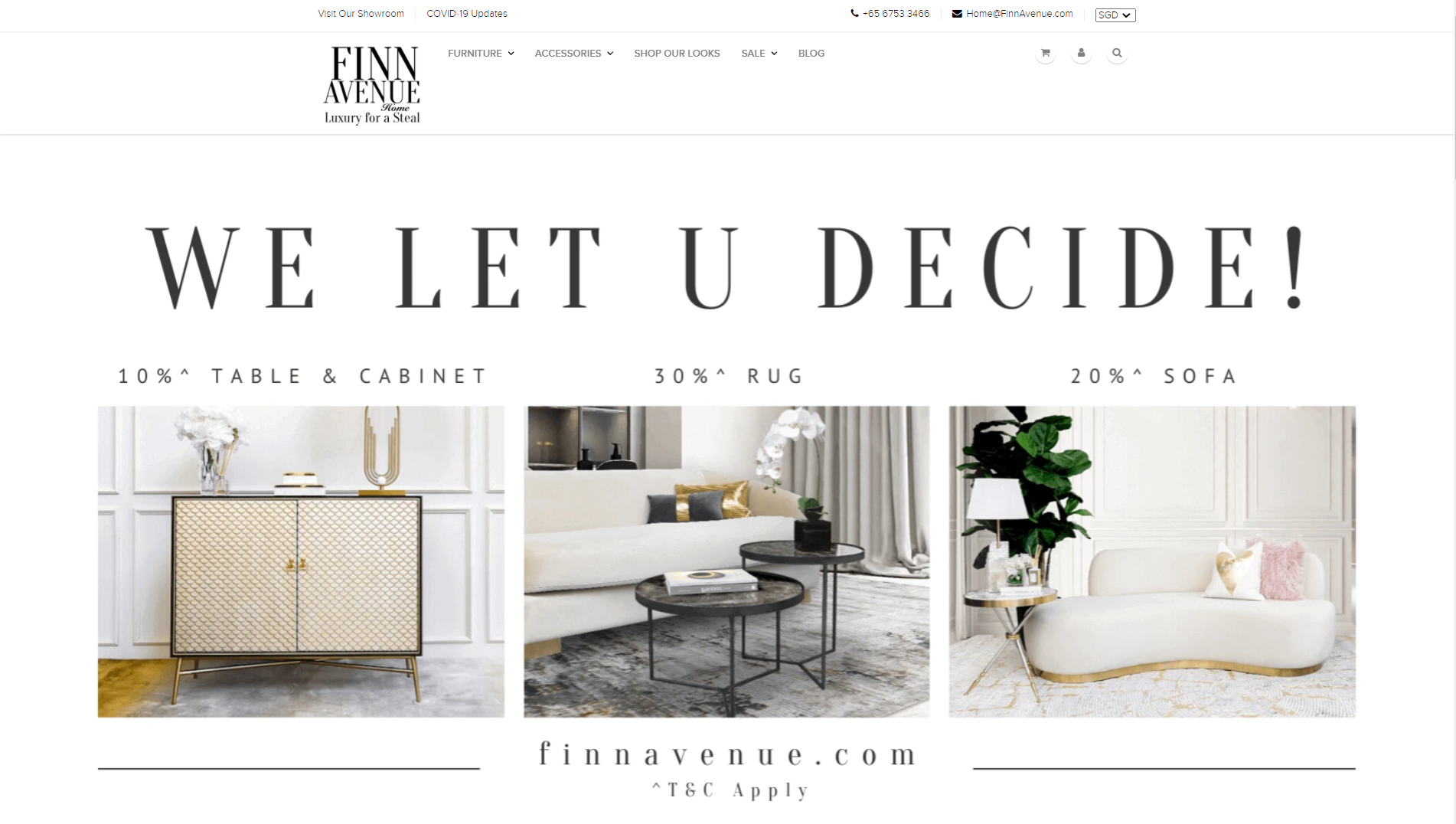 BEST FOR 
Wide variety of products
SERVICES
Furniture and Home Accessories
WEBSITE
https://www.finnavenue.com/
ADDRESS
#04-18, [email protected]
201 Henderson Road, Singapore 159545
CONTACT DETAILS
Email: [email protected]
Showroom: +65 6753 3466
Mobile & Whatsapp: +65 8699 3466
OPERATING HOURS 
Mondays to Fridays from 11am to 7pm
Saturdays, Sundays & Public holidays from 12pm to 6pm
A home speaks about its owner's personality. Finn Avenue will help you express yourself through your home to the fullest.
They offer furniture and accessories suited or various parts of the home. Make sure to check out their extensive catalogue on their website.
Highlights
Various promotions available
Affordable prices
24.

Wallhub
BEST FOR 
Custom-made Murals
SERVICES
Wallpapers, Murals, Textured Paint, Bricks, Curtains, Blinds, Flooring, Wall Coating
WEBSITE
https://www.wallhub.com.sg/
ADDRESS
Locations

 

North Showroom | #01-10, Nordcom II, S757044

East Showroom | #01-38, Oxley Bizhub 2, S408734

CONTACT DETAILS
+65 9183 0634 | 

[email protected]

OPERATING HOURS
Monday – Sunday, 11:00 AM – 7:00 PM
If you're looking for that perfect wallpaper design that'll complement your ideal interior concept in mind, then you must see the gorgeous collections of Wallhub.
They feature more than 10,000 comprehensive and stylish wallpapers from top design houses around the world, as well as being the exclusive distributor for Kastone® Bricks and Strato® Textured Paint in Singapore. Whether you're a botanic lover or a fan of industrial styles, they have the best home decor in Singapore for you.
Moreover, they do custom-made murals, letting you have your own masterpiece at home. Your home's wall is the most basic element of your interiors and it's the one to set the tone, so make sure to take your time in searching through their various selections for wall decor!
Highlights
Collections from premium brands
Lookbooks for inspiration
Customer Reviews
Here are some reviews left by satisfied clients of the company:
"Was looking for some sort of wallpaper for my new bto to give the illusion of space. Boy not only did the wallpaper meet my requirements but actually exceeded my expectations!!! Thanks Joanna and team for bringing the ocean into my hse. Thanks to the two guys (installers) who came for installation.. Amazed what they can do with a pen knife. Definitely this is going to be a talking point in my new hse.. Thanks for making this possible, I will definitely reach out to you guys for more renovations projects in the near future!! good job!!" –Francis NG, Facebook
"I would like to give a shout out to Kaylee and her team for the wonderful works done for my baby's room! Love love love the cute animal design! This is the second time we have engaged Wallhub, as it has an extensive collection of wallpaper and its quality and workmanship are good! Kaylee was very patient and went out of the way to bring the heavy books of designs specially to my place for me to relook as I was having second thoughts. Highly recommended for anyone who is looking for wallpapers to deco their bedroom for their little ones!" –Jacs, Facebook
25. Arthur Zaaro
BEST FOR 
Sustainable Urban Timber
SERVICES
Cutting Boards, Modern Peranakan Tables, Dining Tables, Seating, Coffee Tables, Lighting and Accessories
WEBSITE
https://arthurzaaro.com
ADDRESS
122 Eunos Avenue 7, Richfield Industrial Centre #08-07, Singapore 409575
CONTACT DETAILS
+65 9187 1510
[email protected]
OPERATING HOURS 
MONDAYS CLOSED, TUE – SUN 11AM to 5PM – or other times by request
Arthur Zaaro offers home products and furnishings made from sustainable urban timber. They're well-known for their quality cutting boards and modern peranakan tables. 
They also offer dining tables, seating furniture, and other home accessories. All of their products make use of exotic hardwoods that can be found in Singapore.
They make sure to employ local talent to create their items. As a member of The Green Collective SG, you can count on them to provide products that are friendly for the environment.
Highlights
Items made from sustainable wood
Wide range of products
Employs local talent
Member of The Green Collective SG
26. Gaya Alegria
BEST FOR 
Asia's Materials and Designs
SERVICES
Cushion Covers, Textile, Decor, Lighting, Art
WEBSITE
https://www.gaya-alegria.com
ADDRESS
315 Outram Road, #07-06B
Singapore 169074
CONTACT DETAILS
Email: [email protected]
Tel.: +65-8113 8030
OPERATING HOURS 
MON – FRI: from 11am – 6pm
SATURDAY & SUNDAY: from 10am -6pm
Gaya Alegria is one of the few stores that specialises in Asia-inspired designs. The themes of their decor revolve around the nature of Southeast Asia, as well as the feeling of living in the Tropics.
They offer an extensive collection of home decor, from textiles to lighting and art. Their products are designed with a personal touch, with each and every one made to fulfil the highest quality standards. 
They're a company that sources from Fair Trade suppliers and sustainable manufacturers. Their commitment to excellent guarantees that any product you purchase from them is something that will suit your home decor needs.
Highlights
Inspired by nature in Southeast Asia
Stylish and elegant decor
Products sourced from Fair Trade suppliers
Sustainably managed manufacturers
27. EDD Plus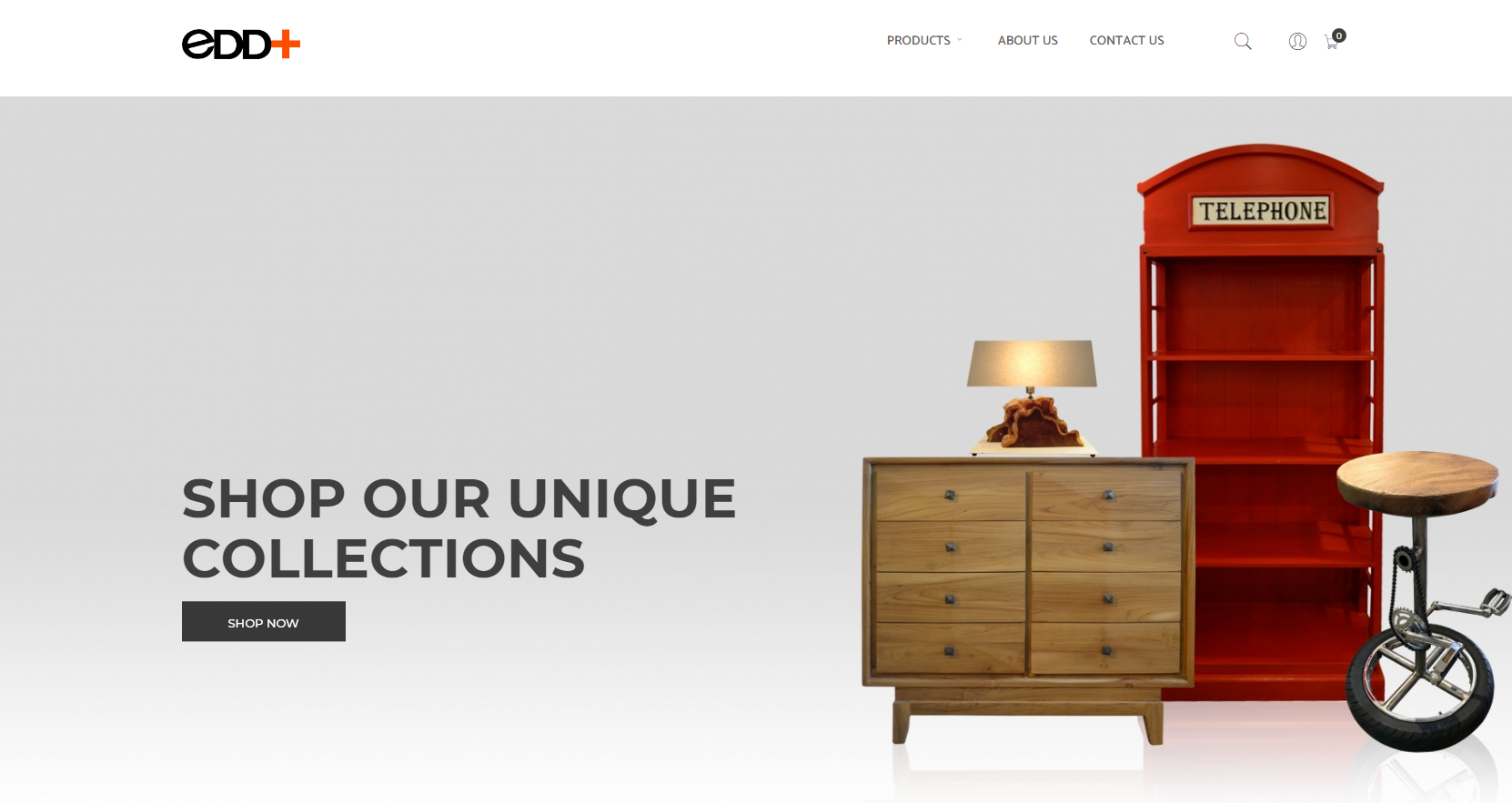 BEST FOR 
Famous Designers
SERVICES
TABLE
CHAIR
STORAGE CABINET
LAMP
STOOL
WALL PANEL
SCREEN & DIVIDER
DECORATIVE
HANDLE
MIRROR
PILLOW
RUG
VINTAGE
CUSTOM ORDER
WEBSITE
https://www.eddplus.com/
ADDRESS
994 Bendemeer Rd, #02-06 Central, B, Singapore 339943
CONTACT DETAILS

Phone: +65 6291 0990

Email: [email protected]

OPERATING HOURS
Monday – Friday: 09 AM – 06 PM
Saturday – Sunday: 11 AM – 07 PM
Public Holiday: 11 AM – 07 PM
Inspired by the uniqueness of nature forms, EDD+ endeavours to deliver exquisite furniture and crafts that enliven your living spaces. Each piece is painstakingly handcrafted to reflect its charming characteristics, evolving into a timeless and unique style.
We are passionate in bringing you statement pieces that transpires beyond functionality, infusing nature's beauty with modern materials through traditional techniques.
Be it for your homes, showrooms, retails, or hospitality environments, we believe you will find fond affinity to something at EDD+ that will make a meaningful difference to your ambience.
Highlights
Unique furniture designs
Frequent sales
Accepts custom orders
Customer Reviews
Here are some comments left by satisfied customers:
"Great looking furniture stall that has natural wood, metal and leather as its central theme. They not only retails furniture they also have interior design consultancy services. They also supply feature wall materials but you will have to engage your own Contractors to install them. Watch out for their sale which can be as high as 70% off."

"I think eddplus sell many variety product.The product quality is good and we can find some furnitures and accesories for our decoration in this shop.. Thanks.."

And with that, we conclude our list of stores for the best home decor in Singapore. If you've visited any of these home decor shops before, share your experiences with us and your comments about their products.
Since you're already searching for home decor, you might also be interested in buying the best extended tables in Singapore. If you're one of those people who like inviting friends over, then these extended tables will definitely come in handy!