A Captivating Sight: the Best Water Fountains in Singapore
Singapore features a ton of world-class attractions—from architectural marvels to beloved theme parks to gorgeous public parks. And among these attractions, you can find a good amount of water fountains.
Indeed, Singapore has many water fountains, and they're much more captivating than you think. Sometimes, I'd even go out of my way to head to Sentosa just to watch the Musical Fountain or to Gardens by the Bay to splash around in their water fountain.
I've been to several fountains in Singapore—both big and small—and I featured my favorites in this article. If you're looking for a unique destination to add to your itinerary, these attractions will surely fit the bill.
What are the best fountains in Singapore?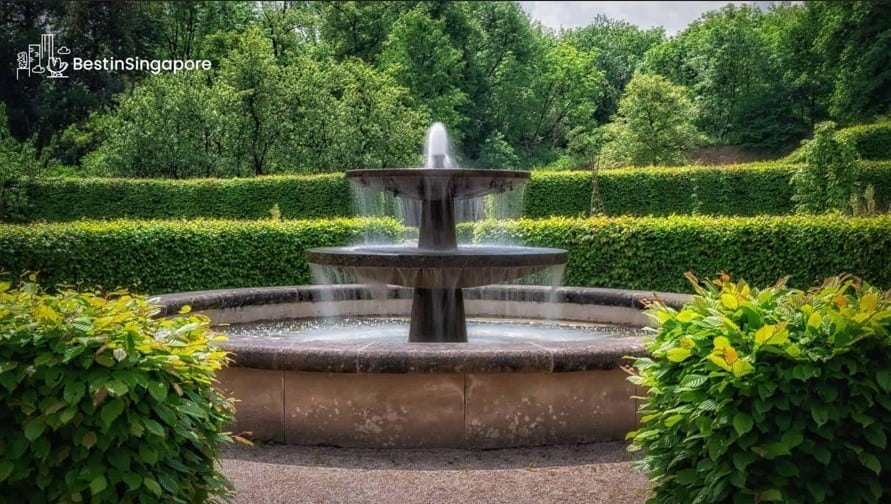 Singapore has many fountains, and they all have their own unique characteristics. To better show you the different captivating fountains in Singapore, I've decided to divide them into three categories so that you can easily find what you'd like to see.
Iconic Fountain Attractions
The Merlion
— From: foodravel_affairs
Address: 1 Fullerton Rd, Singapore 049213
Operating Hours: Open 24 hours
Undoubtedly, the fountain at Merlion Park is the most famous fountain in Singapore. After all, the Merlion is the island's official mascot, and who wouldn't want to see this majestic half-fish, half-lion spew out water while overlooking Marina Bay Sands?
Personally, I love coming to Merlion Park during the early morning or late afternoon because I get to see the sunrise and sunset. It's just so magical seeing vivid colors painting both the sky and the Merlion itself—I'll never get tired of it.
Visiting the fountain at night is also a great option because the Merlion lights up. As if that's not good enough, the skyscrapers all around the park also shine, so it feels like you're surrounded by stars, which is just as magical.
Pro Tip: When you're hungry, there are many restaurants nearby. There are also rooftop bars near the park, so you can enjoy the view while drinking your favorite cocktail.
Sentosa SkyJet
— From: travelingsunday
Address: Beach Station, 21 Beach View Road, Singapore 099699
Operating Hours: Monday to Sunday—10 am to 10 pm (not operating during Sentosa Musical Fountain and Wings of Time show periods)
Sentosa SkyJet is a relatively new attraction, but it's one you definitely don't want to miss when you're exploring Sentosa. This fountain is the tallest in all of Southeast Asia—it can spew water up to 80 meters high, which is equivalent to a 24-story building!
Because of this, it's so easy to spot, and once you do, you can't look away because it's just so captivating. Sometimes, I just come here and sit to view the fountain for hours on end—it's simply a relaxing activity.
Pro Tip: For the best experience, I suggest viewing the fountain at night because there are 24 LED lights that illuminate the water. The colors make everything even more magnificent.
Sentosa Musical Fountain
— From: rozzyyusoff
Address: Beach Station, 21 Beach View Road, Singapore 099699
Operating Hours:
A Tribute to the Original Sentosa Musical Fountain (Show 1): 4 pm, 5 pm, and 6 pm
Singapore's National Day Songs (Show 2): 4:30 pm, 5:30 pm, 6:30 pm
If you're looking for a truly unique fountain viewing, then you can't go wrong with the Sentosa Musical Fountain. I mean, this fountain features water jets that dance to national songs—how much more unique can it get?
I feel like this fountain show holds a special place among millennials and older Singaporeans because this used to be a thing in the 1980s. But even younger generations and foreigners can enjoy the show because it's so fun and colorful.
When you do watch it, don't forget to take some photos and videos on your camera phone. You'd want to show this off to your friends and family back home.
Pro Tip: In order to find the best seat with the best view, you should arrive before the show even begins. Depending on the day, there might be a significant number of people waiting to witness the show.
Spectra: A Light and Water Show
— From: sigmafiretiger
Address: 2 Bayfront Ave, Singapore 018972
Operating Hours:
Sunday to Thursday—8 to 8:15 pm, 9 to 9:15 pm
Friday to Saturday—8 to 8:15 pm, 9 to 9:15 pm, 10 to 10:15 pm
Speaking of spectacular fountain shows you don't want to miss out on when visiting Singapore, Spectra: A Light and Water Show is another one you should add to your list.
Located by Marina Bay Sands, this show features fountains, lasers, and light projections that are set to music and against the sparkling city skyline at night. It only lasts 15 minutes, but you'll be ooh-ing and aah-ing the whole time.
I've lived in Singapore for quite some time now, but still, I get excited about coming to the Event Plaza just to see this show. I also like to bring my little cousins because they get excited so easily by all the lights and orchestral music.
Pro Tip: This is a popular spot for both locals and tourists alike, so if you want to get the best seats, arrive before the show starts.
Fountain of Wealth
— From: iamjusttravellerrr
Address: 3 Temasek Blvd, Singapore 038983
Operating Hours: Monday to Sunday—10 am to 12 pm, 2 to 4 pm, 6 to 7:30 pm
The Fountain of Wealth is the biggest water fountain in Singapore, and wow, its size and design will definitely leave you with your eyes and mouth gaping. It stands tall at a whopping 13.8 meters, and its body is made of silicon bronze.
What I love about this fountain is the meaning behind its design. Its iconic structure is said to represent unity and harmony, especially since Singapore is a melting pot of various races and ethnicities.
The design also has five tower blocks that symbolize the thumb and fingers, and the tower is deliberately placed on the palm, where wealth (symbolized by the inflowing water) pours in.
Every time I come to Suntec City, I always make sure to stop by this fountain and just marvel at it. It truly is one of the prettiest public fountains I've ever seen.
Pro Tip: At night, the fountain lights up, which makes for a really gorgeous sight. Come by during that time!
Fountains in Buildings and Parks
The Fullerton Fountain
— From: traveler_dr4gon
Address: 80 Collyer Quay, Singapore 049326
Operating Hours: Monday to Sunday—6:45 pm
Just near Merlion Park, you can find another beautiful fountain that lights up at night. This fountain is located on the premises of the Fullerton Bay Hotel, one of the most beloved 5-star hotels in Singapore.
What I love about the Fullerton fountain is that it honors Singapore's roots and history. The Marina Bay area was once the entry point of the island, so it once saw countless people from all over the world come here to live a new life.
With that history in mind, the fountain then lights up in various colors to honor and celebrate the island's multicultural society. Whenever I see this fountain, I always feel pride at how far we've come and how far we have yet to go.
Pro Tip: For a better view of the fountain, head to The Landing Point and grab yourself a sundowner cocktail.
Capitol Plaza Water Fountain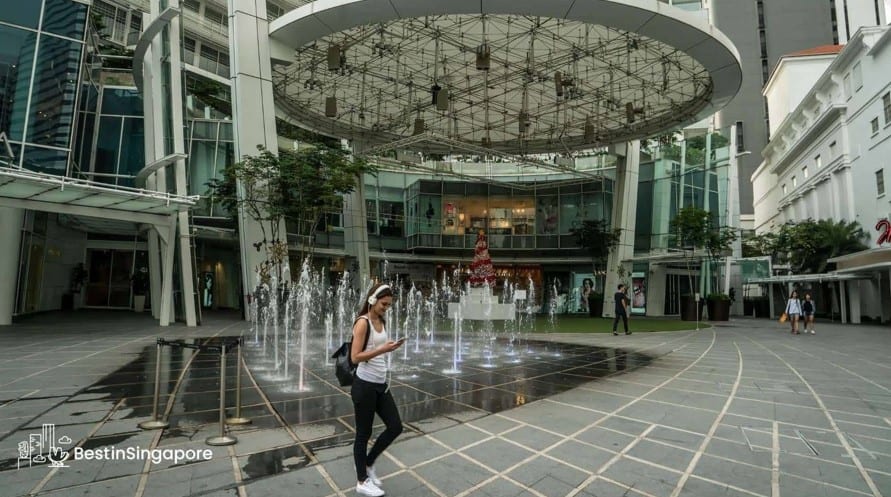 Address: 13 Stamford Rd, Singapore 178905
Operating Hours: Monday to Sunday—10:30 am to 10:30 pm
Right before you enter the prestigious Capitol in Singapore, you'll first be entertained by its fountain right on the main entrance. This fountain is oftentimes called the "dancing fountain" because the water jets spout at the same time like synchronized dancers.
Generally speaking, the fountain is just a cool little detail that's easy to overlook. But it's fun and entertaining to look at, especially if you have to hang out outside first because the building is still closed.
Pro Tip: Since you're already at Capitol, you might as well use this as an opportunity to browse the high-end retail mall. There's also the Capitol Theatre, where you can catch a movie if you want.
The Iron-Cast Fountain
— From: raffleshotelsingapore
Address: 1 Beach Rd, Singapore 189673
Operating Hours: Open 24 hours
The Fullerton Hotel isn't the only 5-star hotel in Singapore that has an impressive fountain; Raffles Singapore comes with its own as well.
The fountain at Raffles is a majestic iron-cast fountain that stands six feet tall and is nestled in the heart of the Palm Garden. The fascinating thing about this fountain is that it was actually made in Scotland way back in the late 1800s.
That's why the details on this fountain are incredibly intricate and awe-inspiring. The fountain also looks great in photos, so don't hesitate to snap as many pictures on your phone and post them on Instagram.
Pro Tip: If you just want a chill time, feel free to lounge on any of the chairs surrounding the fountain. I find that the Palm Garden is a great place to take a break from all the city noise.
Tan Kim Seng Fountain
— From: caveman_sean
Address: Esplanade Park, Connaught Dr, Singapore
Operating Hours: Open 24 hours
Another historic fountain that's worth checking out is the Tan Kim Seng Fountain, which is located within Espalande Park. Now a national monument, this fountain was erected in 1882 to honor Tan Kim Seng, who was a notable philanthropist at the time.
Even though it's been more than a century since the fountain was constructed, it's still sturdy and beautiful. It stands seven meters tall, and the three tiers feature the Greek goddesses of science, literature, and the arts.
I'm not a Greek mythology nerd, but I have a friend who is, and she tells me that the Muses featured are Calliope (Muse of Epic Poetry), Clio (Muse of History), Erato (Muse of Lyric Poetry), and Melpomene (Muse of Tragedy). What a fun thing to learn about!
Pro Tip: You can sit along the steps of the fountain if you want to relax, but I suggest you also roam around the park. You might even want to go hiking or biking here if you want.
VivoCity Outdoor Water Fountain
Address: 1 HarbourFront Walk, Singapore 098585
Operating Hours: Monday to Sunday—10 am to 10 pm
Just outside VivoCity, one of Singapore's most beloved malls, you can find a beautiful fountain display. This fountain makes for a perfect backdrop for your photos, but my favorite thing about it is that you can actually play with it if you want.
Whenever I see this fountain, there are always people (usually squealing children) running across the water jets. It honestly looks so much fun, and though I haven't tried doing that for this fountain, I'm tempted to do it sometime in the future.
Pro Tip: If you and your children are planning to play with the fountain, I suggest doing it after you're done with your business inside the mall. Also, make sure to bring extra clothes.
Water Play Fountains
Far East Organization Children's Garden at Gardens by the Bay
— From: ami__.o4.2380
Address: 18 Marina Gardens Dr, Singapore 018953
Operating Hours:
Thursday to Sunday, public holidays—9 am to 7 pm
Monday to Wednesday—closed (unless it's a public holiday)
Price: Free
I've lost count of how many times I've come to the Far East Organization Children's Garden at Gardens by the Bay. Sure, it's partly because of my little cousins (they love this garden), but I also love accompanying them, so I'm not complaining.
The garden is essentially just a mini water park with countless fountains on the ground spewing water everywhere. Whenever I go here with my cousins, I always see kids running around, squealing all the while.
My favorite thing to do is try to "outrun" the fountains with my cousins. Essentially, we have to avoid getting wet, but we always fail because we're too busy trying to sabotage each other that we never notice that the fountains have already spouted water at us.
Your children might also love checking out the Rainforest Tree Houses. There are just so many things to do here, so you'll have a fun time!
Pro Tip: This garden is only for children aged 12 and below. But you can enter so long as you have a child with you.
Rooftop Water Playground at Tampines 1
— From: heedalittlegram
Address: 10 Tampines Central 1, Singapore 529536
Operating Hours:
Monday—4 to 8 pm
Tuesday to Sunday—12 to 8 pm
Price: Free
Another popular and free playground that has a water play fountain is the rooftop water playground at Tampines 1.
This wildlife-themed playground has water slides, sprinklers, and water fountains, so it's a great place to be if you and your kids want to beat the heat after spending hours shopping or exploring other destinations.
There's also a dry play area if your child wants to play with other things. Once you're all done for the day, you and your kids can head to the wash area to get cleaned up.
Pro Tip: Since this area opens later than Tampines 1, you can use the time to explore the mall first before coming here.
Play at Heights Park Toa Payoh
— From: mrs_serene_lim
Address: 150 Lor 1 Toa Payoh, Block 150, Singapore 310150
Operating Hours: Monday to Sunday—8 am to 9 pm
Price: Free
Play @ Heights Park is a family-friendly park that I always recommend primarily because of its wide array of facilities. But of course, the star of the show is the water play area, which comes with various fountains and structures that spew water.
You can also find a ship structure at the center, where your little one can pretend to be a pirate sailing away on the high seas. Meanwhile, you can also choose to join in the fun or just enjoy the view of the fountains and children running around.
Pro Tips: I suggest roaming around the park. Even if you don't want to get wet in the water play area, you might be interested in jumping on the trampoline or riding on the swing.In the mood for a little treat? Just down the road is Creamier Handcrafted Ice Cream, so be sure to grab a scoop for yourself and your little kids.
Wet Water Play at Causeway Point
— From: iriyani.said
Address: 1 Woodlands Square, Singapore 738099
Operating Hours:
Monday to Sunday—10:30 am to 9 pm
Every second Monday of the month—closed for maintenance
Price: Free
The Wet Water Play at Causeway Point is probably the cutest water playground I've seen. It's dinosaur-themed, so you can find colorful dinosaurs and eggs all throughout, and with the inclusion of the fountains, the park just looks so pretty in photos.
My favorite feature is the 2.2-meter dinosaur rib cage that spews water, while the mist-spraying volcano is a close second. There are also long, winding slides that will undoubtedly delight your children.
This area is so popular among families that Causeway Point only allows visitors to come and play for 45 minutes to accommodate everyone. That said, there's no pre-booking required, so you and your family can come here anytime and have fun.
Pro Tip: I suggest coming here in the evening because everything gets lit up with neon lights! It makes the whole place look extra sparkling, which I love.
Jelutung Harbor Park
— From: carlyhikari
Address: Admiralty Link, Singapore
Operating Hours: Monday to Sunday—9:30 am to 9:30 pm
Price: Free
Located within an HDB estate at Admiralty Link is a hidden gem called Jelutung Harbor Park. This park comes with multiple playgrounds, including a small yet colorful water playground.
In this playground, water gets spewed from everywhere—from the ground, from above, or from the marine creature structures scattered throughout—so it's fun to run around all over the place, trying to avoid getting hit by the water.
If you have a child who doesn't want to get wet, they can play in the dry area, where there are slides for their entertainment.
Pro Tip: If you're not in the mood to play with your children on the water playground, you might want to check out the park's fitness corner. That's where I usually go myself to pass the time.
Lower Seletar Reservoir Park Water Play
Address: Yishun Ave 1, Lower Seletar Reservoir Park, Singapore 769139
Operating Hours: Monday to Friday—9 am to 9 pm
Price: Free
In my opinion, the main highlight of Lower Seletar Reservoir Park is the water play area in the far corner. This area comes with multiple fountains in the center, a wading stream, and two water spouts in the shape of flower petals.
The area is also quite spacious, so even if there are many people on a particular day, there's still space for everyone to enjoy the cool water.
What I personally love about this water play area is that it faces the river. So, when I'm not in the mood to run around with my cousins trying to avoid the fountains, I just sit down on the steps and enjoy the view.
Pro Tip: Another thing you can do if you don't want to get wet by the water fountains is take a walk along the Heritage Bridge. It's a few steps from the water play area, and it lets you take in the view without any disturbance.
Marina Barrage Water Playground
— From: aussie_boymum_in_singapore
Address: 8 Marina Gardens Dr, Singapore 018951
Operating Hours:
Monday, Wednesday, Friday—12:30 to 7 pm
Tuesday, Thursday, Saturday, and Sunday—9 am to 7:30 pm
Price: Free
The water playground at Marina Barrage doesn't have water slides or any fancy equipment like the ones I mentioned in this article, but it does have lively fountains that dazzle the crowd.
The main spectacle is the Water Jet Tunnel, which is essentially a row of fountains that spew water in a curved direction, thus creating a tunnel for people to walk through. For me, I like to pretend that there's a magical world waiting for me at the end of the tunnel.
And then there's the Fountain Square, which features a cluster of burbling fountains. These fountains alternate between stopping and spewing water, so people have made a game of stepping into the square and then jumping out before the water spouts again.
Pro Tip: This water playground is near Gardens by the Bay, so you might want to check out the Far East Organization's Children's Garden, which I also featured in this list. Or if you're already in the Children's Garden, make your way here.
Oasis Waterpark at Nee Soon East
— From: ilovegarykatiemegan
Address: Blk 307 Yishun Ring Road, Singapore 760307
Operating Hours: Monday to Sunday 9 am to 7:30 pm
Price: Free
The Oasis Waterpark is one of the most beloved spots by families in the Yishun area, which is understandable because this place, which has an impressive area of 5,600 square meters, is jam-packed with so many fun facilities.
There are shallow pools and water wheels, but the best feature has to be the 3.5-meter-high circular water curtain. People, especially children, love running through the mist cloud and avoiding the water jets.
For people who just want to enjoy the view of the water spouting from everywhere, there are plenty of benches to sit on and umbrellas to keep you cool. So, don't be afraid to sit down when you're tired and just watch people have fun.
Pro Tip: If you're hungry, you can buy something from the vending machines. There are also various drinking fountains if you're thirsty.
Tips to Consider When Visiting Water Fountains in Singapore
Watching fountains or even playing with them is such a fun activity to do, and that's why I'll always encourage tourists to check out a few fountains during their stay.
If you're already planning to do this, allow me to give you additional tips to ensure a fun and seamless experience. These tips are as follows:
Bring extra clothes. This tip is targeted toward people who want to play with fountains. Be sure to bring a change of clothes, and if possible, a rash guard as well.
Put on sunscreen. Most of the fountain attractions in Singapore are outdoors, so you might have to spend a lot of time under the sun. To protect yourself from the harsh UV rays, be sure to apply sunscreen on your skin.
Use the opportunity to do more sightseeing. Usually, there are other parks and attractions near the fountains, so don't pass up on the chance to roam and discover more of Singapore's gems.