The 6 Best Spin Mops in Singapore
Sweeping your floor every weekend can get a little challenging when you're still using a traditional mop. If you want to clean your home conveniently without straining your back, we recommend getting your hands on the best spin mops in Singapore.
Apart from being designed to reduce the time spent on cleaning floors, the best spin mops in Singapore work well with all types of flooring, from tile to vinyl. This is why more and more people are starting to shift to spin mops.
Spin mops come in a variety of styles to fit every budget. We're here to share our picks for the best spin mops in Singapore. These were recommended to us by hundreds of homeowners and cleaning service providers!
Check them out below to see which one fits your needs and budgets. Before that though, we'll share a few tips on how to pick the right spin mop for your home.
How to Buy the Best Spin Mops in Singapore
Getting your hands on the best spin mops in Singapore is one way to make your cleaning tasks a whole lot easier. Imagine not having to experience any back pains after a day of sweeping floors!
You do have to take note of a few factors when looking for the best spin mops in Singapore. Knowing these will make it easier for you to choose from our picks later.
For example, one of your priorities when shopping for spin mops should be the spinning mechanism. After that, checking the bucket, handle, construction, and ease of use is vital.
Don't know where to begin with those? Allow us to elaborate on each point below!
1. Spinning mechanism
A spin mop would not be better than a traditional mop without its spinning mechanism, obviously. That's why it's important to make sure you get the right mechanism for your needs.
Most of the best spin mops in Singapore either come with a handle pump and foot pedal. As per our own experience, there isn't a clearly superior option between the two, so your choice will ultimately boil down to preference.
However, we've heard a few tips from users that the hardware can be a little bit flimsy in a foot pedal. It's something worth considering if you're thinking about a spin mop with a foot pedal spin mechanism.
2. Bucket design
The secret in choosing the perfect bucket design is to check that it contributes to the convenience of using the spin mop. You have to look for a bucket design that's functional and not just purely ornamental.
We recommend going for a bucket with a pour spout so there's no hassle in dumping dirty water. We also found that splash guards are really helpful in preventing water from splashing onto the floor — which, of course, prolongs the task of sweeping the floor.
If you're after extra mobility, then go for a bucket with wheels. These will make it easier to drag the bucket from one room to another, especially when you're sweeping the floor of multiple rooms
3. Handle length and material
Spin mop handles are usually either made of aluminium or stainless steel. There's not much of a difference between the two because both are considered to be durable, so it will go down to your preference once again.
However, one thing that you should be extra-careful with is the handle's length. If you want to get the job done and cover more areas quickly, then go for a handle that can be extended.
Some of the best spin mops in Singapore have handles that measure at least 45 to 50 inches when extended. There are smaller spin mops with 35-inch handles… which isn't bad, but we'd always go for those with longer handles.
4. Functionality
Apart from its construction and design, what makes a spin mop worth spending money on is how it can help in multiple tasks.
The best spin mops in Singapore can be used beyond sweeping floors. As long as the model is flexible enough, it can be used to clean blinds, doors, and cabinets, among others.
Basically, there are endless ways that we can use spin mops because of the technology that comes with them. That's why there's no reason for you not to shift to using the best spin mops in Singapore right now!
The Best Spin Mops in Singapore
With these tips in mind, we hope that you're ready to browse our picks for the best spin mops in Singapore. We collected various recommendations from friends, homeowners, and cleaning service providers and included only those we think are worth checking out.
Anyway, here are our picks!
1.   LEIFHEIT Clean Twist Spin Mop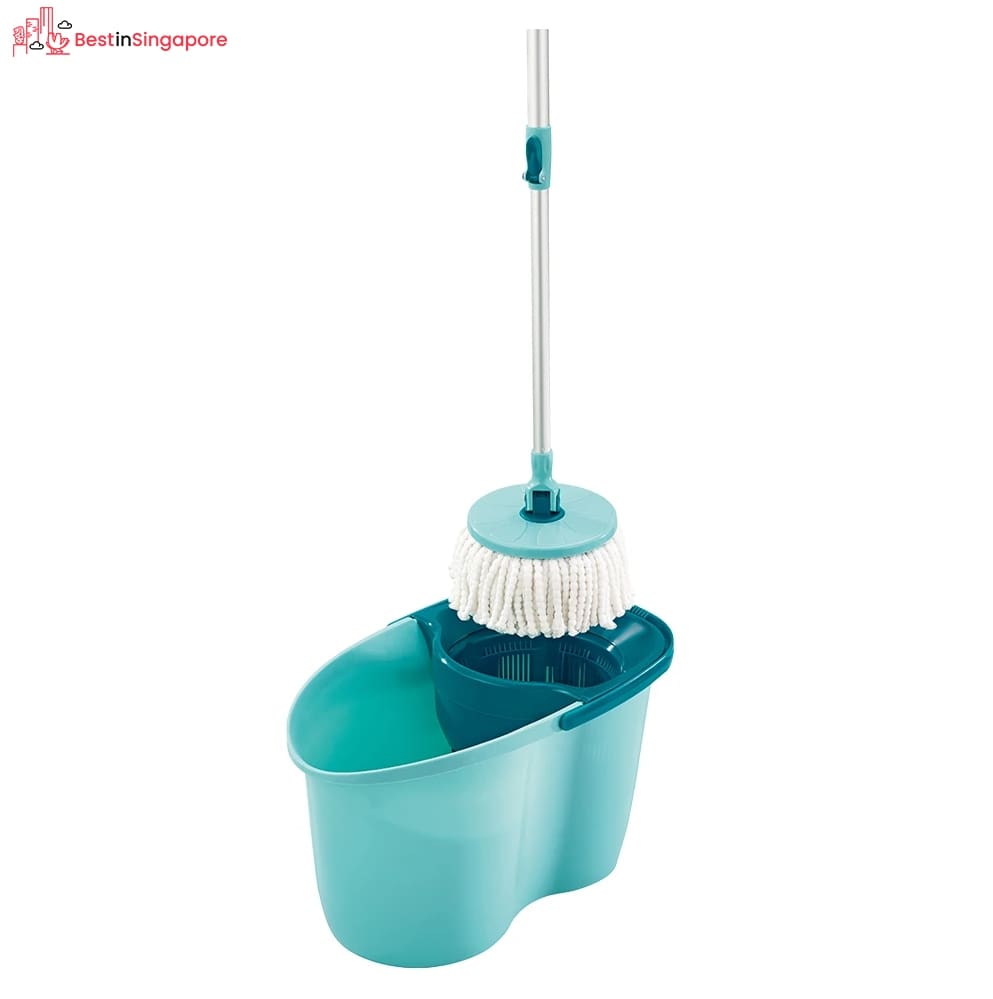 Price: $118.00
The LEIFHEIT Clean Twist Spin Mop includes a self-standing mop, telescoping handle, and a 4-gallon bucket. It's designed with a spinning mechanism attached directly to the handle, making it easier for users to choose a moisture level perfect for their floor type.
In terms of build, the LEIFHEIT Clean Twist Spin Mop is perhaps one of the easiest spin mops to operate due to its smooth spinning system and single-handed operation. It's possible to sweep the floor using only one hand and without bending down multiple times.
It features a 180-degree swivel that removes the hassle in cleaning hard-to-reach corners and those small spaces under your furniture. This is why we call it one of the best spin mops in Singapore.
When it comes to its handle, it can be extended to match anyone's height within the range of  41 to 51 inches. Using this will definitely reduce the chances of developing back pains and strained wrists after an entire day of sweeping floors.
Another thing we like about the  LEIFHEIT Clean Twist Spin Mop is how easy it is to clean its microfibre cloth. It can be easily detached and reattached, unlike with traditional mops.
Pros
Smooth spinning mechanism
51-inch handle length
Single-handed operation
Easy to clean microfibre
Cons
Customer Reviews
Here's feedback shared by a customer who got it from Amazon:
"I like the metal mop pole. I chose Leifheit, because I didn't want a bucket with a foot pedal that could break. So easy to use. Glad there is a carrying handle. Bucket and mop are holding up well. I have not purchased a mop head refill, yet. Haven't needed to do so. It was worth the cost."
2.   SupaMop Classic SH350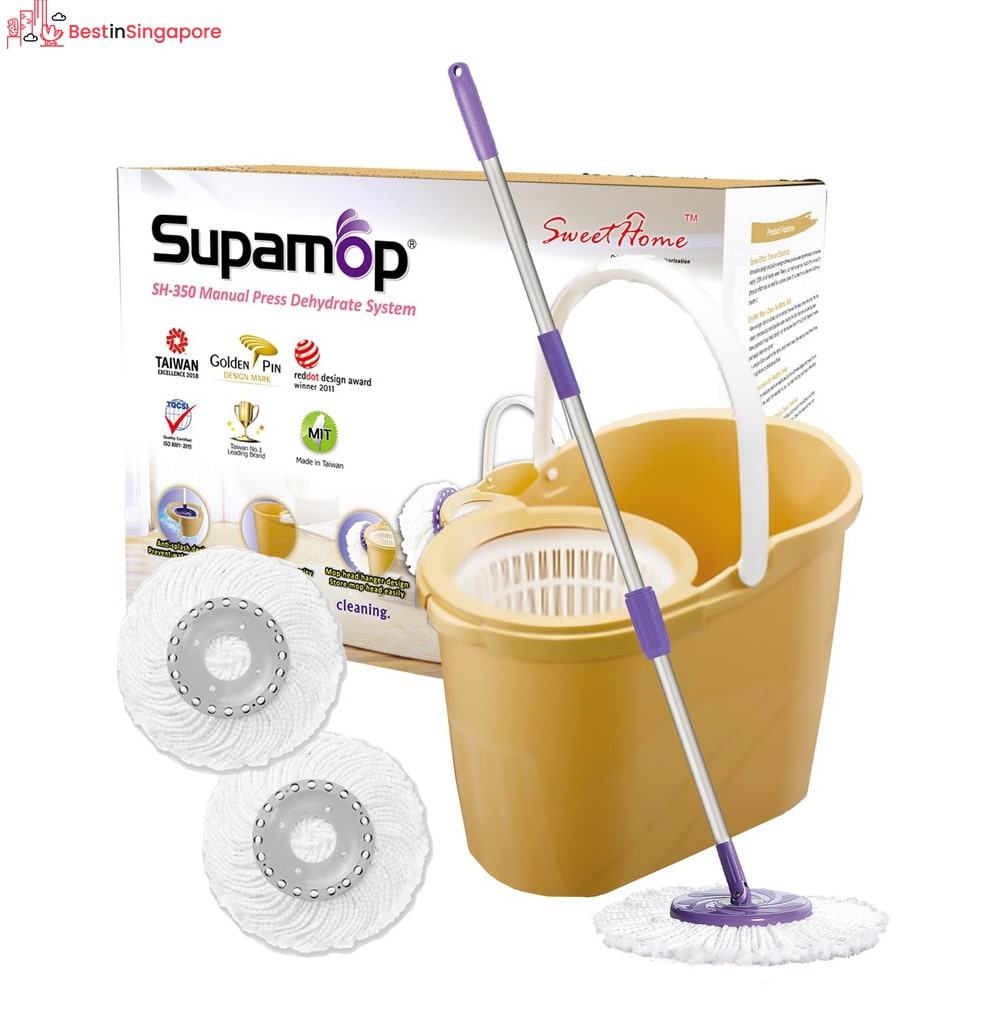 Price: S$59.90
If you're looking for an affordable spin mop, then there's no better option than the SupaMop Classic SH350. It's a budget-friendly spin mop set with an international patent.
The SupaMop Classic SH350 is known for its innovative design that aims to significantly reduce the time spent on sweeping floors. It features a flexible hand pressure rotation mechanism that makes it easier to drain the microfibre cloth.
Speaking of microfibre, the SupaMop Classic SH350 has one of the best microfibre heads we've ever seen. It's made from 8000 strands of polyester fibres that are super absorbent and gentle on all types of floors, including wood and vinyl.
Its mop head is capable of 360-degree rotation too, which makes it convenient to use when you clean corners and small spaces. It's worth noting that cheap spin mops rarely come with such a feature.
Its handle length can be extended up to 50 inches, making it easier to clean even the most hard-to-reach areas. It's made from aluminium alloy as well, so it's not going to break easily.
Pros
SupaMop is the originator for 360-degree mops
360-degree mop head rotation
Anti-splash design
Super-absorbent microfibre mop head
Competitively priced
Cons
Mop head feels flimsy
No warranty
3.   3M Scotch-Brite T4 Press and Spin Mop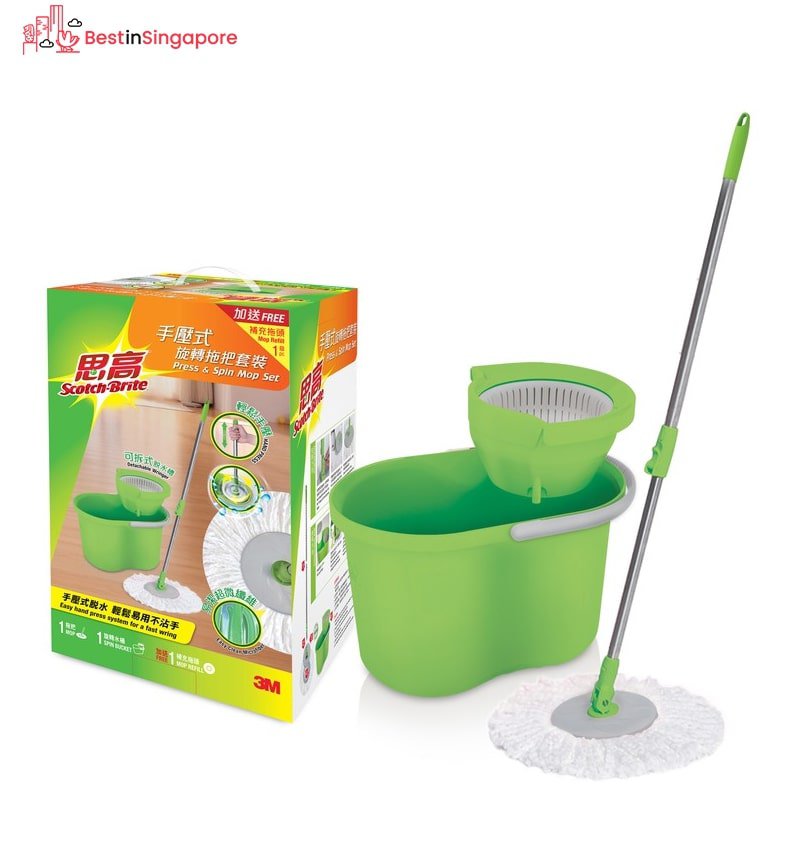 Price: S$77.90
Costing less than S$78, the 3M Scotch-Brite is another semi-affordable option perfect for those who are on a tight budget. It's a budget-friendly spin mop set that won't make anyone break a sweat sweeping the floors.
One of the top features of the 3M Scotch-Brite is its lightweight build, which makes it easier and faster to mop every room in your home. You also won't have trouble bringing it from one room to another even if it doesn't have wheels.
Even if you have to sweep multiple rooms, it's so lightweight that it won't cause any wrist strain. In fact, it comes with a telescoping handle that can be used with a single hand.
Most of its buyers have noted that it didn't take them a long time to understand how every feature works. We tried it ourselves and we couldn't agree enough about how convenient and hassle-free it is to use.
In terms of its microfibre, we noticed that it has a texture that won't cause any scratches regardless of the type of flooring. Overall, it's truly one of the best spin mops in Singapore.
Pros
Lightweight design
Soft microfibre texture
Can be used on any type of flooring
Competitively priced
Cons
Durability of handle is questionable
No warranty
4.   MASTERTOP 360 Magic Spin Mop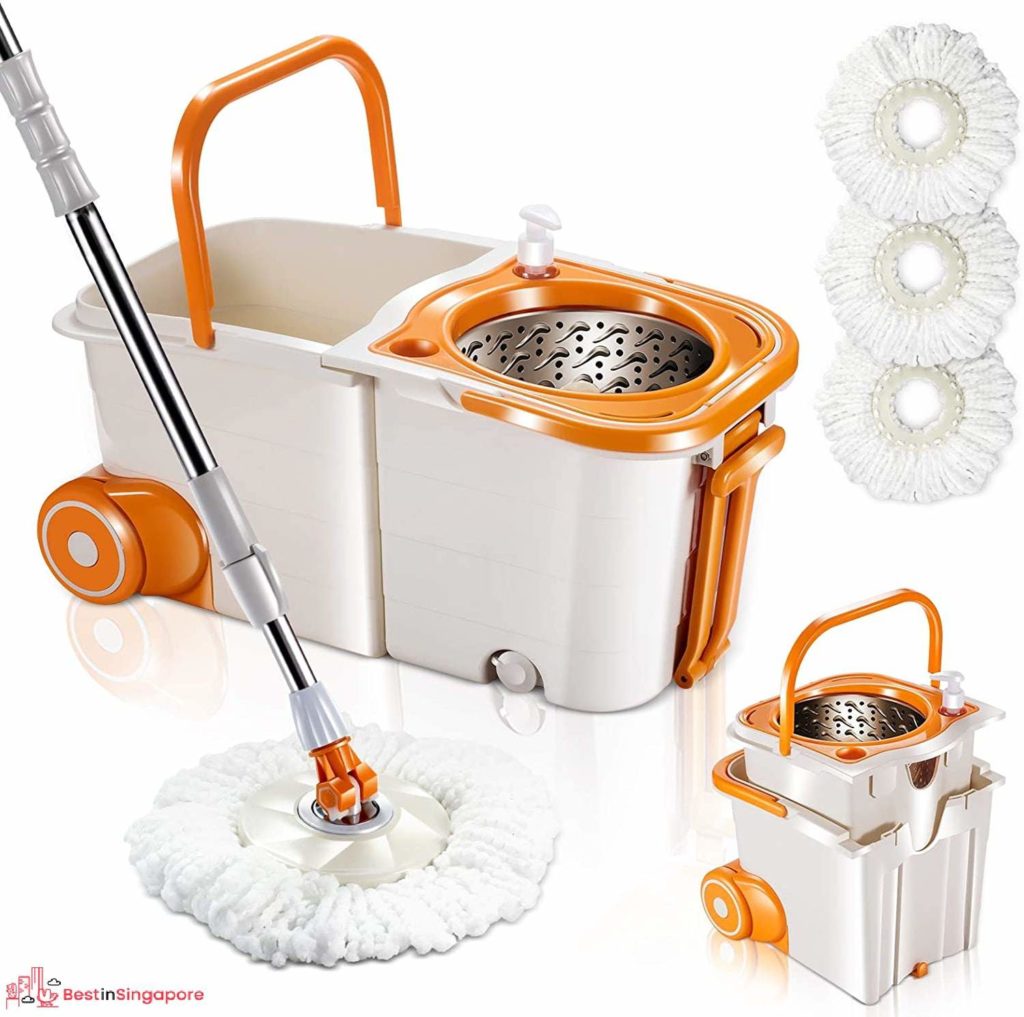 Price: S$86.28
In terms of overall durability, we have to say that the MASTERTOP 360 Magic Spin Mop takes the top spot. It's among the few spin mop sets in Singapore made completely out of premium stainless steel, from the bucket down to the handle.
Its telescoping handle can be extended up to 51 inches, while its shortest length is 40 inches. That's still longer compared to other spin mops whose shortest length is usually 35 inches.
The MASTERTOP 360 Magic Spin Mop boasts a design that makes it easier for users to carry it from one room to another. It comes with a pull handle and carry handle, on top of the 2 smooth and light wheels.
In terms of storage, the MASTERTOP 360 Magic Spin Mop won't consume a lot of space inside your home because one of the containers can be stored inside the other. In fact, you can even keep the bucket inside a small cabinet.
What we love most about it is that dirty and clean water are separated into different containers. We didn't have to worry about using filthy water to wash the microfiber cloth and then sweep it onto the floor once again.
Pros
Durable design
With 2 wheels
Made from premium stainless steel
With pull handle and carry handle
Cons
Heavy because of the material
Expensive
Customer Reviews
As one of the best spin mops in Singapore, it's received mostly positive comments from its users. Here's what some of them had to say about it:
"This is the perfect size for my house. I have a small 3 bedroom 2 bath. I was impressed with how clean it spins the dirty water from the mop head. It's easy to empty by pulling the plug.The mop head is decent, the bottom isn't that great because as I'm mopping the built in tilt sucks in the 45 degree and I have to constantly take my foot and hold the mop head as I adjust the handle back to 90 degrees. Now I just make sure when I mop I don't go too far into an angle causing it lock into that 45 degrees. Other than that, I really like the dual buckets to keep clean and dirty water separate."
"The dirty and clean water are separated. When done, the one container can be stored inside the other for reduced space. Very handy. The sidearm makes it easy to move around when full of water. The mop heads are easy to change using your foot."
5.   Oshang EasyWring Spin Mop and Bucket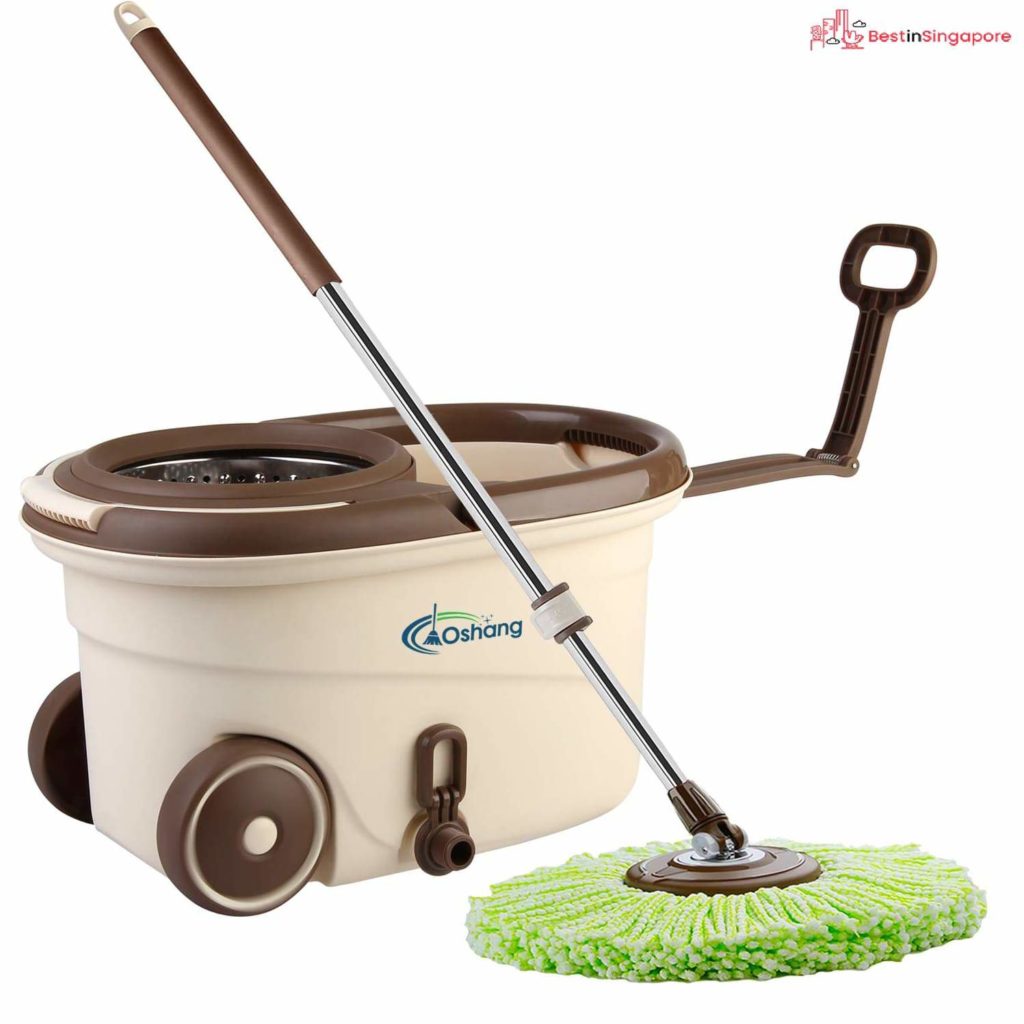 Price: S$101.04
Get it from Amazon

If you're willing to go beyond your budget for a high-end spin mop, then we strongly recommend checking out the Oshang EasyWring Spin Mop and Bucket. It costs a little over a hundred bucks, making it the most expensive option among our picks.
It might hurt your wallet a little, but we can assure you that it will bring your cleaning sessions to a level of convenience you've never had before.
For one, the Oshang EasyWring Spin Mop and Bucket is made out of high-grade stainless steel and PP, from the handle all the way down to the mop head. You won't have to worry about it wearing out just after a few months of use.
What's more, it features a 360-degree spin mop head that can reach corners and small spaces under furniture. Its swivel joint can pivot up to 180 degrees for easier maneuvering.
Another reason we consider it one of the best spin mops in Singapore is the fact that it's built for home and office use. It can be used on hardwood, laminate, stone, tile, vinyl, and even concrete floors.
Buyers seemed to like its smart spinning mechanism that quickens the process of rinsing and drying the microfibre. You will never have to touch dirty water ever again once you've started using this exceptional spin mop.
Lastly, it comes with a pull handle and two smooth wheels as well, a perfect combination for those who don't like carrying a bucket of dirty water to another room.
Pros
Made out of high-grade materials
With wheels and pull handle
Smart spinning mechanism
Premium microfibre
63-inch handle
Cons
Expensive
Bulky
Can be difficult to find storage for it
Customer Reviews
Take a look at some comments shared by a few buyers:
"Unlike many others, I bought this mop for my shop use. I've read there are some durability issues on some other products. Considering this mop is made of metal, I decided to give it a try. The mop looks pretty good and the build quality is solid. This mop costs a little more but the mop and spinner are both made of metal and comes with a replacement head. I've been using it with an apc and degreaser to clean the tile/concrete floors at my shop and so far it's holding up great. I'd recommend this mop since it's very simple to use, looks good and can withstand my heavy duty use."
"I love this spin mop so much, it is very easy to use. The mop releases my hand, and the high spin design takes little effort to extra water out. I can also clean the basket easily by removing the top basket, and the drain plug is also a perfect design for lifting away dirty water. The mop is very good quality, the material of the basket is very thick and strong! I am highly recommending it!"
The White Magic Microfibre Spin Mop is suited for all-purpose floor cleaning. Its soft and absorbent material is perfect for dusting and mopping. Meanwhile, it's spinner mechanism helps you control the mop's dampness according to your liking.
The circular mop head can help you clean corners and under objects easily. Cleaning the mop head won't be an issue either — they're machine washable and replaceable.
With the Microfibre Spin Mop, cleaning can be a fun and effortless activity. 
And that's the end of our picks for the best spin mops in Singapore. If you've used any of these spin mops in the past, share with us how it improved your cleaning experience.
For those who know other spin mops worth checking out, don't hesitate to share them with us too. If we find them great, we'll definitely add them to our list.
And if you're thinking about getting vacuums too, why not just opt for the best robot vacuums in Singapore? These are perfect for those who don't have time to squeeze in some cleaning duties!