The 6 Best Sewing Machines in Singapore
Are you looking for an alternative to threads and needles? If so, you'd definitely want to get your hands on the best sewing machines in Singapore that will remove the hassle out of stitching and repairing your favourite clothes.
Luckily for you, we've done the work ourselves and compiled the best sewing machines in Singapore worth checking out, all recommended by regular homemakers and professional tailors.
We even tested these sewing machines ourselves to prove if they're worth being added to our list. You'll discover a wide range of them here, from basic home machines to advanced models often used by seamstresses.
Before introducing our picks, we'll also share some tips on how to pick the right sewing machine that fits your needs. These tips should answer any of your questions about the best sewing machines in Singapore.
How to Pick the Best Sewing Machines in Singapore
Looking for the best sewing machines in Singapore that perfectly matches your skills and needs is far from being an easy task, mainly because there are hundreds of options to choose from.
Worry not, though, because we're here to lighten the burden of shopping for sewing machines in Singapore. You just have to remember a few important factors when setting out to buy one.
Here are some of those factors:
1. Type
The three most common types of sewing machines are mechanical, computerised, and electronic. All of these can do the same level of work, but how efficiently a needle can go up and down is determined by what's inside the machine.
If you're looking for something that isn't hard to operate, then going for a mechanical sewing machine may be the best for you. It's not as heavy as other types because it doesn't come with a computer.
On top of that, it requires less maintenance and care compared to the other types. As long as it's oiled regularly, it won't break down easily.
For those who frequently sew and have a bigger budget, an electronic sewing machine would be an excellent investment. It typically comes with a touchpad that makes it easier to control and adjust the settings.
If you're a professional tailor who deals with heavy-duty projects, then there's no better option than a computerised sewing machine. It usually comes with high-powered motors that can accommodate long hours of sewing.
2. Stitching options
Aside from the type of sewing machine, it's equally important to consider its stitching options. We recommend going for a sewing machine that comes with stitches you will actually need, instead of opting for the one with the most number of stitches.
Some of the stitching options you need to look out for are straight, zigzag, buttonhole, stretch, blind hem, and utility.
If you're only planning on using the machine for basic sewing, then you'll only need straight and zigzag, but having other stitching options will definitely make your work lighter.
3. Weight and size
Most people tend to look past a sewing machine's weight and size, but we believe that these are important when you're a professional seamstress or designer. 
If you accept sewing jobs from clients across the island or attend craft fairs, then a small portable sewing machine would be perfect. You won't have to worry about struggling to carry it from one place to another.
We recommend carrying the sewing machine yourself to know if you're capable of handling that weight while going from places to places.
On the other hand, if you intend to only use it at your workstation, then a heavier sewing machine wouldn't hurt. Go for those with metal parts instead of plastic for durability purposes.
4. Additional features
Compared to the other factors, additional features shouldn't be that big of a deal, but having special features that will make your sewing experience a whole lot easier is something worth considering!
It's a given that all sewing machines should be able to handle a wide array of fabrics without stretching them and producing lopsided stitches. You have to double-check if your sewing machine works well with all types of fabric.
Aside from that, having good task lighting will help those who often sew during the night and those with poor eyesight.
Other features worth considering are needle threaders, adjustable speed control, needle position adjustment, feed-dog adjustment, automatic buttonholer, tension adjustment, and top-load bobbin.
Keep in mind that the more extra features a sewing machine has, the more expensive it is. Take your time looking for a sewing machine that has the features that you will actually need.
The Best Sewing Machines in Singapore
Are you ready to see our picks for the best sewing machines in Singapore? If so, keep our tips in mind to make sure that you will be making the right choice!
Anyway, here's our list of the best sewing machines in Singapore for regular homemakers and professional tailors!
1.   Brother AS2730S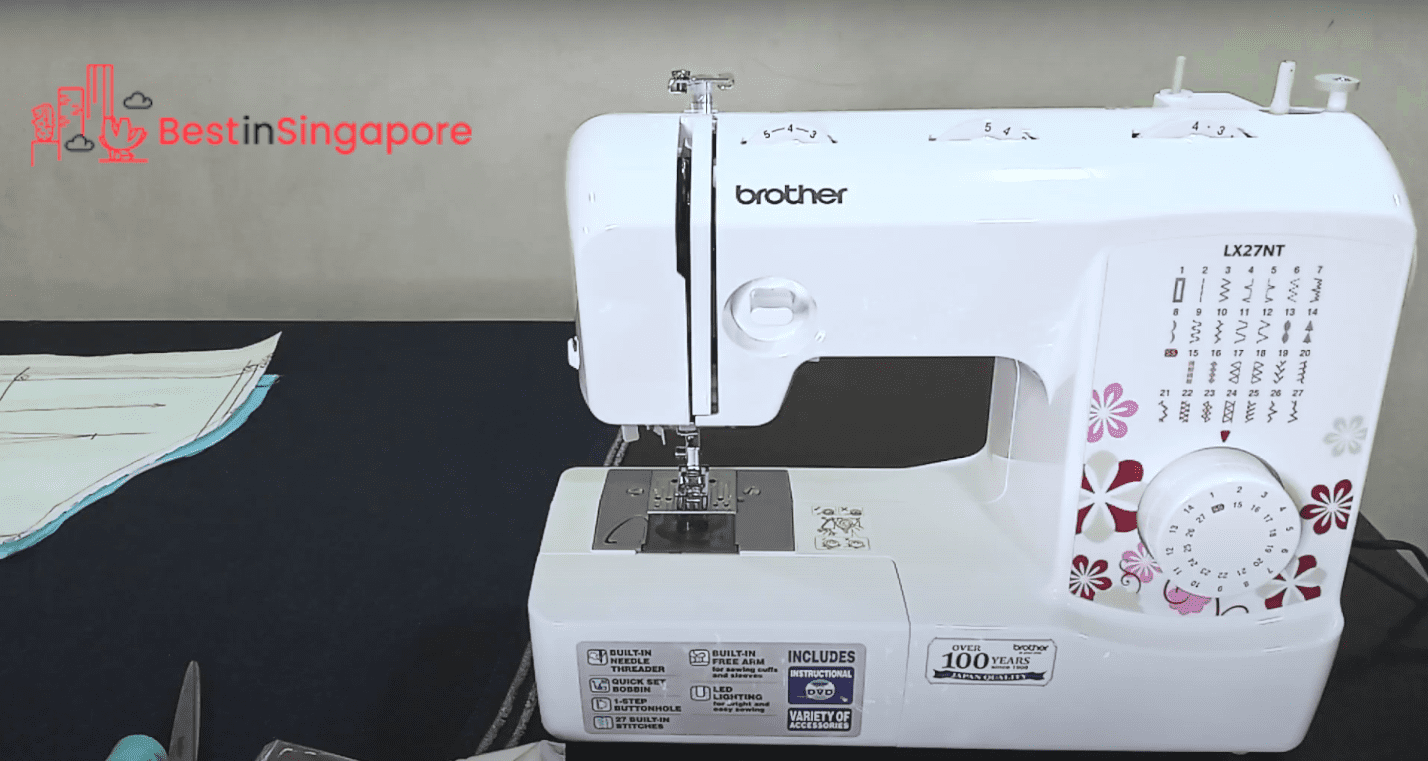 Price: S$198.00
If you're after a budget-friendly sewing machine that can get the job done, then we recommend taking a look at the Brother AS2730S. It's one of the cheapest sewing machines we've ever laid eyes on, costing no more than S$200.
The Brother AS2730S is a traditional sewing machine that comes with a quick-set bobbin, LED sewing light, and buttonhole. It's known for having a wide range of stitches, perfect for professional dressmaking and home furnishing.
Speaking of stitches, it comes with a total of 27 built-in stitching patterns, including straight, zigzag, and stretch, among others. There's a built-in free arm for easier sewing of sleeves and cuffs.
Its portability is perhaps one of the top reasons we call it one of the best sewing machines in Singapore, making it possible for professional dressmakers to bring it one from place to another.
Other features found in the Brother AS2730S are auto needle threader, top load bobbin, and auto buttonhole sewing. We like the instructional DVD the most because we're able to know how it operates before testing our hands on it.
Pros
Portable
Lightweight
27 stitches
LED lamp
Competitive price
Cons
Durability is questionable
No advanced features
2.   Singer Fashion Mate 3342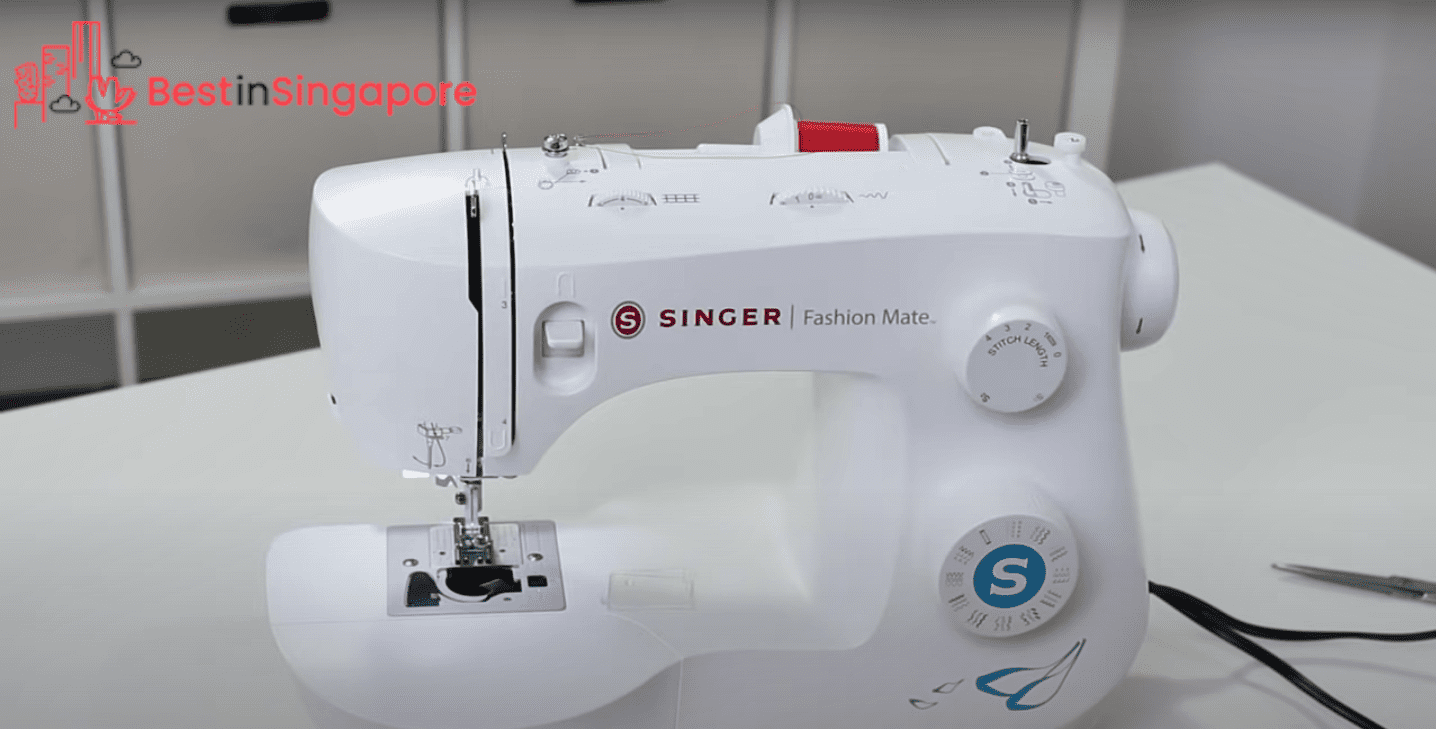 Price: S$397.85
Another high-quality portable sewing machine is the Singer Fashion Mate 3342, a perfect option for tailors and designers who are always on the go. In fact, it's commonly used by fashion design students in Singapore.
The Singer Fashion Mate 3342 comes with a total of 32 stitching options, 110 different stitch applications, and an extensive range of stitch types with adjustable lengths and widths. Having all these features, it's no surprise that it ended up on our list of the best sewing machines in Singapore.
Those who recommended the Singer Fashion Mate 334 were ecstatic about how easy it was to use, despite having multiple stitching options and applications. We are no sewing experts but were able to select our preferred stitch with just a simple turn of its dials.
The Singer Fashion Mate 334 comes with a Sew Easy Foot that helps users sew consistently perfectly straight seams. It will make it more convenient to repair garments, pillowcases, beddings, and even small fashion accessories.
Pros
Competitive price
Portable build
32 stitching options
Easy to use
Cons
Ideal mainly for professional tailors
Limited warranty
Customer Reviews
Take a look at some comments shared by its users:
"This sewing machine came quick! I've named her Maxine. I'm a nurse in an ER and my team needed hats and masks. I used to sew but my machine was not up to the task. I bought this one and it's a joy to use. Easy to thread and the different stitches are so fun – settings are versatile for any kind of fabric."
"I signed my 8 yr old granddaughter up for sewing classes and another girl in the class had this machine and it looked really nice and easy to use, so I bought my granddaughter one and one for myself. Really easy to set up and use. My granddaughter really likes hers and is loving learning to sew. The machine is pretty quiet, threads really easy and is pretty quiet. I would highly recommend this machine."
3.   Brother FS101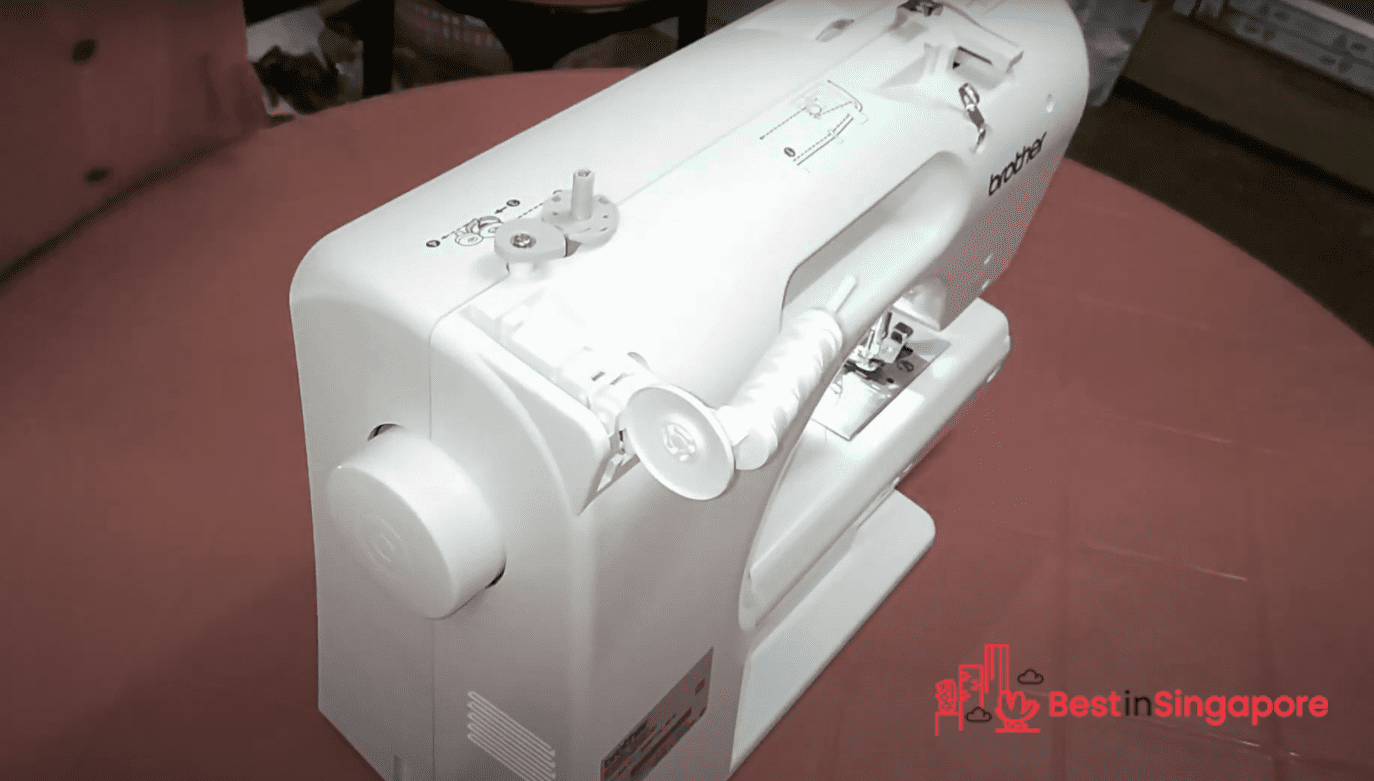 Price: S$400.00
The Brother FS101 is a computerised sewing machine that comes with 100 built-in utility and decorative stitches, 55 built-in character stitches, quick set drop-in bobbin, and a needle threader.
It may be a bit more expensive compared to the previous options, but users will definitely get more out of it.
For one, the Brother FS101 features an LCD display that shows every important sewing information the user needs to know, from the type of pressure required down to the stitch length and width. It's even built with a bright LED sewing light for a better view of the sewing area.
What we like the most about the Brother FS101 would have to be its 1-step automatic buttonhole. All you have to do is attach the button foot and let it work.
Other features of the Brother FS101 are the 7-point feed, presser foot levelling button, bobbin winder, auto-lock button, and speed controllers.
Pros
Computerised sewing machine
LCD display
Automatic buttonhole
Bright LED sewing light
Speed controller
Cons
Expensive
For professional tailors
Customer Reviews
Here are some comments from customers who got it from Amazon:
"Well, I'm a beginner and wanted to buy a sewing machine to sew out of my own interest. So I researched a lot about sewing machines of different brands and actually was scared to buy online because some people had given ok reviews. But trust me the seller helped right from the time I placed the order till I received and used it. I realised this particular machine is wonderful and is used for basic to advanced level. So make a wise choice. It's going to be a long lasting investment."
"Item came with good condition, near packing. I bought this for my wife to learn and make her career in tailoring. We started sewing with new cloth. Already we are up to date with machine function, my wife put many types of stitches in clothes. Easy to switch to designs with buttons. Good product to buy."
4.   Singer 4423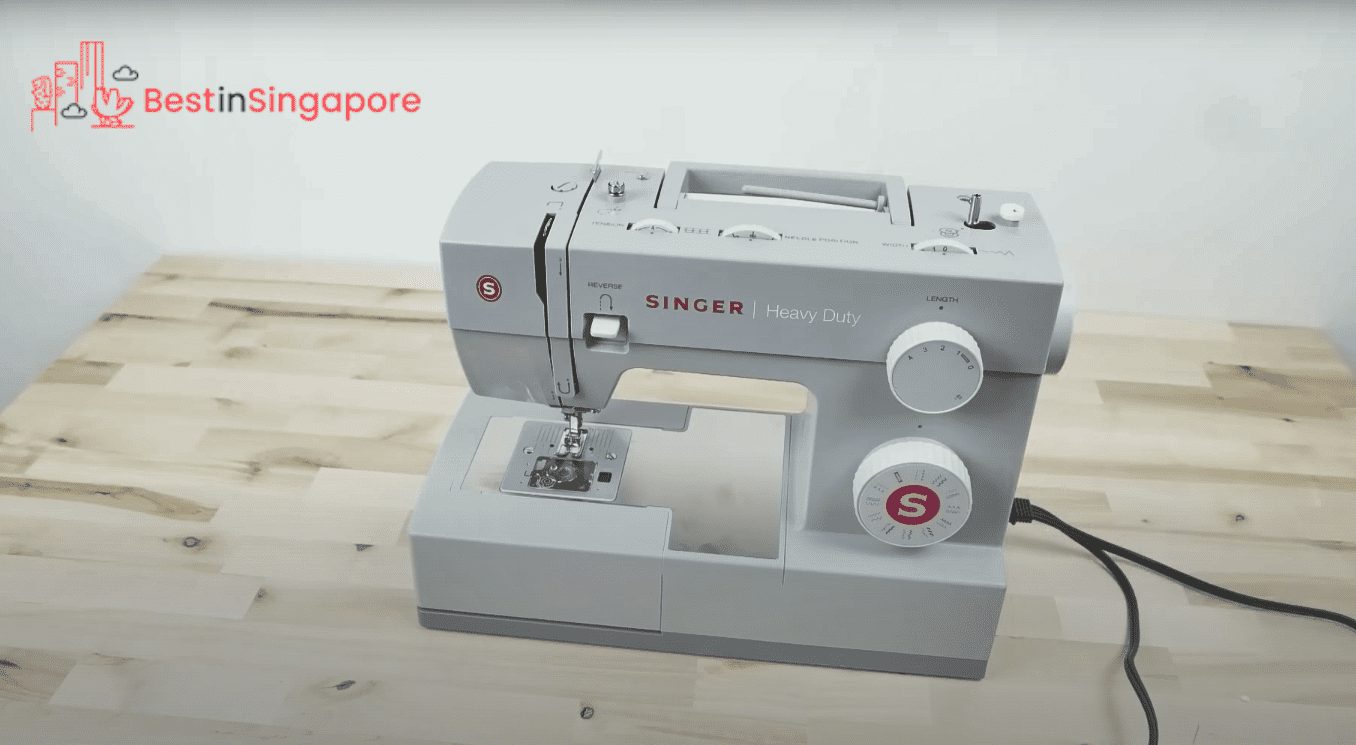 Price: S$469.00
If you're looking for a sewing machine that can power through leather, canvas, denim and other thick fabrics, then look no further than the Singer 4423. It's a powerful sewing machine designed to reduce the stress that comes with heavy-duty sewing projects.
First of all, the Singer 4423 is built with a high-performing motor with 60% more power compared to standard sewing machines. It's built from premium and high-grade materials as well, proving that it's indeed a true workhorse.
Another reason we consider it one of the best sewing machines in Singapore is the close-to-a-hundred stitch applications for any fabric, from lightweight sheers down to hard leathers. People who suggested it to us have even used it to create different garments and costumes.
In terms of speed, it's no surprise that the Singer 4423 is known for its extra-high sewing speed, which can be adjusted easily. It has limited stitching options though, but considering that it's deemed a heavy-duty sewing machine, users tend to look past that.
Other features we like about the Singer 4423 are the one-step buttonhole, free arm, bobbin class, extra-high presser foot lifter, heavy-duty metal frame, adjustable pressure foot pressure, and a needle threader, among others.
Pros
Powerful motor
Needle threader
97 stitch applications
High-speed sewing
Ideal for hard and thick fabrics
Cons
Expensive
Least portable option
Customer Reviews
Here are a few comments from satisfied customers:
"Absolutely love my new singer sewing machine. I almost broke my Baby lock trying to sew canvas. Then I researched and found out I needed a heavy duty machine. This one is great! Watching online tutorials of bobbin winding and threading the machine are the best. The user manual is not very helpful. I followed the two online videos and it sews so beautifully I almost cried. Came faster than I expected with the whole Coronavirus thing. Goes through multiple layers of canvas and bias tape like butter. I was able to sew an entire canvas hanging bag for my laundry in a couple of hours. Love love love the fast stitching speed. It was worth every penny and the best price on the web."
"I'm a first time sewer and thought it was going to be very challenging, but this machine is so easy to use! It's had no problem doing the denim and sequin projects I've been working on. It has a ton of power, I've only used it at about half power and that is PLENTY."
5.   Janome Sewist 725S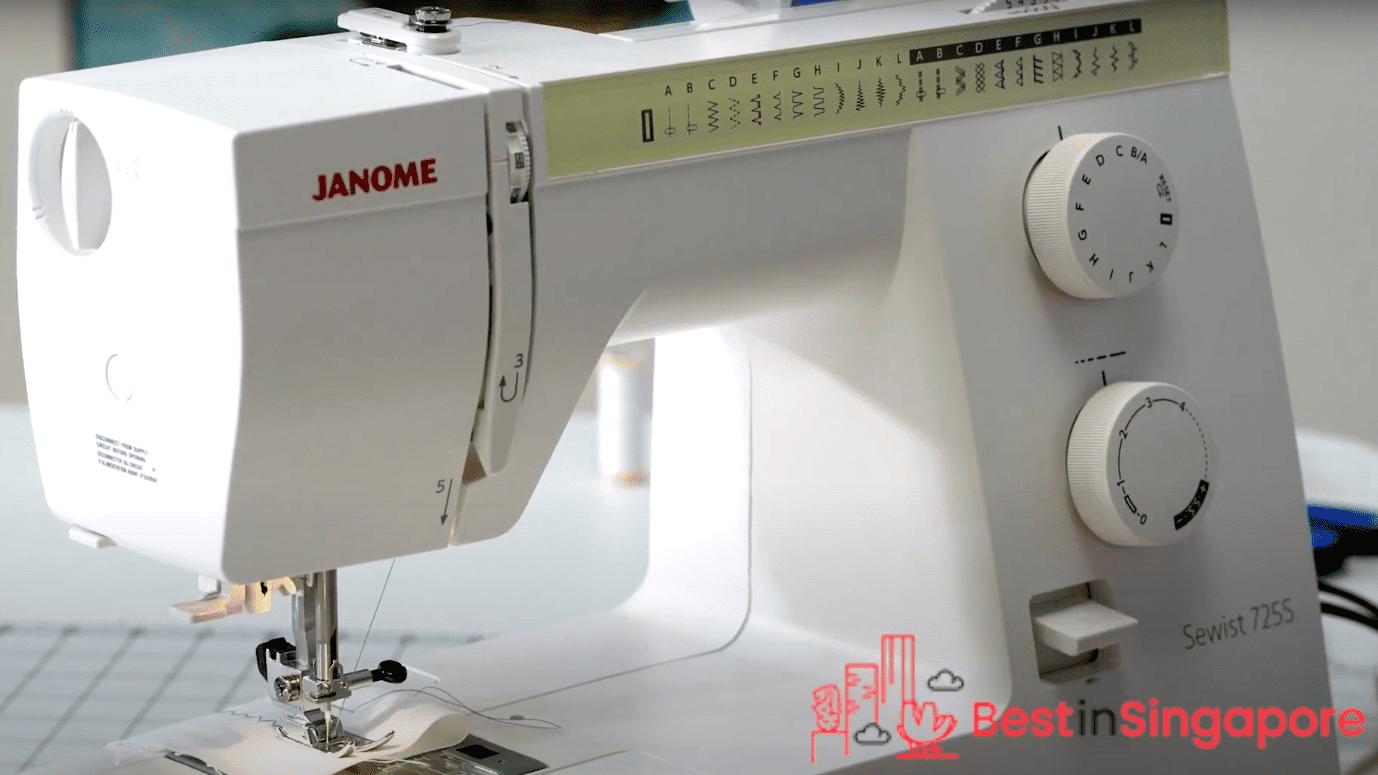 Price: S$598.00
If you've managed to save extra money for a high-end sewing machine, why not treat yourself with the Janome Sewist 725S? It costs S$598, making it our most expensive pick.
It's a mechanical sewing machine designed for both beginner and advanced sewers. It comes with features that will make it easier for beginners to learn how to sew and for professionals to accomplish their work.
Some of these features include the 25 built-in stitching options, decorative stitches, twin needle capability, one-step buttonhole, high-speed sewing, and speed controller. It comes with a free arm as well, which is a big help for sewing cuffs and sleeves.
On top of that, the Janome Sewist 725S is made from premium and heavy-duty materials to ensure that it will be a long-lasting investment for beginners and professionals. We know someone who's been using it professionally for almost 3 years now, and so far, there haven't been any issues.
Pros
Durable build
25 stitching options
Mechanical sewing machine
Cons
Expensive
Heavier than most sewing machines
6.   SIRUBA DL720-M1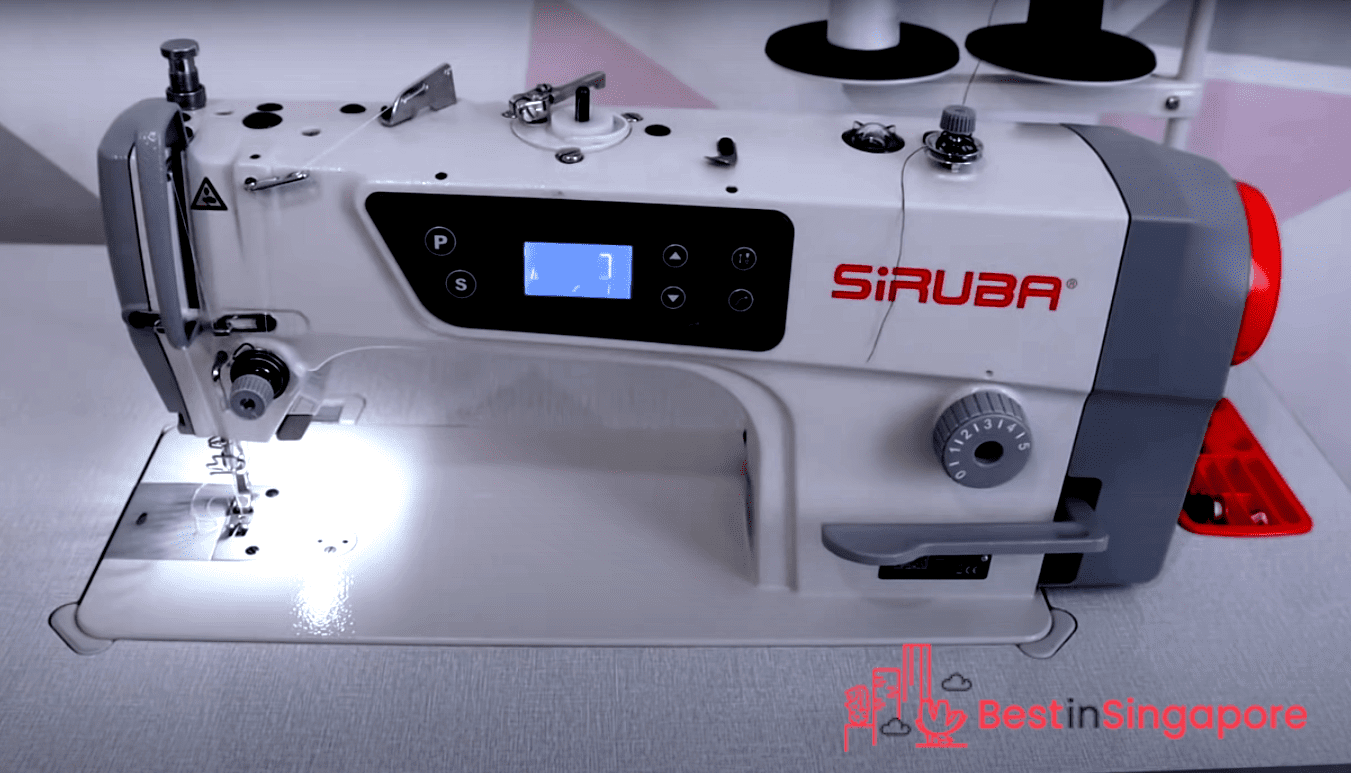 Price: Enquire for more Information
Check it out on Hong Lin Sewing Machine
If you're going to use your sewing machine for various specifications, the versatility of the SIRUBA DL720-M1 can serve you well. It boasts multiple functions that can make sewing easier, may it be for short or prolonged use.
The 3 row feed dog allows a greater degree of control for the sewer. Meanwhile, the industrial strength of the machine ensures that you can work with medium and heavy materials.
It also possess other functions that make sewing easier. Reverse-feeding, wiper, and auto lifter will help make sewing jobs more efficient.
Pros
Industrial sewing machine
3 row feed dog
Can handle a wide variety of materials
Numerous other functions
Cons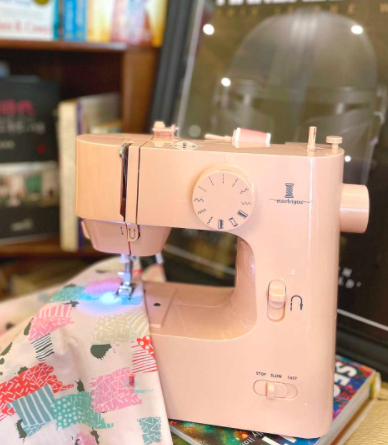 Sitch4you offers customers a basic mechanical machine in a fun peachy-pink color with a Japanese-inspired design. It has an internal metal frame which makes it sturdy, but it remains a compact machine that can easily fit on your tabletop. 
It's quite powerful despite its small size, able to sew up to 4 layers of 12oz denim. It's strong motor is suitable for home repair, simple alterations, small handicraft work and mask sewing. 
Since it's compact, it can also be taken on-the-go or  while you travel, especially since it can run on batteries. With a top loading bobbin system, Stich4you'is machine can easily hold its own against that of an established brand
Capable of running at a speed of 300 stitches per minute but with an option for Speed  Control, this sewing machine is safe for kids who are interested in sewing. 
Pros
Portable – can run on batteries
Compact but sturdy
Safe for kids to use
Cons
And with that, we conclude our list of the best sewing machines in Singapore. If you've already made your choice, don't hesitate to share them with us in the comments!
If you're also looking for shops that sell an extensive range of fabrics, then you might want to check out our list of the best sewing shops in Singapore. These sewing shops carry the most common type of fabrics, from cotton to leather.