Best Instant Coffees in Singapore
When you have a hectic life, instant coffee will always be a life-saver any time of the day. It's so much easier to prepare compared to brewing up your coffee or waiting in line to order one.
However, there are lots of great instant coffee brands so how will you know which one is the best instant coffee in Singapore?
Some might have different impressions of instant coffees, saying that they're not quite healthy, unlike the naturally brewed ones. The truth is you just need to know how to differentiate the ones with nutrients and antioxidants from the ones without these benefits.
So before you buy an instant coffee online or at your local store, there are some things that you need to check first.
How to Pick a Good Instant Coffee
Similar to regular coffee, instant coffee also comes in varied flavours, textures, and caffeine levels. This is why choosing a good instant coffee might take you a long time if you're not sure which factors to look out for.
To save you from long hours of shopping and to ensure that you're having a healthy coffee drink, here are some must-considered features to keep in mind.
1. Types of instant coffee
Instant coffee can either be made with powdered or granulated ingredients. Powdered instant coffees are made with a freeze-drying process that preserves more of the coffee bean's natural flavour.
While granulated instant coffees are obtained through spray drying—which uses hot air to evaporate the water from the beans—this results in destroying the original flavour and aroma of the coffee bean.
Therefore, to experience rich and aromatic caffeine, it's greatly recommended to choose powdered instant coffees over granulated ones.
2. Rate of dissolution
It has been tested and proven that high-quality instant coffees dissolve faster than the regular ones—be it in hot or cold water.
When the coffee is completely dissolved without sediment, there'll be no particles left on the bottom of a cup, thus, producing solid taste and flavour.
3. Amount of preservatives
Instant coffees that use various preservatives only lessen the natural taste. Aside from checking the ingredients label, you can also identify the number of preservatives by looking at the expiration date.
The shell life of an instant coffee can be solely increased by adding preservatives. So make sure that there's no overly huge gap between the manufacturing date and expiration date—it shouldn't exceed more than a year.
Best Instant Coffees in Singapore
Now that you know what to look for in high-quality instant coffee, we've listed down some of the best instant coffees in Singapore. Check them out!
1. Nescafe Original 3-in-1 Instant Coffee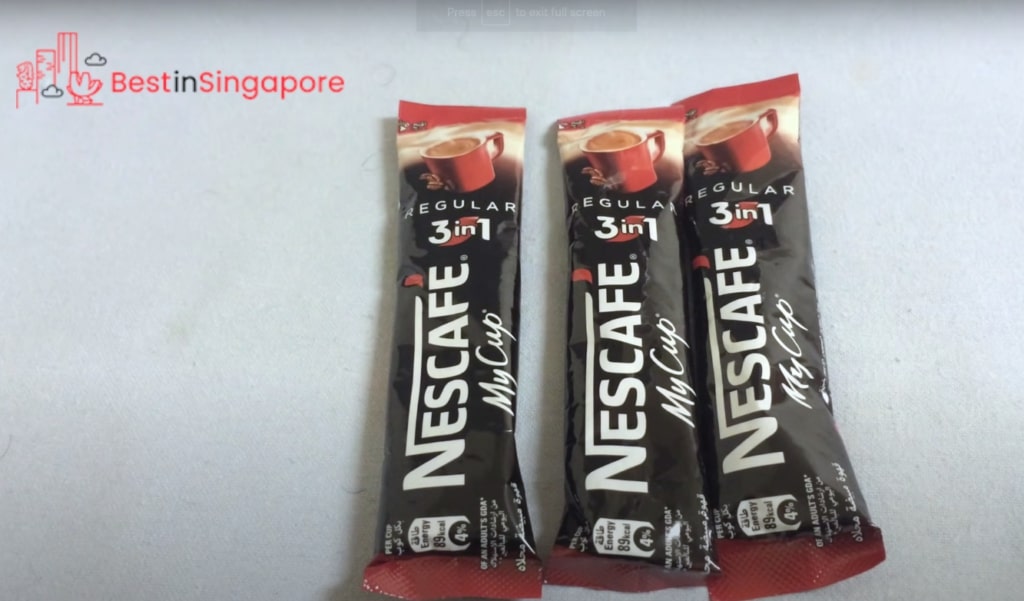 Price: S$6.15
If you prefer to start your morning and have a break with an authentic and full-flavour taste of coffee, then you'll love the Nescafe Original 3-in-1 Instant Coffee!
This powdered instant coffee is made with high-quality Robusta coffee beans. It has the right balance of sweetness with smooth crema—giving you a nostalgic taste and aroma.
It also features a medium-dark roast signature blend that turns into a mellow white coffee mixture. It has a classic and familiar taste that's comforting and guaranteed to wake you up.
Moreover, it's also considered one of the top-selling and best instant coffees in Singapore.
Pros
Distinctive and full coffee flavour
Sweet and smooth crema taste
Authentic coffee blend
Single-serve sachets
Cons
Doesn't have a strong coffee taste
Customer Reviews
Customers shared that the Nescafe Original 3-in-1 Instant Coffee wasn't too strong and it's perfectly balanced with cream. They also said that the amount of sugar is just enough to taste the authentic coffee flavour without too much intensity.
A customer posted this feedback:
"I love this stuff, perfect for those super early mornings. I am pushing the limits of time before work and my brain needs a little caffeine jumpstart. This is one of the tastiest instant coffees I've ever had. I do usually add a little cream and honey, but it's delicious just by itself as well since there's already a little creamer and sweetener in there, but not a lot. A nice light roasted flavor without that sourness of a lot of lighter coffees, so even as someone that usually drinks darker blends I love this stuff. They come in individual nice little tube packets so it's great to carry with you on the go, you just need hot water."
2. G7 3-in-1 Instant Coffee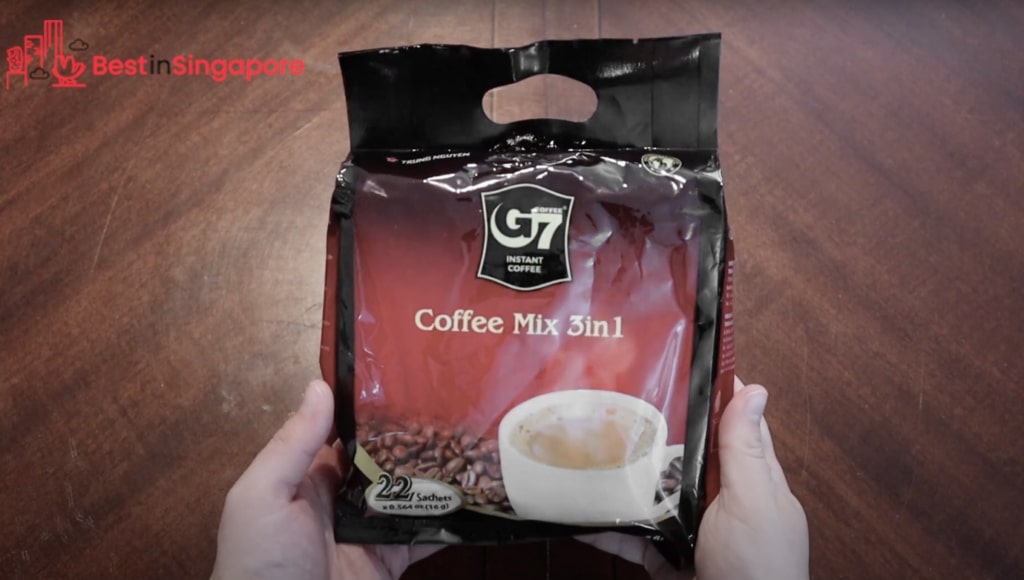 Price: S$10.50
The G7 3-in-1 Instant Coffee has a delightful combination of strong coffee flavour, creamy texture, and smooth aroma.
Instead of being freeze-dried like other instant coffees, it's directly processed from unroasted beans which produce more flavour and less bitterness.
This is why many claim it as the perfect alternative for a freshly brewed coffee. Once you take a sip, you'll immediately feel the solid and rich coffee flavour, giving you an intense yet soft taste.
Pros
Dry roasted coffee
Strong yet creamy and smooth taste
Average sweetness
Cons
Has a strong smell
Might be too sweet for some
Customer Reviews
Most coffee lovers gave positive remarks to the G7 3-in-1 Instant Coffee saying that it's truly comparable to freshly brewed espresso that's lightened with canned cream and sweetened with brown sugar. A customer wrote this review:
"As a powdered instant coffee mix, it does have the freshly "ground and brewed" coffee aroma and it fits the tastes of many Vietnamese and French coffee drinkers: they want to enjoy a medium to high level of caffeine in their morning drinks. The coffee level is considered medium to high, the amount of cream (replacement of condensed milk) is medium and the amount of real sugar is also medium (does not taste bitter or too sweet). To serve iced cold coffee drinks, you definitely need two sachets (packets) – mixed fresh with 7-8 fl. oz of hot spring water over a glass full of ice. I have conducted a taste comparison of this brand and two other brands (also manufacturers in Vietnam), and this product by Trung Nguyen proves to be the best: everything is mixed just right: having a high level of caffeine and with just the right amount of sugar and cream. The other two Vietnamese brands have a little bit too much cream or sugar in the coffee mix."
3. Nescafe 2-in-1 Instant Coffee Zero Sugar Added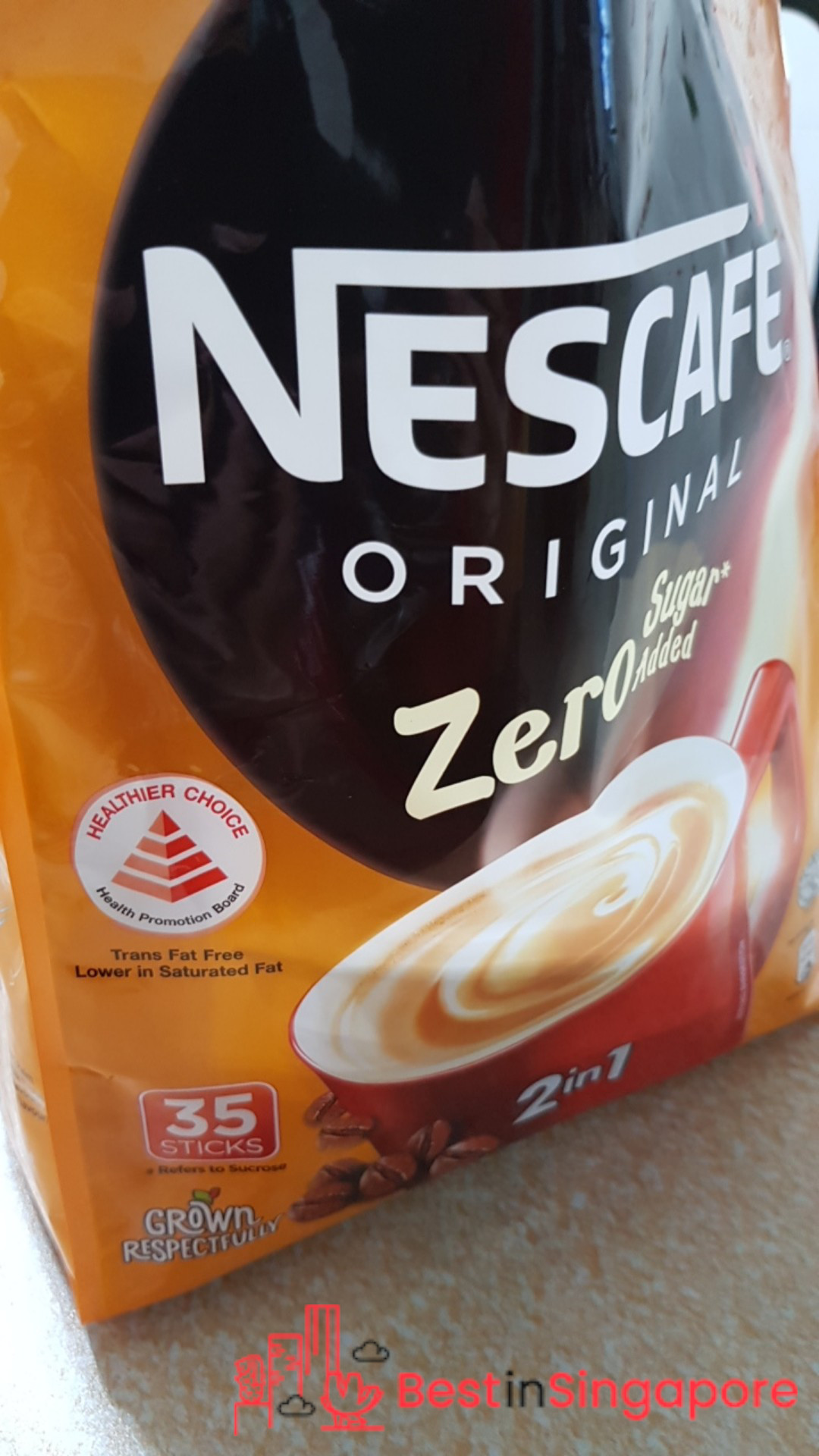 Price: S$6.95
For those who want a healthy coffee drink, the Nescafe 2-in-1 Instant Coffee Zero Sugar Added would be a great choice. It has a savoury balance of coffee, creamer, and milk with no added sugar.
If you like the Nescafe Original but prefer it without sugar, then you'll surely love this one. It also consists of Robusta coffee beans which provide you with a medium-dark roast signature blend with full-flavour taste.
So if you want to enjoy your coffee without affecting your healthy diet, then this is the best instant coffee in Singapore that you should try!
Pros
No added sugar
Well-balanced mixture
With milk and smooth crema
Natural aroma
Cons
Can be bland and weak for some
4. Super 3-in-1 Charcoal Roasted White Coffee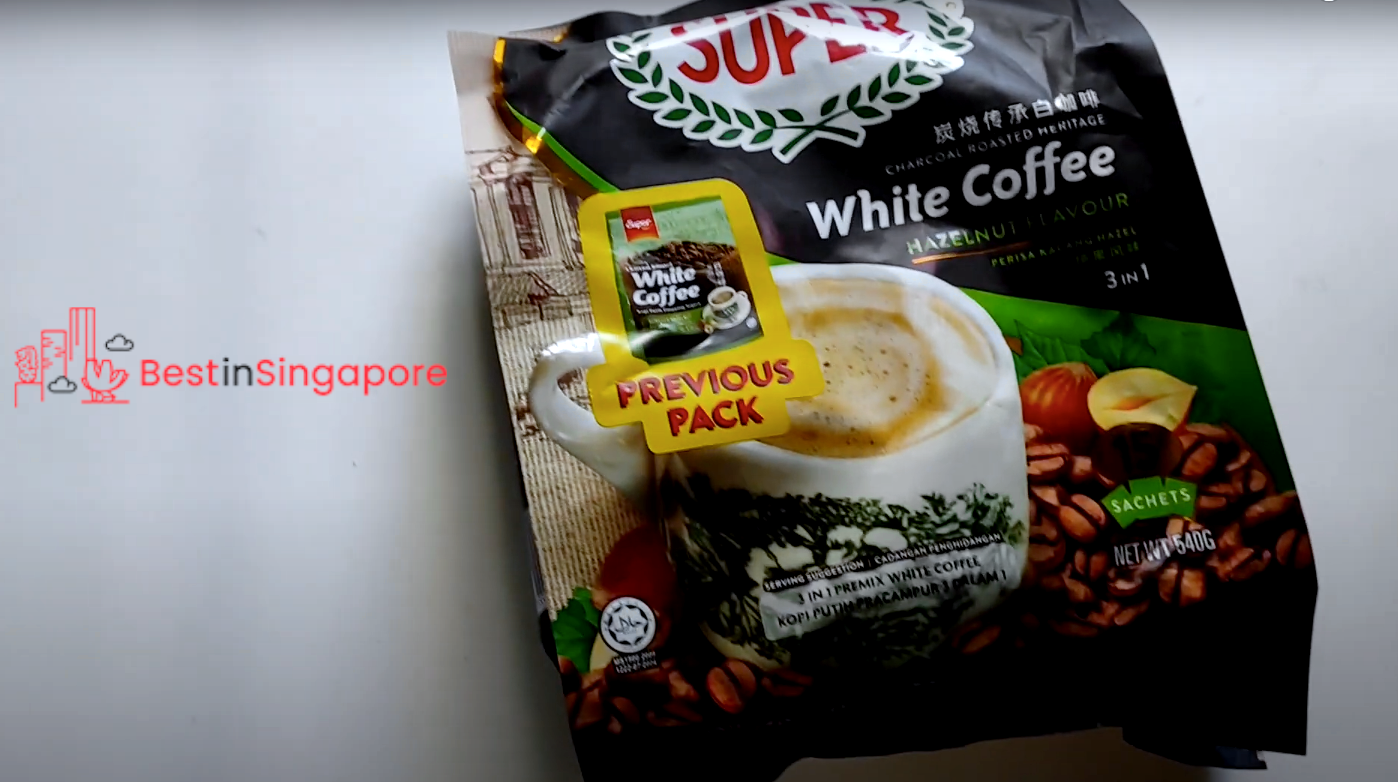 Price: $5.95
For the coffee lovers who enjoy an authentic coffee brew with a buttery texture, the Super 3-in-1 Charcoal Roasted White Coffee is an excellent choice.
It's made with two kinds of premium coffee beans—Robusta and Arabica—which are freeze-dried to bring rich and smooth taste.
The classic coffee brew is mixed with milk to create a full-flavoured taste, creamy texture, savoury aroma. It's indeed the best instant coffee in Singapore for those who prefer strong and roasted white coffee.
Pros
Sweet combination of coffee and milk
Robusta and Arabica freeze-dried coffee beans
5. Kopiko L.A. Low Acid White Coffee Premix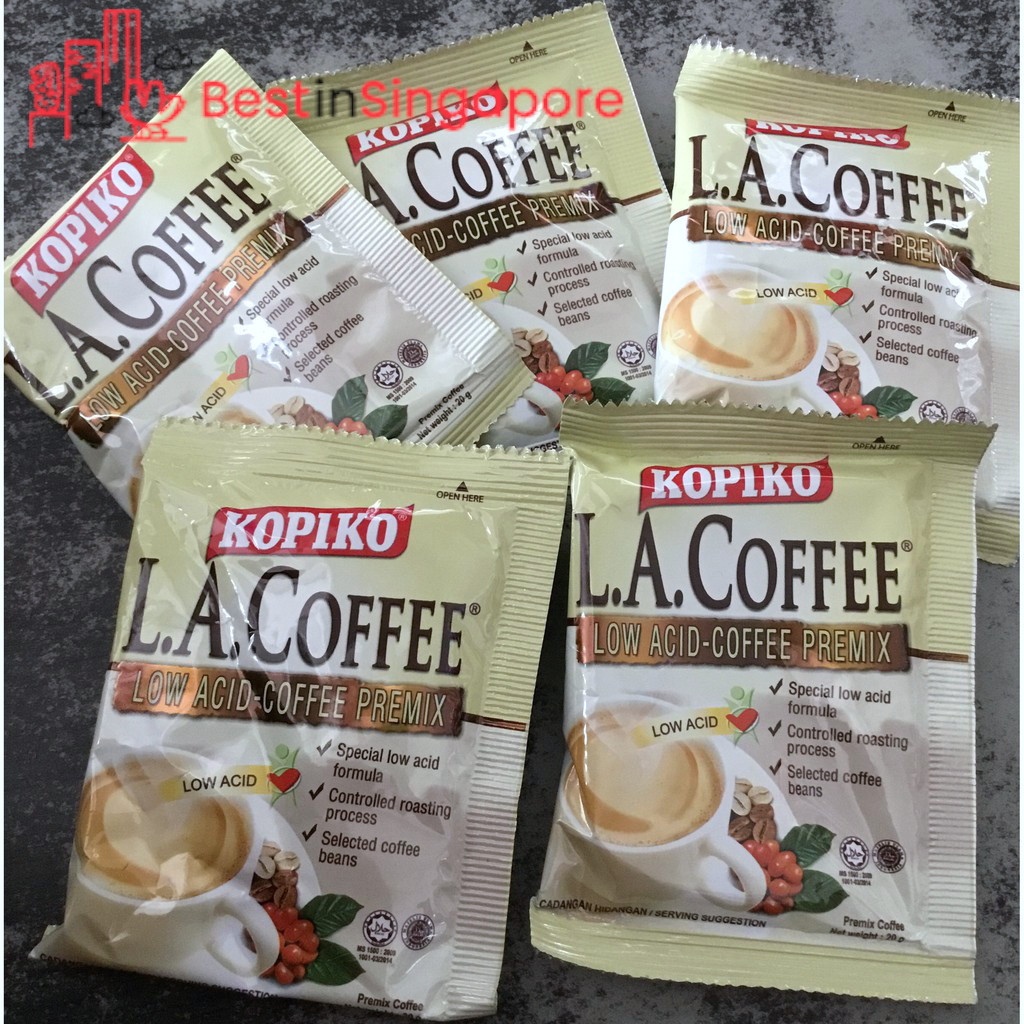 Price: $10.54
If you want to avoid acid reflux from drinking coffee, then you can opt for one with low acid! The Kopiko L.A. Low Acid White Coffee Premix is made through a controlled roasting process at low temperature, reducing the acidity of the coffee beans.
It consists of a combination of Arabica and Robusta coffee beans which are perfectly roasted to produce a rich aroma and taste. It's also easy on the stomach, so you can always have a refreshing coffee drink as much as you want!
Pros
Made to avoid acid reflux or heartburn
Easy on the stomach
Cons
Slightly bitter than the regular instant coffees
Customer Reviews
Many customers mentioned that the Kopiko L.A. Low Acid White Coffee Premix is a great choice for those who have sensitive stomachs. They shared that they didn't feel the acid building inside their stomach as well as the bloated feeling that they usually have when drinking coffee.
Due to its richness, goodness, and affordability, it has become one of the best instant coffees in Singapore. A customer left this feedback:
"LA Coffee tastes wonderful, like a marriage between Kopiko's brown and original coffee variants. It is sweet without being sugary and strong without overpowering your senses. I like the aroma of roasted beans that LA Coffee gives off. Somehow, it makes true the belief that a food or anything can be healthy without stripping off its taste and flavor."
There you go—our list of the best instant coffees in Singapore! Whether you're looking for an old classic taste, new flavours, or healthier option, we have it all for you!
And if you'd also like to try making your own cup of coffee at home, you may see these best espresso machines in Singapore! This is great for the coffee lovers who only have the weekends and holidays to take a rest and enjoy a freshly brewed coffee without any rush.