8 Best Facial Cleansers in Singapore for all Skin Types
Suffering from skin concerns like breakouts, blackheads, or acne? If you are, then you might need to change your daily skincare routine, starting from the most basic step — which is to look for the best facial cleanser in Singapore.
Facial cleansers remove all the built-up oil and dirt on our skin, preventing clogged pores that may lead to breakouts. That's why you need to use the right facial cleanser so you can always have clean and clear skin.
To save from long hours of searching, we've gathered the best facial cleansers in Singapore in this list! But how can you know which one suits your skin type and needs?
Well, before we head on to our selected picks, we'll give you a helpful guide to determining your skin type. After that, you'll have a better sense of how to pick a cleanser from our list.
How to Identify the Right Facial Cleanser for your Skin Type
Finding the right facial cleanser can be a little challenging, especially if you're not sure of what your skin type is. Take a look at these listed factors first so you can easily know the kind of cleanser that you should be looking for.
1. Oily Skin
If you have large and visible pores, then you're most likely to have oily skin. In this case, you should look for oil-control and non-dry facial cleansers that purify pores and regulate oil production.
Those with charcoal elements are highly effective. You must also check if it has a formula that balances pH to prevent breakouts.
2. Dry Skin
For those who have itchy or flaky skin, a facial cleanser for dry skin is the perfect choice. You'll need a cleanser that can eliminate all the grime and impurities without stripping the skin of its natural oils.
It's recommended to use a hydrating facial wash with soap-free formulas containing glycerin and essential oils.
3. Sensitive Skin
If your skin becomes red after shaving or cleansing, then your skin is prone to irritation, which means that you have sensitive skin. You should opt for a cleanser with creamy foams and soothing elements such as aloe vera.
It must also have a balancing pH to avoid skin dryness and irritation.
4. Combination Skin
If your skin often gets either too oily or dry, you need to find a hydrating cleanser that moisturizes the skin and protects the skin's barrier. It must be able to remove oil and grime on the skin while providing natural moisture.
Best Facial Cleansers in Singapore
Now that you know your skin type, you can easily find the most suitable facial cleanser for you! And to help you with that, we've narrowed down your options, as we've listed only the best facial cleansers in Singapore!
Take a look at our picks below to see which one fits your skin type and needs.
1.   Cetaphil Pro DermaControl Oil Removing Foam Wash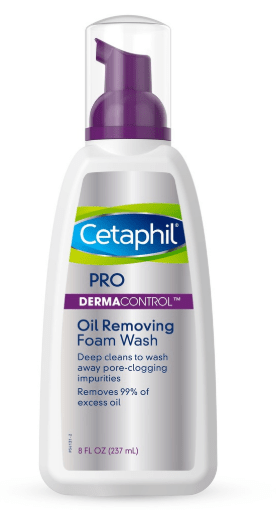 Price: $18.50
For those who have oily skin, the Cetaphil Pro DermaControl Oil Removing Foam Wash is the best option. It deeply cleans and removes pore-clogging oil, makeup, and any skin impurities.
It has a pH-balanced formula that'll reduce the excess oil without causing any skin dryness. It's also hypoallergenic, so you can be sure that it won't irritate the skin.
Aside from this, it's also highly recommended by most dermatologists because of its gentle formula that can do wonders for the skin — like treating acne and hyperpigmentation.
Pros
Gentle cleanser
Minimises pores
Non-drying
Non-irritating
Cons
Customer Reviews
Many customers shared that the Cetaphil Pro DermaControl Oil Removing Foam Wash has helped them solve their oily skin problems. They also said that it's a gentle cleanser that fully removes skin impurities and tightens the skin.
A customer wrote this review:
"I have used other Cetaphil products and still had the same problem with having a very oily forehead. I figured I would try this along with the oil absorbing moisturizer. I haven't had any problems with oil on my forehead since I started using this product and it doesn't dry the rest of my face out. That isn't oily which is really good! I use it twice a day!"
2.   Innisfree Green Tea Cleansing Water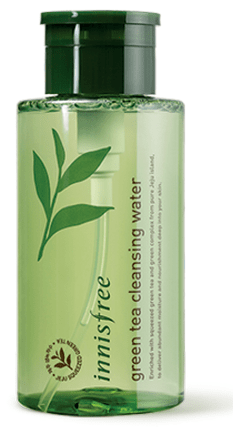 Price: $13.50
The Innisfree Green Tea Cleansing Water leaves the skin moisturized and hydrated after washing, making it the best facial cleanser in Singapore for sensitive skin.
It's filled with amino acids and minerals, giving your skin the essential nutrients it needs. It also brightens the skin, which is perfect after a long day of being exposed to extreme heat.
It also works well on removing makeup, even waterproof mascara! With its green tea root extract and balanced-pH formula, you can have healthy and clear skin through a natural cleansing process.
Pros
Moisturises the skin
Non-allergenic
Mild cleanser
Cons
Removes light makeup only
Stings a little around the eyes
Customer Reviews
Most customers said that after using the Innisfree Green Tea Cleansing Water, their skin truly feels hydrated and seems to get a much healthier look. A customer posted this feedback:
"This is by far my favourite cleansing water. This left my skin clean and hydrated without irritating it. I love using this for morning cleansers sometimes too. The pump is a selling point for me because I don't need to pour it. The negatives would be this string if used around my eyes and I still need to rinse this afterwards as this leaves thin film on the skin."
3.   Nivea Hydration Super Mousse

Price: $11.32
Looking for the best facial cleanser in Singapore that you can use for your dry skin? You must try the Nivea Hydration Super Mousse!
It deeply cleanses, hydrates, and moisturises the skin with instant foam. The tiny foam particles will deeply penetrate pores, eliminating the dirt and impurities completely as well as preventing acne breakouts.
It also contains soap- and alcohol-free formula, giving you a deep cleansing effect without any harsh or tight feeling on the skin.
Pros
Softens the skin
Gentle on the skin
Doesn't feel tight on the skin
Customer Reviews
The Nivea Hydration Super Mousse has gained a lot of positive responses from the customers saying that they've been using the cleanser for years. This is because it can truly smoothen and moisturize skin. A customer left this review:
"Skin feels supple and clean after use. It makes my skin feel more moisturized and hydrated. No harsh and tight feeling too! Love the fluffiness of the foam!"
4.   Murad Clarifying Cleanser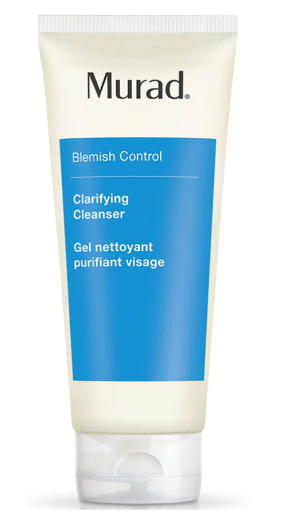 Price: $78.00
The Murad Clarifying Cleanser is one of the most recommended skincare products that is known for treating acne. So, if you have consistent acne problems, this can be the best facial cleanser in Singapore for you!
This acne gel cleanser purifies the pores to prevent possible breakouts. With the salicylic acid ingredient, it can help treat acne over time, resulting in healthier and clearer skin.
Moreover, it has soothing and calming elements to avoid any skin irritation and dryness.
Pros
Soothes the skin
Deeply cleanses the skin
Treats acne problems
Cons
Feels a bit dry on the skin
Customer Reviews
Customers were highly satisfied with their experience of using the Murad Clarifying Cleanser. Most of them said that they've seen great skin improvements such as fewer acne breakouts.
A customer gave this feedback:
"I have been using this Murad clarifying face wash for years!! I have strayed away from using in the past only to find myself with break out and frustration. Every time I make it back to using this product my skin is back to it's normal stay in just under a week. I should know better to ever leave it LOL you get so much for the prayers also. If you are prone to breakouts even if it's only once a month this definitely will help keep it at bay! One of my holy grail products! It definitely does not over dry the skin but has a way of removing all of the makeup and debris!"
5.   Kiehl's Ultra Facial Cleanser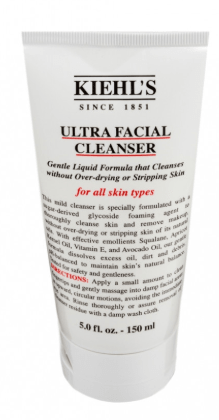 Price: $37.80
Kiehl's Ultra Facial Cleanser is the ideal choice for a combined skin type. It's a gentle foam cleanser that fully removes excess oil, dirt and debris without over-drying the skin.
This best facial cleanser in Singapore contains a pH-balanced formula to maintain healthier skin. It has the essential vitamins and nutrients that the skin needs to avoid possible skin concerns.
It even features avocado oil, which can help to restore the skin's natural moisture, keeping it soft and supple. Finally, as further proof of its mildness, it doesn't even have a fragrance!
Pros
Gentle
Doesn't cause skin dryness
Fragrance-free
Cons
Customer Reviews
Kiehl's Ultra Facial Cleanser has received a lot of positive reviews for the customers because of its gentle cleansing and hydration feature. A customer shared this story:
"Finally! I have a combination skin with a tendency for dry patches on my cheeks. I love the clean feeling with facial cleansers. I wear makeup everyday. I have tried mild cleanser which does not make my face feels clean and tends to not fully remove my makeup, and I've tried other stronger cleanser that makes my face feels super clean , which I really love, but exacerbates my dry patches .However, this cleanser not only makes my face feels super clean, it removes all my makeup and makes my skin feels hydrated at the same time ! I think the price is reasonable. Personally I don't like the packaging though. This is a winner and will repurchase!"
6. La Roche-Posay Toleriane Dermo Cleanser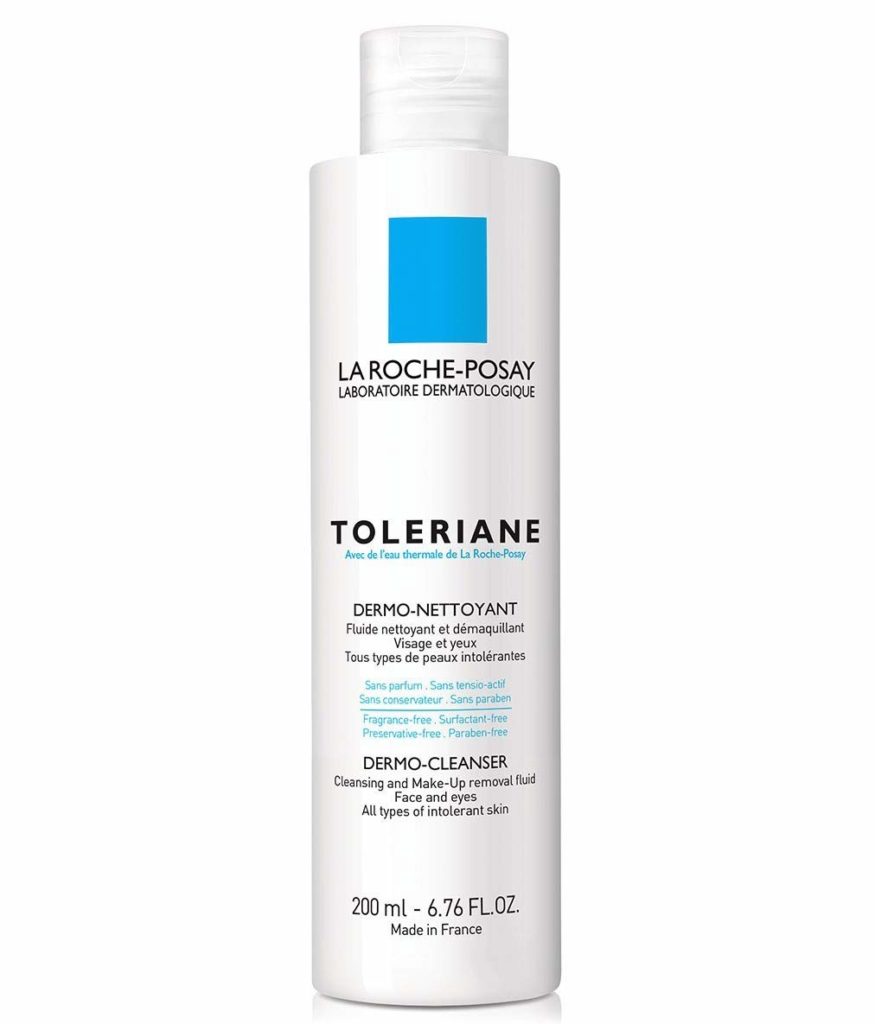 | | |
| --- | --- |
| Best for | Sensitive skin |
| Texture | Cream cleanser |
| Cost | $ 28.82 |
| Where to get it | Shopee |
If you want the best facial cleanser in Singapore that can also act as an effective makeup remover, then you will be interested in this one. La Roche-Posay is a trusted and affordable French brand that's also easily accessible.
This facial cleanser has a cream-like texture and is very emollient, and the best part is you can use it both with water to rinse, or just a facial cloth or facial tissue to wipe off.
So if you're always on the go, travel a lot, but still want quality wash, this could be the best facial cleanser in Singapore for you.
The best part is this cleaner is hypoallergenic and has zero fragrance so it's perfect for those with sensitive skin.
Pros
Hypoallergenic
Can be used both wet or dry
doubles as a makeup remover
Cons
Customer Reviews
La Roche-Posay has long been trusted and has been in the market for a long while so it's not surprising to see plenty of online reviews of the product.
Many say that this has been recommended by their dermatologist so it's good to know that it's approved by some medical professionals.
Here's a review from a verified buyer and user named Michele:
If you have issues with redness on your face, and if many skin care lines make it worse, if even the best dermatologists can only make it better but cannot make it go away, then this is likely to be the perfect fit for you. It moisturisers while it cleans, and never irritates already touchy skin. Not a deep cleanser, but a moisturising cleanser that will not cause harm. For most people, that's easy to find. If you are not most people, try this! I was originally referred to this product by my dermatologist.
7. SK-II Facial Treatment Cleansing Oil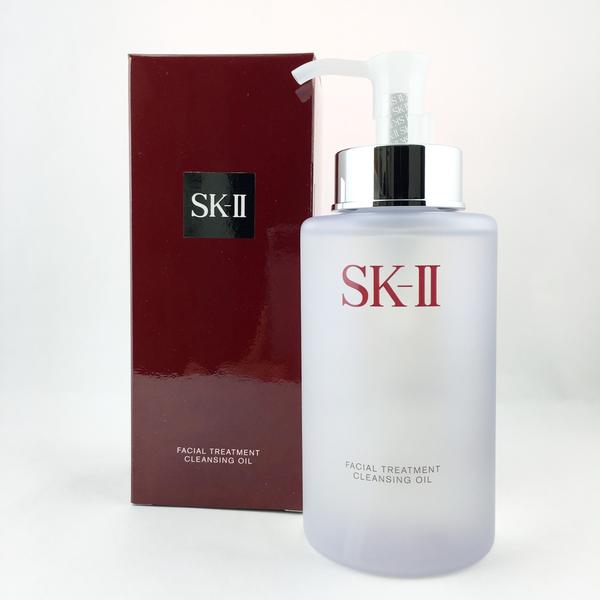 | | |
| --- | --- |
| Best for | Those who want a makeup remover as well |
| Texture | Oil |
| Cost | $80.02 |
| Where to get it | Shopee Singapore |
If you haven't tried an oil cleanser yet, let this be that sign for you to try it NOW. First of all, let's get it out there: Oil cleansers will not make your face oily. In fact, it provides the opposite effect: it actually pulls out the oil in your face. And this is why the SK-II Facial Treatment Cleansing Oil makes an excellent makeup remover as well.
If you have the budget or would like to splurge on your facial cleanser, this one is worth saving up for. Not only does this facial cleanser double as a makeup remover, it also has brightening properties due to its active ingredient of apple seed.
This oil facial cleanser can also double as a facial oil so this also doubles as a good emollient when you're doing facial massages.
Because it has plenty of uses, this could very well be the best facial cleanser in Singapore for you when you want the best of the best.
Pros
Has many purposes
Contains an active ingredient
Cons
Customer Reviews
Going through reviews of the SK-II Treatment Cleansing Oil, it's easy to see that this has been a cult beauty classic amongst skin care enthusiasts. Here's a review from a verified user and buyer with the username Lorrie:
I am just buying a new bottle of cleanser after being unwell for some time. I ran out of my skII oil cleanser and had to use another brand of cleanser which has good reviews but my skin felt taught dryness came back and I felt awful. So this is my first opportunity to buy my favourite again. Most people cringe when they hear oil cleanser. Don't it isn't in the least bit oily. What it is for me, is a gentle soft cleanser. I use it with wet hands one pump and just go for it, rub it in from your forehead to your boobs neck and if any left over your hands. It really goes a long way so don't waste it, After cleansing my skin already feels soft and moist.
8. Heimish All Clean Green Foam Cleanser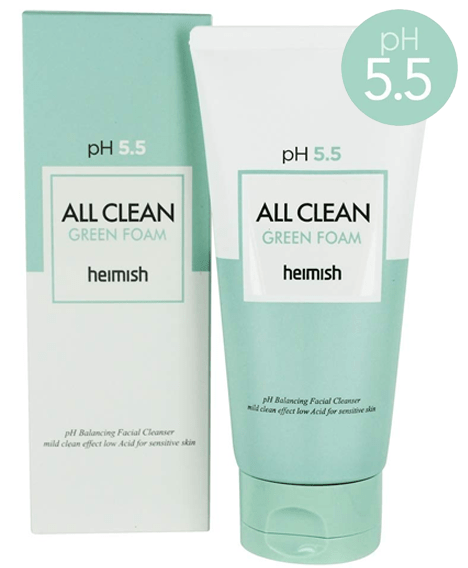 | | |
| --- | --- |
| Best for | Deep cleansing |
| Texture | Gel / Cream |
| Cost | $13.14 |
| Where to get it | Shopee Singapore |
If you've been looking for a facial cleanser to deep clean your face at the end of the day without being harsh, then this is perfect for you.
Heimish is a respected Korean brand in skincare and this product does not disappoint. The All Clean Green Foam has a very interesting texture. When you first dispense it, it feels and looks like gel. But it feels like a gentle creamy cleanser when you first use it on your face, and then much later, when you add more water, that's when it turns into a foam cleanser.
Without stripping your skin off moisture, this deep-cleanses makeup residue and deep-seated dirt so this is the best facial cleanser in Singapore for you at the end of the day, when you want to take your 'day face' off.
Pros
Affordable
Great for sensitive skin
Non-drying
No fragrance
Cons
Customer Reviews
Many users love the Heimish All Clean Green Foam cleanser because of its PH level so it's great to use at night when you're layering in products. Here's what verified user and buyer named M.A. had to say about the cleanser:
If you are looking for a cleanser that wont dry out your skin or change the PH then this is for you. I love this cleanser you only need a small amount it cleanses thoroughly and removes make-up. No irritation what so ever and I have the most sensitive skin EVER …
And that's our list of the best facial cleansers in Singapore! If you'd like to suggest more must-have cleanser products, feel free to share them with us!
And to add another essential skincare item on your daily routine, here are some of the best moisturisers in Singapore! Each selection caters to a specific skin type so you'll surely find the right one for you!