The 5 Best Foundations in Singapore
Are you always in need of full and natural coverage that can last even in extremely humid weather? Well, look no more, as we've got you some of the best foundations in Singapore for today's roundup!
Whichever skin tone or skin type you have, you can easily find the right shade from our picks! However, choosing the best foundation suitable for your skin can be a bit of a struggle if you're not sure about your skin tone/type.
So, before you go on to our list of the best foundations in Singapore, it'd be helpful to know the things that you must take into consideration when buying a foundation. We'll look at them before giving you the list of products!
What to Look for When Selecting a Foundation
To achieve flawless coverage that can withstand the hottest days, you need to find the right foundation that suits your needs and style. Different people have different needs: their skin type varies, their level of activity, their sun exposure, etc.
See the listed factors below to know which features to keep in mind while you shop for the best foundation in Singapore.
1. Skin Type
Knowing your skin type is extremely important when picking cosmetics. It's only after determining what skin type you have that you'll know the right formula that fits your needs.
So, let's take a look at the skin types here:
If you have oily skin, a foundation with a powder formula is the best choice for you. It's lightweight so it won't affect the pores and it can also control the shine.
But if you prefer to use a liquid foundation, make sure that it's oil-free or non-comedogenic to prevent breakouts.
For those who have dry skin, cream or liquid foundations will complement your skin's complexion. This kind of foundation will not emphasize the flakiness and wrinkles on your skin.
To avoid any skin reactions, you must choose a foundation that's hypoallergenic. These foundations don't contain any ingredients that might irritate your skin.
2. Skin Shade
Finding the right shade might take a long time and it may also involve a trial and error process. But there are still ways you can know whether it's suitable for your skin colour or not.
For example, if your neck is lighter than your face, then use a foundation that's lighter than your face so you won't look pale.
It doesn't necessarily have to be an exact match since the lighting will change throughout the day — just choose one that's slightly lighter than your skin colour for a perfect complexion.
3. Skin Undertone
Some people tend to forget about the skin's undertone when buying a foundation. A foundation that doesn't match with your skin's undertones will reflect on your complexion: it'll lead to either too pale or too dark a shade.
For those who have a warm complexion, a shade with yellow undertones would be a good option. For a cool complexion, a foundation with pink undertones is your ideal choice.
You can also try a neutral shade for an easier match for different skin tones.
4. Coverage Level
Each makeup foundation offers different coverage levels. If you need a long-lasting foundation that doesn't need frequent touch-ups and acne or discolouration cover-up, for instance, you can opt for a full-coverage one.
If you're not exactly sure which coverage level you need, you can always use a light to medium coverage one, because this type is buildable.
Best Foundations in Singapore
If you now know how to determine the right shade, tone, and coverage level that you need, let's see the top foundation picks on the market!
We've rounded up the best foundations in Singapore, suitable for any skin type and look. Whether you have lighter/darker skin or opt for a natural/dewy look, here are some of the most recommended foundations that'll keep your skin looking fresh for the whole day!
1.   Tarte Rainforest of the Sea Water Foundation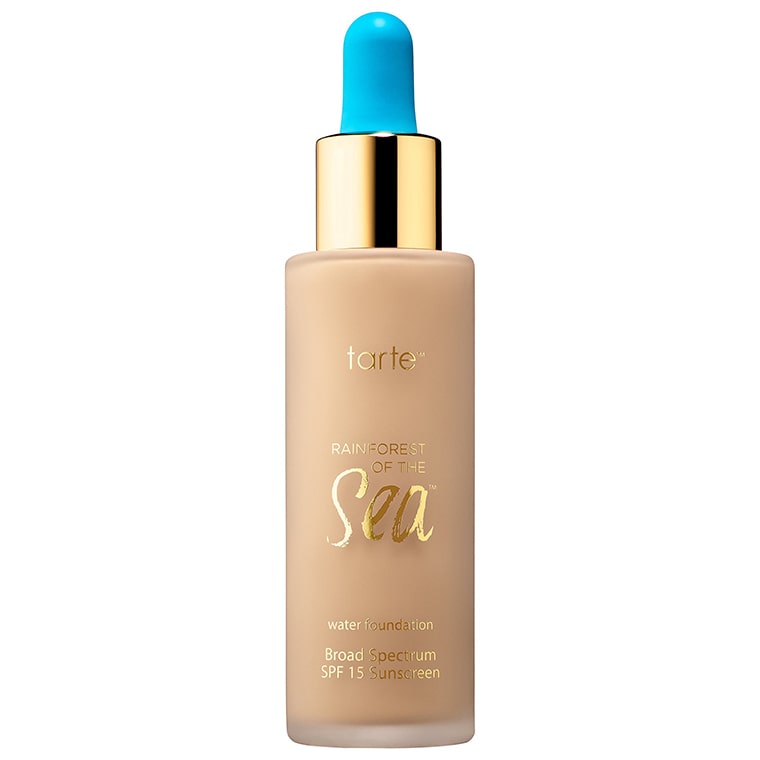 Price: $58.78
The Tarte Rainforest of the Sea Water Foundation is a liquid foundation that naturally nourishes and hydrates the skin, giving a radiant finish. With the antioxidant element, it also helps to reduce signs of ageing like fine lines and wrinkles.
This weightless foundation also provides non-chemical sunscreen ingredients, protecting your skin from possible sun damage. So if you're going to have extreme outdoor activities, this can be a nice makeup companion for you!
It offers medium coverage that can last for up to 12 hours, leaving your skin smoother, softer, and brighter all throughout the day!
Pros
Lightweight on the skin
Hypoallergenic
Buildable
Long-lasting
easy to blend
Doesn't sink into pores or fine lines
Cons
Contains alcohol and fragrant plant extract that may irritate some people's skin
Customer Reviews
Many customers who have a combination skin type and light skin tone shared that the Tarte Rainforest of the Sea Water Foundation is the perfect fit for them! Aside from complementing the great colour match, they were also impressed with the hydration feature and natural radiant finish.
A customer posted this feedback:
"I absolutely love this foundation!!! After months of looking for a foundation I have finally found one that just has such a natural feel and look to it!! Doesn't feel or look Cakey after a few hours. It actually blends in and feels so natural it's amazing!! And the coverage is great!!"
2.   Urban Decay Naked Skin Weightless Ultra Definition Liquid Makeup

Price: $79.90
With the Urban Decay Naked Skin Weightless Ultra Definition Liquid Makeup, you don't have to do frequent touch-ups, for it provides buildable coverage, making it the best foundation to use for grand celebrations or events!
It has a lightweight formula that provides a flawless demi-matte finish that can instantly illuminate your skin!
It can also blur skin imperfections such as fine lines, wrinkles, dark spots and many more! It's filled with nourishing ingredients that'll tighten and brighten the skin as well as eliminate signs of ageing.
And finally, it has a hygienic pump that lets you have the exact amount of foundation that you need.
Pros
Perfect matte coverage
Silky texture
Natural glowing look
Moisturises the skin
Cons
Doesn't control oil
Lack of deeper colour choices
Customer Reviews
Most beauty enthusiasts recommended the Urban Decay Naked Skin Weightless Ultra Definition Liquid Makeup for those who have dry skin.
This is because it gives a great matte finish without making your skin feel dry. They also said that it can really cover up the skin imperfections and isn't cakey at all.
A customer posted this review:
"I absolutely love this foundation! It goes on smooth and has almost an airbrush finish. I always get compliments on my skin when I use it. I have very normal skin and this does not make my skin look shiny or dry. Also there are so many shades to choose from i was able to find a PERFECT match! It is a very light foundation and does not cake on like many other foundations but you can layer it for more coverage. It also doesn't come off onto my clothes like other foundations. The only thing I don't like about it is the bottle. My first one broke from the inside really easily but I was able to get a replacement since I had just bought it."
3.   Estee Lauder Double Wear Nude Cushion Stick Radiant Makeup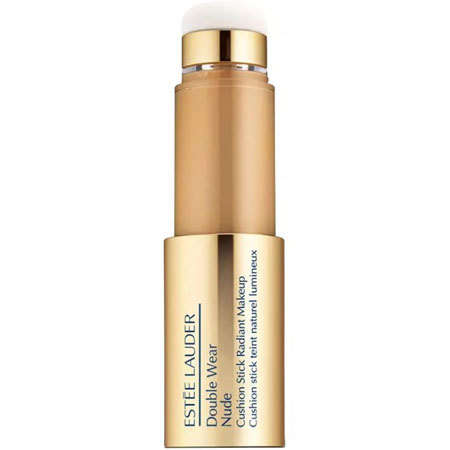 Price: $39.31
The Estee Lauder Double Wear Nude Cushion Stick Radiant Makeup features an easy stick and cushion applicator, helping you get an even skin tone for a healthy-looking glow. This weightless liquid foundation instantly pampers and hydrates the skin during all-day wear.
This best foundation in Singapore offers light to medium coverage, giving you a natural nude finish ideal for casual wear. It's also available in various shades, suitable for all skin tones.
Pros
Comfortable on the skin
Not cakey
Blends well
Travel-friendly
Buildable coverage
Long-lasting
Cons
Less quantity
Not enough shades
Sponge applicator is a bit stiff
Customer Reviews
Customers who have combination skin type shared that the Estee Lauder Double Wear Nude Cushion Stick Radiant Makeup perfectly blends into the skin. They also said that it has buildable coverage and can fully conceal dark spots.
A customer gave this feedback:
"The lady in the west Edmonton mall helped me pick this out, if it wasn't for her listening to my concerns and even testing it out on me I wouldn't have found the perfect foundation. My face is very very oily and this foundation is amazing, yes my face still gets a little oily throughout the day, but nowhere near the way it gets with drugstore brands. I will recommend it to anyone with oily skin, this is the best I have found so far!"
4.   Laura Mercier Flawless Fusion Ultra-Longwear Foundation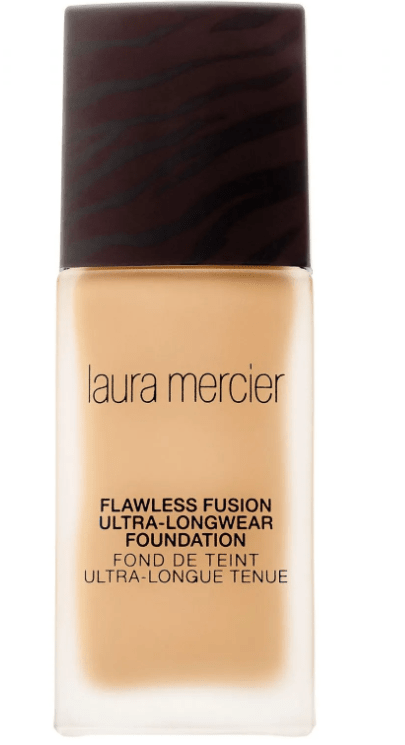 Price: $89.60
For a natural matte finish that can last all day and night, you must try the Laura Mercier Flawless Fusion Ultra-Longwear Foundation! It's resistant to sweat, humidity, and even transfer, so you can be sure that the colour will stay consistent all day.
It also has coated pigments that can even out the skin tone and reduce the appearance of pores and other skin imperfections. It controls the skin oil too, so the matte finish will never be flat or cakey.
It can also be the best foundation in Singapore if you need full-coverage that can last without touch-ups every now and then.
Pros
Weightless texture
Ultimate longwear
Oil-free
Not drying
Cons
A bit difficult to apply
Does not work well with primers
Customer Reviews
Most customers with oily skin said that the Laura Mercier Flawless Fusion Ultra-Longwear Foundation is one of the best long-wear foundations that they've ever tried. They mentioned the natural and flawless complexion that they experienced despite the oily skin condition.
A customer wrote this feedback:
"Wow. I received this product as a sample and was absolutely floored by it. I've searched for a perfect foundation for years, this is it. I have a very oily t-zone, melasma dark spots, and bad breakouts in the summer. That said, I don't wear heavy eye make-up, so natural looking (yet full) coverage is a must. I also work very long hours as a server with no touch-up time. I first tried this going out for a quick errand run, and was in shock. I was having an especially bad breakout and wanted a touch of something. With no other concealers or make-up of any kind, it made my skin flawless and matched perfectly. I have never had that result with products of equal cost and brand recognition, even while using my go-to concealer. Not to mention I walked in incredibly humid, 30°C for a couple of hours and came back home with flawless skin (even my chronic oily nose!) It's the most excited I've ever been about a product. As a side note, I have an olive complexion and tan quite easily, and this was perfect for a summer bronzed look without turning me orange. However, it has a deep tone and would go lighter if you're contemplating."
5.   Sulwhasoo Sheer Lasting Foundation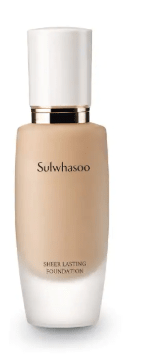 Price: $54.90
The Sulwhasoo Sheer Lasting Foundation features gentle components that moisturise the skin, providing a natural glowing look. It's also rich in antioxidants and nutritional vitamins and minerals that replenish and protect the skin from environmental aggressors.
It's filled with skin-friendly ingredients, leaving your skin feeling refreshed. Despite the light coverage, it offers enough to cover most skin imperfections such as redness or dark circles.
With this best foundation in Singapore, a little goes a long way, making it super-efficient to use.
Pros
Good pigmentation
Quick to apply
Glowy satin finish
Buildable coverage
Enhances dry patches
Doesn't cause breakouts
Cons
Customer Reviews
Customers loved the Sulwhasoo Sheer Lasting Foundation due to its natural finish, oil-control feature, and long-lasting wear.
A customer left this feedback:
"Sulwhasoo Sheer Lasting Cushion actually reminds me of Chanel's Gel Touch Foundation [reviewed here] which is one of my personal favorite cushions for a natural finish. In comparison, this one from Sulwhasoo has better coverage and lasts longer. I found it lasts an entire day without transferring, and is able to control the appearance of oily shine. Between the 2, I definitely prefer this cushion over the foundation."
And that's the end of our list of the best foundations in Singapore! Have you already tried one from our selected picks? If so, then we'd also like to know about your experience with it!
And for additional coverage for skin imperfections, you may try these best concealers in Singapore! They can cover up deep dark circles, skin redness, and blemishes for a clear and flawless finish.