Architectural Marvels: 20 Most Iconic Buildings in Singapore
Singapore boasts buildings with stunning architecture enough to make you drop your jaw in awe! From futuristic and sometimes physics-defying designs to unique and charming facades—Singapore has it all.
Here are some of the most iconic buildings in Singapore. Be sure to add them to your itinerary when you come to visit us.
Top 20 Popular Structures and Buildings in Singapore
Marina Bay Sands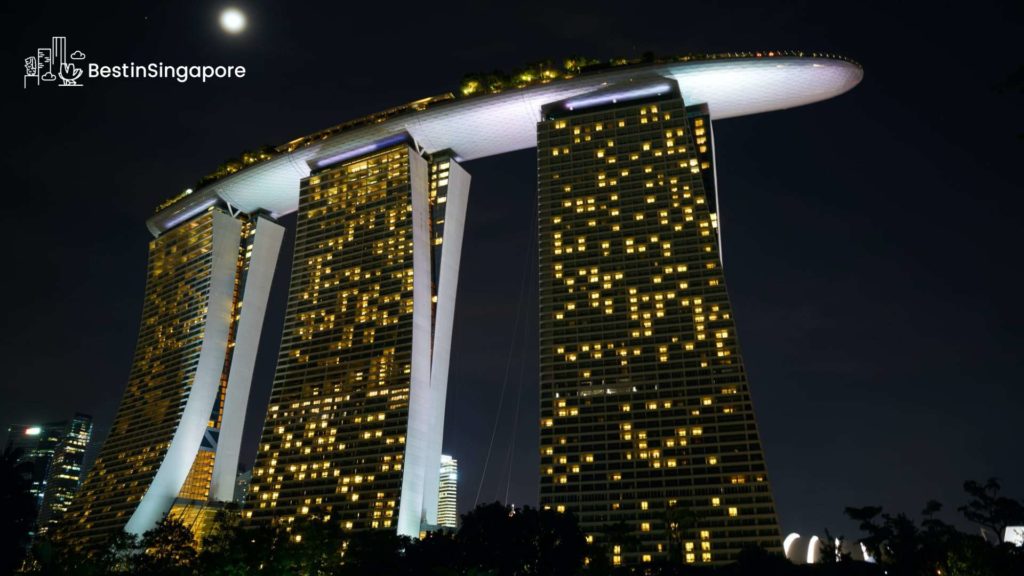 Address: 10 Bayfront Ave, Singapore 018956
Contact Number: +6566888868
When you ask locals about iconic buildings in Singapore, they'll most likely think of Marina Bay Sands first. Even non-Singaporeans are aware of this building; almost every promotional picture of Singapore features it!
A world-class integrated resort owned by Las Vegas Sands, Marina Bay Sands features three towers topped with a boat-shaped structure. This boat-shaped structure holds the SkyPark, one of the most popular observation decks in Singapore, and an infinity pool.
Truly, the architecture of Marina Bay Sands is a sight to behold. The interior is just as wonderful, and I recommend checking all the attractions inside.
ArtScience Museum
— From: jpamsee
Address: 6 Bayfront Ave, Singapore 018974
Operating Hours: Monday to Sunday—10 am to 7 pm
Contact Number: +6566888888
As it's a museum dedicated to art and science, it only makes sense that ArtScience Museum's architecture is unique. It's shaped like a lotus, and painted in white, its simplicity is what makes it elegant.
Inside this amazing museum, you can find wonders like no other. The exhibitions make use of cutting-edge technology, and the VR Gallery is just mind-blowing!
Esplanade—Theatres on the Bay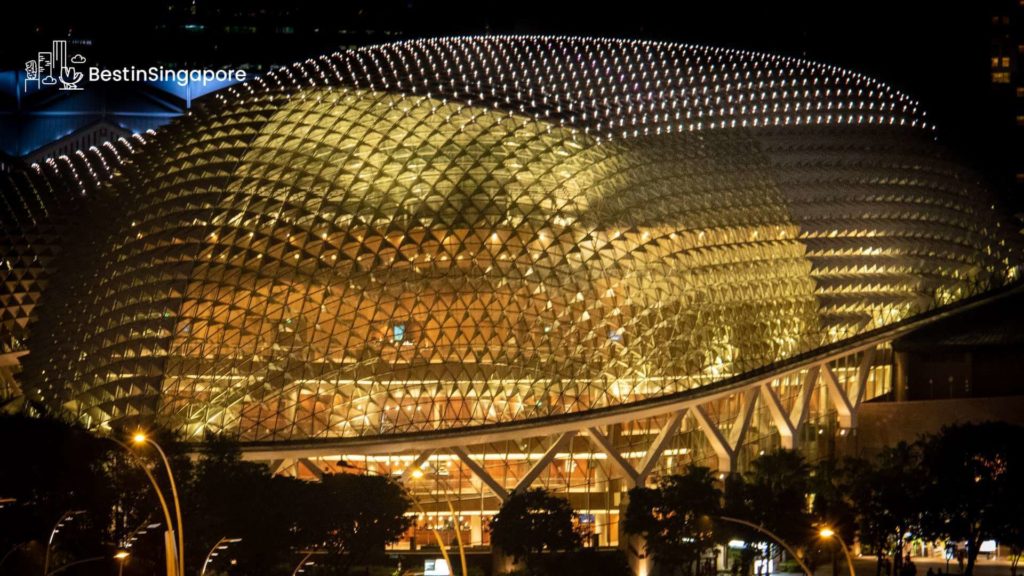 Address: 1 Esplanade Dr, Singapore 038981
Contact Number: +6568288377
Also located by Marina Bay is the Esplanade—Theatres on the Bay, and it's another building that will make you do a double take when passing by.
This infrastructure's design is in honor of the durian—the Southeast Asian fruit that's notorious for its strong smell but is beloved for its custardy sweet flavor.
The building looks even better at night because all the lights make it glow golden.
Apart from its beautiful design, the Esplanade is worth checking out because it hosts various events—from dance shows to concerts of all genres (rock, orchestra, jazz, and more). You'll appreciate performance arts more when you stop by here.
National Gallery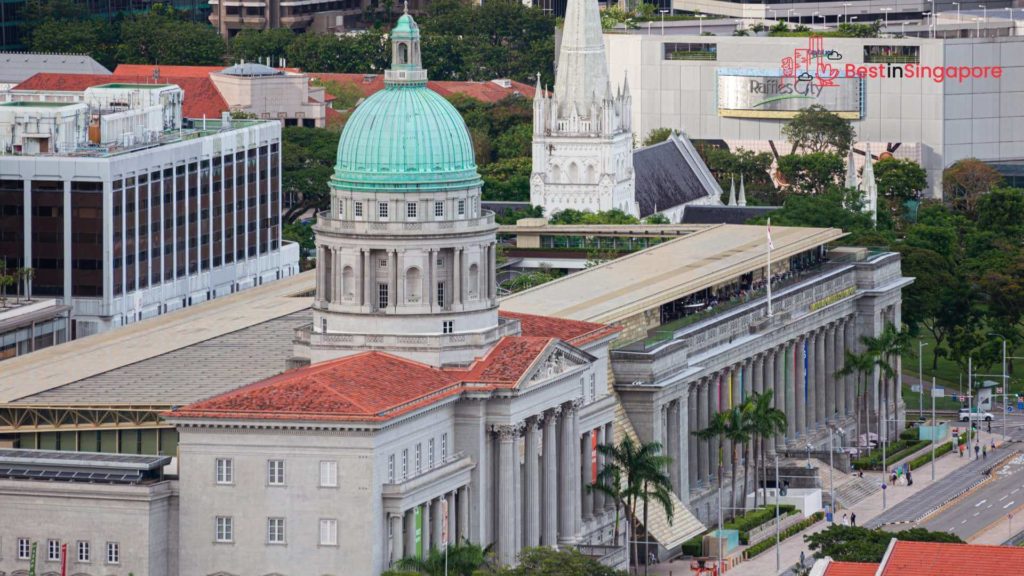 Address: 1 St Andrew's Road #01-01, Singapore 178957
Operating Hours: Monday to Sunday—10 am to 7 pm
Contact Number: +6562717000
While the previous buildings are noted for their ingenious and modern designs, the National Gallery inspires awe from visitors for its classic look. Additionally, it's also home to two national monuments: the former Supreme Court and City Hall.
The National Gallery is best known for celebrating the rich heritage and culture of Singapore. In fact, it has the largest collection of Singaporean and Southeast Asian art—around 9,000 items!
Aside from the artifacts, the gallery also has various interactive media showing the evolution of Singapore's culture and heritage and the country's relationship with other cultures all over the world.
Victoria Theatre and Concert Hall
— From: selva_thamizan
Address: 11 Empress Pl, #01-02, Singapore 179558
The Victoria Theatre and Concert Hall is a performing arts located in Singapore's City Area. It was constructed sometime in the late 1800s and early 1900s, and you can see the influence of the era on its architecture; it has that old-fashioned charm!
One architectural detail that I like about this infrastructure is the fact that it consists of two buildings and a clock tower that are connected together by a common corridor.
I also found it interesting that the building has been used for a great variety of purposes. At some point, it even served as a hospital!
Right now, this concert hall holds public events, exhibitions, and musical or stage performances.
St. Andrew's Cathedral
— From: stmeeee33
Address: 11 St Andrew's Rd, Singapore 178959
Operating Hours:
Tuesday to Friday—9 am to 5 pm
Saturday—9 am to 6:30 pm
Sunday—7 am to 5:30 pm
Closed on Monday
Contact Number: +6563376104
In my opinion, religious structures boast some of the most magnificent architecture, and St. Andrew's Cathedral is proof of that.
This Anglican cathedral was designed in the Neo-Gothic architectural style, and it's also heavily inspired by Netley Abbey, a ruined church in Hampshire, England, that was built in the 13th century. So, its exterior features intricate details and stained glass.
But the inside is even more beautiful. As you'd expect from a Neo-Gothic structure, this one has a domed ceiling, and on the walls and ceilings, you can see colorful depictions of religious events.
The Interlace
— From: interlace_singapore
Address: 180 Depot Rd, #01-02 The Interlace, Singapore 109684
Contact Number: +6567342481
The Interlace won the World Building of the Year at the World Architecture Festival in 2015. That's enough proof that its architecture is out of this world.
After all, how often do you see building blocks stacked on top of each other hexagonally?
But the most interesting part is that this isn't a hotel or cathedral; it's a residential complex! Courtyards, tennis courts, lush rooftop gardens, and swimming pools are strategically placed within the gaps between the blocks.
The Interlace really sets the standard for urban living architecture.
Sky Habitat
— From: pamllene
Address: 7 Bishan St. 15, Singapore 573908
Contact Number: +6563975583
Another residential complex with an iconic architectural style is Sky Habitat. Located in Bishan, Sky Habitat will command your attention because of its layout; the alternating balconies make me think of Tetris blocks stacked neatly!
This condominium is like a 3D matrix with two 38-story blocks. These blocks are linked with three sky garden bridges, and at the topmost bridge, there's an elevated swimming pool.
Reflections at Keppel Bay
— From: rishikeshh
Address: Keppel Bay View, Singapore 098417
Operating Hours:
Monday to Friday—11 am to 6 pm
Closed on Saturday and Sunday
When you first look at Reflections at Keppel Bay, you may not think that it's a condominium. But it is, and it truly is the embodiment of luxurious waterfront living.
It takes up 1.2 km of the shoreline and consists of six curved towers that are between 24 and 41 stories high. My favorite part of the design is the luminous surface of the towers; it makes the entire structure sparkle and glisten!
The Hive
— From: jodeokhwa
Address: 52 Nanyang Ave, Singapore 639816
Operating Hours: Open 24 hours
Contact Number: +6567911744
Singapore is known for its world-class education system, but did you know that some schools here have amazing architecture? One good example is The Hive, located at Nanyang Technological University.
The Hive is made up of 12 eight-story towers that taper towards the base. Because of this formation, it resembles dim sum baskets stacked on top of each other!
I also like that The Hive uses natural ventilation through the gaps between the pods. This makes the building environment-friendly.
Parkview Square
— From: efrainatanes
Address: 600 North Bridge Rd, Singapore 188778
Operating Hours:
Monday to Friday—9 am to 6 pm
Closed on Saturday and Sunday
Contact Number: +6563964400
Parkview Square is the kind of building that you can picture existing in other popular cities like New York. You would also think that this is a hotel, but it's actually an office building.
This skyscraper is designed in the Art Deco style, so it's clad in granite, lacquer, bronze, and glass, and the facade features opulent details like imposing gargoyles and effigies of famous icons. There are also elaborate fountains, completing the palatial look.
Golden Mile Complex
— From: jeron.png
Address: 5001 Beach Road, Singapore 199588
Even shopping malls also have amazing architecture in Singapore! Golden Mile Complex is a perfect example of that.
The mall has Brutalist architecture, which is why it looks sharp, arresting, and even a bit dystopian.
Some people also think that the mall looks like a typewriter, and even though I didn't see it at first, now I do.
This place is now closed after an en-bloc sale in 2022, but it's still nice to admire the building from outside. As a building with Brutalist architecture, it sure does stand out among its monochromatic brethren.
The Gateway
— From: qfy165
Address: 150 Beach Rd, Singapore 189720
Operating Hours: Open 24 hours
Contact Number: +6562935591
At a quick glance, The Gateway may look simple; its architecture is very modern, with uniform angles and shapes throughout.
However, the more you look at it, you might be confused. Why does it look like a one-dimensional piece from certain perspectives?
Indeed, The Gateway is kind of like an optical illusion. Its two crystalline, 37-story towers are trapezoids, and they're both so finely angled that they appear like a drawing from a one-dimensional plane!
The Mill
— From: likenovh
Address: 5 Jln Kilang, Singapore 159405
Contact Number: +6563833333
When you look at The Mill, you might be thinking, "Are we in Gotham City?" But no, you are in Singapore; the building is just so magnificent that you're transported to a different world for a second.
The Mill is built by the same people behind Parkview Square, which is why the two of them may seem similar at first. The main difference is that The Mill is Neo-Gothic, hence the all-black design; it's also influenced by post-industrial architecture.
My favorite element is the tower. It looks so gothic, and apparently, it serves as a metaphor for the melting pot of cultures in Singapore!
Peranakan Museum
— From: vonrayz
Address: 39 Armenian St, Singapore 179941
Operating Hours:
Saturday to Thursday—10 am to 7 pm
Friday—10 am to 9 pm
Contact Number: +6563327591
The Peranakan Museum has lived multiple lives: first, it was Tai Nan School, then it became the Asian Civilizations Museum (ACM). It was only in 2008 that it was redeveloped into the Peranakan Museum, an extension of ACM.
Considering that this museum was built in the early 1900s, it's not a surprise that its architecture is classic colonial style. During festivities, the building can get colorful with lights and vibrant decorations.
Hill Street Building
— From: hyunhhi
Address: 140 Hill St, Singapore 179369
Operating Hours:
Monday to Friday—8:30 am to 12:30 pm, 2 to 5:30 pm
Closed on Saturday and Sunday
Another building that's just screaming in color is the Hill Street Building. This used to be a police station and barracks, but now it houses the Ministry of Communications and Information.
Hill Street Building features a neo-classical architectural style, very much reminiscent of buildings in 1930s England. For this reason, it boasts a symmetrical facade, complete with balconies, arcades, courtyards, and columns.
In 1999, the building got a paint job resulting in its signature rainbow-colored windows.
The Colonnade
— From: fin.barr and unit.project
Address: 82 Grange Rd, Singapore 249587
Contact Number: +6567322188
Nestled in a quiet corner, The Colonnade captures your attention the moment you lay your eyes on it. It features an unusual columnar architecture, with four quadrants at different heights; as a result, it gives off a zigzag appearance.
The Colonnade also reminds me of a Rubik's Cube, which is why I really like the design. It's so trippy and quirky!
Assyafaah Mosque
— From: singaporemap
Address: 1 Admiralty Ln, Assyafaah Mosque, Singapore 757620
Operating Hours:
Monday to Friday—9 am to 6 pm
Saturday—9 am to 5 pm
Sunday—9 am to 2 pm
Contact Number: +6567563008
Assyafaah Mosque isn't like any other mosque you've ever seen. Unlike the usual mosque design featuring domes and spires (which is also amazing, in my opinion), this one has a more futuristic look.
You'll find new-age elements such as the facade with aluminum panels for solar shading and Arabesque screens. It also has a 10-story industrial-style minaret (a tower with a balcony from which a muezzin calls Muslims to prayer) with rusted metal plates.
Assyafaah Mosque actually won the Chicago Athenaeum International Architecture Award, so you know it's the real deal.
Parkroyal Collection Pickering, Singapore
— From: jovankatoscanelli
Address: 3 Upper Pickering St, Singapore 058289
Contact Number: +6568098888
Who says you can't have green architecture in the heart of Singapore? That's what the architects of Parkroyal Collection Pickering, Singapore, were probably thinking when they created it; this hotel is just decked in greenery!
In this hotel, you can find terraces that are covered in plants and lush sky gardens with cascading waterfalls. Because of all the greenery, the building understandably stands out from everything in its vicinity.
Vintage Camera Museum
— From: anukmau
Address: 8C Jln Kledek, Singapore 199263
Operating Hours: Monday to Sunday—11 am to 7 pm
Contact Number: +6562912278
Pricing: S$20 (adult), S$15 (senior citizen, child ages 6–12 years old), free (child under five years old)
Vintage Camera Museum has to be my favorite building with unique architecture. This one really commits itself to the theme; its facade is literally shaped like a giant camera!
I also love the museum's interior. It also has a classic, old-fashioned feel, and you can find about 7,000 cameras on display.
Some of these cameras are so unique (have you ever seen a spy camera for pigeons?), so I recommend checking this place out.