The Complete Guide to Home Renovations in Singapore
It's no secret that home renovations can be stressful and costly. One wrong move may mean thousands of dollars down the drain, so it's important to have a general idea of what you're getting into.
To help you with that, we created a resource guide that takes you through the home renovation process in Singapore. You'll learn about regulations to observe, authorities to deal with, and even get suggestions for useful renovation services.
You can use this guide in full or you can jump right to the most useful sections for you below. At any rate, let's start!
Get the Right Planning Permissions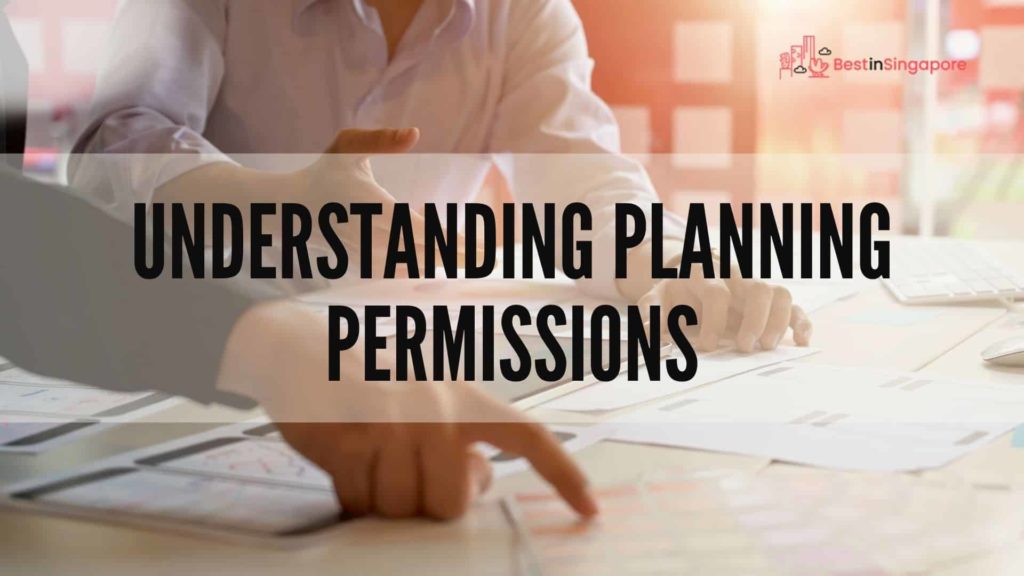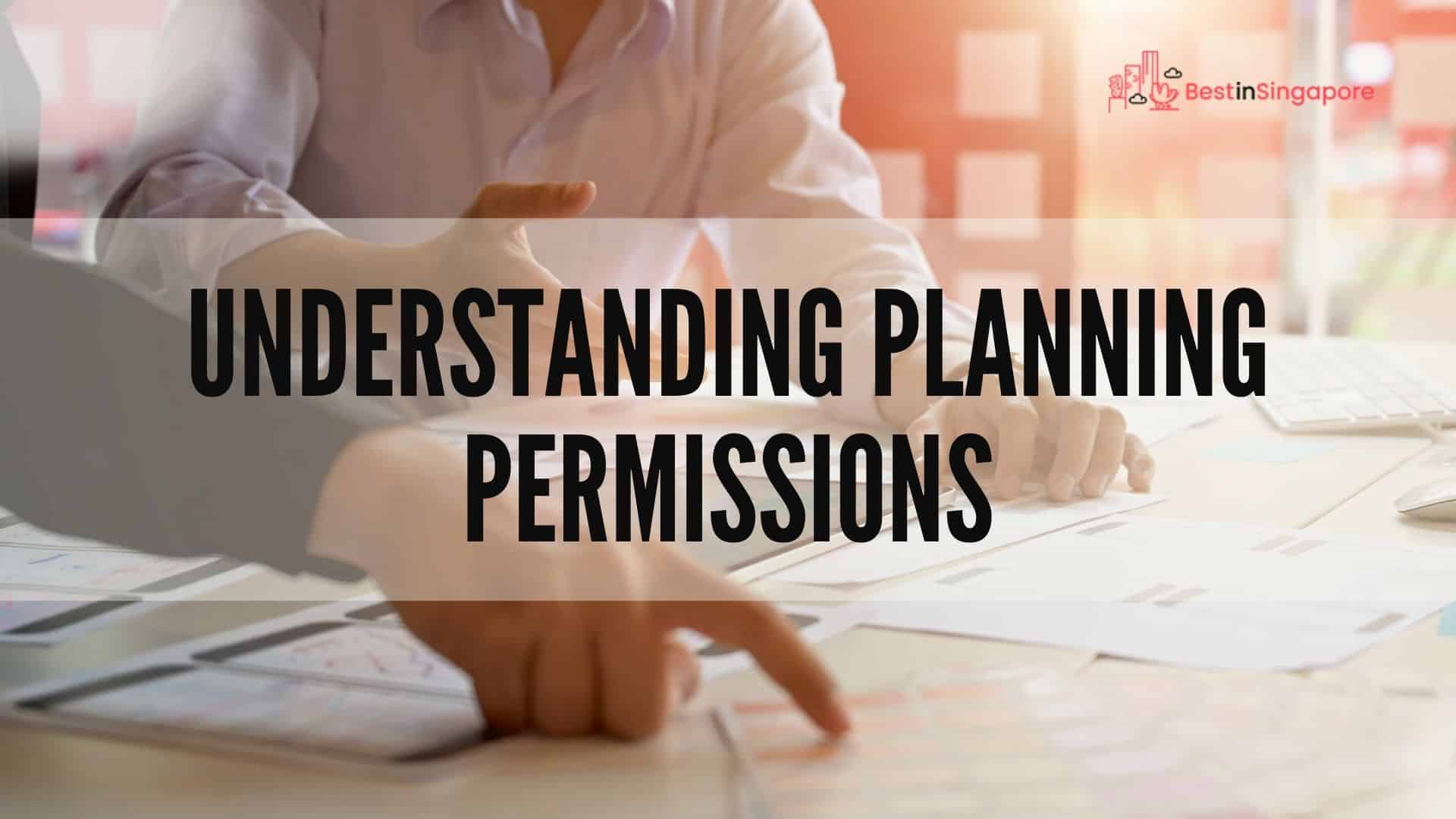 So now that you know what type of property you have, the next step is to take a good look at your property and its indoor and outdoor spaces, then visualise the type of renovation project you'd like.
You can start by asking yourself these questions:
What kind of renovation project do I want?
Will there be enough space for my planned project?
How will my project affect my neighbours?
Will my project require planning permission?
It's generally easier to find answers to the first three questions. The fourth one needs some understanding before anything else, so this section is all about planning permissions in Singapore.
The Urban Redevelopment Authority
To put it simply, planning permission is a requirement for specific types of development and building works. It's handled by the Urban Redevelopment Authority (URA).
Take note that not all renovation projects require planning permission. For instance, you can carry out certain indoor renovation work such as installing an air-conditioner* or replacing existing floor and wall finishes* without planning permission.
As for exterior renovation projects, here are some examples of exemptions that you can refer to:
Painting of the exterior
Replacement or changing of windows and doors*
Installation of any roller shutter or grille door*
Addition of sun shading devices*
Re-construction of the roof in its existing form with no increase in height
Maintenance or improvement or alterations of a building which do not materially affect the external appearance or the floor area of the building
* Note that these projects are exempted from planning permissions provided that they meet certain conditions. Refer to URA's full list of exemptions to see these conditions. 
Again, these are only some types of projects that don't need planning permission. Projects that aren't covered by URA's list of exemptions will need planning permission.
More than anything, it's important to get yourself acquainted with planning permissions and making sure you comply with that before partaking in any renovation project.
Failure to do so is considered to be an offence, resulting in hefty fines up to a maximum of 50 times the processing fee or $150,000.
If you've determined that your project needs permission, the next step to take is to submit a development application to the URA. You can accomplish and submit this application on your own or you may ask for help from a qualified professional such as a renovation contractor. 
From the date of submission, expect a decision from the URA within four weeks. If your application isn't rejected, you may get either of the following:
Written Permission – This has a two-year validity period if the application meets all of the criteria. If the project hasn't been completed within the validity period, you must apply for a renewal.
Provisional Permission – This has a six-month validity period wherein specific conditions must be satisfied. You must comply with the conditions within the validity period in order to get written permission.
The Building and Construction Authority
Once the URA has granted you written permission, you also might need to file a building plan submission with the Building and Construction Authority (BCA).
The BCA is the agency that handles matters involving structural integrity, lighting, and ventilation. Some instances where you'll need a building plan submission are when you're adding staircases, energy-efficient systems, extensions, and more.
Just like planning permissions, building plan submissions aren't always required. You can check out BCA's full list of exemptions on their website to know more.
In case a building plan submission is required, it's highly recommended to submit your application with the help of a qualified professional, including architects and engineers.
Make sure to keep all records for renovation approvals. You'll need this if you decide to sell your property in the future.
Find Your Contractors and Service Providers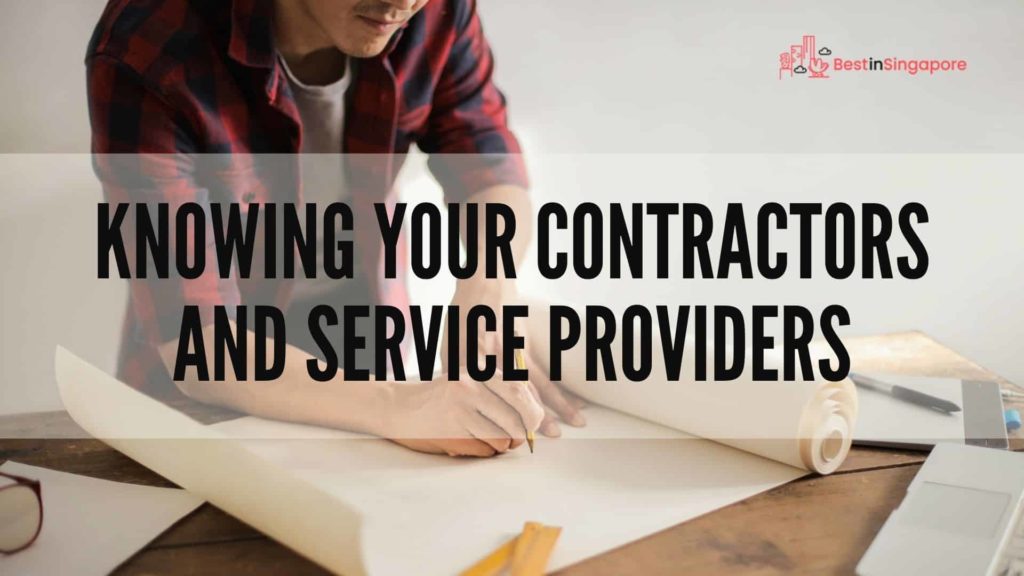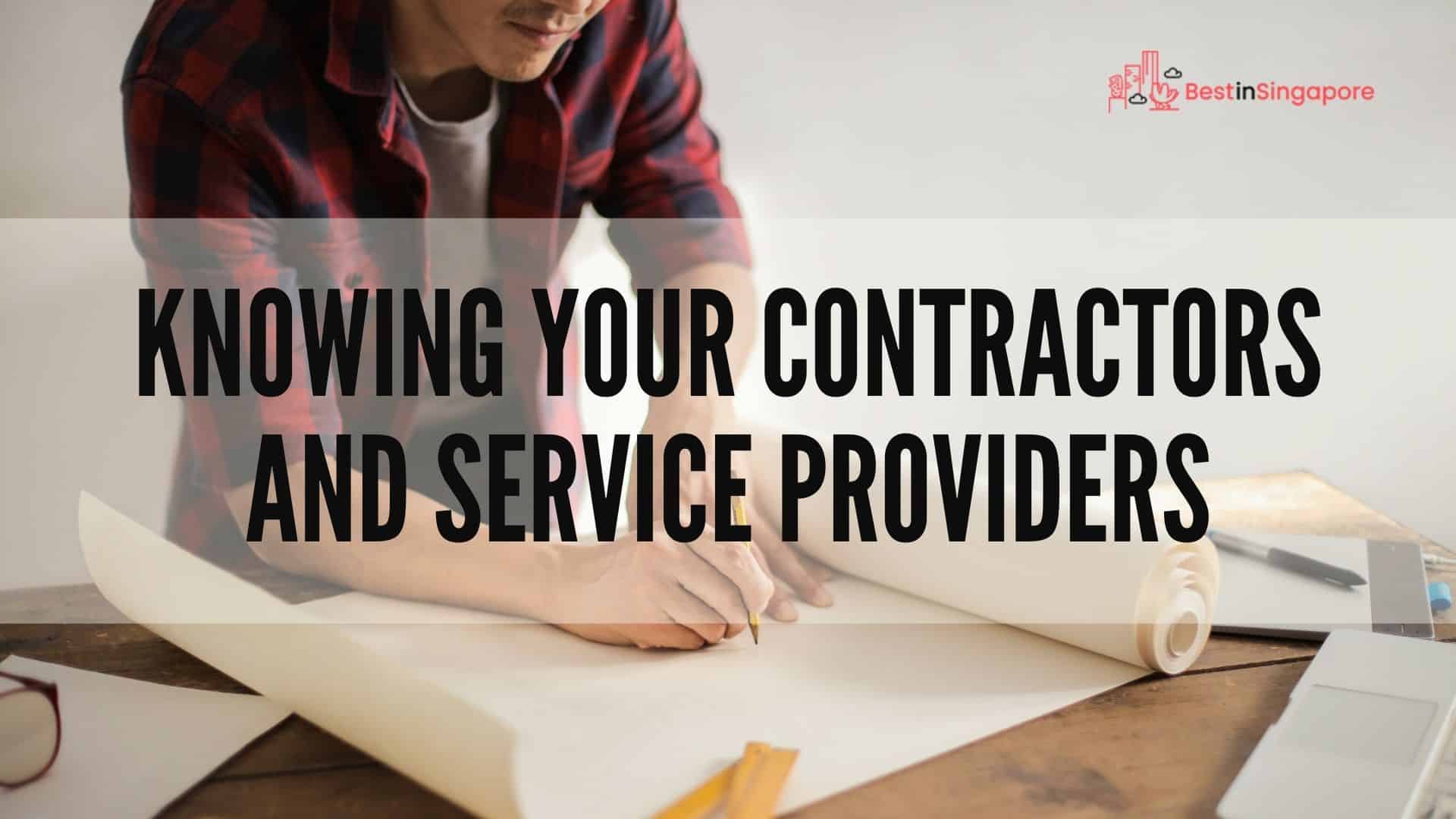 Regardless of whether you need planning permission or not, you'll have to shop around for contractors eventually. For one, you can engage the services of a renovation contractor if you want a smooth process from start to finish.
Otherwise, try to familiarise yourself with the different types of service providers in Singapore. Because there are so many of them, knowing what they can do for you will save you time contacting them one by one.
All things considered, the most important piece of information you'll need beforehand is to know what you actually want and how much your budget would be. These are the top things that contractors will ask you during your initial consultation.
Apart from that, knowing these things will also allow you to shop around and narrow down your options faster.
Project Manager
In general terms, project managers are in charge of planning, organising, and overseeing the entire project. The same can be said for project managers that handle renovation and construction projects.
In other words, project managers act like middlemen and coordinators between you, relevant agencies, and other service contractors. They make sure that the project meets the deadline, budget, and requirements.
You can find project managers by contacting firms that specialise in large- or small-scale renovation projects. For example, you can check out our picks of renovation contractors for HDB flats.
Likewise, you can also contact kitchen renovation contractors or bathroom renovation contractors for room-specific projects. Think of them as specialists rather than generalists, which means that they carry the expertise needed in these projects.
It's also worth noting that some project managers are licensed engineers or architects as well.
Quantity Surveyor
Quantity surveyors are basically construction-cost consultants. Their role is to provide you with estimates on the overall cost of your project based on what your property needs.
If your budget allows it, it's highly recommended to hire a quantity surveyor to inspect your premises or area. This will come in handy for those who have recently purchased a new home.
Because they're independent service providers, they don't really have ties to a specific contractor, allowing them to find the lowest costs based on the budget you provide.
Moreover, quantity surveyors work best for larger projects, not so much simple renovation work like carpentry and window replacements.
Nonetheless, having some estimates quoted by a quantity surveyor will also allow you to weed out contractors and service providers with excessive fees. There are plenty of contractors in Singapore who tend to overcharge clients, so be wary of that.
Engineer
Engineers are responsible for the development and maintenance of a building. There are different types of engineers in Singapore, all of whom have different responsibilities and specialties.
When it comes to renovation, the most important one you'll likely need is a structural engineer. As you can guess by its name, structural engineers design structures that are strong enough to withstand the elements and various stresses.
Engaging the services of structural engineers is a must if you're planning to build an extension, especially for landed properties with second levels.
Meanwhile, electrical engineers design electrical systems for your building. They may come in handy if you're thinking about switching to solar panels, for instance.   
Architect
Simply put, architects are responsible for the design and construction of a building. They're concerned with the exteriors of a house or building, as well as the planning of its basic structure, including rooms.
The roles of architects and engineers often overlap. But the most important distinction between them is that the former focuses on the design aspect of the building while the latter is concerned with the technical aspects.
The best place to find them in Singapore is by looking at architecture firms. Each architect has a specific line of expertise, ranging from urban contemporary design to minimalist architecture. 
The key is to know what kind of design you're aiming for. Then, you can narrow down your choices of architects and firms.
Interior Designer
On the other hand, interior designers are concerned with the furnishing and styling of a building's empty space. They work on materials, furniture, wall design, colours, and decor elements to achieve a certain look based on their clients' preferences.
Just like with architects, it's very important to know the kind of aesthetic you want your spaces to be. Are you aiming for a Scandinavian look? Or perhaps an eclectic style?
Another thing to consider is the type of property you have. Some interior designers work best with landed properties while others specialise in tighter spaces like condominiums. 
From there, you can easily narrow down your picks for ideal interior designers for your spaces. If you're not sure what kind of design aesthetic fits your home, you can always refer to our list of the best interior designers in Singapore.
Other Contractors
Often for smaller projects, it's recommended to dive right into hiring contractors straight away once you've accomplished all the necessary permits.
Unlike other contractors, engaging their services directly eliminates middlemen such as interior designers and project managers in the process.
While this will push you to do all the coordinating yourself, this will also mean lower costs. A contractor will only charge you for the cost of construction materials and labour.
Lighter projects such as painting don't really need planning permissions. There are plenty of painting companies that can carry out painting jobs regardless of the type of property. 
Replacing doors or windows also generally doesn't need planning permission, as long as it satisfies a few minor requirements.
There are many contractors in Singapore who can supply and install different types of doors such as French doors, Nyatoh doors, and sliding doors. You also won't run out of window contractors in Singapore who can install and repair about any type of window available. 
Similarly, there are also many types of subcontractors available for very specific jobs such as waterproofing and soundproofing.
Moreover, installing permanent fixtures indoors like kitchen cabinets, wardrobes, and shoe cabinets doesn't require planning permission. You can check out some carpenters for that.
Renovation work can be incredibly messy. At the end of your project, make sure to do a thorough cleaning to make sure that your newly renovated area is free from dust and debris.
For that, we have some recommendations on the best cleaning companies and part-time cleaners in Singapore that have post-renovation cleaning services. 
How to Hire Contractors and the Other Tradesmen You Need for a Renovation Hire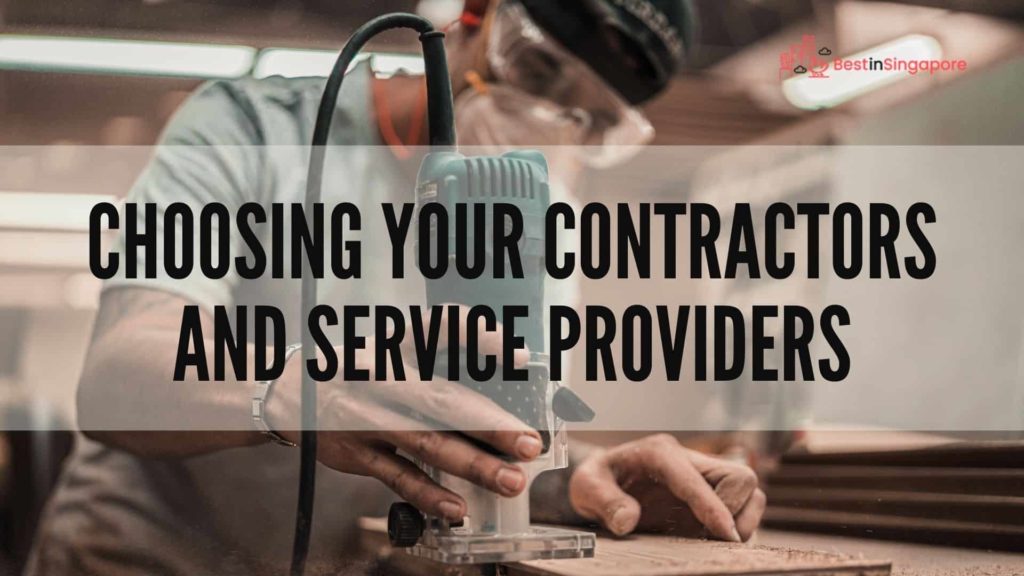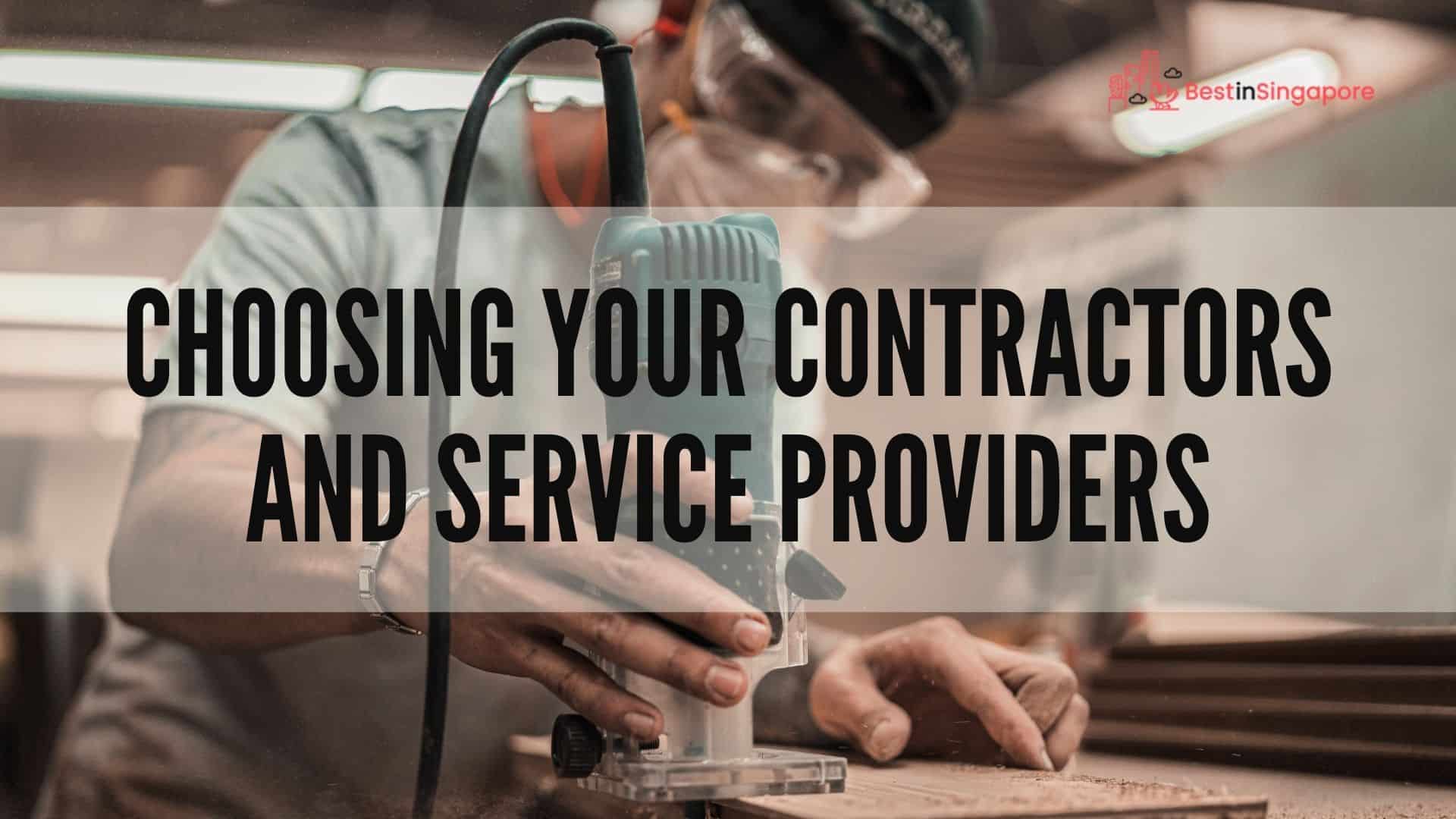 With the quantity of service providers and contractors in Singapore, it can be difficult to filter out the best of the best. Unfortunately, not all service providers give the same quality of service, so it's important to maximise your time by weeding out bad apples from the start.
This section will tell you exactly how to do that. We've outlined our recommendations in hiring quality contractors and other tradesmen for your project.
Get References
As a general rule of thumb, one of the first things you can do is to ask your trusted friends or family for recommendations. Knowing someone's first-hand experience with a specific contractor will get you a better idea on whether they're worth pursuing or not.
You can ask your trusted contact about their general demeanour to see if they remain professional throughout the process. This will also cut down so much time from scanning through your phonebook and contacting them one by one.
Otherwise, you can always do a quick Google search on available contractors in your area, which leads us to the next point.
Do an Informal Background Check
Once you've got yourself a list of contractors in your area, you can start weeding them out by looking at online reviews, for starters.
Now, it can be tricky to determine the authenticity of an online review. A well-balanced online review should contain detailed and honest information about a customer's experience.
One way you could tell its authenticity is by checking the comment's wording. If it sounds or looks too good to be true (such as using overly positive adjectives mixed with jargon), then it probably is!
Once you've narrowed your choices down, you can then start your informal background check on your preferred contractor. Do they have the necessary licenses and permits to offer their services?
Normally, you can check their websites to see if they carry the right accreditation.
For instance, an architect must be registered with the Board of Architects to operate lawfully. From there, you can check the corresponding authority's website to verify whether your chosen contractor is legit or not.
Another thing to look out for is their industry experience. Again, you can usually read a bit about this on the contractor's website.
How long have they been doing the work that they do? What kind of services do they specialise in?
When it comes to longevity, it's highly recommended to get a contractor who has been in the industry for a while, ideally 10 years. On top of that, their expertise must also be in line with the services you require.
For example, you might want to look into an interior designer's portfolio if their signature style matches the look you're aiming for.
Try to see if your chosen contractor is covered by general liability insurance as well. This will protect you and your contractor from claims should there be instances of injuries and property damage.
Meet or Call Your Contractor
So now that you have an informal list, the next step is to narrow it down further by calling them up. There are several pieces of information that you may not get by purely doing online research.
So, the best thing you can do to solve that is by talking or meeting with them directly. Take down notes during your call or meeting, so you can come back to that once you're in the process of deciding.
Ideally, it's best to have around three to five choices so you can compare costs and the quality of service, which you can gauge from the first few calls.
An ideal service provider or contractor shouldn't push you to sign up with them immediately. A huge indication of professionalism is their ability to hear and understand your expectations well.
From that, they must effectively communicate what their plans are for the project. Pay extra attention to how they communicate to you, and how fast or slow they respond to enquiries after your call.
Your contractor must break down the prices clearly and concisely. Be sure to clarify all the inclusions, as well as the scope of the project before agreeing to anything.
In fact, we highly recommend not agreeing to sign up immediately from the initial call. This will give you time to think about your decision and to shop around for other contractors who will give you the best bang for your buck.
Set Terms
So, you've managed to pick one contractor out of many prospects. The next thing you should do is to discuss your expectations about the project.
Here's a quick checklist of things that you can discuss with your contractor before signing a contract:
Timeline and turnover date
Payment schedules and terms
Overhead cost
Materials incl. cost
Labour incl. cost
Subcontractors
Possible expenses that may be incurred
Under any circumstances, be sure to put everything in writing. Otherwise, this can eventually backfire in case any verbal commitments made by your contractor will fall through.
Work Out a Budget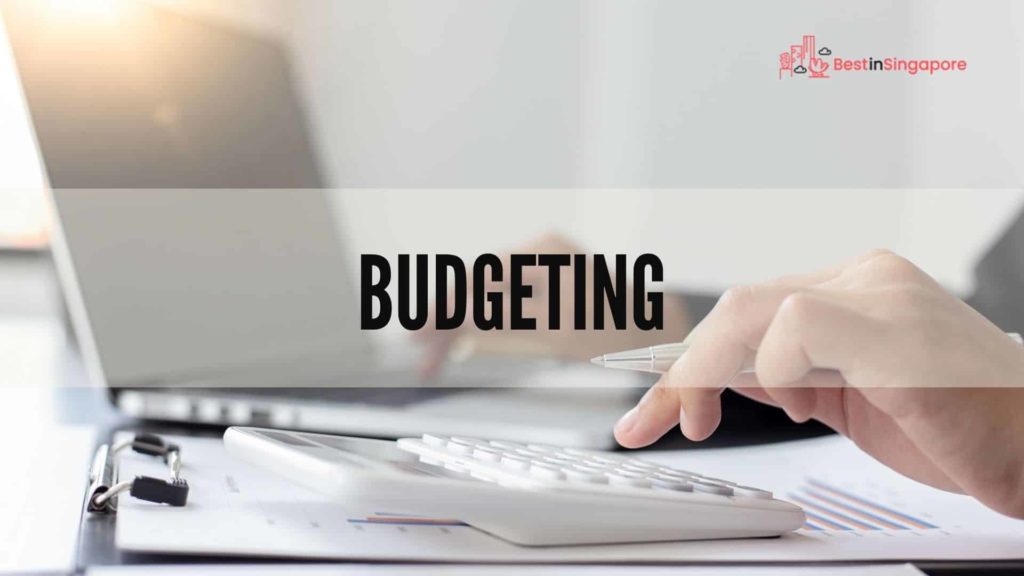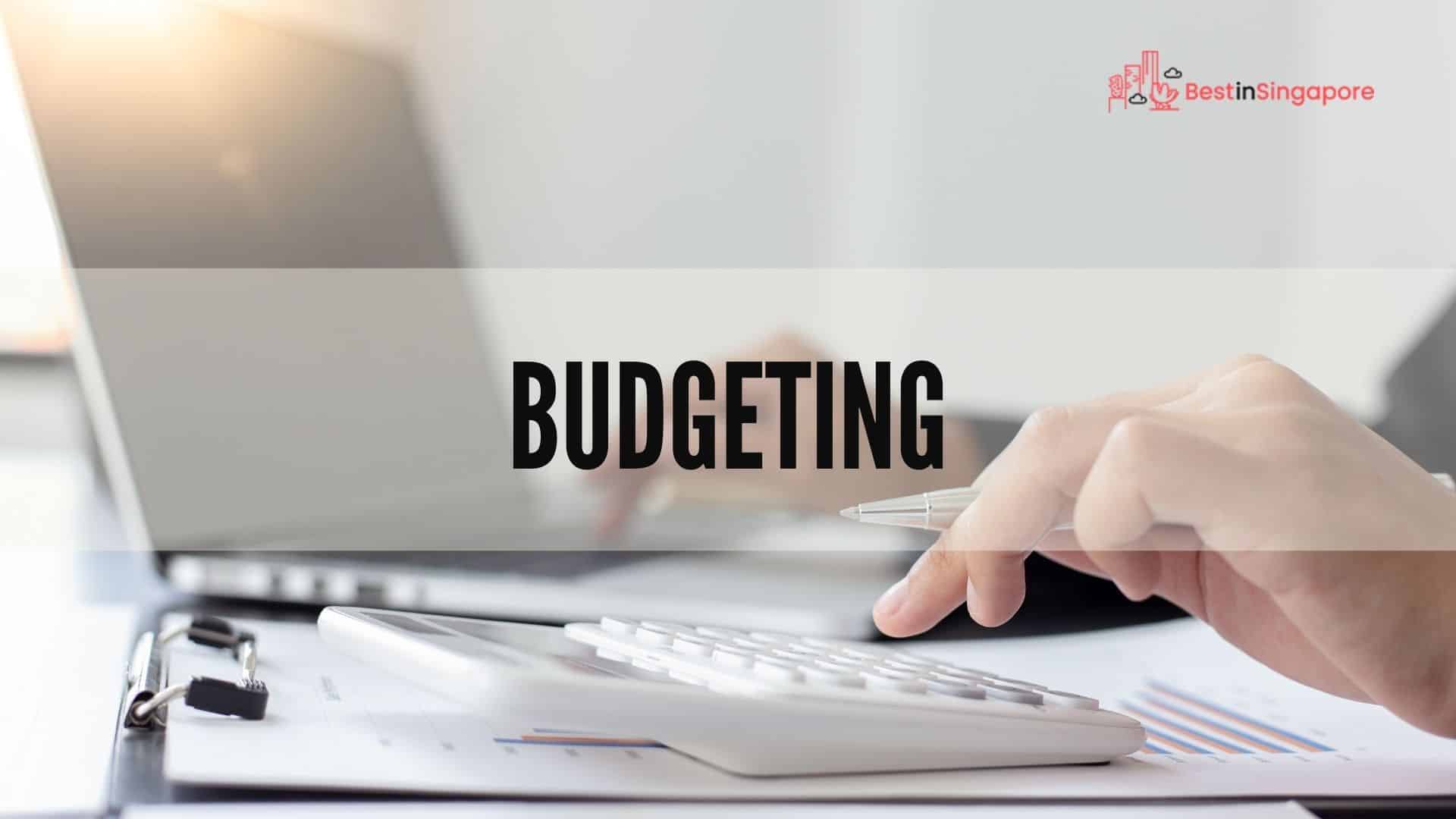 Here comes the not-so-fun part in renovation projects: budgeting. It's an open fact that renovation work, no matter how big or small the project is, can cost an arm and a leg if not done correctly.
But it doesn't always have to be that way. The key is to plan your budget accordingly and spend only within your means.
The general rule of thumb is to list down your top renovation needs and build your budget around that. Anything beyond your priorities should be put on the back burner.
Want a custom-made coffee table that looks exactly like the one you saw in Italy for your living room renovation? While there's absolutely nothing wrong with that, you might have to hold off on that unless your budget allows it.
Otherwise, spending on "wants" more than your "needs" runs the risk of going over budget. Last-minute changes also play a huge role in going over budget, so be sure to take that into consideration.
The trick here is to focus on your living room as a whole, and to concentrate on aspects that would take up a huge part of your budget. Partition walls and installation of built-in appliances are some examples of this.
Cost Estimates
To help you plan your budget, we gathered some cost estimates on home renovation services. Generally, the average cost of renovating a four-room HDB flat in Singapore (approx. 90 sqm) is about $56,000.
Meanwhile, you can expect to shell out around $40,000 to $45,000 to remodel a three-room HDB flat (approx. 60 sqm). For five-room HDB flats (approx. 110 sqm), it would cost as much as $70,000.
The costs quoted above include raw materials and labour required to complete the project. Note that this will still depend on several factors including the materials, scope of renovation, area, and timeline of the project.
We've listed the average cost of some common renovation services in the table below to give you an idea of how much to expect. Keep in mind that the figures below are based on a four-room HDB flat.
| SERVICES | LIGHT RENOVATION | MEDIUM RENOVATION | EXTENSIVE RENOVATION |
| --- | --- | --- | --- |
| Hacking - includes removing fixtures, built-in cabinets, flooring, walls | $1,200 | $2,800 | $11,350 |
| Masonry - covers flooring, tiling, base of cabinets | $3,000 | $10,000 | $37,000 |
| Carpentry - installation of custom fixtures like cabinets, cupboards, wardrobes, etc. | $7,000 | $18,000 | $53,450 |
| Painting - may cover indoor and outdoor walls | $800 | $1,600 | $3,000 |
| Glass and Aluminium Works - addition of glass partitions or doors; installation of aluminium countertops | $1,500 | $3,850 | $9,450 |
Another thing to consider is that these figures don't include the services of middlemen like architects, interior designers, and project managers, all of whom require a separate fee.
For instance, most architects will charge you roughly 5% to 10% of the overall project cost. On the other hand, interior designers may charge you an hourly fee, fixed price, or a certain percentage of the entire project.
According to Qanvast, general interior design fees for HDB flats or condominiums would be around $1,500 to $6,000. This doesn't include materials and labour costs.
We've also gathered some estimates on home renovation services according to style since overall costs will rely heavily on it. Here are the most common styles that homeowners tend to choose.
| STYLE | HDB | CONDO | LANDED | PER SQ. M |
| --- | --- | --- | --- | --- |
| Scandinavian | $55,315 | $101,365 | $358,125 | $489 |
| Modern | $60,304 | $78,386 | $423,652 | $517 |
| Industrial | $54,093 | $74,264 | $137,167 | $501 |
| Minimalist | $62,471 | $74,494 | $358,125 | $558 |
Figures are taken from Qanvast and are based on a full renovation service.
The best way to get an exact price is by contacting your chosen service provider or contractor directly.
Options for Financing Renovations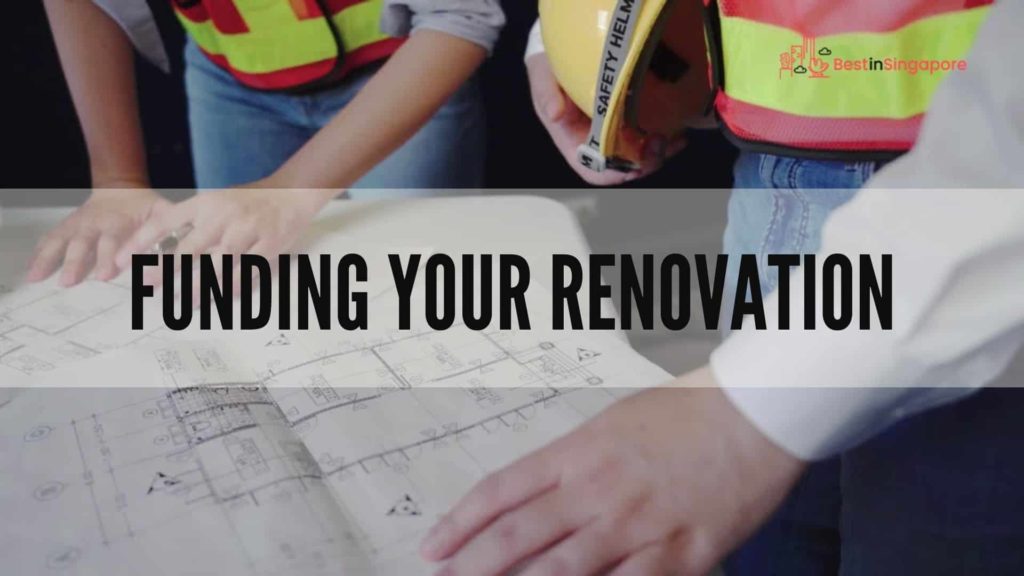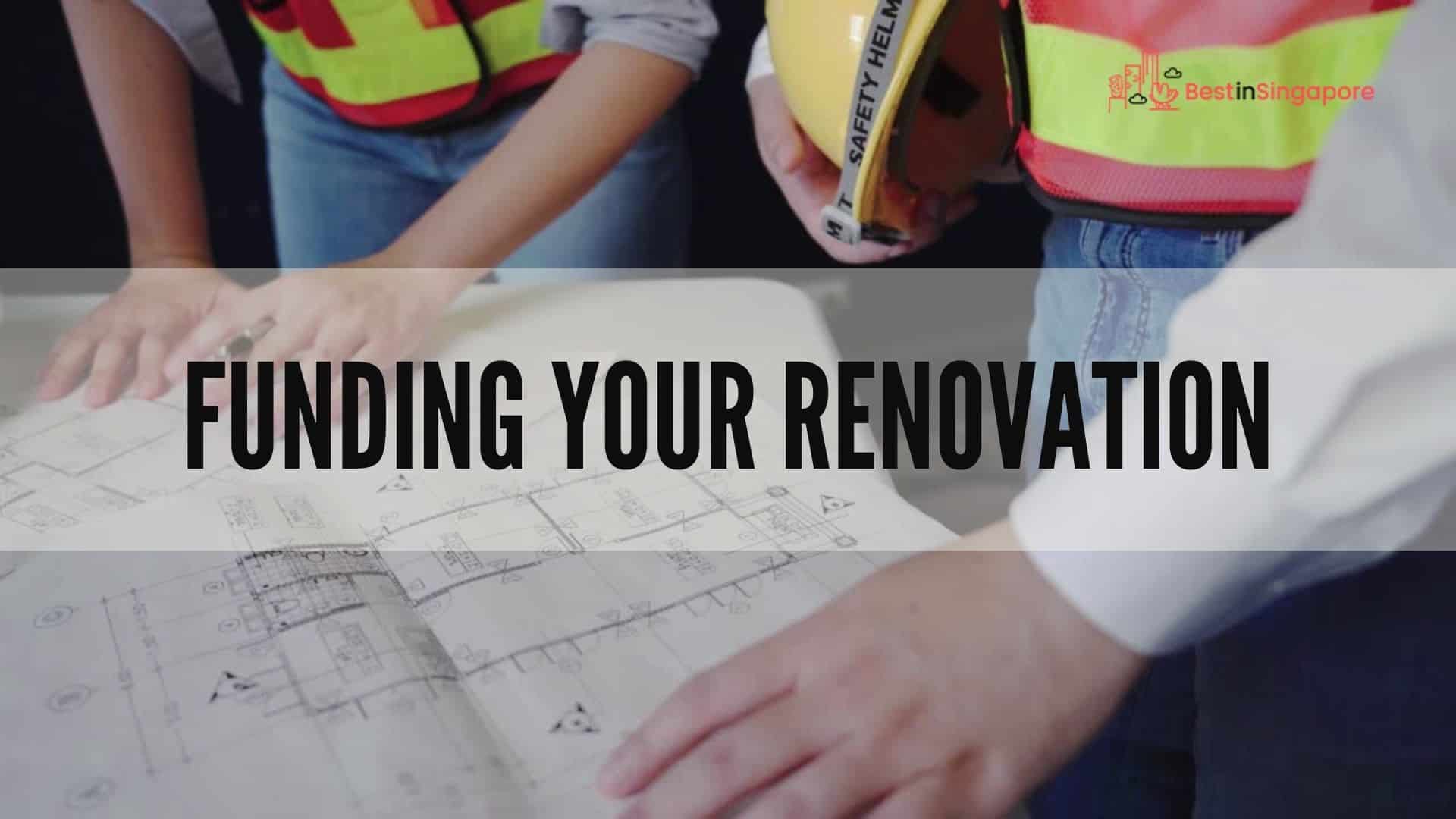 If you need a bit of extra cash to pay for your renovation project, the quickest way to do that is by taking out a home renovation loan. 
As you can guess by its name, a home renovation loan is used to cover the expenses of a variety of renovation projects. This includes the following:
Painting and redecorating works
Basic bathroom fittings
Built-in cabinets, carpentry works
Electrical and wiring works
Flooring and tiling
External works within the compounds of your house, such as the balcony, roof, etc.
Similarly, there are also some home improvement projects where you're not allowed to use your home renovation loan. This includes buying furniture, fittings, and appliances, to name a few.
There are only a handful of banks that offer home renovation loans in Singapore. The list includes DBS, POSB, OCBC, CIMB, RHB, and Maybank.
Compared to personal loans, home renovation loans have lower processing fees and monthly interest rates ranging from 3% to 4%.
There are two ways in which interest rates can be calculated: monthly rest or flat rates.
For the former, this means that interest is computed from the outstanding principal amount at the start of each month. This means that the interest rate can go up or down each month.
Meanwhile, flat rates are calculated based on the original loan amount. This means that you'll be paying a fixed interest rate throughout your repayment period, which ranges from one to five years.
Most banks in Singapore allow you to borrow up to $30,000 or six times your monthly salary, whichever is lower. This is why it's important to know the exact costs of your renovation project first to make sure that you don't borrow more than what you need.
On top of interest rates, take note that you also have to pay for processing fees and other additional fees that may apply. This includes late payment, early repayment, and cancellation fees.
To apply for a home renovation loan, you must satisfy these requirements:
You're a Singapore Citizen or Permanent Resident
You're between 21 – 65 years old (maximum age limit differs across banks)
You earn a minimum annual salary of $24,000 (for joint applications, at least 1 applicant needs to earn this amount)
You must be the property owner, or a related family member who has the owner's consent (joint applicants must be related)
Be sure to prepare documents like your proof of home ownership, income statements, a quotation of your planned project (provided by your contractor), your latest Notice of Assessment (IRAS), and any form of identification.
Ideally, you must also have a good credit rating. Having a bad credit score affects your chances of securing a loan.
Some instances that influence credit rating include previous loans, payment history, and credit usage, among others.
Once your loan is approved, the approved amount will be disbursed directly to your contractors through a cashier's order. In other words, you can only use your loan for renovation projects only and nothing else.
If your renovation costs end up exceeding $30,000, then taking out a personal loan may be a better option. Just bear in mind that loans in general are meant to provide financial backup and not to bury you in debt.
So, make sure to carefully consider whether getting a loan is a wise decision for you or not.
---
As you can tell by now, home renovation is no easy task. It takes a lot of time, effort, patience, and hard-earned cash.
But if done correctly, it can be one of the most fulfilling things you can do for yourself or your family. Some say it's even more satisfying than purchasing a home.
So that concludes our guide to home renovations in Singapore. We wish you good luck in your home renovation journey!