15 Best Vision Therapy Services in Singapore – Reviews
If someone recommends vision therapy for you or your child, you can expect a series of treatments and exercises to make the eyes perform better.
It's still largely a niche practice aiming to treat a range of issues, including strabismus, eye fatigue, amblyopia, and others that can affect hand-eye coordination. Thankfully, some clinics and centres in the country already offer it.
How much is vision therapy in Singapore?
Vision therapy will be different for every patient, and the reasons for getting it can vary too. That said, you'll be getting a more accurate quote after a history taking with your doctor.
For reference, we did some research to come up with average rates for common vision therapy services in Singapore, as shown in the table below.
| SERVICE | AVERAGE RATE |
| --- | --- |
| Consultation | From S$150 |
| For dyslexia | From S$900 |
| For dyspraxia | S$1,800 (for several sessions) |
| For myopia | From S$680 |
| For strabismus | From S$1,200 |
Please note that some orthoptic services may be covered by certain insurance companies, so it's best to inquire with your provider first.
The Best Vision Therapy Services in Singapore
We used the following criteria to come up with a list of the best vision therapy services in Singapore:
1. Orthovision
"Centre for intelligent vision"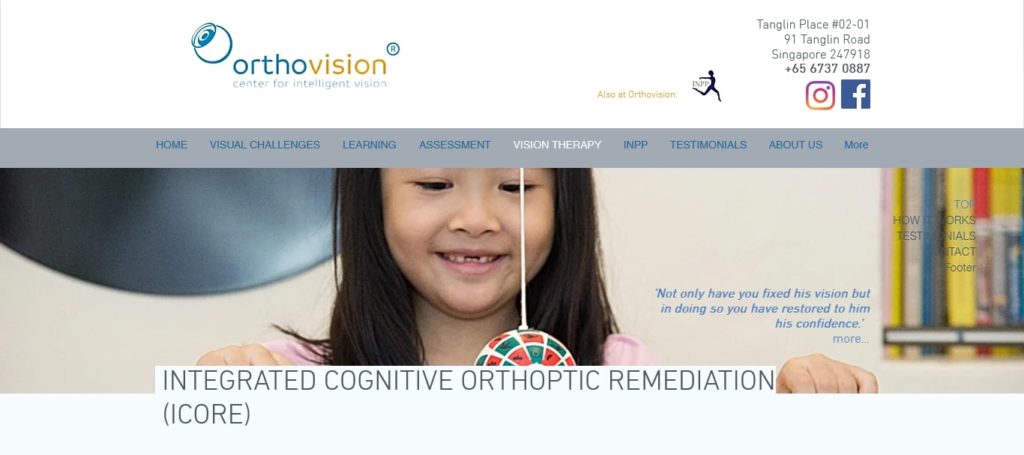 Orthovision is the only licenced INPP center (Institute for Neuro-Physiological Psychology) in South East Asia, and the only center that looks into connection between all parts of the sensory system with vision being used as a main sense. Orthovision has 15 years of experience offering vision therapy service in Singapore, which has helped more than 7500 children and adults to improve their vision and resolve the vision related symptoms such a blurred vision, double vision, lazy eye, squint-strabismus, poor eye teaming, headaches, learning difficulties, symptoms of ADD/ADHD and similar.
The benefits of vision therapy can last a lifetime if the patient adheres to the treatment plan designed specifically for their condition and makes the necessary lifestyle adjustments.
Integrated Cognitive Orthoptic Remediation (ICORE) is what Orthovision calls its vision therapy services. It's meant for those with seemingly great vision but have symptoms ranging from constant eye rubbing to having to cover one eye to focus.
Patients can expect a comprehensive functional vision assessment to check their visual functioning, visual acuity, visual motor integration, eye-teaming ability, convergence, form perception, visual memory, depth perception, and others.
In addition to the visual tests children would have INPP screening for Neuro-Motor immaturity. This is a very important component of the assessment as it helps us to have insights into the state of a child's Neuro-Motor development and the relationship to development of the visual and overall sensory system.
The results of all these individual tests are then looked at in its entirety and in relationship to the lifestyle and visual habits of the client.
It's usually presented via an initial 21-day in-house training programme to help patients develop healthy habits to help address their vision concerns.
But we're happy to see that the clinic also offers home-based training for sustained improvement.
Customer Reviews
Improved results at school
"This is a quick note of enormous thanks for the work and fabulous result you achieved for Sebastian. Before seeing you we had spent a year going to other specialists who did not identify and correct Sebastian's problem.
In a few short months Sebastian has made huge improvement which has resulted in improved results at school and more importantly, shows him that he is not different but just had an eye problem which is now corrected." – Dominic Hernon
Results have been life-changing
"I would highly recommend Zoran and Orthovision. The results have been life-changing for my son and our entire family." – Brittany Al-Awa
2. IGARD
"Specialist in vision rehabilitation and therapy"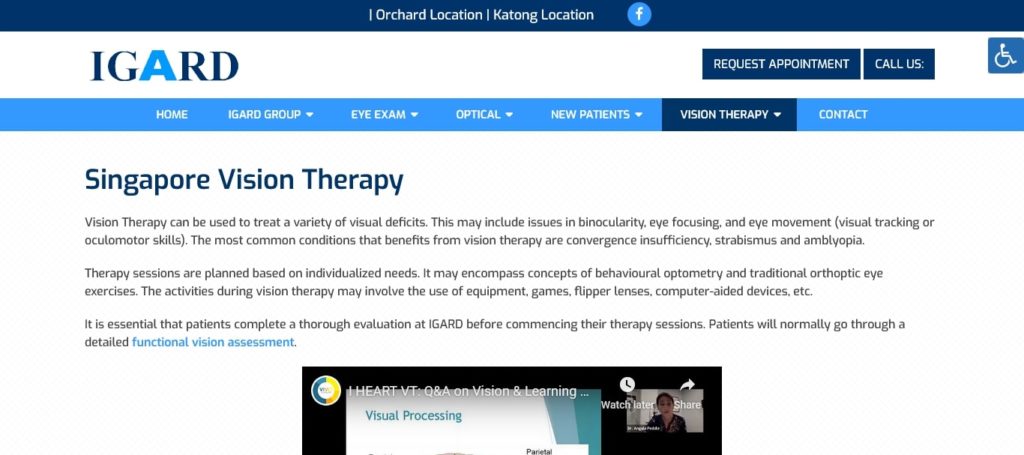 We made sure to include a multi-awarded group in this listicle on vision therapy. IGARD has been the recipient of the Singapore Brand Awards and Expat Living's Top 3 Singapore's Best Eye Specialists.
Beyond that, IGARD provides one of the widest ranges of functional vision assessments we've seen so far. Based on individualised needs, vision therapy patients can expect games, computer-aided devices, special lenses, and other equipment.
We appreciate that IGARD's operating hours are from Mondays to Saturdays to accommodate most schedules. We'd prefer it if the clinic was also open on Sundays, though.
Customer Reviews
We feel relieved to have someone competent we can count on
"We had a great experience with Dr Yap. We came with our daughter 5 years old and he has known exactly how to put her in good condition so she enjoy the moment spent with him during her eye examination. His advice is very useful to her daily and we will continue to monitor carefully the situation with his help. We feel relieved about it and to have someone competent like him on who we can count on. Thanks again and don't hesitate to visit him!" – Julien Machet
Reasonable price and good service
"Dr Yap and his team are very professional and caring. My kids feel comfortable whenever they are there. Everyone is so friendly. My entire family (both adults and kids) have our eyesight checked and spectacles made at IGARD. Reasonable price and good service." – Alexandra Wee
3. Singapore Brain Development Centre
"Tuning the eyes, expanding the minds"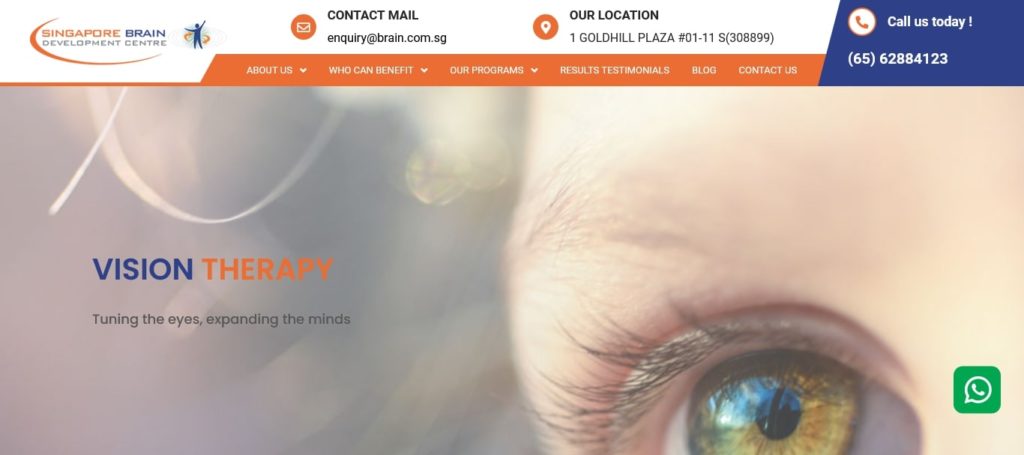 Singapore Brain Development has a separate vision therapy programme. But like its other developmental training, its approach is primarily aimed towards child clients.
The vision assessment range has several steps including a thorough evaluation, standardised tests, structured observational analyses, formal consultation sessions, personalised programmes, implementation, progress reviews, and solid results.
It's great just how detailed Singapore Brain Development's approach is to addressing developmental challenges. But we do wish the programmes extended to adults who may also have vision therapy issues.
Customer Reviews
Would recommend this program to every parent
"At the time when I wrote this, my son had enrolled in this program for almost 10 months. Before this program, I noted he was struggling with his schoolwork, especially English. After joining the program, his situation improved a lot. He can learn faster and enjoy more free time. I would recommend this program to every parent whose child has difficulty focusing during studying." – Patrick Ng
Programmes are made to suit each child
"My kids love the centre! And the interaction between the facilitators is the best. Their programmes are made to suit each child and they care about the well-being of each child. I would highly recommend this centre!" – Sarah Loke
4. W Optics
"Largest optical retail store & myopia control centre in Singapore, Suntec City"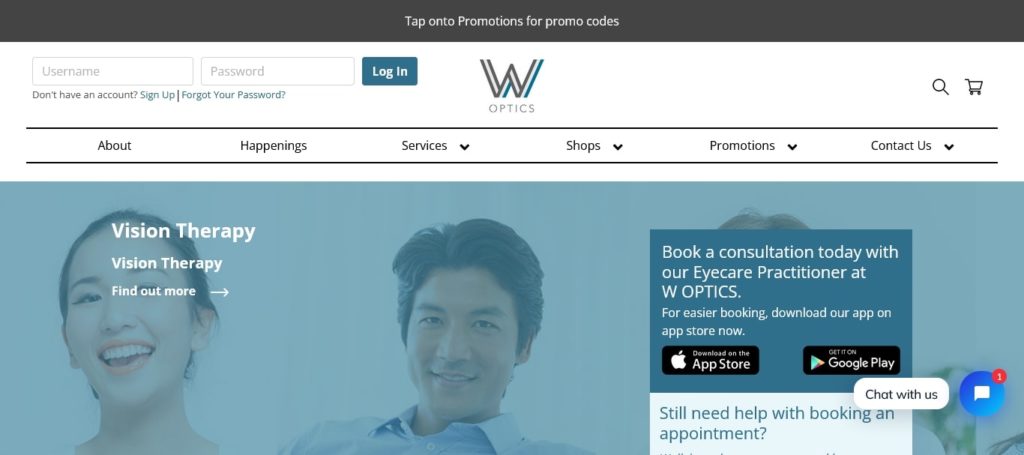 Though it's primarily an optical shop, W Optics believes that "some problems with vision cannot be corrected with glasses."
That's why its vision therapy programme aims to address blurry or double vision, dyslexia, lazy eye, and other issues using a tailored approach for each client.
The shop also has its own convenient app, so clients can easily access exclusive promos and get to know new products and services. And there are several locations across Singapore, so anyone can access them any day of the week.
We're happy to see that W Optics offers many regular promos. However, there doesn't seem to be any promotion or discount for vision therapy clients at the moment.
Customer Reviews
Outstanding standard of service
"I visited the W Optics outlet at Jewel, Changi Airport and was pleasantly surprised at the outstanding standard of service rendered by Haizlinnadiah. She went above and beyond what was required of her responsibilities, while also proving to be a reliable source of information for her customers. Well done indeed, and keep up the good job!" – Cedric Wceke
Patient and tries to understand customer needs
"I would like to recommend Charlene from Suntec W Optics. She is patient and tries to understand customer needs." – Jordan Ku
5. Dr Leo Adult & Paediatric Eye Specialist
"Your eyesight is precious. Let's help you protect it."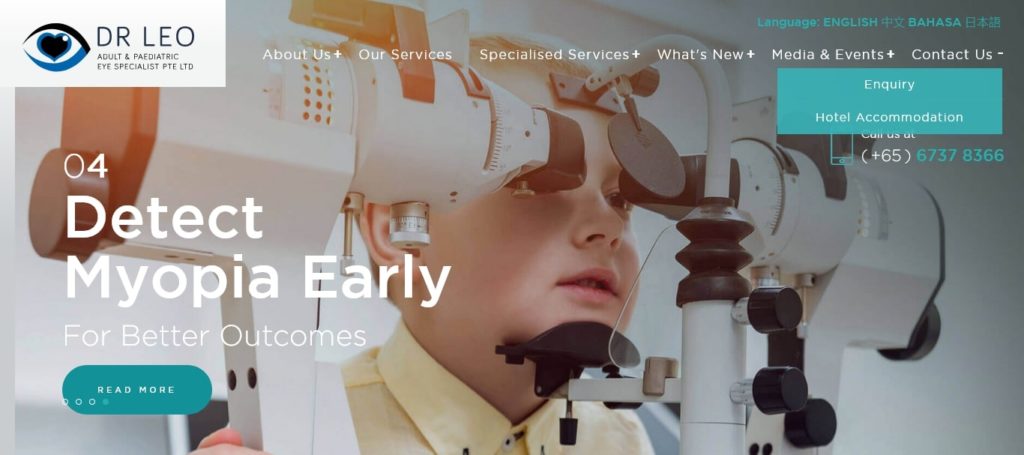 The Dr Leo Adult and Paediatric Eye Specialist clinic is helmed by the multi-awarded Dr Leo Seo Wei. Her expertise has brought her to international conferences and other global stints in ophthalmology.
She's multilingual, which is also reflected by most of her staff members at the clinic. Each one is highly trained to handle everything from routine eye checks to treatments for complex eye diseases.
But while there are specific vision therapy programmes for strabismus, myopia, and children's eye problems, there aren't any learning or developmental-related ones yet. It would be great if Dr Leo's specialised services extend to address those as well.
Customer Reviews
Combines personal touch and care for patients
"Dr Leo is plain awesome. Not only has she paid good attention to my daughter's eye problem even though we didn't meet face to face yet due to the pandemic, but also she was lovely to consult with even just by email. And yes, finally we met her last month at her clinic for further evaluation. It's rare to find a doctor who combines such personal touches and cares for a patient. I highly recommend becoming her patient!" – Irene Louis
Has the most detailed and comprehensive examinations
"Dr Leo is the best ophthalmologist I ever encountered! She talks to children nicely and is friendly and professionally explains to parents. For those first-time visitors, it takes some time to do all the exams. But compared to other clinics I went to, I would say Dr Leo's clinic has the most detailed and comprehensive examinations." – Daisy Dai
6. Eagle Eye Centre
"Run by doctors, trusted by all"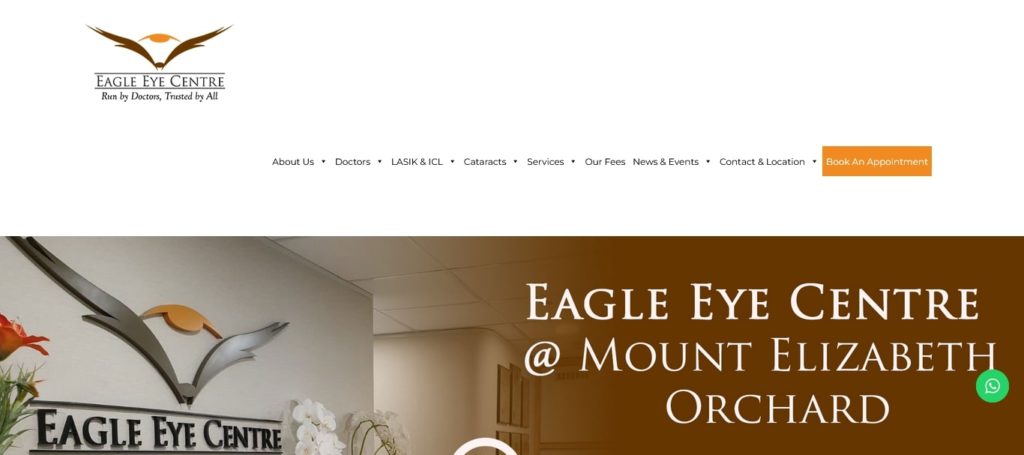 We're always appreciative when a service provider is transparent about fees and rates. Eagle Eye Centre presents its regular eye screening packages (from basic to deluxe) right off the bat so potential clients can choose what fits their budget.
The downside is that the centre doesn't accept cash payments. Clients can only pay with major credit cards or via cashless platforms like PayLah, FavePay, and others.
Eagle Eye Centre has a myopia control programme and other eye screening services for both adults and children. However, it doesn't offer a proper vision therapy service addressing balance, eye-hand coordination, or accommodative therapy yet.
Customer Reviews
Allowed me to make an informed decision
"Did my ICL with Dr Lynn Yeo. She is an experienced doctor who was very clear in her answers which allowed me to make an informed decision. The surgery went well. The staff at Eagle Eye Centre was also very professional and friendly. Absolutely no regrets!" – Clarice Mok
My vision has already reached almost perfect eyesight
"Had my TPRK done by Dr Jean Chai and my results were just amazing! Both my eyes are very high myopia, 800-950 ~, after surgery and just 1 month of recovery (3 months for full recovery), my vision has already reached almost perfect eyesight! Thank you once again Dr Jean and everyone for making my first eye surgery so pleasant and smooth!" – Rene Daniel Lim
7. Singapore National Eye Centre
"Defining tomorrow's medicine"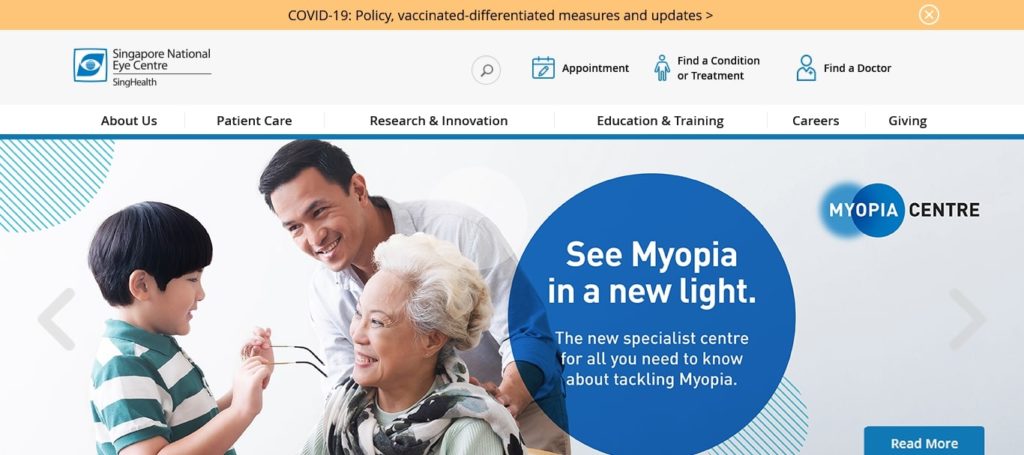 The Singapore National Eye Centre has been a formidable part of the public healthcare sector for both its clinical services and research work. It's one of the institutions that also offer financial assistance for Singaporeans.
SNEC's menu of patient care services includes paediatric ophthalmology and adult strabismus treatment. Childhood myopia, amblyopia, and other conditions are also on the menu for those who need specialists and specific treatments.
The centre doesn't overtly offer vision therapy. However, the treatment options for specific eye maladies related to vision therapy are always available (though strictly by appointment only).
Customer Reviews
Test procedures are undertaken professionally
"Had a very pleasant experience with the SNEC staff during my eye appointment, especially with Orthoptist Zoe Duexberry and Dr Deborah Tan. There is a wait time due to the volume of patients but I felt that the test procedures are undertaken very professionally and my results with treatment options explained clearly." – Ivan Wong
One of the top eye care centres worldwide
"One of the top eye care centres, not only in this region but worldwide. This institution has got a high repute for providing the best diagnostic and therapeutic services to eye patients. Waiting time might be long, as the cases that are being treated are quite complex. It might take 15 to 20 minutes on average for the workup of a routine case, while some cases might take every an hour as they need further investigation and opinion from experts." – Dr M
8. Atlas Eye Specialist Centre
"We have your needs in sight"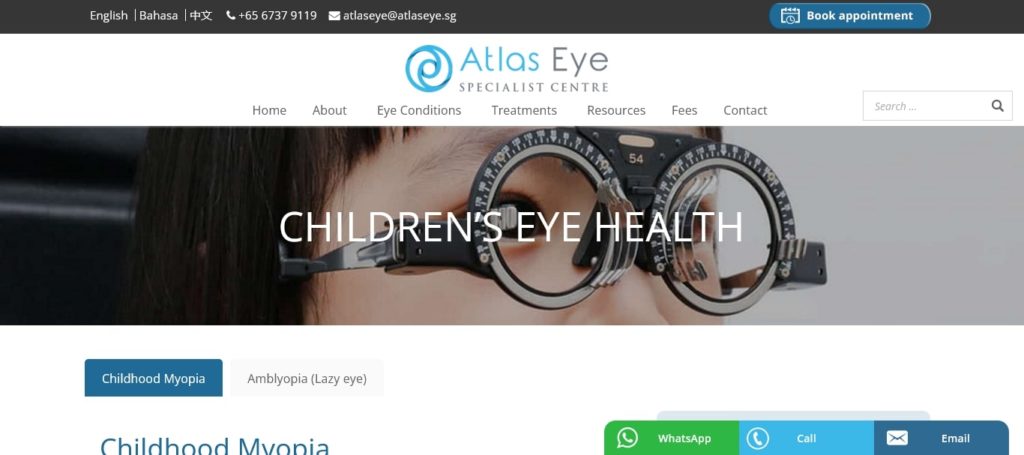 Atlas Eye Specialist Centre has a special service for children's eye health with a focus on amblyopia, myopia, hyperopia, and other refractive errors.
However, its treatments are decidedly traditional. Patching and atropine drops are recommended for lazy eye among kids, and low-dose eyedrops are typically done to address childhood myopia.
Atlas has pretty affordable consultation, follow-up, and general eye screening rates. And we're happy to see that it accepts many insurance plans along with Medisave claims.
Customer Reviews
Professional and accommodating
"Had a good experience doing SMILE surgery with Dr Chan and am very satisfied with the result. Livia and the staff at Atlas are both professional and accommodating. Thanks." – Yusi Lim
Staff are friendly and gave good advice
"I was there for pre-Lasik check and the whole process was smooth. The staff are friendly and gave good advice. Wonderful experience."– Gery Foo
9. Shinagawa Eye Centre
"Enjoy life with clearer vision"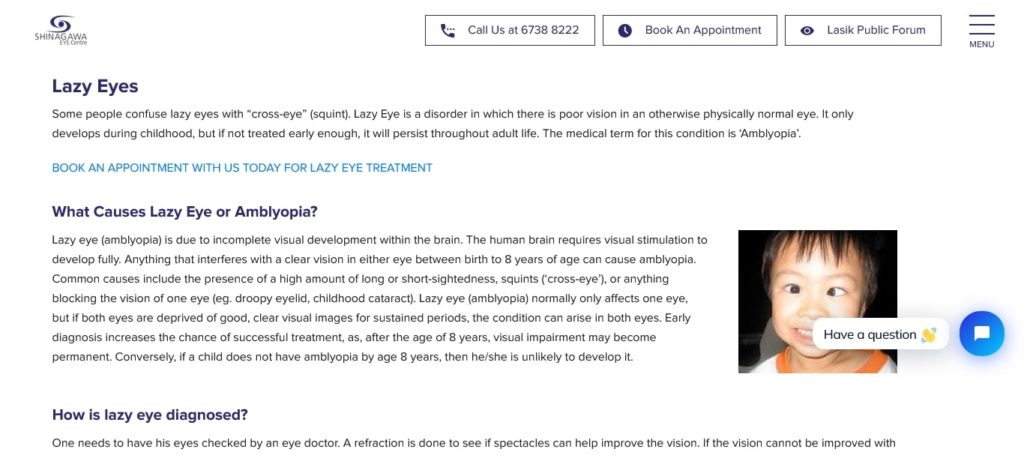 Shinagawa Eye Centre encourages early and regular eye screening to detect childhood eye issues like amblyopia and myopia. The clinic doesn't have a specific vision therapy service, though it has similar treatments offered to young patients.
There are traditional eye patching, prescription eye drops, and wearing bifocals for myopia and amblyopia. But for adults with lazy eyes, there's also RevitalVision™, a series of computer-based interactive programmes that train the brain.
RevitalVision takes around three months to complete. It's a good start, but here's hoping Shinagawa Eye Centre launches other methods for proper vision therapy.
Customer Reviews
Thorough examination
"Dr Lee is very professional, polite and well-mannered. He is thorough in his examination and puts the patient at ease. Highly recommended!" – ZX L
Waiting times were minimal, and service was excellent
"Excellent all around. I did my research and spoke to friends re a good eye surgeon for LASIK surgery and Shinagawa Eye Centre's Dr Lee popped up quite a few times (helped that I knew quite a few people in the medical field too!).
Waiting times were minimal, service was excellent and most importantly, I've had minimal side effects and no complications (so far) from the surgery. Dr Lee explained everything very clearly and outlined the risks and complications specific to my case. The nursing staff & optometrists were also very competent and helpful." – Sean Tay
10. Bynocs
"Award-winning lazy eye treatment program"
If you're not keen about eye patching as a vision therapy treatment for amblyopia, you might want to consider what Bynocs has to offer. Its lazy eye treatment is meant for both kids and adults and does away with traditional eye patches.
Patients can expect cloud-based software that introduces stimulating digital games and activities instead. AmblyGo serves as a personal practice guide that lasts 30 minutes per session and can be conducted at home or any eye clinic.
It's a new vision therapy technology that also addresses digital eye strain. But since it's introduced as a telemedicine therapy, there might be gaps as far as progress tracking goes.
Customer Reviews
Excellent result for amblyopia
"New learning experience on vision therapy, an excellent result for amblyopia, squint, convergence insufficiency." – Jagriti Singh
Effective for treating lazy eye
"Quite useful and effective for treating eye lazy eye." – Ripshu Gupta
11. I-Vision Optometrist
"Care for your family's eyes with our state-of-the-art equipment and dedicated team!"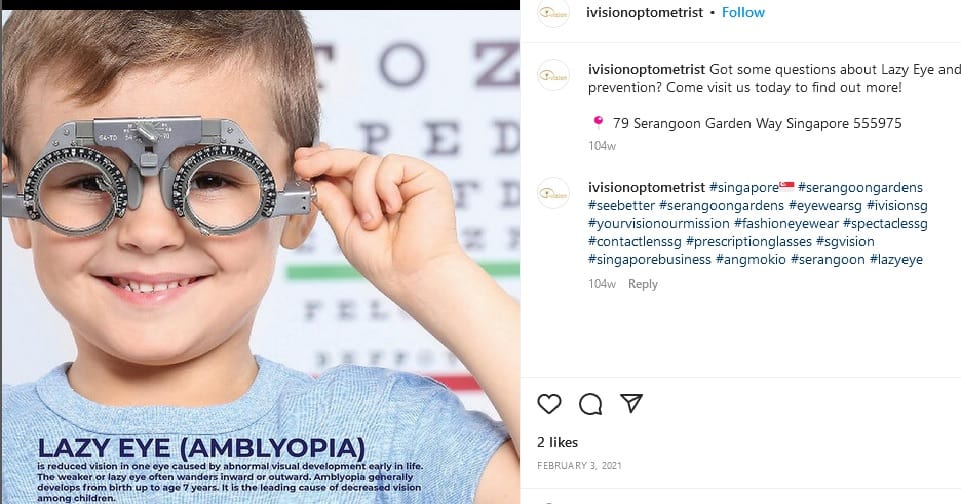 It's always heartening to have an optometrist encourage early healthy eye habits. I-Vision Optometrist does this with its myth or truth social media posts on certain trivia affecting patients' eye health.
Aside from managing myopia, I-Vision Optometrist also does binocular vision testing, visual field testing, and others making up a comprehensive eye examination. But its main focus is on traditional optometry tools like glasses and corrective lenses.
I-Vision is open daily, which makes vision therapy treatments convenient for patients. Its services include therapy for clients with strabismus, amblyopia, visual-perceptual issues, and convergence disorders.
Customer Reviews
Very good with kids
"The services provided by Zac were amazing. He is the most patient and caring doctor I have ever met as I took my 5-year-old daughter for an eye check. He is very good with the kids and does not have a give-up attitude. He checked her for almost 45 mins before concluding. A very noble and gentle person with a smile on his face. Great job Zac. Keep it up. We need doctors like u in society. Worth the money and also reasonable." – Akansha Poddar
Eye-check process is very comprehensive
"The service here provided by Zac was stellar, he was very patient and helpful even though I required many adjustments for my glasses. The eye-check process is very comprehensive and the advice given is very detailed! Thank you! would highly recommend it." – Germaine Chong
12. Vision and Perception Practice
"A developmental practice providing paediatric optometric services, vision therapy and educational therapy for learning related visual skills deficits, assessments for children with learning difficulties, struggling learners, special needs, Brain injuries, concussions and squints"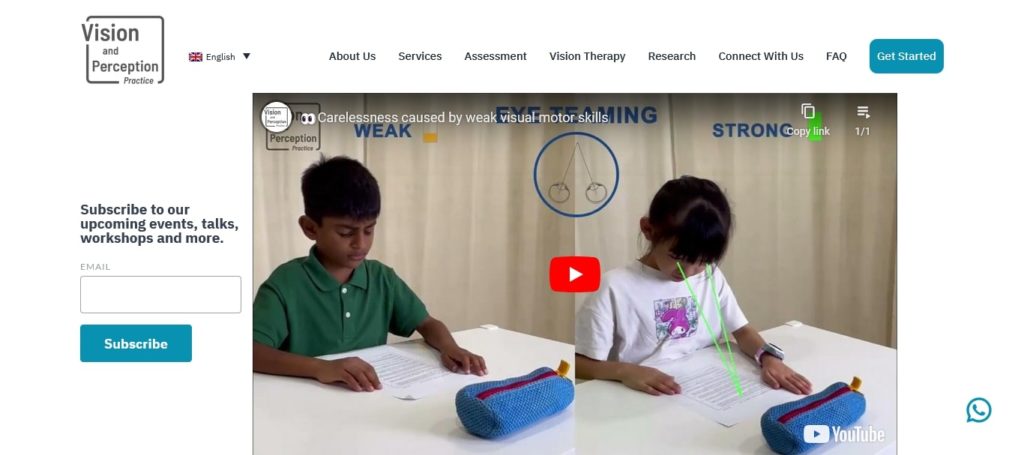 We're glad to see a vision therapy service in Singapore that specifically addresses learning-related visual skills deficits. It underlines our belief that a 20/20 vision might be good with regular eye checks but not with improving a child's learning potential.
Vision and Perception Practice's general eye examination only costs S$60, while initial assessments are around S$150 for 40 minutes.
Further assessments on learning-related vision, lazy eyes and squints, and complex neurological complaints will require customised rates.
The rates, range of assessments and treatments, and prescribed exercises are all welcoming for those needing vision therapy. It's a bit of a letdown that the centre is closed on Sundays, though.
Customer Reviews
Very impressed with the detailed eye assessment
"Managed to get an appointment for my dad who has been experiencing vision issues. Have heard about Andy the optometrist through contact and was very impressed with his detailed very eye assessment. He was also very patient and took the time to address our concerns.
Also realised that Andy also performs eye checks for children with special/developmental needs, nonverbal children and conducts vision therapy for learning problems, developmental conditions, double vision, concussion etc. Very very impressed!" – Yuyun T
Patient and experienced at handling little kids
"I was told at a clinic that my 4-year-old might be developing myopia. So I visited Vision and Perception for a second opinion. Had the eyesight of both my 4-year-old and 2-year-old checked out.
Andy was patient and experienced at handling little kids (and getting them to cooperate). He also provided us with useful tips on eye care." – Melissa Lee
13. Vision and Learning Developmental Practice
"Visual skills for learning"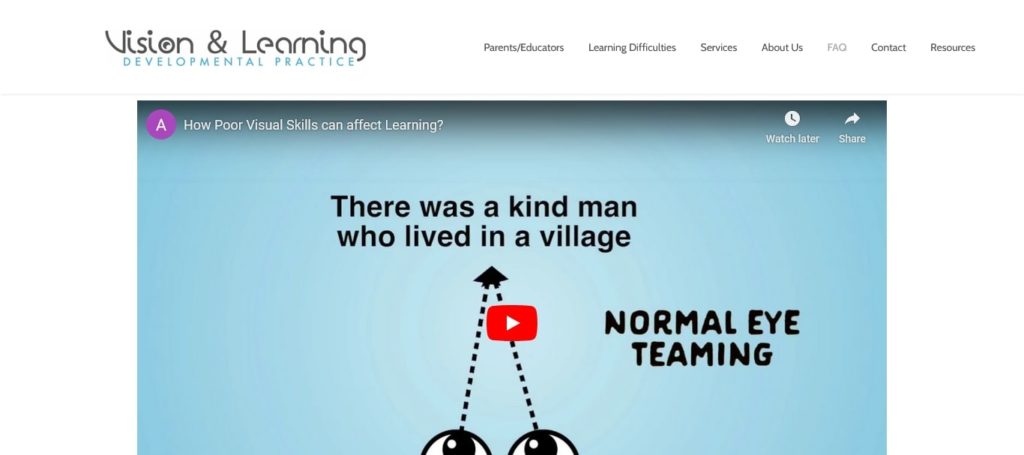 The centre for Visual & Learning Developmental Practice might not seem like a vision therapy service. However, it has both visual information therapy and neuro-optometric vision therapy on its menu of services.
It addresses visual perceptual skills, visual discrimination, visual-spatial relations, visual memory, sequential memory, figure-ground, and visual closure among kids considered slow learners, with ADHD, dyslexia, autism, and other visual skill difficulties.
Rates are dependent on the results of thorough assessments and checklists per patient. But there's a short complimentary consultation available, and initial screenings only cost S$150 at the centre.
Customer Reviews
Went beyond the standard eyesight testing
"Had this headache for a couple of years but seemingly more troublesome in recent years, affecting my work efficiency. Sometimes looking at the clock became blurrier than usual. Look at the computer and get eyestrain. Seen a Dr, and was told had good clear eyesight, and no glasses needed. Chance upon this Vision n Learning website and some of the symptoms sounded like mine. Had an appt w them. Only knew that I had poor eye-focusing flexibility problems. Well resolved now with no headaches but need to wear glasses during my work.
A very niche kind of practice looking at many various visual factors beyond just the standard eyesight testing.
Appreciate the detailed and comprehensive assessment of my eyesight and symptoms done for me professionally, where I can't find it in other practitioners, this is why my symptoms were able to resolve so accurately and promptly with them." – Andy Ang
Vision therapy was fun and engaging for my child
"The 12 sessions of vision therapy were fun and engaging for my child and she made good progress in her school work after the training. Thank you teacher Andy for your patience and guidance!" – Jenny Soh
14. Novena Bladeless Cataract Surgery and Eye Specialist Centre
"Your trusted bladeless cataract eye surgeon"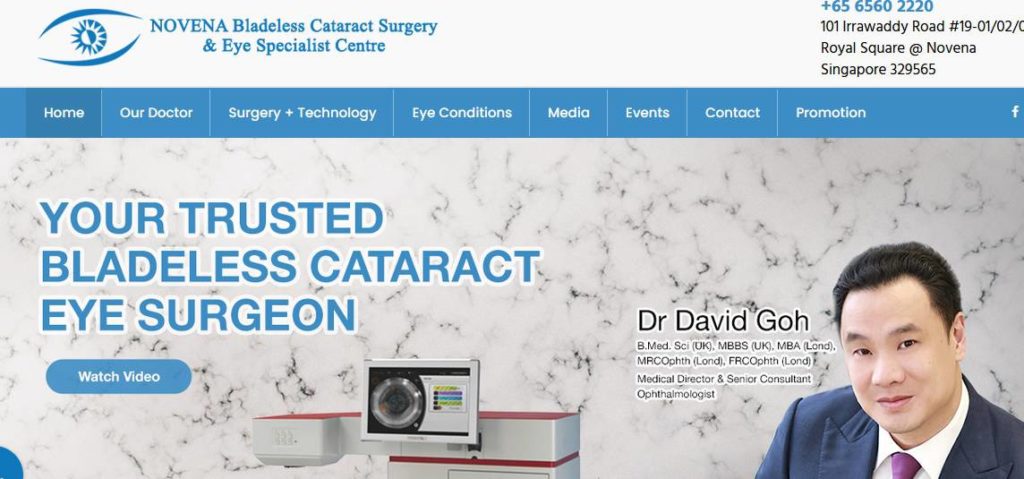 Though not a vision therapy centre per se, we included Novena in this listicle for a number of reasons.
For starters, there's a current promo for optometrist screening that includes visual acuity, intra-ocular pressure, slit-lamp examination, and Fundus photography—all for just S$25!
Novena also addresses childhood myopia and refractive errors using traditional means like corrective lenses and prescription eyedrops and encourages good eye hygiene and habits.
However, the clinic is still better known as a cataract surgery specialist and not for its vision therapy services.
Customer Reviews
Alleviated doubts about the procedure
"Had very high astigmatism and degree prior to visiting the centre for Lasik Eye Surgery. Doctor Natasha Lim was very friendly and described the process in detail, alleviating the doubts that I had about the procedure. The process went very successfully and I now have a very clear vision. Highly recommended!" – Elvan Koh
Great optometrist with an excellent way of explaining
"Great job by Joseph Choi in checking my eyes. A great optometrist who has an excellent way of explaining the finer details." – Charles Carneiro
15. Eyesight.sg
"Your optometrists in Singapore"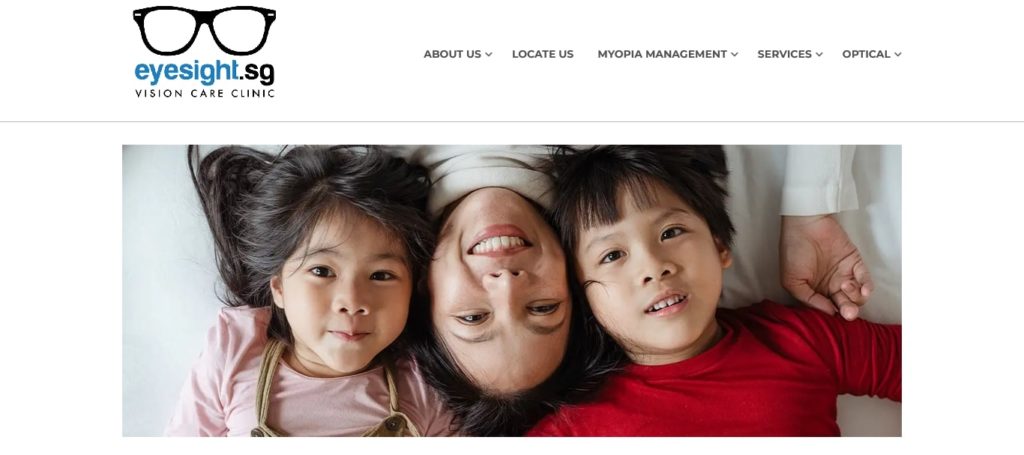 With a firm belief that educated patients have healthier eyes and vision, Eyesight.sg makes sure its staff takes time to talk to each client about their concerns.
It offers eye exams for the whole family regardless of the patient's age or physical health. The clinic is especially encouraging towards kids who need eye exams due to squints, developmental delays, and eye injuries.
But it's more focused on myopia management rather than specialised vision therapy sessions.
And while walk-ins are allowed, booking an appointment is highly encouraged, as clinics can get crowded with patients.
Customer Reviews
Professional in explanation and recommendation

"Pleasant experience! Visited Eyesight.sg outlet at Tampines. The shop happened to be quite packed with customers. The 3 female staff were occupied but they were all nice and polite! One of them asked me to wait for just a short while. I was then attended by Sofea, who was patient, answered all my questions and was professional in explanation/recommendation during my eye screening. Texted them before going down and their replies were prompt and friendly too." – Amber Lee
Great customer service
"Great customer service. My first experience was in a normal neighbourhood optical shop that has such a comprehensive eye test. Usually, these kinds of services are only available in eye clinics. Kudos to all the staff. Will definitely come back for a check-up." – Tsuey Fang Khiang
FAQs about Vision Therapy
---
More Eye and Vision-Related Resources