The 13 Best Eye Clinics In Singapore
By Jasmine Wee
A little concerned about your vision or the state of your eyes? If so, you'll need the help of the doctors at the best eye clinics in Singapore!
There are countless ophthalmologists in the country, but only the most experienced and qualified of them managed to land their healthcare establishments in this list. We wanted to make sure only the most skilled experts as the best eye specialists in Singapore.
We also considered the equipment they have on hand, naturally, because that affects their services… as does the quality of their staff. The best optometrists in Singapore are only ever as good as their support!
Anyway, let's find out which ones they are as we take a look at the best eye clinics in Singapore!
(Note: This list is in no particular order.)
1. Dr Joy Chan – International Eye Cataract Retina Centre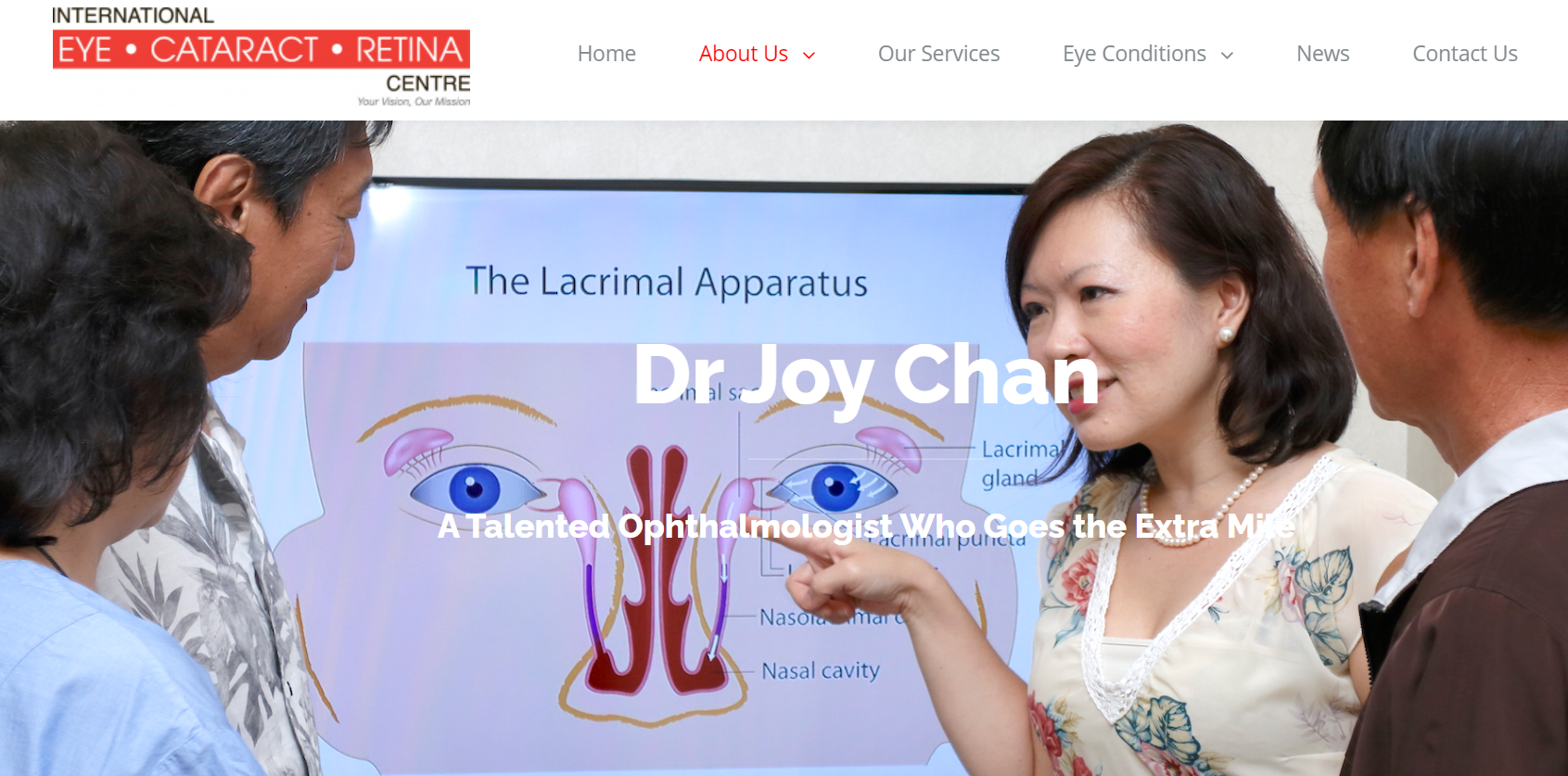 BEST FOR 
Personalised quality eye care services
WEBSITE
https://www.cataractsurgerysingapore.com/
ADDRESS
3 Mount Elizabeth #07-01,
Mount Elizabeth Medical Centre,
Singapore 228510
CONTACT DETAILS
Tel: +69292028
OPERATING HOURS
Monday-Friday: 8.30 am – 5.00 pm
Saturday: 8.30 am – 12.30 pm
Closed on Sundays & Public Holidays
The International Eye Cataract Retina Centre is a clinic located in Mount Elizabeth Medical Centre. As the name implies, specialists in the clinic help address various eye problems such as dry eye, cataract, pterygium, and diabetic retinopathy.
Dr Joy Chan, one of the clinic's Medical Directors and Senior Consultants, is an Ophthalmologist that has an extensive background in eye care. She was a consultant in various institutions as well as a mentor to future eye doctors before taking on her position in the clinic.
Dr Joy Chan is one of the best professionals to approach when it comes to eye care since she's also trained to perform eye surgery should one need it. Along with her colleagues, Dr Chan is ready to go the extra mile to bring client's eyes back to a healthy state.
SERVICE HIGHLIGHTS
Affiliated with The Ministry of Sight
Award-winning doctors
Performs cataract surgery
2. Dr. Val Phua
BEST FOR 
Implantable Contact Lens Surgery, LASIK, Presbyopia Treatment & Refractive Surgery, Cataract Surgery and Myopia Control
PRICING
Enquire for fees
WEBSITE
https://www.eyespecialistsingapore.com/
ADDRESS
9 King Albert Park, 01-42
CONTACT DETAILS
+65 3129 2685
OPERATING HOURS
Monday to Friday: 10:30am to 7:30pm
Saturday 10:00am to 2pm
Dr Val Phua graduated from medical studies in the National University of Singapore (NUS) with an MBBS in 2011 and started his postgraduate training in Ophthalmology in 2012, graduating with a Master's degree from NUS (MMED) and a specialist postgraduate qualification in Ophthalmology from UK (FRCOphth London) in 2019.
Before joining Eagle Eye Centre, Dr Phua was a resident at the Singapore National Eye Centre (SNEC). Today, he's considered one of the best eye specialists in Singapore.
Note that the clinic where he practices, Eagle Eye Centre, has a group of medical professionals who specialise in different treatments and conditions.
These include treatment for presbyopia, cataract surgery, corneal transplants, diabetic eye treatments, ocular inflammation treatment, and so on.
Both of their locations and services are very conveniently located so it should be easy to contact them and book an appointment.
SERVICE HIGHLIGHTS
Accessible locations
Ophthalmic and optometric eye care
Affordable eye screening packages
CUSTOMER REVIEWS
Eagle Eye Centre received positive reviews because of the friendly accommodations and skilled doctors. On Google Reviews, a reviewer gave this comment:
I have been visiting private eye specialists in Singapore for several decades, paying exorbitant fees and having tests completed by skeleton staff without updated expertise. My experience at Eagle Eye Centre has been DIFFERENT – a wonderful surprise!
3. Steve Seah Eye Center
The main focus of the Steve Seah Eye Center is treating conditions such as glaucoma and cataract. Apart from this, they also provide epi-Lasik surgery, eyelid surgery, and additional services such as squint assessment for children.
The senior consultant ophthalmologist of the eye centre has won many award, which only proves that they are one of the most well-respected clinics in Singapore. From the most basic to the most advanced treatments, they provide everything that you need.
SERVICE HIGHLIGHTS
Diabetic eye examination
Contact lens-induced eye disorders
Epi-LASIK and eyelid surgery 
CUSTOMER REVIEWS
Steve Seah Eye Centre has gained the loyalty of patients thanks to the doctor's engaging manner and expertise. Joshua shared his experience on Google Reviews:
"I have been seeing Dr Steve for about 3 months for different eye disorders. So glad I discovered this brilliant doctor.. He is patient-friendly, kind, proficient, skilled, and a good listener. He answers my queries and addresses my concerns every clinic appointment. Most significantly, he took care of all my eye problems and complications with proper treatment plan. In addition, the office staff is accommodating, well-mannered and well-organized."
4. Eye Clinic Singapore International
BEST FOR 
Laser and surgical procedures for local and international patients
SERVICES
http://eyeclinic.sg/services.html
WEBSITE
http://eyeclinic.sg/
ADDRESS
290 Orchard Road #16-11 Paragon Tower Singapore 238859
CONTACT DETAILS
6734 9766
OPERATING HOURS
Monday to Friday – 9am–5:30pm

Saturday – 9am–12:30pm
Eye Clinic Singapore International is located at Mount Elizabeth Medical Center. Aside from diagnosis and treatment for the general eye diseases, they also offer Lasik and Epilasik treatments for those who need eye correction.
Their medical procedures are customised to meet the needs and preferences of the patients. They also have some of the best optometrists in Singapore, as  you may well expect of a clinic in Mount Elizabeth.
SERVICE HIGHLIGHTS
Diabetic eye disease management
Children's eye disorders
Cataract and retinal surgery
CUSTOMER REVIEWS
Eye Clinic Singapore International may not have the widest range of services but they treat the most common eye conditions with exceptional skills and they have been in the industry for several decades.
A reviewer gave this feedback on Google Reviews:
"Had cataract surgery done by him.  Happy with the results.  Nice and experienced doctor.  Able to answer all my questions and doubts posed to him."
5. Dr Lee – Shinagawa
BEST FOR 
Eye Problems
SERVICES
Lasik Surgery
Cataract & Glaucoma
Eye Screening
Other Eye Conditions
WEBSITE
https://shinagawa.com.sg/
ADDRESS
501 Orchard Road #05-15 Wheelock Place Singapore 238880
CONTACT DETAILS
6738 8222
OPERATING HOURS
Monday to Friday: 9:00am – 5:30pm
Saturday: 9:00am – 5:00pm
Our sight is one of the most important senses in our body– whenever you feel something bad with your eyes, it's a good idea to get a check up to prevent any problems that may become worse if not treated immediately.
If you're looking for the best eye clinic out there, consider Shinagawa Eye Centre. They have a long history of helping people with eye problems in Singapore, so their reliability is guaranteed. They have a full range of eye care services with advanced diagnostic and surgical devices available, making appointments hassle-free for their customers.
They are led by a senior specialist eye doctor who has a wealth of experience in treating a wide range of eye conditions. You will never have to worry about your eyes anymore, for they will make sure that you get the best and most advanced healthcare.
SERVICE HIGHLIGHTS
High Quality Care
Experienced Eye Doctor
Advanced Medical Equipment
6. W Eye Clinic
BEST FOR 
Comprehensive eye care services
PRICING
Rates
WEBSITE
https://weyeclinic.sg/
ADDRESS
3 Temasek Boulevard Suntec City (near tower 5) #01-402 Singapore 038983
CONTACT DETAILS
OPERATING HOURS
Monday – Friday, 10am – 1pm

Monday – Friday, 2pm – 6pm

Saturday, 10am – 1pm
Being a private eye clinic, W Eye Clinic provides a broader scope of services than many others. It focuses on eye treatments such as LASIK, Soft-touch PRK, TransPRK, SMILE, Intra-Ocular Lens Implants, and the like.
They use a combination of their experience and modern technology to perform successful medical procedures. They have some of the best eye specialists in Singapore if you need cutting-edge procedures performed.
Their vision care screening includes a diagnosis for retinal, diabetic eye, and refractive errors in children, occupational, and age-related conditions.
SERVICE HIGHLIGHTS
General eye screening
Contact lens-related issues
Personalised treatments
CUSTOMER REVIEWS
W Eye Clinic has a good reputation for many patients, since they use innovative and advanced methods that some clinics do not offer.
A reviewer was very impressed with the eye surgeon and wrote these compliments on Google Reviews:
"Dr Nah is a true professional! I had an emergency retinal tear where I needed immediate diagnosis and subsequently a laser procedure. The staff recognized the urgency and immediately fit me in. I could tell from conversation with his staff that Dr Nah had to move some of his personal evening plans to take me in last minute. He was too humble to mention it, but really appreciated his care. Most importantly the procedure has held up well."
7. Atlas Eye Specialist Centre
BEST FOR 
Laser vision correction and diabetic retinopathy
PRICING
Rates
WEBSITE
https://atlaseye.sg/
ADDRESS
290 Orchard Road Paragon Medical #07-09 Singapore 238859 Tower One, Lift Lobby E or F
CONTACT DETAILS
 6737 9119
OPERATING HOURS
Monday to Friday: 8:30am to 5:30pm

Saturday: By appointment only

Sunday/PH: Closed
The Atlas Eye Specialist Centre offers eye solutions and treatments including cataract surgery, laser vision correction (ReLEx SMILE/LASIK/PRK), collagen cross-linking and other ophthalmological procedures.
The eye clinic is part of the Paragon Medical Group, so they are highly credible and equipped with well-trained eye surgeons and advanced facilities. In fact, many say they're among the best optometrists in Singapore for children in particular.
SERVICE HIGHLIGHTS
Visual rehabilitation
Children's eye treatments
General eye screening
CUSTOMER REVIEWS
Atlas Eye Specialist Centre earned a nearly 5-star rating on Google Reviews because of their competent medical staff, up-to-date technology, and great accommodations.
A reviewer had nothing but praise with this feedback:
"Highly recommend as I had very good experience in Atlas. All the staffs are well trained, professional and they are super friendly. The doctor is also very informative, and conducted my ReLEx SMILE surgery in smooth, fast and professional way. Plus the surgery wasn't scary or painful at all, in fact, I felt excited about that. I'm glad I'd chosen Atlas for my eyes."
8. The EyeClinic by Dr. Cheryl Lee
BEST FOR 
 Cataract, Retinal and Implantable Contact Lens surgeon
Myopia control specialist, Dry eye doctor
PRICING
Contact for more information
WEBSITE
https://theeyeclinic.com.sg/index.php/en/
ADDRESS
333A Orchard Road, Mandarin Gallery #04-24/25, Singapore 238897
CONTACT DETAILS
[email protected]
+65 62355833
OPERATING HOURS
24 hr Clinic and Emergency
The EyeClinic by Dr. Cheryl Lee is a boutique clinic that combines personalized service and state-of-the-art technology.
Dr. Cheryl Lee is an ophthalmologist and eye surgeon who has a decades' worth of experience in the United Kingdom, France, and the United States. Since then she has been inducted to the Straits Times Hall of Fame for her work and passion related to conditions related to being short-sighted.
Dr. Lee has also received numerous accolades for her work in various fields of ophthalmology. This includes the Gold Medal and Book Prize in Ophthalmology from the National University of Singapore and the Marie Comer Anglian Prize in Ophthalmology from the University of Cambridge.
She was also inducted into the SG50 Straits Times Hall of Fame and received an award for performing 1000 EVO Visian Implantable Contact lens in Singapore in 2019. From this, you can tell that she's among the most popular and best eye specialists in Singapore.
SERVICE HIGHLIGHTS
They offer general eye screenings for kids and adults
They have built a good reputation internationally for myopia control in children, revolutionary treatment for Dry eyes , the Swiss EVO Implantable Contact lens and Presbyopia/Lao Hua techniques for helping patients get rid of reading glasses
Their clinical staff are trained optometrists and the administrative staff are well experienced in financial counselling for Medisave and insurance
Dr. Lee speaks English, Mandarin, Teochew, Hokkien, Cantonese, French, Spanish, Russian and Malay
CUSTOMER REVIEWS
5-star Google review from Euphrasia Lek:
"I love going to Dr Cheryl for all my eyes issues. Excellent bedside manners. I am terribly short sighted and she never fail to carry out a thorough examination to ensure that my eyes are in order even in area of the eye that is not of issue. I love that she takes time to address all my questions and to provide any information she thinks I need to make the right decisions. Her staff are very profession, friendly and patient in carrying out all eye examinations. I have directed a few of my friends to her too and they had positive reviews."
9. Paediatric Optometry Pte Ltd
BEST FOR

Vision Rehabilitation and Therapy

SERVICES
WEBSITE

https://www.igard.com.sg/

ADDRESS

51 Cuppage Rd Singapore 229469

CONTACT DETAILS

+65 6732 3233

OPERATING HOURS
Monday – Sunday:

8:00 am – 11:30 pm
Paediatric Optometry Pte Ltd aims to give its clients the utmost attention that they can give. As such, they employ a system wherein patients won't have to wait in line for doctors or assessment.
This is a relief both to the hospital and the individuals who want to consult an expert. For one, it can save their time and travel period. For another, doctors won't be stressed out by overworking just to attend to all patients. 
The clinic specializes in vision rehabilitation and therapy. This is a treatment used to correct visual deficits.
So, if you know someone suffering from such issues, you may refer them to this place. It certainly has some of the best optometrists in Singapore.
SERVICE HIGHLIGHTS
Organized

Competent doctor

Reasonable price
CUSTOMER REVIEWS 
Testimonials from parents and patients reveal how helpful the clinic is. Here's one example:
IGARD, you are awesome! My daughter's myopia has stopped progressing since she started ortho refractive therapy with you. It's the most amazing thing for her and she no longer needed to wear glasses. -Sydney W
10. Asia Retina
BEST FOR

Innovative Eye Care solutions

SERVICES

Retinal Degeneration, Eye Wellness, Myopia Prevention, Glaucoma, Cataract, Floaters

WEBSITE

https://asiaretina.com/

 

ADDRESS

#15-10 The Paragon, 290 Orchard Rd, Singapore 238859

CONTACT DETAILS

+65 6732 0007 | +65 9118 0007 |

[email protected]

OPERATING HOURS
Monday – Friday:

9:00 am – 5:00 pm

Saturday: 9:00 am – 12:00 pm
You can also go to Asia Retina if you're having difficulties or problems with your eye. This clinic specializes in eye treatments using modern and up-to-date technologies and has some of the best eye specialists in Singapore.
That being said, you are guaranteed that you will be given sufficient care and treatment. You can book your appointment from their site or call their phone number to ask them about your condition. 
SERVICE HIGHLIGHTS
Customized and individualized eye treatments 

Attentive eye care and medical advice 

Innovative and up-to-date eye care solutions
CUSTOMER REVIEWS 
Asia Retina keeps it integrity in tact as they continue to serve the community. Take a look at the review provided by one of their customers:
My dad had been bothered by cataracts and experiencing vision loss. A friend recommended Asia Retina to me and I promptly made an appointment for my dad. The staff were very friendly and warm towards us and Dr Claudine explained the entire cataract surgery in great details to my dad. She is really professional and amicable and my dad recovered really well after the surgery. Without a doubt, Dr Claudine is a 5 star eye specialist! – Wong Peter
11. Visio Optical
BEST FOR

Glasses

SERVICES

Regular Eye Check, General Assessment

WEBSITE

https://visiooptical.com/

ADDRESS

43 Holland Drive 01-67 Singapore, 270043

CONTACT DETAILS

[email protected]

/ (+65) 6776 0052

OPERATING HOURS
Monday – Saturday:

9:30-20:00 

Sunday & Public Holiday: 10:00-18:00
Visio Optical provides excellent eyewear services to customers who want great care and craftsmanship, in all aspects of eye care. They offer a personalized eye care experience and also have some eye specialists to help with spectacle and lens prescription.
They also aim to be one of the best spectacles shops in Singapore. Experienced optometrists and opticians are always available to you. Their team listens carefully to your needs and preferences and are happy to help you find the most suitable frames and lenses.
SERVICE HIGHLIGHTS
General and regular assessment

Eyeglasses

Caters to almost all patient
CUSTOMER REVIEWS 
This is not your regular eye clinic but more of a clinic that creates glasses. Here's a review from their customers:
Look no further!!! This shop can do anything you need related to glasses. I wasted my time in other shops. No need leh to waste yours! They can do anything and everything. They gave me eye test, and replaced custom sunglasses frame & lense with reading lense. And for 2 glasses! All at reasonable price. Thank you from the bottom of my heart, Visio Optical. – Felicia Iyamu
12. TES Clinic
BEST FOR

Double eyelid surgery

WEBSITE

https://tesclinic.com/

ADDRESS

304 Orchard Road, Lucky Plaza Suites #05-42, Orchard Medical Specialists, Singapore 238863

CONTACT DETAILS
+65 6737 0552 / +65 9735 9930 / [email protected]
OPERATING HOURS
Monday – Friday:

9:00 am – 6:00 pm 

Saturday: 9:00 am – 1:00 pm
You can always rely on TES Clinic for Face & Jaw if you're looking for a good aesthetic clinic. The TES in their brand name corresponds to "The Esthetic Solution." This means that they will provide you with the proper treatment for whatever facial issues you have.
They're on this list because their surgeons also provide eye surgery. The clinic is well-known for its double eyelid treatment and underbrow/brow lifts (useful if your vision is being impaired by a sagging underbrow). 
Highlights
Professional and well-mannered doctor

Signature double eyelid treatment

State-of-the-art health facilities
Customer Reviews
Wherever you go, people will always refer you to TES Clinic if you want to undergo a specific procedure for your face. You can take a look at how the clinic provides service to their clients:
I was referred to Dr Seah by my periodontist. Consulted him & did botox on my masseter muscle to improve my TMJ condition. Dr Seah is very professional & personable. I felt assured and know I am in good hands after consulting him. Procedure went well & painless. Thank you, Dr Seah.- Linda Lee
13. Hesed Eye Specialists
BEST FOR

Comprehensive eye care services

PRICING

https://eyedoc.sg/fees/

WEBSITE

http://www.eyedoc.sg/

 

ADDRESS

6A Napier Road, #01-32, Gleneagles Hospital, Singapore 258500

CONTACT DETAILS

+65 65136615 |

[email protected]

 

OPERATING HOURS

Mon – Fri 9:00 am to 5:00 pm

Sat 9:00 am to 12:00 pm

Sunday / Public Holidays: Closed
At Hesed Eye Specialist they make sure to provide you with eye care and treatment services most appropriate for your needs and conditions. They back this up with their state-of-the-art facilities and up-to-date equipment to make sure that you are always in your most comfortable and safest state.
They cater to both children and adults and treat a wide spectrum of eye and vision concerns. Dr. Hee, the Senior Consultant Ophthalmologist specializes in cataract surgery, glaucoma and general ophthalmology.
Highlights
Well-experienced specialist

Extensive range of eye care and treatment services

Evidence-based treatments
Customer Reviews
The patients adore Dr. Hee because he makes them comfortable and at ease while in the clinic. He also liked how he is able to handle their concerns with so much professionalism.
"Dr Owen is a very patient doctor and his explanations on the eye conditions are very clear. He gives advice for the best treatment. My sincere appreaction for the professional care to Dr Owen! and Thank you so much for the warm refreshments provided in the clinic."
---
With clinics like this and the other ones above, you should be able to get the medical help you need to address any issues with your vision. We strongly urge you to see one of these best optometrists in Singapore immediately if you have problems with your sight.
Incidentally, note that this is only one of our series of articles for medical resources in the country. For instance, you might also find our lists of the best ENT specialists in Singapore and of the best IVF clinics in Singapore interesting.
---
*Images are taken from each company's official websites/social media.