Our 20 Favourite Clinics for Speech Therapists in Singapore
Having difficulties while speaking is quite normal, and you just need to consult with the best speech therapist in Singapore if you want to get over that. These specialists can help you with stuttering or other concerns.
If you're determined to search for a professional that you can rely on, then you're on the right track on this page. We've found for you the best speech therapists in Singapore!
(Note: This list is in no particular order.)
Little Marvels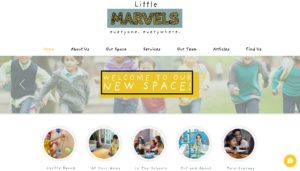 Offering more than ten approaches to speech therapy, Little Marvels definitely has what it takes to be considered as one of the best clinics for speech therapy in Singapore.
Some of the approaches it offers include Phonological / Articulation Therapy, Sequential Oral Sensory Approach to Feeding, Lidcombe Therapy, and Visualizing and Verbalizing® Program for Cognitive Development, Comprehension, & Thinking.
The clinic is great for children who have problems with fluency, speech clarity, social skills, and understanding others or expressing themselves.
The clinic's principal speech therapist, Eugenia Tan, is a member of Speech and Language Therapy Singapore. She obtained her Bachelor of Speech Pathology from La Trobe University, where she graduated with honors.
Dr. Tan has also received training in various programs like the Childhood Apraxia of Speech – The Oral Motor Component, Sara Rosenfield-Johnson's Oral Placement Therapy, Picture Exchange Communication System, and MORE – Integrating the Mouth with Sensory and Postural Functions.
She also conducts observation, clinical assessment, and goal setting for Sensory Integration and Praxis.
Highlights
More than ten approaches to speech therapy

Two speech therapists who are both members of Speech and Language Therapy Singapore (SALTS)

Person-centered and family-focused institution
Magic Beans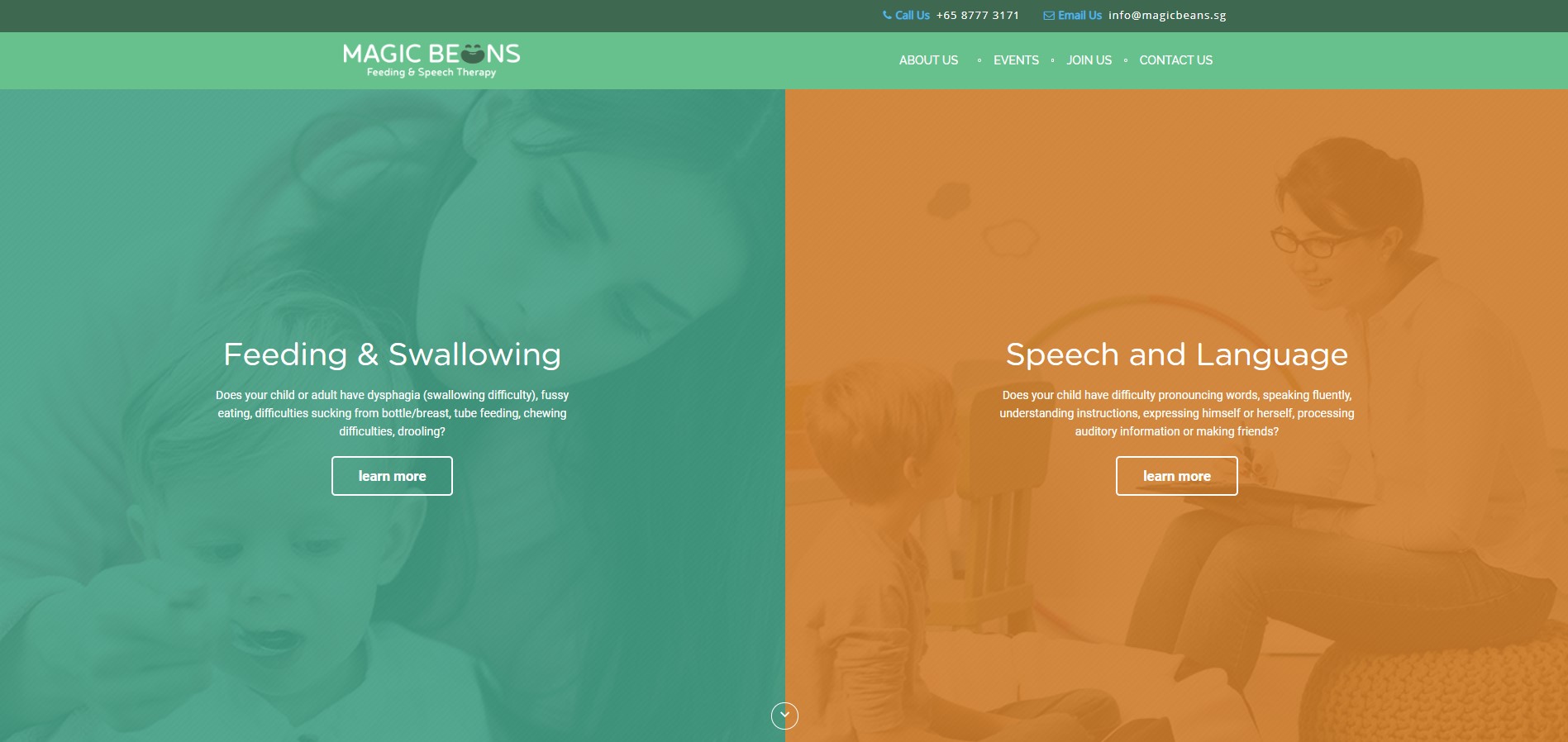 BEST FOR 
Feeding and Speech Therapy
SERVICES
http://www.magicbeans.sg/about-us/types-of-therapy/
WEBSITE
http://www.magicbeans.sg/
ADDRESS
Mountbatten Centre 231 Mountbatten Road Block A #02-01/02 Singapore 397999
CONTACT DETAILS
87773171
OPERATING HOURS
Weekdays 9 AM – 6 PM
Weekends (based on therapists' availability)
Magic Beans is an institution that addresses feeding and swallowing difficulties. So, if your child is a fussy eater, or perhaps have trouble with bottling, feeding, or dysphagia, Magic Beans is an excellent choice.
Aside from that, Magic Beans also helps with speech delays, articulation disorders, language delays and disorders, and stuttering. If your child has difficulty speaking, you might want to try Magic Beans' services. Their expert therapists are able to handle various conditions for children in many age groups.
Magic Beans' team of therapists are passionate in their work, which motivates them to do their best in caring for any patient. Their specialities include late talkers, dyspraxia, stuttering, voice disorders, and more.
Highlights
Therapists specialise in different domains and age groups
Speech and Feeding Therapy
The Speech Practice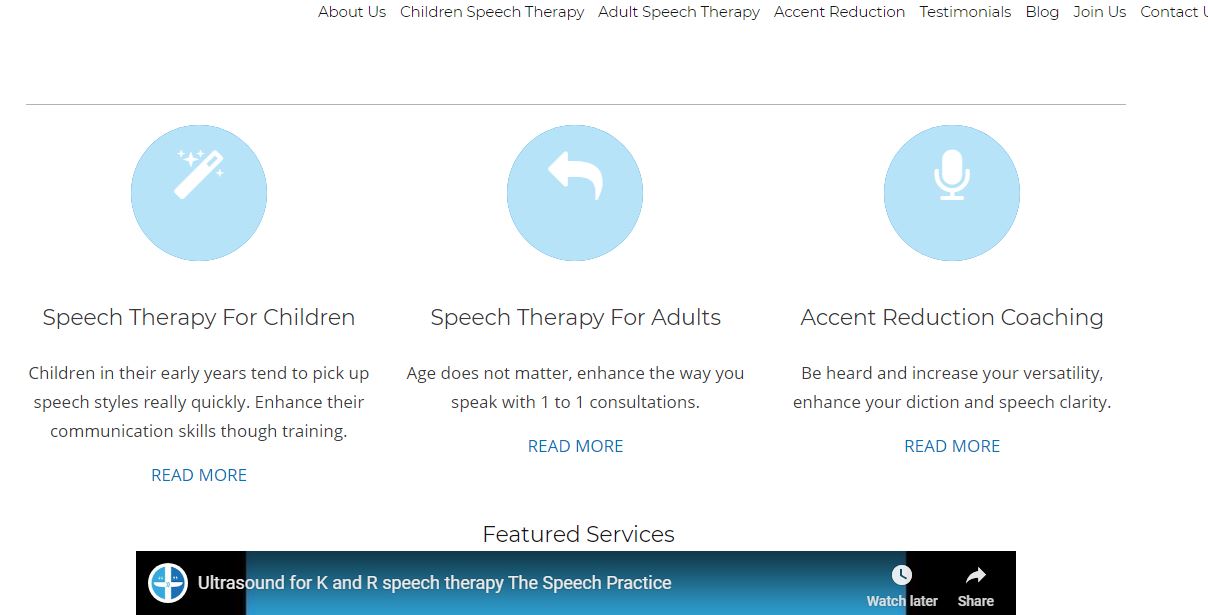 The Speech Practice also offers speech development therapy for children and voice management for adults. They offer their services to those who have dyslexia, autism, social anxiety, and childhood apraxia of speech.
They also do voice care, solve feeding and swallowing problems, stuttering, cluttering, and more. For each case, their best speech therapists in Singapore will analyse your own situation and give you proper treatment.
If you're a public speaker or a working professional who needs to do conferences and presentations more frequently, you might want to enhance your speech and accent with their services, especially if you find it hard to pronounce certain words.
Highlights
Stroke and language rehabilitation
Accent reduction coaching
TLC Speech Clinic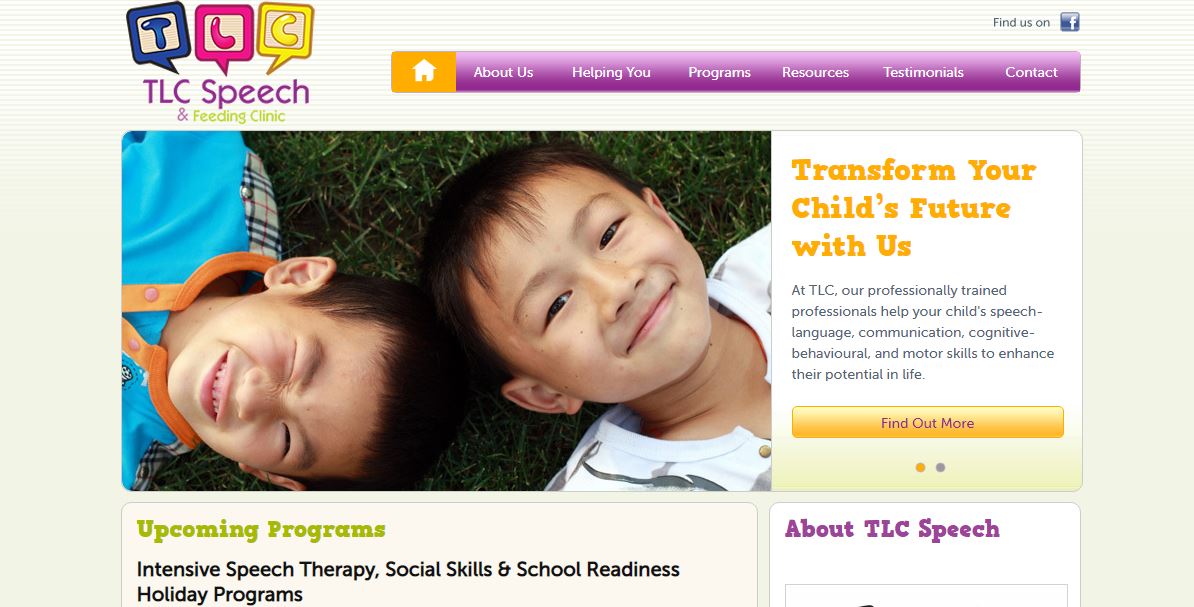 At TLC Speech Clinic, their best speech therapists in Singapore can help your child improve their speech-language. communication, cognitive behaviour, and motor skills. All of these factors will resolve major social concerns and maximise their potential for a brighter future.
One of the best things about this clinic is their parent workshops series where they'll educate the parents, teachers, and more people about the particular potential and weaknesses of their children.
In this way, they'll be able to learn possible practices or activities that they can do with their child, even on the little things on a daily basis.
Highlights
Intensive programs for overseas visitors
School readiness program
Leo Magan

| | |
| --- | --- |
| BEST FOR  |  Language therapy |
| WEBSITE | https://www.leomagan.com/ |
| ADDRESS | 20 Kramat Lane, #04-09 United House, Singapore 228773 |
| CONTACT DETAILS | 63867532 |
| OPERATING HOURS | Daily, 11am–7pm |
Leo Magan specialises in speech and language therapy. Their best speech therapists in Singapore use specific techniques that'll help your children gain positive development.
Moreover, they provide assistance for social interaction problems, if your child is having major concerns when it comes to talking with his/her peers.
They also encourage the parents to use some learning strategies at home for faster and progressive development.
Highlights
Flexible schedule
Teaching tips for parents
LIFE SPEECH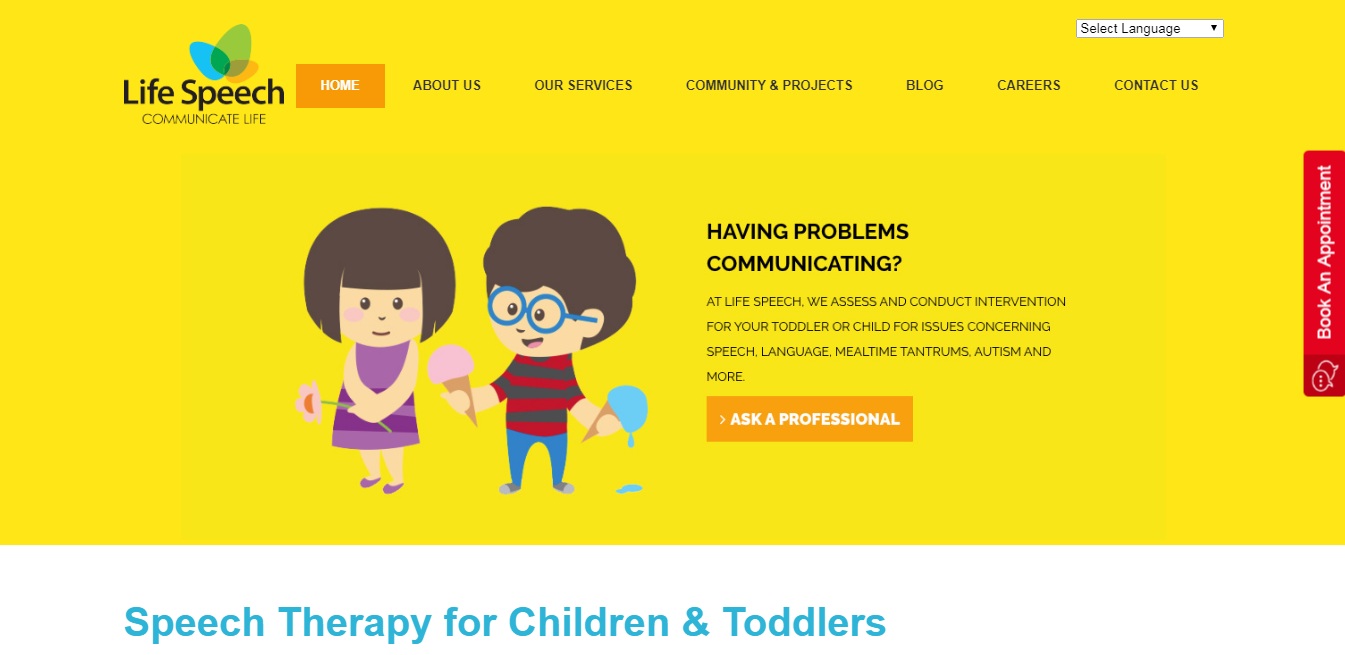 Life Speech offers their Speech Pathology/Therapy Courses to help assess, treat, and train both adults and children. Aside from their assessment and treatment services, they also offer professionals and caregivers trainings, workshops, and certificate courses.
Through their experienced and knowledgeable staff, Life Speech is able to produce a customized treatment plan for their customers.
Highlights
Specializes in using Speech Pathology/Therapy Courses to assess, treat, and train adults and children

Provides customized treatment plan for each individual
Dynamics Speech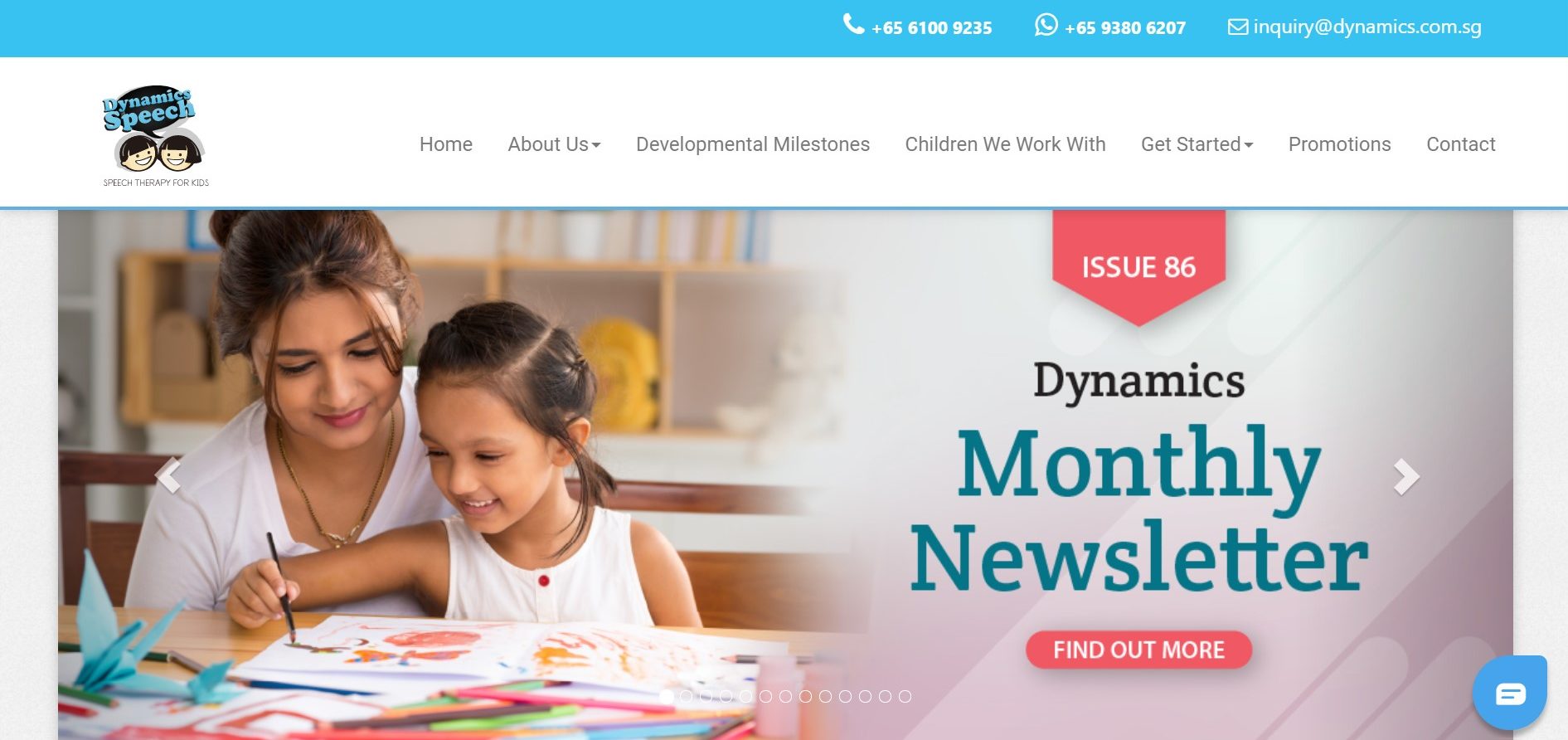 Dynamics Speech provides a holistic intervention plan to remediate and prevent challenges in speech and language for children and adults.
In Speech Therapy, multiple intervention techniques can be applied but their effectiveness varies with age, needs and learning pace. To ensure optimal results for each individual, Dynamics Speech develops individualised programmes that are age-appropriate and cater to the client's needs. 
Every programme is based on best practices and evidence-based methods that have been proven to improve speech, language and communication skills, such as articulation and fluency, language ability, communication and eating and drinking skills, among others.
With a strong team of highly motivated and experienced Speech Therapists to provide the best care, Dynamics Speech has empowered many individuals to maximise their speech, language and communication abilities, build healthy self-esteem and boost overall well-being. We are proud to provide services throughout the lifespan from infancy to adulthood.
Dynamics Speech is part of the Dynamics Therapy Group in Singapore, which has over 15 years of providing a wide range of accessible and effective therapeutic and educational services, that include Physiotherapy, Occupational Therapy, Counselling, Educational Therapy, Early Intervention programme and a Dynamics International School—all under one roof.
Highlights
No waiting time to see a specialist of your choice.

Flexible service delivery formats: Centre-based, in-home, online (TeleHealth) or a customised format (Hybrid).

Active partnership with family members and caregivers to ensure continuity in learning and a positive experience for everyone.

A highly qualified in-house multidisciplinary team of specialists for holistic care.
Happy Talk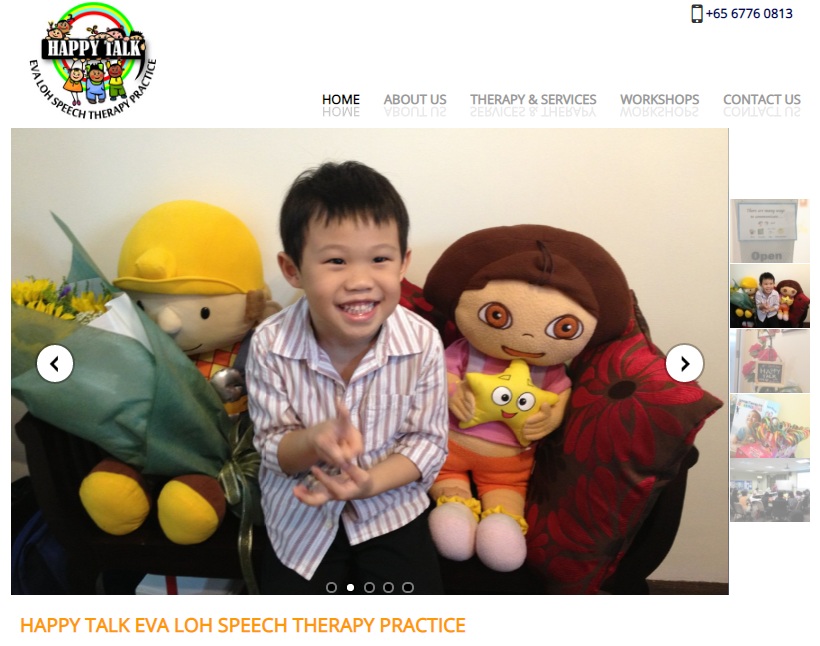 BEST FOR

Speech therapy support

SERVICES

Screen/assessment and early detection

 

Intervention/therapy

Education and training to parents/caregivers

 Education and training to teachers/educators (staff in-service, professional development programs to school staff)

WEBSITE

http://www.happytalkspeechtherapy.com.sg/

ADDRESS
1 Lower Kent Ridge Road, Unit 04-16 [email protected] (NUH Medical Centre) Singapore 119082
CONTACT DETAILS

6776 0813 |

[email protected]
Happy Talk caters to children aged 2 to 12 that needs professional assistance in their speech development. The clinic is mainly run by Eva Loh, a certified Practising Speech Pathologist who has experience working with children with communication, speech-language and literacy difficulties.
They provide services for a wide scope of speech difficulties such as Pronunciation and unclear speech, delayed speech development, layed language development, Reading and spelling difficulties, etc.
Happy Talk also provides workshops for parents, teachers, and other staff supporting children with communication difficulties to help them with the development process of the children.
Highlights
Individual therapy

Basic Key Word Sign Workshop
PSYCH CONNECT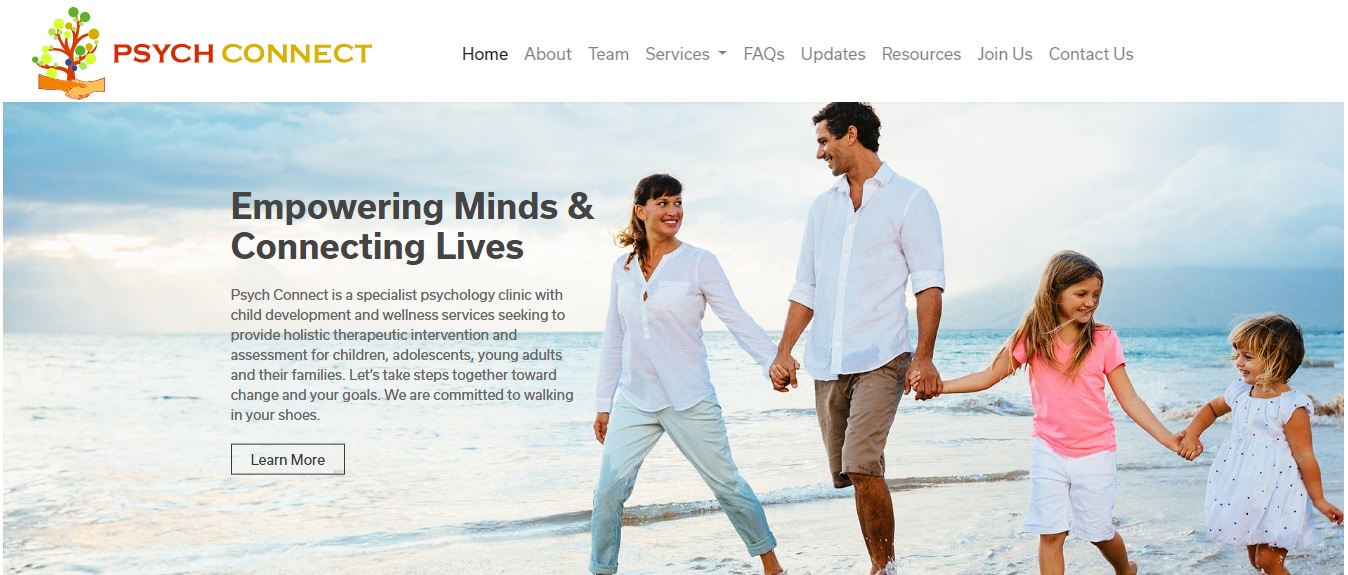 Psych Connect comprises of dynamic, experienced and empathic multidisciplinary therapists and psychologists. They specialize in child development but work with clients across the lifespan. Their focus is on ensuring the therapy space is safe and inviting; making it conducive for therapy sessions.
With regards to speech therapy, their main goal is to support individuals in overcoming their speech, language and related oro-motor challenges. They customize therapy sessions and strive to provide innovative and creative ways to meet their clients' goals.
A strength of the clinic is the multidisciplinary involvement and their tendency to work holistically with each client. They also believe in working with key stakeholders and supporting the whole system the client resides in – home, school and work.
They offer one on one and small group sessions. They work across all areas of Speech and Language Therapy for example, social communication, language, speech sounds, feeding and swallowing, stuttering and fluency (to name a few).
Apart from that, their team holds membership with different reputable organizations like Australian Psychological Society, Singapore Psychological Society, Allied Health Professions Council, American Speech-Language-Hearing Association and Australian Health Practitioner Regulation Agency.
Highlights
Addresses a wide range of speech and language difficulties
Multi-disciplinary approaches
Assessment and intervention are offered in clinic, at home or remotely via teletherapy
In School Services
Professional and experienced therapists
Amazing Speech Therapy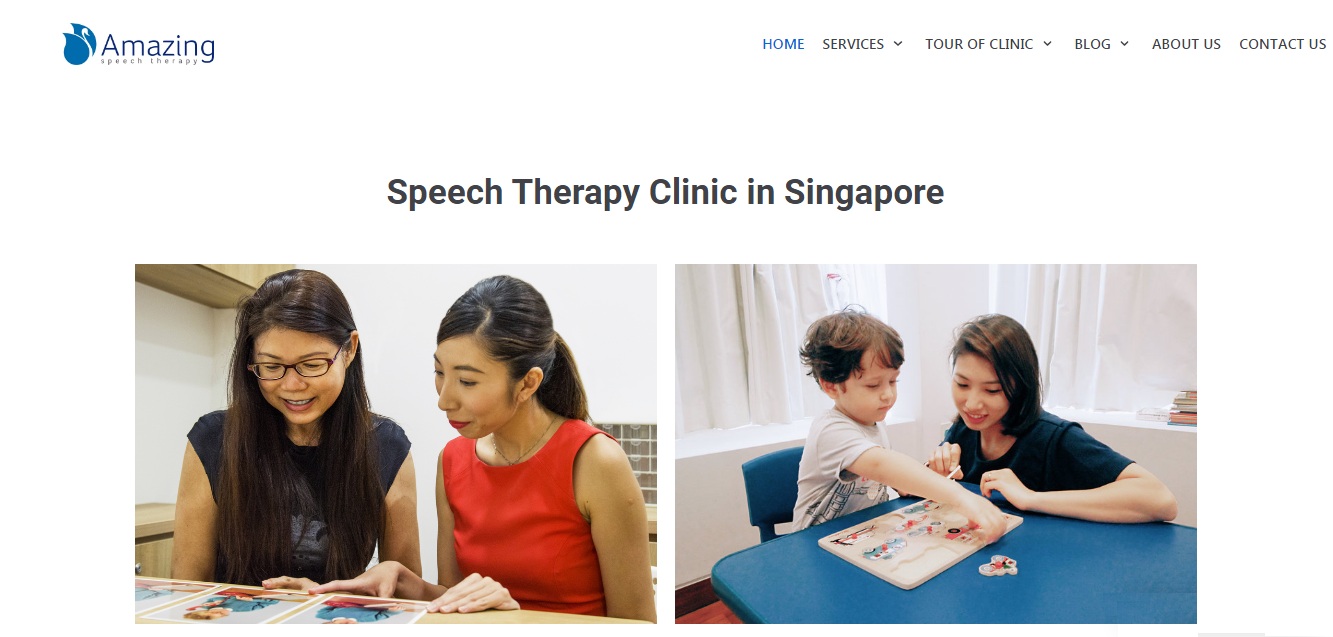 BEST FOR

Fun and interactive sessions

SERVICES

Speech Difficulty, Swallowing Difficulty, Language Difficulty, Cognitive Communication Difficulty, Voice Difficulty

WEBSITE

https://amazingspeechtherapy.sg/

ADDRESS

101 Irrawaddy Road #17-01 Royal Square Medical Suites @ Royal Square S329565

CONTACT DETAILS
+65 8121 6691/ [email protected]
OPERATING HOURS

Monday – Friday: 9:00 am to 6:00 pm

 

Saturday: 9:00 am to 5:00 pm
Amazing Speech Therapy began as a mere dream of the founder but through her hardwork and perseverance, their clinic was founded. Their main goal is to help those individuals overcome their speech or language defect. They strive to provide innovative and creative way of dealing with their clients. 
From their foundation until today's time, the clinic never fails to assist their patients in enhancing and improving their communication skills. Their team takes pride in their good quality service and well-thought of treatment and therapy.
Highlights
Enjoyable sessions or treatment

Personal care

Professional staff and therapist
Speech Therapy Works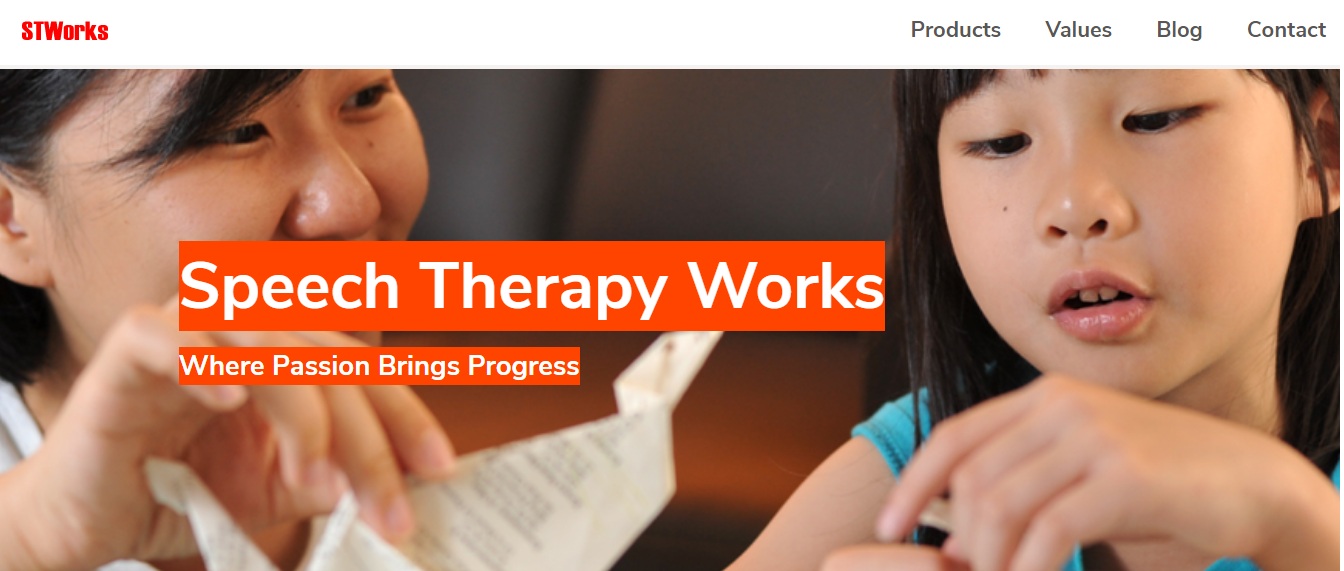 Speech Therapy Works offers a wide array of speech therapy services and provides comprehensive assessments so they'd be able to apply appropriate procedures and practices according to their clients' needs.
They also provide the following specialized treatment approaches:- Picture Exchange Communication System (PECS) Hanen Programme – It Takes Two to Talk & More Than Words PROMPT Technique (Introductory Level) Developmental, Individual Difference, Relationship-based (DIR®/Floortime™) Social Thinking Lidcombe Programme
Depending on the age of their client, each session lasts for 45 minutes to 1 hour. 
Highlights
Addresses a wide range of speech difficulties

Multi-disciplinary approaches
Treetop Therapy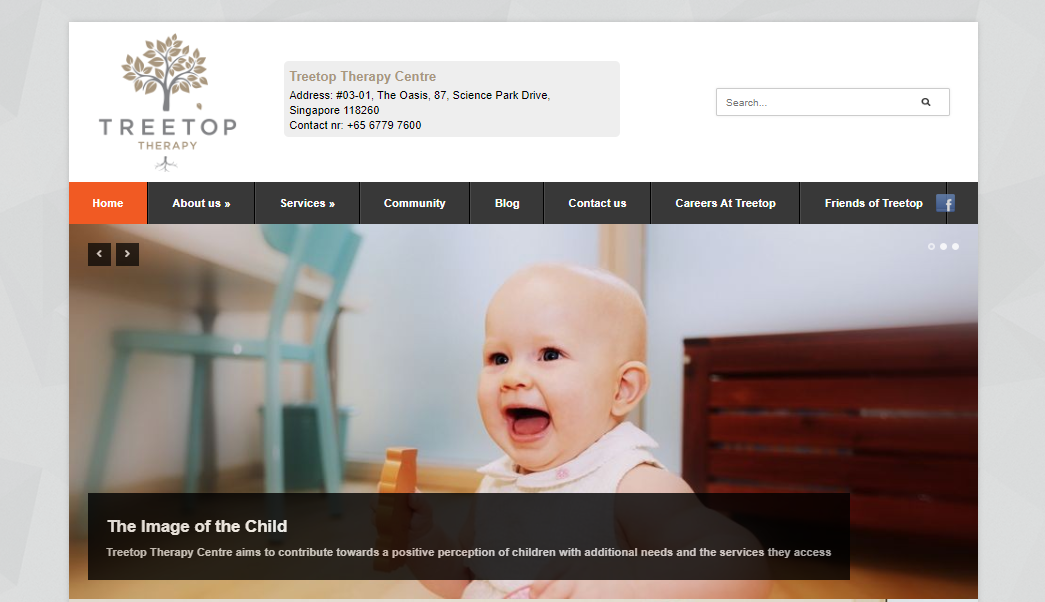 Babies are one of a kind. They can give someone so much happiness by just simply crying, giggling or smiling. We  know that babies aren't always responsive, and some are unfortunately incapable of communicating what's wrong with them or how are they feeling at the moment.
Children need to be able to listen and develop their speech and language skills as well to develop friendships with peers. If you are having trouble helping your child, it is not bad to seek help.
With Treetop Therapy, your child's future is ensured. They will take care of your child as if it's their own, and will make sure that your child is ready before mingling with the other kids.
Highlights
Assessment and intervention are offered in clinic or remotely via teletherapy
In School Services
All training and supervision are delivered face to face and/or remotely
It Takes Two to Talk Program
Box Clever School Programme
Total Communication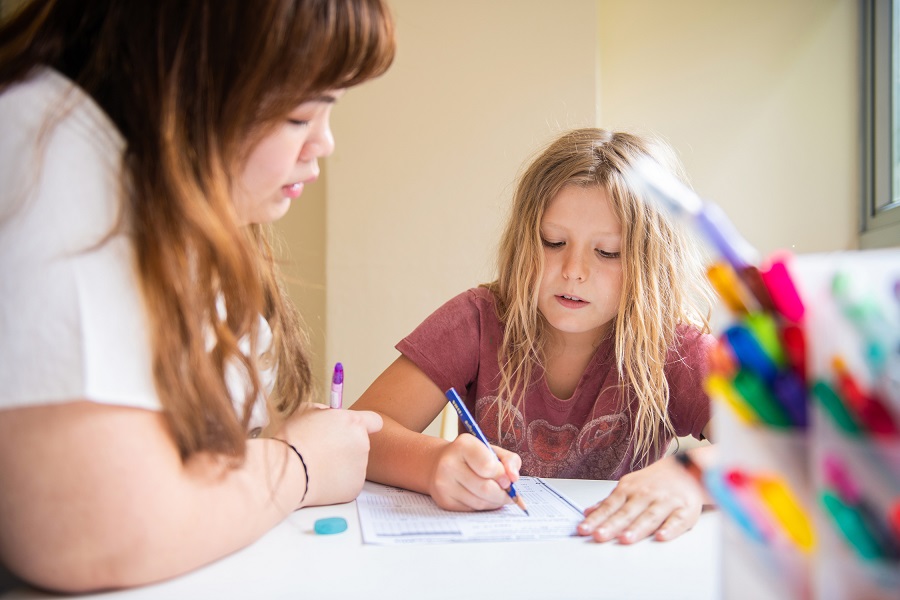 With over 14 years of experience in the field, Total Communication is one of the best choices for speech therapy in Singapore. Their team of specialists is dedicated to providing the best child care in terms of language, communication, cognition, motor skills, socio-emotional development, academic performance, and adaptive skills.
Every team member's experience in these areas has given them the skill and expertise to provide the best services. They're also highly familiar with the dynamic demands of both international and Singaporean school settings and families.
Highlights
Offers Partial and Full Day Programmes
Mentorship services available
Shadow Services help children with learning difficulties
Speech Bubbles

Speech Bubbles is a MSF-approved EIPIC provider of home-based speech therapy services for children with speech and language difficulties.
Their therapists take on a dynamic and holistic approach to help children 'learn to think', make sense of the world around them, and improve in their functional communication. Their therapists often use a mixture of approaches to successfully engage your child while challenging your child to reach his/her full potential.
Speech Bubbles strongly believes that children flourish when learning is fun and engaging.
Parent training is also integral in their approach. Parent training ensures that therapy is optimised and integrated into your child's daily routines.
Highlights
Home-based speech therapy
Targets child's holistic development
Dynamic and engaging approach
Effective results
Customer Reviews
Here's a review from one of Speech Bubbles' clients to tell you more:
"My 2 year old really looks forward to his session with Daniel! He gets super excited to see him every other Monday. Daniel is very engaging and animated, and he has his way of keeping my son's attention and focus to complete a task. In just 3 months, my son went from completely non-verbal to saying about 4-5 words and communicating with sign language, and his attention span has also increased over the past few months using the strategies/tools recommended by Daniel. I highly recommend him!"~ MK
Dinosaur Speech Therapy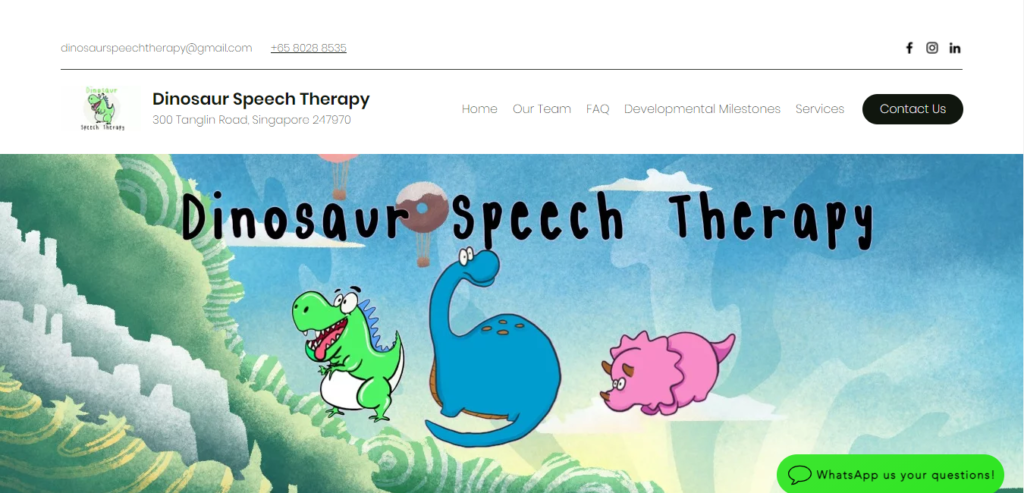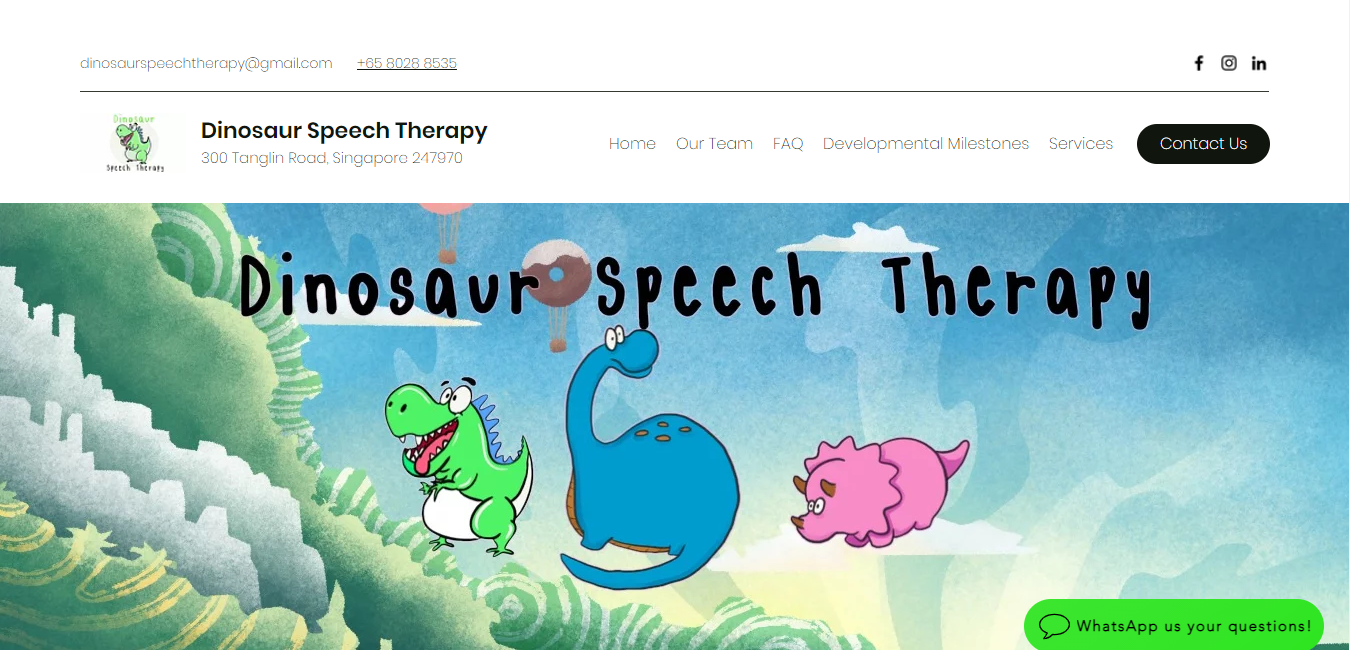 Dinosaur Speech Therapy offers its services to help your child overcome speech delay, language delay, and an autism spectrum disorder. They also provide social skills training to help get your child out of their comfort zones.
The speech therapy clinic delivers high-quality services through cooperation and proper communication. Dinosaur Speech Therapy even offers home therapy to cater to meet your child's needs halfway.
But what really sets Dinosaur Speech Therapy apart from other clinics is that it finds ways to make therapy sessions creative and innovative. This tactic lets them stray away from the traditionally repetitive sessions that are just as effective
Highlights
Free non-obligatory consultation
Home therapy
Creative speech therapy
Homage Home Care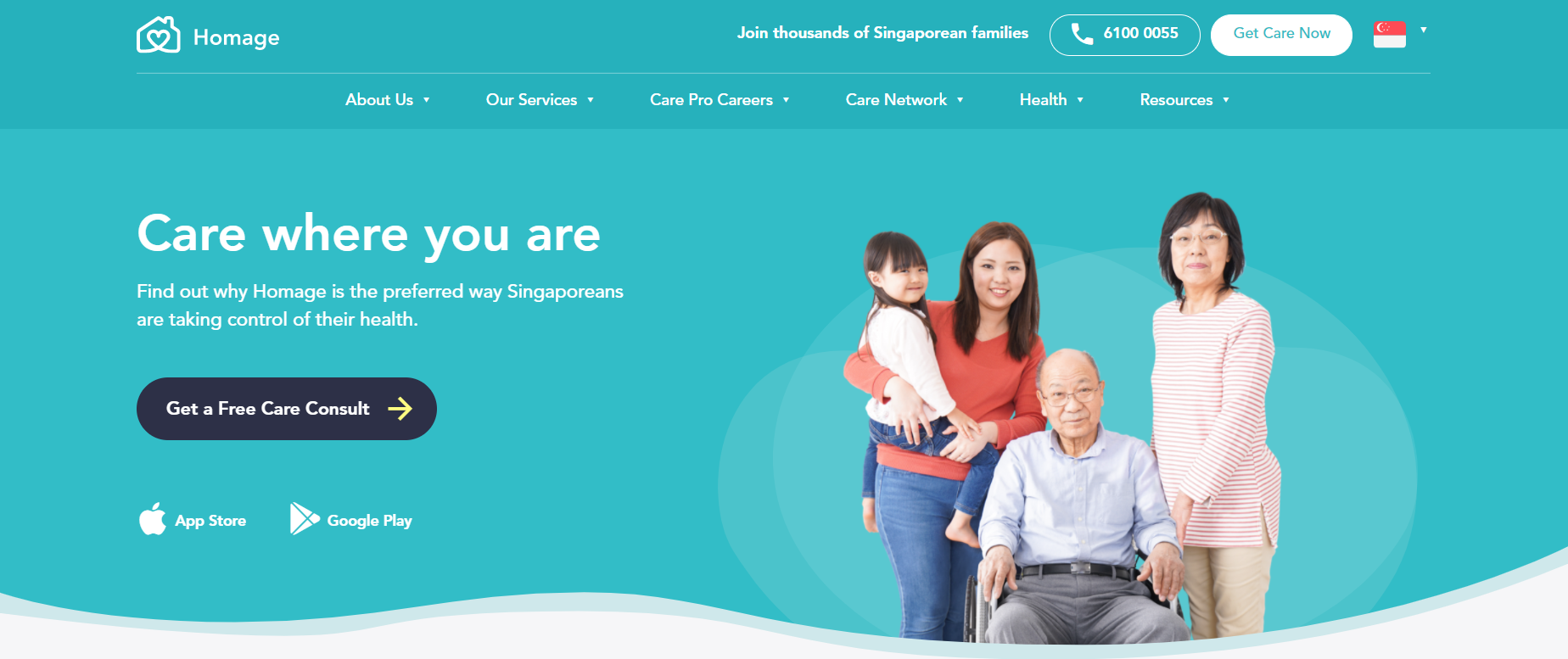 Homage Home Care provides holistic home care services enhanced by the innovation of smart home care technology. These services can be personalised according to one's needs, which helps their patients maintain their good health and live a longer, more fulfilling life.
Their services range from assessments to home nursing, home rehabilitation, and home medical care. However, their specialisation lies in creating solutions for mobility issues, as well as a few specialised cases such as speech disorders.
Speech therapy is their primary solution when it comes to speech disorders, where they begin by evaluating a patient with comprehensive tests to come up with an accurate diagnosis. Afterwards, they will create a speech therapy care plan suited for their patient, one that can be done at the comfort of the patient's home.
The journey to speech rehabilitation is long, but one that won't be done alone thanks to their skilled and expert speech therapists. With their complete care plan and attentive care, any patient of theirs is sure to be given the proper guidance and assistance they deserve.
Highlights
Leading care services provider
Holistic personal care
Knowledgeable staff
Sincere and encouraging
MindChamps Allied Care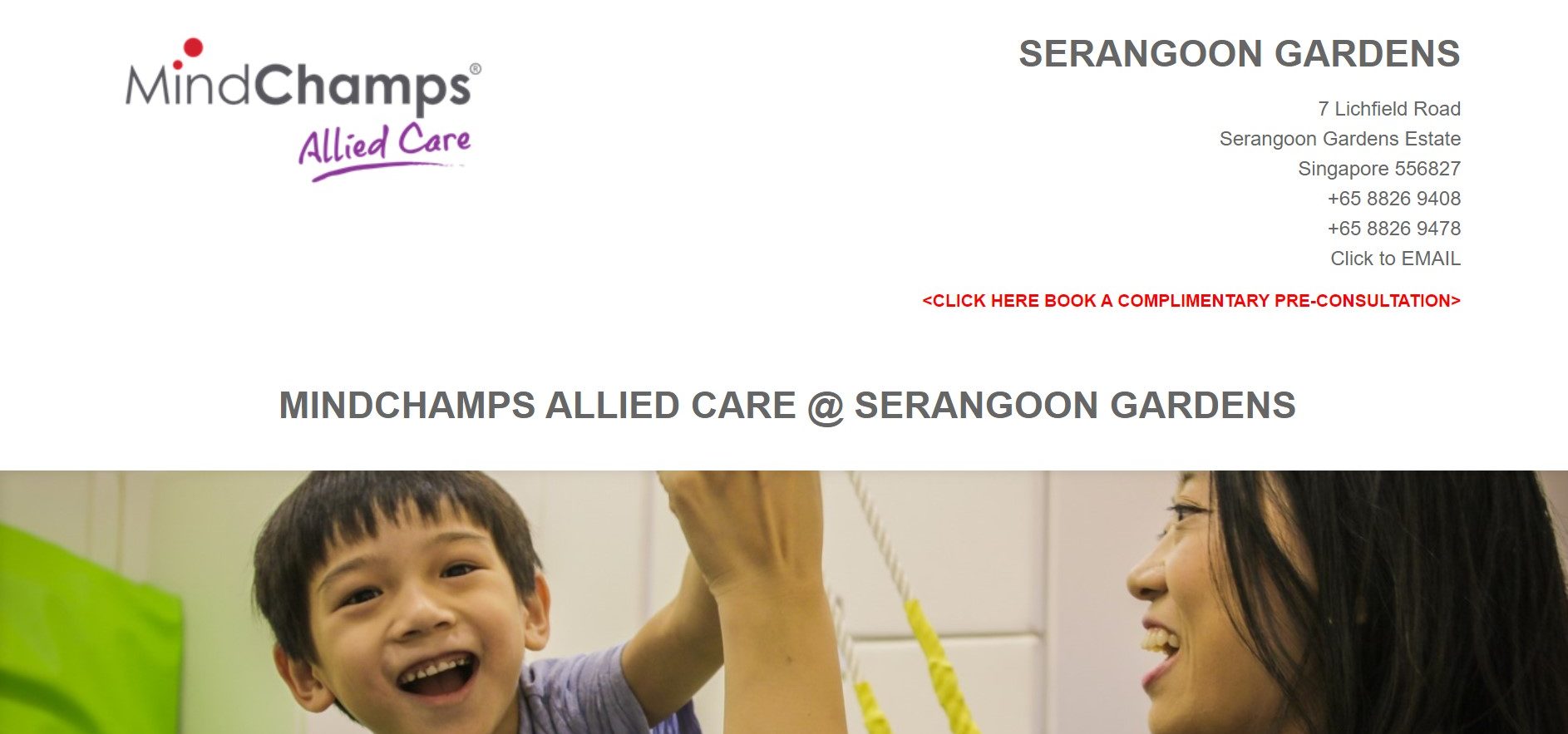 BEST FOR
Occupational, Speech, Educational Therapy, Child Psychology
SERVICES
Developmental Milestones
Fine and Gross Motor Skills
Emotional Regulation
Behavioural Management
Sensory Processing
Visual Perception Skills
Visual Motor Integration
Handwriting Skills
Social Skills
Communication
Play Skills
Attention Span
Speech/Language Difficulties
Feeding & Swallowing
WEBSITE
https://www.thesingaporelawyer.com/
ADDRESS
7 Lichfield Road, Serangoon Gardens Estate Singapore 556827
CONTACT DETAILS
Tel: +65 8826 9408 / +65 8826 9478 | [email protected]
OPERATING HOURS
Monday – Friday, 9:00 AM to 6:00 PM
While we celebrate the miracles of life, MindChamps Allied Care understands that sometimes, children require further facilitation and support in some areas. Sometimes, intervention is required to help these children achieve their optimal potential.
This is why MindChamps Allied Care aims to provide guidance in developing and maintaining a child's capacity throughout their lifetime and empower them with the ability and confidence to perform day to day tasks. Their early intervention programme accommodates children who are 18-months-old to 6-years-old and their goal is to provide them with skillsets so that they would be prepared for primary school.
To be able to accomplish this, MindChamps Allied Care offers their expertise in providing therapy for Social Skills, Communication, Play Skills, Attention Span, Handwriting Skills, Speech/Language Difficulties and even Feeding & Swallowing.
To top it all off, MindChamps also offers a free pre-consultation for interested patients.
Highlights
Free Pre-Consultation
Individual Education Plan for each child
Certified and highly qualified therapists and psychologists
Communikidz Therapy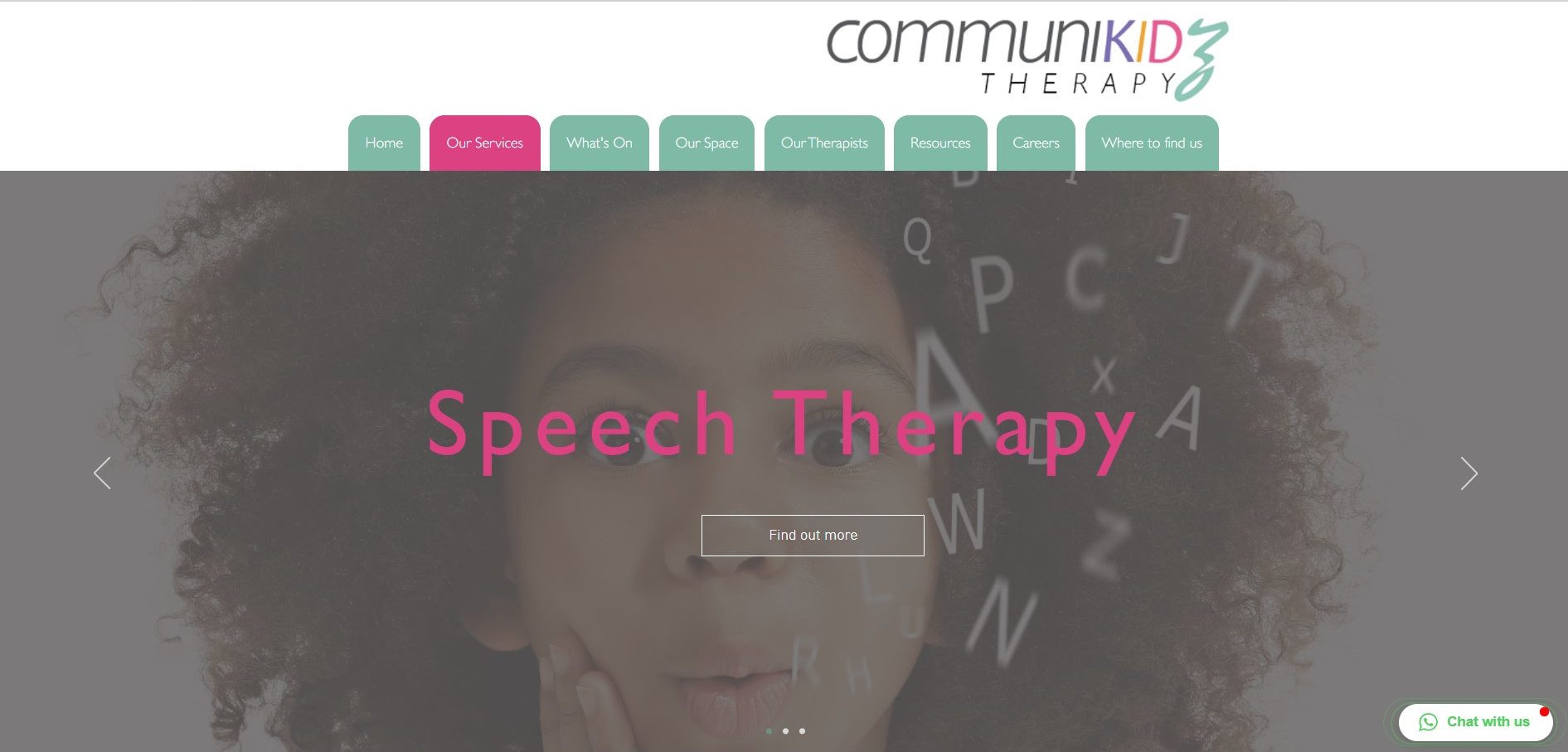 BEST FOR
Developmental support
SERVICES
Speech Therapy
Music Therapy
Tele-therapy
WEBSITE
https://www.communikidztherapy.com/
ADDRESS

371 Beach Road, Citygate, #02-52, Singapore 199597

CONTACT DETAILS
[email protected]
+65 8189 1636
OPERATING HOURS
By appointment only
Next on the list is Communikidz Therapy. They're one of the best for individual-based learning in Singapore, especially in helping kids become the best version of themselves, mainly assisting with speech and interaction.
Communikidz has three primary services: Speech Therapy, Music Therapy, and Tele-therapy. They offer their care to children of 0 to 18 years old.
What's more, you can choose the setting where your kid is most comfortable to conduct the therapy. Communikidz believes that it's essential to take into consideration both your availability, as well as your child's preference when it comes to these sessions, so you can choose between doing it at the centre or having it at home. These sessions can also start as one-on-one before integrating into group therapy.
Communikidz wants what's most efficient for their clients, so they do their best to utilize ways that are effective and safe for children.
Allow them to be a part of your child's progress. You can take a look at the details of Communikidz services on their website.
Highlights
Flexible service format: for in-home and centre-based therapy
Holiday book camps available
Dedicated and experienced therapists
Speech Matters

BEST FOR
Speech Therapy for Children with Special Needs
SERVICES
Speech Therapy for Children, Speech Therapy for Adults
WEBSITE
https://speechmatters.com.sg
ADDRESS

East Singapore
1 Marine Parade Central
#11-01 Parkway Centre, S449408

West Singapore
1 Commonwealth Lane, 
#08-16 One Commonwealth, S149544

CONTACT DETAILS

96275189
[email protected]

OPERATING HOURS
Contact company for more information
Speech Matters is a speech therapy clinic that is committed to providing quality services to each and every one of their clients in Singapore. Many praise them for working using using the best practices available at the time, which leads to more effective treatments and excellent outcomes.
They provide a wide variety of speech therapy treatments for adults, especially those who difficulties with speech, language, and voice. Moreover, they can also assist adults in relearning how to eat and drink.
They are also capable of assisting children who need speech therapy treatments. Unlike other speech therapists, they have experience working with children with special needs, including those on the autism spectrum.
Speech Matters' reliable team of speech therapists can accommodate a wide range of conditions and impediments. With their help any individual, adult or child, will be able to move past their speech disorders without worry or difficulty.
Highlights
Various speech therapy intervention programs for children
Also works with children with special needs
Highly qualified and experienced speech therapists
Dedicated and passionate team
Dynamics International School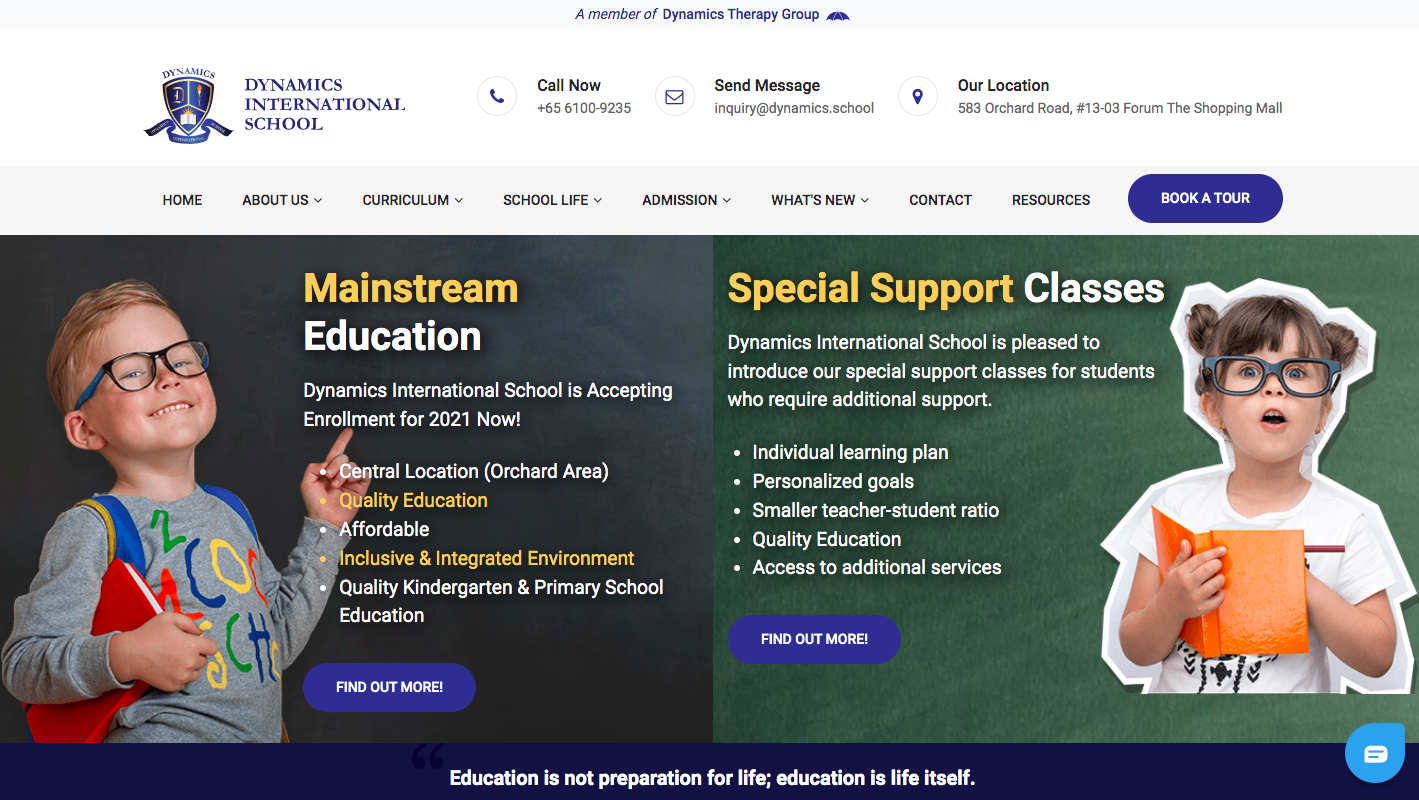 BEST FOR
Children until grade 6
SERVICES
Mainstream Education, Special Support Classes, Speech Therapy for Children
WEBSITE
https://speechmatters.com.sg
ADDRESS

Forum The Shopping Mall, 583 Orchard Rd, 7th floor, Singapore 238884

CONTACT DETAILS

Phone: +65 6100-9235

Email: [email protected]

OPERATING HOURS
Contact company for more information
Dynamics International School is a private educational institution for children between reception year and Grade 6 level who need assistance with their lessons or require a different type of teaching style. 
With small class sizes to ensure personalized attention,  learning is a positive experience at Dynamics International School. They also have certified teachers to accommodate special education such as Speech Therapy. 
They use the British National Curriculum and International Primary Curriculum so that the learning process can be adapted to the student. This ensures that those who require special attention can be included in their curriculum.  
At Dynamics International School, a holistic learning environment is central to their mission, so that everyone can learn in a way that they can learn best. It is one of our top picks to bring your child in for speech therapy in Singapore. 
Highlights
Offers mainstream curriculum and special support
Also works with children with special needs
 
That's our list of the best speech therapists in Singapore! You may now book an appointment with your chosen clinic and have an initial consultation to know which treatment is the most suitable for you.
If you know of other clinics that we missed out on our list, you may also share them with us!
Also, if you're currently looking for a school where you can transfer your kids for a better environment, see these best preschools in Singapore! These institutions offer special programs intended to explore the full potential of your children.