14 Clinics with the Best Speech Therapists in Singapore
By Lindsey Tan
Having difficulties while speaking is quite normal, and you just need to consult with the best speech therapist in Singapore if you want to get over that. These specialists can help you with stuttering or other concerns.
If you're determined to search for a professional that you can rely on, then you're on the right track on this page. We've found for you the best speech therapists in Singapore!
(Note: This list is in no particular order.)
1.  Magic Beans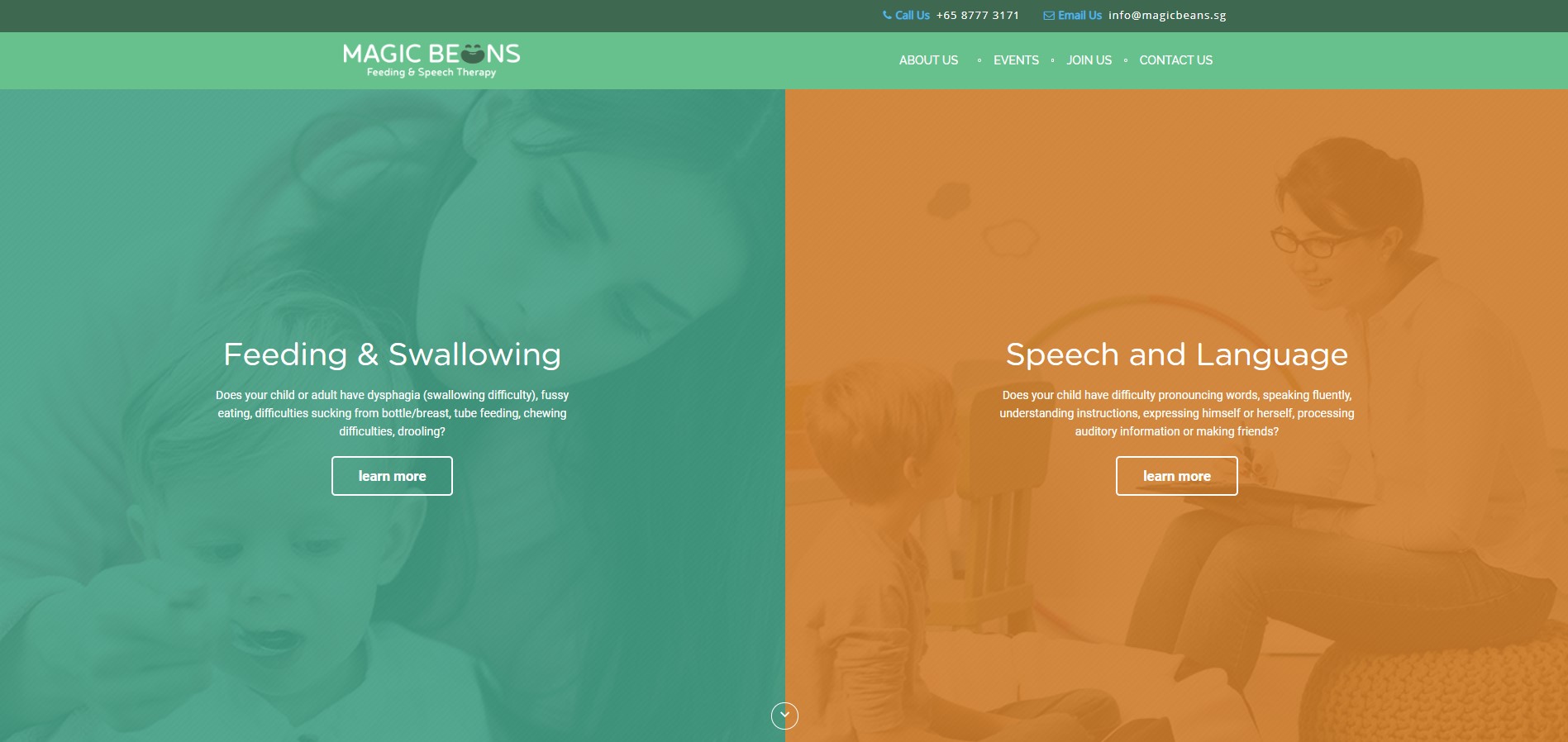 BEST FOR 
Feeding and Speech Therapy
SERVICES
http://www.magicbeans.sg/about-us/types-of-therapy/
WEBSITE
http://www.magicbeans.sg/
ADDRESS
Mountbatten Centre 231 Mountbatten Road Block A #02-01/02 Singapore 397999
CONTACT DETAILS
87773171
OPERATING HOURS
Weekdays 9 AM – 6 PM
Weekends (based on therapists' availability)
Magic Beans is an institution that addresses feeding and swallowing difficulties. So, if your child is a fussy eater, or perhaps have trouble with bottling, feeding, or dysphagia, Magic Beans is an excellent choice.
Aside from that, Magic Beans also helps with speech delays, articulation disorders, language delays and disorders, and stuttering. If your child has difficulty speaking, you might want to try Magic Beans' services. Their expert therapists are able to handle various conditions for children in many age groups.
Magic Beans' team of therapists are passionate in their work, which motivates them to do their best in caring for any patient. Their specialities include late talkers, dyspraxia, stuttering, voice disorders, and more.
Highlights
Therapists specialise in different domains and age groups
Speech and Feeding Therapy
2.  Speech Matters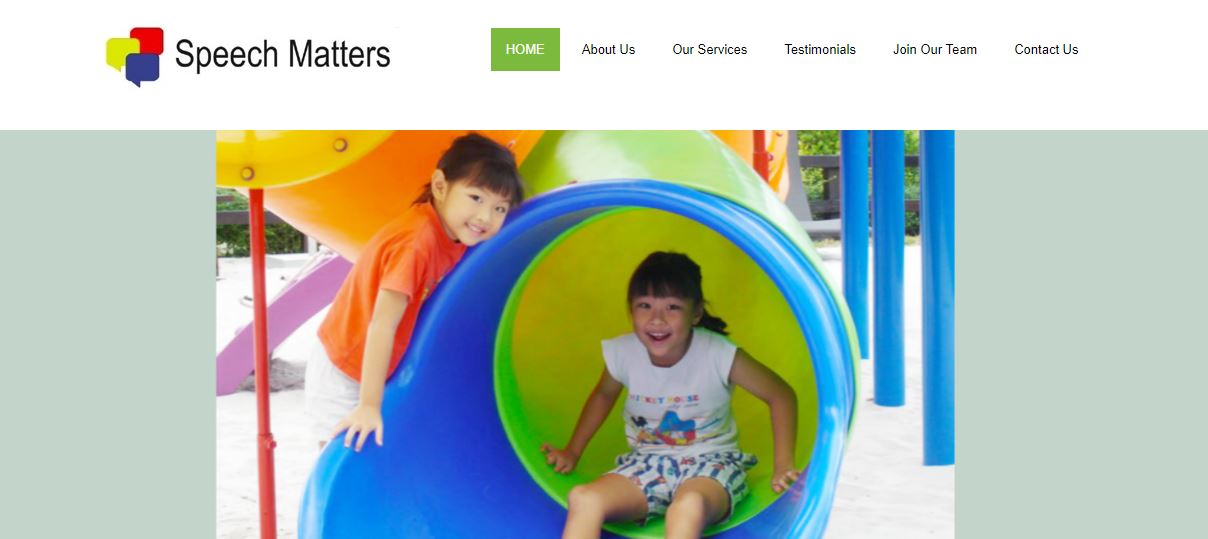 BEST FOR 
Home-based services
SERVICES
http://speechmatters.com.sg/our-services/
WEBSITE
http://speechmatters.com.sg/
ADDRESS
15 Scotts Road #09-11 Thong Teck Building Singapore 228218

1 Marine Parade Central, #12-05 Singapore 449408

CONTACT DETAILS
 +65 6235 9778
OPERATING HOURS
 Weekdays: 8am–7pm

Saturday: 8am–7pm
Whether you have a child who has some difficulties with speaking, reading, or writing, or perhaps a grandparent who has been experiencing age-related problems, you can fully trust the services of Speech Matters.
For the children, they provide speech therapy and treat learning challenges, as well as dyslexia. For adults, they can help with eating and swallowing problems, communication and voice disorders.
They have a group of specialists that includes some of the best speech therapists in Singapore and physiotherapists. Each professional has an average of ten years of experience so you can be sure that they'll initiate a personalised approach for each client's condition.
Highlights
Home-based services for children
Nursing homes for elderly
3.  The Speech Practice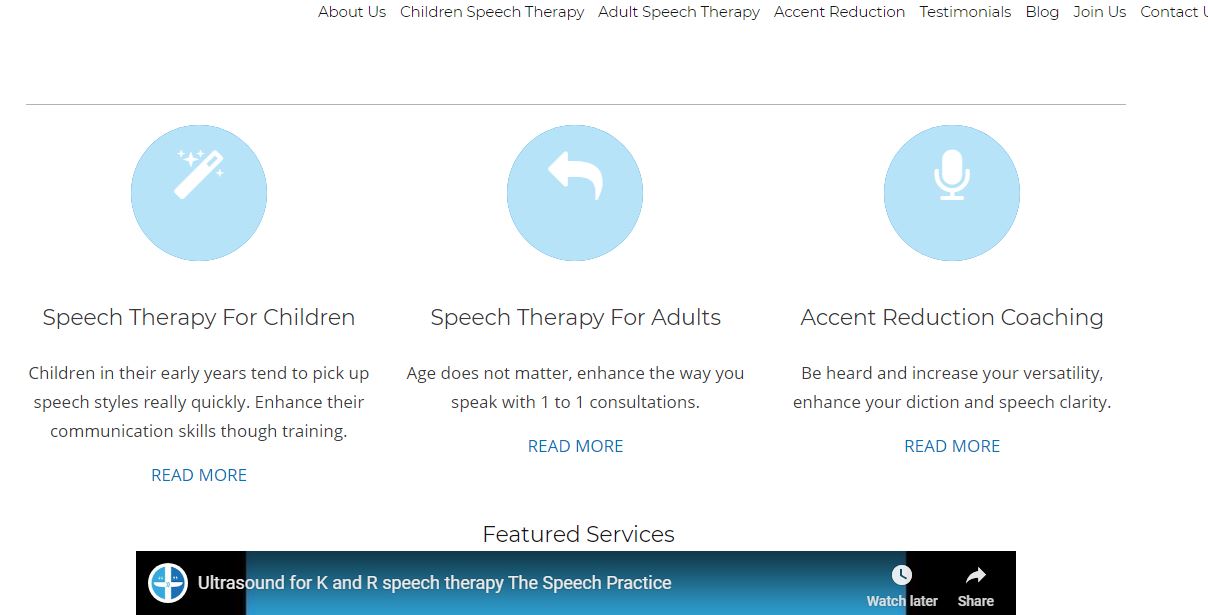 The Speech Practice also offers speech development therapy for children and voice management for adults. They offer their services to those who have dyslexia, autism, social anxiety, and childhood apraxia of speech.
They also do voice care, solve feeding and swallowing problems, stuttering, cluttering, and more. For each case, their best speech therapists in Singapore will analyse your own situation and give you proper treatment.
If you're a public speaker or a working professional who needs to do conferences and presentations more frequently, you might want to enhance your speech and accent with their services, especially if you find it hard to pronounce certain words.
Highlights
Stroke and language rehabilitation
Accent reduction coaching
Customer Reviews
The Speech Practice is highly recommended by many clients because they have effective therapies. A customer from Google Reviews wrote:
"This is probably long overdue. Lisa is an amazing speech therapist highly recommended by our PD. Our boy was a late starter when it comes to speech, but after working with Lisa for over a year, he started speaking fluently. And he won't stop talking now! We are very glad we found her and can't thank her enough."
4.  Dynamics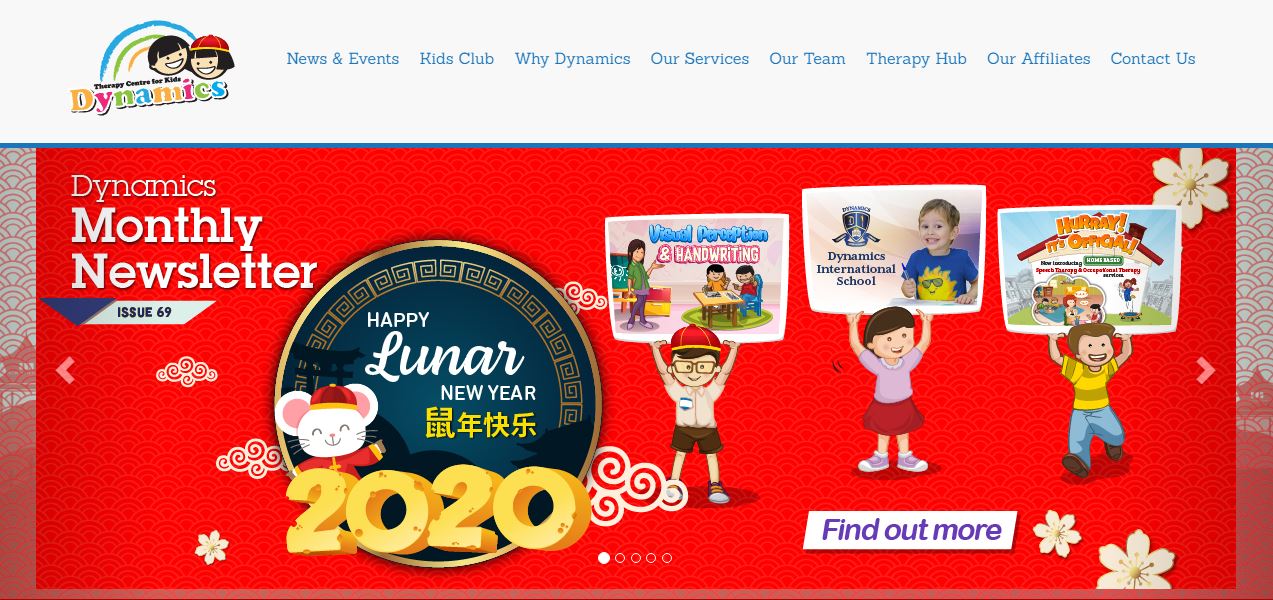 BEST FOR 
Wide range of therapy services
WEBSITE
https://www.dynamics.com.sg/
ADDRESS
 583 Orchard Road, Forum The Shopping Mall Singapore 238884
CONTACT DETAILS
 6100 9235, 6734 2634, 6734 2664, 6737 8958
OPERATING HOURS
Weekdays: 9am–7pm

Saturday: 9am–6pm
Dynamics Therapy stands as an all-round centre that provides different treatments such as speech therapy, educational therapy, reading and writing therapy, and physiotherapy.
They also provide early intervention programs to engage the kids to learn as well as psychological assessment and counselling to understand specific cases and give a customised approach.
They have skilled professionals from all over the world to accompany and prioritise each client, giving you excellent services and the best speech therapists in Singapore.
Highlights
Psychological assessment and counselling
Physiotherapy
Special programs
5.  TLC Speech Clinic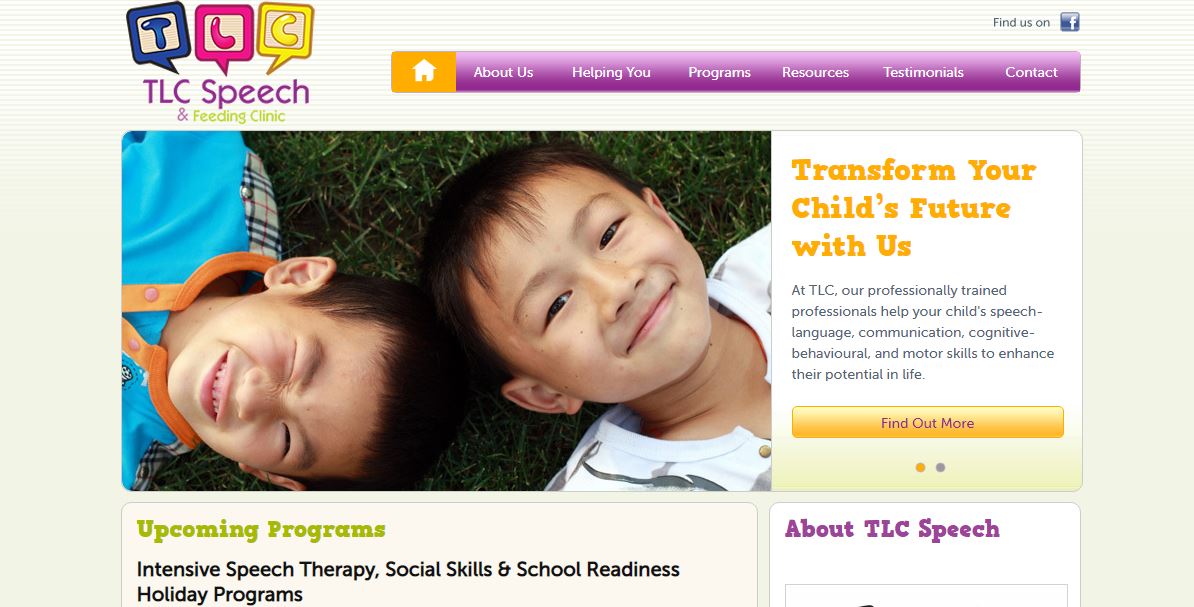 At TLC Speech Clinic, their best speech therapists in Singapore can help your child improve their speech-language. communication, cognitive behaviour, and motor skills. All of these factors will resolve major social concerns and maximise their potential for a brighter future.
One of the best things about this clinic is their parent workshops series where they'll educate the parents, teachers, and more people about the particular potential and weaknesses of their children.
In this way, they'll be able to learn possible practices or activities that they can do with their child, even on the little things on a daily basis.
Highlights
Intensive programs for overseas visitors
School readiness program
Customer Reviews
Clients were very impressed with the effective approaches of the specialists at TLC Speech Clinic. A customer posted this feedback on Google Reviews:
"We sent our son for speech therapy since he was 1.5 years old. The therapists are gentle, professional and patient. I'm very comfortable to leave my kid with them. I also saw my kid grow a lot there. The therapists tailored the material each time and paid attention to his progress. I'm grateful to Kelly, Neeta and director Lynnette!"
6.  Leo Magan

| | |
| --- | --- |
| BEST FOR  |  Language therapy |
| WEBSITE | https://www.leomagan.com/ |
| ADDRESS | 20 Kramat Lane, #04-09 United House, Singapore 228773 |
| CONTACT DETAILS | 63867532 |
| OPERATING HOURS | Daily, 11am–7pm |
Leo Magan specialises in speech and language therapy. Their best speech therapists in Singapore use specific techniques that'll help your children gain positive development.
Moreover, they provide assistance for social interaction problems, if your child is having major concerns when it comes to talking with his/her peers.
They also encourage the parents to use some learning strategies at home for faster and progressive development.
Highlights
Flexible schedule
Teaching tips for parents
Customer Reviews
Leo Magan Speech Sanctuary is rated 4.7 on Google with plenty of positive feedback. Here's one of those.
"Teacher Megan is great. My boys speech has improve tremendously under her and her team teaching. Now, they are learning blending of letters. And their speech is good at least we can understand them much much better when they speak ! Thanks to her and her team ???"
7. LIFE SPEECH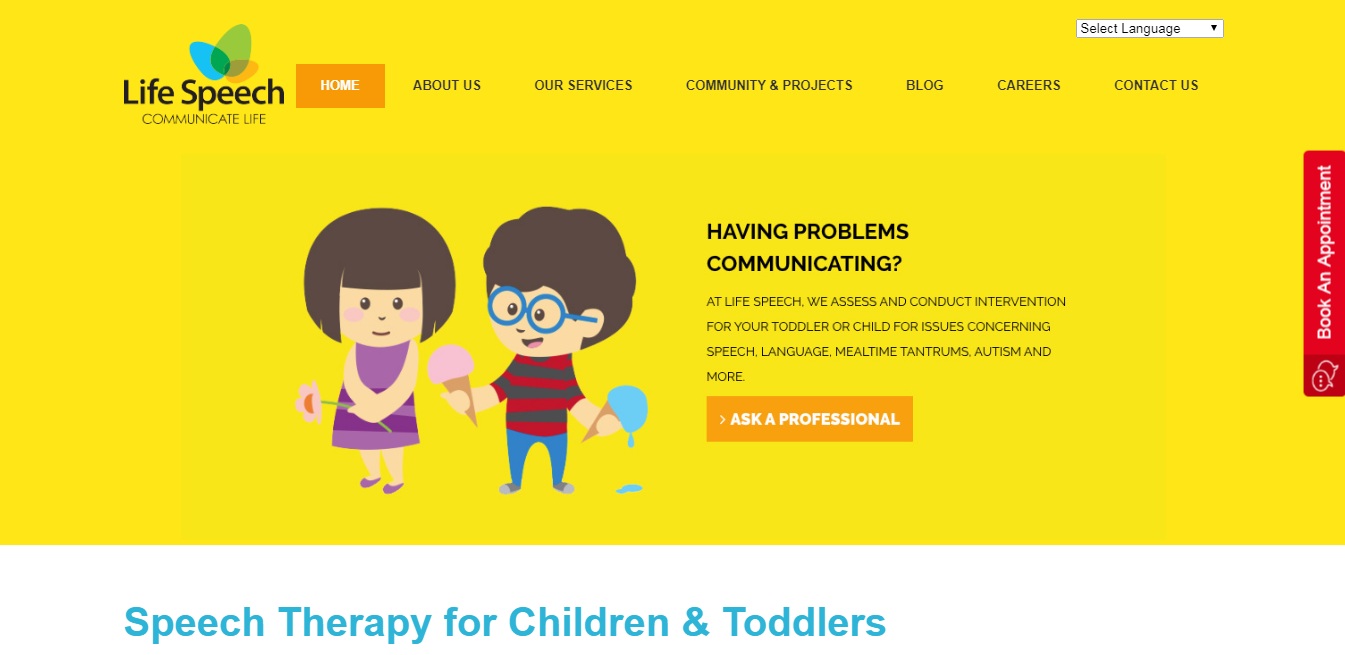 Life Speech offers their Speech Pathology/Therapy Courses to help assess, treat, and train both adults and children. Aside from their assessment and treatment services, they also offer professionals and caregivers trainings, workshops, and certificate courses.
Through their experienced and knowledgeable staff, Life Speech is able to produce a customized treatment plan for their customers.
HIGHLIGHTS
Specializes in using Speech Pathology/Therapy Courses to assess, treat, and train adults and children

Provides customized treatment plan for each individual 
8. Happy Talk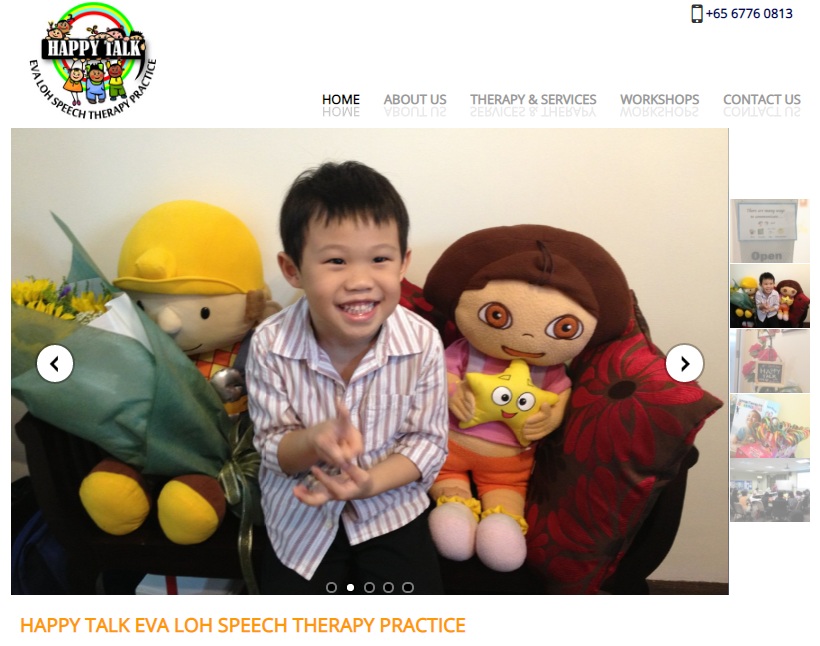 BEST FOR

Speech therapy support

SERVICES

Screen/assessment and early detection

Intervention/therapy

Education and training to parents/caregivers

 Education and training to teachers/educators (staff in-service, professional development programs to school staff)

WEBSITE

http://www.happytalkspeechtherapy.com.sg/

ADDRESS
1 Lower Kent Ridge Road, Unit 04-16 [email protected] (NUH Medical Centre) Singapore 119082
CONTACT DETAILS

6776 0813 |

[email protected]
Happy Talk caters to children aged 2 to 12 that needs professional assistance in their speech
development. The clinic is mainly run by Eva Loh, a certified Practising Speech Pathologist who has
experience working with children with communication, speech-language and literacy difficulties.
They provide services for a wide scope of speech difficulty such as Pronunciation and unclear speech,
delayed speech development, layed language development, Reading and spelling difficulties, etc.
Happy Talk also provides workshops for parents, teachers, and other staff supporting children with
communication difficulties to help them with the development process of the children.
Highlights
Individual therapy

Basic Key Word Sign Workshop
9. PSYCH CONNECT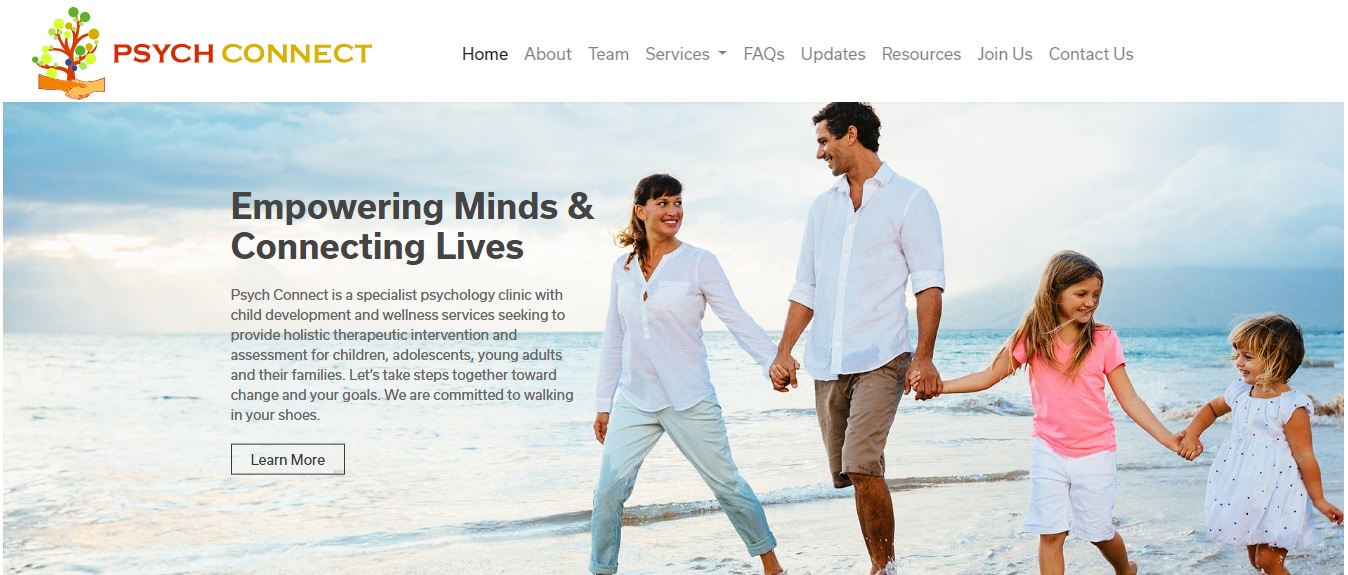 Psych Connect comprises of dynamic, experienced and empathic multidisciplinary therapists and psychologists. They specialize in child development but work with clients across the lifespan. Their focus is on ensuring the therapy space is safe and inviting; making it conducive for therapy sessions.
With regards to speech therapy, their main goal is to support individuals in overcoming their speech, language and related oro-motor challenges. They customize therapy sessions and strive to provide innovative and creative ways to meet their clients' goals.
A strength of the clinic is the multidisciplinary involvement and their tendency to work holistically with each client. They also believe in working with key stakeholders and supporting the whole system the client resides in – home, school and work.
They offer one on one and small group sessions. They work across all areas of Speech and Language Therapy for example, social communication, language, speech sounds, feeding and swallowing, stuttering and fluency (to name a few).
Apart from that, their team holds membership with different reputable organizations like Australian Psychological Society, Singapore Psychological Society, Allied Health Professions Council, American Speech-Language-Hearing Association and Australian Health Practitioner Regulation Agency.
SERVICE HIGHLIGHTS
Addresses a wide range of speech and language difficulties
Multi-disciplinary approaches
Assessment and intervention are offered in clinic, at home or remotely via teletherapy
In School Services
Professional and experienced therapists
CUSTOMER REVIEWS
Their customers liked how friendly their staff were. Here's what they have to say:
"Supportive and professional team of therapists!"
"A caring and dedicated team of therapists."
10. Amazing Speech Therapy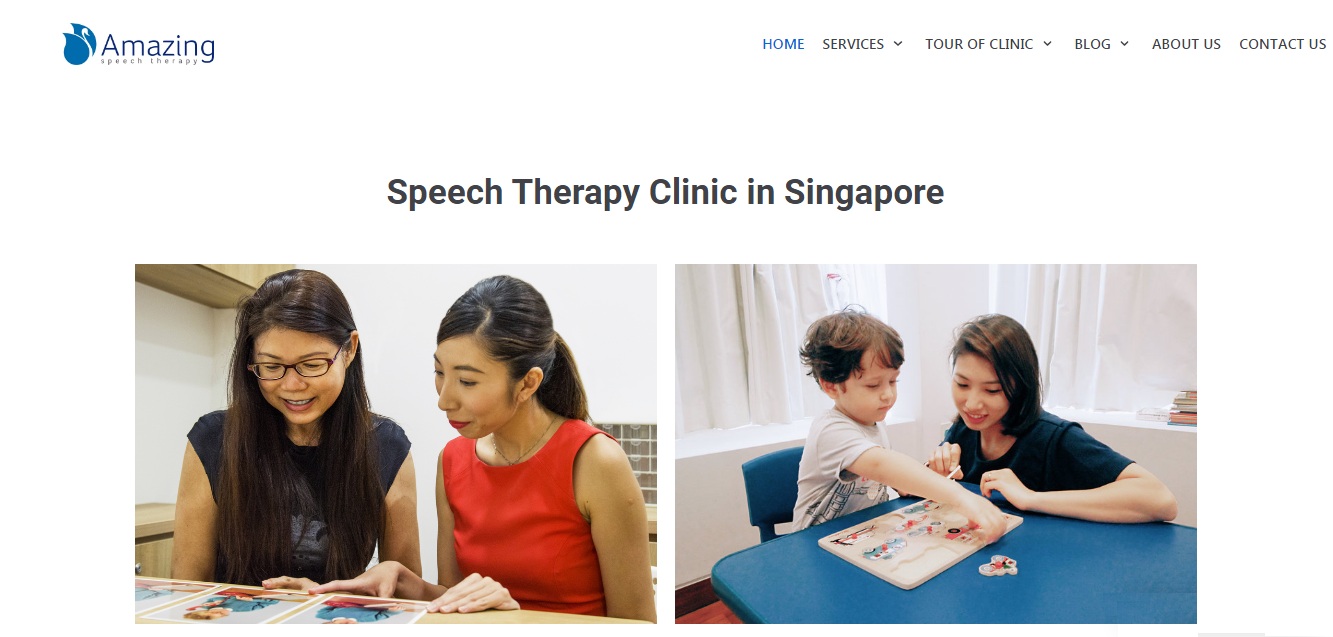 BEST FOR

Fun and interactive sessions

SERVICES

Speech Difficulty, Swallowing Difficulty, Language Difficulty, Cognitive Communication Difficulty, Voice Difficulty

WEBSITE

https://amazingspeechtherapy.sg/

ADDRESS

101 Irrawaddy Road #17-01 Royal Square Medical Suites @ Royal Square S329565

CONTACT DETAILS
+65 8121 6691/ [email protected]
OPERATING HOURS
Monday – Friday:

9:00 am to 6:00 pm

Saturday: 9:00 am to 5:00 pm
Amazing Speech Therapy began as a mere dream of the founder but through her hardwork and perseverance, their clinic was founded. Their main goal is to help those individuals overcome their speech or language defect. They strive to provide innovative and creative way of dealing with their clients. 
From their foundation until today's time, the clinic never fails to assist their patients in enhancing and improving their communication skills. Their team takes pride in their good quality service and well-thought of treatment and therapy.
Highlights
Enjoyable sessions or treatment

Personal care

Professional staff and therapist
Customer Reviews
You will never go wrong with choosing them when you have problems with your speech. Here are some testimonies from their clients:
Beatrice is a committed therapist who makes an effort to really understand my mother and builds great rapport with her. Beatrice is sincere and truly cares about my mother's progress towards recovery, and therefore has managed to win my mum's trust and confidence in her.  Beatrice constantly encourages my mother to eat well and do her exercises which has played an important role in the recovery of her swallowing function. Im Neo
We started speech therapy for my son because he was not using much sounds or words to communicate with us. Charmaine helped him develop functional communication by teaching us and my son to use the picture exchange communication system to tell us what he wants. She also used songs, games, and his favourite toys to motivate him to interact by using sounds and words. My son has made great improvements and is now so chatty, vocalising and mimicking sounds and words when we talk and sing to him. Arifah – Mother of A (3 years old)
11. Speech Therapy Works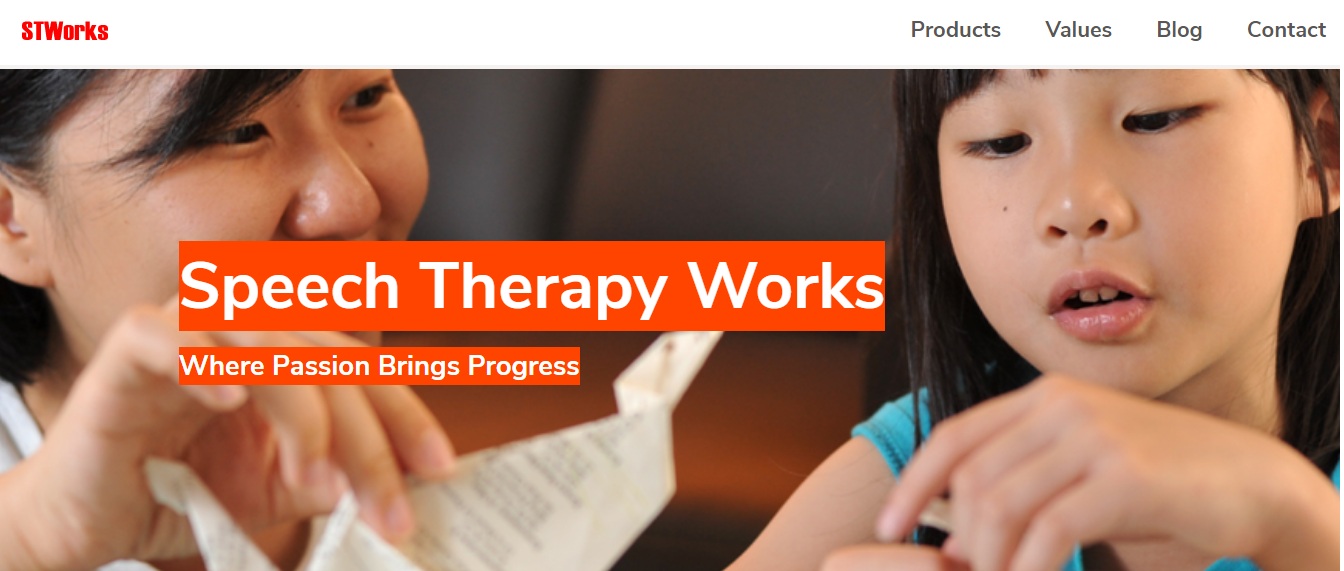 Speech Therapy Works offers a wide array of speech therapy services and provides comprehensive assessments so they'd be able to apply appropriate procedures and practices according to their clients' needs.
They also provide the following specialized treatment approaches:- Picture Exchange Communication System (PECS) Hanen Programme – It Takes Two to Talk & More Than Words PROMPT Technique (Introductory Level) Developmental, Individual Difference, Relationship-based (DIR®/Floortime™) Social Thinking Lidcombe Programme
Depending on the age of their client, each session lasts for 45 minutes to 1 hour. 
Highlights
Addresses a wide range of speech difficulties

Multi-disciplinary approaches
12. Treetop Therapy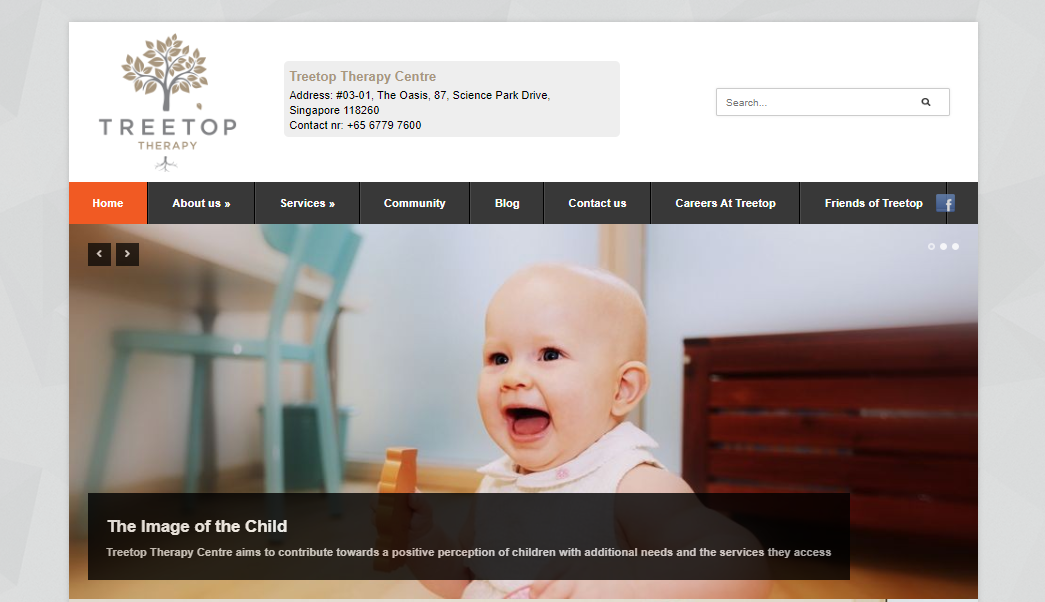 Babies are one of a kind. They can give someone so much happiness by just simply crying, giggling or smiling. We  know that babies aren't always responsive, and some are unfortunately incapable of communicating what's wrong with them or how are they feeling at the moment.
Children need to be able to listen and develop their speech and language skills as well to develop friendships with peers. If you are having trouble helping your child, it is not bad to seek help.
With Treetop Therapy, your child's future is ensured. They will take care of your child as if it's their own, and will make sure that your child is ready before mingling with the other kids.
Highlights
Assessment and intervention are offered in clinic or remotely via teletherapy
In School Services
All training and supervision are delivered face to face and/or remotely
It Takes Two to Talk Program
Box Clever School Programme
Customer Reviews
Here is a review left by a satisfied client:
"Our son began sessions with Melanie in July 2016. She was clearly passionate about her work – her energy and bubbliness, as well as the way she incorporated games into her sessions, made our son very comfortable from the outset allowing him to open up immediately and look forward to each session. After just a few weeks we began to see improvements – our son was mastering one consonant at a time, and with it grew his confidence. When we left Singapore in September 2017, the progress our son had made was truly astounding. In just over a year he had gone from struggling to articulate the simplest of sentences to speaking with a level of clarity that put him on par with other children his age. From our experience, how well the therapist interacts with the child is perhaps even more important than their technical proficiency. With Melanie, she ticked both boxes, and the results were excellent. We couldn't recommend Melanie and Treetop Therapy more highly." – Paul Pountney
13. Total Communication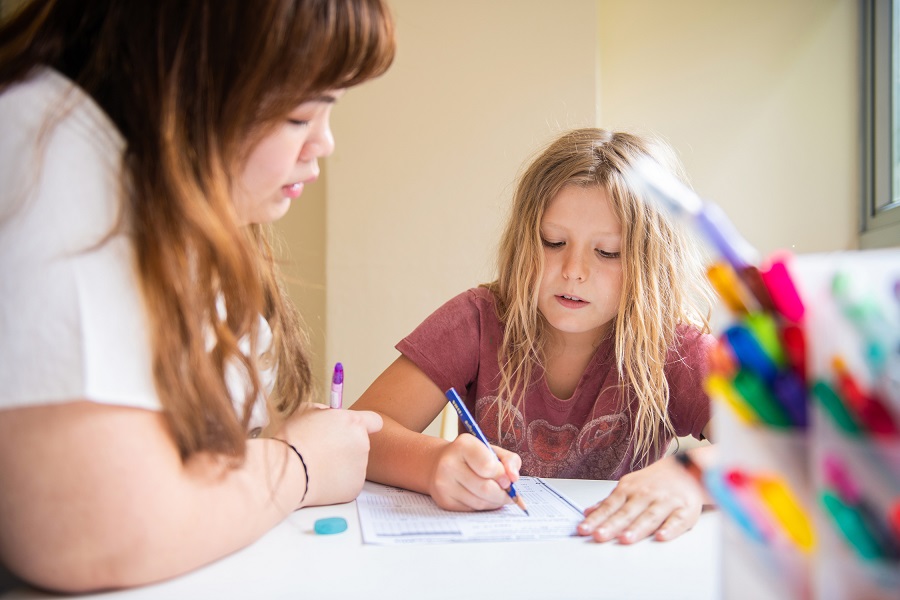 With over 14 years of experience in the field, Total Communication is one of the best choices for speech therapy in Singapore. Their team of specialists is dedicated to providing the best child care in terms of language, communication, cognition, motor skills, socio-emotional development, academic performance, and adaptive skills.
Every team member's experience in these areas has given them the skill and expertise to provide the best services. They're also highly familiar with the dynamic demands of both international and Singaporean school settings and families.
Highlights
Offers Partial and Full Day Programmes
Mentorship services available
Shadow Services help children with learning difficulties
Customer Reviews
"I guess the best thing about Total Communications team is their holistic approach to the problem solving. They go slow, explain every bit of the milestones/targets, and also encourage & embrace all stakeholders who can meaningfully support the achievement of the goals. This definitely is a very inclusive approach and we do see higher potential in reaching our final destination. We consider them as a great team who's partnering us in our journey and does extend a helping hand at every step. Thank you for all that you are doing.
I wish the entire team all the very best in their noble mission." -Abhinandan Mookherjee
14. Speech Bubbles

| | |
| --- | --- |
| BEST FOR | Speech Therapy for Toddlers and Kids |
| SERVICES | Assessment. Home-based Therapy, School/Online Therapy |
| WEBSITE | http://speechbubbles.com.sg |
| ADDRESS | |
| CONTACT DETAILS | +65 97482908 |
| OPERATING HOURS | N/A |
Speech Bubbles offers speech therapy services for toddlers and kids. Besides their school and online therapy sessions, they also offer home-based therapy sessions.
Their therapists take on a dynamic and holistic approach when it comes to guiding children. You can rest assured that your child will be able to express themselves better with Speech Bubbles.
Highlights
Holistic development
Dynamic approach
That's our list of the best speech therapists in Singapore! You may now book an appointment with your chosen clinic and have an initial consultation to know which treatment is the most suitable for you.
If you know of other clinics that we missed out on our list, you may also share them with us!
Also, if you're currently looking for a school where you can transfer your kids for a better environment, see these best preschools in Singapore! These institutions offer special programs intended to explore the full potential of your children.