Our 12 Favourite IVF Clinics in Singapore
Searching for an in vitro fertilisation (IVF) clinic may be more stressful than you think. Luckily, we're here to tell you about the best IVF clinics in Singapore so you won't have to undergo any more challenges.
To ease your mind, we also wrote tips on how to choose a clinic and how you should prepare for the fertility cycles. But first, let's talk about how much IVF may cost you and your partner so you know what to expect.
How Much Do IVF Services Cost in Singapore
| | |
| --- | --- |
| Type of services | Price range |
| Consultation fees | $150–$300 |
| Fertility tests | $240–$440 |
| Fertility medication | $2,500–$3,500 |
| Egg monitoring | $1000– |
| Egg retrieval | $3,500–$10,000 |
| Sperm collection | $1,250– |
| Embryo transfer | $1,500–$5,500 |
You can also have a more affordable fertility cycle with the help of government funding, as well as Medisave and other insurance plans.
For those using Medisave, here are the maximum funds you can avail of according to the treatment cycle. Note that a patient can only withdraw a maximum of $15,000 in a lifetime.
| | |
| --- | --- |
| Treatment cycle | Maximum Medisave benefits |
| First treatment cycle | $6,000 |
| Second treatment cycle | $5,000 |
| Third treatment cycle | $4,000 |
Here are the limits of co-funding benefits you can avail of according to you and your partner's citizenship.
| | |
| --- | --- |
| Citizenship | Co-funding benefits |
| 1 Singapore citizen + 1 foreigner | 35% ($1,000 for frozen cycle; $3,600 for fresh cycle) |
| 1 Singapore citizen + 1 permanent resident | 55% ($1,600 for frozen cycle; $5,700 for fresh cycle) |
| 2 Singapore citizens | 75% ($2,200 for frozen cycle; $7,700 for fresh cycle) |
The Best Fertility Clinics with IVF in Singapore
Here is our list of the best fertility clinics offering IVF here in Singapore. We only included clinics with licensed specialists, reasonable pricing, and compassionate patient care.
Alpha IVF Centre & Alpha Women's Specialists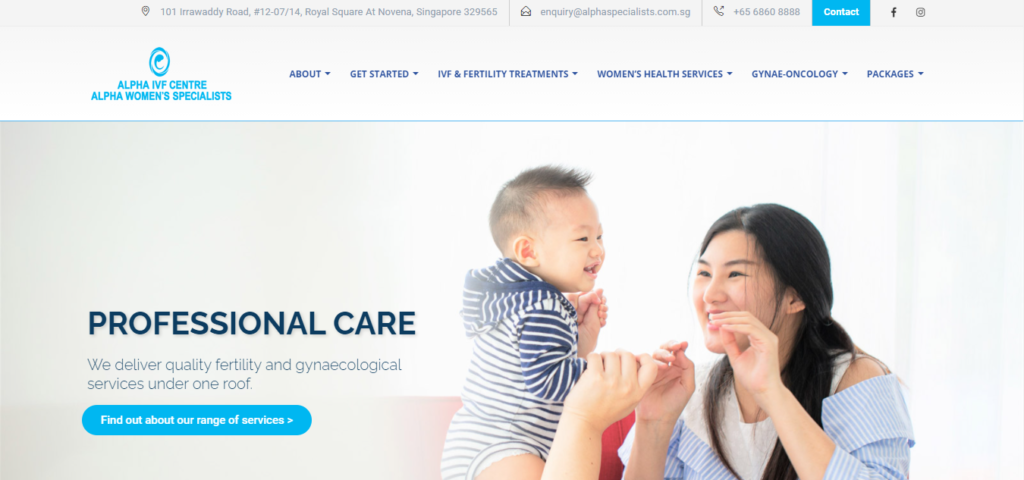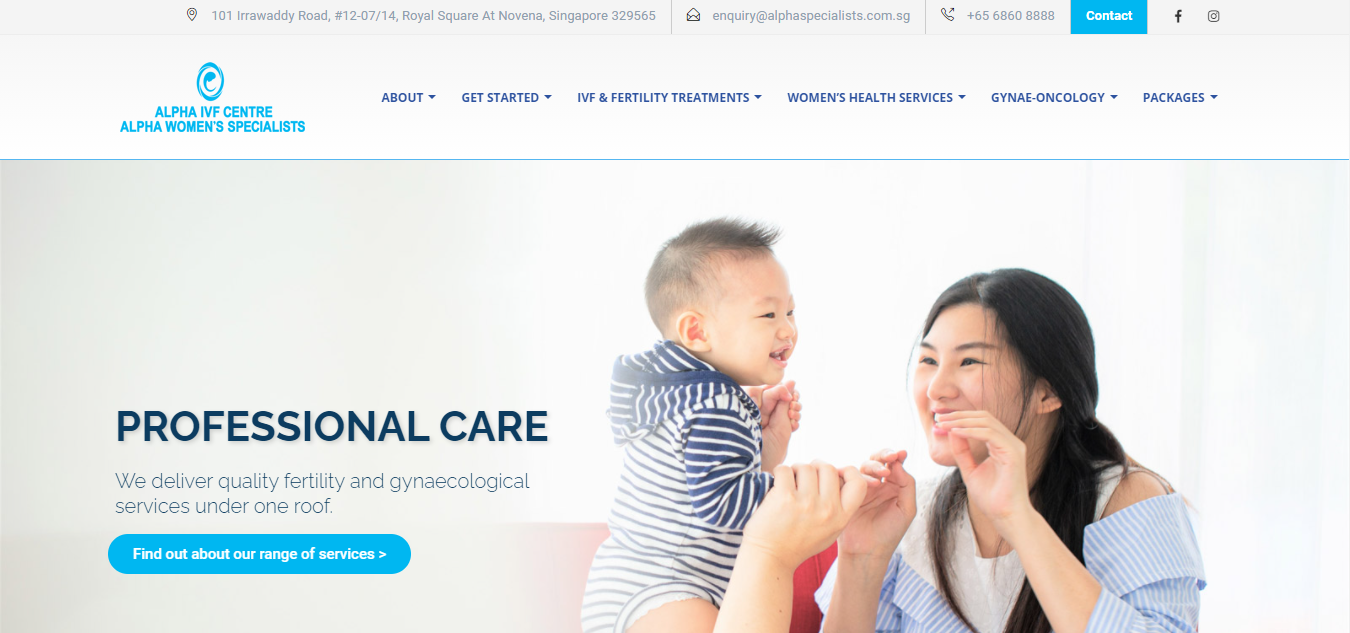 BEST FOR
IVF & Fertility Treatments and Pregnancy/Obstetrics Care
SERVICES
IVF & Fertility Treatments:
– In-Vitro Fertilisation (IVF)
– Intracytoplasmic Sperm Injection (ICSI)
– Time-Lapse Culture System
– Artificial Intelligence (AI) – Embryo Selection
– Embryo Cryopreservation
– Blastocyst Transfer Program
– Intrauterine Insemination (IUI)
– Surgical Sperm Retrieval
Pregnancy / Obstetrics Care:
– Monitoring and support in the first 12 weeks of gestation – Counselling and screening options for chromosomal problems / Down Syndrome / structural abnormalities.
– Monitoring of growth, progress and development throughout the pregnancy.
– Discussing delivery options
– Managing the labour and delivery of the baby.
ADDRESS
101 Irrawaddy Road, #12-12, Royal Square At Novena, Singapore 329565
CONTACT DETAILS
+65 6860 8888


[email protected]

WEBSITE
https://www.alphaspecialists.com.sg/
OPERATING HOURS
Monday-Friday: 8:00 AM to 5:00 PM
Saturday: 8:00 AM to 1:00 PM
Sunday / Public Holiday: Closed
Alpha IVF Centre & Alpha Women's Specialists (AIVF/AWS) is a one-stop fertility centre in Singapore which provides a comprehensive range of fertility treatments.
Dr. Tan Heng Hao, the medical director of AIVF/AWS been involved in the field of reproductive medicine since the start of his career as an Obstetrician and Gynaecologist (O&G). He was the head of department in Reproductive Medicine and director of the IVF Centre & National Sperm Bank in KKH, and has won numerous awards.
Dr. Tan simply puts it: "I often describe it as a journey that we go on with the patients. That means being more than a doctor addressing their medical needs."
Unlike other clinics, Alpha tailors fertility care to individual patients by leveraging on various IVF technologies to increase the chance of a successful pregnancy. Apart from that, their patient-centric care reduces patients' stress and helps them feel at ease in a supportive and discreet environment. Dr. Tan also actively meets patients' O&G needs, and hence, providing a one-stop solution from "Lab to Cradle".
Centre is easily accessible via Novena MRT 
Well-equipped facilities 
Offers Artificial Intelligence (AI) for more objective embryo selection
Waiting time can be improved
Dr. Steven Teo – STO+G


| | |
| --- | --- |
| BEST FOR | Women's healthcare services |
| SERVICES | Pregnancy care, fertility care, general gynaecology, general healthcare for women, family planning, termination of pregnancy |
| PRICING | Fertility screening: $498 + GST |
| WEBSITE | https://stogpractice.com/profile.html |
| CONTACT DETAILS | +65 6432 8240 |
Dr Steven Teo is a licensed OB-GYN and fertility specialist who has trained in the prestigious Royal College of the UK before his training in KK Women's and Children's Hospital here in Singapore.
He has then received his accreditation from MOH for IVF, intracytoplasmic sperm injection (ICSI), and surgical sperm retrieval. With his expertise in women's health, he can help families smoothly transition from fertility solutions to natal care.
Apart from fertility tests and IVF treatments, STO+G also offers SOIUI, ovulation induction, and reproductive surgery. With these services, Dr Teo can thus help couples try other methods with the aid of medical science.
This clinic also has a preconception fertility package, which includes lab tests, bedside scans, semen analysis, and even counselling. But what makes STO+G unique is that its staff have excellent bedside manners, thus providing great comfort to its patients.
Outstanding bedside manners
Provides care and comfort to all patients
Holistic fertility testing package
Relatively more expensive services, especially testing
Dr Charles P. Lim – IVF Treatment with Dr. Charles MPL


Dr Charles Lim is yet another IVF specialist offering numerous services. His clinic provides consultations, testing, culture, and implantation services to cover the whole process of IVF treatments.
As a full-service IVF centre, Dr Charles' clinic also provides full assessments and testing to come up with a suitable plan for your situation. The clinic also has children parties to build strong relationships among the growing community of IVF parents.
This clinic's approach pairs IVF treatments with ICSI for a simplified, cost-effective, and convenient fertility solution. It even makes a hole in the egg to improve the chances of fertilisation.
Dr Charles is also skilled in laparoscopic surgeries, thus providing a way to improve the chances of fertilisation. Aside from his expertise and years of experience, Dr Charles brings his proficiency in multiple languages when dealing with clients.
However, since the clinic only has one doctor, you may have to wait longer for an appointment with this clinic.
Comprehensive services
IVF children parties
Attentive and personalised care
IVF paired with ICSI for better chances
Only one doctor for a wide range of services
WOMEN FERTILITY & FETAL CENTRE – DR ANN TAN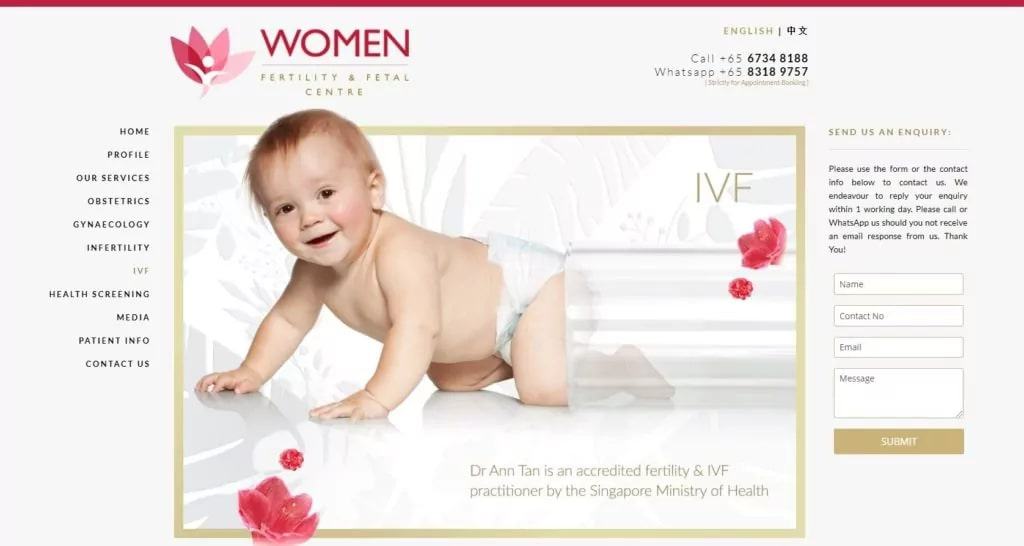 BEST FOR
Trained and accredited in both fetal medicine and reproductive medicine
SERVICES
Gynaecology: ovarian cysts, endometriosis, uterine fibroids, menopause, breast cancer Obstetrics, infertility, IVF, health screening
WEBSITE
https://www.anntan.com.sg/
ADDRESS
3 Mount Elizabeth #11-12 Mount Elizabeth Medical Centre Singapore 228510
CONTACT DETAILS
+65 6734 8188
OPERATING HOURS
Mon – Wed : 9:00 AM – 6:00 PM
Friday : 9:00 AM – 6:00 PM
Lunch Hour : 1:00 PM – 2:00 PM
Thurs & Sat : 9:00 AM – 1:00 PM
The Women Fertility & Fetal Care Centre is one of the best IVF clinics in Singapore with a relaxing environment. With extensive training and over 20 years of experience, Dr Ann Tan of this clinic handles all phases with precision and compassion.
First of all, she optimises her skill and interest in nutrition and its effects on the body when it comes to fertility and reproduction. Next, her clinic has the necessary tests needed before and during the IVF treatment.
And lastly, Dr Ann guides her clients through pregnancy as she is also an OB-GYN. To add to that, she is also well-known for her ability to handle high-risk pregnancies.
The clinic also offers its services in English and Chinese for inclusivity. The only downside we found of this clinic is its comparatively smaller team, with only one doctor available to oversee the staff and provide medical services.
Warm, supportive environment
Skill in managing high-risk pregnancies
Smooth transition from fertility to pregnancy care
Relatively smaller team for diverse services
INTERNATIONAL UROLOGY, FERTILITY & GYNAECOLOGY CENTRE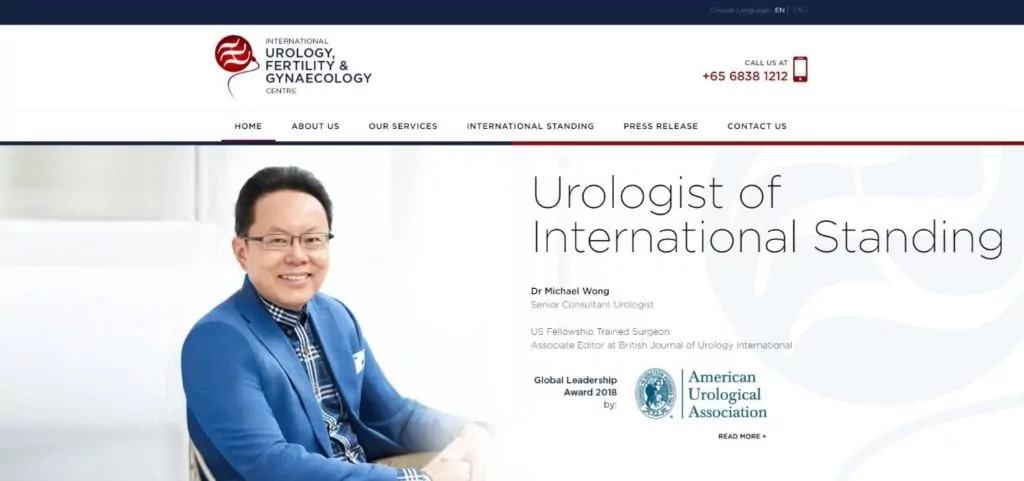 BEST FOR
Internationally recognised and accredited specialists
SERVICES
Fertility services: Intrauterine insemination (iui) and in-vitro fertilisation (ivf), improve male fertility Other services: Urinary stones, prostate, incontinence & female bladder, urological cancer, men's health, vasectomy & reversal vasectomy, erectile dysfunction, urinary tract infection
WEBSITE
https://www.drmichaelwong.com/
ADDRESS
3 Mount Elizabeth Road, #10-09, Mount Elizabeth Medical Centre, Singapore 228510
CONTACT DETAILS
Tel: +65 6838 1212 / +65 6838 1218
Fax: +65 6838 1216
24-hours: +65 6535 8833


[email protected]

/

[email protected]

/

[email protected]

/

[email protected]
The International Urology, Fertility & Gynaecology Centre is a holistic IVF clinic catering to both men and women. As a one-stop diagnosis and treatment centre, it can handle all types of reproductive issues and concerns a couple may have before IVF.
Dr Michael Wong is a local urologist who has been recognised and has been serving worldwide. Not only has he trained globally but his expertise and skill have even led him to tour Europe, Asia, and Africa to teach and share his urologic and surgical skills.
To compliment Dr Wong, the clinic also has Dr Julianah Abu, an OB-GYN with a warm yet high-quality approach to fertility. She has also gained significant praise and respect as a researcher and practitioner of IVF and other fertility solutions.
Unlike the usual IVF clinics, this fertility centre offers personalised treatment plans. It can thus provide more effective treatments, even for women with PCOS and other ovarian conditions.
Joint urology-gynaecology consultations for well-rounded fertility treatment
Convenient location
International recognition
Supports charitable causes
Accommodates women with existing condition
Greater focus on urology and gynaecology as separate practices
HEALTH AND FERTILITY CENTRE FOR WOMEN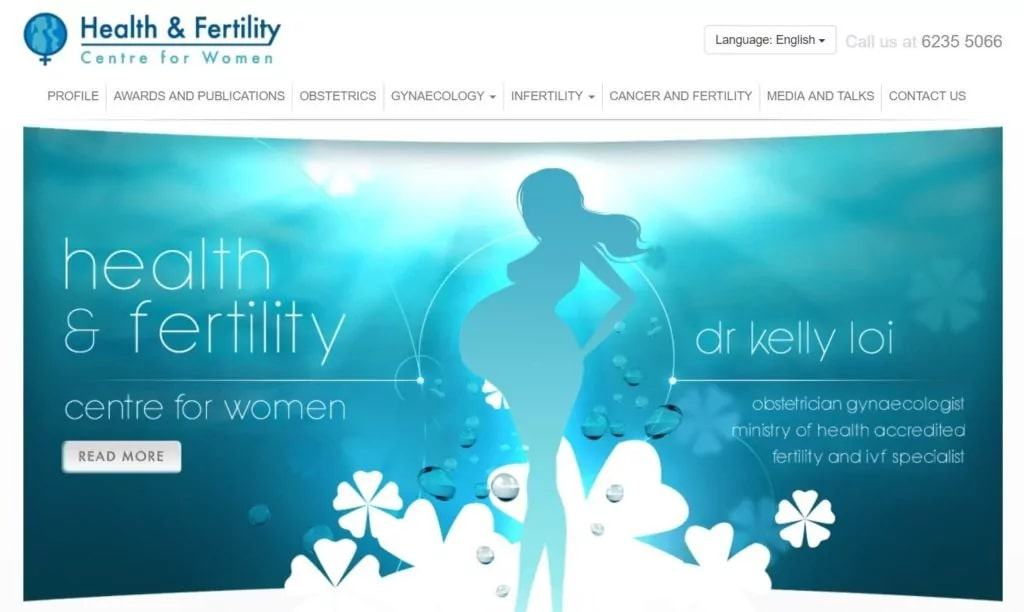 BEST FOR
Oxford-trained specialist, Ministry of Health-certified IVF clinic
SERVICES
Obstetrics, cancer & fertility, gynaecology, infertility Gynaecology: gynae & health screening, cervical cancer screening & prevention, fibroids, ovarian cysts, women's gynaecological cancers, polycystic ovarian syndrome (pcos), endometriosis, minimally invasive & laparoscopic surgery, contraception, adolescent gynaecology, menopause & bio identical hormones, prolapse & urinary incontinence, sexual health, hysterectomy surgery, vaginal laser treatment Infertility: intra-uterine insemination (iui), in-vitro fertilisation (ivf)
WEBSITE
https://www.healthfertility.com.sg/
ADDRESS
3 Mount Elizabeth, #15-16 Mount Elizabeth Medical Centre, Singapore 228510
CONTACT DETAILS
Tel: +65 6235 5066
Fax: +65 6235 6455
Answering Service: +65 6535 8833


[email protected]

OPERATING HOURS
Monday – Friday: 9:00 AM – 6:00 PM
Saturdays: 9:00 – 1:00 PM
Health and Fertility Centre for Women is yet another MOH-accredited IVF clinic. Dr Kelly Loi, who has received numerous accolades, trained internationally, and served for over 20 years, heads this clinic
What makes it part of the best IVF clinics in Singapore is that it offers natural and thawed IVF cycles. For thaw IVF cycles, Health and Fertility Centre allows the annual renewal of frozen eggs for up to 5 years.
To increase the chances of fertilisation, this clinic offers two options, with the first being the pairing of IVF with ICSI. The other solution that Health and Fertility Centre has includes thorough gynaecological assessment, laparoscopic and hysteroscopic procedures.
Another great thing about this clinic is that it breaks language barriers. The clinic offers its services in languages, namely English, Chinese, Bahasa, Vietnamese, and Russian.
Despite Dr Loi's efforts and expertise, the Health and Fertility Centre still has its faults, specifically when it comes to customer services. Not only were there reports about long waiting times, but also of poor front desk hospitality.
Award-winning specialist
Offers options for fresh and frozen cycles
Comfortable & private environment
Proficiency in 6 languages
Poor customer service at the front desk
Long waiting times
VIRTUS FERTILITY CENTRE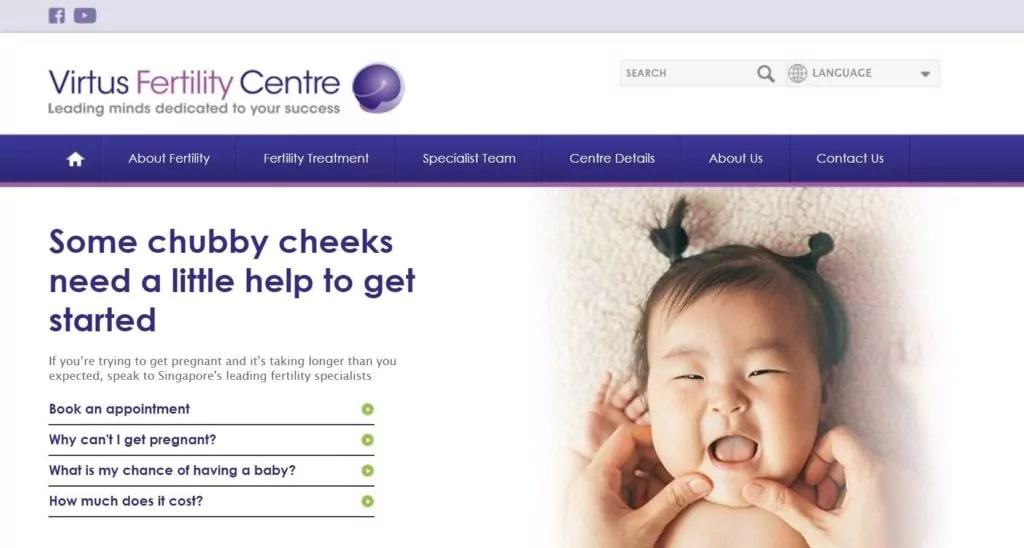 BEST FOR
Up-to-date equipment & latest reproductive techniques
SERVICES
Fertility assessment, female infertility tests, male infertility tests, thalassaemia test, fertility surgery, ovulation induction, iui/artificial insemination, ivf, icsi & imsi, pgd, egg freezing, male fertility preservation, donor programme
PRICING
Basic fertility assessment: $299
Oocyte (egg) retrieval: $8,800* – $9,500**
Embryo transfer: $4,000 – $5,300**
Intrauterine insemination (iui): $880

* With maximum allowable Medisave withdrawal for 1st and 2nd cycles, the out-of-pocket payment for a complete IVF treatment cycle can be within $3,000. Contact them for more information.
** A range for IVF cycle costs is provided due to variations in individual treatment plans which should be discussed with your fertility specialist. Contact them for more information.
WEBSITE
https://www.virtusfertilitycentre.com.sg/
ADDRESS
9 Scotts Road, Units #09-01 to 05, Scotts Medical Centre @ Pacific Plaza, Singapore 228210
CONTACT DETAILS
+65 6460 4555
OPERATING HOURS
Monday – Friday: 8:00 AM – 5:00 PM
Saturday: 8:00 AM –12:00 PM
Virtus Fertility Centre boasts itself of its high success rates for all ages (average of 55.9%), all thanks to its Freeze-All Approach. This approach uses the latest vitrification methods to freeze embryos, so patients can wait until the best possible time for the transfer.
What really sets this clinic apart is it values the effects of hormonal injections. Virtus thus provides private counselling for couples to ensure safety during the hormonal injection phase, and optimal conditions during the embryo implantation stage.
To cater to all steps of the IVF process, the clinic has state-of-the-art equipment for screening tests. Virtus also has six on-call doctors to oversee the process and the resulting pregnancy.
Aside from fertility services, Virtus also offers a free 4-week pre-pregnancy guide. This will help future parents handle the emotional, mental, physical, and financial requirements of bearing a child.
However, you should also be made aware that the clinic may be slow in processing public funding requests. And believe us when we say that you'd need funding assistance because Virtus's prices are reasonable yet still on the expensive end.
Private fertility coaching and emotional counselling
World-class fertility facilities in Singapore
A large team of doctors and IVF specialists
Free pre-pregnancy guide
Limited to frozen treatment cycles
Slow processing of financial matters
NATIONAL UNIVERSITY HOSPITAL, WOMEN'S CENTRE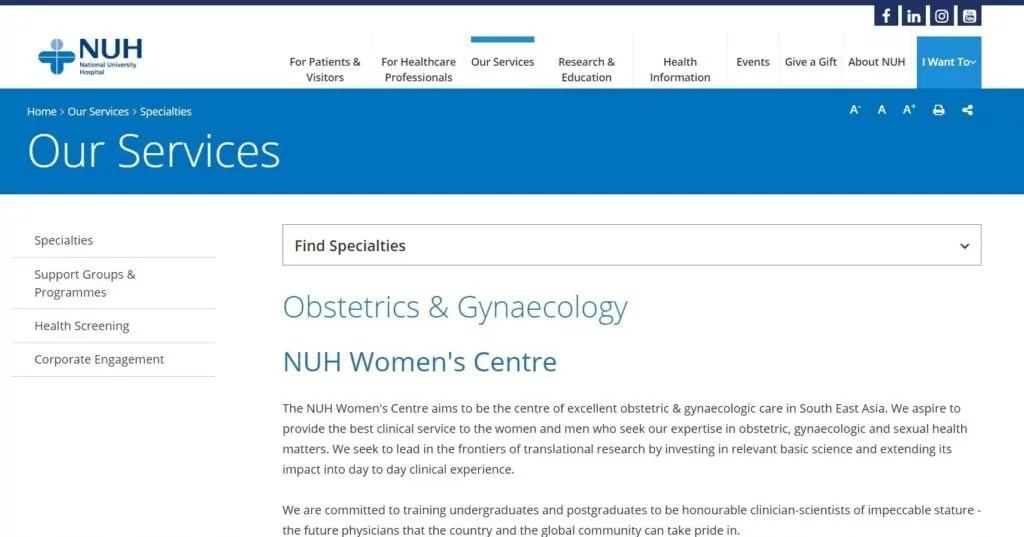 Couples who want a clinic to take care of all the aspects of the pregnancy, from prenatal care to pediatric care, may benefit from this next entry.
The Women's Centre of the National University Hospital (NUH) is a leading institution in research and education for gynaecology, obstetrics, and fertility. It offers IVF treatments as well as embryo and sperm cryopreservation.
With its commitment to new methods, NUH is capable of providing the preimplantation genetic diagnosis. So, clients can make sure their babies are healthy and free of any genetic defects before the embryo transfer.
It is also one of the first IVF clinics in Singapore as it was established in 1982. And because it is a training ground for many clinicians, NUH has an abundance of specialists and thus caters to more patients at a given time.
Among all these benefits, you should know that the NUH doesn't have the best customer services. With complaints about long waiting lines, difficult visitation policies, and payment fees, NUH may not be the best for those avoiding inconveniences.
Preimplantation genetic diagnosis
Numerous in-house experts
One of the leading research institutions
Comprehensive services from fertility to postnatal care
Some doctors are still undergoing speciality training
Numerous complaints about customer services
MICHELE LEE WOMEN & FERTILITY CLINIC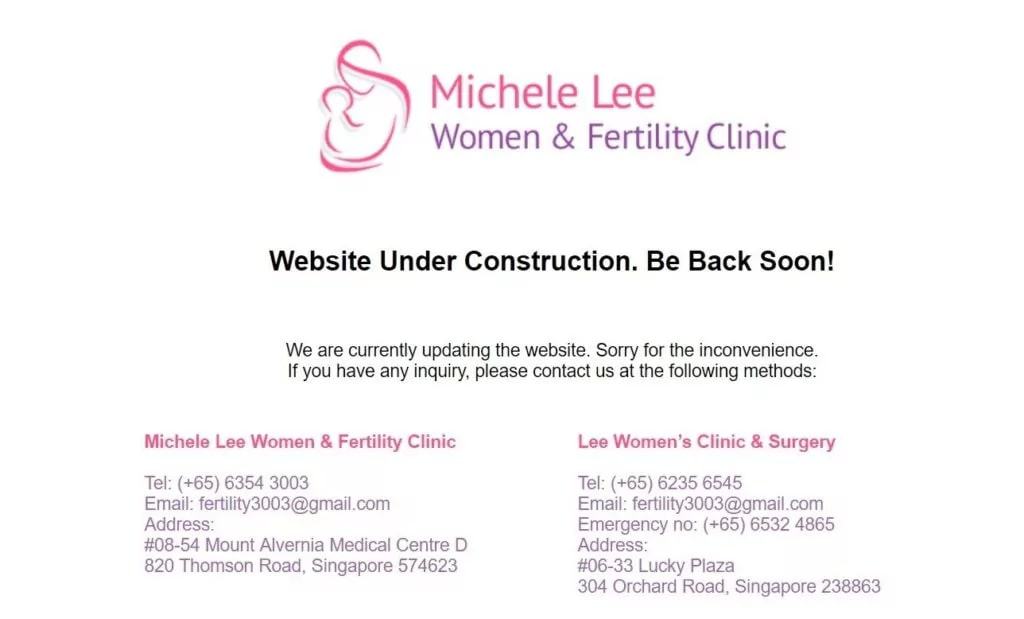 BEST FOR
Accredited fertility & IVF specialist
SERVICES
Fertility examinations and directing , laparoscopy fertility evaluation , ovulation ultrasound observing and enlistment , hysteroscopy: removal of septum, polyps and fibroids , laparoscopy: removal of fibroids and ovarian blisters , tubal surgery , intrauterine insemination , in-vitro fertilisation (ivf accredited specialist , negligible ovarian incitement in ivf cycles , administration of polycystic ovarian disorder
WEBSITE
http://drmichelelee.com/
ADDRESS
#08-54 Mount Alvernia Medical Centre D 820 Thomson Road, Singapore 574623
CONTACT DETAILS
+65 6354 3003


[email protected]
Dr Michelle Lee specialises in investigating and addressing infertility issues as well as treating pre-invasive conditions. So, clients can expect detailed and numerous types of assessments when dealing with her clinic.
She is a registered colposcopist, fertility specialist, gynaecologist and obstetrician. Thus, she delivers its clients a smooth transition from IVF treatment to antenatal care.
She studied and trained in Ireland and the UK before finally heading home to practice here in Singapore. Dr Lee first worked at a public IVF facility, but she now has a private practice to provide more personalised care to her patients.
Smooth transition from fertility to pregnancy care services
Expertise in numerous types of assessments
Excellent client care
Relatively smaller team for diverse services
CENTRE FOR ASSISTED REPRODUCTION PTE LTD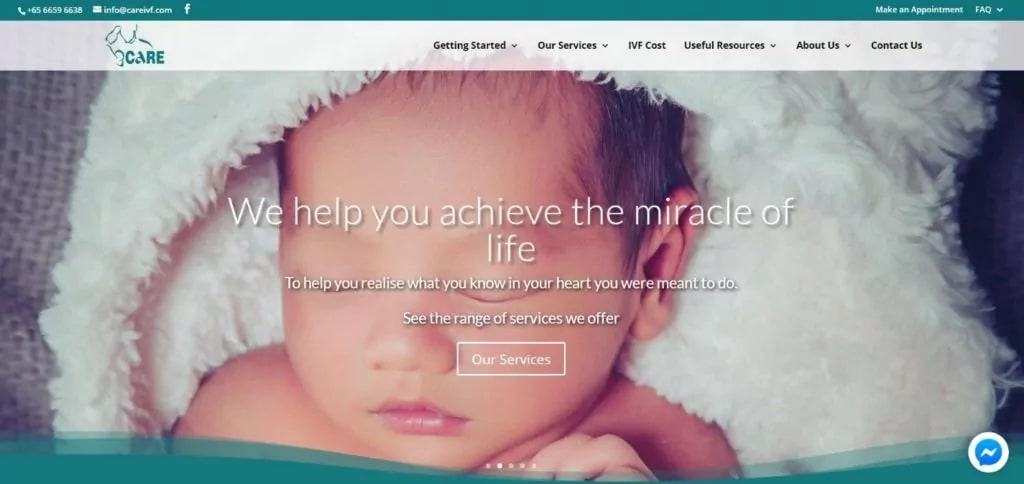 BEST FOR
Comprehensive range of fertility treatments
SERVICES
Clinical: infertility consultation, ultrasound scanning of the ovaries and uterus, intra-uterine insemination, endometrium biopsy, counselling, oocyte retrieval, embryo transfer Ivf laboratory: semen analysis and function tests; sperm enhancement; in vitro fertilisation; assisted fertilisation; blastocyst culture; sperm, egg and embryo cryopreservation; assisted hatching; embryo biopsy for pre-implantation genetic diagnosis Surgical: diagnostic & therapeutic laparoscopy, hysteroscopy, endometriosis cauterisation, tubal reversal, pelvic adhesiolysis, reconstructive surgery
WEBSITE
https://careivf.com/
ADDRESS
8 Sinaran Drive, #05-05 Novena Specialist Centre.Singapore 307470
CONTACT DETAILS
+65 6659 6638
+65 6659 6639 (fax)
OPERATING HOURS
Monday – Friday: 8:30 AM – 5:00 PM
Saturday: 8:30 AM – 1:00 PM
Center for Assisted Reproduction (CARE) is a clinic that offers all types of services for IVF treatment, from pre-screening to implantation. The clinic has a large team of fertility specialists, embryologists, and nurses for a positive experience.
For its IVF services, CARE offers both natural and frozen cycles. It also accepts donors so clients don't necessarily have to supply the sperm or the egg, so long as they know someone willing to donate.
Apart from IVF, CARE also provides preimplantation genetic diagnosis to find any irregularities even before pregnancy. Additionally, this clinic also offers assisted hatching to increase the chances of implanting the embryo into the uterus.
But IVF doesn't only involve egg harvesting, embryo culture, and implanting as it also has other stages like pre-testing and hormonal stimulation. These services, however, are beyond CARE's scope of services so you'll have to find another clinic for such.
A large team of doctors, nurses, embryologists and technicians
Available assisted hatching and preimplantation diagnostics
Option for frozen or natural treatment cycles
Allows sperm or egg donors
IVF packages don't include the cost for testing and hormonal injections
Some complaints about poor continuity of services
SINCERE HEALTHCARE GROUP


BEST FOR
Fertility Treatments
SERVICES
In-vitro fertilisation(ivf), obstetrics & gynaecology (obgyn), urology, sexology, aesthetics & wellness, vascular & interventional, andrology laboratory, general & colorectal surgery
WEBSITE
https://sincerehealthcaregroup.com/
ADDRESS
8 Sinaran Drive #06-08/09/10/11/12/13/14/16/17/18/19 Novena Specialist Center Singapore 307470
CONTACT DETAILS
+65 6507 0766


[email protected]

OPERATING HOURS
Monday, Wednesday, Thursday, and Friday: 8:30 AM – 5:30 PM
Tuesday: 8:30 AM – 8:30 PM (Evening clinic only available based on appointment)
Saturday – 8:30 AM – 12:30 PM
Sincere Healthcare Group (SHG) is yet another clinic offering a wide range of services. It serves as one of the best IVF clinics in Singapore because of its wide range of services.
It has all types of fertility screening tests for both men and women, as well as freeze banking services. Thus, SHG also offers frozen and fresh cycle treatments for its IVF services.
This clinic's team is composed of fertility specialists, gynaecologists, and also urogynaecologists. But what it really boasts of is how one of their specialists, Dr Ng Soon Chye, is a pioneer of IVF and other complementary treatments like ICSI.
It also has complementary services like preimplantation genetic diagnostics, assisted hatching. As one of the pioneers in IVF technology, SHG also combines in-vitro maturation and extended culture services to increase the pregnancy rate.
Pioneer in IVF technology
A large team of specialists
Special treatments like IVM or ICSI
Available for longer maturation periods
Fertility treatments for both men and women
Compassionate services
Some complaints about rushed treatments
Customer Reviews
Aside from being highly skilled in IVF treatments, Sincere Healthcare Group is also known for its warm attitude towards its patients. Here are the reviews that'll tell you the same thing:
"After going through treatment with Professor Ng, I was blessed with my own baby boy. During my first trimester, I had some bleeding and made urgent trips down to A&E. But throughout the journey, Professor Ng and the staff at Sincere were always calm and reassuring. This gave me tremendous amount of confidence that my pregnancies will pull through. My husband and I are really grateful to them."—Jamie
"Before we came here wanted to seek help with my infertility problem. We searched through the website and contacted Ms Atarah, and she has explained and given us lots of encouragement. After discussing with my husband, we made a trip to meet the specialist. Service was good. We also attended the IVF counselling with their Clinic Manger Ms Han Dan. Deeply grateful for the help in making our dreams come true."—Maggie
NOEL LEONG FERTILITY & IVF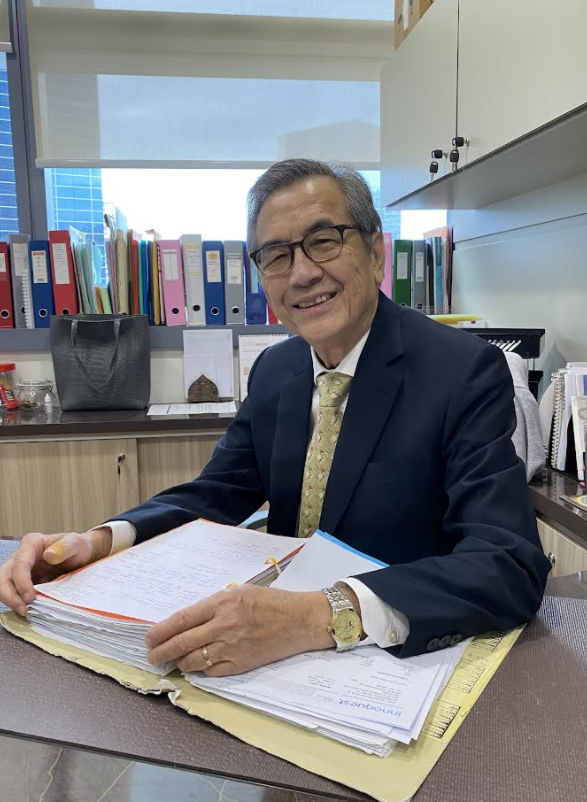 BEST FOR
Reproductive Medicine
SERVICES
REPRODUCTIVE MEDICINE SERVICES
First Consultation and Clinical Evaluation
Treatment methods directed towards corrective measures
Assisted Reproductive Treatment
SUPEROVULATION INTRAUTERINE INSEMINATION (SOIUI)

General Obstetrics
General Gynaecology
WEBSITE
https://ivf.com.sg/
ADDRESS
101 Irrawaddy Road
10-08 Royal Square Medical Centre
Singapore 329565
CONTACT DETAILS
62556883
[email protected]
OPERATING HOURS
Monday – Friday: 8.30am – 1.00pm / 2.00pm – 5.30pm
Thursday: 8.30am – 1.00pm
Saturday: 8.30am – 12.30pm
Sundays & Public Holidays: Closed
Noel Leong Fertility & IVF is a clinic that offers a wide range of reproductive medicine services, including IVF treatments. Many praise them for their attentive care and tailor-fit treatments.
They take pride in being a one-stop medical facility that makes use of the latest, evidence-based technology and techniques in the field. This is what allows them to provide comprehensive diagnoses and in turn, increase their chances of positive outcomes.
Dr Noel Leong, their Medical Director, is a certified specialist in Obstetrics and Gynaecology with a subspeciality in Reproduction Medicine and IVF. He is one of the few doctors that is capable of tubal microsurgery and minimally invasive surgery.
Dr Leong also manages the patients' antenatal care and delivery when they get pregnant.
On the off chance that your treatment falls outside of Dr Leong's capabilities, you can easily be cross referred to other hospital that he possesses admission rights to. This dedication to patient wellness and long-term care is what makes Noel Leong Fertility & IVF an excellent choice to consider not only for IVF treatments, but also for other reproductive medicine matters.
One-stop medical facility
High quality medical care
Supportive environment
Convenient cross-referrals
Management of Pregnancy and Birth of Baby
What to Expect with Fertility Treatment
Here are some things you should expect with IVF treatments
Numerous preliminary tests. Your IVF specialist will need preliminary tests to determine the possible cause of infertility and address it before proceeding with IVF.
Constant monitoring. Your fertility specialist will be monitoring your cycle as well as the egg development during the stimulation phase.
Emotional journey. We're not talking about the joys of becoming a mother soon. One phase of IVF will require hormonal injections or medications.
Multiple eggs during retrieval and multiple embryos. This approach will increase the chances of getting pregnant.
Pregnancy tests. A pregnancy test will be due around 2 weeks after the embryo transfer.
What to Look for in the Best IVF Clinic
1. Fertility rate.
First of all, you need to make sure you are dealing with a clinic that has impressive fertility rates. The higher the fertility rates, the more likely you'll have a successful fertilisation process and the more valuable your money will be.
2. Licenses and certification of the team.
In vitro fertilisation is a complex process that requires not only delicateness but also scientific expertise. Make sure the clinic has a registered fertility specialist to conduct and oversee the procedures.
3. Patient care and customer services.
IVF is an emotional process, not only because of the excitement of finally having a baby but also because of hormonal changes. So, find customer reviews and ratings to ensure the clinic you're choosing understands what its clients need during the fertilisation cycle.
4. Prices
Last but not the least, you have to make sure you can afford a clinic's prices from start to finish. So, when enquiring about their rates, make sure you also learn about their consultation fees and not just the costs per treatment cycle.
You should also ask whether or not they accept insurance and co-funding benefits.
Frequently Asked Questions about In Vitro fertilisation
---
All of our picks are indeed the best IVF clinics in Singapore, so you can rest assured that you'll be in good hands, whichever clinic you may choose. If you visit any of them, please do leave us some feedback!
We're also open to adding other clinics, as long as they're within our standards. So, should you know any other IVF clinics, feel free to reach out to us!
Before your treatment, you may need comprehensive health assessments. If you're also looking for a clinic for that, you should check out our list of the best health screening centres in Singapore.