By Lindsey Tan
If you're here seeking the best IVF clinics in Singapore, then you already know that conceiving a child isn't always easy. After all, what else could have caused you to search for fertility clinics in Singapore than awareness of that?
Fortunately, advances like IVF or in-vitro fertilisation can help. However, you do have to pick an excellent IVF clinic in order to ensure you ensure the best possible results.
To assist you there, we've done the research and found the top clinics for your consideration. Below are the best fertility clinics in Singapore right now — they're the IVF clinics in Singapore with the best facilities, personnel, and records as of this year.
(Note: This list is in no particular order.)

1. Dr. Steven Teo – STO+G

BEST FOR
Women's healthcare services
SCOPE OF SERVICES

Pregnancy Care
Fertility Care
General Gynaecology
General Healthcare for Women
Family Planning
Termination of Pregnancy

PRICING
Enquire for more information
WEBSITE
https://stogpractice.com/profile.html
ADDRESS
Singapore
CONTACT DETAILS
(65) 3129 2198
OPERATING HOURS
Contact for more details
Dr. Steven Teo of STO+G has helped many couples realise their dreams of parenthood as a fertility specialist. He has looked after many pregnancies and delivered precious bundles of joy as an obstetrician.
As a specialist in KK Women's and Children's Hospital, Dr Teo had previously received various awards for exemplary performance in public service.
SERVICE HIGHLIGHTS
Accredited by the MOH to practice IVF, ICSI and, surgical sperm retrieval
Outstanding bedside manners
Provides care and comfort to all patients
CUSTOMER REVIEWS
Over the years, various patients had commended Dr Teo for his effective treatments as well as the way he treated them. Turn to him for any concerns you may have about reproduction, obstetrics, and gynecology. 
2. WOMEN FERTILITY & FETAL CENTRE – DR. ANN TAN
BEST FOR
Trained and accredited in both fetal medicine and reproductive medicine
SCOPE OF SERVICES
GYNAECOLOGY: OVARIAN CYSTS, ENDOMETRIOSIS, UTERINE FIBROIDS, MENOPAUSE, BREAST CANCER
OBSTETRICS, INFERTILITY, IVF, HEALTH SCREENING
PRICING
The cost of treatment varies from person to person. Enquire for fees or schedule a consultation
WEBSITE
https://www.anntan.com.sg/
ADDRESS
3 Mount Elizabeth #11-12
Mount Elizabeth Medical Centre
Singapore 228510
CONTACT DETAILS
6734 8188
OPERATING HOURS
Mon – Wed : 9 AM – 6 PM
Friday : 9 AM – 6 PM
Lunch Hour : 1 PM – 2 PM
Thurs & Sat : 9 AM – 1 PM
Dr. Ann Tan is trained and accredited in both fetal medicine and reproductive medicine. She's also the medical expert behind this particular IVF clinic in Singapore.
For over two decades, Dr. Tan has been using her knowledge and expertise to care for both local and expatriate communities as well as women of all ages. She is the first Singaporean gynaecologist to hold the Diploma of Fetal Medicine from the Fetal Medicine Foundation… which gives you an idea of how good this fertility clinic in Singapore is.
She is a dedicated OBGYN in the field of prenatal diagnosis and care of both mother and fetus.
SERVICE HIGHLIGHTS
MOH-accredited fertility & IVF practitioner
Warm, supportive environment — one of the most relaxing among your fertility clinic Singapore options
Highly rated by past patients on Google Reviews
CUSTOMER REVIEWS
Previous patients left many positive comments on Google Reviews about Dr. Ann Tan and the clinic. They praise her for her patience, welcoming demeanour and competence.
Hayley Chiam wrote:
"Ann Tan was absolutely marvellous on both a personal and professional level. She made both my husband and myself comfortable during a tense situation. She's the kind of doctor that I would love to invest my time and trust on."
3. INTERNATIONAL UROLOGY, FERTILITY & GYNAECOLOGY CENTRE
BEST FOR
Internationally recognised and accredited specialists
SCOPE OF SERVICES
Fertility Services:
Intrauterine Insemination (IUI) and In-Vitro Fertilisation (IVF), Improve Male Fertility

Other Services:
Urinary Stones, Prostate, Incontinence & Female Bladder, Urological Cancer, Men's Health, Vasectomy & Reversal Vasectomy, Erectile Dysfunction, Urinary Tract Infection
PRICING
Enquire for fees or schedule a consultation
WEBSITE
https://www.drmichaelwong.com/
ADDRESS
3 Mount Elizabeth Road, #10-09,
Mount Elizabeth Medical Centre,
Singapore 228510
CONTACT DETAILS
Tel: (65) 6838 1212 / (65) 6838 1218 | Fax: (65) 6838 1216 / 24-hours: (65) 6535 8833
[email protected] / [email protected] / [email protected] / [email protected]
OPERATING HOURS
 
The International Urology, Fertility and Gynaecology Centre is a one-stop diagnosis and treatment centre of excellence for urological, fertility or gynaecological problems.
Located at the heart of the shopping and hotel district of Orchard Road, their clinic provides convenience, comfort and privacy for patients. They are also considered one of the best fertility clinics in Singapore.
The clinic is run by gynaecologist Dr. Julianah Abu and urologist Dr Michael Wong, working together for a more thorough fertility assessment.
SERVICE HIGHLIGHTS
Joint urology-gynaecology consultations to home in on the root of the fertility issue
Convenient location
International recognition and accreditation
Supports charitable causes
CUSTOMER REVIEWS
Though the clinic only has a few reviews on Google, they are all positive and glowing. Patients describe Dr. Wong as "the best urologist."
In addition, Jana Bandara wrote:
"I travelled all the way from the Middle East to take a second opinion and it was done by Dr Michael Wong in this centre. Dr Michael and the staff are very friendly, approachable and helpful too. They got all the best latest facilities under one roof and it was very fitting to a traveller like me to get done the tests faster and conveniently. At the end I had my doubts cleared and I felt I was treated professionally, conveniently and friendly manner."
4. HEALTH AND FERTILITY CENTRE FOR WOMEN

BEST FOR
Oxford-trained specialist, Ministry of Health-certified IVF clinic
SCOPE OF SERVICES
Obstetrics, Cancer & Fertility, Gynaecology, Infertility

GYNAECOLOGY: Gynae & Health Screening, Cervical Cancer Screening & Prevention, Fibroids, Ovarian Cysts, Women's Gynaecological Cancers, Polycystic Ovarian Syndrome (PCOS), Endometriosis, Minimally Invasive & Laparoscopic Surgery, Contraception, Adolescent Gynaecology, Menopause & Bio Identical Hormones, Prolapse & Urinary Incontinence, Sexual Health, Hysterectomy Surgery, Vaginal Laser Treatment

INFERTILITY: Intra-Uterine Insemination (IUI), In-Vitro Fertilisation (IVF)
PRICING
Enquire for fees or schedule a consultation
WEBSITE
https://www.healthfertility.com.sg/
ADDRESS
3 Mount Elizabeth, #15-16
Mount Elizabeth Medical Centre
Singapore 228510
CONTACT DETAILS
Tel: (65) 6235 5066 / Fax: (65) 6235 6455 / Answering Service: (65) 6535 8833 | [email protected]
OPERATING HOURS
Mon – Fri: 9am to 6pm
Saturdays: 9am to 1pm
The Health & Fertility Centre for Women is run by Dr. Kelly Loi, a graduate of the Oxford Medical School, member of the Royal College of Obstetricians & Gynaecologists and fellow of the Academy of Medicine, Singapore.
Aside from various scholarships, fellowships and publications, Dr. Loi has been awarded "Excellent Clinical Service Award" twice, bagging the gold prize in 2009.
She is also a Singapore Ministry of Health-authorised IVF Clinician. As such, it's little surprise that hers is one of the best IVF clinics in Singapore.
Under her leadership, this centre has gained a reputation as one of the top fertility-focused medical establishments. This fertility clinic in Singapore is one of your best bets if you want to have a child.
SERVICE HIGHLIGHTS
Award-winning specialist
MOH-accredited fertility and IVF specialist
Oxford-trained specialist
Medical Director of Mount Elizabeth Hospital Fertility Centre
Over 20 years O&G experience
Comprehensive diagnostic & treatment programs
Comfortable & private environment
Featured obstetrician and gynaecologist in This Quarterly
CUSTOMER REVIEWS
Past patients gave 5-star ratings on Google Reviews, citing knowledge and professionalism as reasons for the positive review.
One review described Dr. Loi as a "delightful doctor, gentle and knowledgeable" with a staff who are professional and caring as well.
Wen Wen Lau left the following review:
"My husband and I decided to see Dr Kelly Loi based on what we've heard, and we are happy we did. She listened intently to all of my hundred concerns and addressed them and helped reassure us. She didn't hurry us or downplay our concerns away, which was comforting"
5. VIRTUS FERTILITY CENTRE

BEST FOR
Up-to-date equipment & latest reproductive techniques
SCOPE OF SERVICES
Fertility Assessment, Female Infertility Tests, Male Infertility Tests, Thalassaemia Test, Fertility Surgery, Ovulation Induction, IUI/Artificial Insemination, IVF, ICSI & IMSI, PGD, Egg Freezing, Male Fertility Preservation, Donor Programme
PRICING
Basic Fertility Assessment: $299
Oocyte (Egg) Retrieval: $8,800* – $9,500**
Embryo Transfer: $4,000 – $5,300**
Intrauterine Insemination (IUI): $880

* With maximum allowable Medisave withdrawal for 1st and 2nd cycles, the out-of-pocket payment for a complete IVF treatment cycle can be within $3,000. Contact them for more information.
** A range for IVF cycle costs is provided due to variations in individual treatment plans which should be discussed with your fertility specialist. Contact them for more information.
WEBSITE
https://www.virtusfertilitycentre.com.sg/
ADDRESS
9 Scotts Road, Units #09-01 to 05, Scotts Medical Centre @ Pacific Plaza, Singapore 228210
CONTACT DETAILS
6460 4555
OPERATING HOURS
The Centre is open from 8am to 5pm Monday to Friday, and 8am to 12pm on Saturdays. Call to book an appointment
Virtus Fertility Centre is part of a network of several IVF clinics worldwide under Virtus Health. Conveniently located in Singapore's famous Orchard Road, it is the largest self-contained fertility centre in the region… and certainly one of the best fertility clinics in Singapore!
As a patient of Virtus Fertility Centre in Singapore, you will have access to the region's leading IVF and fertility specialists. This IVF clinic in Singapore comes with pioneering doctors and scientists from the world's most successful fertility Group, Virtus Health.
SERVICE HIGHLIGHTS
ISO-certified clean room embryology laboratory with electronic RFID witnessing technology
Fertility coaching & counselling
World-class fertility facilities in Singapore
Leading minds in fertility science
Free fertility seminars
CUSTOMER REVIEWS
Though not the most affordable option in the list, you do get what you pay for. One review on Google Reviews reads as follows:
"Success achieved 🙂 Bundle of joy created!
Prepare deep pockets, but you pay for what u get … good doctors, good lab to grow your embryos, good service, good location"
6. NATIONAL UNIVERSITY HOSPITAL, WOMEN'S CENTRE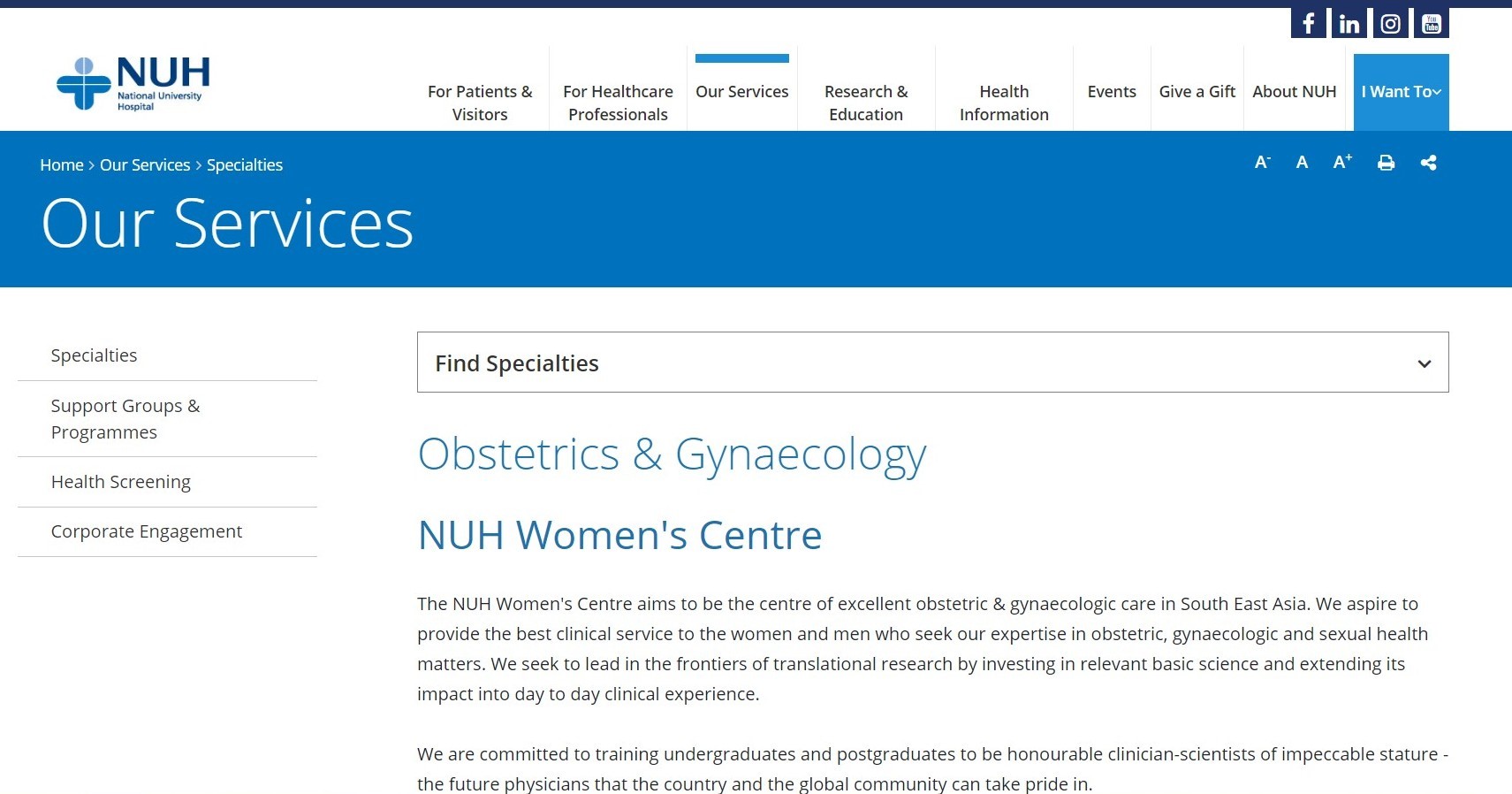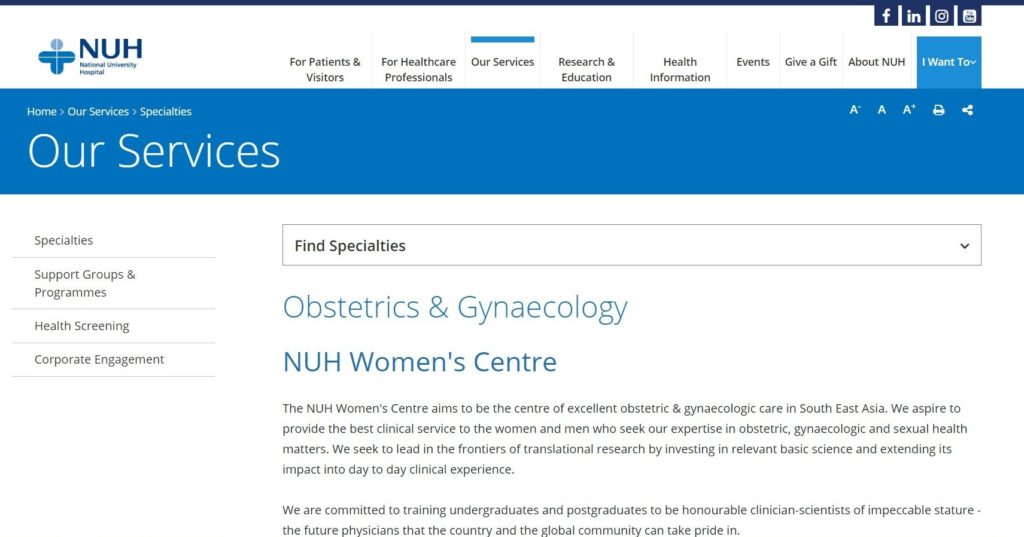 BEST FOR
Thorough pre-screening and counselling
SCOPE OF SERVICES
Obstetrics, Gynaecology, Gynaecologic Oncology, Reproductive Endocrinology and Infertility, Urogynaecology and Pelvic Reconstructive Surgery

Reproductive Endocrinology and Infertility: In-vitro Fertilization (IVF), Intra-Cytoplasmic Sperm Injection (ICSI), Preimplantation Genetic Diagnosis (PGD) as well as embryo/sperm cryopreservation for couples who need assistance in achieving parenthood
PRICING
Senior Consultant S$144.45 (S$108.07)
Consultant S$123.05 (S$99.51)
Associate Consultant/Senior Registrar/Registrar S$107.00 (S$89.88)

Enquire for fees or schedule a consultation
WEBSITE
https://www.nuh.com.sg/our-services/Specialties/Obstetrics-Gynaecology/Pages/default.aspx
ADDRESS
Kent Ridge Wing, Level 3
5 Lower Kent Ridge Road, Singapore 119074
CONTACT DETAILS
 +65 6772 2002  | [email protected]
OPERATING HOURS
Mon – Thu: 8.30am to 6.00pm
Fri: 8.30am to 5.30pm
Sat: 8.30am to 12.30pm
National University Hospital has a dedicated department for obstetric & gynaecologic care called the NUH Women's Centre. It's the place to go for people looking for expertise in obstetric, gynaecologic and sexual health matters.
Part of their services is Reproductive Endocrinology and Infertility. As such, they offer a full range of fertility assessments and treatment options.
Together with a dedicated team of nurses and allied health professionals, they strive to provide patients personalised and comprehensive reproductive endocrine and infertility care.
SERVICE HIGHLIGHTS
Internationally recognised centre of research and teaching
Highly trained and experienced team
Thorough pre-screening process, including counselling
CUSTOMER REVIEWS
This is a medical centre with a stellar reputation as an IVF clinic in Singapore. Here is a 5-star rating on Google Reviews:
"Doctor was really patient in explaining my medical condition (received free anatomy sketch in the process which is quite interesting) and the treatment options to me."
7. MICHELE LEE WOMEN & FERTILITY CLINIC
BEST FOR
Accredited fertility & IVF specialist
SCOPE OF SERVICES
Fertility examinations and directing | Laparoscopy fertility evaluation | Ovulation ultrasound observing and enlistment | Hysteroscopy: Removal of septum, polyps and fibroids | Laparoscopy: Removal of fibroids and ovarian blisters | Tubal surgery | Intrauterine insemination | In-Vitro Fertilization (IVF Accredited Specialist | Negligible ovarian incitement in IVF cycles | Administration of polycystic ovarian disorder
PRICING
The cost of treatment varies from person to person. Enquire for fees or schedule a consultation
WEBSITE
http://drmichelelee.com/
ADDRESS
#08-54 Mount Alvernia Medical Centre D
820 Thomson Road, Singapore 574623
CONTACT DETAILS
(+65) 6354 3003 | Email: [email protected]
OPERATING HOURS
 
Dr. Michele Lee is an accredited fertility IVF specialist providing comprehensive women and fertility care. She is accredited to perform in-vitro fertilisation procedures at the Mount Elizabeth Fertility Centre in Orchard Road and Thomson Fertility Centre in Novena.
After spending more than 10 years in a government restructured hospital, Dr Lee went into private practice in 2008 and pioneered the Thomson Women's Clinic (AMK Hub) in Ang Mo Kio.
There, she has made a name for herself by successfully providing obstetrics, gynaecology and fertility services, including IVF treatments. That's why her clinic is a candidate for the title of best fertility clinic Singapore.
SERVICE HIGHLIGHTS
Consultant obstetrician & gynaecologist
Accredited fertility & IVF specialist
Member of:

The Royal College of Obstetrics and Gynaecological (London, UK)

Obstetrics of Gynaecological Society of Singapore (Singapore)

The Society for Colposcopy and Cervical Pathology of Singapore
8. CENTRE FOR ASSISTED REPRODUCTION PTE LTD

BEST FOR
Comprehensive range of fertility treatments
SCOPE OF SERVICES
CLINICAL: Infertility consultation, Ultrasound scanning of the ovaries and uterus, Intra-Uterine insemination, Endometrium biopsy, Counselling, Oocyte retrieval, Embryo transfer

IVF LABORATORY: Semen analysis and function tests; Sperm enhancement; In vitro fertilisation; Assisted fertilisation; Blastocyst culture; Sperm, egg and embryo cryopreservation; Assisted hatching; Embryo Biopsy for Pre-implantation genetic diagnosis

SURGICAL: Diagnostic & Therapeutic Laparoscopy, Hysteroscopy, Endometriosis cauterisation, Tubal reversal, Pelvic adhesiolysis, Reconstructive surgery
PRICING
The cost of treatment varies from person to person. Enquire for fees or schedule a consultation
WEBSITE
https://careivf.com/
ADDRESS
8 Sinaran Drive,
#05-05 Novena Specialist Centre.
Singapore 307470
CONTACT DETAILS
Tel: +65 6659 6638 / Fax: +65 6659 6639
OPERATING HOURS
Mon – Fri: 8:30am – 5:00pm
Sat: 8:30am – 1:00pm
The Centre for Assisted Reproduction (CARE) is a specialist centre offering a comprehensive range of fertility services and treatments in a warm and friendly environment.
They have a highly professional staff dedicated to providing patients with personal and individual attention. They're especially well-known for their services as an IVF clinic in Singapore.
Each of their specialists and embryologists has many years of experience. They've even worked with the pioneers who introduced new IVF techniques to Singapore when IVF treatment was first introduced in the eighties.
SERVICE HIGHLIGHTS
Highly successful track record, even among the best fertility clinic Singapore options
Comprehensive range of services for the evaluation, diagnosis and treatment of both male and female infertility
Friendly, supportive environment
Experienced team of doctors, nurses, embryologists and technicians
Offer the latest and proven scientific and medical skills currently available within this field
At any rate, whichever of these IVF clinics in Singapore you do end up, you should receive only the best medical care possible. Please share your experience with us, by the way, if you do visit one of them!
And don't forget, we've done other medical centre roundups before, if you need more help picking healthcare establishments or providers.
Try our list of the top providers of health screening in Singapore, for instance, if you need a comprehensive checkup before your IVF procedure.