The 9 Best Tow Truck Services in Singapore
When you go on a long road trip or rush through the streets to make it on time for work, there are some instances when your car suddenly stops and breaks down. To get instant help, you might want to know about the best tow truck services in Singapore.
It's always better to be ready for urgent situations, after all. That's why we've listed the most accessible and best tow truck services in Singapore that you can easily find!
1. Tow Truck Singapore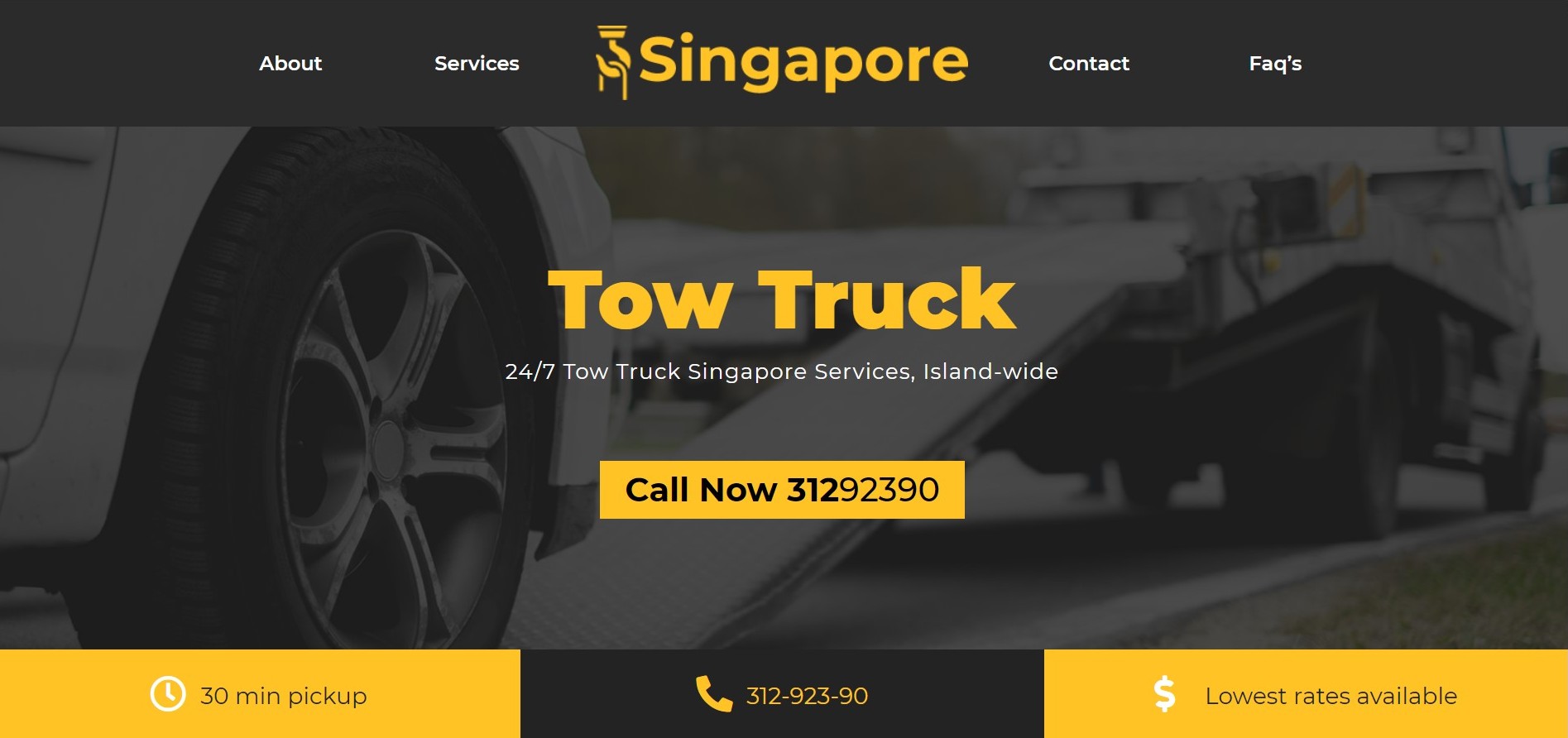 Tow Truck Singapore offers 24-hour towing services in case you get involved in an accident or your car breaks down on the road. You can call them anytime and they promise a 30-minute pickup to minimize inconvenience.
Tow Truck Singapore can also come to your rescue if you need gas, you got locked out of your car, or if you need to change a flat tire. They're an an all-around roadside assistance team for all your Singapore towing needs!
Highlights
24/7 Service
Towing
Jumpstarts
Friendly Dispatchers
30-Minute Pickup
Customer Reviews
I am from Benut Malaysia, but I went to Singapore to fetch my cousin at the airport. It was a two-hour drive on a stormy night. We had no visibility because of the rainfall so I pulled over somewhere in the woodlands. After 10 minutes, I could see in front of me again so we decided to leave.
My engine wouldn't start. So I searched online for towing services in Singapore and I found this. I called them up and in about 15 minutes, I was ready for my car to be towed. Andrei showed up and told me that my battery is the only problem and I didn't need towing. He replaced my battery in the pouring rain while I followed him around in my umbrella. Best service I ever got. 5 stars!
–Jessie Lee, Architect (via official website)
2. ARS Recovery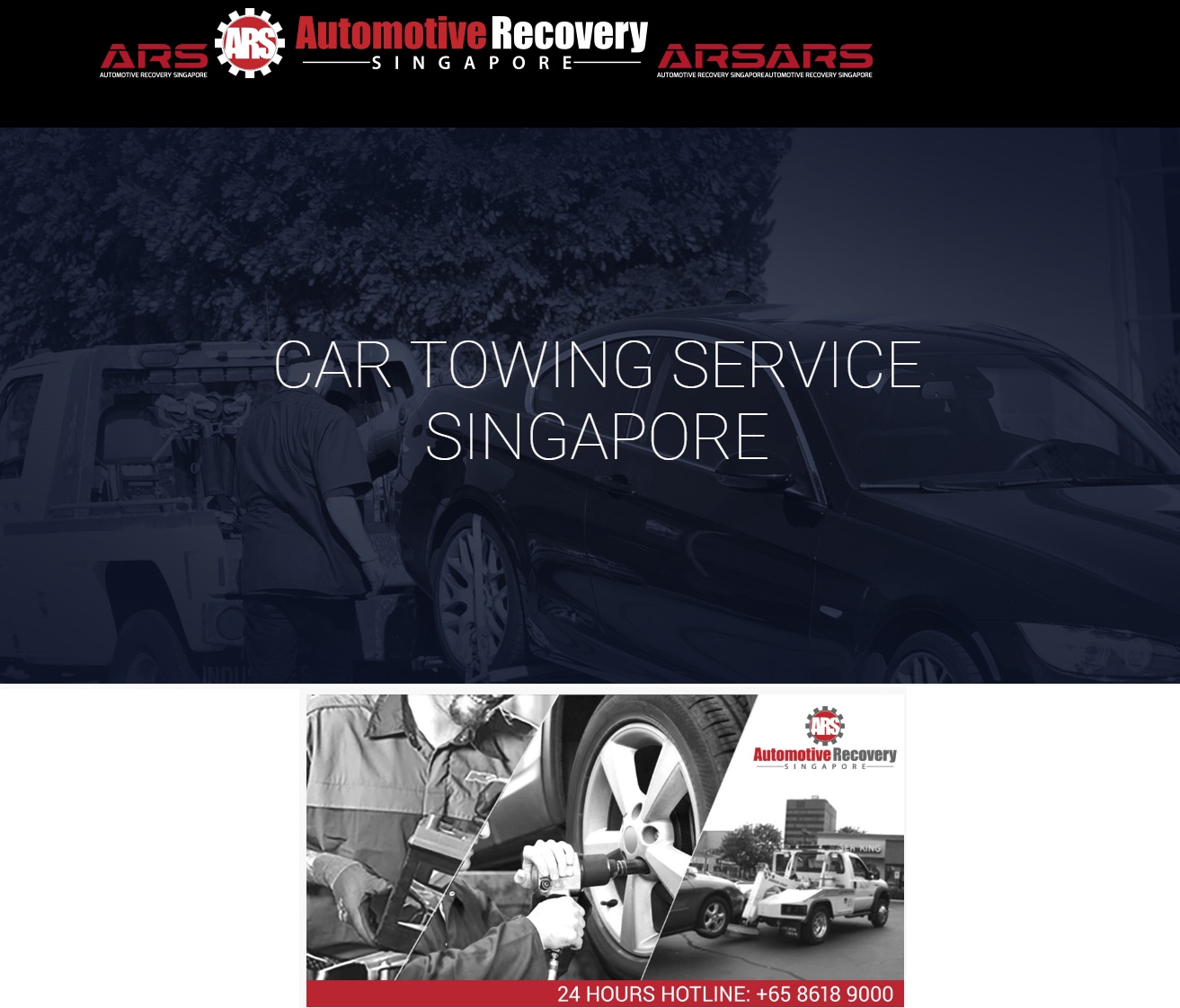 Whether you're driving a light, medium, or heavy vehicle, whenever you need a towing service you can trust ARS Recovery to come to the rescue wherever you are in Singapore. The company promises prompt response so won't have to wait for much longer time just to get help.
Their emergency line is also always available in case you need a towing service at wee hours. In less than 45 minutes, their team is guaranteed to be at your location.
They also respond to emergency battery and tire replacement services.
Highlights
24/7 on call service

Prompt response

Luxury vehicle towing
3. Island Recovery Services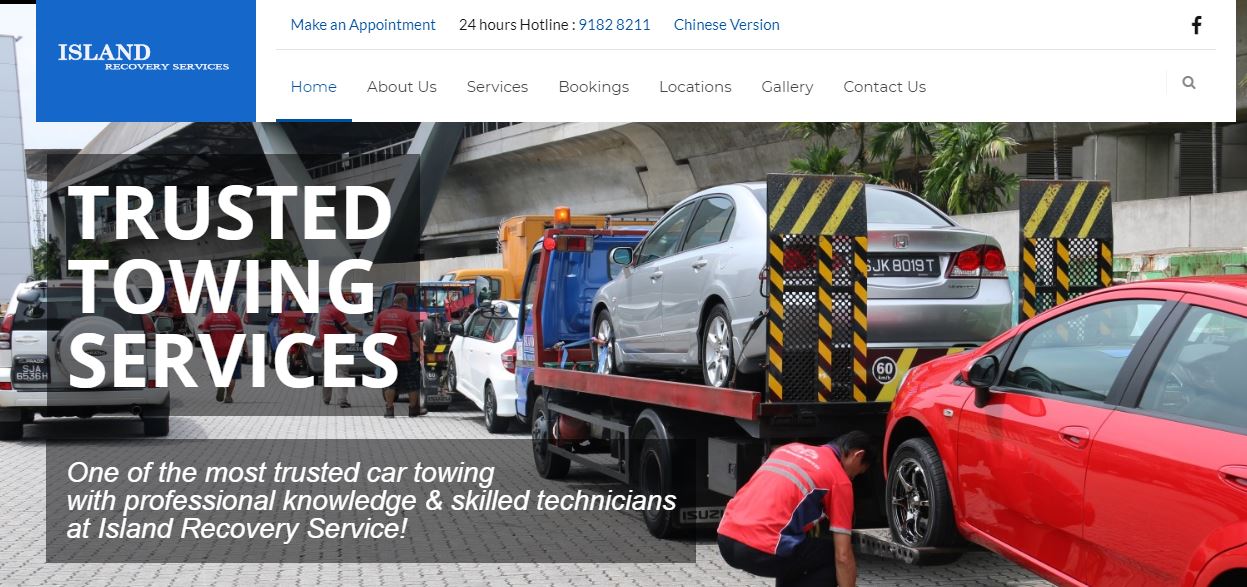 | | |
| --- | --- |
| BEST FOR | Heavy duty tow truck |
| WEBSITE | http://islandrecovery.com.sg/ |
| ADDRESS | 59, Ubi Avenue 1 #07-0 Bizlink Centre Singapore 408938 |
| CONTACT DETAILS | 6747 7400 |
| OPERATING HOURS | Open 24 hours |
When you talk about towing services, locals never forget to mention Island Recovery Services as one of the best. With their 24 hours and islandwide services, you can surely rely on their responsive and rapid assistance.
They have several recovery vehicles and this includes heavy duty tow truck.They also have options for those who have luxurious cars as well as vehicles used for road shows and exhibitions.
With these services, they've proven to have some of the best tow truck services in Singapore.
Highlights
Heavy-duty truck
24/7 support
Islandwide services
Customer Reviews
As they've been offering their services for over a decade now, Island Recovery Services have become a favourite of many locals. Most customers said that they were able to easily reach out to them and that they have skilled technicians.
A customer posted this review on Google Reviews:
"Great service from Island Recovery who responded fast to our call. The car's battery died and needed towing from a multi storey carpark. Mr. Ho arrived within 20 minutes and was kind enough to check the battery status although he didn't have to. Will definitely ring them again!"
4.  BH Auto Services PTE LTD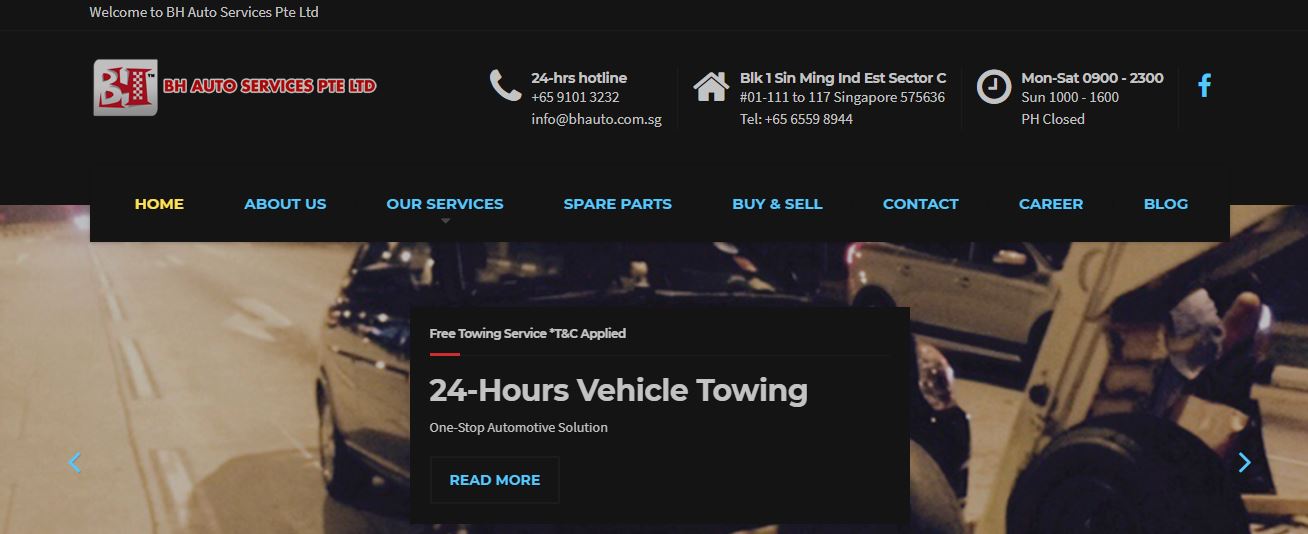 BEST FOR 
Car maintenance, free towing service
WEBSITE
https://bhauto.com.sg/
ADDRESS
Blk 1 Sin Ming Ind Est Sector C #01-111 to 117 Singapore 575636
CONTACT DETAILS
+65 9101 3232
OPERATING HOURS
Office hours: Monday to Saturday – 9am to 11pm

 

Sunday – 10am–4pm

24 hours services
If you're already a loyal customer of BH Auto Services PTE LTD and you acquire their car maintenance services, then you should know that they offer free towing services for customers like you!
Apart from delivering your car to your desired location, they can also help you with common vehicle problems such as punctured tyres and weak motors. They also serve their services nationwide and 24/7.
Moreover, they also have car spray printing and car leasing options. Due to the broad range of services, many consider them to have one of the best tow truck services in Singapore.
Highlights
Free towing service
Vehicle maintenance
Car spray painting and car leasing
Customer Reviews
Many customers admired the professional services and fast response of BH Auto Services PTE LTD. A customer from Google Reviews wrote:
"Accidentally pumped petrol into diesel tank and run quite a distance before breaking down, called for tow and than frantically looked for a workshop that was still open. The time was about 11:30+pm yet the team agreed to help me even though their usual closing time is 11pm. The team also drove me to a kiosk to get diesel for my vehicle to get it to start. Due to their professional and highly skilled team they were able to get the engine up and running again and at a very quick pace. They guided me throughout the whole nightmare and I am so thankful for them. Would give 100 stars if I could, really wonderful staffs they have! Thanks guy! :)"
5. AJ Towing Services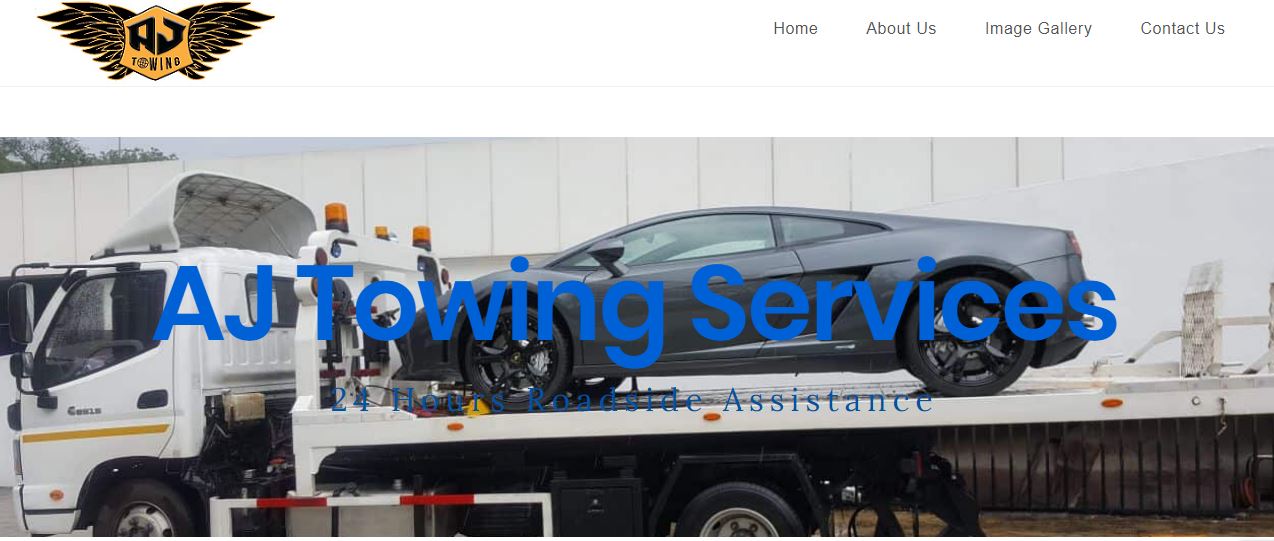 | | |
| --- | --- |
| BEST FOR | Personal and commercial vehicles |
| WEBSITE | https://ajtowing.sg/ |
| ADDRESS | 19 Senoko Loop, #04-00, Singapore 758169 |
| CONTACT DETAILS | +6586006229 |
| OPERATING HOURS | Open 24 hours |
AJ Towing Services is equipped with high-quality trucks, trained professionals, and modern equipment. This is why they're known to have the best tow truck services in Singapore.
Whether it's your personal car or a commercial vehicle, they can assist you anytime, anywhere. Even with rush deliveries, they're able to manage a rapid response.
For their towing services, they cater to multi-storey/basement carpark, luxury vehicles, motorcycles, accident removal, events and roadshow, and more.
For the business owners, they also have transportation, logistic management, warehousing, import and export services.
Highlights
Services for business operations
Wide range of towing services
6. Kaolin Towing

| | |
| --- | --- |
| BEST FOR | Recovery services |
| WEBSITE | https://www.kaolintowing.com/ |
| ADDRESS | 22 Sin Ming Ave, Singapore 570405 |
| CONTACT DETAILS | +65 9651 8877 |
| OPERATING HOURS | Open 24 hours |
For those who have experienced severe car breakdowns, Kaolin Towing could have the best tow truck services in Singapore for your case. They specialise in recovery services where you can have your car restored to its original form.
Additionally, they offer multi-storey/basement carpark towing, which is also islandwide and 24-hour services so you can ask for their help whenever and wherever you are.
Highlights
Multi-storey/basement carpark services
Islandwide and 24-hour services
7. ACM Service Centre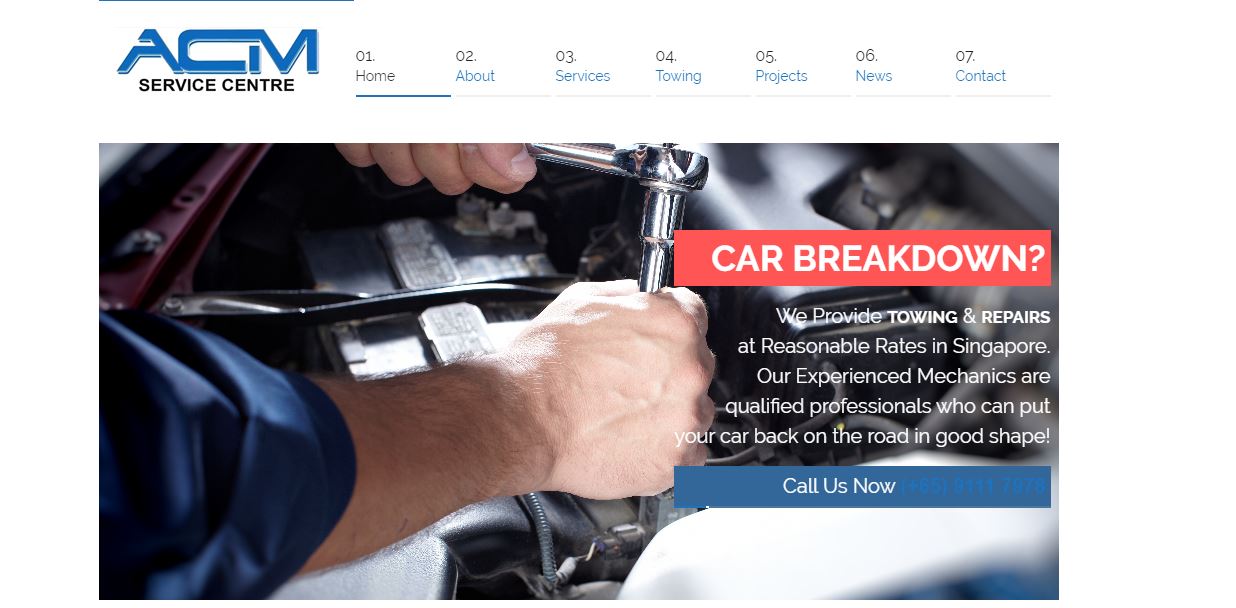 BEST FOR
Affordable services
WEBSITE
http://www.acmautomotive.com.sg/
ADDRESS
10 Ang Mo Kio Ind Pk 2A, #03-16 AMK Autopoint, Singapore 568047
CONTACT DETAILS
9111 7978
OPERATING HOURS
Office hours: Daily, 9am–7pm

24 hours services
For those who are on a tight budget, you should contact ACM Service Centre. Despite their top-quality, fast and reliable assistance, they offer their services at cheaper prices, starting from $28.
They have skilled mechanics who have years of experience, so rest assured that your car will be fully analysed and be given the appropriate automotive solution. They also offer repairs and accidental claim services.
Along with their motor insurance claims, they're a part of the service companies that have the best tow truck services in Singapore.
Highlights
Automotive repairs
Claims and car insurance
24/7 and islandwide services
Customer Reviews
ACM Service Centre has received wonderful feedback because of their helpful consultations, great service staff, and overall assistance. A customer left this review on Google Reviews:
"Very personalised service and the people there are very warm and friendly. The admin lady remembers every single detail i shared with her during our conversation and even bothers to follow up in my next servicing appointment"
8. GAO EXPRESS TOWING SERVICES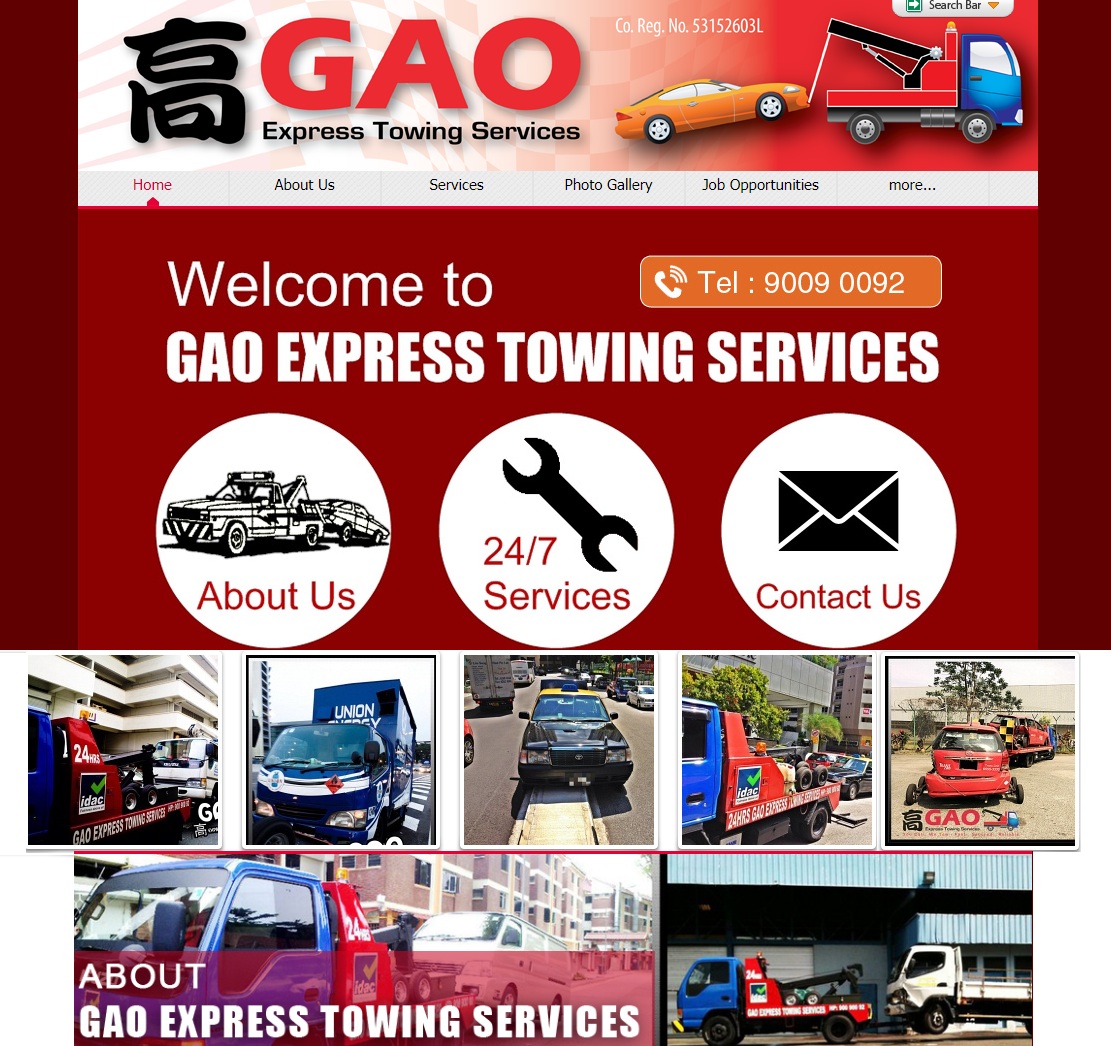 | | |
| --- | --- |
| BEST FOR | 24/7 Services |
| WEBSITE | http://www.gaoexpresstowing.sg/ |
| ADDRESS | HDB Marine Crescent Ville #10-01, 27 Marine Crescent, (S)440027 |
| CONTACT DETAILS | 9009 0092 |
Gao Express Towing Services offers different towing services 24 hours per day. You could contact them when you're in need of car towing and car recovery services like Jump start, Battery / tyre charging, emergency road assistance, and towing services.
They are committed to customer satisfaction which made them provide service that they intend to exceed customers' expectations.
You could contact them now if you have towing or emergency car need because they're open 24/7.
Highlights
Normal & Accident Towing

Towing in Multi-storey

Lock out / Door opening
Customer Reviews
Customers believe that they are one of the best towing services out there.
"Used Gao's services many times. They're one of the contractors for several call centres. One of the best service providers."
9. Jet Speed Towing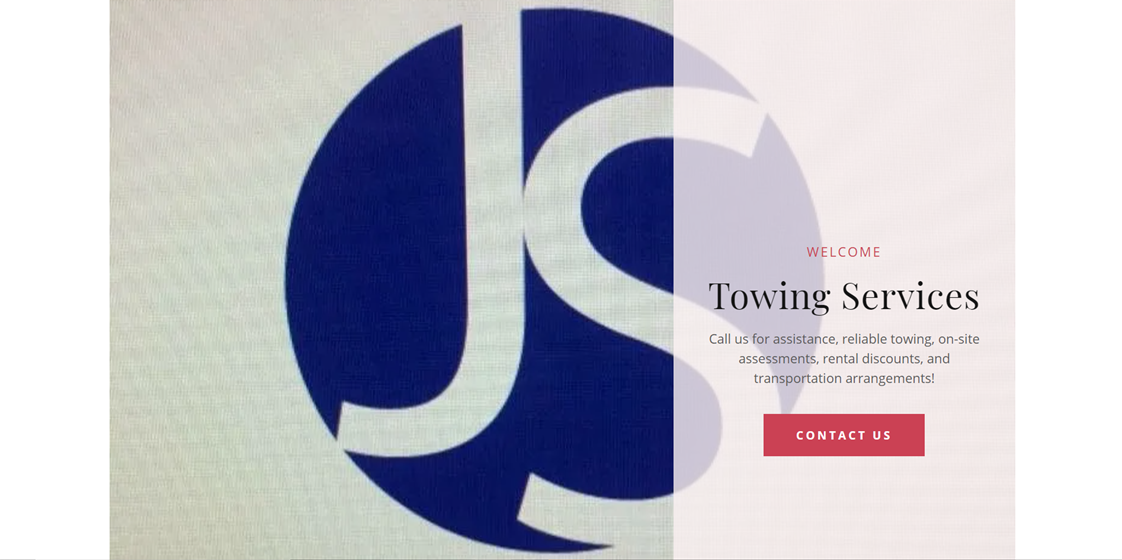 | | |
| --- | --- |
| BEST FOR | 24/7 Roadside Assistance |
| WEBSITE | http://jetspeedtowing.com/ |
| ADDRESS | 22 Sin Ming Lane #06-76 Midview City Singapore 573969 |
| CONTACT DETAILS | 9179 6344 / 91936638 |
| OPERATING HOURS | 24/7 Operations |
Jet Speed Towing is the go-to towing service for most people in Singapore. They're known to have professional drivers in located in different areas, ensuring a fast response in case of road emergencies.
Their services include Emergency Towing, Car Lockout, Car Battery Change, Refuelling, and the like.
Make sure to call them if eve you're in need of on-site vehicle assessment and assistance, reliable towing, or assistance during road emergencies!
Highlights
Skilled Technicians
Affordable Rates
High Quality Services
Customer Reviews
Jet Speed Towing's clients commend them for their fast process and assistance, no matter where you are in Singapore. They're reliable and efficient, and definitely offer competitive prices that won't be too much for your wallet. Here's what one of their customers had to say about them:
"High responsibility and the best service provided. Will continually 100% support."
With our list of the best tow truck services in Singapore, you no longer have to spend so much time looking for the most reliable and nearest one to your area. If you have more options in mind, you may also share it with us!
Also, if your car is currently being repaired, you can look at these best car rentals in Singapore. Their services are on fair and efficient terms, giving you a more practical option to use for your upcoming personal venture or business trip!