By: Ryan Lim
Looking for ways to safeguard your cash and other valuable items? Maybe it's to consider getting your hands on the best safe boxes in Singapore to make sure these important items are safe at all times.
If you prefer to stash away huge amounts of cash at your home, there's no other way to protect them than by having the best safe boxes in Singapore. It's also the most cost-effective way to safeguard your cash and valuables, compared to renting out a safe deposit box and paying for it every month.
Anyway, for today's article, we're doing a rundown of the best safe boxes in Singapore that we believe every home should have. We're also going to share a few tips on how to pick the right safe box that complements your needs before revealing our picks.
Let's start!
How to Pick the Best Safe Boxes in Singapore
It's no secret that the best safe boxes in Singapore don't come cheap, so we recommend taking your time in checking build, quality, and features. You wouldn't want to waste your money on a run-of-the-mill safe box, would you?
When you have your hands on the best safe boxes in Singapore, your precious possessions will not only be safe from theft, but fire, flood, and earthquake as well.
In line with that, one of the first things you have to consider when looking for a safe box is the type of lock. After that, you might also want to check the size and weight, items to protect, storage capacity, and even warranty.
Let's elaborate more on these points below.
1.   Type of Lock
There are 4 common types of lock that come with the best sofa boxes in Singapore: digital, manual, biometric, and combination. All of these locks are effective, but your choice will ultimately boil down to your needs.
Digital locks are usually determined by the safe manufacturer. Only a few models allow users to change and personalise their password, so if you're quick to memorise numbers, you might want to consider a safe box with a digital lock.
If you want a more traditional approach, you might want to go for a manual lock. You won't be forced to memorise numbers; however, you have to keep its keys secure. It's also recommended to have the keys duplicated in case it gets lost.
Biometric, on the other hand, is a highly developed safe lock system that typically uses your fingerprint as a lock. This can be both convenient and secure… although if something happens to injure your fingers, it may be a problem.
Lastly, combination involves the entering of a three-digit combination to unlock the safe. It works like digital locks because the users are to remember a series of numbers in the correct order.
2.   Size and Weight
Size and weight may seem like a trivial feature when looking for the best safe boxes in Singapore, but both matter a lot.

If you know the right dimensions and weight of your safe box, you will be able to find an appropriate place for it inside your home and office. After all, where you're keeping the safe box is another factor that contributes to its overall protection.
So, before setting out to look for a safe box, decide where you're going to store it and measure its dimensions to make sure that the safe box will fit perfectly.
3.   Items to Protect
The items you're planning to keep inside the safe box should also be considered when looking for the best safe boxes in Singapore.
While we could assume that all safe boxes are alike, some models are manufactured to protect  certain types of objects. For example, there are safe boxes that are designed to protect guns and jewelries, while some are also for storing cash and valuable documents.
4.   Storage Capacity
Lastly, you also need to know which safe box has the storage capacity you need to store all your important items. If you're only storing cash, jewelry and important documents, we don't recommend going for the volume of a large gun vault.
On the other hand, if you're planning to store guns and a bunch of other valuables, you might want to go for a larger model.
The Best Safe Boxes in Singapore
Now you know what to look for when looking for a safe box to protect your valuables, we hope that you're ready to see which ones we think are worthy of your attention.
So, without further ado, here's our picks for the best safe boxes in Singapore.
1.   YALE Digital Safe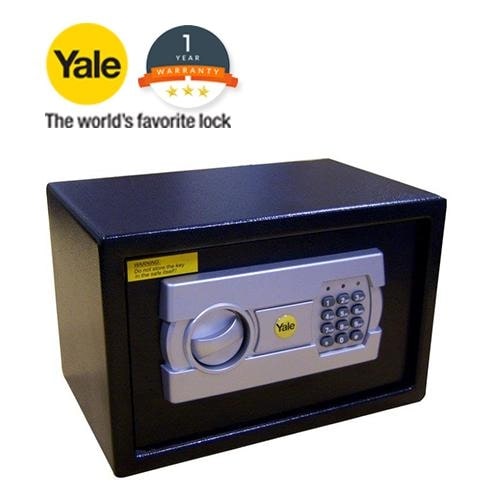 Price: $118.00
If you're looking for an affordable safe box, then look no further than the YALE Digital Safe. Since YALE is also a trusted name in home security, we don't doubt that this is truly one of the best safe boxes in Singapore.
For one, it comes with an electronic lock that can be programmed with 3 to 8 personalised numbers, making it easy for you to remember the code if you choose the 3-digit option. It's also not that complicated to operate, so you're going to get the hang of it right.
In terms of build, the YALE Digital Safe is made with premium and high-quality metal, so even if someone tampers with it, it's not going to be opened easily. It might be a cheap box, but it does its job quite well.
If you have limited space at home, the YALE Digital Safe can also be mounted as it comes with pre-drilled holes for mounting. We recommend getting your hands on it if you have important documents to keep at home or the office.
Pros
Affordable
Can be mounted
Made with premium materials
LED display
Cons
Not ideal for storing cash and jewelry
Limited warranty
2.   NIKAWA Safe Box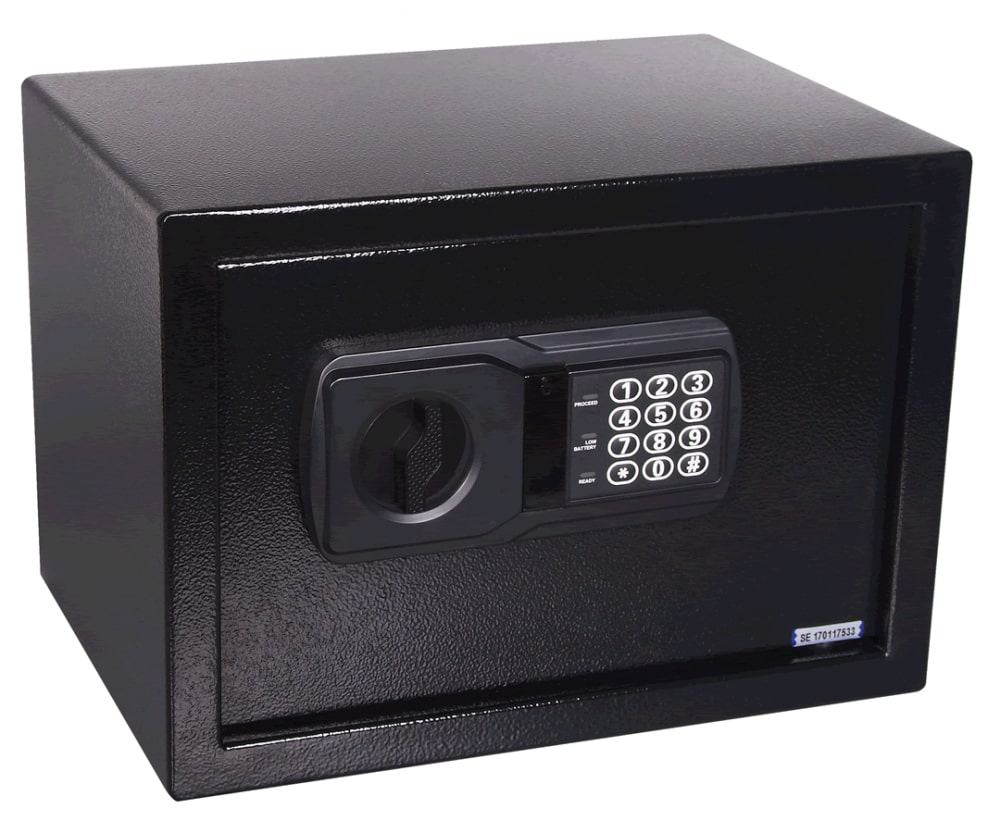 Price: $149.00
The NIKAWA Safe Box is an affordable safe box that can be used in homes and offices, a perfect storage solution for cash, documents, and some jewelries.
NIKAWA has been around for more almost 40 years now, and it's produced some of the best safe boxes in Singapore, including this one.
One of things that stood out for us here is the fact that it comes with 2 override keys that can be used in case of an emergency. If you're incapable of remembering a series of numbers during emergencies, just make sure that you always have the keys.
It also comes with 3 indicator lights (green, red, and yellow) that indicate open, low battery, and warning. Users will be alerted when it's time to change the batteries.
Another thing we like about the NIKAWA Safe Box is that the code can be conveniently changed in case the owner thinks that it's been compromised.
Pros
Affordable
Override keys
Indicator lights
Cons
Durability is questionable
Limited storage
3.   SereneLife DropBox Safe Box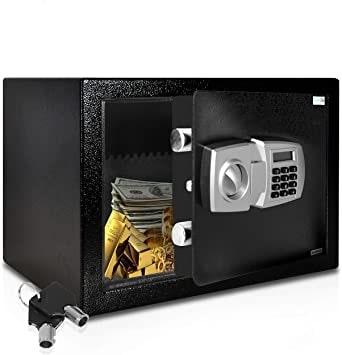 Price: $148.06
If there's one thing that makes the SereneLife DropBox Safe Box stand out from the other options in our list, it'd have to be its build. It's made of reinforced solid steel wall construction.
It might be a heavy-duty safe box, but it's extremely easy to access and control. It comes with a convenient slot 'drop-in' cutout window for depositing documents or bills, so there's no need to unlock it.
More than that, the SereneLife DropBox Safe Box comes with pre-drilled holes for wall or floor mounting. Unlike other safe boxes, every purchase of the SereneLife DropBox Safe Box includes mounting bolts and 2 pairs of AA batteries.
In terms of the lock, it uses a finger sensor technology that features a digital touch screen control pad for added security. Users only need to use their thumbs to unlock it.
Pros
With built-in alarm
Heavy-duty safe box
Finger sensor technology
With mounting bolts and batteries
Cons
Limited storage space
No override keys
Not water/fireproof
Customer Reviews
Here are a few comments from its buyers:
"Excellent-love the built in alarm. The only thing I don't like is that the diagonal slide inside stops some of the envelopes from sliding all the way through and they get stuck at the bottom where it touches the inner wall of the safe and the slot to put the envelopes or money is a bit too wide, allowing someone with a long stick object to retrieve the envelopes or money that did not go through all the way. Therefore I suggest mounting it somewhere above eye level where they can still feel for the slot and deposit, but making it hard for someone to see and reach inside."
"Large enough to hold all your important documents, not fire or water proof, but I believe it would have to be in the center of the fire/flood, before anything inside the safe would be damaged. Seems to be quite heavy duty. Hope it never has to be fully tested."
4.   Protex Drop BoxSafe
Price: $145.92
If you're after a safe box that won't eat up a large amount of space at your home, then you might want to check out the Protex Drop BoxSafe. It's a wall-mounted safe box that's perfect for keeping letters, documents, ballots, mails, and even rent checks secured.
It might not be as advanced as the other safe boxes in our list, but it gets the job done. It's designed with an 8-inch slot opening where legal size papers fit, making it an ideal option if you regularly deal with sensitive and confidential documents.
Another reason we consider it one of the best safe boxes in Singapore is the fact that it's made from quality materials and is waterproof and fireproof. It might not have the attractive features of other safe boxes, but it has the build and materials to keep your documents safe at all times.
Pros
Wall-mounted build
8-inch slot opening
Made with durable materials
Cons
No extra features
Ideal only for documents
Customer Reviews
Take a look at what buyers have to say about the Protex Drop BoxSafe: 
"This thing is beefy. The metal is heavy and I had a tough time installing it because of the heft. The lag bolts it comes with were also difficult to install. That said, it feels far more secure. The door is truly flush to the face so I don't think anyone could pry it open, and there are a set of pawls inside of the drop opening to stop people from getting their hands inside. I know others said they were able to easily fish items out–this extra security measure may have been added recently. Eventually I'll be buying a few more and phasing the boxes out on my other properties and only using this."
"This is an exceptionally well built box. We bought it mostly to have a place to store rent until we take it to the bank. It does that and should be very secure because it is made of very heavy steel. It includes what looks to be high quality lag bolt for wood and anchor bolts for concrete. Installation was easy and reassuringly solid. The opening is made for envelopes and works well, though #10 envelopes are just a bit too wide to go in widthwise. There is plenty of room in the drop box to store a whole lot of rent checks. Only a determined thief will be getting them out. The small opening makes fishing things out a lengthy and difficult process. The lag bolts and sturdy steel making ripping it out a very arduous and noisy endeavor."
5.   Tessa Tiger Deluxe Commercial Safety Box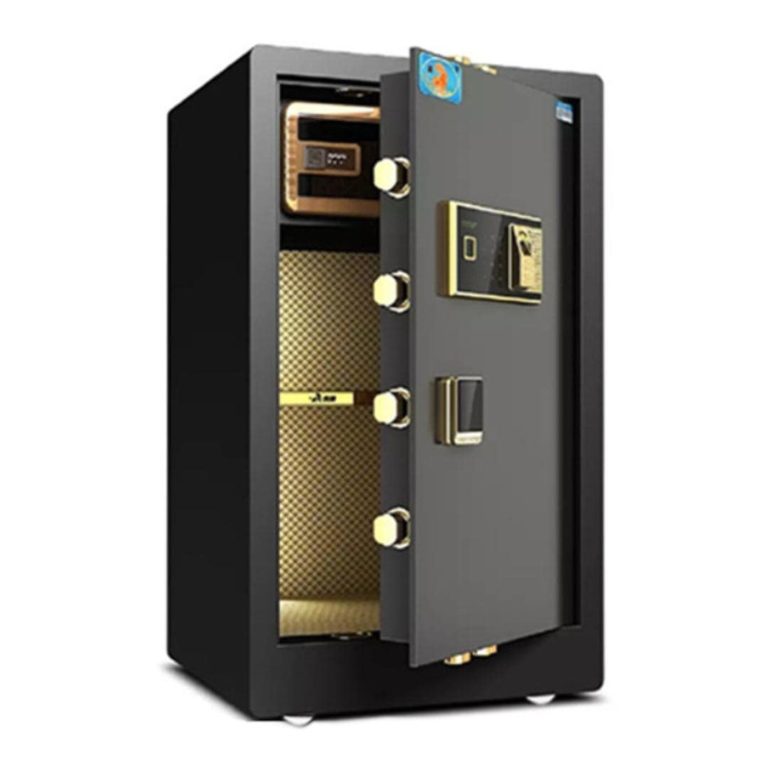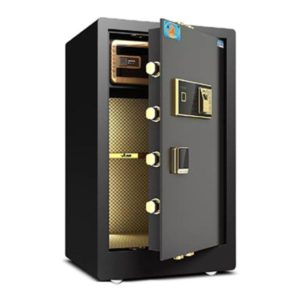 Price: $249.00
The Tessa Tiger Safety Box is probably one of the most elegant-looking safe boxes sold on the island. It's also one of the biggest safe boxes we've ever laid our eyes on, so it's the ideal option if you're planning to store more than just cash and documents.
In terms of materials, there's no doubt that it's a durable safe box as it's made from low carbon alloy steel that comes in either black or gold. On the inside, it's designed with a stylish PU interior.
One of the reasons we consider it one of the best safe boxes in Singapore is the fact that it can be opened in 7 different ways. It also comes with the new twin-engine biometric fingerprint system that can record up to 32 fingerprints.
Other features that we love about the Tessa Tiger Safety Box are the thick door panel, process level spraying, burglary-resistant device, and oval solid steel bolt. It's truly one of the strongest and most durable safe boxes out there.
Pros
Durable build
Anti-drill
Can record up to 32 fingerprints
Cons
Expensive
Heavier than most safe boxes
There you go! That's our list of the best safe boxes in Singapore! If you've already decided which one to buy, don't hesitate to share your choice with us!
If you know other safe boxes in Singapore worth checking out, share them with us and we'll see if we can add them to our list.
If you're also planning on improving the security of your home, you might want to read our list of the best digital locks in Singapore. Our list features some of the best and most dependable digital locks sold on the island.