12 Best Dating Apps in Singapore to Find Love and More (2021)
If you're into online dating in Singapore, you're in luck. There are more apps and websites for it now than ever before, which rather improves your chances of finding a good match.
Of course, not all of these apps and websites have reliable "matchmaking" algorithms. Not all of them are easy to use either, or follow dependable policies when it comes to keeping your information private.
So, to help you weed out the poor options from the good ones, we've listed the top ones here. Here are the best options if you want to do online dating in Singapore!
1. Sugarbook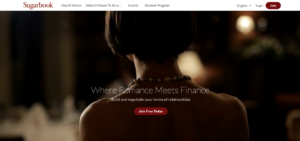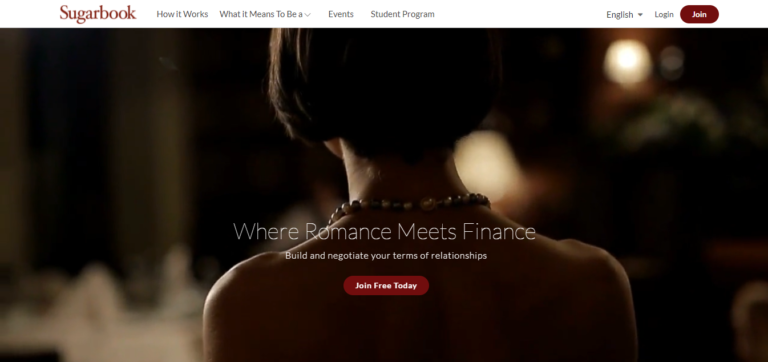 Sugarbook is an online dating app where romance meets finance. In comparison to other applications, you will absolutely benefit from them.
If you are planning to start, you will first choose what role you want to be. Either a sugar daddy, sugar mommy, or sugar baby.
Second, simply add your photo and state your fantasies. You are in total control of everything, therefore, your relationship, your terms.
Lastly, is discover. It is now time to find your ideal sugar partner full of benefits.
What's great about them is that they also offer a student program. This is a way to avoid student loan debt, find a mentor for a specific carer path, and get in the scene through networking.
Unlike other dating websites, they understand that privacy is of the utmost importance therefore, they strive to provide a community for honest and transparent relationships only. 
Service Highlights
 Share Private Photos
Favorite other members
Background Verified members
Real-time messaging
Active members around the world
Invites to exclusive parties
Customer Reviews
Here are some reviews from their users:
"I had doubts if this site was real. I even tried messaging the users here to see if they responded. Ended up on a decent date 2 weeks later." – @matteocechinni82, Sugar Daddy
"Met a few amazing men on this site. Love the interface and discretion as well. Would definitely recommend to my fellow sugar sisters!" – @allysonella87, Sugar Baby
2. Bumble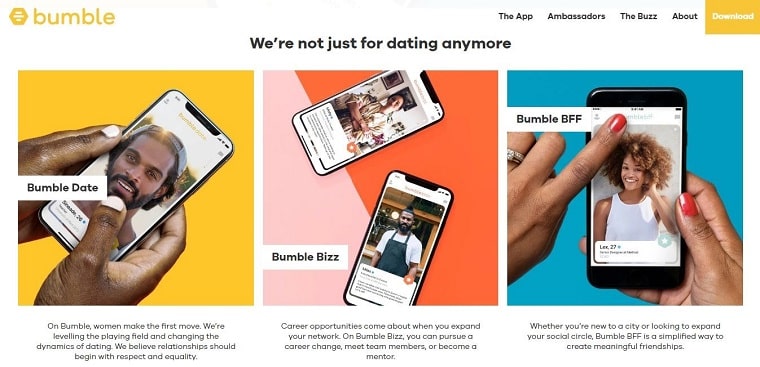 Bumble started as a mobile application that focuses solely on finding the ideal man or woman to date. As they expanded their features, they became more than a matchmaking service.
Therefore, you can now use Bumble to find a team member, a friend, or a date.
They are known for breaking (old-fashioned) social norms by letting women make the first move. They also prioritise building a safe community online where everyone is encouraged to respect and be kind to one another.
Service Highlights
Online dating feature
Options to meet new business colleagues
Chances to create new social circles
Customer Reviews
Users have been highly satisfied with the various features of the Bumble app because they are able to interact with new friends, meet the ideal partner, and even do networking.
The high satisfaction rate from its users have made Bumble be considered to be the best dating app in Singapore for 2020.
The Smart Local featured Bumble in an article and stated:
"Unlike other dating apps, the algorithm for Bumble doesn't filter out your type based on your previous swipes. This opens up even more opportunities to meet different types of people, including someone who has a personality that's completely contrary to your type, but who knows, opposites attract too."
3. Coffee Meets Bagel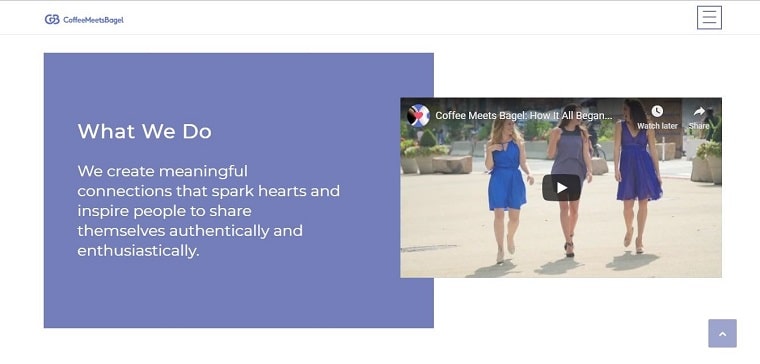 You can truly rely on Coffee Meets Bagel's capability to present a list of perfect matches, which is based on their accurate algorithm.
User profiles do not lay within the surface only. Each profile provides detailed information about the interests and current status of a certain match.
If you have a hard time breaking that wall between conversations, the app even has a personalised icebreakers feature that will encourage you to start a conversation.
Service Highlights
Personalised icebreakers
Confidence booster
In-depth profiles
Customer Reviews
Coffee Meets Bagel's success can be seen in the stories of the happily married couples who met each other through the app. Tony and Megan shared their journey on the company's official website:
"It was like we had known each other forever. We dated for 9 months, got engaged, and 10 months later we're married! […] And are now expecting our first child!"
4. Mingle2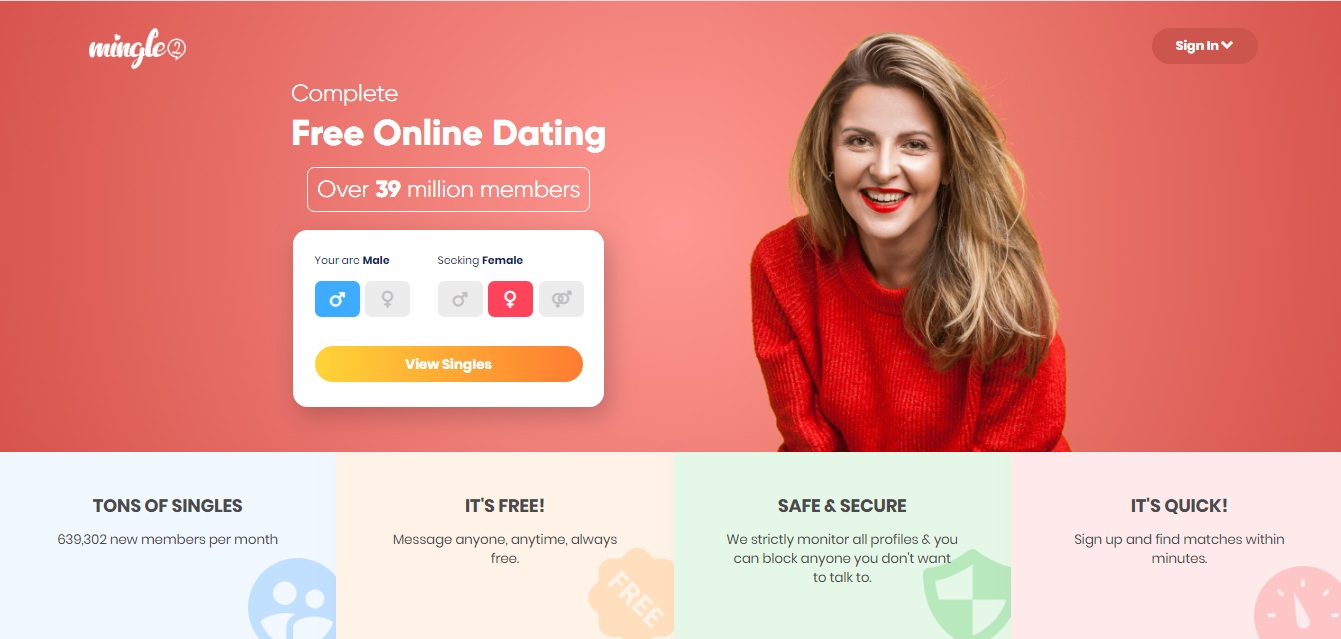 With over 600,000 new members every month, Mingle2 assures you that you can definitely find your perfect match through their site. This online dating platform has a diverse community of single men, women, and all genders and religions who are passionate about meeting their future dates.
Aside from being free to use both on the web and in apps, Mingle2 is also easy and quick to use. You can even narrow down your pool of interest depending on your preferred gender, age, area, and amusingly, by interest.
This online dating platform is known and used worldwide so bigger chances for you to find your match just 5 minutes upon registration.
Service Highlights
Quick and easy to register

Accessible through web and apps

Guaranteed safety and security for its members
Customer Reviews
Mingle2 has proven its effectiveness to many of its users. Not only did they enjoy their time looking for future dates and partners but Mingle2 has actually helped them find their great love. Here's a review given by one of its members.
"Hello there. I just want to thank Mingle2 for making it possible for me to find true love I have been looking for. I am proudly saying that I am now engaged to be married with someone I found here."
With these services for online dating in Singapore, you should be able to keep your love life active… and possibly even meet The One! At the very least, you should meet some interesting people along the way.
5. Christian Connection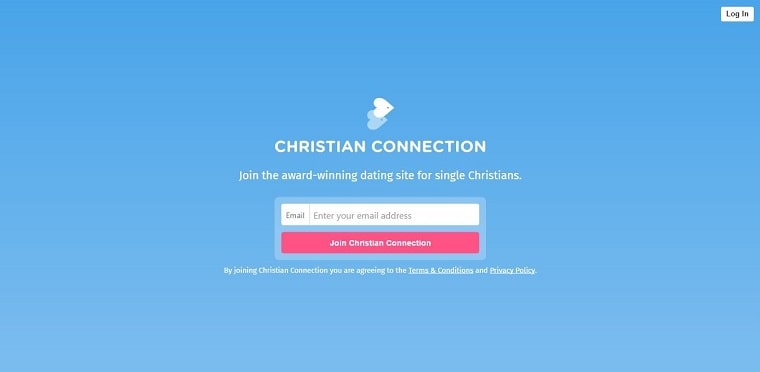 Christian Connection has received awards the from UK Dating Awards and has also been recognised in the international scene.
As the name of the website states, they are a Singapore dating site that caters to Christians. They help members to connect with each other and build friendships that may later on changed into romantic relationships.
There are also several Christian dating opportunities such as discussion boards, meetups, and dating events.
Service Highlights
Dating advice
Genuine and active members
Dating events & free member-run meetups
Customer Reviews
On Christian Connection's official website, you'll immediately see thousands of couples who have found their Happily Ever After thanks to the guidance and help of the platform.
Nigel and Helen expressed their gratitude and wrote this on the company's official website:
"Hi. This is this just a brief note to say Nigel and Helen who met here three years ago were married on Saturday in Cheshire. Thank you so much for helping us meet. It's a long story but it's been amazing for us both and we are so happy and excited for our future."
6. OkCupid
In the OkCupid platform, you'll have a lot of options to introduce yourself and be noticed based on your true self and not just because of your physical facade.
The algorithm asks relevant questions that will reveal one's true identity. This will help you meet your actual match.
They also have specific categories including Jewish or spiritual singles. OkCupid has been around since 2004, making them one of the most reliable and trusted dating sites in Singapore.
Service Highlights
22 gender and 13 orientation options
Dating safety tips
Community guidelines
Customer Reviews
OkCupid proudly shared that they have guided countless couples who ended up getting married, making them one of the most successful online dating platforms. A reviewer from Dating Scout wrote:
 "I've been on OkCupid for the past 6 months and let me tell you, the site is very nice. I love answering the questions because I'm a trivia kind of guy. There are a lot of female fake profiles that will try to get you to give them money, but they're pretty easy to spot. I've had a couple of solid connections with 2 real females so far. Since I'm older, I'm sad to see that there aren't a lot of people my age range it seems. The site is full of kids looking for fun, but that's not me. I just wish there were more people in their 30s and 40s, but it's not like I'm running out of matches, so everything's okay."
7. eHarmony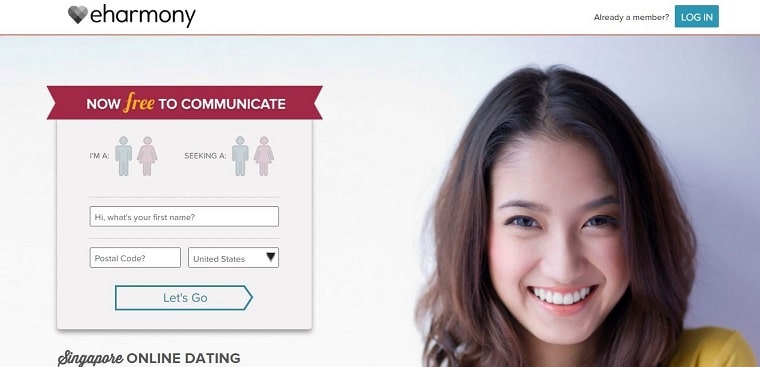 The most important thing about eHarmony is that they have a broad range of categories to choose from, so you have better chances of meeting people you like based on your own preferences.
These categories include Asian, Christian, Senior, Jewish, Hispanic, and Local. These specifications make searching much more convenient on the platform.
Because eHarmony is known to have members who are serious about finding life partners, it's considered by many to be the best dating app in Singapore for 2021 if you want to find love.
The platform has also reached the international online dating industry, proving that they are highly credible. It focuses not only on finding the most compatible date but also on letting you meet a potential lifetime partner for a long-term relationship.
Service Highlights
Gift subscriptions and promotions
Relationship advice
Customer Reviews
Most couples who met through eHarmony ended with lifelong marriage and are now experiencing the wonders of parenthood. Danny shared his story on Dating Scout: 
"After being unsuccessful in a lot of matchmaking service providers, I was able to find the perfect match for me on eHarmony. I can't be anymore happier than I am right now. I must say, the detailed and accurate compatibility estimates from the site were of huge help in finding the one for me. It took about 3 months before I matched with my wife, it was a pretty long time but she was definitely worth the wait. I was 32 back then, now I'm 38 and I can proudly say that I am happily married for almost five years now. I'm glad the site still does what it does best, make matches that last." 
8. Tinder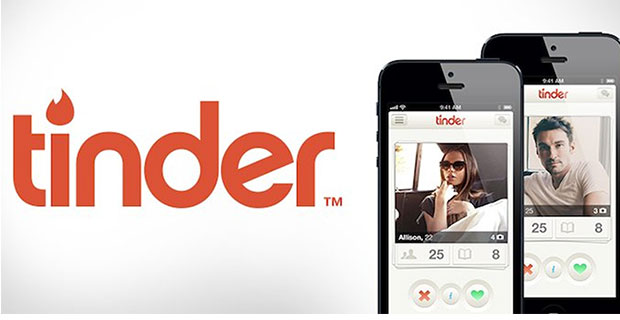 Not everyone wants something serious and heavy. If you're after light, casual relationships, this is possibly the best dating app in Singapore for you.
Tinder keeps it all on the surface: matches are based purely on looks, nothing more. It doesn't promise to bring you a happy ever after, but many casual relationships have progressed into something serious as well. 
When Tinder was first launched 9 years ago, it had eyebrows raising due to the nature of it's casual meetings (hook-ups). Yet here we are a decade on and Tinder is steady and strong, showing no signs of slowing down. 
Pros
User-friendly
No tedious questionnaires / preferences to fill up
Matches are quick
Cons
It seems to cater more to the younger market
Customer Reviews
As Tinder has been around for more than a decade, there are endless reviews available online, compared to other Singapore dating sites. 
Here's one from a user who chooses to remain anonymous:
So never thought I would say this but I found the love of my life on Tinder lol. So so many bad experiences to go through to get to him. But honestly, he is worth all that sacrifice. Keep your head up folks, you will get there.
9. Happn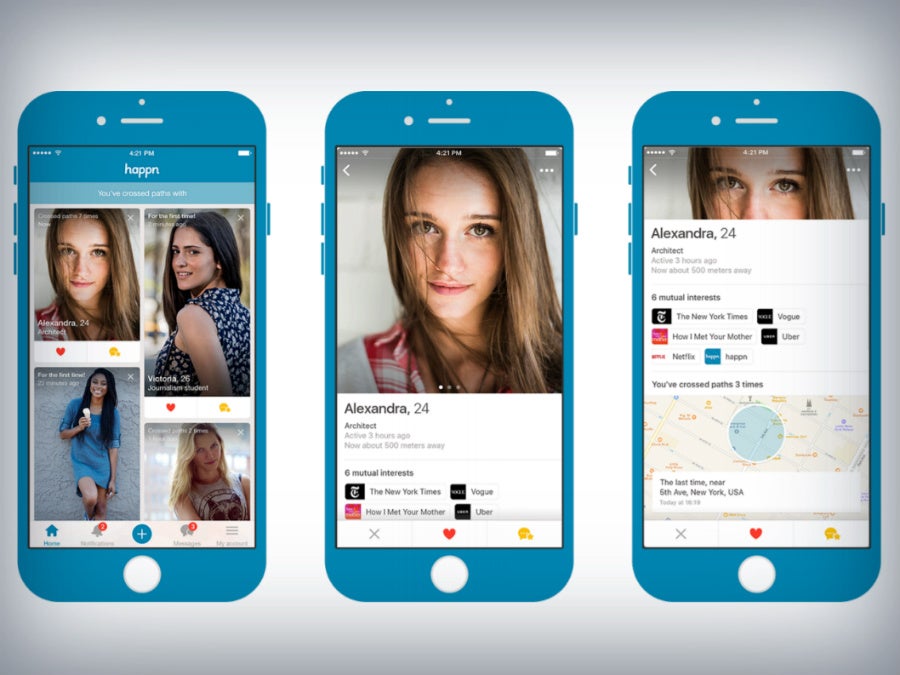 The main idea behind Happn well, happens to most of us: You see a gorgeous stranger on the train, the bus station, or perhaps whilst queueing at an ATM. You have neither the guts nor the pick-up line to approach so that memory just eats at you for weeks and you just hope that you bump into them again. 
Well, with Happn, you can easily look up that beautiful stranger, granted that they also have the Happn app. How it works: Every time you cross paths with someone who also has the app, it remembers and stores those encounters. 
So it's just a matter of going through the list of Happn users you happened to cross paths with that day. A user will not be listed unless you physically cross paths with them, so this app encourages you to go out there and explore!
Pros
You get to see the person in real life prior to meeting
The nature of crossing paths first gives that organic feel to non-online dating
Cons
Privacy : You may not want people you're not interested in to know you hang out in specific areas 
Customer Reviews
Since launching in 2014, plenty of people have used Happn and there are a number of online reviews. 
Here's one from username Hustle Headed:
I do love this app, though I am single right now! But seriously I got a best friend from this. I have given only 4 star ⭐ because even I want to subscribe it's premium features I am not able to. Respected happn team, Please add some UPI and another card mode! 
10. Meetup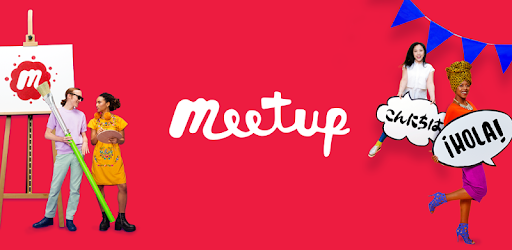 Meetup itself isn't a dating app or site per se, but it has plenty of Singles groups within it. Meetup is a place to meet like-minded people who share your same interests or lifestyle, whatever they may be. 
Whether it's home decorating, rock climbing, indie films or tap dancing, you're bound to find a group in Meetup for any interest. There are also plenty of Singles groups where singles meet to discuss the highs and lows of being single, and that's just the start. 
Meetup is the equivalent of "hanging out with a group of friends first" before singling each other out and dating. 
Pros
Plenty of possibilities
Great not just for romantic interests but contacts / friendships as well
Cons
Not as direct as an actual dating app
Not everyone is looking for love (except perhaps Singles / Dating groups)
Customer Reviews
Meetup has plenty of online reviews, with many thankful to be able to meet people with the same interests on the site. Here's one review from a user who wishes to remain anonymous:
I'd be a recluse without it! I am in a fitness group, a music group and a volunteer and nature group. Love MeetUp. I haven't really thought that there are someones at a higher level who might be making it difficult for the organisers. I haven't heard that. I am a five star reviewer for the benefit from Meetup that I have received.
11. Lunch Actually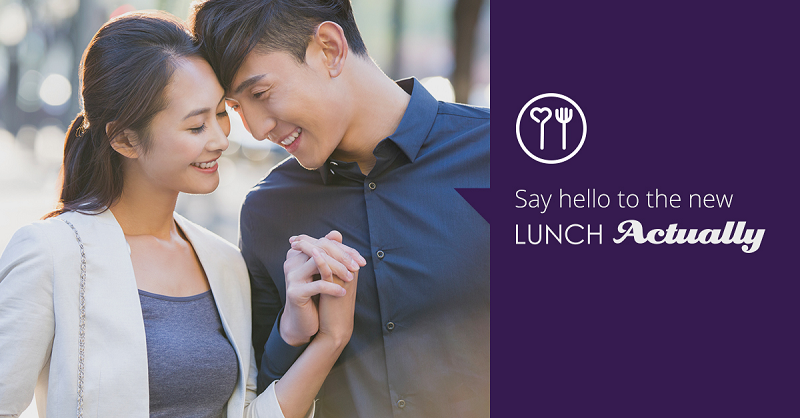 Perhaps the idea of going through hundreds of dating profiles doesn't really tickle your fancy. And more importantly, you don't have the time for it. 
Enter Lunch Actually. Launched in 2004, Lunch Actually is a modern-day matchmaking service, wherein there are literally experienced professionals who will do the matchmaking for you. 
You talk to their experienced 'matchmaker', and based on the preference you tell them, they will provide you with recommendations. This is best for those who do not have the time nor luxury to go through several profiles, and just want someone trusted to say, "I'd like you to meet someone."
Pros
Time-efficient
Matchmaking is done by actual persons, not bots 
Cons
You leave the choosing to other people
Customer Reviews
Lunch Actually has over 160 reviews online, many of them glowing with recommendations of great customer service they received. 
Here's a review from user Josiah:
Top-notch and professional service rendered. Consultant Janice and matchmakers Mabel and Kathy were especially friendly and easy to talk to. Definitely recommended if you are looking to find someone special! The staff at LA are sincere and serious about helping you find your Mr/Ms Right so having them on your side is a good thing! You have nothing to lose here so why not give it a shot! 😉
12. Date High Flyers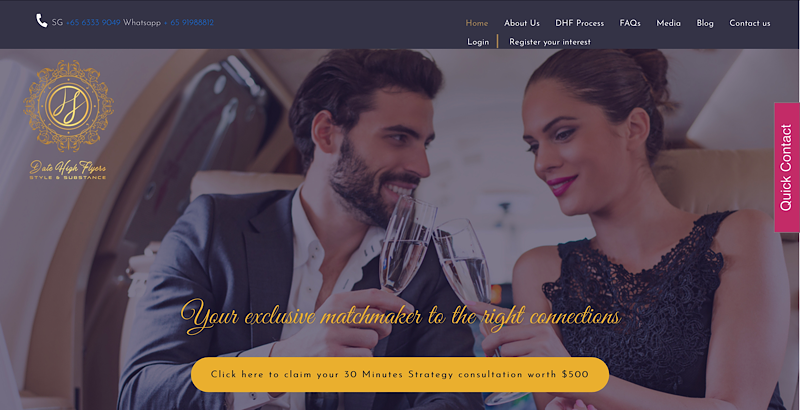 Date High Flyers is not just any dating app that matches you with your potential partners. It is a professional luxury matchmaking agency that is recognised internationally.
For starters, Date High Flyers is a paid membership site where you can choose to belong in one of the two tiers. The app can be accessed through their website.
A regular membership means becoming a luxe member while black label members have the perks of unparalleled care and in-person interviews. A luxe member is sure to have a total of 5 dates in 6 months while the latter has a one year contract and is matchmaked with highly compatible dates.
Anisa Hassan, the founder of Date High Flyers, is a professional matchmaker with over 10,000 hours of experience in matchmaking. In the 15 years of her career, over a thousand clients have been successfully paired together.
Among her clients include millionaires, VIPs, and high net worth individuals. Most are also degree holders from distinguished universities.
Pros
Time-efficient
Matchmaking is done by professionals
Very big in confidentiality
Dates are guaranteed
Cons
Customer Reviews
Here are some reviews from its previous clients:
"Both of us have tried dating online and we really think that the connection was not as deep as what we had wanted to. We are not just interested in another dating service where there are just many people to meet. We wanted someone to look out for us and really tell us the truth about the person we're matched with. DHF Black Label is a safe way to be introduced to other singles who are equally serious. We share many common interests and aspirations and we're thankful that the team is patient and listen to our needs. Small price to pay but a great investment indeed." – Valerie and Mike
"I knew I wanted to broaden my social circle in order to find my soulmate but I did not want to meet just about anybody… I wanted to meet "good people" who have the intention of settling down. My matchmaker took me through the whole process and made me feel comfortable as she had wanted to meet my expectations and match me according to interests and physical compatibility. 
I couldn't believe that the first introduction they made was a real spot on! I must be very lucky as they had cautioned me against thinking this way. Andrew and I were very comfortable with each other right from the start of our meeting and we chatted for many hours and went for ice cream after dinner. We met up quickly for the second, third and fourth date and the rest they say, is history. This could not have been possible had I not invested the time and resources to hire the professionals at DHF. It was an excellent way to meet high caliber singles especially when one doesn't get to socialize very much due to work. I was just keeping an open mind about the process but the matchmakers delivered the results I wasn't expecting so soon. 
Meeting my husband through DHF was a real gift and I have shared my experience with many more friends and highly recommended my sister too!" – Eve and Andrew
We hope this list has been helpful. It's almost impossible to find free dating apps in Singapore so we know the importance of choosing the right dating website and app!
If you do meet someone nice and want to send them a token of your appreciation afterwards, try our list of the companies with the best flower delivery in Singapore. You might even consider our roundup of the top restaurants for the best romantic dinner in Singapore for your first date!
---
*Images are taken from each company's official websites/social media.