World-class Education: Top 10 MBA Programmes in Singapore
Getting an MBA can take you far in the world of business, but it also pays to earn it from a world-renowned business school.
Luckily, there are a plethora of world-class universities that offer top-notch MBA programmes in Singapore, and I narrowed the very best in this review!
Without further ado, here's a list of the best MBA programmes to look out for if you want to become a future CEO or the next Shark Tank star!
How much does an MBA cost in Singapore?
Here are the tuition fees of selected universities that offer MBA programmes in Singapore:
| School Name | Estimated Cost |
| --- | --- |
| NUS Business School | $84,000 to $90,000  |
| INSEAD Asia Campus | $120,000 to $150,000 |
| Nanyang Business School | $65,000 to $75,000 |
| Lee Kong Chian School of Business  | $120,000 to $130,000 |
| James Cook University | $40,000 to $50,000 |
How We Picked
We assessed the best business schools with MBA programmes in Singapore based on the following criteria:
Our Overall Picks
| School Name | Estimated Cost |
| --- | --- |
| BEST FOR INTERNATIONAL STUDENTS | London School of Business and Finance |
| BEST FOR EXECUTIVE MBA | ESSEC Business School |
| BEST FOR GENERAL MBA | Nanyang Business School |
| MOST AFFORDABLE | Curtin University |
| MOST EXPENSIVE | INSEAD |
| OUR OVERALL PICK | NUS Business School |
1. National University of Singapore – NUS Business School
The National University of Singapore is widely known to be one of the top institutions for higher education in the world. So, it's no surprise that even its graduate programmes, such as the esteemed MBAs, are equally coveted degrees.
The school has consistently placed in the top tiers of world rankings, especially among universities in Asia.
The MBA programme alone stands as one of the most sought-after and highly selective programmes. It has also gained a reputation for being highly selective in its admissions process.
So, I took it upon myself to enquire about the programme offerings and student life, to see if the NUS Business School delivers.
To my delight, the school has a robust campus life, with a good balance of local and international students. The programmes are divided into separate specialisations, each with a different course duration.
The general MBA lasts almost two years and includes over 50 electives which students can choose from to tailor-fit the course to their prospective careers.
The specialisations are quite limited, but the academics are nonetheless top-notch.
The other programmes offer residencies in six global cities: Los Angeles, Singapore, Shanghai, Shenzhen, Mumbai, and Bangalore.
The NUS Business School programmes are also perfect for students currently working or requiring more flexible study formats that last around two weeks every three months.
The facilities are adequate but are in need of renovation in some areas. Obviously, the school is quite aged, but I hope the management renovates the canteen and study areas in the future.
Top placement in world rankings
Excellent MBA programme partnerships
Limited specialisations
Highly selective admission process
Customer Reviews
Excellent facility for learning
"Great facility for learning, although aged and in need of a renovation – but adequate. The Mochtar Riady Building is state of the art though, with plenty of Bloomberg terminals."—Hooke Wando, Google Reviews
Best place to learn business in Asia
"I have explored NUS Business School. This place is so awesome with good architecture and excellent facility. This is the best place to learn business especially in Asia."—niaalprilia, Google Reviews
2. INSEAD Asia Campus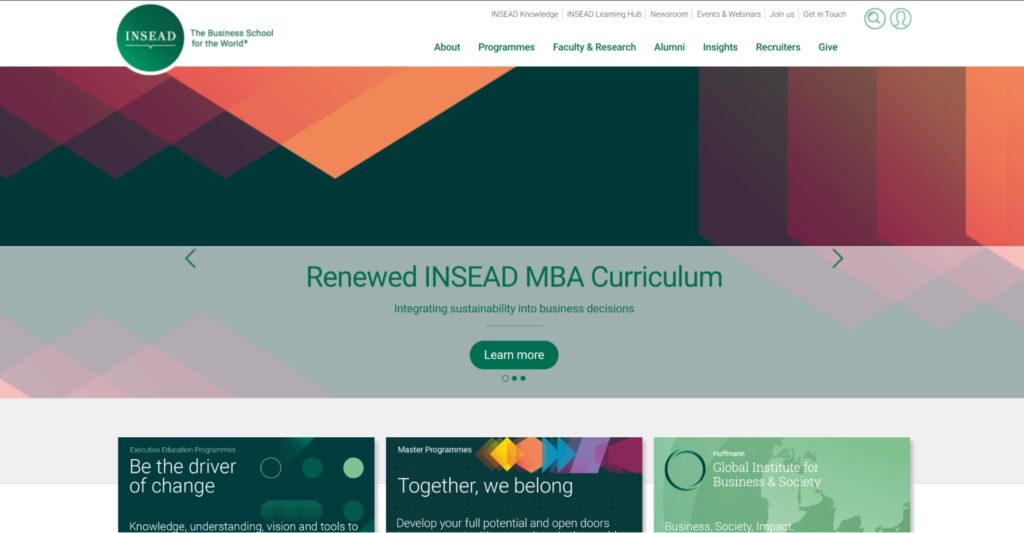 | Title | Info |
| --- | --- |
| ADDRESS | 1 Ayer Rajah Ave, Singapore 138676 |
| WEBSITE | https://www.insead.edu/ |
| CONTACT DETAILS | +6567995388 |
| OPERATING HOURS | Monday to Friday, 7:00 am to 7:00 pm |
| PROGRAMMES | MBA, Executive MBA, Executive Master in Change, Executive Master in Finance, Tsinghua-INSEAD Executive MBA, INSEAD-Sorbonne Universite Certificate Programme |
| DURATION | 10 months to 1 year |
INSEAD is a world-class school and if you're looking for an institution that prioritises an international outlook on its students, then I recommend getting an MBA here.
The MBA programmes at INSEAD are diverse and offer over 75 electives that students can maximise upon graduation.
There's finance, law, medicine, and more to explore. It's really up to your career preference!
Another reason why I recommend INSEAD is it's partnered with world-class institutions for business, like the Wharton School of Business, Tsinghua University, and Sorbonne Université.
Students also get to choose which campus they prefer to complete their MBA! You don't have to worry about the language barrier, too, as INSEAD uses English as the medium of instruction.
The Asia Campus in Singapore is highly modern and conveniently located just 15 minutes from the city centre.
If you're transferring from a different school, however, none of your class credits will be admitted upon your admission to INSEAD.
It's a huge bummer that they don't accept credit transfers, but that's one sacrifice to consider when attending a prestigious business school.
INSEAD's tuition fees are also pretty steep. You're looking to spend almost $145,000 a year here (that's a lot of money!).
You can, however, apply for student loans or scholarships, granted that you pass the requirements.
Great MBA partnerships
International campuses
Does not accept transfer credits
Expensive tuition fees
Customer Reviews
Clean and comfortable environment
"Very clean and comfortable environment to study and work. Skyrise greenery with lots of sustainability and green Initatives."—Raymond Ang, Google Reviews
World-class education
"Excellent Infrastructure and facilities. Teaching faculty is world class. Superb teaching method. State of the Art class rooms with the latest technological gadgets and inputs. Location is easily accessible. Collection of books in library is good. Good souvenir shop too. Truly marketed as Business school of the world."—a n jha, Google Reviews
3. Nanyang Business School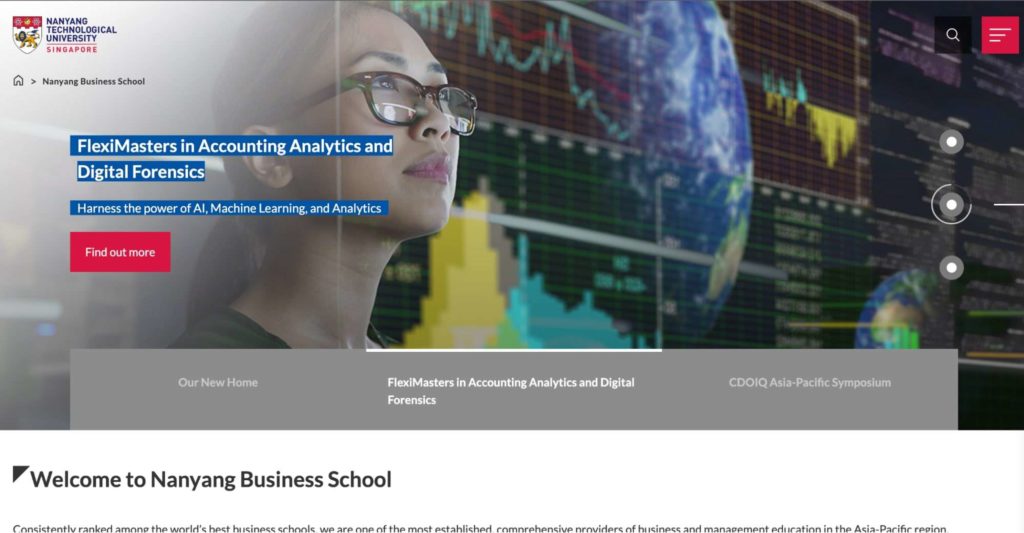 Nanyang Business School is another leading business school in Asia that attracts students from all over the world.
With its world-class facilities, external courses, and flexible course durations, I had to include it in my review of the best MBA programmes in Singapore.
There are about six MBA programmes available at Nanyang Business School, and each has specific curricula that tailor to students of all backgrounds.
For example, when I enquired about the Nanyang Professional MBA, I learned that it's designed as a part-time course for working professionals.
Most of the applicants here are working professionals with an average work experience of six years.
The core courses offered include accounting, finance, marketing, strategic management, and data analytics. The spectrum is quite vast, so there are a lot of opportunities to explore your career paths here.
There's a small gap in age differences, but the diversity in student life makes Nanyang Business School appealing to me.
Why? Because you can learn a lot from your classmates who share the same ambitions and career goals.
Also, there's a huge international population here!
The general Nanyang MBA programme can be completed in either 12 months or 18 months, depending on your schedule. Class sizes are huge though, so classrooms can get pretty crowded.
If you're looking for a more hands-on learning experience, Nanyang Business School may not be your best bet.
On a more positive note, the facilities are very modern and the study areas are super conducive to learning. It was easy for me to imagine what it's like to study here when I visited the campus for the first time.
Flexible course durations
Offers digital courses
Excellent facilities
Crowded campus 
Huge class sizes
Customer Reviews
Practical learning experience
"Great school that gave far more practical experience compared to the UK business school I attended."—Robert Francis, Google Reviews
Innovative pedagogy
"Nanyang Business school is quite popular in Singapore and has been nurturing leaders from around the world, employing innovative pedagogy that melds rigorous academic theory with real-world business practice"—Mohammed Abdul Fasi, Google Reviews
4. Lee Kong Chian School of Business – Singapore Management University
The executive MBA programme of the Lee Kong Chian Business School is one of the most sought-after postgraduate programmes of the Singapore Management University.
The institution is widely known for its cutting-edge research facilities and business-centric pedagogy, so a combination of these factors makes Lee Kong Chian Business School very attractive to students from all over the globe.
Of course, applicants must consider that the school's MBA programmes have a strong focus on Asian markets. So, if that's not what you're after, then you might want to consider another school.
However, if a strong focus on Asian business practices is what you're after in an MBA programme, then Lee Kong Chian Business School might be up your alley.
You get access to world-class faculty and get to network with business leaders as you go through each course of the programme.
It's also a huge plus that your classmates are working professionals, so you'll learn a lot from your peers.
Just note that part of the admissions requirements is a minimum of two years of work experience, so this school's MBA programmes may not be the best option for fresh graduates.
On a more positive note, the school offers elective modules (although limited) that cater to the prospective industries of its students.
For example, there are modules offered in finance, leadership and operations, strategic management, and marketing.
Students can focus on a specific field to supplement the core classes they'll be taking for the whole programme.
Strong focus on Asian business practices
Excellent research facilities 
Two years of work experience is required for admission
Limited specialisations and electives
Customer Reviews
Strategic linkages
"SMU emphasises rigorous, high-impact, multi- and interdisciplinary research that addresses Asian issues of global relevance. SMU faculty members collaborate with leading international researchers and universities around the world, as well as with partners in the business community and public sector. SMU's city campus is a modern facility located in the heart of downtown Singapore, fostering strategic linkages with business, government, and the wider community."—Danilo Dillo, Google Reviews
Beautiful campus
"What a beautiful campus! One of the well-known universities in Singapore. Stylish design and well-equipped. Definitely, a wonderful place to study."—Ty Chua, Google Reviews
5. James Cook University – Singapore Campus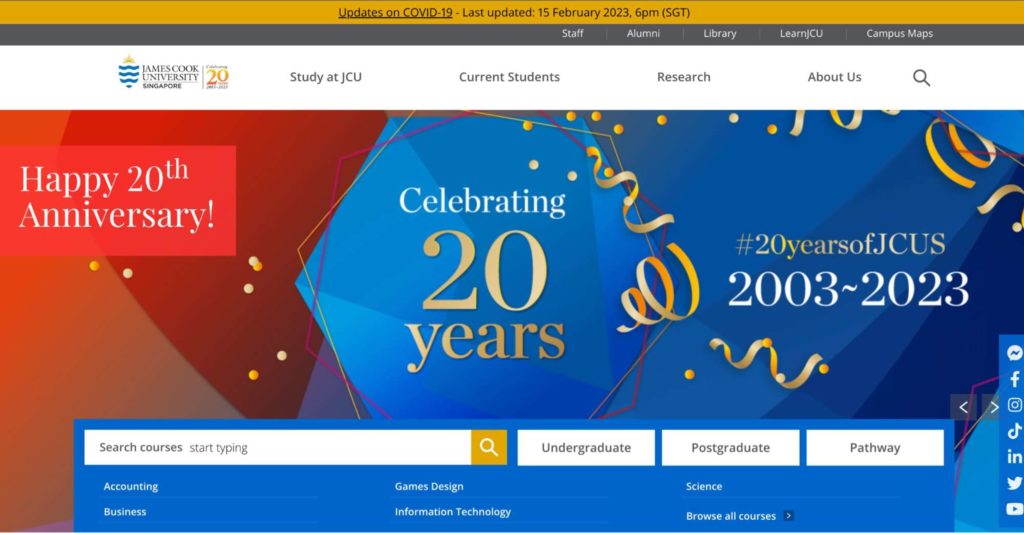 Title
Info
ADDRESS
149 Sims Dr, Singapore 387380
WEBSITE
https://www.jcu.edu.sg/
CONTACT DETAILS
+6567093888
OPERATING HOURS
Monday to Friday, 7:00 am to 10:00 pm

Saturday, 7:00 am to 6:00 pm

PROGRAMMES
MBA with specialisations in Analytics and Business Solutions, Creative Marketing, Entrepreneurship, Finance, Global Talent Management, MICE, Tourism and Hospitality
DURATION
12 months to 16 months
If you're a finance enthusiast, then you might want to consider enrolling at James Cook University for its MBA programme.
The finance stream of James Cook University is recognised by the Chartered Financial Analyst Institute (CFA), which is a huge plus if you want to get into the finance industry.
There are other majors you can specialise in under the school's MBA programme such as analytics and business solutions, creative marketing, entrepreneurship, tourism, and global talent management.
In short, there's a plethora of opportunities at James Cook University, and I'm all for it!
Another huge advantage of studying here is the ability to complete your MBA in Australia. You basically get to study abroad with the same tuition fees you're paying in Singapore.
Even if you don't plan on studying at the Australia campus, the Singapore campus is equally excellent. The facilities are all very modern and conducive to productivity.
It sounds like a win-win situation to me, but of course, there are caveats.
The main one is that getting admitted to James Cook University is notoriously difficult. The admissions process is highly selective, and applicants have to complete compulsory preparatory programmes before the term starts.
This means that you'll have to pay for preparatory courses even before finding out if you get in! It's not entirely a con, but it does make studying at James Cook University sound tedious.
However, consider that due to the selective admission rate, getting an MBA from this prestigious school speaks volumes about you as a student (it also looks great on your resume!).
Enables you to study in Australia
Great array of specialisations
Highly selective admissions process
Compulsory completion of preparatory programmes
Customer Reviews
Excellent quality of education
"Quality of education is very good and friendly professors and good facilities provided for the students."—Praveen Devihosur, Google Reviews
Nice campus grounds
"One of the best universities in Singapore with nice campus!"—Htet Pyae Aung, Google Reviews
6. London School of Business and Finance Singapore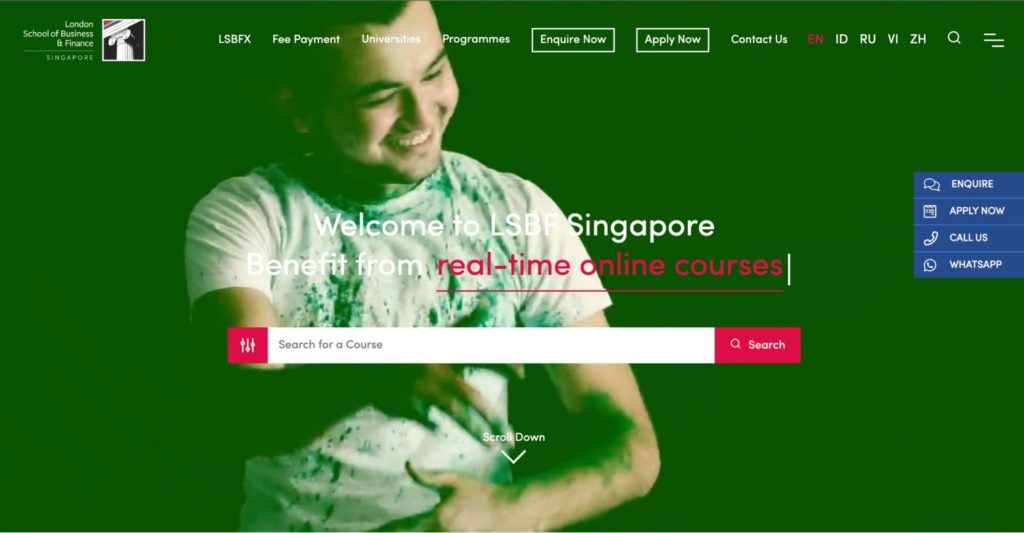 Don't let the London School of Business and Finance's small campus fool you. The quality of education and variety of programmes speak volumes of its leading reputation.
The university offers blended learning which enables working professionals to study and focus on their careers simultaneously.
The course schedules are pretty flexible here. You can choose to complete your MBA online!
For me, the ability to learn from the comfort of your own home is an advantage. The blended learning dynamic provides more leeway to balance work and study.
The admissions process here is not as rigorous as the other entries in this review, but based on my observations, there is a minimum age requirement to apply.
Fresh graduates are welcome to send in their applications, but the school will prioritise applicants with years of work experience in a managerial role.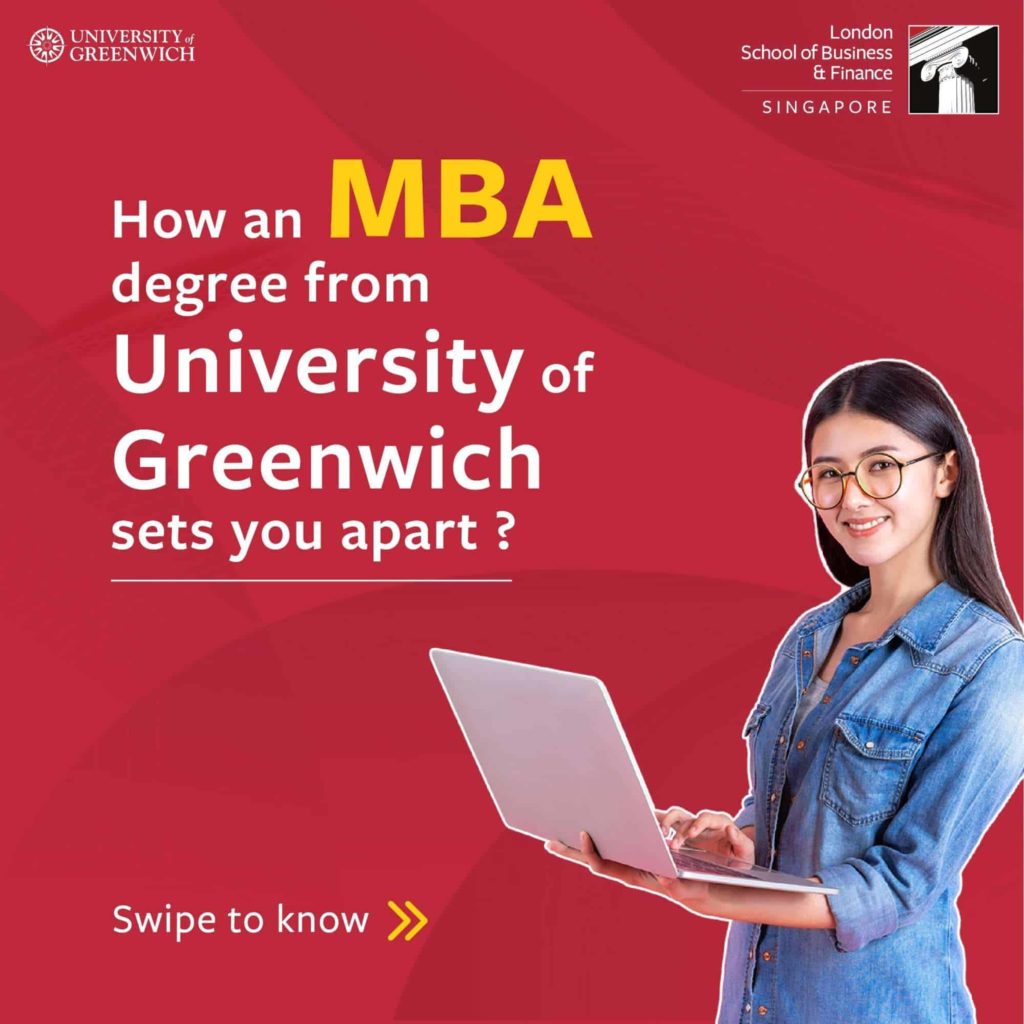 When it comes to financial aid, the London School of Business and Finance offers discounts on tuition fees. They don't offer full scholarships, but exceptions may be made on a case-to-case basis.
On a more positive note, however, the school's MBA programme is designed by the faculty of the University of Greenwich.
The programme focuses on international business, so it integrates key business practices and strategies on a global scale.
Some of the modules include international economics, sustainability, and financial and management accounting.
Unlike other MBA programmes in Singapore, this school prioritises an international outlook on business. If that's what you're after, then I highly recommend enrolling at The London School of Business and Finance.
Offers blended learning
MBA programme is designed by the University of Greenwich
Scholarships are only in the form of discounts
Age requirement for admission
Customer Reviews
Well-trained faculty
"One of the best institutions in Singapore,
The faculties here are nice and kind to approach students. They are well trained to handle the students. I never felt any discomfort or anything by the management as well as the students in here too."—Pubgcreater S, Google Reviews
Lots of activities
"I have studying in LSBF school within 3 years. Overally, the lecturers are friendly and helpful through actual lessons in the class and reality. Plus, the student can participate in a plenty of interesting activites! They have several different clubs such as Green club, Sport club, R&B club and others. Im glad to join in LSBF cause I can make a lot of international friends here."—otis chau, Google Reviews
7. Curtin University Singapore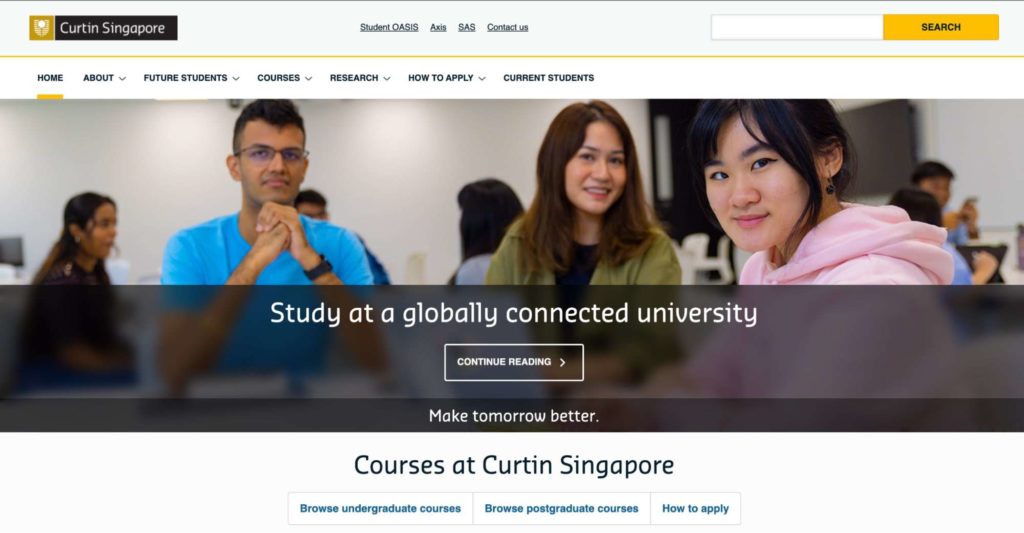 When I narrowed down my top MBA programmes in Singapore, I highly considered the campus location. Curtin University's Singapore Campus is one of the most accessible campuses in terms of its proximity to the city centre—and I love it!
The school moved to a newer building recently, and I got the chance to tour the place. The campus is still pretty small (like its old location), but the facilities are updated.
Even if the facilities are still pretty limited due to the school's size, the environment and student life remain robust and lively.
The admissions office staff were very friendly and accommodated my enquiries when I arrived.
Academics-wise, Curtin University offers a highly flexible MBA programme. The course offerings include a choice to major in either leadership or international business.
Each specialisation has specific modules that I honestly thought were very well-planned and unique such as organisational behaviour for managers, executive financial decision making, and corporate governance.
The courses can be completed within 16 months or, if you're a working professional, a maximum of 36 months!
Overall, I highly recommend enrolling at Curtin University, especially if you're looking for more flexible study time.
Flexible part-time course schedules
Convenient campus location
Small campus
Limited facilities
Customer Reviews
Pleasant learning environment
"I like the environment here, meet a lot of excellent people here and definitely five 5 stars to this campus. tuition fee is affordable"—JianZhang Lee, Google Reviews
Clean facilities
"Excellent place! It's clean and I had good experience with my family and friends. Will recommend to more people."—Ailynn Wong, Google Reviews
8. Singapore Institute of Management – Global Education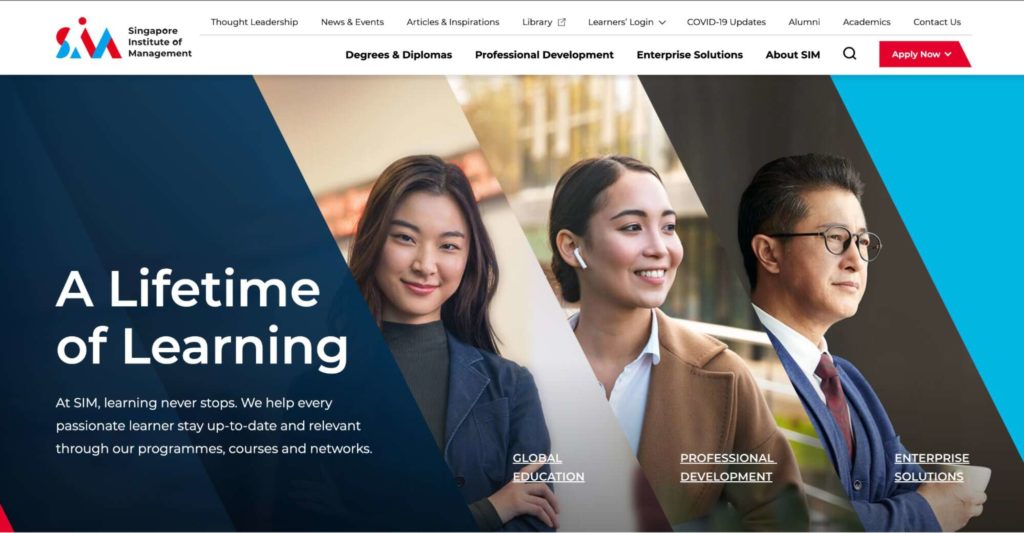 The Singapore Institute of Management is an esteemed school for higher education. Many of my friends have taken online courses from the school's Global Education portal, and some of them gave high praise for its MBA programme.
The MBA programme is designed and awarded by the University of Birmingham, but students complete the course from the Singapore Institute of Management's campus in Singapore.
The faculty leading the programme are from the Birmingham Business School, so that's quite an impressive feature to consider when you're applying.
The course itself is only available in a part-time schedule, but I personally think the two-year duration is sufficient for working students.
Plus, it gives you more flexibility in terms of work-life balance. I honestly think letting students pursue other interests is a green flag for a school.
When I paid the school a visit, I was impressed by the modern facilities and friendly environment.
The students there were all focused but friendly. The library and study areas were neat and well-maintained.
My only other drawback about this school is the limited specialisations offered in the MBA programme. Nevertheless, the curriculum is pretty comprehensive, and I don't doubt that students will learn a lot from the core module alone.
MBA is awarded by the University of Birmingham
Modern facilities
Part-time schedule only
Limited specialisations
Customer Reviews
Excellent career foundations
"This school provide me the foundation to explore my career in the Multi National Company. I am grateful to where I have been as of today"—Oi Foong Koo, Google Reviews
Large and clean campus
"The campus is large, clean, and filled with amazing facilities such as the library and lecture theatres, which makes it conducive for study. I don't know about other courses but I took the RMIT ACC program and I can say I'm overall very contented with the overall study experience. The lecturers which taught us are professional and have great qualifications, most are NUS/SMU/NTU graduates with an immense amount of work experience."—Shane Teo, Google Reviews
9. ESSEC Business School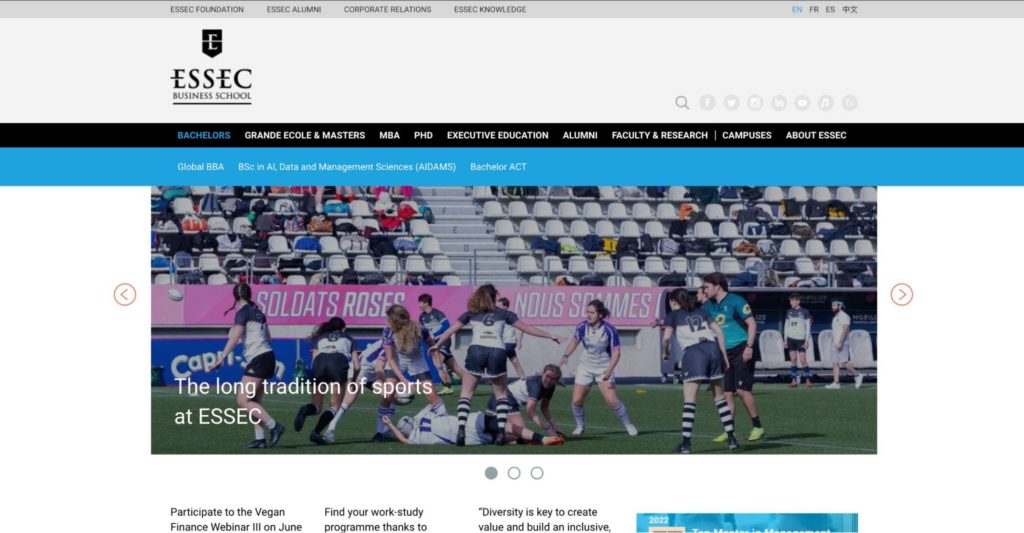 ESSEC Business School is truly a global business school, for its professors are one of the most esteemed in the industry.
The specialisations offered in this school, namely strategy and digital leadership and luxury brand management, are unique to it.
If you're looking to expand your knowledge in such specialised fields, I highly recommend checking out ESSEC's Global MBA and EMBA.
The Singapore campus is quite small, though, but it's very well-maintained and modern. The facilities are sufficient for students who like to socialise and network with other industry professionals.
While the school is mainly known for executive education, the Global MBA is equally sought-after by both fresh graduates and experienced professionals.
The student population in Singapore has a good mix of both locals and foreigners.
The admissions process is slightly more selective than most business schools, and the average class age is over 30 years old.
Personally, I'd feel intimidated to be a part of the school's prestigious MBA programme, but it would definitely make me feel like I'm a cut above the rest.
Renowned professors
Best for Executive MBA 
Small campus
Limited specialisations
Customer Reviews
Best choice for a business school
"Best choice for a business school! They offer short programs focusing on different business expertise. Location is great too, more conducive for learning.—Judy Blanch, Google Reviews
Global learning experience
"ESSEC Business School is one of the best business schools in the world and I really liked the campus of Singapore.
Professors are excellent, programs (such as the Global Manager in Asia) are excellent, and the campus is very nice!
To live in Singapore was also amazing! One of my best experiences as a student."—Francois B. Photos, Google Reviews
10. Aventis Graduate School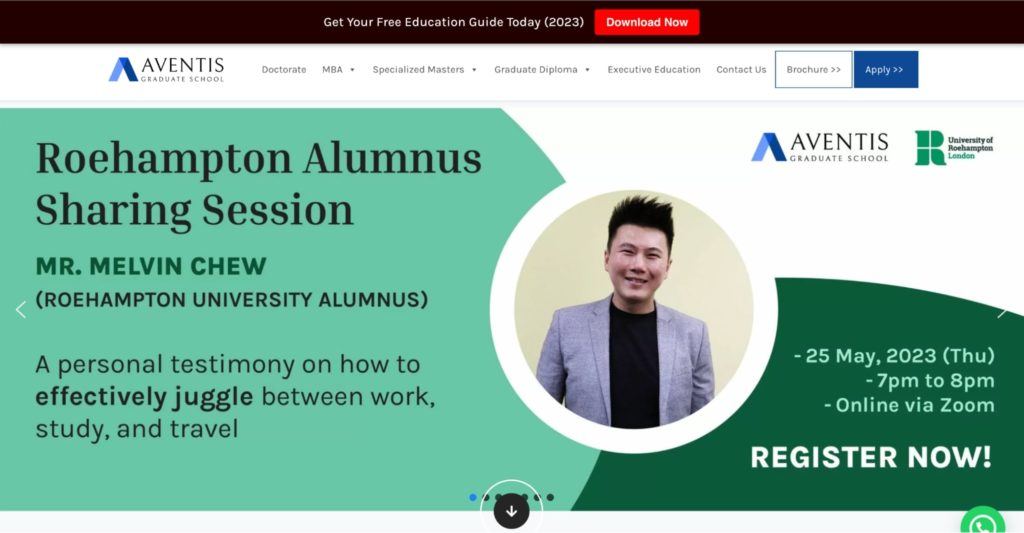 The MBA programmes offered at Aventis Graduate School are pretty compact. Students can earn their degrees in just 10 months!
The programmes are designed and awarded by California State University and the University of Roehampton.
When I heard that these programmes are conducted completely online, I had my hesitations mainly because of the lack of in-person interaction between students.
The benefit of studying remotely, however, is the flexible schedule. Students at Aventis are mostly working professionals, so the ability to study remotely enables them to also pursue their careers efficiently.
That said, the course schedules available at Aventis Graduate School are only part-time. If that's not the kind of programme you're looking for, I suggest considering another graduate school.
The course modules include strategic marketing, leadership and change management, sustainable business strategy, and human resource management.
Suitable for working professionals
Affordable tuition fee
Completely remote learning
Only offers part-time course schedules
Customer Reviews
Valuable insights
"I am extremely grateful that my experience in the Roehampton MBA program has allowed me to gain valuable insights whilst improving my leadership skills. Industry talk and networking also helped me in growing my professional network."—Alice Goh, Google Reviews
Fulfilling learning journey
"It has been a very fulfilling learning journey. Very knowledgeable lecturers and meaningful discussions during sessions. May the knowledge gained benefit the society at large. Thank you Aventis for this learning opportunity!"—Nasyita Mohtar, Google Reviews
FAQS about MBA Programmes in Singapore
---
More Education Resources
Looking to study in Singapore? Here are more helpful reviews to help you ace that test or get into your dream school!