The 5 Best Food Dehydrators in Singapore Reviewed
Want to have more healthy homemade snacks for a delightful after-meal? Well, with the best food dehydrator in Singapore, you can preserve the freshness and nutrition of your favourite fruit treats or beef jerky flavours!
Food dehydrators in Singapore have become more advanced as you can now dry up variations of fruits and vegetables and set accurate temperature controls, letting you have a healthier alternative to store-bought snacks.
To help you prepare delicious homemade snacks this way, we've found you some of the best food dehydrators in Singapore! But before we go on to our list of those, let's see first which features you must look out for so you can pick a good one.
How to Choose a Food Dehydrator in Singapore
Part of what makes choosing a food dehydrator so hard now is that there can be great differences from unit to unit. If it's your first time to buy one, it might take you a long time to figure out which model suits your needs and preferences given the variety on the market.
But we'll take you through the basics of picking one that works for your situation. Here are some of the factors to keep in mind while selecting a food dehydrator:
1. Heat Distribution and Air Flow
Aside from making sure that the food is being dried under a consistent temperature for a long time, you also need to check if the heat is evenly distributed to ensure that all portions are being preserved.
To achieve even heat distribution, the food dehydrator must have effective airflow. Those models with horizontal flow are ideal; however, there are also some vertical flow models that are designed with fans and other elements to improve airflow.
2. Size
You must also consider the available space in your kitchen and see if you have enough space for the kind of food dehydrator that you'd like to use.
Smaller models will take up less space but they also have smaller capacity — so if you don't often use a food dehydrator, then a small unit will do.
For those who have a lot of homegrown food in their garden or want to start an organic food shop, you'll need a large unit with massive capacity.
3. Noise
Food dehydrators typically come with a fan, resulting in some inevitable noise during operation. However, the noise level varies by unit.
Note that some manufacturers rate the noise of their units in decibels. If you want a quieter unit, you want the figure to be as low as possible.
4. Materials
If you need a heavy-duty unit that can operate for a long time, then you'd need a dehydrator that's made of stainless steel.
But if you won't be using it often, then you may opt for a more affordable plastic dehydrator. Given that you won't be using it enough to put the unit under regular stress, anyway, it should hold up well.
The Best Food Dehydrators in Singapore
Now that you know which features to watch out for when buying a food dehydrator, let's take a look at some of the top picks on the market today.
We've run up a list of the best food dehydrators in Singapore — the ones that offer competent functionality and design as well as value.
1.   Cornell CFDE1403T Food Dehydrator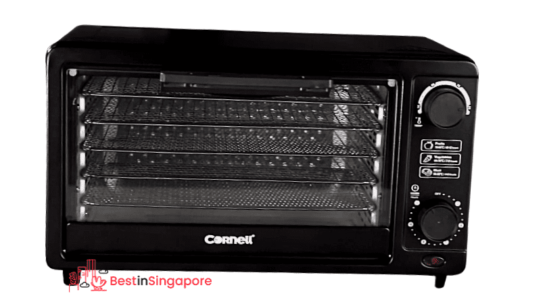 Price: $89.00
The Cornell CFDE1403T Food Dehydrator is the size of a regular toaster oven — and may even be mistaken for one on occasion! Make no mistake, though: this is a serious if affordable dehydrator.
It comes with 5 mesh trays and 1 crumb tray. With it, you can dry a variety of healthy snacks such as fruit slices and beef jerky pieces.
By activating the 360-degree airflow circulation, you can achieve consistent and even results without overheating. You can also set the timer for up to 12 hours with 50 to 80 degrees of heat.
Despite its low price, it features high-quality performance: you can make flavourful and preservative-free snacks with it. It also has a transparent window if you want an easy and quick glance at the process.
Overall, we think this is the best food dehydrator in Singapore for those on a budget.
Pros
Convection function
Compact design
Easy to use
Fast operation
Cons
Not a lot of trays
Soft foods sink into the tray's grill while they shrink
2.   Excalibur 3926TB Dehydrator
Price: $698.95
The Excalibur 3926TB Food Dehydrator consists of a 9-tray box that's perfect for those who are preparing for a big celebration at home or simply enjoy having homemade snacks.
With the large amount of food that you can dry in this unit, you can now buy fruits and vegetables in bulk and make different kinds of treats!
It features adjustable thermostat settings so you can set the right temperature for each type of food. Since the food dehydration process can take long hours, this model offers a 26-hour timer, letting you go on with your day without constant monitoring.
This best food dehydrator in Singapore also has a 7-inch fan for better airflow, resulting in even heat distribution.
Pros
Massive capacity
Easy-to-clean trays
Consistent results
Cons
Customer Reviews
Customers loved the large capacity and quality performance as well as the consistent results provided by the Excalibur 3926TB Food Dehydrator.  A customer wrote this feedback:
"We found the Excalibur 3926TB to be the best full-size dehydrator in the class. While it is one of the more expensive machines in our review, the steep price is matched by the vast amount of tray space. This model might not be for everyone as it leans towards production food processing as opposed to compact storage. However, if you have the space available and want across the board high-performance, then this is the model for you."
3.   L'Equip Korea LD-918T5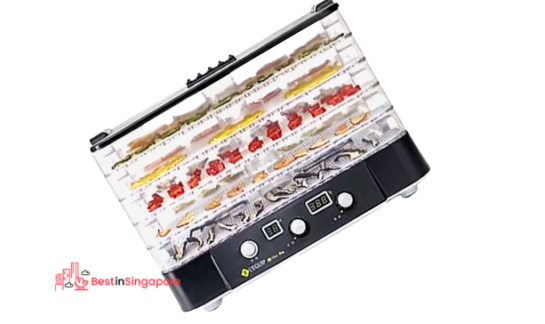 Price: $224.00
The L'Equip Korea LD-918T5 features 5 trays that are designed with more vertical space than the usual dehydrator tray so you can easily dry bulky foods. It also has varied temperature settings, ensuring precise and even heat for your desired treats.
It's equipped with a convection circulation heating system, providing natural and faster operation.  A timer function is also included for more convenient use.
Unlike the previous option, it's designed with a transparent casing, letting you see the drying process. With all of these features, it can truly be the best food dehydrator in Singapore.
Pros
Best for beef, chicken, and pork
Easy to use and clean
Fast heating process
Transparent casing
Cons
4.   Nesco Snackmaster Pro Food Dehydrator FD-75PR
Price: $489
The Nesco Snackmaster Pro Food Dehydrator FD-75PR provides a wide range of temperature control settings, producing even heat distribution all throughout the process.
The most impressive feature of this unit is that it has a total of 5 trays and is expandable up to 12 trays — allowing you to dry large quantities without any tray rotation.
You can simply buy additional trays to create more treats. With this flexibility, we think this is the best food dehydrator in Singapore for both light and heavy use.
It also has a powerful yet quiet flow fan feature, drying the food items from top to bottom for quick and consistent results.
Pros
Unique airflow system
No need for tray rotation
Expandable up to 12 trays
Compact design
Cons
No timer
Needs to be manually turned off
Slightly hard to load the trays sometimes
Small base capacity
Additional trays sold separately
Customer Reviews
The Nesco Snackmaster Pro Food Dehydrator FD-75PR has received positive reviews from customers because of its efficient functions and quiet operation. A customer wrote this feedback:
"The NESCO FD-75PR is relatively compact (compared to full size dehydrators), yet offers decent expandability for a medium size dehydrator. The circular stacking trays provide flexible capacity, but are not quite as convenient for loading food as rectangular trays. The airflow system is proven. If you have modest needs, and want a dehydrator that has a smaller form factor, we think the FD-75PR is a good option. If you like the stacking design, and want a little more capacity and a rectangular tray, consider the FD-80. There are some complaints of defective machines, so make sure you keep your receipt and deal with any problems promptly."
5.   Rommelsbacher DA 750 Food Dehydrator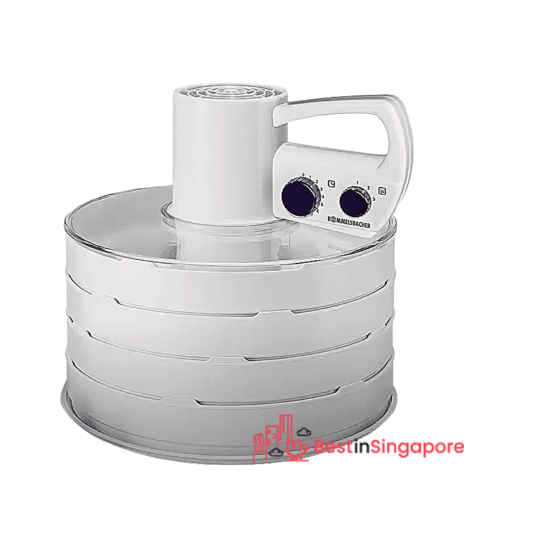 Price: $317.95
The Rommelsbacher DA 750 Food Dehydrator comes with active warm air circulation providing consistent temperatures. It also has 3 power levels, giving you control over the temperature setup.
There's also a 12-hour timer feature included so you won't have to waste much time monitoring the process. For easy and safe use, it's designed with automatic switch-off.
Moreover, it can be used with up to 6 dehydration shelves so you can make more of your favourite treats.
All of these features show you how it has become one of the best food dehydrators in Singapore. We certainly count it among our favorites among the ones we tried!
Pros
Casing has superior plastic quality
3 power selection levels
12-hour timer
Automatic switch-off
Transparent lid with heater fan
Cons
Casing and shelves are slightly hard to clean
With these best food dehydrators in Singapore, you can start a healthy habit by creating your own dried snacks instead of buying mass-produced snacks at the grocery/convenience stores!
Do you already know which one you would like to buy from among the ones we listed? Let us know all about it!
And for another healthy alternative to deep-fried foods, here are some of the best air fryers in Singapore! With these selections, you'll only need to use a minimal amount of oil and yet can still have food with great flavours and rich textures.