The 8 Best Boutique Hotels in Singapore
Singapore is a tourist-friendly place that never runs out of hotels, hostels, and other types of accommodation. However, if you want to experience the authentic way of living like a local, then you should check into the best boutique hotels in Singapore.
Unlike chain hotels, boutique hotels are a lot smaller and can only accommodate fewer than a hundred people. What makes them great is that they're cheaper and have more flexible house rules.
If you don't know what the best boutique hotels in Singapore are, then consider yourself lucky — we're listing down the ones we think can give you your money's worth.
1. Ann Siang House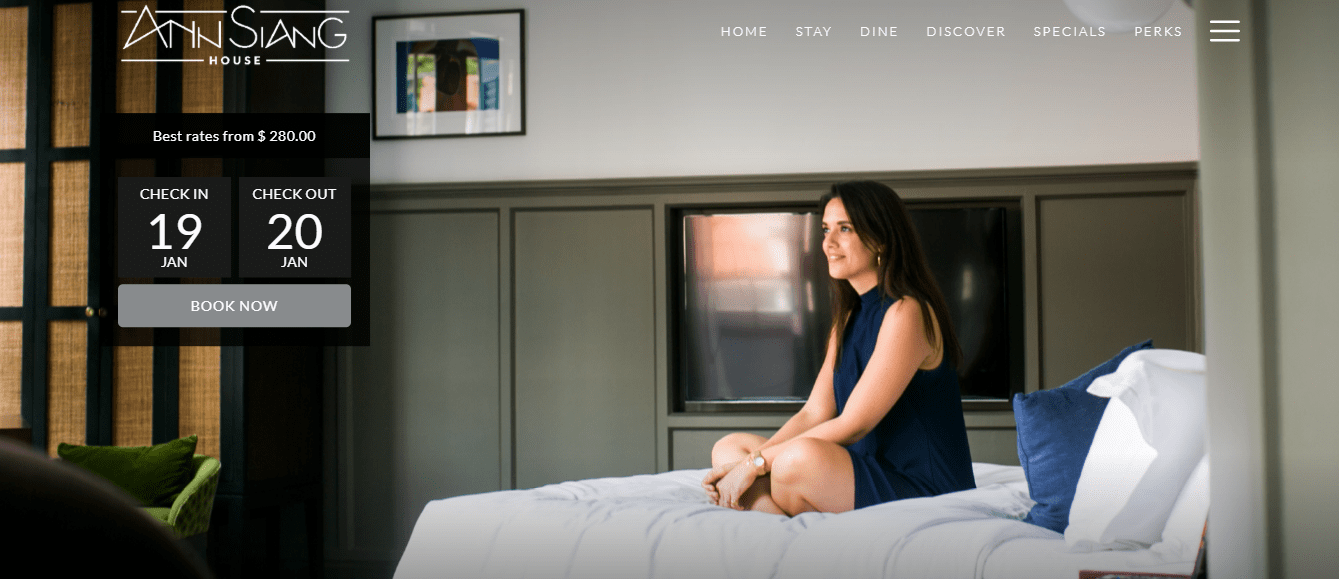 If you want to experience the best of Singapore without draining your wallet, then look no further than Ann Siang House. Located at the heart of the island, it's within walking distance of various tourist spots and landmarks.
Ann Siang House has an in-house restaurant that serves some of the best local dishes. There's also a bar if you want to end your day with something to drink.
Guests have unlimited access to the Internet, so need to worry about getting disconnected from social media. On top of this, most previous customers have mentioned how friendly and professional their staff is.
Highlights
Free wifi
Non-smoking rooms
24-hour front desk
With bar and restaurant
Customer Reviews
Here are some reviews from previous guests: 
"Rooms decorated to a high standard, comfy beds. Location was absolutely brilliant, close to everywhere and accessible with MRT. Staff were very helpful. Loved the touch with the google phone for guest use- means we could use maps and look things up while we were out without paying roaming fees on our own phones. " 
"Spacious and well designed room. Very comfortable and all the staff I had contact with had excellent attitude to service. Will definitely be making this my go to hotel for any business trips to Singapore."
2. LLoyd's Inn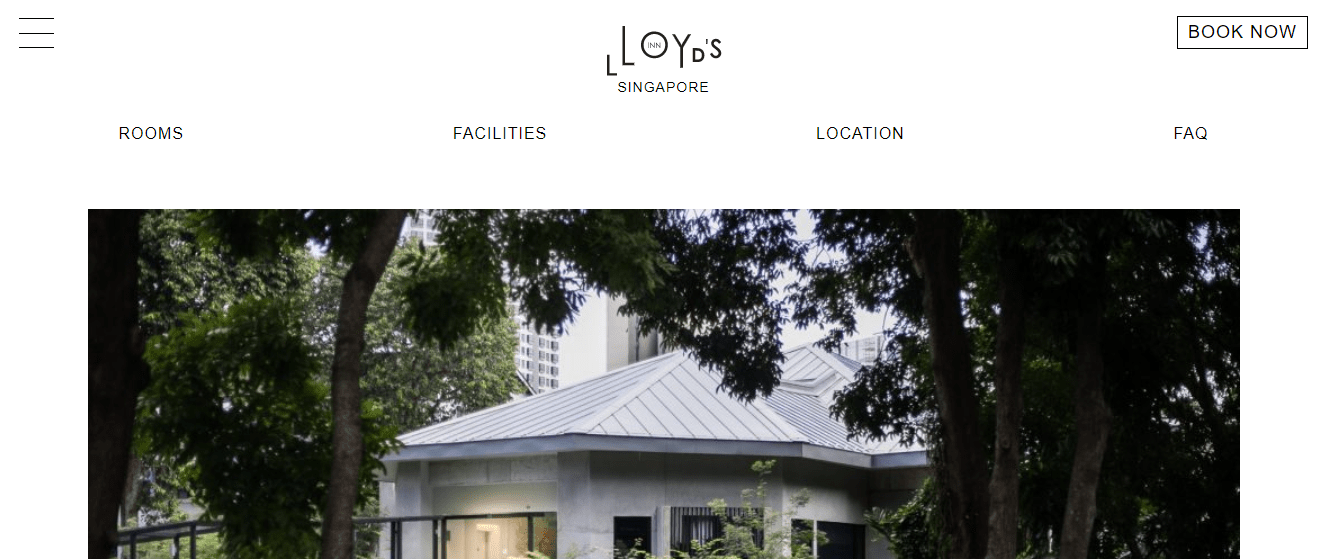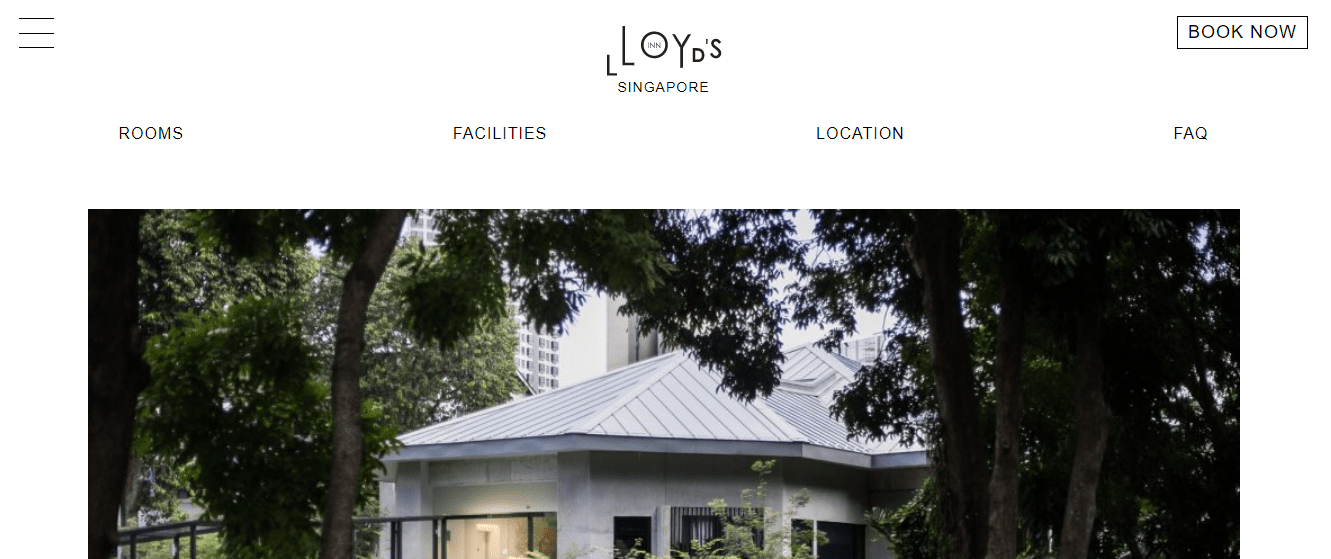 With branches in Kuala Lumpur, Bali, and Singapore, Lloyd's Inn is a 34-room hotel with 8 room types. If you want peaceful, close-to-nature accommodations, then make sure to drop by this boutique hotel.
What makes it attractive hotel is its minimalist design and architecture. Guests definitely adore its black and white walls partnered with glass walls that look beautiful with the morning sunlight.
On top of these, it's quite far from the city's busiest areas, so you will definitely get a pleasant stay here.
Highlights
8 room types
Minimalist architecture and interiors
Affordable rates
Close to nature
3. Hotel G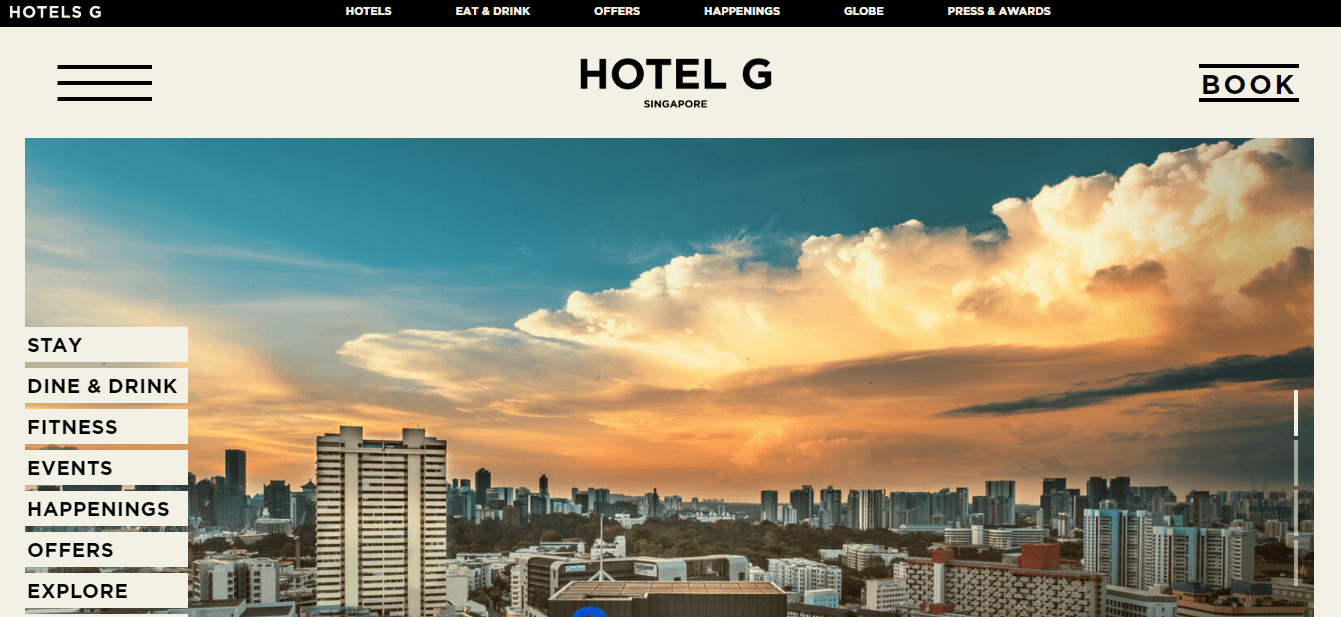 Hotel G houses over 300 rooms, making it one of the biggest boutique hotels on the island. If you're on a tight budget but still want decent accommodations, then consider checking out their rooms.
What makes it an ideal hotel is that it's close to a number of malls, restaurants, and even museums. You don't have to tire yourself out getting to a destination when you can just go out of the hotel and take a few steps.
In addition, the MRT stations are also within walking distance of the hotel. So, if you want to explore other areas, then there is no need to be stressed over the commute.
What's more, it's only 25 minutes away from Changi Airport.
Highlights
Free wifi
With family rooms
With parking
With fitness center
With bars and restaurants
Customer Reviews
Hotel G has received nothing but praise so far. Here are the positive comments of their previous guests: 
"Very comfortable bed, clean rooms and nice little bar/restaurant downstairs. Breakfast, if you get it, is solid and a nice relaxing way to start the day. Staff was friendly and helpful at checkin and checkout and responded quickly when we had a problem with our safe. Rain-head shower was lovely. Also nice to have a water bottle filler in the hallway. Three different metro line stops nearby and very easy and convenient to get everywhere. In fact, we mostly walked everywhere from the hotel." 
"Loved the artsy quirky young vibe of the interiors. Enjoyed the accessibility near the MRT stations. Drop off and pick up via Grab/Cab is conveniently located. Staff was friendly and accommodating."
4. The Great Madras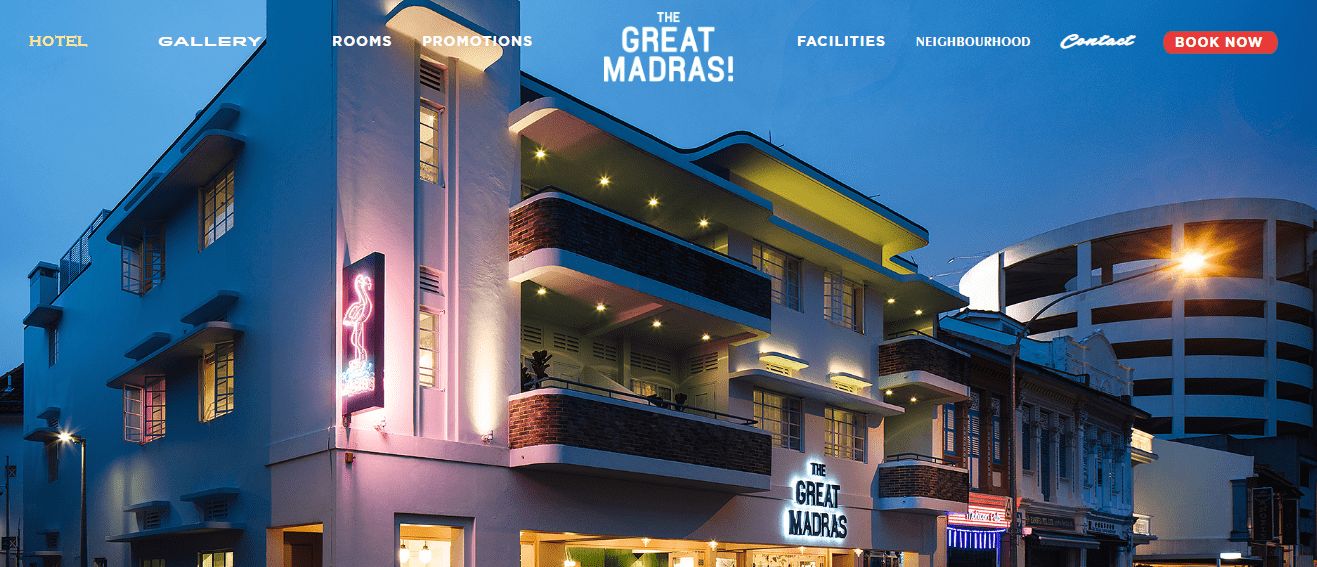 If you want a modern and hip accomodation in Singapore, then make sure to check out The Grand Madras, near the Mustafa Center and Bugis Street. Perfect for people who like taking photos, this boutique hotel is Instagram-worthy from top to bottom.
Each room comes with cable flat-screen TV, wireless Internet, and air conditioners. Should you have questions and requests, there's a 24-hour frontdesk willing to answer all your concerns and queries.
For only $100/night, you can get to check into this one-of-a-kind hotel, significantly cheaper than most boutique hotels in the area. While it can only house you for 34 hours, it promises to make up for it through quality services and friendly staff.
Highlights
Free wifi
Swimming pool
With family rooms
Airport shuttle
Outdoor pool
5. AMOY

BOOK THROUGH
https://www.theamoy.com.sg/
ADDRESS
45 Pekin St, K1 Heritage Lane, Far East Square, Singapore 048775
CONTACT DETAILS
+65 6881 8888 / 6496 7699

 

RATES
$202.00 – $323.00/night
People who like places with a deep historical background will definitely want to stay at the AMOY Boutique Hotel. It's a place that pays tribute to the Zhengzhou people who came from China and moved to Singapore.
Housing over 37 rooms, it's ideal for people who want a quiet and intimate accommodation in Singapore. What's more, their staff is known to be warm, approachable, and friendly to all guests.
Restaurants like JIN Fine Dining and Dean & Deluca are just a walking distance away from the hotel. It's close to different tourist spots and even the MRT stations.
In addition, it offers free shuttle services from Changi Airport, free breakfast, and free WiFi.  If you book right now, there's a huge chance that you will get a discount as big as 50%!
Highlights
Free WiFI
24-hour security
24-hour concierge
Airport transfer
Customer Reviews
Here are some reviews from Booking.com
"The stylish single room was quite spacious and well appointed with good lighting, comfortable air conditioning, bathroom amenities, and free mini bar which included unlimited water and soft drinks. Attentive staff members were friendly and helpful. A bountiful, western-style breakfast is included at Dean & DeLuca, close to the hotel. Amoy is within walking distance of Chinatown, the CBD, and the Colonial District, with the MRT Telok Ayer station just across the street." 
"It's a really nice hotel located conveniently for visiting the Chinatown and other attractions in Singapore downtown. The reception is located in a beautiful historical building. The biggest highlight of this hotel is the exceptional service quality. The staff is always making an effort to make the stay as pleasant as possible. I will book this property next time when I visit Singapore."
6. Tempat Senang Boutique Hotel & Spa

Tempat Senang Boutique Hotel & Spa is an award winning spa situated in Indonesia. The relaxing ambience of a lush garden and luxurious suites made it a perfect getaway to clear your mind off problems, work, and the city. 
They use all natural ingredients in their massage therapies. This would excrete aromatic scent that would help your body relax even more. And the smooth texture it would leave your body would definitely lead you to extreme relaxation. 
You could choose from a variety of themed style suites here to enjoy your stay. You could also choose the best massage therapy. Be sure to check their website to learn more.
Highlights
Themed style suites

Cozy and relaxing ambience

Natural ingredients

Skilled masseuse
Customer Reviews
Their customers left from Tempat Senang with two thumbs up and a relaxed mind and body. They certainly love the ambience of the place and skilled masseuse that left their body with no choice but to relax. 
"Outstanding in terms of services provided and the spa treatment. I should say this a Heaven on Earth where you are being well care of and have no worries of anything for a full relaxation. Great place."
"A while since I stayed but a unique experience. Comfortable accommodation in a quiet forest location. More like a guest house with large suites. Friendly service and a small kitchen. Attractive garden swimming pool."
7. Hotel Soloha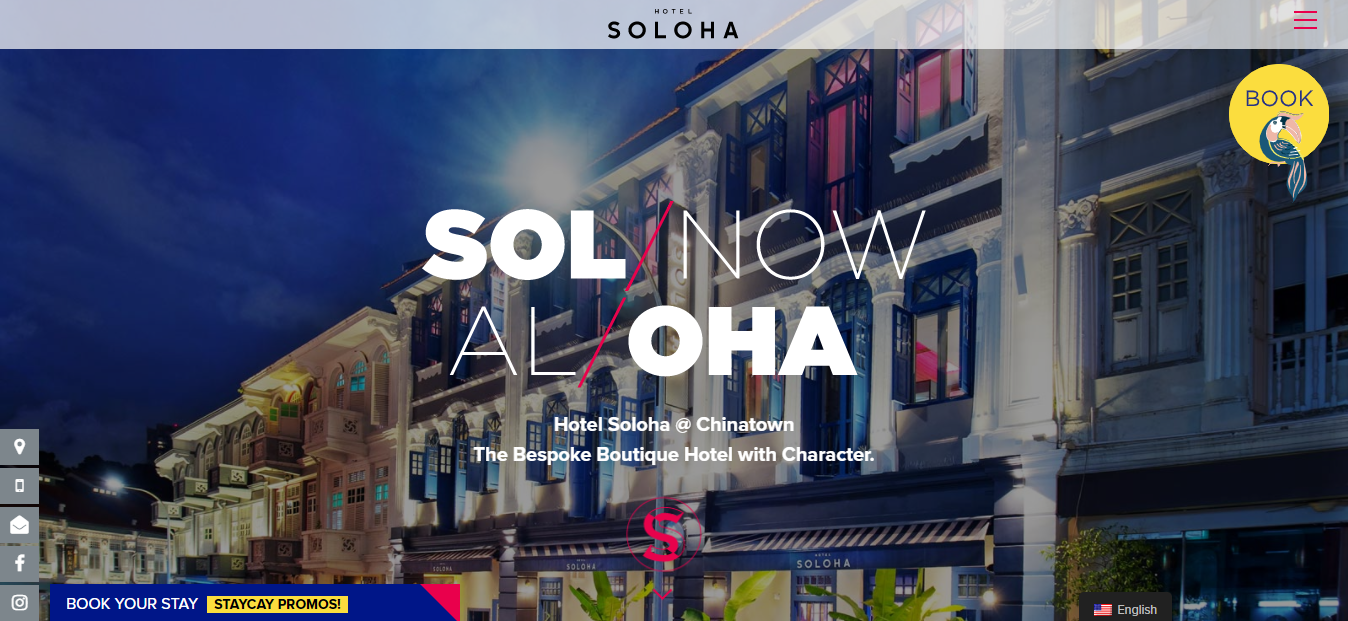 | | |
| --- | --- |
| BOOK THROUGH | https://reservations.travelclick.com/108114#/guestsandrooms |
| ADDRESS | 12 Teck Lim Rd, Singapore 088387 |
| CONTACT DETAILS | +65 6222 8881 |
| RATES | Contact for details  |
Hotel Soloha is Chinatown's next boutique hotel that strives to be the perfect blend of space and luxury. It offers various facilities and amenities for its clients to make sure they feel comfortable in the space. 
Surely no client will be left unsatisfied having rooms that are designed with the right balance of comfort and luxury. With them, one's stay would feel perfect!
Highlights
Many restaurants nearby

Amazing facilities

Outstanding customer service
Customer Reviews
Here's a review from one of Hotel Soloha's clients:
"Family loft beds, small room with adequate amenities include free flow snacks and can drinks, central locations with famous eateries and restaurants around"
Here's another one:
"the customer service is superb! Helped to decorate nicely for our bday and even gave cakes! I'm touched on how caring the counter staff on duty was for 14-16sept. When i got food allergy From outside, She even gave me a GWS cookie and card upon checking out, so sweet! Hahaha thank you soloha it was a great stay indeed, :)"
8. Studio M Hotel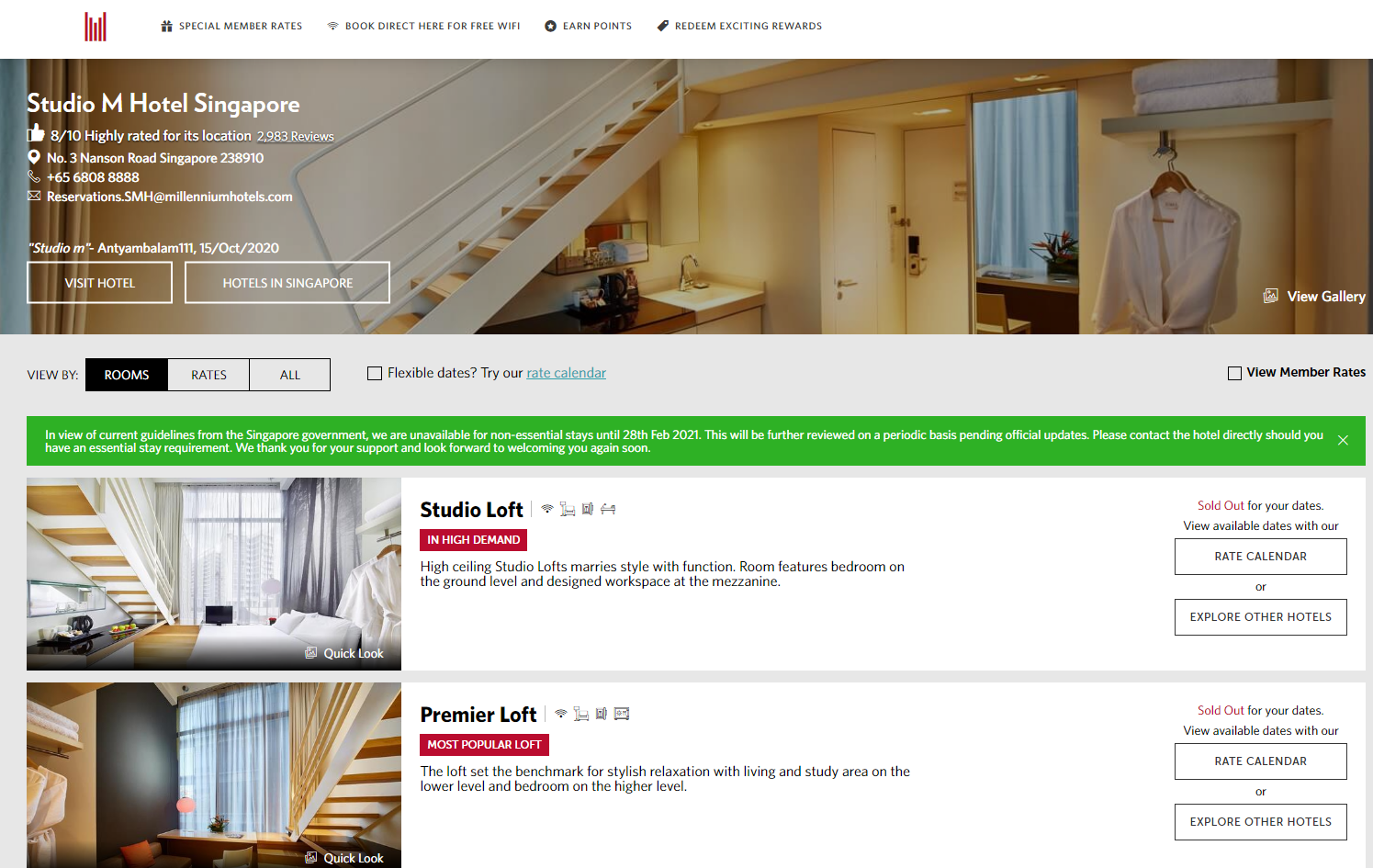 By ensuring that their customer's wellbeing is prioritised without compromising on the guest experience. Their commitment is on the improvements of the existing operational standards.
It builds on existing protocols and complements exhaustive mandatory preventive measures by government authorities. Studio M Hotel has always maintained high levels of cleanliness and hygiene. 
To further enhance health and safety protocols, they have introduced a system to caters to their customer's safety. Every space and room will be a safe place for each customer.
Highlights
Complimentary WI-FI
4 room types
Free water bottles – replenished daily
Spacious workspace
And with that, we conclude our list of the best boutique hotels in Singapore! Any of these options will definitely make your vacation in Singapore a worthwhile experience!
If you have previously stayed in any of the boutique hotels on our list, please share with us your experience by commenting below!
Lastly, if you're still in the early stages of planning for your vacation, you may want to check out our list of the best travel agencies in Singapore. With help from any of these agencies, your vacation will be more exciting!