The 5 Best Pet Stores in Singapore
Are you looking for the best pet stores in Singapore? Well, you've come to the right place because we're making a list of the top local pet stores that all pet owners should check out.
Before we get to their names, though, we're going to look at the real cost of owning a pet in Singapore. We've answered a few questions related to pet stores as well, so make sure to continue reading until the end.
The Cost of Owning a Pet in Singapore
On average, a dog owner in Singapore spends about $3,000 to $3,500 per year for medical care, vaccinations, grooming, pet supplies, and more.
As a pet owner, you should be prepared for the expensive medical treatment if your dog gets sick. A diagnostic package alone costs about $400 to $600, depending on the breed and medical condition of your dog.
Meanwhile, the price of a 9-in-1 vaccine ranges from $50 to $100. That may seem like a small price to pay, but it will add up as your dog needs to be vaccinated almost every year if you don't want them to get sick.
When it comes to maintaining the appearance of your dog, expect to pay around $50 to $80 for a full grooming package. Some dogs need to be groomed at least every three months, so that's already $320 per year for grooming alone.
Dogs need regular supplies too, like dog food, dog bed, dog toys, and leash and collar. Here's the average costs of these dog supplies in Singapore:
| | |
| --- | --- |
| DOG SUPPLIES | AVERAGE COST |
| Dry food (2kg) | $35 to $50 |
| Dog bed | $95 to $120 |
| Dog toys | $30 per toy |
| Leash and collar | $100 to $115 |
On the other hand, the average yearly cost of taking care of a cat is about $2,000, including medical treatments, vaccines, grooming, and pet supplies.
Compared to dogs, the medical expenses for a cat are significantly lower. A basic health check costs only $50 to $70, while a core 4-in-1vaccination costs about $40.
If your cat runs away frequently, you might want to consider microchipping them. The price of microchipping in Singapore is around $50 to $100.
It costs about the same to maintain the adorable appearance of your cat, with the cost of a basic grooming package averaging about $80.
Finally, no cat owner should forget about cat supplies. Here's the average costs of cat supplies on the island:
| | |
| --- | --- |
| CAT SUPPLIES | AVERAGE COST |
| Wet food | $4 to $7 per can |
| Toys | $46 |
| Litter | $10 to $15 per bag |
| Litter box | $50 to $70 |
The Best Pet Stores in Singapore
Now that you know how much pet owners spend on a yearly basis, it's time to go over our picks for the best pet stores in Singapore.
Check them out below to see which one carries the item that your pet needs the most.
1. CatSmart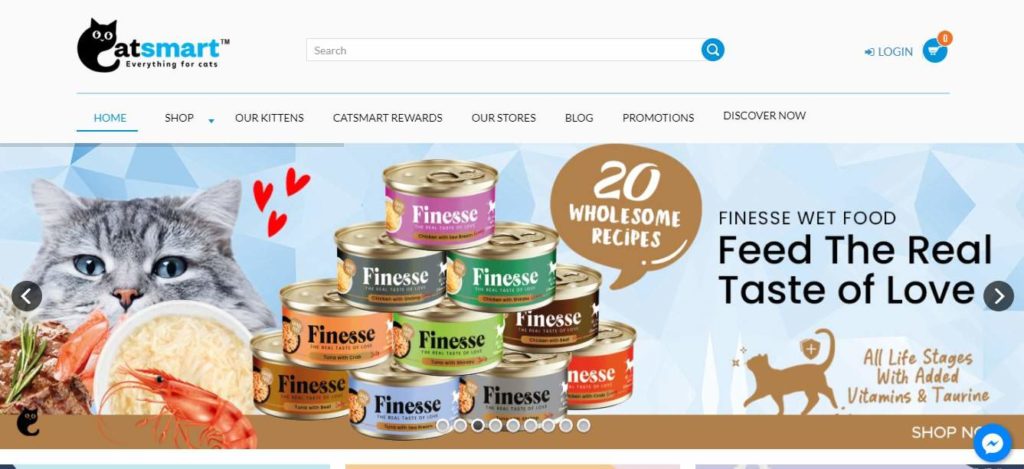 PRODUCTS
Wet food, dry food, air-dried food, treats, milk, litter, housing needs, accessories, supplements, beds and cushions, cages, hammock, pee pads, bags, water fountain, wet wipes, shampoo, and conditioner
WEBSITE
https://catsmart.com.sg/
ADDRESS
14 Jalan Leban Singapore 577553 (along Upper Thomson Road)
 
Loyang Point #02-01 Singapore 510258
 
153 Bukit Batok Street 11 #01-290 Singapore 650153
 
411 Sembawang Rd, Singapore 758388
 
Rivervale Mall #02-01c Singapore 545082

For more information: https://catsmart.com.sg/our-stores
DELIVERY FEE
$10 delivery fee for orders under $100 and FREE DELIVERY for all orders above
CONTACT DETAILS
+65 6250 6866


[email protected]

OPERATING HOURS
Monday to Sunday: 11:00 AM – 9:00 PM
(Hours may differ on public holidays)
As the largest specialised cat store in Singapore, CatSmart carries everything that your cat needs, including food, toys, grooming tools, toilet accessories, carriers, supplements, and catnip, among others. They are a one-stop retail paradise for all-things feline.
Their team consists of a highly focused and specialised groul of pet lovers who are all cat experts in their own fields, ranges from cat behanvior to feline nutrition. Got question on anything cats? The team is always there to answer your queries.
The first thing that cat owners should know about CatSmart is that it has five branches scattered all over the island, making it one of the most accessible cat stores in Singapore.
However, if you don't have the time to personally drop by any of its stores, don't worry because its online store sells everything you'd see on its physical stores, with no exception.
It's common for a cat store to carry at least two types of cat food, but CatSmart carries four types of them. Aside from dry and wet food, it sells air-dried and freeze-dried food as well – something worth considering if you want to change your cat's diet.
CatSmart works round-the-clock to dispatch orders as soon as possible. Although they have a large number of orders and enquiries received every day, they always manage to reply customers within 24 hours. Their top brands are Finesse, Snappy, and Whiskers2Tail.
Another thing about its delivery is that orders above $100 are entitled to nationwide free shipping, excluding Changi Airport and Sentosa/Jurong Island.
Lastly, CatSmart doesn't forget to reward its loyal customers. It has a rewards programme where members receive a 3% rebate for their online and retail store purchases. They also offer $10 off your first purchase. Simply use Hello10 as your code.
Extensive collection of cat supplies
Free delivery for orders above $100
Many different types of cat food
Five locations islandwide
Resident cats at Jalan Leban and Sembawang outlet to play with
Only offers items for cats
Customer Reviews
Curious what cat owners think about CatSmart? Here are some comments shared online:
"I have 10 cats and they have been introduced to poor quality food from another pet's mart which only wanted to clear stocks. But the staffs in CatSmart actually introduced me to various type of good quality wet and dry foods for my cats and it actually helps.. They love their new varieties. This is way beyond customer satisfaction. I've been buying from CatSmart from Jalan Leban for 6 months now and am very happy with the service rendered! – Suherwan14"
"Being a catmum to 9 kitties is never easy but CatSmart have always made it a breeze to get all my supplies from CatSmart. Quality products and at affordable rates, i am now a loyal customer for years and never once regretted engaging with CatSmart. I always order in bulks and CatSmart will sometimes treat my kitties with freebies. Thank you team CatSmart for easing all pawrents' duties with our furbabies. My one-stop go-to shop for cat supplies and will always continue to support them 🙂 – Stella.J"
"I love to shop with CatSmart for the convenient shopping online or at the outlet. There are a good variety of cat supplies at reasonable price. Staff are friendly in asnwering our queries too. – Alice Wee"
"I have been using CatSmart for the longest time, i appreciate that they'll call me to sort out logistical issues when my item is OOS and offer to swap items and refunding the balance, etc. Delivery is also quite fast in my opinion. – Alexis Tan"
2.   Pet Master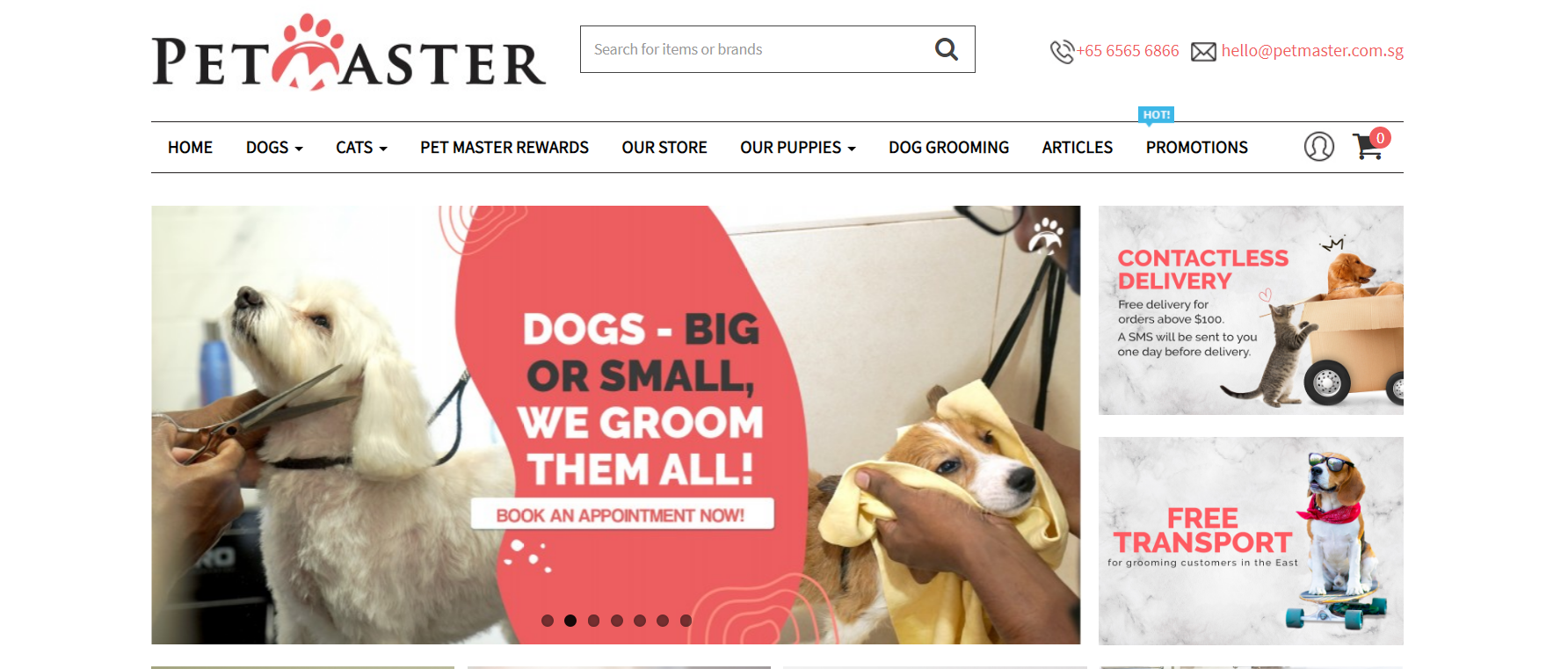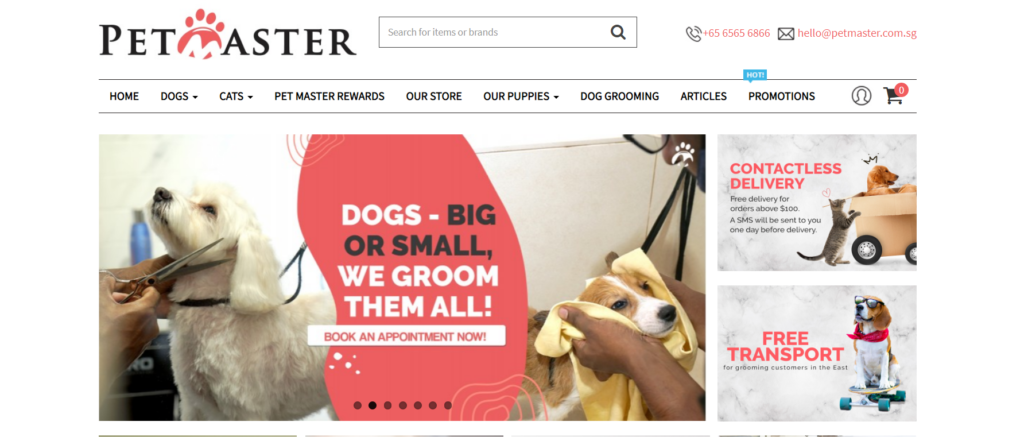 PRODUCTS
Dog food, cat food, biscuits and cookies, grooming tools, oral care, skin relief, supplements, beedings, bowls, beds, playpens, water fountain, strollers, litter, and litter boxes
WEBSITE
https://petmaster.com.sg/
ADDRESS
Bedok North Street 1, #01-355 Blk 206, Singapore 460206  
3 Simei Street 6, Eastpoint Mall
For more information: https://petmaster.com.sg/our-store
DELIVERY FEE
$10 delivery fee for orders under $100 and FREE DELIVERY for all orders above
CONTACT DETAILS
Online Shop
+65 6565 6866


[email protected]



Retails (Grooming / Puppies Viewing)
+65 6970 7555 (Pet Master @ Bedok)
+65 6908 7577 (Pet Master @ Eastpoint)
OPERATING HOURS
Monday to Sunday: 11:00 AM – 9:00 PM
Another pet store with an extensive variety of supplies for dogs and cats is Pet Master. Its has a physical store located in Bedok and Eastpoint Mall, but its online store carries the same selection of pet supplies, including food, treats, toys, and furniture.
It is important to note that their store at Eastpoint does not only provides dog and cat supplies but also offers small animal supplies for hamsters, rabbits, turtles, and more.
With its wide collection of pet supplies, it can get quite confusing to know which is the right food or toy for your pet. If you ever have questions, feel free to ask the staff, all of whom know a lot about dogs and cats.
If there's one thing that makes it stand out from other pet stores, it'd have to be the speed of its delivery. It dispatches orders every day of the week, even weekends, so expect that your order will reach your doorstep as soon as possible.
Apart from being a source of pet supplies, Pet Master functions as a pet grooming shop as well, so if your dog needs a long-overdue haircut and shampooing, don't hesitate to bring them here. Turn to them for quality puppies that are from Ireland and are vaccinated and microchipped. 
Pet Master is run by canine and feline lovers themselves, meaning that none of its products would have reached the shelves if the owners wouldn't give them to their pets.
By the way, first-time customers are entitled to a $10 off on their first online order. There are more promos and discounts in store for you, so make sure to watch out for those.
Quick delivery
Provides pet grooming
Able to find a furry soulmate at the store
Competitive prices
Discounts for first-time customers
Provides free transport for east siders
Pet-friendly store
Does not support international shipping
Customer Reviews
Take a look at these comments shared on Google Reviews by pet owners:
"This is our third trip to this store since their opening. We had gone back to restock for some food we bought on our second trip. The dry food/treats are great which our cat loves especially when it is with crab as well as other healthy ingredients. We added it on top with the usual wet food.
The staff both Anne and her colleague are by far the most knowledgeable staff that we come across in Singapore. When we are not sure, we ask for their opinions and they give good personal views (we did not like it when staff don't give any opinions of theirs which is so typical of other stores). They are also very helpful." -Connect Asia
"Store is very neat and tidy. Price is reasonable and I didn't know there's additional discount, so that's a bonus. To top it off, they have excellent customer service too. Looking forward to coming back here again. Thank you guys! Appreciate it!" -Muhd Syafiq
3. Good Dog People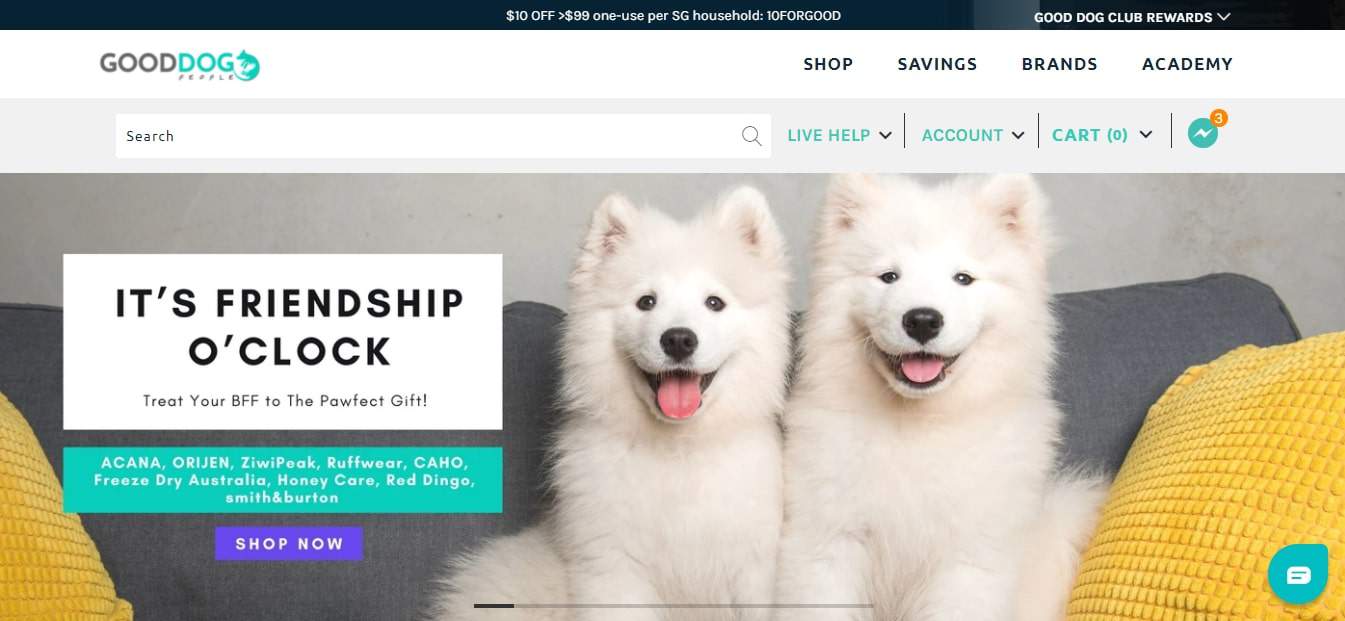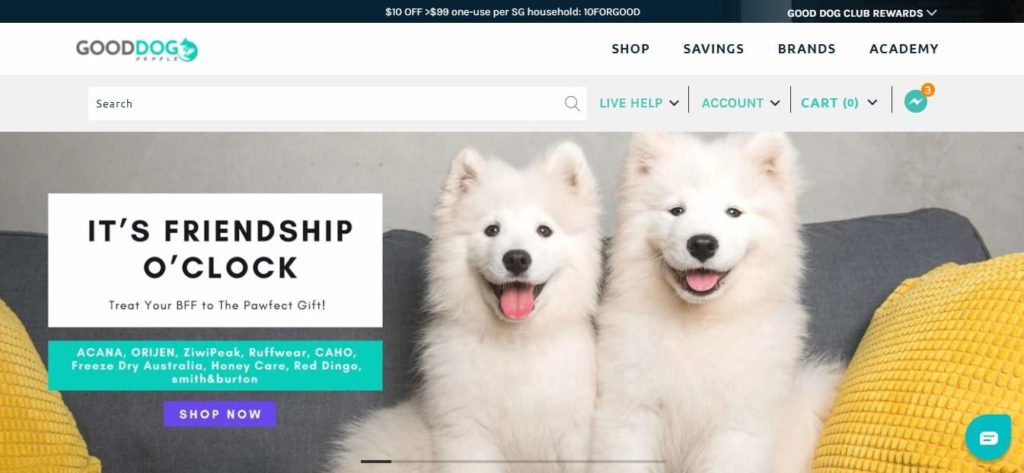 PRODUCTS
Dry food, wet food, dehydrated food, freeze dried food, liquid broth and milk replacers, dog treats, supplements, vitamins, oral care, eye care, bathing and grooming, harnesses and leashes, apparel and costumes, and first aid
WEBSITE
https://gooddogpeople.com/
ADDRESS
240 MacPherson Road Singapore 348574
DELIVERY FEE
$7 for orders less than $15
$15 for same-day delivery
CONTACT DETAILS
(+65) 3129 2266


[email protected]

OPERATING HOURS
Monday to Friday: 9:00 AM – 6:00 PM
Good Dog People is one of the top-rated pet stores in Singapore, with a 4.9 out of 5 rating on Google Reviews. That's why we couldn't help but add it to our picks, though there's more to it than high ratings.
For one, Good Dog People carries an extensive collection of dog essentials, such as food, treats, medicines, vitamins, and even first aid equipment. Basically, you can find every dog supplies you can think of here.
Other items dog owners can get from Good Dog People are feeders, beds, blankets, collars and charms, bathing items, diapers, training equipment, and of course, toys and gadgets.
It's worth noting that it's considered the largest source of fresh dog food in Singapore, so all types of dog food from trusted brands can be purchased here. Most of them are organic too, which are beneficial to your dog's diet.
Another thing to know about Good Dog People is that part of its profit is donated to various social organisations like The Animal Project, Sijun & Friends. It's safe to call it a socially conscious company, even if it's only selling dog supplies.
All orders worth $39 and above are entitled to free nationwide delivery. That's a significantly low price considering that most pet stores in Singapore only offer free delivery to orders worth $100 and above.
Free delivery for orders worth $39 and above
International shipping
Carries all types of dog medicine
Sells only reputable dog food brands
Physical store is closed on weekends
Customer Reviews
Here's what frequent customers had to say about Good Dog People:
"What I enjoy about shopping at GDP is the element of surprise. I am aware of the delivery timeframe and it's always nice when they make an effort to deliver it above my expectations. Majority of the time, my orders are seamless, hassle-free and prompt; thank you for the great experience, keep it up!" -Stephanie Chan
"Purchased multiple times from the site, the delivery is always very prompt. Even when things run out they will quickly contact me to replace the item or else refund if they cannot get me. So the experience feels very safe and well taken care of!" -Siqi Lin
4. Benji Pet Kennel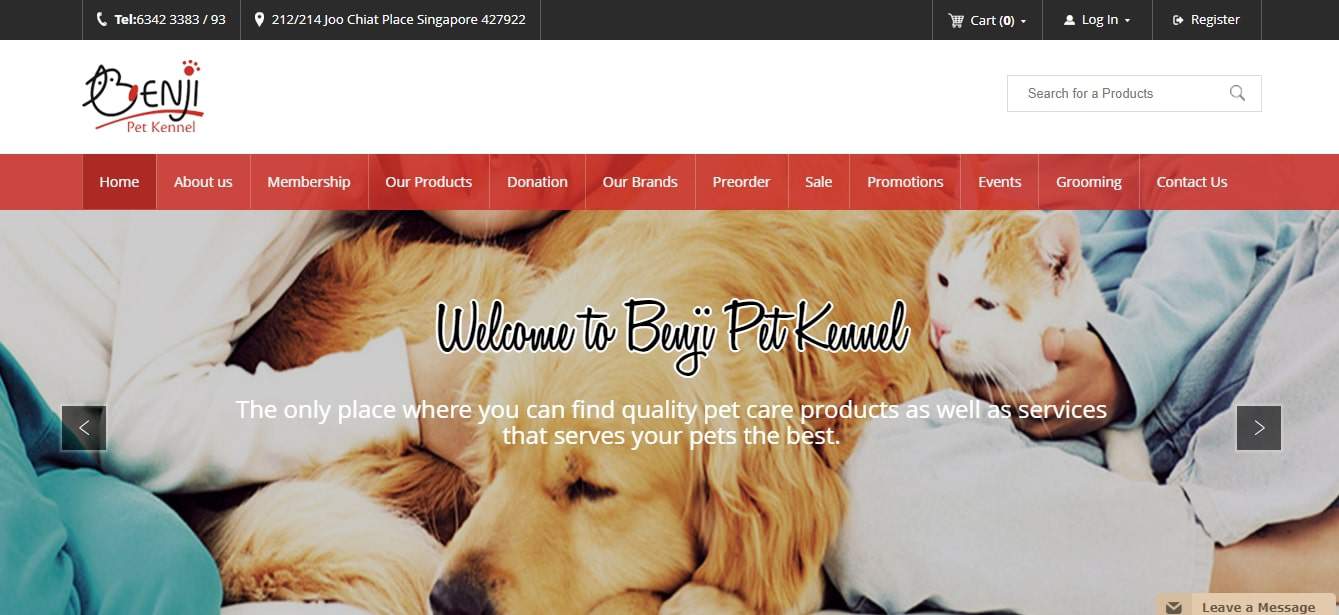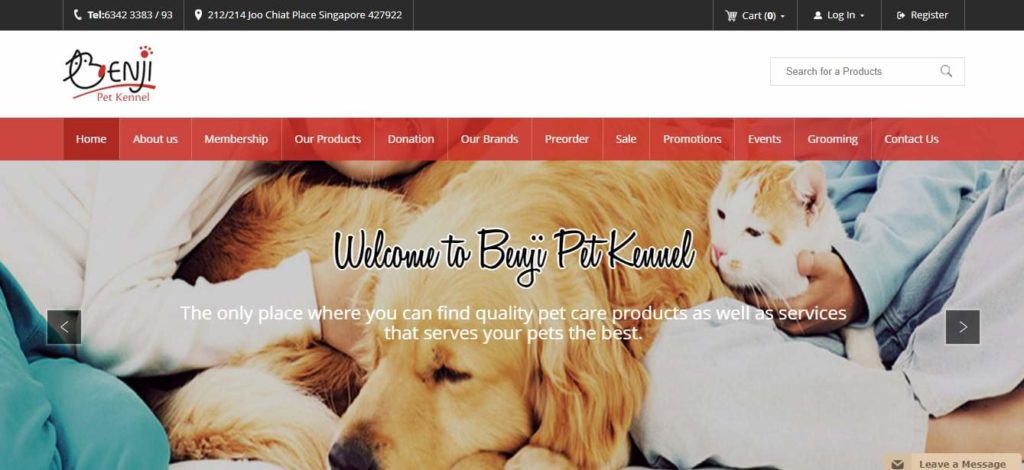 PRODUCTS
Dog food, cat food, treats, vitamins, medicine, grooming and bathing tools, toys and gadgets, costumes and apparels, strollers, harnesses, leashes, beds, feeders, litter, and litter boxes
WEBSITE
http://benjipet.com/
ADDRESS
212/214 Joo Chiat Pl, Singapore 427923
DELIVERY FEE
Call their hotline for more details
CONTACT DETAILS
+65 6342 3383
OPERATING HOURS
Monday to Friday: 12:00 PM – 7:00 PM
Saturday to Sunday: 11:00 AM – 7:00 PM
Established 1984, Benji Pet Kennel is one of the oldest pet stores in Singapore. We knew we had to include it here after discovering that it's been around for that long, which says a lot about the quality of its services.
Its physical store at Joo Chiat Road sells everything that dogs and cats need, including a wide selection of fresh food, nutrient-packed treats, and supplements and vitamins to keep your pets healthy and in top shape.
If you don't have the time to visit its physical store, you can purchase your pet essentials through its website. Everything that you'd see on the shelves of its physical store is posted on the online shop.
Benji Pet Kennel offers multiple promos too, including discounts on some of its best-selling dog and cat food. As with most pet stores in Singapore, all orders worth $100 and above are entitled to free delivery.
Besides dog and cat essentials, you can depend on Benji Pet Kennel for the grooming needs of your pets as well. It has in-house pet groomers who can clean and groom your pets to look like the superstars that they are.
Lastly, you can also bring your pets to Benji Pet Kennel if they're feeling stressed out. It's not a veterinary clinic, but it knows how to deal with pets that are stressed out.
Open from Monday to Sunday
With in-house pet groomers
Multiple promos and discounts
Quick delivery
Customer Reviews
Perlin Ng shared this comment on Google Reviews:
"I was looking for a certain kibble brand and those I used to buy are out of stock. Found stocks in a few online stores but the pricing is too expensive and then I found Benji Pets and it's way much cheaper. They even offered a repack for 9Kg kibble, and delivery is very fast. I will definitely order from them again."
Another customer named Jiaying Chen posted her experience at Benji Pet Kennel:
"Great place for pet supplies. Parking space available next to the shop. Able to repack on the spot and even helped to bring it out. Prices are the same as online shops if you join the free membership program and can get the option to choose different flavours of the same brand when buying a carton."
5. Neko Jam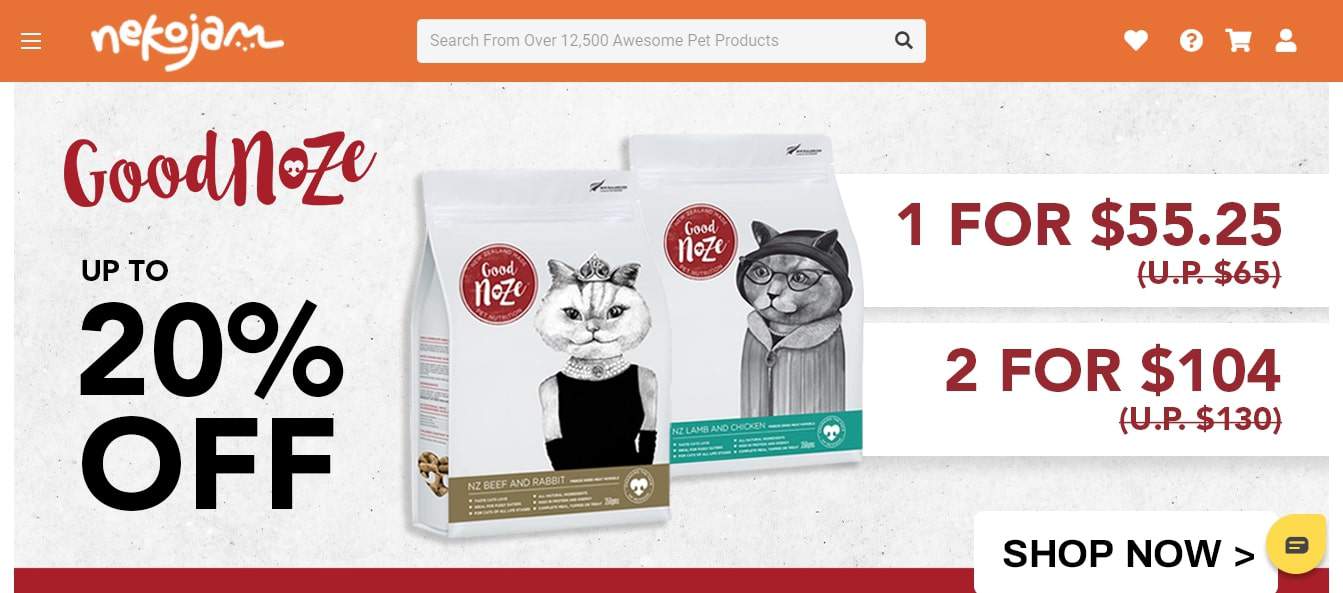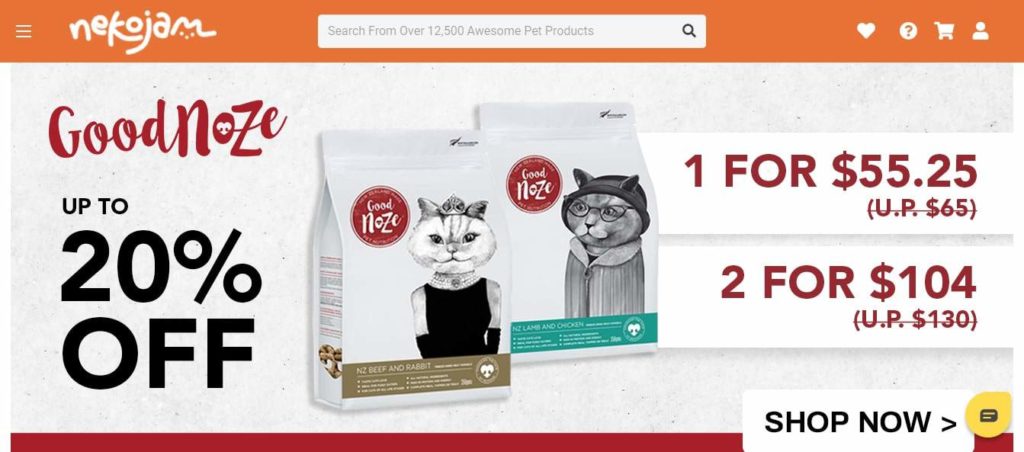 | | |
| --- | --- |
| PRODUCTS | Cat dry food, cat wet food, frozen food, dehydrated food, freeze dried food, clumping litter, and natural litter |
| WEBSITE | https://nekojam.com/ |
| ADDRESS | 23 New Industrial Rd, Solstice Business Centre, Singapore 536209 |
| DELIVERY FREE | $8 for orders less than $39 and with bulky items |
| OPERATING HOURS | Monday to Friday: 9:00 AM – 6:00 PM |
Neko Jam is another specialised cat store that sells cat essentials at a low price, so it may be the budget-friendly pet store you've been searching for.
Its online store carries about 12,500 cat products, all of which are sourced from trusted pet brands such as Pet Cubes, Stella & Chewy's, Absolute Holistic, and Farmland Traditions. You can even shop online by brand if you have a preferred brand name.
We have yet to encounter another pet store that dispatches and delivers orders as fast as Neko Jam. Well, that's no surprise given that it uses two delivery methods: in-house delivery and third-party delivery services.
If the total of your order goes above $39, you won't have to pay anything for shipping, not even a cent. However, there will be an exception if your order includes frozen food and bulky items such as cat litter and furniture.
If your order contains these items, you will have to pay $8 for shipping. Most cat owners tend to look past that rule considering that the shipping fee is still lower than most pet stores in Singapore.
By the way, Neko Jam has a newsletter, and if you sign up for it, you get $5 off your first order.
Responsive customer service
Carries trusted brand names
Quick delivery
Customer Reviews
Here are some reviews shared by cat owners:
"My first order with Nekojam recently. Unfortunately the item was out of stock but they emailed & suggested an alternative item or refund. Opted for refund but was given Paw Perks points instead (equivalent the price). Hope you can give us real time stock availability when we place orders online. But overall a good supplier."-Afida Kayubi
"I just made my first order with Nekojam recently. Unfortunately one item was actually out of stock but they emailed me to inform me and gave me options to choose from (alternative item or refund). I opted For refund and they even refunded me my Paw Perks points too. They delivered the pee pads by itself but even bothered to wrap that up to protect it during delivery. Thumbs up. Very professional and trustworthy and will purchase from them again."-Kee Siao
FAQs about Pet Stores
---
And with that, we conclude our list of the best pet stores in Singapore. If you've tried any of these stores in the past, share with us your experience with them.
If you know other pet stores that should've been featured here, tell us their names so we can check if they're worthy of being added here.
By the way, if you've been thinking about protecting your pet from accidents with insurance, we recommend checking out picks for the best pet insurance plans in Singapore. These plans can make sure that you won't be spending a cent in case of an accident.