5 Best Confidential Document Shredding Services in SG
As an added layer of security, confidential document disposal should be part and parcel of any business. This applies to both paper documents and media files.
Thankfully, there are specific service providers for it, so this review will look at some of the best confidential document shredding services in Singapore today.
But first, let's look at the estimated costs associated with physical document destruction and other services below.
Is confidential document shredding in Singapore costly?
The current going rate for confidential document shredding in Singapore typically falls between S$75 and S$275. Of course, most companies will do an estimate to come up with an appropriate quote for you.
The table below can give you an idea of the average rates for some common confidential document disposal services.
| CONFIDENTIAL SHREDDING SERVICE | ESTIMATED COST (IN SGD) |
| --- | --- |
| Secured drop-off service | $75 per 96-gallon tote (approximately 10 - 12 letter-size boxes, 10 x 12 x 15 inches) |
| One-time shredding service | $75 to $275 (depending on the volume of order or your location) |
| Media destruction | $70 - $420 (depending on the volume of the order, type of media, or your location) |
| E-waste disposal | $400 - $1,400 (depending on how many truckloads, your location, or volume of items involved) |
Other factors that affect the final invoice include the type of document destruction service you require, the volume of your order, and your location.
As always, it's good to reach out to the company for potential free quotes or packages before availing of their services.
The Best Confidential Document Shredding Services in SG
To give you a definitive list of the best confidential document shredding services in Singapore today, we came up with the following must-haves.
1. Arkiva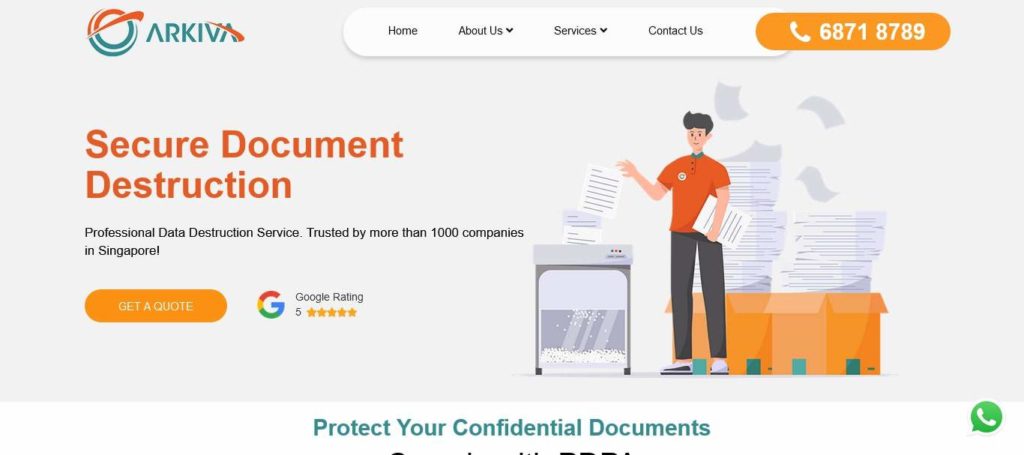 Title
Info
SERVICES
Document shredding, secure disposal, media destruction, e-waste recycling
WEBSITE
https://arkiva.com.sg/
ADDRESS
5 Soon Lee Street #04-57 Pioneer Point Singapore 627 607
CONTACT DETAILS
6871 8789
BUSINESS HOURS
Monday to Friday: 9 AM - 6 PM

Saturday: 9 AM - 1 PM

Closed on Sunday
Arkiva's secure confidential document shredding services are done in three steps.
You'll need to schedule an appointment first, followed by a set collection day. After which, a certification of document destruction will be issued to you.
Its warehouse has 24/7 CCTV monitoring and a full staff who knows how to deal with highly sensitive data. An appointed staff member is assigned to each client's data destruction process for strict monitoring, compliance, reporting, and certification.
As such, it checks all our criteria for a reliable and secure physical document destruction service provider. But we decided to give Arkiva a try because beyond these steps, it adds a layer of recycling and sustainability towards the end.
Because shredding needs vary per company, we were given the option to either send photos of the number of documents to be destroyed or to drop the documents into secure bins.
These convenient options are a win in our book since they don't require tedious sorting or file removal beforehand. Plus, free quotes are always welcome!
The company has been consistently reliable with its pick-up services, as well. Satisfied customer Han Quan Lim even mentioned how Arkiva was willing to accommodate his schedule even though it had last-minute changes!
Potential customers can ask for free quotes
Secure facilities with a 24-hour camera and staff monitoring
Shredded documents are packed in bales for recycling
Photos are required for cost estimation 
Shortened Saturday hours
Closed on Sunday
2. Eco Shred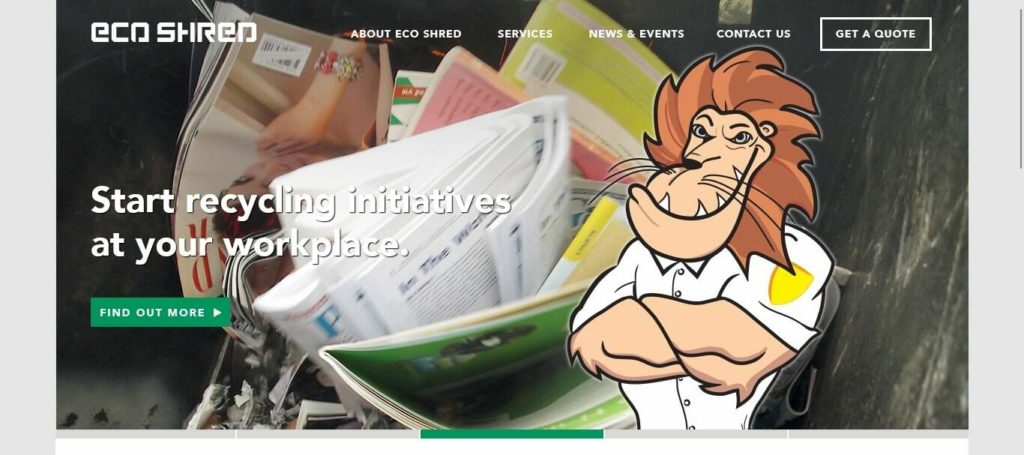 Title
Info
SERVICES
Off-site and on-site confidential document shredding, hard disk shredding, recycling management program
WEBSITE
http://ecoshred.com.sg/
ADDRESS
No. 19 Sungei Kadut Loop Singapore 729462
CONTACT DETAILS
6368 7623

(Fax) 6368 9318

BUSINESS HOURS
By appointment
Eco Shred has a cartoon lion mascot to express the confidence and efficiency with which it protects its customers' documents. (By shredding them to unidentifiable bits, we guess?)
But leonine claims aside, we like that Eco Shred offers potential clients an arranged visit to its secure shredding facility.
We're given options to do either an off-site (facilities-based) shredding or an on-site one. For added peace of mind, on-site customers can also witness the entire document destruction process whether it's for paper-based or other media files.
The "eco" part of Eco Shred has to do with its recycling management program, which we greatly appreciate as environmentally conscious customers.
The company helps other organisations and individuals set up and monitor green corners as part of its recycling and sustainability initiatives.
The downside to Eco Shred is that it currently doesn't have recurring shredding services, which would've been quite convenient for businesses needing bulk shredding regularly.
Instead, it's all strictly done by appointment, with a Certification of Destruction presented to the client after the service.
Can arrange pre-visits to its secure facility 
Offers free quotes
Has a recycling management program
Strictly by appointment only
Currently doesn't offer recurring services
3. Shred-It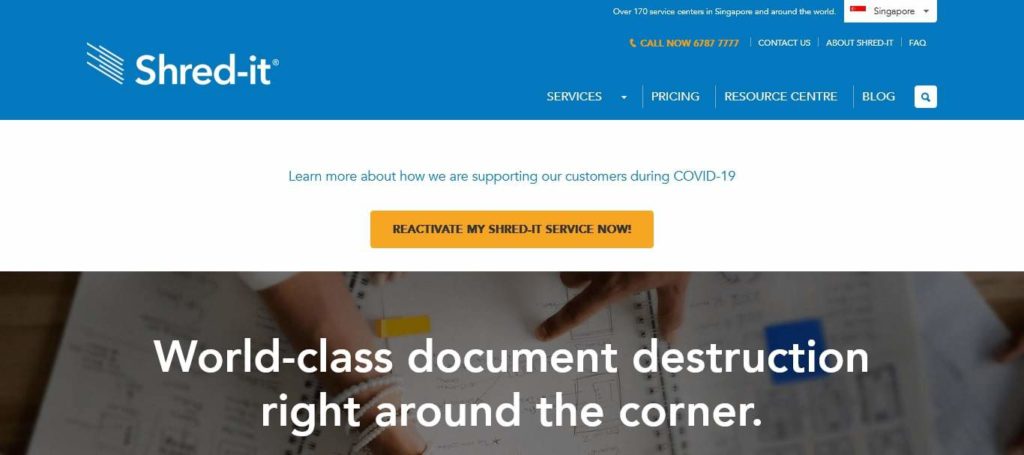 Title
Info
SERVICES
Paper shredding, hard drive and media destruction, speciality information shredding services
WEBSITE
https://www.shredit.sg/en-sg/home
ADDRESS
51 Ubi Avenue 1, #03-11 Paya Ubi Industrial Park Singapore 408933
CONTACT DETAILS
6787 7777
BUSINESS HOURS
By appointment

Monday to Friday: 8:30 AM - 6 PM

Closed on Saturdays and Sundays
Shred-It can destroy sensitive company documents including employee records, financial reports, and other confidential information.
The company also offers speciality shredding services for confidential items like identification cards, X-rays, pill bottles, data tapes, uniforms, and even playing chips and cards.
It has an on-demand and regularly scheduled disposal service, which is a huge convenience for businesses with bulk physical shredding needs. One-time shredding services can accommodate anything from just a couple of boxes of documents to an entire warehouse of them.
As added layers of protection, Shred-It provides tamper-proof containers and locked trucks for pick-ups. We're quite impressed with the GPS tracking it has per fleet as they make their way to their secure facilities.
The downside is that there have been complaints about errors in billing for recurring and one-off services.
However, Shred-It client Katey Lyon mentioned how an issue was resolved back in March 2022 on a provided service, stating that customer services were "extremely helpful and thorough" in following up about it.
Free quotes offered
GPS-tracked fleets
Recycles all shredded paper
Hard drive shredding and crushing services are subject to local availability
Strictly by appointment
Closed on weekends
4. Mamoru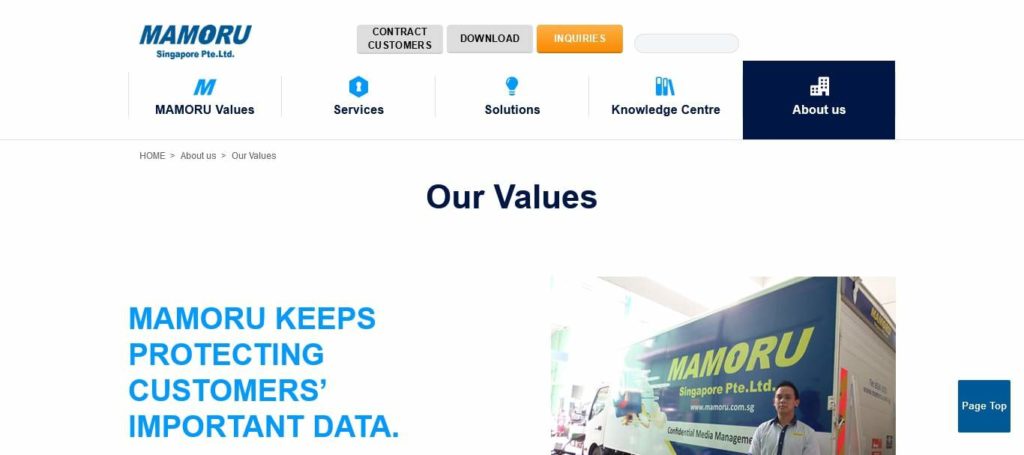 Title
Info
SERVICES
Data protection and destruction, secure protection BOX, secure information management, document destruction, PC destruction, mobile device destruction, media destruction, regular destruction BOX service
WEBSITE
https://mamoru.com.sg/
ADDRESS
16 Collyer Quay, Level 12, [email protected], Singapore 049318
CONTACT DETAILS

[email protected]

+65 6536 4457

BUSINESS HOURS
Monday to Friday: 8:30 AM - 5:30 PM

Closed on Saturdays and Sundays
Mamoru's ("protection" in Japanese) Singapore branch started only in 2013 but has its roots in confidential document disposal in Japan way back in 1998. Today, its services include secure information management services aside from data protection and destruction.
What makes this company stand out for us is its secure destruction box service. You can simply drop off your confidential stapled or bound documents in an installed secure box in your office and trained staff will monitor the shredding process until completion.
Mamoru can also accommodate bigger offices and companies requiring warehouse-level document shredding. Its facilities welcome witnesses to the entire process and will issue a certificate of completion after three days.
It also offers security risk assessments and workshops to interested clients. We like these value-added services because they add protective layers against data breaches and other risks.
Includes secure information management services
Offers a secure destruction box service
All paper residue is recycled
Closed on weekends
No advanced announcements for security workshop registrations
5. Crown Records Management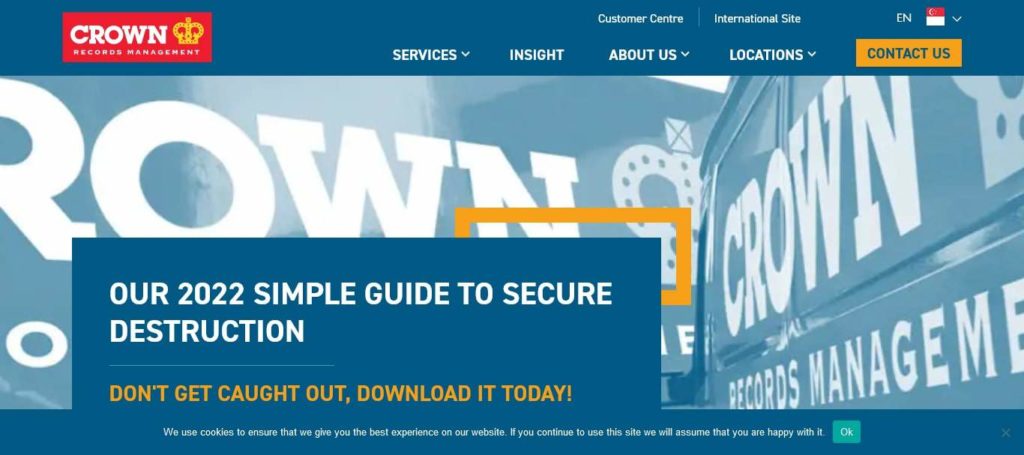 Title
Info
SERVICES
Document management, digital information management, secure destruction
WEBSITE
https://www.crownrms.com/sg/
ADDRESS
36 Pioneer Road Singapore 628504 Singapore
CONTACT DETAILS
+65 6861 6818
BUSINESS HOURS
Monday to Friday: 8:30 AM - 5:30 PM

Closed on Saturdays and Sundays
Crown Records Management differs slightly from the other companies in this listicle because it also offers secure storage and management. This allows company documents to be more accessible and safe within a barcoded system.
So, aside from physical destruction, customers can ask about off-site file room management and solutions for media or vault storage. We like these services because they round out the needs of bigger companies needing to hold on to files longer.
This company looks to have the most complete menu of services we've seen so far.
Crown Records Management's secure destruction services also cover disused or faulty products, unused storage media, and obsolete handsets and phones. We appreciate these offers, as not all companies have the time or inclination to dispose of them properly.
To top off its great service offerings, the company also treats its clients agreeably. Customer Frances Bentley remarked how friendly and professional the staff is.
Document storage and management services available
Offers no obligations quotes
Can also destroy faulty and unused products
No current recurring shredding services
Closed on weekends
FAQs about Confidential Document Shredding Service in SG
---
After reading this guide on the best confidential document shredding service in SG, we hope you'll find the company to help you with your disposal needs.
We are open to more reviews if there's a company you'd like to recommend to us.
We also have other published resources on document safety and disposal which could be of help: