Review: Is Snow Slumber the best mattress in Singapore?
Raise your hands if you've ever woken up to soaked sheets and a half-drenched mattress! Embarrassing as it may be to admit it, we can hardly blame you when you have to endure hot and humid weather in Singapore all-year long.
So if you've ever woken up all sweaty and uneasy, the good news is that there are plenty of ways to solve that problem. You can always blast the AC, wear lighter pajamas, or skip the blankets.
If all these things don't help, then that may be a sign to consider changing your mattress. Truth is, your mattress can also cause you to sweat at night, depending on the material used.
Sleep is incredibly important, so we made it our mission to find the best mattress you can purchase in Singapore. That's how we discovered Snow Slumber, which we tried ourselves for a few nights.
Curious about how it went? Then check out our review below!
Mattress Features
The first thing that got us curious about Snow Slumber is its name. I was under the impression that this mattress would give me a cooler night's sleep at the end of a tiring day—because who wouldn't want that, right?
Now, what really prompted me to check them out was the fact that they were a Singaporean brand, which means that they likely are aware of the sleeping woes that many Singaporeans including me experience.
To my surprise, this mattress is exactly built to combat the hot and humid weather. It's said to be the only mattress in the market to have a latex "snow layer," but what exactly does that mean?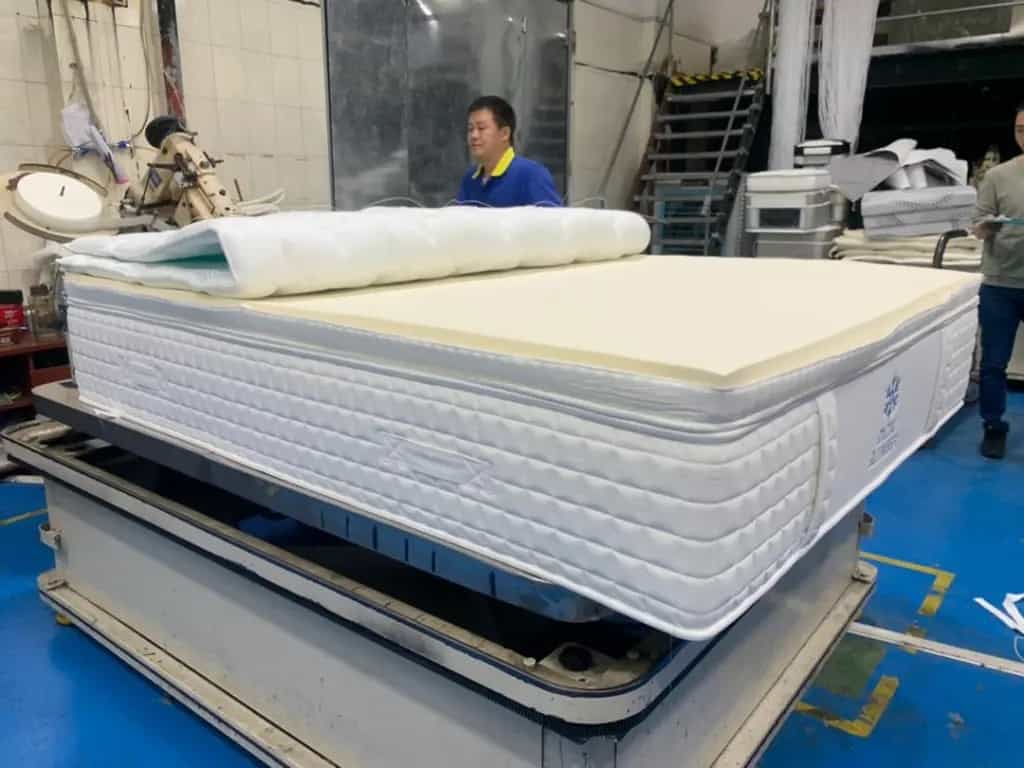 No, it's not made with real snow (because that would also be a disaster in this weather) but unlike regular latex layers, this one features knitted thread holes 50 times bigger than standard mattresses.
In other words, the mattress basically doesn't hold onto your body heat, giving you a more comfortable and cooler good night's rest.
The secret to this is in the mini latex pallets housed within a latex layer container, akin to beanbags but sturdier.
This allows air to move between the pallets to circulate around the mattress layers, which also moves around the accommodate to your body shape, regardless if you're a side, front, or back sleeper.
Now, if memory foam mattresses are familiar to you, then you'll know that foam density is the main culprit that causes you to overheat.
And while Snow Slumber's mattress may look really dense at first glance, the mattress is actually made with 20 breathable layers, allowing ample air circulation between you and the mattress.
The foundation is made up of a 12-zone pocketed spring designed to give your body excellent back support. That's because the foam adjusts to your body and not the other way around.
This neat feature also helps in isolating your partner's movements, which is perfect if your partner shifts left to right and vice versa frequently while sleeping.
I also like the fact that this mattress comes in different sizes to cater to different customers' needs. You can find the dimensions in the table below:
| Mattress Size | Dimensions | Price |
| --- | --- | --- |
| Single | 91 cm (W) x 35.5 cm (H) x 190 cm (L) | $1,999 |
| Super Single | 107 cm (W) x 35.5 cm (H) x 190 cm (L) | $2,199 |
| Queen | 152 cm (W) x 35.5 cm (H) x 190 cm (L) | $2,499 |
| King | 183 cm (W) x 35.5 cm (H) x 190 cm (L) | $2,799 |
| California King | 183 cm (W) x 35.5 cm (H) x 213 cm (L) | $2,999 |
Our Review
So, with all these neat features in place, how's the actual experience of sleeping on it?
To help you answer that, I'll share my experience below. I also covered other things in this section, which takes a closer look at Snow Slumber's trial periods, actual comfort level, price, and refund policies.
Trial Period
Allow me to begin by saying that I am personally wary of trying out a mattress in-store and purchasing it from the get-go. While getting a first impression is indeed helpful, it may not give you an accurate picture of what sleeping on it for hours would be like.
So, the first thing I did was to check whether Snow Slumber has a trial period or not. This safety net is a must, just in case the mattress didn't turn out the way I had hoped.
So far, Snow Slumber doesn't disappoint. Customers actually have two options moving forward, both of which allow you to test the mattress without having to worry about paying top dollar if you're unhappy with the mattress.
The deposit option allows you to try out the mattress from the comfort of your home for 30 days. All you have to do is to make a deposit of $100 to avail this and arrange for a delivery.
Once your 30 days are up, their customer service team will collect the balance. And if you're still unsure by then, your purchase will be automatically transferred to the trial stage of 90 days where you're eligible for a no-questions-asked full refund.
I think that this option would be a good choice for customers who aren't ready to shell out the full amount just yet.
Otherwise, you may also head straight to the trial period where you're eligible for a full refund in case you plan on returning the mattress within 120 days. The only catch here is that you must settle the full payment upon check-out.
Regardless of your choice, their trial periods are still one of the longest ones in the market. I think that this gives you plenty of time to decide whether their mattress is the right fit for you or not.
Price
In my case, I chose to make a deposit first, primarily because of its hefty price tag. Ranging from $1,999 to $2,999, these mattresses certainly don't come cheap, which can be a deal breaker for some.
But if you're purchasing one for the long term, then it can certainly be an investment. Like most mattresses in the market, expect this one to last for 10 to 15 years more or less.
While this price can be expensive for some, I'm glad to see that Snow Slumber allows customers to split their payments into three through Atome.
It's also great to see that the trials are available for everyone, whether you choose to pay through installments or in one go. Regardless of your choice, you can still avail a full refund if you choose to return the mattress within the trial period.
Our Experience
My first impression with the mattress is of how well it blends firmness and softness. In other words, you don't have to worry about sinking into the mattress once you lie down.
In terms of firmness, the mattress scores about 6 or 7 on the scale with 10 being the firmest. We find this to be a decent compromise for those who prefer softer mattresses.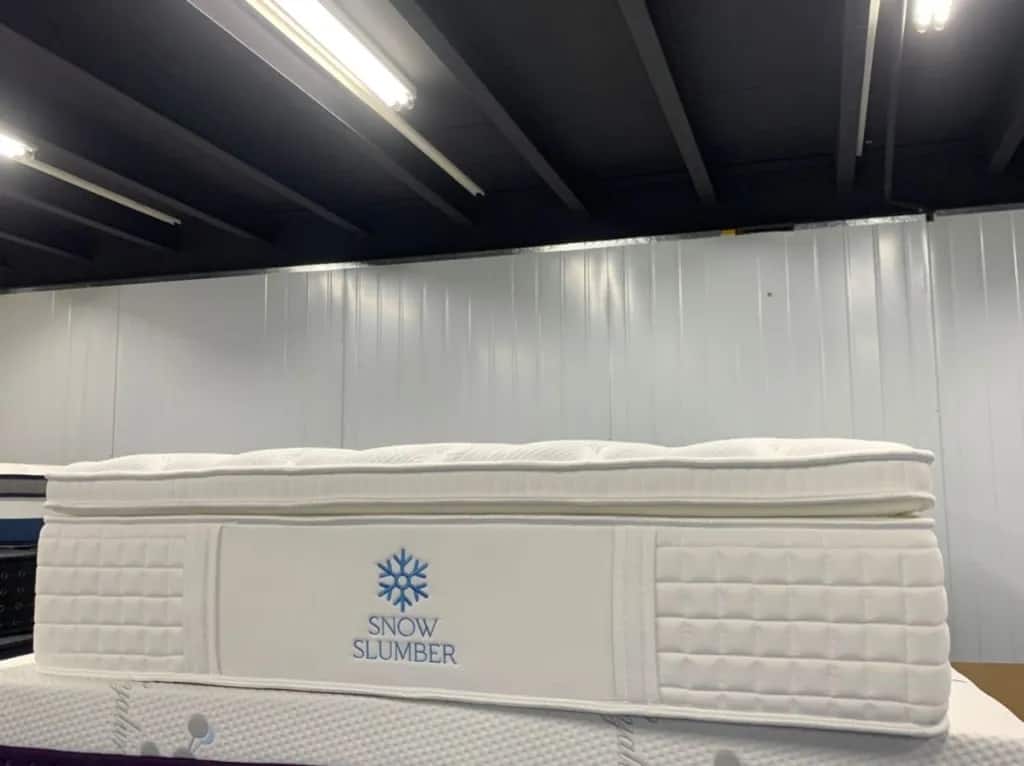 The mattress itself is incredibly heavy and bulky, so you might need someone to help you set it up once it's delivered. On that note, the mattress was also promptly delivered on time and is free of charge, which earns them additional points!
Just take note that it can take a few hours or even a day at most before the mattress gets fully inflated. Hence, my suggestion is to have it delivered in the morning if you intend to use the mattress by the end of the day.
And because the mattress is quite dense, you may find a bit of trouble in looking for well-fitted bed sheets that completely cover the mattress. Alternatively, you can also purchase one from Snow Slumber for just a dollar if you choose to purchase the mattress.
When purchased separately, the bed sheets come in a hefty price tag, so I grabbed the deal immediately since I was eligible for the promo.
Luckily, their bed sheets have managed to meet my expectations. The cloth feels incredibly smooth and cool-to-touch, giving off a luxurious feel.
In my opinion, it definitely goes perfectly well with the mattress. In fact, it complements it so well that I personally have had a comfortable and undisturbed sleep for eight hours—and that's just from the first day of owning the mattress.
The mattress feels even cooler with the AC on. So if you're the type who easily sweats even with AC, then this mattress may be the solution you're looking for, especially if you're planning to upgrade your memory foam mattress.
The next day, I went to sleep without turning on the AC or any other cooling equipment. Surprisingly, I did notice a cooling effect that this mattress originally promised but it may not be enough to keep you from sweating, especially if you live in a hot house.
Our Verdict
Has cooling features
Different sizes available
Installment plans available
Free next-day delivery in Singapore
Flexible trial periods available
Has a 15-year warranty
Full refunds available
Showroom available
24/7 customer support team
Expensive
Bed sheets cost separately
Heavy and bulky
If I could sum up this review in just a few words, this mattress may be the most comfortable one I've ever had. Overall, there's really not much to like about it—It's perfectly firm and cozy, great for back support.
That said, the cooling effect that this mattress gives is also worth a mention. It does the job pretty well.
Perhaps the biggest drawback here is its price. It's definitely more expensive than many other mattresses in the market.
Of course, it also cools better than most of them too, but it depends on how important that is to you when figuring out value for money.
On the plus side, you can always get a full refund within the trial period in case it doesn't live up to expectations. They also offer installment plans, which can be helpful for those who prefer to manage their monthly budgets.
For what it's worth, I think that this mattress is definitely an investment. I know I'm keeping mine once the trial period is over.
More Resources about Mattresses in Singapore