A Singaporean's Guide on How to Do Afternoon Tea in Style
So you've been invited to afternoon tea at this atas place, and you have no idea how to get on with it. While it may seem intimidating at first, we assure you that there's nothing to be worried about.
In fact, we came up with this comprehensive guide on how to do afternoon tea in Singapore to help you with that. We covered what to expect in the affair, what to wear, and what to order. You'll even learn if you can have your afternoon tea delivered!
If you're ready, then let's dive right into it!
Afternoon Tea vs High Tea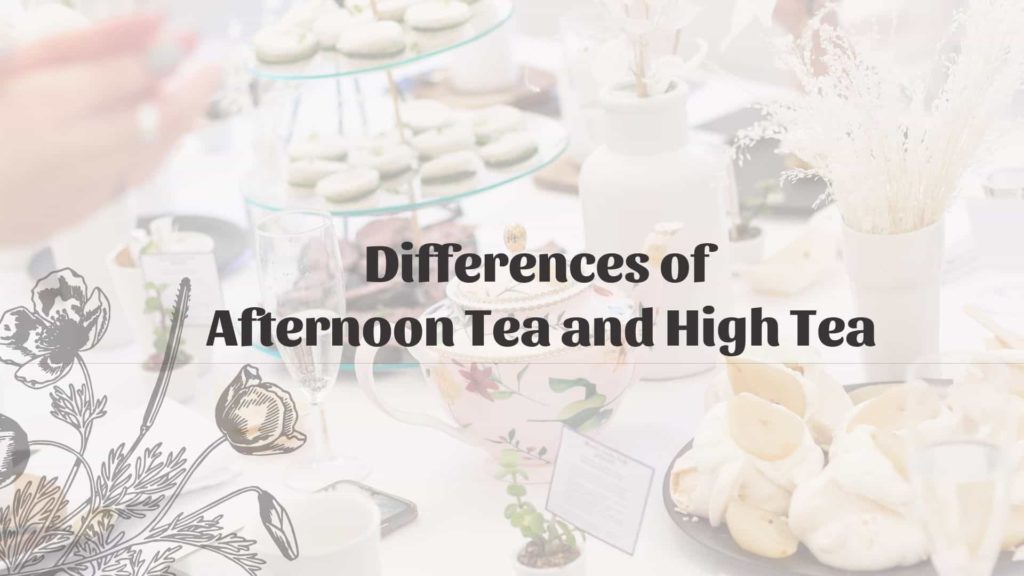 We often associate high tea with luxury, manners, and a towering layer of treats like scones, sandwiches, and macaroons. While our expectations about high tea aren't entirely wrong, there are still a few misconceptions.
To give you a bit of background, afternoon tea is a British tradition of, well, having a good cup of tea along with some light snacks in the afternoon. This is normally served between 3 PM to 5 PM.
Afternoon tea is also known as "low tea" because it's traditionally served on low tables. In other words, afternoon tea is precisely what most people think of when they talk about high tea.
Meanwhile, high tea is traditionally referred to as a working-class meal served shortly after 5 PM. The use of the word "high" doesn't exactly refer to the high class as is often the case when talking about high tea.
In this case, high tea gets its name from the tradition of serving meals like meat dishes, salad, pickled fish, potatoes, and more on a high table. And of course, tea is still served along with these dishes, hence the name.
In Singapore, both terms are used interchangeably, which is why you won't really see a distinction between them when looking for places that serve afternoon tea.
What to Expect and Where to Go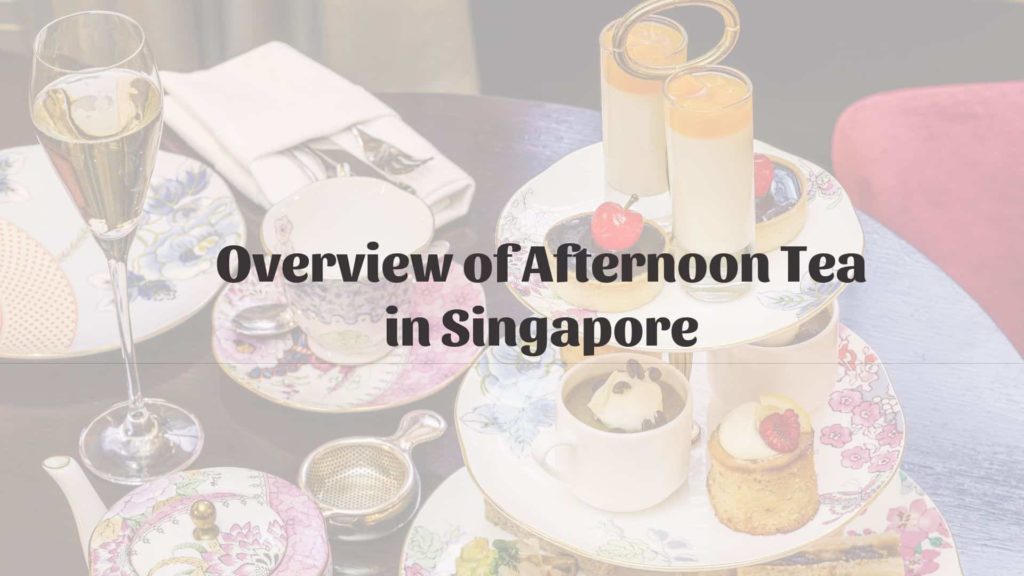 In plenty of instances, afternoon tea is seen as a time to unwind with friends, family, or even with oneself. But because afternoon tea is often an expensive affair, it's mostly reserved for special occasions like business meetings or birthdays.
It's not an entirely formal occasion though. Just think of it as getting a nice afternoon snack at a place with a stunning backdrop—perfect for your Instagram feeds.
Whatever your reasons are, you won't be disappointed by the number of places that serve afternoon tea in Singapore like the following:
1. Hotels
This is the most common place where you can find afternoon tea sets. In most cases, afternoon tea can be found in Singapore's snazziest hotels such as Shangri-La Hotel Singapore, The Ritz-Carlton, and Mandarin Oriental. 
However, you don't always have to go to the top-tier hotels for a great experience. There are plenty of other outstanding hotels that serve afternoon tea at budget-friendly prices. 
2. Teahouses
As you can guess by the name, teahouses are establishments that primarily serve tea and light refreshment. A teahouse can be a stand-alone establishment or a separate area in a hotel.
We've reviewed a tonne of good ones, actually. One of the most popular teahouses in Singapore is Arteastiq, for example, which is adjacent to an art jam studio where you can paint. TWG is another popular option, thanks to its wide selection of tea leaves sourced from different parts of the world. 
3. Bars and Cafés
Now this may seem like an unlikely option, but in reality, there are plenty of bars and cafés in Singapore that make great options for afternoon tea. One example of this is Bar Intermezzo along Orchard Road. 
Normally, establishments such as bars function like regular restaurants in the afternoon, serving pastries, premium tea, and other light snacks. At dusk, it turns into a bar serving alcohol and bar chow, typically open until late hours.
What's Served
So now that you know where to find places that serve afternoon tea, naturally you'd want to know what type of food and refreshments they serve.
In essence, a standard afternoon tea set includes a pot of English-style tea, as well as a three-tier stand of finger food like scones, savory sandwiches, light pastries, and other sweet treats.
Contrary to popular belief, you don't really need all these things in order for it to be considered afternoon tea. In informal settings, all you really need is a cup of tea and a scone or two.
Some establishments also serve different varieties of afternoon tea sets. Instead of sandwiches, they offer other savory food such as cold cuts, foie gras, and quiche, among others.
Many hotels and restaurants nowadays also serve champagne for guests to indulge in on top of tea.
The menu will ultimately depend on the theme that the establishment has set. In Singapore, we've seen restaurants offering Chinese, Japanese, and French afternoon tea menus, just to name a few. 
Depending on your chosen establishment, presentation may also vary. Instead of tiered cake stands, some establishments prefer using their finest chinaware, while others simply use dinnerware.
Other establishments like coming up with unique presentations. For instance, some teahouses allow you to select a flavour from their tea box, which they'll brew right in front of you.
Whichever way afternoon tea is served, it all comes down to the fact that you're also paying for the experience.
Some teahouses even offer afternoon tea deliveries, just in case you're hosting or prefer to enjoy your tea from the comfort of your home. For starters, you can check out your preferred food delivery apps for that.
Otherwise, you may contact your preferred teahouse or restaurant directly to arrange for delivery.
Basic Etiquette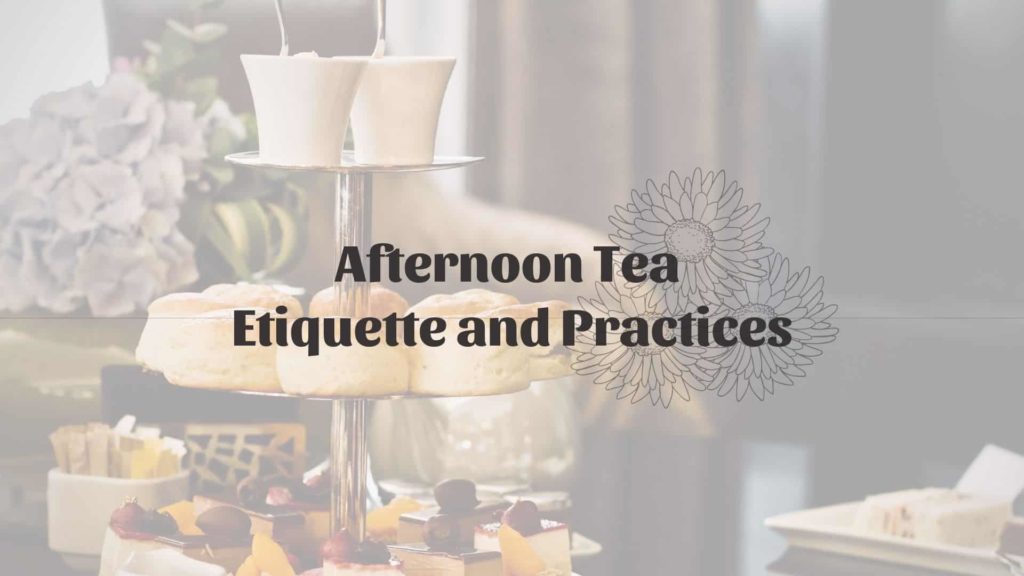 If it's your first time to be invited to afternoon tea, it may seem like a daunting experience at first, especially if you've seen all the complex customs practised in Downton Abbey.
While Singaporeans aren't exactly too big on following traditional tea etiquette as much as aristocratic Brits, it's still good to practise good manners during the affair. The good news is that it really isn't complicated.
1. Don't be late
This applies to all formal meetings and informal gatherings—punctuality is a huge must! Lateness, on the other hand, is considered disrespectful to the person who is kept waiting.
In Singapore, take note that afternoon tea is typically served around 3 PM to 5:30 PM at the latest. Some establishments even offer afternoon tea as early as 2 PM, but this isn't normally the case.
If you're meeting somebody, make sure to clarify your meeting time beforehand. It's best to arrive at your location at least 30 minutes before the scheduled time.
2. Wear appropriate clothes
No, women aren't expected to come in a dress, lace gloves, and their fanciest-looking hat, nor are men expected to wear a suit. All you have to do is to throw on a smart casual look and you're good to go.
Most hotels actually require guests to come in smart casual attire, so it's best to check the establishment's dress code beforehand. But even in the absence of a dress code, be sure to avoid overdressing or dressing down.
This includes wearing slippers, tank tops, robes (if you're checked in a hotel), or even gowns, which are absolute no-no's.
3. Gently stir your cup
Traditionally, the correct way of stirring is by placing your spoon at 6 o'clock and gently stirring it towards 12 o'clock without touching the sides. The most important thing to remember here is to never create a whirlpool that could eventually cause a stir (pun intended).
Once you're satisfied, you can place your spoon on the saucer next to the cup, which leads us to the next item.
4. Keep your saucer and spoon on the table
It's considered improper to hold the saucer while drinking tea. You can only hold the saucer in your hand if you're standing up or if a table is absent.
That said, you should also avoid sipping tea using your spoon. Likewise, try not to clink your spoon against the cup.
5. Be mindful of proper drinking manners
There are a few things to remember here. 
First, it's considered rude to look at your companions or other guests while drinking tea. If you're not sure where to look, simply lower your eyes to your cup.
Next, it's also important to avoid slurping and finishing your tea in one go. Just take a few sips then put the cup back on the saucer.
You also shouldn't dunk your scone into your cup of tea. All of these things are considered bad manners.
If you're not sure how to properly hold your cup, place your index finger into the handle and put your thumb on the top of the handle. Use your middle finger to support the bottom of the cup, and never raise your pinky!
6. Practice good dining etiquette
Although not mandatory, you may want to consider following the correct order of eating your food to fully enjoy it. Eat the sandwiches first, followed by scones, and sweet treats last.
Because these are considered finger foods, it's perfectly acceptable to use your fingers. In fact, you're expected to do so.
Break your scone gently into two using your hands. Don't forget to use your utensils if you'd like some jam or clotted cream on your scone.
You can also use your fingers to take food from the tray. Rather than eating it directly, be sure to place it on your plate first and take small bites.