The 5 Best Men's Wallet in Singapore Reviewed
If you're looking for the best wallets for men in Singapore, you have quite a task ahead of you. There are so many great wallets sold in the country that it can be hard to settle on one — we know, because we looked at them!
Fortunately for you, we've decided to do a list of the top options. These are the ones that offer the best quality, value for price, design (always a factor!), and sheer convenience during use.
But before we move on to our list, we'll start with a few notes on how to spot the right wallet for you when you're looking at our picks. Different people need different wallets, after all.
Let's start, shall we?
How to Find the Best Men's Wallet in Singapore
If you thought that finding a wallet would be as easy as looking at its material, you may want to think twice. Some factors have to be considered before finding the wallet that matches your everyday routine and needs.
On top of the material, every man should also consider the type and size. Knowing these will guide every gentleman towards finding the right wallet for himself.
Let's go over each factor below.
1. Material
These days, wallets are made from different types of materials, from leather to cotton, so gone are the days when the majority of wallets were made only from leather. Some are made from silk, nylon, and other fabrics now, even.
However, there's no doubt that leather wallets remain superior because they're the most durable options. As per our research, even wallets made from fake leather can last for a couple of years, depending on the user.
On the other hand, wallets made from cotton usually come with a cheap price tag. They mostly come in a variety of colours — which is why a lot of people tend to prefer them over leather ones, which mostly come in two colours.
Meanwhile, wallets made from silk can be an option for those with extra money to spare since most silk-made wallets lean towards the expensive side.
2. Type
After the wallet's material, the next thing you should take note of is your preferred type of wallet. We know of 4 common types of wallets sold on the island: foldable, travel, breast pocket, and accordion.
Out of all four, foldable wallets are most preferred by men. Foldable wallets can be bi-fold or tri-fold as well.
Travel wallets, of course, are a great companion while on the road. Such wallets can accommodate all documents needed while on a trip, such as passports and the like.
On top of cash and cards, breast pocket wallets can also store bills without folding them. If you don't like cash getting folded, then breast pocket wallets are perfect for you!
Lastly, accordion wallets can hold more items inside compared to wallets because of their size, making them the perfect option for those who store a lot more items inside their wallet than others.
3. Size
In terms of size, what we can recommend is to stay away from oversized wallets. You wouldn't want a wallet that creates an ugly bulge somewhere and ruins your look, would you?
So, we strongly suggest picking a medium-sized wallet that can store some cash and all your essential cards. There's actually a trick to figuring out how big a wallet you need, though, if you need a tip.
First, clean out your current wallet and place every item inside on the table. Remove everything that you would no longer need to store inside your new wallet such as old receipts, expired credit cards, etc.
Doing this will make it easier for you to know which size is the right one for you. That's because it tells you how much storage space is actually essential for your next wallet.
The 5 Best Men's Wallets in Singapore
And that's it for our tips on how to spot the best men's wallet in Singapore. Now, you're probably more than ready to see which ones we think are worth checking out.
So, without further ado, here's our picks for the best men's wallet in Singapore.
1.   BELA Men Short Wallet
Best for Affordability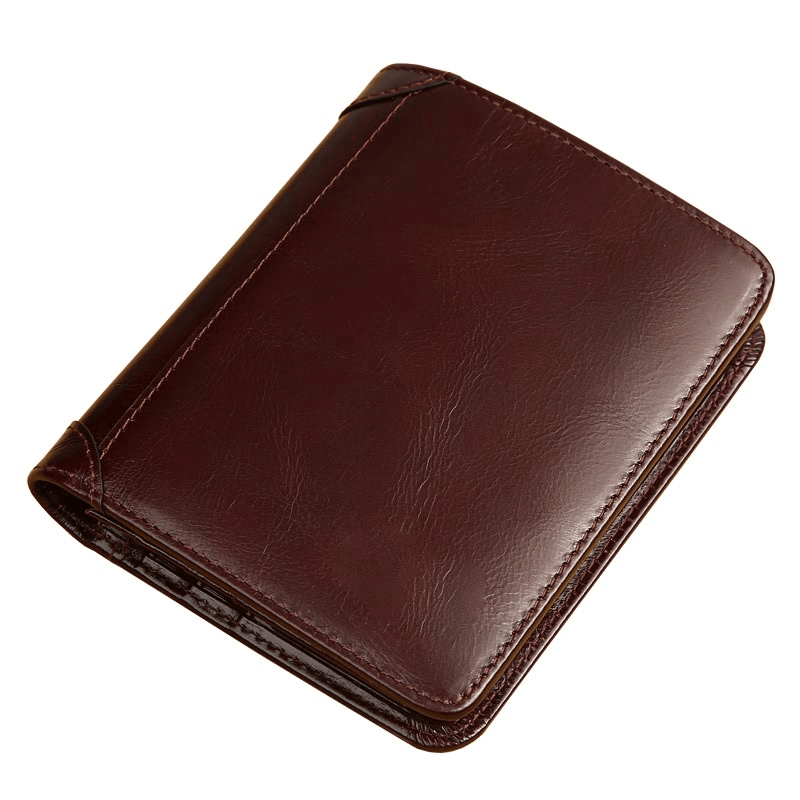 Price: $13.99
We understand that a lot of quality wallets for men tend to be expensive, so if you're seeking a more affordable option, then we have you covered! Here's the BELA Men Short Wallet, and it's such a steal considering how cheap it is!
For no more than $14, you can get your hands on a lightweight yet durable leather wallet that can store all your essentials, from credit cards to business cards. It also comes with an RFID feature to prevent your credit card information from getting stolen.
On top of these, it comes with a bi-fold design that allows users to store more cash and cards inside. It features 2 compartments for bills and 8 slots for credit and debit cards.
If there's a con that comes with the purchase of BELA Men Short Wallet, it would have to be that it gets bulky, especially when packed with cash and cards. So, it's going to create a bit of a bulge when stored inside the pocket.
Overall we think this is the best mens wallet in Singapore not just for those on a budget but those who want a great compartmentalised wallet with RFID.
Highlights
Compact size
Quality leather
Eight card slots
Two compartments
2.   Lacoste's Altitude Striped Zip Pull Grained Leather Wallet
Best for Durability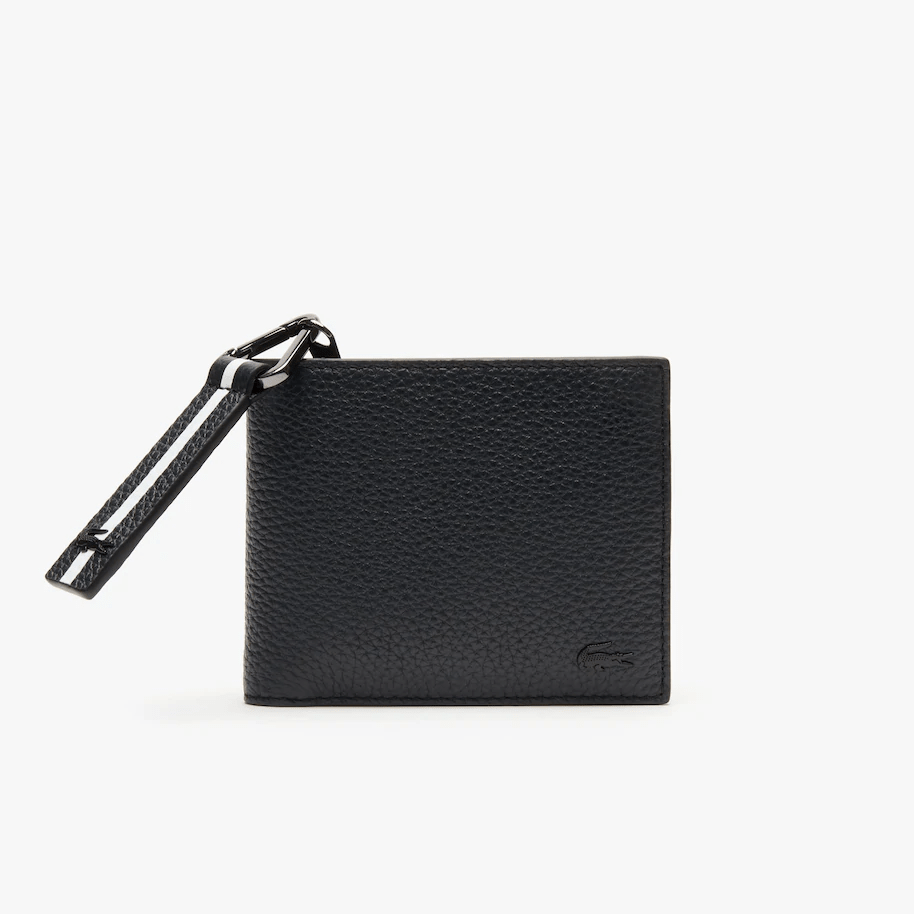 Price: $83.30
If you want a wallet that's guaranteed to stay with you for a long time, then look no further than Lacoste's Striped Leather Wallet! Since Lacoste is one of the most trusted names in leather wallets, it's no surprise that one of its products ended up in our list.
For one, the Lacoste's Striped Leather is made from 100% high-grade cow leather, considered one of the most durable leather materials in the market. It may be a bit larger than most leather wallets, but it definitely is lightweight.
What's more, it comes with a huge exterior pocket and eight card slots, allowing the user to store all his essentials inside one wallet — which is why we consider it among the best mens wallet in Singapore.
It also comes with a detachable zip pull that can be used as a keychain for your bag, or just leave it attached to your wallet to make it look more stylish. It doesn't have a pouch that can carry coin bills, though.
Highlights
Affordable price
Premium cow leather
Eight card slots
3.   Derrick Leather Wallet
Best for Vintage Look
Price: $79.80
The Derrick Leather Wallet is best known for its RFID feature that protects the credit card information of the users. RFID means that the user doesn't have to take out their card every time it's going to be used for a transaction — a simple tap would be enough.
In terms of design, the Derrick Leather Wallet surely doesn't fall short either. It sports a vintage look that's made from 100% premium leather, while the material used for the interior is high-grade polyester.
What's more, it comes with 8 credit card slots, 2 slide pockets, 2 bill compartments, and a gusseted coin pouch, features that make it one of the best wallets for men in Singapore.
It also won't create a bulge even if it's packed with cash and credit cards, so no worries about it ruining your overall look.
However, if you're looking for a wallet that comes with a warranty, you won't get it with this one. But it's not an issue for most buyers because it's proven to be durable.
Because of its aged and vintage look, we think this is the best mens wallet in Singapore for you if you want a bit of rugged sophistication.
Highlights
Premium leather
High-grade polyester
Eight card slots
With coin pouch
Customer Reviews
Here's what a buyer had to say about the Derrick Leather Wallet:
"I bought this on behalf of my daughter in New Zealand for her boyfriend's Christmas present. It arrived quickly, in a lovely presentation tin, embossed as ordered. I thought it looked great, am hoping it withstands the dog and washing machine which his last one did not! I would buy again if I was shopping for something similar as it was good quality."
4.   SERMAN BRANDS Card Wallet
Best for Card Protection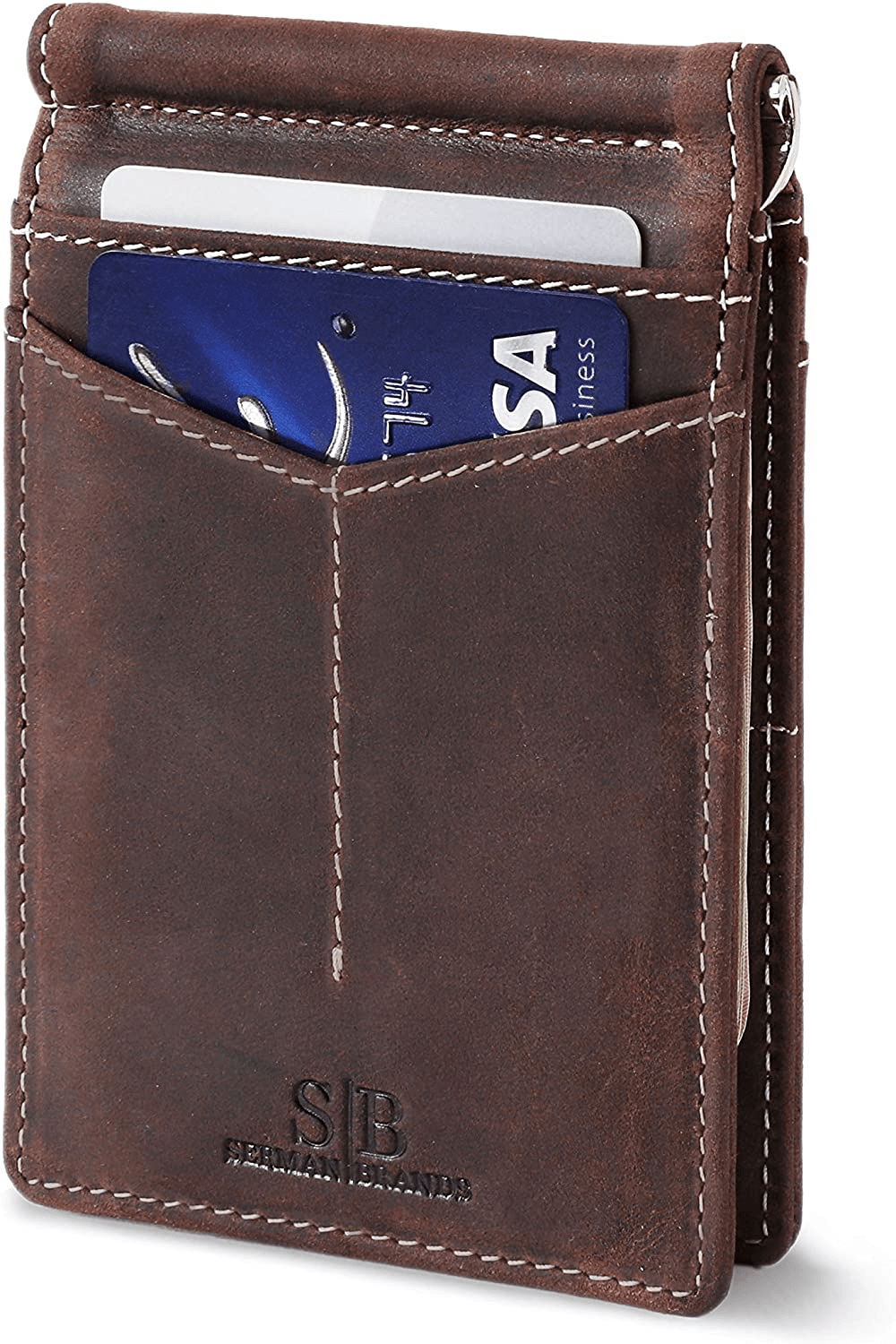 Price: $42.13
If you carry mostly credit cards, then we know the perfect wallet for you. Here's the SERMAN BRANDS Card Wallet, and it's the ideal option for those who like going cashless.
What makes it one of the best wallets for men in Singapore is its scratch-resistant leather. It absorbs the natural oils off of your hands too, which allow it to develop a darker and richer color.
It's also engineered to provide maximum protection for your credit cards, featuring a secure RFID technology that prevents unauthorized scans. It comes with a 12-month warranty as well that covers all defects caused by the manufacturer.
It's indeed one of the best mens wallet for credit cards we've ever seen before, so we can't recommend it to those who prefer cash transactions because you won't get to make the most of its innovative features.
Highlights
12 months warranty
RFID technology
Vintage leathers
5.   Herschel Supply Co. Men's Roy Wallet
Best for Versatile Style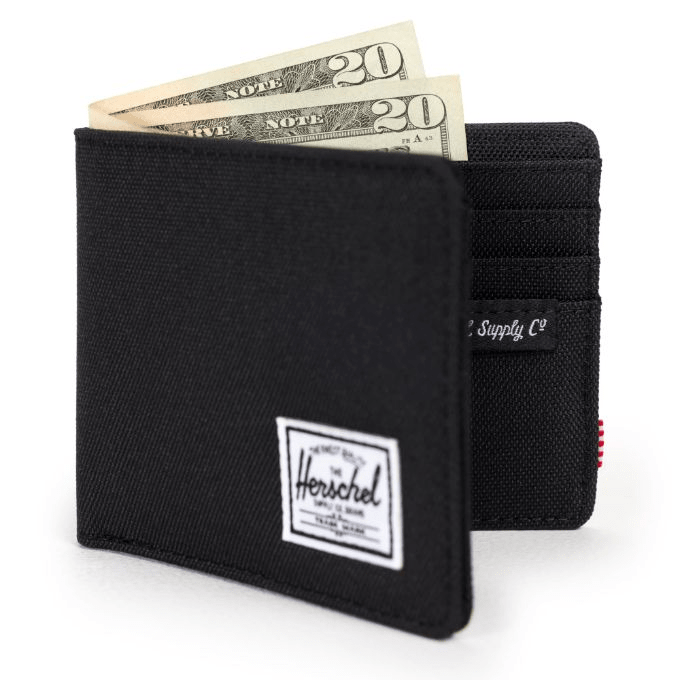 Price: $26.68
There's no doubt that Herschel sells some of the best mens wallet in Singapore, boasting a wide range of stylish designs that can fit every man's taste. Among its options for men's wallets, we believe that the Herschel Supply Co. Men's Roy Wallet takes the top spot.
For one, it comes with a bi-fold design that allows users to store a few bills and 6 credit cards. It's not a lot compared to other wallets, but the quality of materials used tend to make up for that for a lot of buyers.
You can be assured that your credit card information will be safe with its RFID technology, so no need to bring out your cards every time you're making a transaction.
Lastly, it features a compact and lightweight design that won't make it hard to store inside your pockets. It also doesn't create a bulge even if packed with bills and credit cards.
Highlights
RFID technology
Six card slots
Premium fabric
And that's it for our list of the best wallets for men in Singapore. If you've used any of these wallets before, share with makes it an item worth buying!
By the way, if you're also searching for bags, you might want to check out our list of the best bags for men in Singapore. Any of these bags can be used for any type of occasion, from work to workouts!