7 Best Tower Fans in Singapore Reviewed
Is the heat getting to you a bit? Well, it might be time to invest in a tower fan, then! The best tower fans in Singapore are guaranteed to cool you off during the summer, as well as being easy to store or position due to their tall, narrow design.
We've gathered a list of the best tower fans in Singapore in case you'd like to purchase an extra fan for your home. This list has been carefully put together from recommendations of users all over the island.
And to help you further with your choice, we've also set up a quick guide to help you keep in mind what would be a better choice for your particular household in the long run.
Let's begin!
How Do I Choose A Great Tower Fan?
Picking a tower fan isn't difficult, but it isn't easy either. These small pointers can help you in picking an ideal fan, from budget, to function, to how much space it will take up in a room.
Here are the things you should keep in mind when choosing a good tower fan:
1. Features
Take into consideration what kind of features the tower fan has. Pre-programmed fans are easier to handle, especially when you're too tired to manually turn the fan off or on.
Another feature to look for is an easy-to-see LED frame that displays the control features. It's also good to look for a timer for the off and on button for cost-effectiveness.
2. Oscillation
This is one of the most important factors when picking a fan. You have to see how far the wind circulates around a room, especially for a spacious one.
You also have to ask if it has good reach, especially if you're going to put it in a corner… and, incidentally, if the plug is long enough that you can adjust its positioning.
3. Cost
Tower fans are usually on the higher end of the price scale, but there are plenty of tower fans that can fit your budget and work great.
Bear in mind that the brand can affect the price with tower fans, as with other products. Dyson fans are typically on the higher end of the scale, while Honeywell is mid-ranged.
The Best Tower Fans in Singapore 
Now that we know the tips and tricks to picking a great tower fan, now let's go to the list of the best tower fans in Singapore. These were the best ones we found that are well-received by users.
Without further ado, here are our picks for the best tower fans in Singapore that'll help you cool down:
1.   Dyson Cool Tower Fan

Price:$689.00
Dyson's best tower fan, this bladeless fan has an oscillation of angle from 45° to 350°. It's a low maintenance appliance whose filter is easy to replace, and signals you when it needs changing.
This fan has been a favorite for users because of its powerful blasts of wind and wide reach. It also purifies the air it circulates, as well as having a 2-year warranty.
Its powerful blasts and air-purifying qualities make it one of the best tower fans in Singapore.
Pros
Wide oscillation
Air-purifying qualities
2-year warranty
Cons
Expensive
Many users say it's noisy
Customer Reviews
Here are some reviews from Amazon about the this amazing product:
Pros –
Great performance
Can be used as a fan as well
Cons-
Little noisy with increased fan speed
Bad design when you need to move it from one place to other. Could have had wheels which could have made it easier
-SunilG 
Here's another review from Amazon customer, Eric:
Typical Dyson quality product. The app is ok but needs more features. But the power of the fan is not for large rooms. Probably good for small apartments.
-Eric
2.   Lasko Stand Up Tower Fan

Price: $316.18
Limited Stocks At Amazon, Buy Now
Lasko remains a user favorite since it strikes a balance with its temperature and accessible, remote-controlled features. If you have a member of your home suffering from asthma, this fan is a perfect pick due to its air purifying properties.
With a built-in air ionizer, it purifiers the air and repels pollution. Another great feature is its automatic shut off timer, and 3 speed settings.
Pros
Air purifier
Cheaper option
Automatic shut off
Cons
Customer Reviews
Here are some reviews from Amazon about the this amazing product:
You will laugh, but I bought this for my Boss' office…. 🙂
Each time my Boss comes out of his office, sweating like the devil in church, and as things go, poop always rolls down hill…..he stomps out of his office, fussing about something, and immediately let's it out on me…..how come this, and why that…blah, blah, blah….I'm tired of it….so, after a bit of snooping, I quickly realized that he goes into his office in a good and quiet mood, and comes out hotter than a popcorn fart….sweating, breathing hard and in a seriously bad mood….hmmmm….there is no air circulation in his office, so, I figured this may do the trick……assembly is a snap and a twist- literally, and you'll need 2 AAA batteries for the remote…
I waited for him to go to his 1st meeting this morning and set it up in his office while he was away…..naturally he noticed it immediately upon his return, but his reaction was so nice……come to find out, it was indeed the lack of air circulation which altered his mood….bc he has been a different person all day….and I am not the only one who noticed….everyone who deals with him made the same comment….I dont know what you did to him, but he's actually a pleasure to be around now…….the man is in heaven, and so am I…..this purchase was PURE self interest…and it worked !
-Eros
This fan. Omg, this fan is the best. Never would I have thought I would find solace in the heat without an actual A/C, and here came this fan to prove me wrong. I live in L.A, and I have a house that has no full-on A/C. So, during the summer, I am sweating and dying in my small room that feels like an oven.
First off, I am so glad that the value exceeds the price. The fan has plenty of settings and I find that the third wind level genuinely works in cooling me down. Matter of fact, it makes me cold! It only rotates at 45°, but I'm willing to accept that because of how good it is. It will not cool down your entire room, but it will definitely cool down your section that you are facing the fan towards.
Also, the people who are complaining about the noise are bugging!! ???? It is not loud in the slightest. It is super quiet, and I have had many loud fans that sounded like they were industrial. It is great for white noise. Love that there's even a nighttime feature, which essentially lowers the fan's intensity within a span of about 7-8 hours. That's enough time to go to sleep and stay cool throughout. I'm so glad I got this fan and I'm glad it was money well spent. I definitely recommend this to people in hot asf areas like Cali, Arizona, Texas, etc. Summer's coming, and this is the remedy to heat waves.
-Beanbaby
3.   Honeywell Quietset Tower Fan

Price: $238.68
Limited Stocks At Amazon, Buy Now
Honeywell is a tested and tried brand that produces tower fans that have satisfied customers everywhere. Their Quietset Tower Fan is just as the name says: it doesn't produce much noise, as well as having a whole room's reach of air circulation due to its advanced oscillation system.
It has 8 speeds, more than most tower fans out there, and a very long power cord to adjust positioning. This is one of the top choices of many users due to its amazing versatility.
Pros
Affordable option
Quiet cooling
8 speed options
Cons
Softer airspeed
No LCD dimming
Customer Reviews
Here are some reviews from Amazon about the this amazing product:
I can't believe how quiet this fan is. I keep it on the "calm" setting but it's surprisingly powerful. I live in Texas and i get very hot at night. My bedroom is always uncomfortably warm. I placed it facing the foot of my bed last night and I actually had to get a second blanket! I'm really happy with this purchase.
-JMR 
I hate the heat! I dislike Summer. Fans have been a NECESSITY for me ALL my life. At @ 7 weeks short of 70… I'm qualified to give an opinion. This is the best combination of Breeze vs. Noise I've ever had.
It's 6/13/17; it's 94 (NINETY FOUR!) degrees outside my NJ condo & I'm coping. In a recliner in gym shorts with fan on 6th of 8 settings is great… Much better than I had hoped.
I chose it (1) because of other reviews & (2) the Brand Name HONEYWELL.
UPDATE :
Now it's Oct 7th and I haven't changed my mind. Got me thru the summer in fine fashion. I'll say it again : "This is the best combination of Breeze vs. Noise I've ever had."
-Bipolarbear
4.   Ozeri Tower Fan

Price: $372.48
Limited Stocks In Amazon, Buy Now
The Ozeri Tower Fan is the quietest option for a tower fan, and its 3 fans can spin independently in different directions. It has a wide reach with its 90° oscillation, as well as a wide range of remote control settings.
Another great feature is its timer that lasts around 7.5 hours: it can be programmed for 30 minute intervals. And at only 3 inches thick, this is one of the slimmer options in the market.
Pros
Slim design
Powerful blasts
Great air circulation
Cons
Comes with confusing instructions
Bright LED display
Customer Reviews
Here are some reviews from Amazon about the this amazing product:
If you must have something as utilitarian as a fan in your room, you might as well make it as cool looking as possible. Photos do not do this fan justice. From the heavy (that's a good thing) glass base to the sculptured case to the display screen at the top, this fan is almost a work of art. Most visitors think it is a speaker tower.
But aside from its high tech beauty, this fan is the most versatile I have ever owned. There are three fan speeds like most tower fans, but then each of the three fans can be independently operated. I bought this fan for a recording studio, and by using the lowest speed with only one or two of the fans running, it is quiet enough to operate while recording.
With all those settings, plus options such as breeze mode or timer, it really helps to be able to see the display. This fan has a large display screen with big icons, making all the information legible even from across the room. 
Don't hesitate to buy this fan.
-Aaron Morris 
I love the look, flexibility, and functionality. Its not loud, but it isn't silent either. I'd love silent fan, but I'm not spending $350 on a Dyson. It's silent enough that when I sleep, I usually play white noise on my radio because the fan isn't quite enough for me (I like constant white noise when sleeping because it drowns out other sounds). For the price, I think this is one of the quieter fans you'll find. 
This may seem like a pointless feature, but I really like the tropical setting. Constant speed seems to get me too cold and dry my skin out. The variation is actually much easier on my skin but doesn't gives me that occasional burst of speed to keep me comfortable. 
I bought my first one of these in 2016 and got another in 2018 because I really like it. Going strong so far without issue.
-Al R
5. EuropAce 1.1m Tower Fan with Remote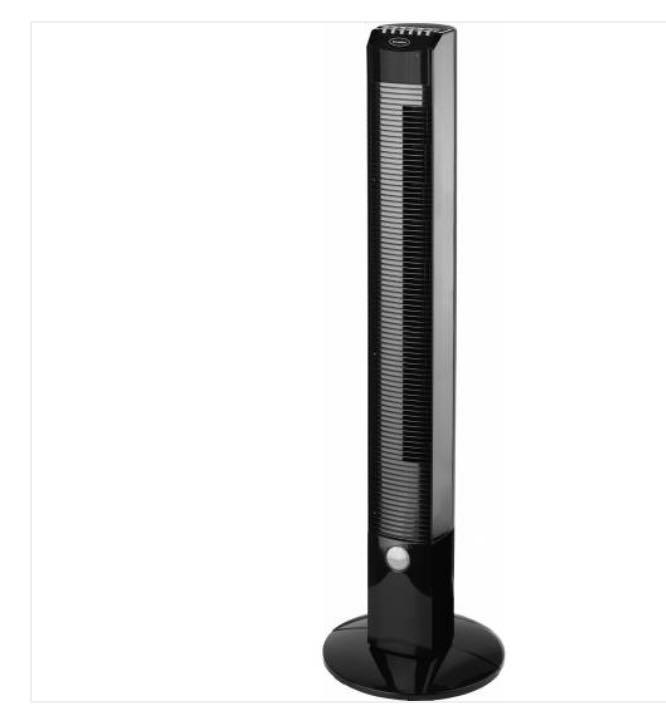 | | |
| --- | --- |
| Best for | Those who want an extra feature (ionizer) |
| Price | $79.90 |
| Height | 1.1 metres |
| Where to get it | Shopee Singapore |
At 1.1 metres in height, the EuropAce Tower Fan with remote is one of the tallest tower fan available in Singapore. With variable speed settings, this tower fan has a power consumption of 60W.
We like that it has a night light control feature so it's great to use at night , and it also has four settings available: Auto, Natural, Normal & Sleep Modes.
The EuropAce Tower Fan may be towering at 1.1 m but it's very slim and has a minimalist design so this could be the best tower fan in Singapore for those looking for something to go with their interiors.
This fan also has an ionizer so it's great for those looking for a multi-use tower fan.
Pros
Minimalist design
Night light control feature
Ionizer feature
Cons
May be wobbly due to height
Customer Reviews
Looking at online reviews of the EuropAce 1.1Metre Tower fan, we saw that plenty have been satisfied with the product. A common complaint is that the fan could be wobbly due to its towering height.
Here's one review from a verified buyer and user with a username of hclum007:
Great tower fan. Its affordable, power is decent for a tower fan, and like the other reviews said its a little wobbly but not a big concern. Overall pretty satisfied, bonus is the speedy delivery too!
6. Toyomi Mini Tower Fan with Remote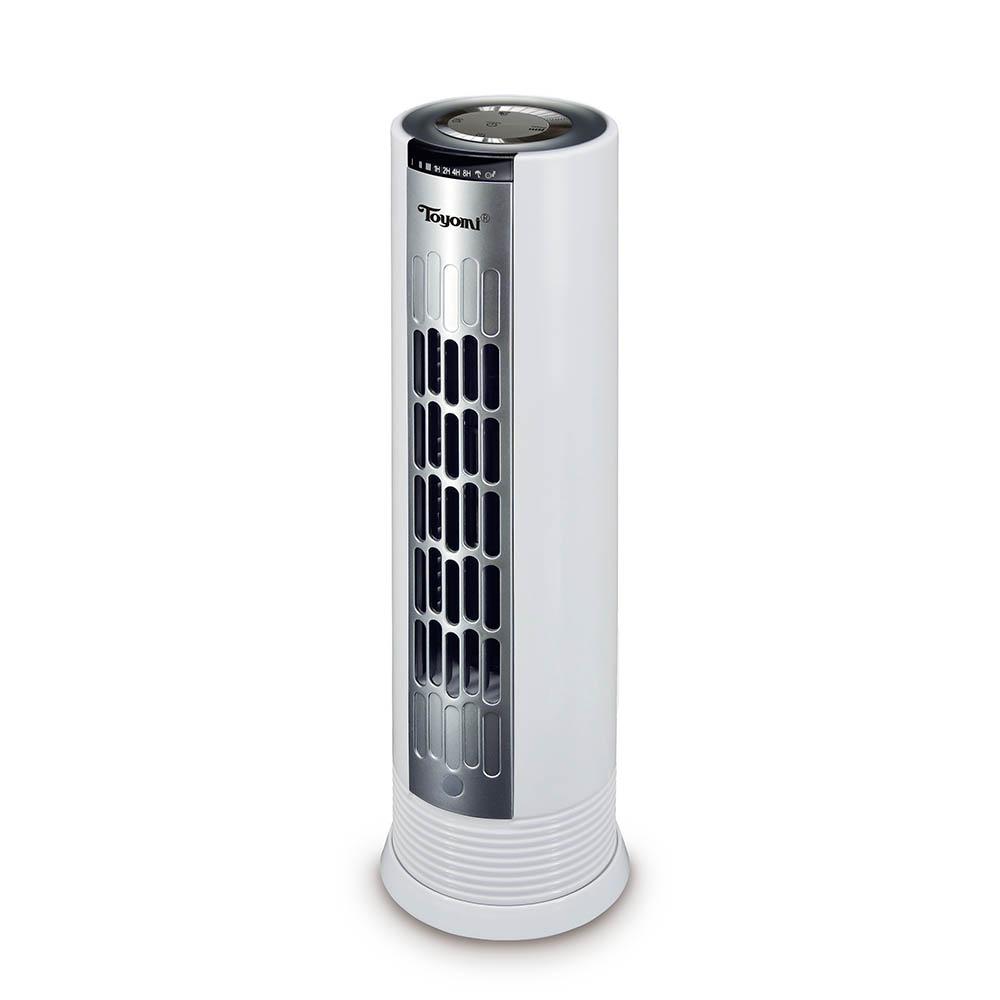 What's great about tower fans is that they come in different sizes. At almost 15 inches in height, this mini tower fan is excellent for small, personal spaces.
Toyomi is a locally made brand so it's a great choice for those wanting easy repairs and of course, supporting local brands.
This mini fan has 3 settings, a 70-degree oscillation, and a 15-hour timer.
If you're looking for a portable tower fan, this one is just 1.4 kilograms and could be the best tower fan in Singapore for you.
Pros
light
portable
has a remote
Cons
can only be useful in small personal spaces
Customer Reviews
Those who are looking for small and portable tower fan seem to be happy with the Toyomi mini tower fan.
Here's an actual review from a legitimate user and buyer:
Quite slim, just nice for my toilet. Not so noisy yet powerful for personal use in a small area
7. Mistral Remote Tower Fan MFD4000R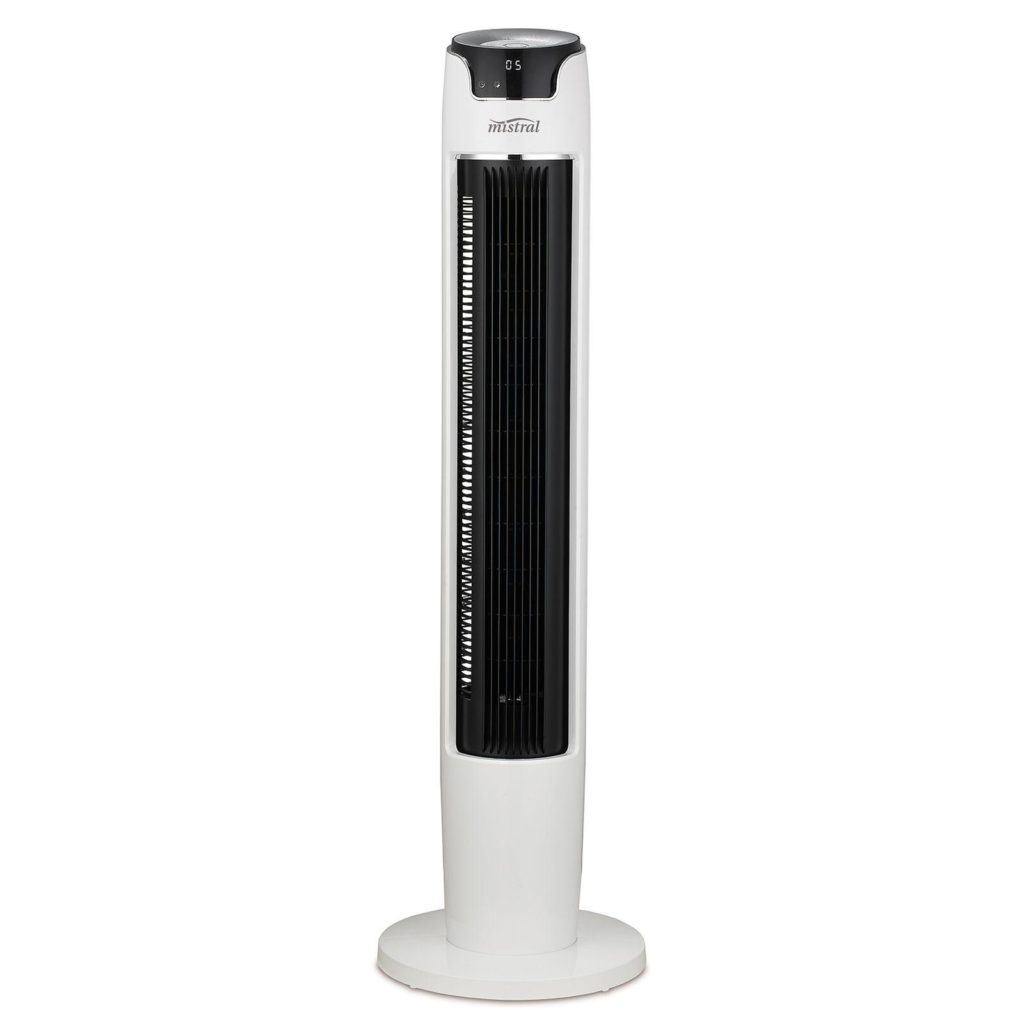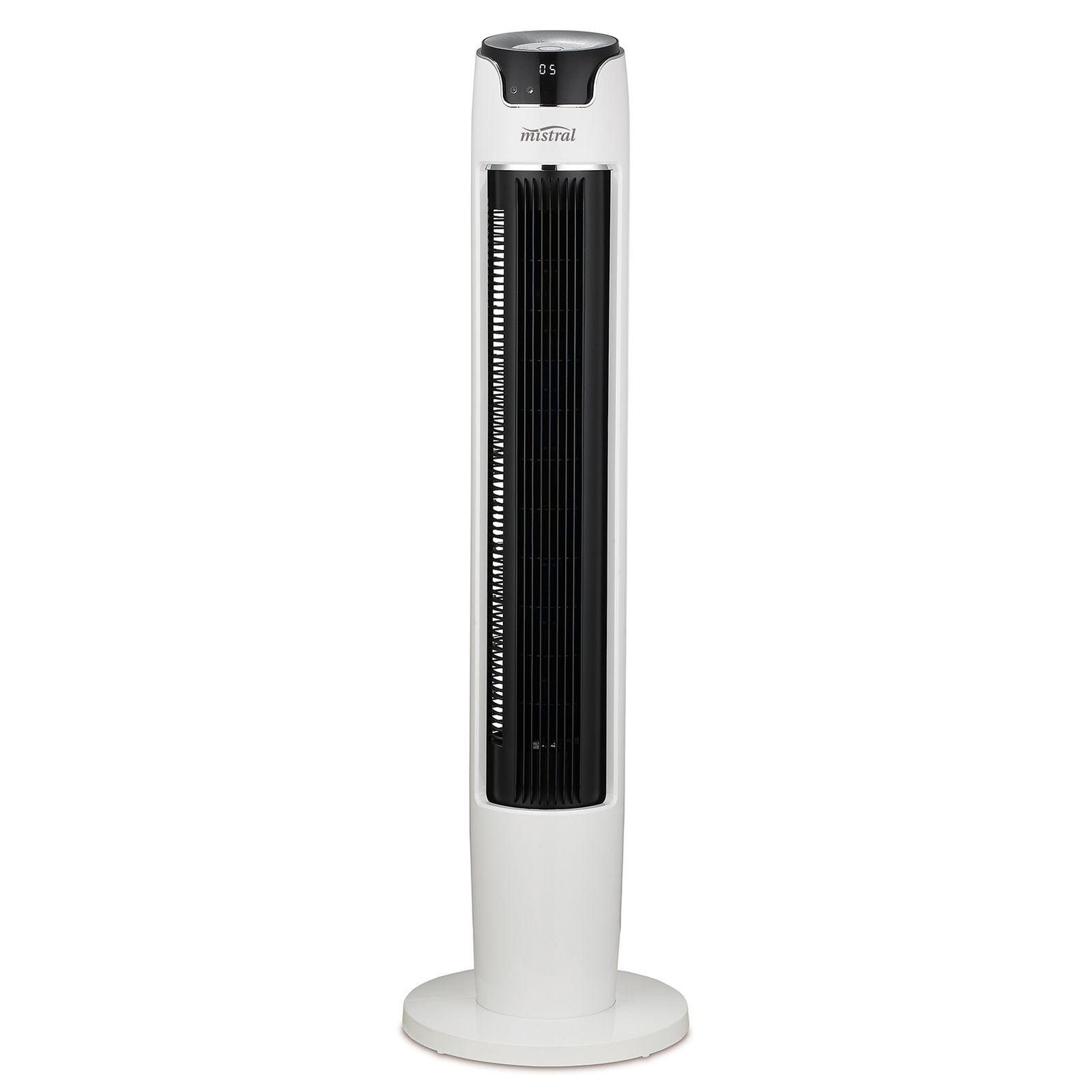 | | |
| --- | --- |
| Best for | Low power consumption |
| Weight | 3.7 kg |
| Price | $135.00 |
| Where to get it | Shopee Singapore |
Big in size doesn't always mean high power consumption. This Mistral remote tower fan may be 40 inches in height but it only has a power consumption of 45W.
It's pretty stable at its weight of 3.7 kg so you don't need to fear that it may keel or topple over.
It has a 15-hour timer so it can be used overnight.
It also has a sleek design, so if you're looking for a fan that goes well aesthetically with your interiors, this could be the best tower fan in Singapore. for you.
Pros
low energy consumption
sleek design
Cons
Customer Reviews
Going through the reviews left by customers of this product, it's clear that many are happy with their purchase of the Mistral Remote Tower fan.
Here's a review left by a verified buyer and user of the product, using the username mui2lu3:
The parts are easy to assemble. The case is abit light and do the fan is not very stable. Overall it looks slim and presentable if you are one who is fussy with aesthetic . The item Was delivered intact . Easy remote . Value for money .
And that ends our list of the best tower fans in Singapore. We hope this list helped you decide which fan to get for your home and keep the heat away.
Did we miss a great tower fan, though? Tell us its name and what makes it great in the comments below!
Need a portable air conditioner instead? Head over to the list of the best portable aircons in Singapore and check out our picks for those.
Do you prefer standing fans for your room instead? Then go check out the best standing fans in Singapore.