A Guide to the 8 Best Protein Bars in Singapore
A protein bar is a quick and filling snack that can get you through the morning when you're running late. This list of the best protein bars in Singapore can help you get a burst of energy through that early morning slump.
Whether you want some fruit-loaded bars or something flavored in chocolate, these choices are sure to get you going. You may want some advice on how to pick one that fits your needs or tastes perfectly, though.
As such, we've included a guide on how to pick a protein bar for your situation here. If you already know what type of bar you want to eat, though, go ahead and leap to our list of bars!
Which Protein Bar Should I Pick?
When you pick a protein or energy bar, there are plenty of factors to consider, especially if you're under a diet or have some restrictions that you practice for any reason.
Remember, it's a quick replacement for breakfast, so it needs the essential nutrients to help you get through early hours. That's why picking one needs thought put into it.
We've laid down the protips that can help you pick the right one so it's easier for you. After all, if you're in a hurry, there's no time to stop and read labels, right?
So, just keep these small pointers in mind, and you'll be good to go!
1. Pack on the Proteins…Or Not
If you're looking to gain weight or bulk up, you should always pick ones that are high in protein. Go for lower-protein ones if you just want something to give you a little bit of extra energy.
The target for picking one is around 20 grams of protein if this is a between-meals snack. A meal-replacement bar should have at least 30 grams of protein.
Protein bars in Singapore are a great pre-workout or post-workout snack due to the protein and micronutrients. They supply the body with fuel when it's exhausted most of its nutrients, helping you keep going until the next meal.
The body can only digest around 20 grams of protein in one sitting, however. That's why we stated that between-meals snacks should stay at 20g of protein — anything more would be undigested and can be a factor in gaining weight.
If you're planning to lose weight, you may even want to go under 20g. You don't want to pick something that will pack on the pounds, as what's important is the energy value.
2. Dietary Restrictions
If you're following a diet or simply have restrictions on food consumption, make sure to check the labels.
Whether you want something vegan, paleo-friendly, or gluten-free, there will always be something in the market for you since most consumers of protein bars are health-conscious.
Always pick something that's low in calories too when you're trying to control your weight gain.
3. Less Sugar
There are plenty of "healthy" protein bars in the market, yet they're loaded with sugar. Steer clear of anything with too much sugar to avoid crashing, and always pick protein bars that line up with your nutritional goals, whether it's to lessen weight or pack on muscle.
A great bet is the all-natural nut and dried fruit protein bar type. They aid in heart health as well.
Finally, as a last piece of advice for those choosing the ideal protein bar, pick something that you'll be pressed to eat. Anything that's not exactly appealing to the tastebuds might just make you crankier in the morning.
After all, no one would want to eat anything bland and tasteless for breakfast, right?
Best Protein Bars in Singapore
Now that you have all the pointers for picking the ideal protein bar, let's shift our attention to the list of the best protein bars in Singapore.
We've gathered the ones that are popular among people of all ages, from kids who want an after-school snack to adults who need a meal replacement while crunching out for time.
Another factor that we considered are the dietary needs and caloric value of the bars, as well as the protein amount of these small snacks.
In any case, we've come up with a selection of goodies that have satisfied plenty of people in taste, according to our research. Without further ado, here are the best protein bars in Singapore.
1. Nature Valley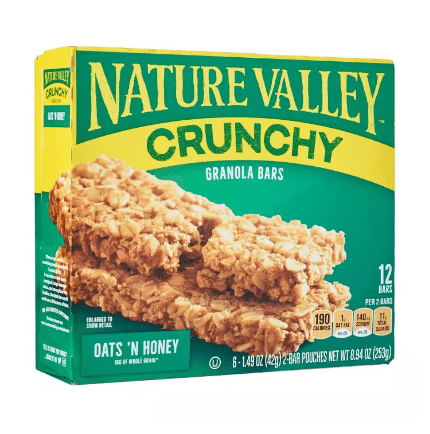 Price: $5.85
Buy On Lazada Before Stocks Run Out
Nature Valley has been a popular pick for a protein bar for many years among locals. It's most popular flavor, Oats n' Honey, is simple fare that will satisfy your tastebuds: sweet but not too cloying.
If you're not into that, their Peanut Butter bar is something low on calories but on taste. This belongs to the cheaper variety of protein bars, but it doesn't lack in quality.
The great part about Nature Valley's bars is that they tap out at around 190 calories, so if you're watching your weight, this is one of the best protein bars in Singapore that you should definitely try out.
Highlights
190 calories
Cheaper variety of protein bars
Available in both Shopee and Lazada
Customer Reviews
Here are some reviews from Amazon about Nature Valley:
"Nature Valley is one of my favorite brands of Granola Bars, & these Peanut Butter & Dark Chocolate ones are very good. They are a good alternative to having a candy bar as a snack. These are chewy, & have a great tasting peanut butter & dark chocolate taste. With only 6 grams of sugar per bar, they are alot less sugar than a candy bar. If this is the brand you purchase often, be sure to compare the cost of the value pack vs the regular 5 pack box. (compare cost per bar. Sometimes the value pack is less expensive, other times it's better to buy 2 boxes of 5 for savings.).
The protein bars tend to be a little more expensive because they have a higher protein amount. For example, one of my absolute favorites is the Sweet and Salty Nut, Peanut Chewy Bars. Those have 4 grams of protein per bar, where these have 10 grams per bar.
If you like Chewy bars, dark chocolate, & Peanut butter- give these a try. They are very tasty & delicious! 🙂
P.S. When shopping on Amazon, remember to use your Amazon Smile link to shop. It's an easy way to help raise money for your favorite charity. Happy Shopping!" 
-JMK 
"I really like most Nature Valley granola bars, and these are no exception. I was looking for a mostly healthy granola bar with extra protein. I initially bought a box of these and a box of another brand of oatmeal raisin bars. The others tasted like cardboard (seriously), but these were fantastic. Very fresh, tasty, with just the right amount of crunch and sweetness.I really like the coconut/almond flavored white glaze at the bottom. Not too sticky or overly sweet or chemically tasting. Also not tasting of cardboard. 🙂 A bottom layer of glaze on those other bars probably would have done the trick. 
This set comes with a 6 pack of the boxes. They arrived on time and in good condition. I'd highly recommend these. They're great to have handy for a quick snack on the go."
-Blondie
2.   Quest Protein Bar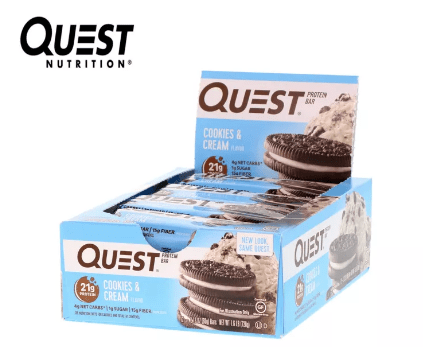 Price: $39.99
Buy On Shopee Before Stocks Run Out
Quest has plenty of delicious flavors that taste great, from Cookies and Cream to Mint Chocolate Chunk. This is one of the protein and energy bars that are loaded with bioavailable proteins and have no added sugars.
The best part is that this bar is gluten-free, so if you have celiac disease, it's safe for you to eat. This makes Quest one of our top picks for the best protein bars in Singapore.
Highlights
Gluten-free
Variety of flavors
No added sugar
Customer Reviews
Here are some reviews from Amazon about Quest:
"I ordered a variety box, arrived quickly and packed nicely in a box. A good selection of flavours, although mint chocolate chunk and chocolate peanut butter were missing from my pack. They were replaced with a rocky road and an extra chocolate chip cookie dough bars, which I was actually happy about as I dislike chocolate with mint flavour. Good macros with each bar containing 20 or 21 grams of protein, between 6 and 8.5 grams of fat (except rocky road with 9.8g) and between 7 and 11 grams of carbs, of which on average 1g is sugar. Flavourwise, they are pleasant and quite sweet, with no chemical aftertaste. However, most of them taste quite similarly, with chocolate being the overpowering flavour, with the exception of blueberry muffin and white choc & raspberry. The texture is quite dense and chewy, typical of protein bars. They are a bit expensive at £25 for a pack of 12 but overall they are quite nice and work well as a post workout snack. Each bar in the packet appears to have a different best before date, ranging from July 2020 to July 2021, which is odd but long enough for me. All in all, I would recommend the product, the only real downside is their price, which is why it's a one off treat for me."
-Anna 
"Good quality protein (whey and milk, no soy or gelatine) and very portable. They won't melt into a mess in hotter weather unlike many other bars.
The texture may not be for everyone as it tends to be chewy. It tastes nice, however if you are used to candy bars you are likely to be disappointed."
-Amai Reads
3.   ThinkThin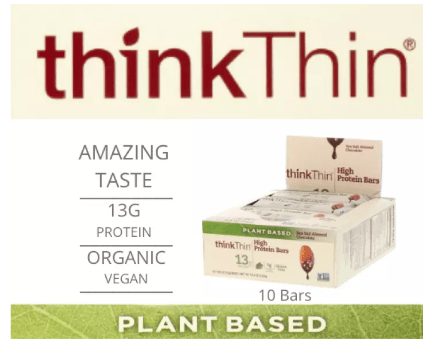 Price: $35.99
Buy On Lazada Before Stocks Run Out

Think Thin is the best protein bar in Singapore for health-conscious people. Organic, plant-based, and completely vegan, this protein bar is ideal for weight watchers.
This delicious snack also contains around 13 grams of protein but only 230 calories. Think Thin is a popular pick for those buying protein bars in Lazada, being one of the highest rated snacks there.
Highlights
No Soy Ingredients
Certified Gluten Free
Kosher Dairy
Customer Reviews
Here are some reviews from Amazon about Think Thin:
These are the softest best tasting high protein bars I've ever had. Most other bars I've had are hard or chewy and could break a tooth and have a bad after taste. These taste delicious. The creamy peanut butter is my fave. As a bariatric patient these are perfect.
-Kim Newcombe
The best, hands down. The texture is super soft and even fluffy, and the flavor is amazing. LOVE that is doesn't contain soy!
-Fortunate Cookie
4. Clif Builder's Protein Bar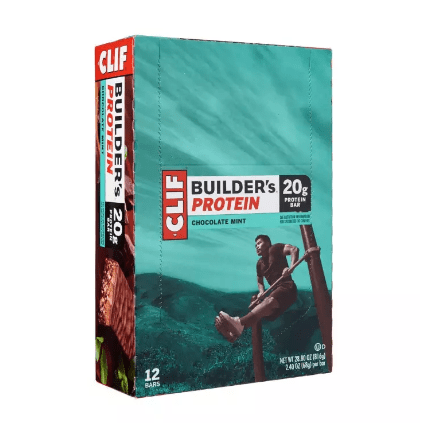 Price: $33.00
Buy On Shopee Before Stocks Run Out
If you're looking to bulk up on the protein, then Clif's probably the best protein and energy bar in Singapore for you. It has around 20 grams of protein to help you get your fill of protein in the morning.
They also assure that this is jam-packed with vitamins and minerals, helping boost protein metabolism. It's a perfect post-workout snack.
It also scores low on the glycemic index, as well as being organic. The makers state that this protein bar has no GMOs.
Highlights
20 grams of protein
Non-GMO ingredients
Low glycemic index
Customer Reviews
Here are some reviews from Amazon:
Our family went on a trip to Egypt. I bought a box of these and we had them for snacks during the two week trip.
There were 8 different flavors, two each. It was great to sample the different flavors which is not something I get to do when trying Clif or any other kind of bars. My favorite was the Peanut Butter Crunch.
I also used these for long day hikes. Light. Easy to carry. Provides the carbohydrates I need. And most importantly, they taste great!
-Eugene Choo
These are my absolute favorite. I'll have one for breakfast and i'm completely set for a long while.
Great variety 2 of each including my favorite flavor crunchy peanut butter.
Amazing taste! So much so that I have to restrain myself from snacking on them.
-Michael Bosco
5. Aloha Protein Bar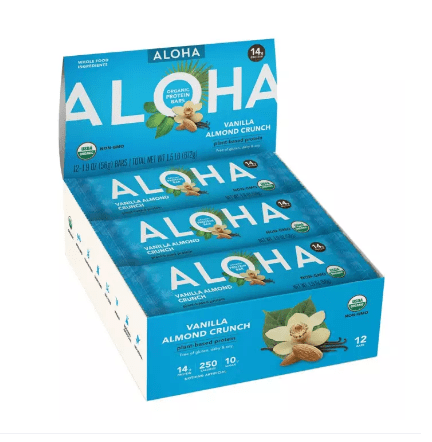 Price: $73.55
Buy On Shopee Before Stocks Run Out

Aloha strikes as the undisputed protein bar for those with dietary restrictions. This delicious bar that comes in a whole host of flavors boasts of having 14 grams of protein, 250 calories per serving, and only 10 grams of sugar.
They are vegan-friendly, paleo-friendly, and are made with natural, organic ingredients, as well as being low-sugar and gluten-free.
Highlights
Gluten, dairy, soy free
Paleo and Vegan-friendly
250 calories per serving.
Customer Reviews
Here are some reviews from Amazon about Aloha:
Aloha chocolate mint are my favorite protein bars of the several plant based brands I've tried. They have a good amount of protein, 14 grams, compared to most bars, but most importantly they taste delicious. They are a dense cake like consistency bar with a dark chocolate coating. A chocolate mint flavor that's not too sweet yet not bitter either.
They contain 11 g of fiber and only 4 g of sugar and have no sodium and no soy, and they're organic.
If you order them in the summer the chocolate coating will melt, which will make them look like a mess but when the chocolate hardens again they still taste great (but a little of the chocolate will stick to the packaging, not much).
I hope these bars are never discontinued, they're a staple in my pantry.
-nom de guerre
Having food allergies, it is difficult for me to find food and supplements that are Dairy, Gluten, Soy and Stevia free. I strive to eat foods that are all natural or organic and have no artificial sweeteners. Alohas line of products is just what I need. I do not like the berry flavored powder, but I love the chocolate powder, coconut pre-mixed drink box and the chocolate peanut butter bars. These products are perfect for breakfast, snacks and pre/post workout supplements. The customer support is excellent too! I had an issue with one of the deliveries, and they refunded my money and allowed me to keep the extra order. I highly recommend this company and their products.
-bowhunter
6.   White Chocolate Almond Bare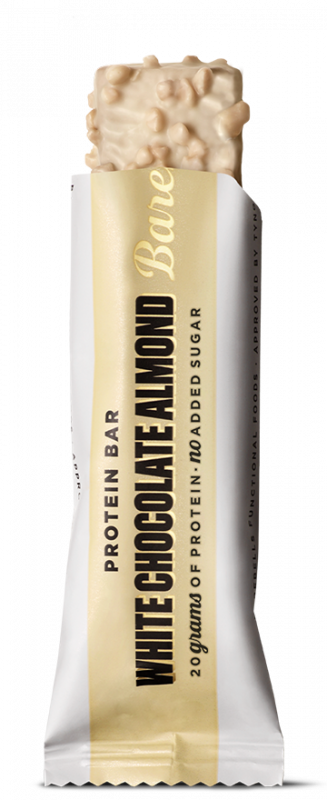 Price: Inquire to find out
Buy It From Barebells

If you are looking for protein enriched snacks, you need to be very cautious about every product that you encounter. Sellers can say it is protein enriched, but it might only be a way to advertise the said products– disguising the fact that it is harmful for your body.
Launched in 2016, Barebells is a functional food company that offers a tasty range of protein enriched snacks and alternatives to breakfast and desserts – all without compromising flavor. To further attract customers, both the flavor and the design of the snacks are influenced by the American fifties.
Their products are mainly Milkshakes and Bars, both proven to be protein enriched. They can give you the real treat of eating sweets, while not compromising your health. What are you waiting for, treat yourself now with Barebells!
Highlights
Completely free from added sugars
Enriched with 20 grams of protein
Customer Reviews
"Great chocolate protein bars. No sugar, 20g of primary high quality protein. Hazelnut whip and white almond are the best so far, hoping much for the new chocolate dough."
– Nadine Oetterli
7. Eroica Protein Bar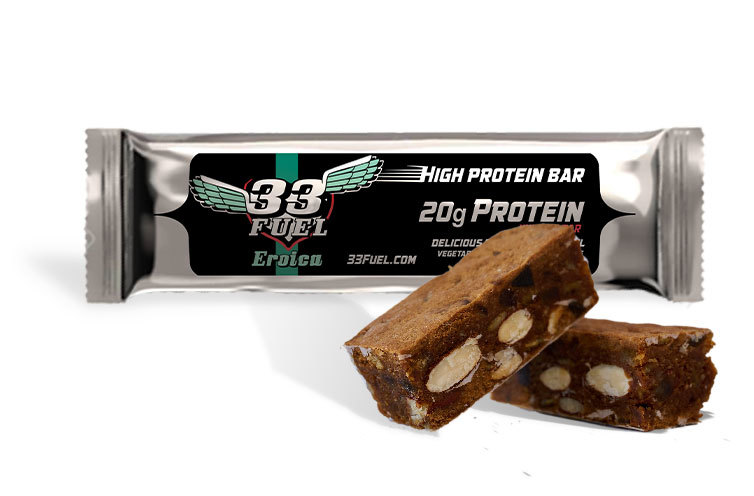 Price: £22.99
Buy It From 33Fuel

The Eroica protein bar is one of the best snacks for recovery, whenever you need extra energy. Each bar is handmade in Italy, packed with the freshest and most natural ingredients. It has no additives, so you get only the best parts.
Not only will you get the added fuel you need for the day, but you also get to enjoy such a delicious snack– all at an affordable price! Get six bars for £22.99. Make sure to get some before stocks run out.
Highlights
100% natural ingredients
High protein
65% larger than ordinary protein bars
Customer Reviews
Here are some reviews left by very satisfied customers:
"I love these. The have become my go to bars/snack. Not only for recovery from a workout, but also traveling. I love the taste, texture and softness of the bars. They are filling and curb my appetite."
"Most protein bars I've had in the past leave me still feeling hungry pretty quickly afterwards which can lead to bad food choices on the go like chocolate bars, but this one is the opposite. It's really satisfying, I can pretty much use it as a meal when I'm really in a rush – and it keeps hunger away for ages so I don't end up making those bad food choices on the go"
8. Clean Lean Protein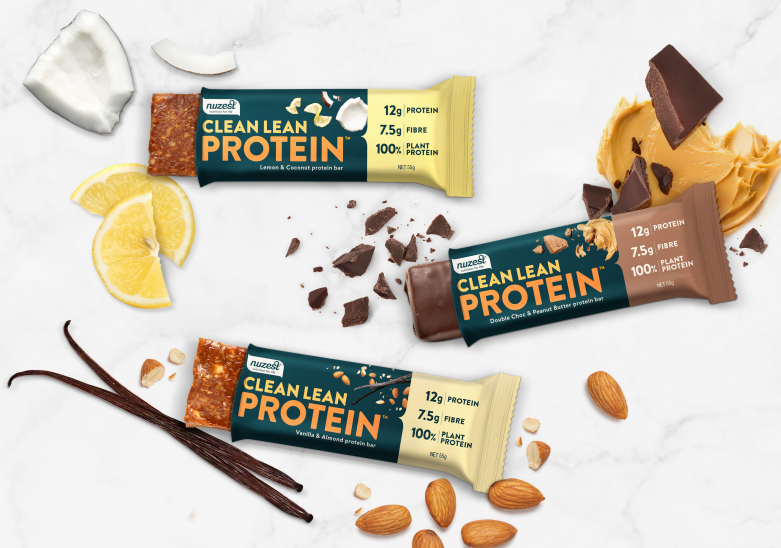 Price: $5.75
If you're looking for a new protein bar to add on to your diet, perhaps before or after workout, why not consider Nuzest's Clean Lean Protein?
Clean Leat Protein comes in three flavours: Coconut & Lemon, Almond & Vanilla, and Peanut Butter & Chocolate, with each bar containing all nine essential amino acids to support recovery and repair. Moreover, Clean Lean Protein bars are high in protein and fibre and low in carbohydrates and sugar.
It's also worth noting that Nuzest blends their own premium European golden pea protein with whole fruits, nuts and seeds, ensuring that each Clean Lean Protein bar contains no refined sugar, fillers, or artificial preservatives.
Those who are interested will be happy to know that the code "nuzest-free1" will grant the first 50 customers 1 free bar each upon checkout.
Highlights
High in protein and fibre
Contains no refined sugar or artificial preservatives
Great for pre- and post-workout sessions
And that ends our list on the best protein bars in Singapore! We do hope you get to pick one based on your needs and preferences, and that you get a good snack that you can consume on the go.
These goodies are sure to kickstart your day without letting you crash midday, as well as supply you with a good serving of protein to help you throughout the early morning rush.
Did we miss out your favorite pick in this list? Drop us a comment!
And if a protein bar just can't cut it, then why don't you try looking at the best breakfast places in Singapore? They'll be sure to fill you up.