11 Best Security Companies in Singapore: Most Trusted for 2021
For the business owners out there who've suffered a significant loss due to lack of security measures, it'd be wise to consult with the best security companies in Singapore. These have a team of skilled personnel with years of experience in guarding small and large business operations.
We've already gathered some of the best security companies in Singapore and each one of them comes with trained staff, excellent management, and cost-effective services! So, take a look at our list below to know more about their offered security solutions.
1.  Metropolis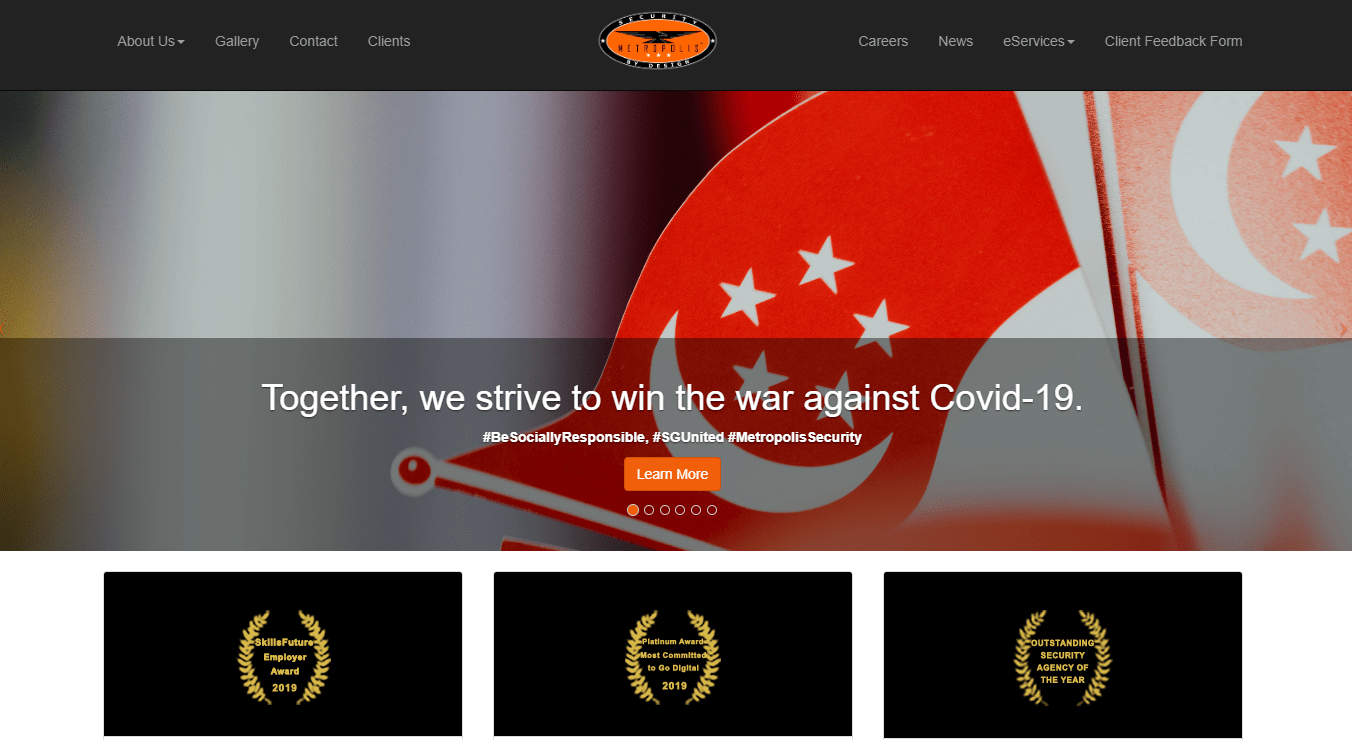 | | |
| --- | --- |
| BEST FOR  | Advanced technology solutions |
| WEBSITE | https://www.metropolis.sg/ |
| ADDRESS | 20 Sin Ming Lane #08-63 Midview City Singapore 573968 |
| CONTACT DETAILS | (65) 6352-6769 |
| OPERATING HOURS | Daily: 8:30 AM to 6:00 PM |
Perhaps only grade a security companies in Singapore will work for you. If that is the case, you will be pleased with Metropolis. 
Metropolis is an award-winning security firm that has been graded A by the Police Licensing Regulatory Department. They provide comprehensive skills training for their personnel as well as security technology solutions for day and night operation.
This includes advanced surveillance cameras and visitor management systems. They even have a centralised command centre managed by trained security staff.
We consider them to be one of the most stringent Singapore security company. 
Highlights
Visitor management system
Centralised command centre for CCTV cameras
Customer Reviews
Clients said that they felt relieved with the security operations of Metropolis, making the firm one of the best security companies in Singapore. A client wrote this feedback:
"The Metropolis guards deployed at Toll Zenecon have shown good teamwork. They have acquired the required knowledge and skills of man handling /management problems in such a short period given since their joining is commendable."
2.  Sovereign Security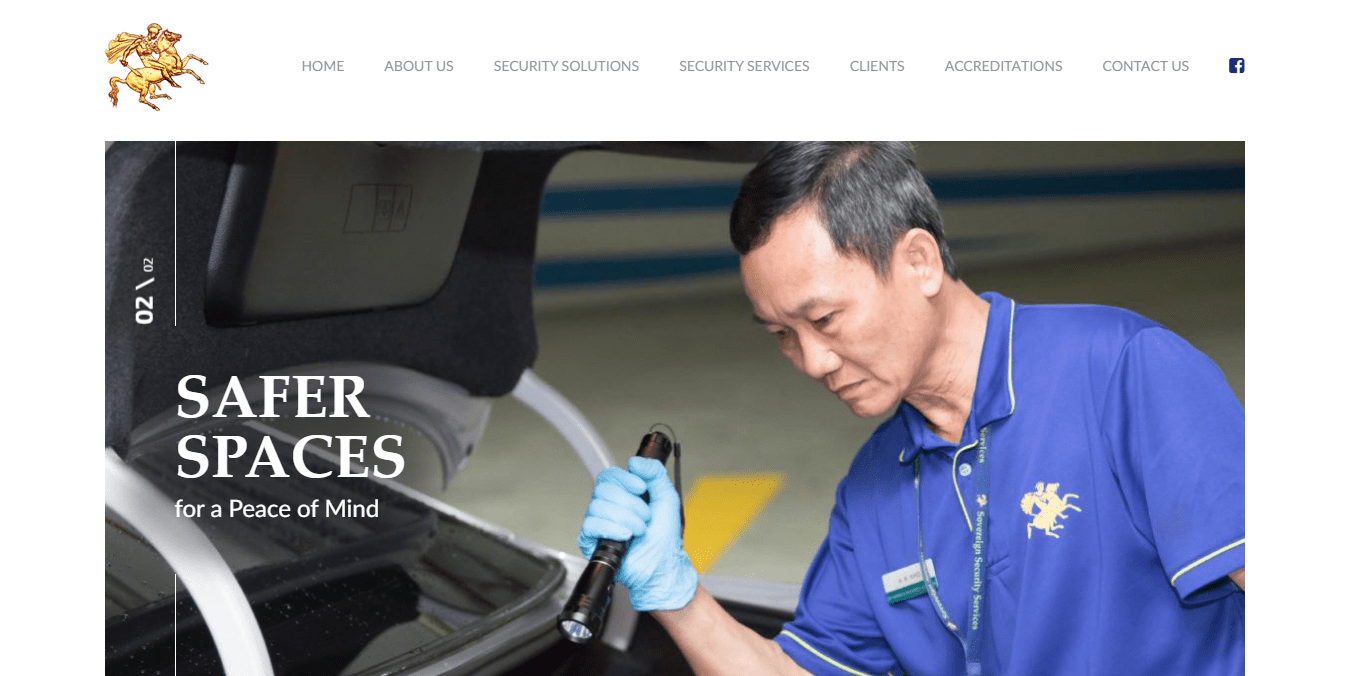 | | |
| --- | --- |
| BEST FOR  | Full range of security services |
| WEBSITE | http://sovereign.com.sg/ |
| ADDRESS | 75 Bukit Timah Road, #06-08/09, Singapore 229833 |
| CONTACT DETAILS | +65 6339 0800 |
If you need a security company in Singapore that also carries a varied range of services, Sovereign Security is your best bet. 
Sovereign Security offers a wide range of security solutions such as visitor management systems, operations executives, patrol car services, guard dogs, and many more!
The firm is managed by former police and military officers as well as commercial security guards in Singapore who can cater to all fields of security.
Whether you need security services for residential, commercial or industrial areas, you can rely on their skilled and experienced team. They even have an investigation team that can help resolve concerns such as theft, vandalism, and any suspicious activities.
In our list of security companies in Singapore, we consider them one of the most versatile due to their wide range of services. 
Highlights
Residential, industrial, and commercial services
Relief security officers for in-house services
Contingency services for unforeseen emergencies
Customer Reviews
Sovereign Security has gained the trust of many clients who've experienced well-managed and trustworthy operations. They also mentioned the modern technology and strategic planning of the team.
This is why many consider the firm to be the best security company in Singapore. Here's a review from a client:
"For just two months that we engaged your services, we greatly appreciate that you and your team have delivered what was promised and we are very satisfied with the friendly, professional and committed services rendered by the two guards provided to us. We are pleased with the pre-emptive, approachable and follow up actions that you and your team has established."
3.  Centurion Security
| | |
| --- | --- |
| BEST FOR  | Various security management systems |
| WEBSITE | https://centurionsecurity.com.sg/ |
| ADDRESS | 6001 Beach Road, # 18-01A, Golden Mile Tower, Singapore 199589. |
| CONTACT DETAILS | +65 6339 7110 |
For those who are searching for a security company in Singapore that can handle security audits for certain events or properties, then you should see the services of Centurion Security. Aside from this, they also provide different kinds of management systems.
This includes incident management and visitor management as well as an eLearning platform. Other solutions like facial recognition systems and surveillance drones are also part of their services, making them one of the more advanced security companies in Singapore.
Due to their high-quality solutions and technology, they've become one of the best security companies in Singapore.
Highlights
Video Analytics, Facial Recognition, Remote Barrier operation
Surveillance drones and robotics
4.  YS Security Services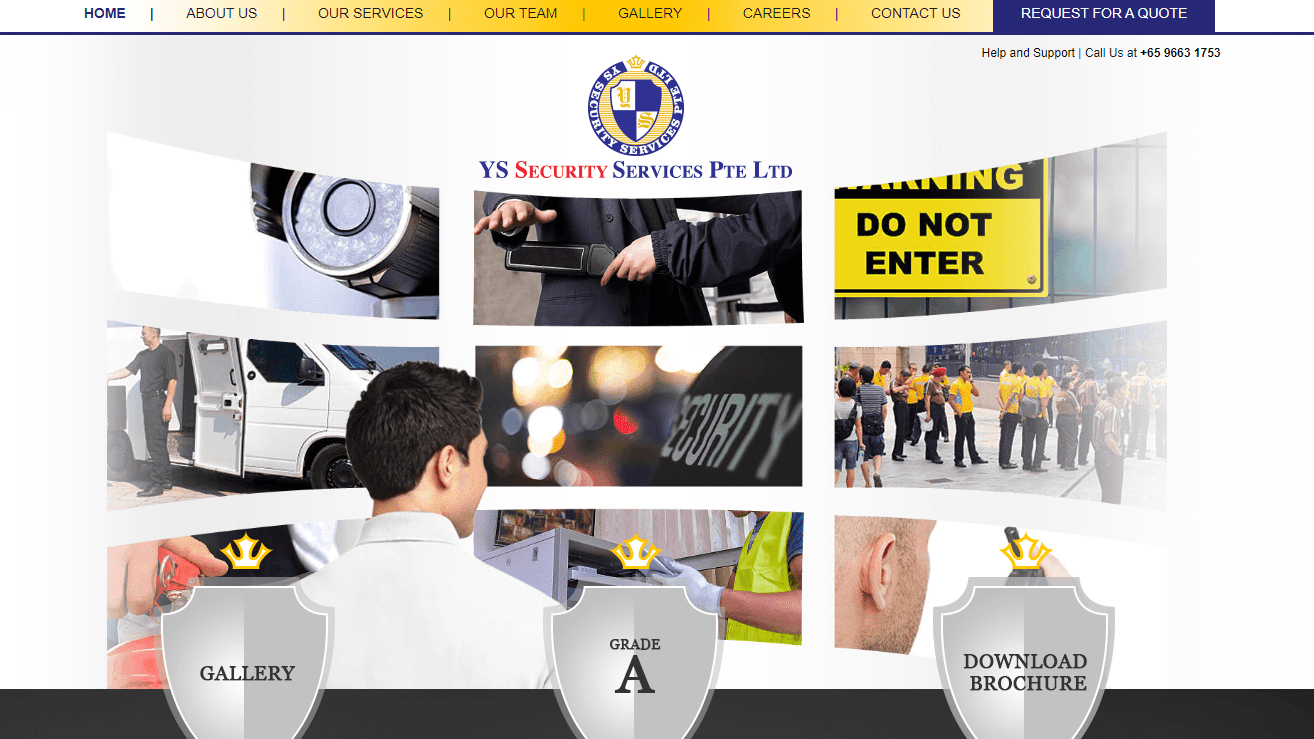 BEST FOR 
On-site consultancy
WEBSITE
http://yssecurity.com.sg/
ADDRESS
50 Gambas Crescent #08-11 Proxima @ Gambas Singapore 757022
CONTACT DETAILS
+65 9663 1753
OPERATING HOURS
Weekdays: 8:30 AM to 5:30 PM

 

Saturday: 8:30 AM to 1:00 PM
At YS Security Services, you can find a group of trained and licensed security specialists and a complete selection of technological solutions. They also have 24-hour command centres with skilled controllers capable of providing responsive solutions, especially during emergency situations.
They can also identify the exposed risks on the site, create strategic preparations, and take action immediately. In this way, you can plan ahead and prevent further problems with their help.
To know more about their rates, procedures and security services in Singapore, we suggest you contact their office soon. 
Highlights
Supervisor inspection
Advanced technology solutions
5.  Aetos Holdings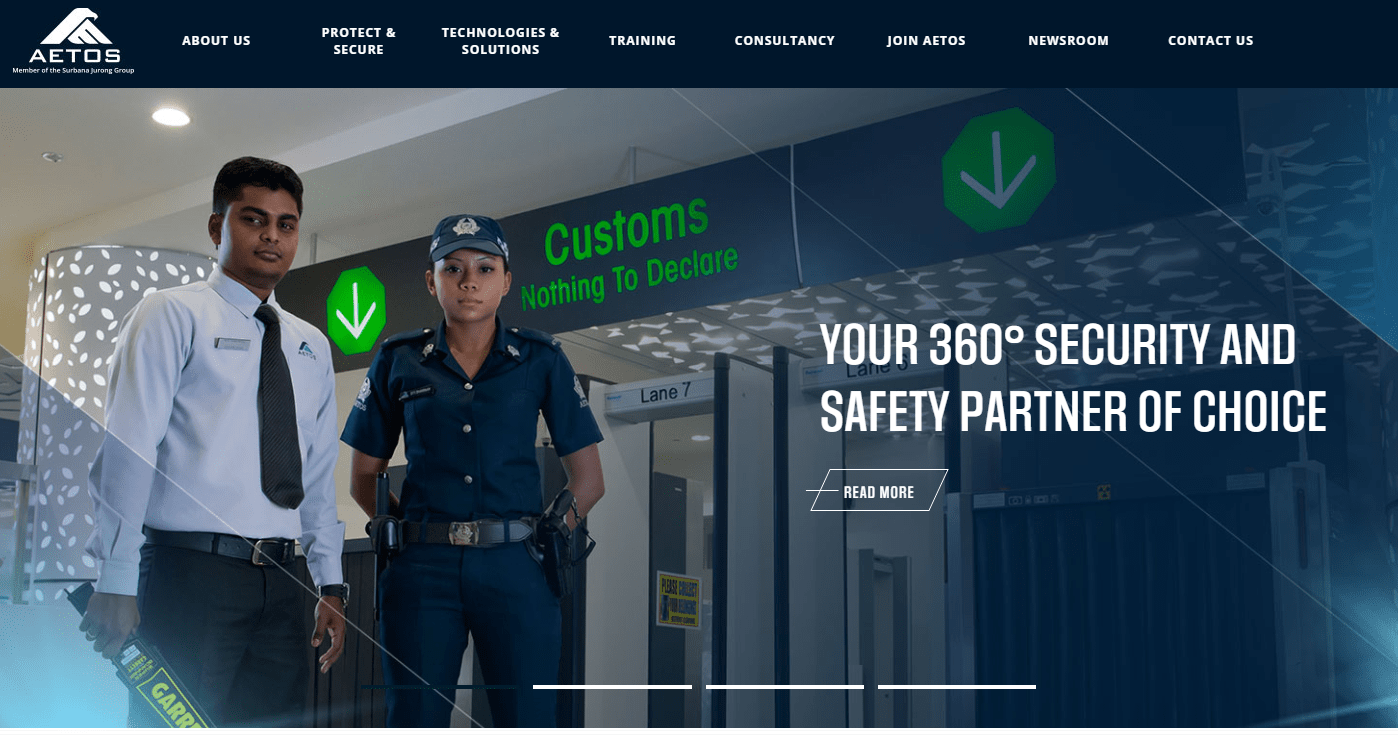 | | |
| --- | --- |
| BEST FOR  | Grand celebrations and national events |
| WEBSITE | https://www.aetos.com.sg/ |
| ADDRESS | 5 Corporation Drive Singapore 619774 |
| CONTACT DETAILS |  +65 6773 9296 / 1800-5646-273 |
| OPERATING HOURS | Weekdays: 8.30am to 6.00pm |
If you need a security agency in Singapore that can handle big and major events, look no further than Aetos Holdings. 
Through several years in service, Aetos Holdings has been providing an inclusive range of safety and security solutions to businesses, organizations, and even government agencies.
They've also served for major events such as Marina Bay Countdown Celebrations, Southeast Asia Games, and many more! So if you're organising a big event, they can be the best security company in Singapore for you!
Their offered services include infrastructure protection, escort, aviation security, enforcement, assets management, etc.
They are also one of the most advanced, top security companies in Singapore. When it comes to their technology solutions, they use a plethora of devices for monitoring, detection, and management systems.
Highlights
Crisis and emergency management
Portable and location-based security devices
Maritime security
Customer Reviews
The services of Aetos Holdings were greatly praised by many clients, saying that the team were able to secure the whole business operations, large events, and certain properties. A client shared this experience:
"A Big Thank You to you and your team for the excellent job during the May Day Awards 2017 event at Orchid Country Club on 13 May 2017.
Your team of APOs were awesome. They did very well in managing the traffic flow during the arrival and departure of our 1,500 delegates, guests and VIPs. Their committed effort and diligence helps to ensure the success of this important event. Well Done AETOS, YOU MADE THE DIFFERENCE! Please convey my appreciation to the officers."
6.  RAS Security Services Agency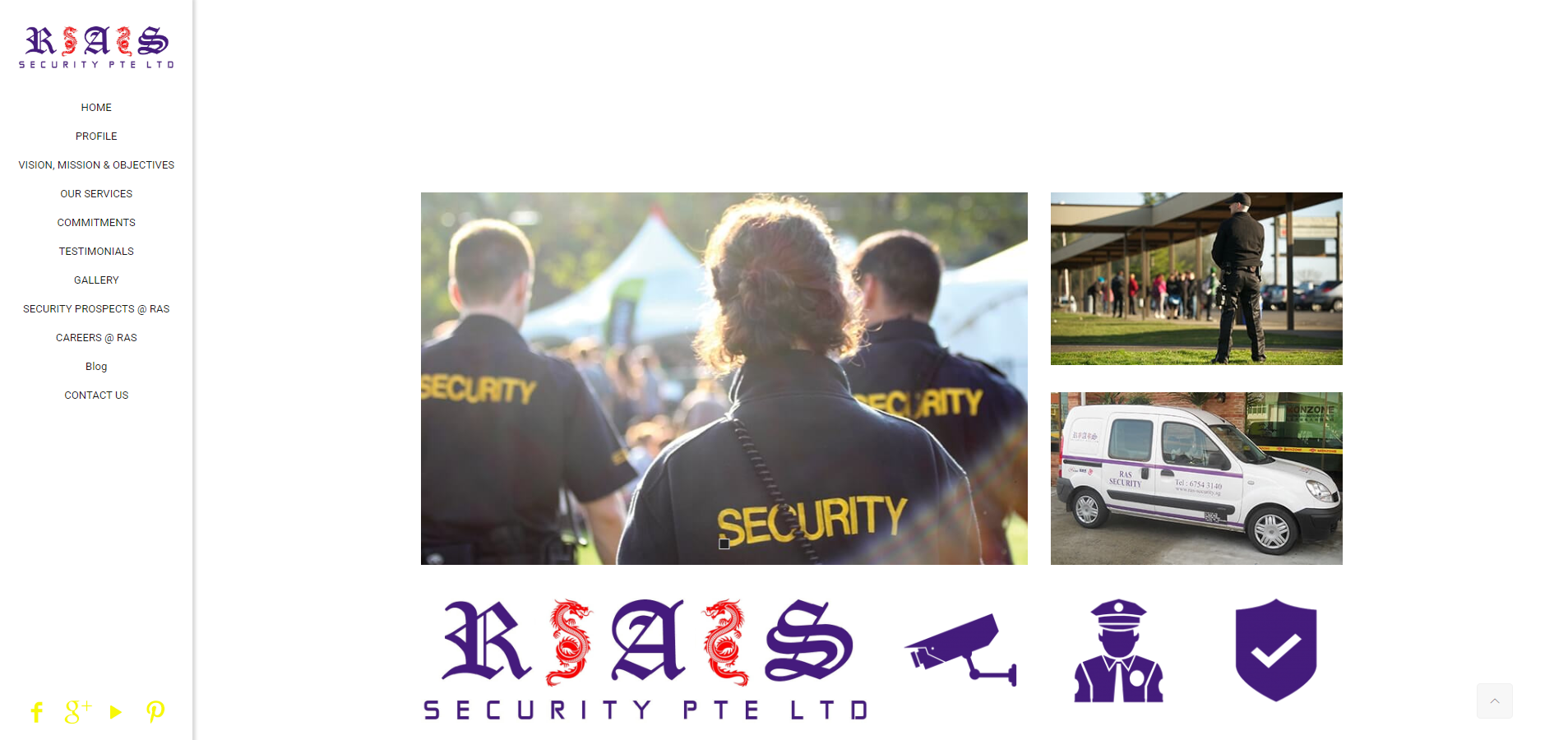 Looking for a tight security guard company in Singapore? Ras Security Guard Agency Management is a well trained and experienced agency that provides the right security officers for your premises.
Once a contract is signed with RAS security, their management team conducts a site survey to detect security lapses and loop holes which may jeopardise the premises' security. They always go the extra mile to prevent unwanted accidents in the future, such as ones caused by malfunctions.
To further ensure that no loopholes are present in their officers, they go through continuous training to upgrade their existing skills and to meet the ever changing demands in the security industry. What they provide is critical, it is the safety of the people. Therefore, they need to make sure that they are reliable enough to protect their clients.
Highlights
Graded B (Good) by PLRD for Year 2017 /2018 /2019
Continuous Training for the Officers
Well Trained and Experienced Security Officers
Customer Reviews
Here is a review left by a very satisfied client:
"We'd like to express our appreciation for Security Officer SO DHANGARAJ ERAMANADHAN's service at our site at 15 Tuas Ave 7 so far. His presence in covering both the day and night shift is commendable. He carries out his duties diligently." – FUJIFILM
7.  Deep Security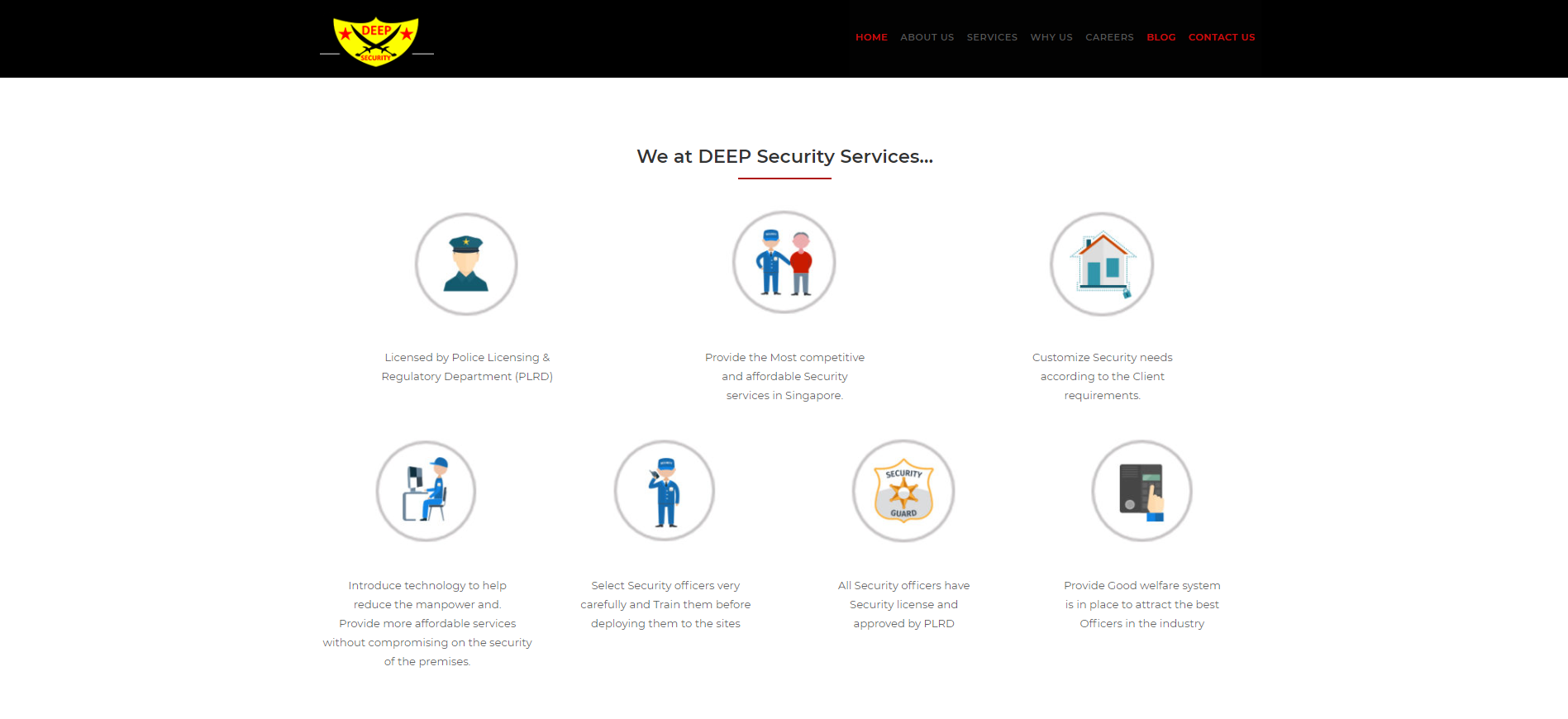 At Deep Security Services, you can rest assured that your safety is a top priority. Licensed by the Police Licensing & Regulatory Department (PLRD), they are known as one of the most competitive and affordable Security services in Singapore.
They customize security needs according to the client requirements, for they want their clients to feel comfortable and feel safe at the same time. They incorporated their outstanding security skills with technology to help reduce the manpower, and to provide more affordable services without compromising the security of their clients.
They also carefully select security officers and train them before deploying them to the sites, to make sure that the officers are ready for their job. It is also ensured that all of the security officers have security licenses that are approved by the PLRD.
Highlights
GRADE A 2018 & 2019
Most Competitive and Affordable Security Services in Singapore
Good Welfare System
Customer Reviews
Deep Security Services is in the list of security companies in Singapore for 2020 as the most preferred. 
Here is a review left by a very satisfied client:
"Excellent Choice For Event security, Guards are very Professional and Service Level is Excellent." – Lam Seng
8.  Focus Security Services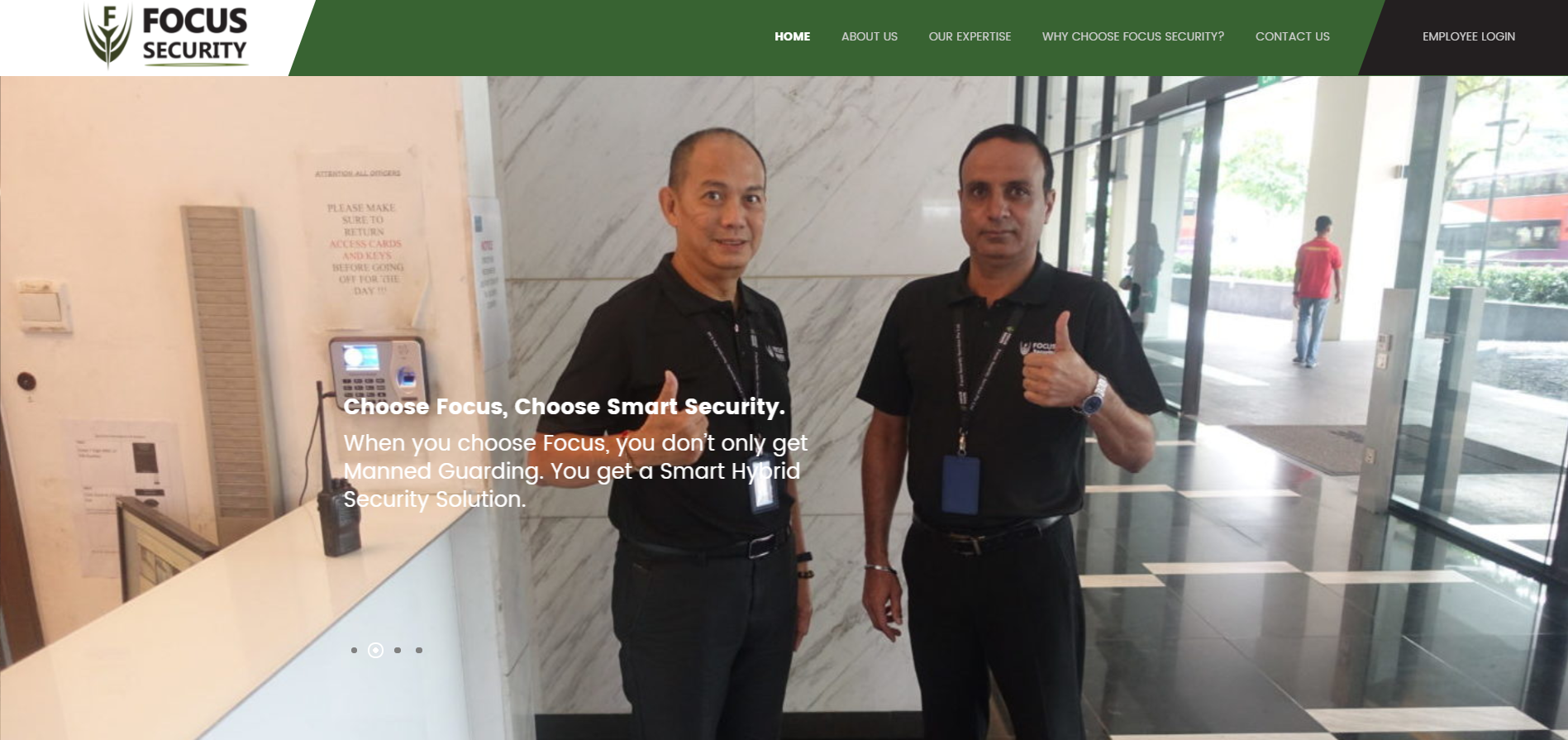 BEST FOR 
Security Services
WEBSITE
https://focussecurity.com.sg/
ADDRESS
33 Ubi Avenue 3,#08-33 Vertex (Tower B)
#08-33 Vertex Building 408868 Singapore
CONTACT DETAILS
+65 6842 6898 | [email protected]
OPERATING HOURS
Open 24 Hours
Licensed by the Singapore Police Force Incorporated in 2002, Focus Security Services is currently one of the pioneers and most trusted security firms in Singapore. They are Bizsafe Level 4 Certified and are members of both the Security Association of Singapore (SAS) and the Union of Security Employees (USE).
They decided to have a joint venture with Asiatact Singapore, a leading Software Technology Company and Jettact, a Manpower Recruitment Company. Focus Security Services strongly believes that this venture adds value to their clients, as it covers the security industry's main pillar to success, manpower and technology.
Through intensive research & development carried out by both Asiatact Singapore and Focus Security Services, they have come up with technologies which will be able to reduce manpower without compromising the duties needed to be done. This allows the clients to save their budget cost while not putting their security at risk.
Highlights
Bizsafe Level 4 Certified
Joint venture with Asiatact Singapore, a leading Software Technology Company
and Jettact, a Manpower Recruitment Company
Customer Reviews
Here is a review left by a very satisfied client:
"We would like to express our compliments to Focus Security Services for doing a fantastic job in our estate. The Remote Gate Guard System installed by your comapany has allowed us to save cost while enhancing our Estate's Visitor Management. I strongly believe that with the integration of your manpower and technology, you proven to our Estate that your performance has greatly been optimized." – Mr. Albert Tan
9.  Straits Facilities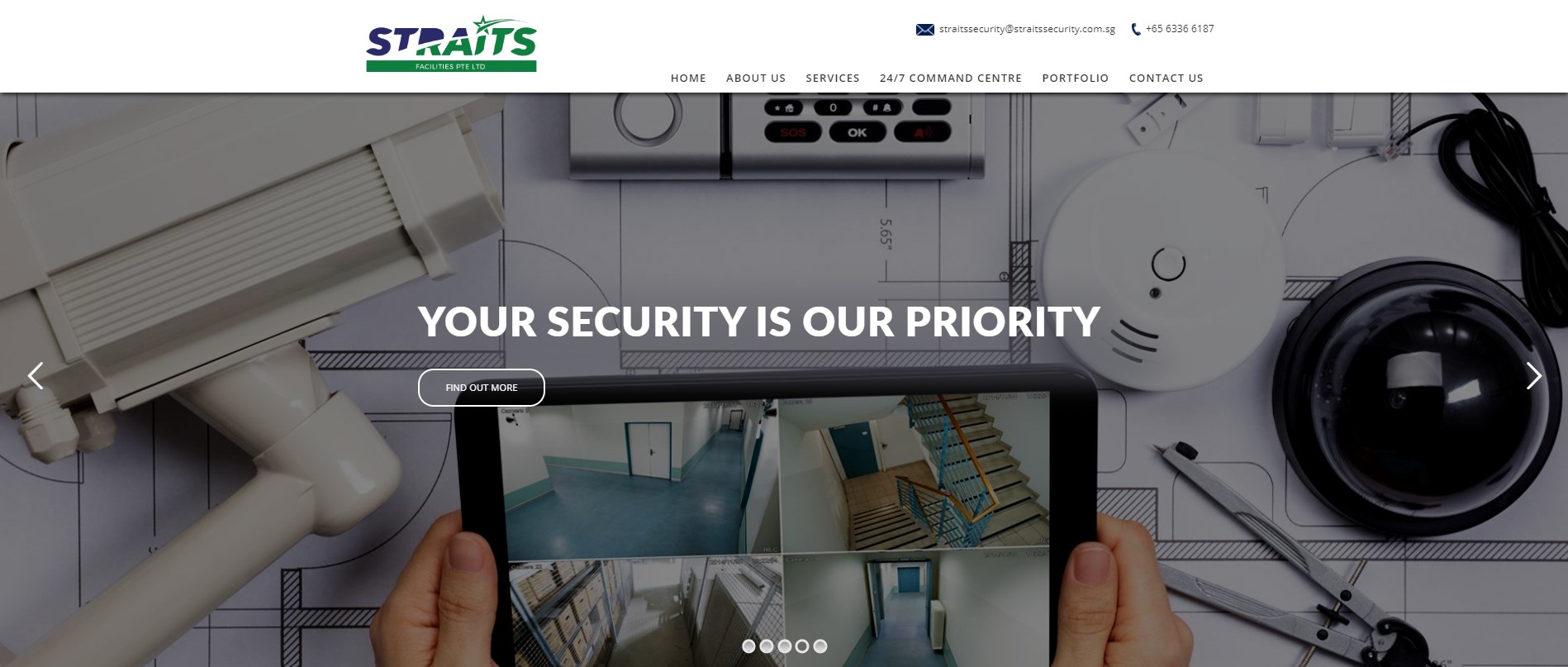 BEST FOR 
Security Guard Services
WEBSITE
http://straitssecurity.com.sg/
ADDRESS
21 Bukit Batok Crescent, #26-77 WCEGA Tower, Singapore 658065
CONTACT DETAILS
 +65 6336 6187 | [email protected]
OPERATING HOURS
Main Office – 6336 6187

 

Monday to Friday: 8:30am – 5:30pm
Saturday: 9:00am – 12:30pm
Sunday: CLOSED

Command Centre – 6273-8069

Open 24 Hours
Established in 2008, Straits Facilities has continued to grow their expertise in the field by providing quality security services. By expanding their services, they continue to maintain their status as Singapore's front-line security.
In order to provide much better service, they created an electronic platform to help their customers feel safer. With these new technology acquainted services, you will no longer have to pay extra for manpower to cover the usual gaps in the security system.
Because of their specialisation in technology, they also made sure to train their staff in handling the latest equipment. You won't have to worry about incompetent services, for Straits Facilities will always do it's best to provide you the finest service out there.
Highlights
24/7 Virtual Patrolling
Quick Response Team
Quality Assurance
Value Added Service
Customer Reviews
Here is a review left by a very satisfied client:
"All the office staff have good customer service, including the HR, also good." – Junhao Li
10. Uniforce Security Services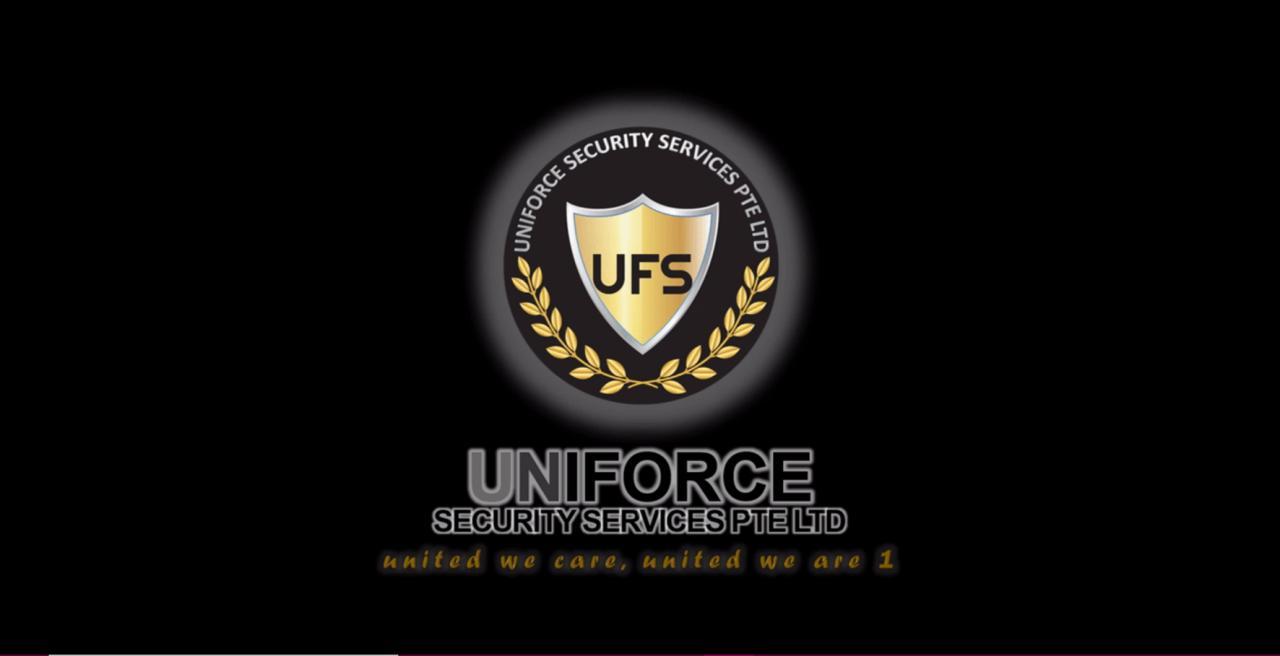 BEST FOR
Full range of security services
WEBSITE
http://www.uniforcesecurity.sg/
ADDRESS

10 Ubi Crescent, #02-68 Ubi Techpark (Lobby D), Singapore, Singapore 408564

CONTACT DETAILS
Email
[email protected]

 

Main Office – +65 67476708

24Hrs Hotline – +65 67476707

OPERATING HOURS

Monday to Friday: 8:00am – 5:00pm
Uniforce Security Services offers one of the best security services in the country.
Known for its uncompromised and efficient way of service, the company has continuously adapted to the new ways of improving their approach on security. Innovation and personalisation are few of the qualities clients love about them.
Employed with a team of licensed, expert security guards, you're sure to feel extra safe with Uniforce Security Services. Acquire their assistance and never worry about anything else.
Highlights
Executive protection
Security manpower
Security consultancy
11.

Rightmen Security Services

 
BEST FOR
Security Consultancy Services
WEBSITE
https://rightmen.com.sg/
ADDRESS
10 Anson Road #34-02
International Plaza Singapore 079903
CONTACT DETAILS
6429 0255 | [email protected]
OPERATING HOURS
Monday – Friday: 9am–5pm
Rightmen offers one of the best security assistance in Singapore. They're recognized for their utilization of higher and modern technology, incorporating new updates for a better and more secure space.
Their security personnel are also all guaranteed to be on their best conditions and are experienced enough for the job. They're equipped with sufficient knowledge and skills, so you won't have to worry about anything else.
Hire Rightmen Security Services so you won't ever have to compromise quality and safety. You can inquire on their website or give them a call.
Highlights
Offers iREP attendance, iREP clocking system and an online communication system
Visitor Management System(VMS), Real-time Clocking System, Attendance Monitoring (iREP mobile application) and remote CCTV monitoring
And that's the end of our list of the best security companies in Singapore! If you'd like to suggest more options, you may also share them with us!
And for additional security, you may opt to install your choice of surveillance camera to monitor everything at the office building, all day and night. See these best home security cameras in Singapore to know how to choose the right one and which brands/models are in demand on the market.