The 4 Best Renovation Contractors with In-house Loans in Singapore
Are you looking for a renovation contractor that also offers house loans? If so, consider yourself lucky because today, we're making a rundown of the best renovation contractors with in-house loans in Singapore!
Since the cost of renovation is no joke, most homeowners just search for the best renovation contractors with in-house loans in Singapore to cut down the expenses. You won't have to spend time looking for a bank that offers affordable house loans when your renovation contract comes with one!
Anyway, here are our picks for the best renovation contractors with in-house loans in Singapore. Make sure to read our list until the end!
1.  Jaystone Renovation Contractor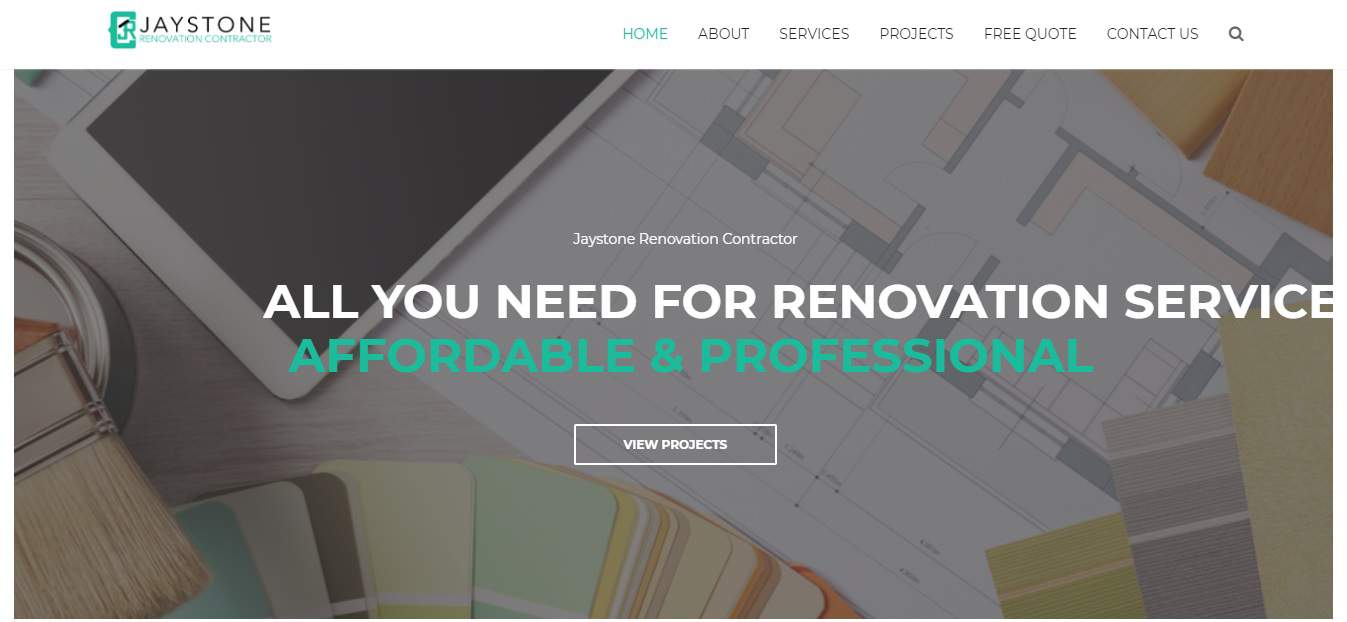 | | |
| --- | --- |
| BEST FOR | Affordable services |
| SERVICES | Home renovation, kitchen renovation, carpentry, floor tiling, waterproofing, doors, and painting |
| WEBSITE | http://www.jaystonerenovation.com/ |
| ADDRESS | 1090 Lower Delta Road #03, 07N, Singapore 169201 |
| CONTACT DETAILS | +65 6653 6215 |
| OPERATING HOURS | Monday – Friday, 10:00 AM – 6:00 PM |
As one of the most in-demand contractors in Singapore, Jaystone Renovation Contractor provides designer quality services at an affordable price. It's proven capable of delivering high-quality home renovation and contracting work for all types of residential spaces on the island.
Hiring the services of Jaystone Renovation Contractor comes with the option to avail of its home loan package, so if you're going to need extra money to pay for everything, we recommend going for their renovation and home loan package!
Jaystone Renovation Contractor also ended up on our list of the best renovation contractors with in-house loans in Singapore because of its team of professional and experienced designers and carpenters.
Highlights
Low interest rates
Reasonable service rates
Experienced designers
Customer Reviews
Take a look at what customers have to say about its services: 
"Responsible and reliable company. At 1st their workers work without using a leveling tool, 2nd day only can see the wall tile some not in even. WhatsApp the issue to them, they are able to come and rectify. Just need to monitor their workers to make sure the quality."
"This company is awesome! I guarantee you. You will never have to worry about what is going on with your house. Never had a moment to worry regarding trust and confidence. They were warm, professional,  hardworking and very positive about how they could renovate and upgrade for a strong sale price."
2.  3D Innovations Design

| | |
| --- | --- |
| BEST FOR | Renovation package and promos |
| SERVICES | Home renovation |
| WEBSITE | https://www.3dinnovations.com.sg/ |
| ADDRESS | 22 Sin Ming Ln, #01-84 Midview City, Singapore 573969 |
| CONTACT DETAILS | +65 6834 4333 |
| OPERATING HOURS | Monday – Friday, 10:00 AM – 7:00 PM |
3D Innovations Design is a renovation contractor that specialises in residential projects and private developments. It's been around since 1982, making it one of the oldest renovation contractors on the island.
For those looking to reduce their renovation expenses, we highly recommend checking out their services. Its team promises to be transparent with the total cost of the renovation, with no middle-man or hidden charges.
On top of that, 3D Innovations Design provides renovation and home loans with attractive interest rates and flexible payment terms. Both of these are included in their renovation packages!
Another reason we call it one of the best renovation contractors with in-house loans in Singapore is that it has huge promos and discounts offered to all customers, even if they're first-time clients.
Highlights
Promos and discounts
In-house carpenters, designers, and contractors
Transparent pricing
Customer Reviews
Here are some reviews posted on Google Reviews:
"I chose Keith after meeting with him at his office, which assured me of their proven experiences and professional consulting and design services. He has a very customer oriented mindset and shown willingness to resolve all issues as a priority. He was always reachable and responsive to me whenever there was any issue on renovation works. Communication between me and him was very clear and the work arrangement, coordination was streamlined."
"We read some good reviews so decided to make a trip down. At the meeting, we found Keith to be a very down-to-earth and practical designer yet doesn't compromise on creativity. He's upfront on what should or shouldn't be done to preserve the integrity of design and quality which was exactly what we wanted. So we signed on with him immediately. Eventually everything turned out very well and now we are indulging in a beautiful home everyday."
3.

TCA Design & Build
| | |
| --- | --- |
| BEST FOR  | Renovation, Construction, Design and Submissions |
| SERVICES | Renovation Apartments, Renovation Terrace houses, Construction Terrace houses and Bungalow, Design and Submissions for alterations and extentions |
| WEBSITE | http://tcadesignbuild.com |
| ADDRESS | 20 Depot Ln, #01-07, Singapore 109763 |
| CONTACT DETAILS | + 65 83814587 |
| OPERATING HOURS | Monday – SUNDAY, 10:00 AM to 8:00 PM |
Founded in 2011, TCA Design & Build is a design and build construction consultancy firm based in Singapore. The firm caters to both residential and commercial project needs, endeavouring to create one-of-a-kind experiences through their eye-catching, sturdy builds. 
Now, the process of working with TCA Design & Build is quite simple, requiring only three easy steps: (1) Meet the designer and get quotations for the build; (2) Consult and finalise the design; and (3) Relax as TCA Design & Build takes on the design and delivers what the client has asked for. 
Consistency is key with TCA Design & Build, which is why the firm dedicates itself to deliver quality work regardless of the project they take on. Aside from consistency, TCA Design & Build also offers range, with the list of services including design, project submissions, construction, custom builds, building maintenance, and project reinstatements. 
Highlights
Contemporary Architectural Design
Modern and unique designs
Multi-awarded firm
High-quality output
Innovative concepts
Well-experienced designers
4

. Livspace Singapore
BEST FOR
Renovations, Full Home Interiors, Landed Interior Design
SERVICES/SCOPE
Renovations
Design and build
Carpentry work
Demolition, hacking, masonry, plumbing, etc.
Furniture and decor sourcing
PRICING
You can talk to a designer to get a free quote and sample designs.
WEBSITE
https://www.livspace.com/
ADDRESS
Level 6, Beach Centre, 15 Beach Road, Singapore 189677
CONTACT
[email protected]
Livspace, Asia's biggest interior designer, is also a platform that allows you to connect with experienced and highly renowned interior designers all around the country. There's no doubt that they're partnered with professionals, ones that have many years of experience.
Navigating their site is incredibly easy, even if you aren't used to finding interior designers online. As a plus, they even offer free consultations. Take the next step for your dream home and visit their website now!
Service Highlights
Award-winning designers
Verified contractors
$4 million cover by AXA
One year warranty
Customer Reviews
After meeting a few renovation companies, we decided to go with Livspace to design and renovate our new home. We worked with William and found him to be approachable and accommodating. Mostly, he could articulate designs, which were practical yet appealing while taking into consideration safety aspects for our young child.
–Willie Yeo via Trusted Interior Singapore
Livspace was highly recommended and we were pleased. It was the first time we have used a design professional and I would highly recommend leveraging the skills and experience of Livspace.
–Andy Clark via Trusted Interior Singapore
I recently dealt with Livspace for the renovation of my apartment. Their suggestions were non-intrusive but useful and my designer was able to understand my taste, budget and requirements and plan accordingly.
–David McGoldrick via Trusted Interior Singapore
And that's it for our list of the best renovation contractors with in-house loans in Singapore. Have you already decided which one to hire? Tell us all about it!
For more options, we recommend checking out our list of the best renovation contractors in Singapore. Our list features renovation companies trusted by both homeowners and business owners on the island.