5 Best Milk Frothers in Singapore for Coffee Lovers
It would be great if you can make the perfect cup of coffee every day in the morning. What better way to achieve this than by having the best milk frother in Singapore?
Milk frothers are perfect for people who like their lattes and cappuccinos with fluffy milk. However you like your morning coffee, milk frothers can make it taste better!
If you don't know where to look for the best milk frother in Singapore, worry no more because we're here to give you a list of the ones worth checking out!
But before that, we thought that it would help you to know the factors to consider before taking home a milk frother.
Should you already know what you want, feel free to skip and go straight to our list of the best milk frothers in Singapore.
Factors to Consider Before Buying a Milk Frother
There are a lot of things to consider in a milk frother if you want one that can improve your coffee every morning. Once you know about these things, it will be easier for you to choose which one best suits your taste.
One of the first things you should consider is the type of milk frother. Next to this, portability, design, cleaning process, and your milk preference are also worth remembering.
To further explain what we mean, let's discuss each point below:
1. Type
Most people aren't aware that there isn't a single type of milk frother or milk steamer in Singapore. According to coffee enthusiasts, there are 2 common types of milk frothers, namely handheld and pitcher-style.
Just like the name suggests, handheld milk frothers are the most portable option since they're lightweight and designed for easy carrying. These frothers are poured into a cup of coffee until the desired consistency is achieved.
In addition, you won't have to stress over cleaning them because they're easy to clean and are dishwasher-friendly.
On the other hand, pitcher-style milk frother can carry more milk than the handheld ones. These are ideal for bigger families who all like milk in their morning coffee.
This type is also more convenient to use. However, this type of milk frother tends to more expensive and bulky.
2. Portability
As we mentioned earlier, among the two types of milk frothers, only one can be considered portable. When looking for the best milk frother in Singapore for you, you have to consider the people it's going to serve.
If you're the only person who's going to use it, then it would be best to go for a compact and portable milk frother. Besides being easy to carry, they're easy to store.
Meanwhile, if multiple people are going to use the milk frother, then you'll be forced to get a not-so-portable one in order to accommodate them. It may be difficult to bring the frother from one place to another, but it would also be less-consuming if it's going to cater to more people.
3. Heating Capacity
A milk frother's heating capacity refers to its ability to warm up milk while aerating it. However, not all milk frothers can heat up milk.
If you have extra money, then go for a milk frother that heats up milk because it will save you a lot of time in making coffee. Meanwhile, regular ones tend to be cheap but may add more time to your coffee preparation.
4. Milk Preference
Believe it or not, your milk preference is a factor in choosing a milk frother. In line with this, most milk frothers sold in the market are only compatible with cow's milk, as it is the most common type of milk.
However, it isn't the only type of milk that people drink. Before buying one, make sure to ask if a milk frother works well with other milk types, such as almond and coconut.
If you ask us what we think is the best milk frother, we would say the ones that can accommodate a variety of milk types. Milk frothers like this will allow you to explore different flavors by using different types of milk.
5. Cleaning
Cleaning up milk frothers is no easy task. If you leave a used one dirty for hours, chances are the leftover will dry up, and hence, will be difficult to wash.
So, when looking for a milk frother, make sure that you get one that's dishwasher-safe. It will save you the time and stress of scrubbing away sticky and dried milk inside your milk frother.
Handheld frothers are easier to wash because they're lightweight and portable. Meanwhile, washing pitcher-type milk frothers can be a bit difficult if they're heavy.
6. Design
If you're a bit picky with how your appliances should look, then a milk frother's design is another thing you should look out for. It's not the deciding factor for most people unless they want it to complement the vibe and interior of their kitchen, though.
The Best Milk Frothers in Singapore
Now that you know the things to remember before purchasing a milk frother, it's time to move on to our list of the best milk frothers in Singapore. Any of these options will surely make your morning coffee even more delicious!
1.   KONCO Milk Frothing Pitcher
Best for Latte Art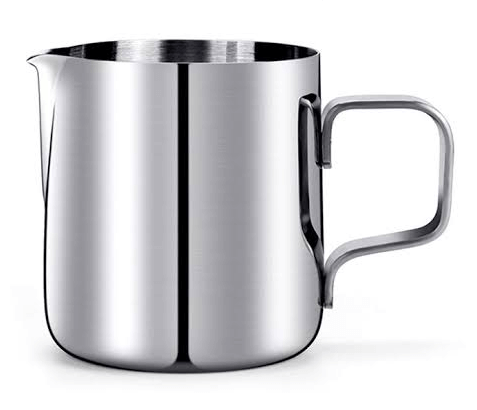 Price: $120.89
If you're looking for the best milk frother for latte art, then you want to check out the KONCO Milk Frothing Pitcher. Even if you're not a professional barista, you will still get to create adorable latte art because this milk frother is extremely lightweight and easy to carry!
What's more, its handle is smooth and very easy on the hands, allowing you to have full control over the milk frother. When your milk frother's handle is comfortable, it's easy to pour more detail into the art.
It comes with multiple sizes that you may choose from, and it can carry up to 2000 ml of milk, making it ideal for bigger families. It can also resist heat better than most milk frothers.
With this milk frother, you won't have to worry about drips and spills either because its spout was made to be spill-free. As the saying goes, no more crying over spilled milk!
Made from high-quality stainless steel, it was designed to be durable and last for a long time. It's also dishwasher friendly, so you won't have to stress out over washing and scrubbing dried milk.
Highlights
Pitcher type
50ml to 2000 ml
Made from stainless steel
Lightweight
Anti-drip spout
Customer Reviews
Customers who bought it on Lazada mostly gave it a 5-star rating, making it one of the top milk frothers sold on the website.
One customer said that it's exactly how it was advertised on the website. It works great for latte art and is very easy to clean and wash.
2.   SeaLavender Milk Frother
Best for All Types of Caffeinated Drinks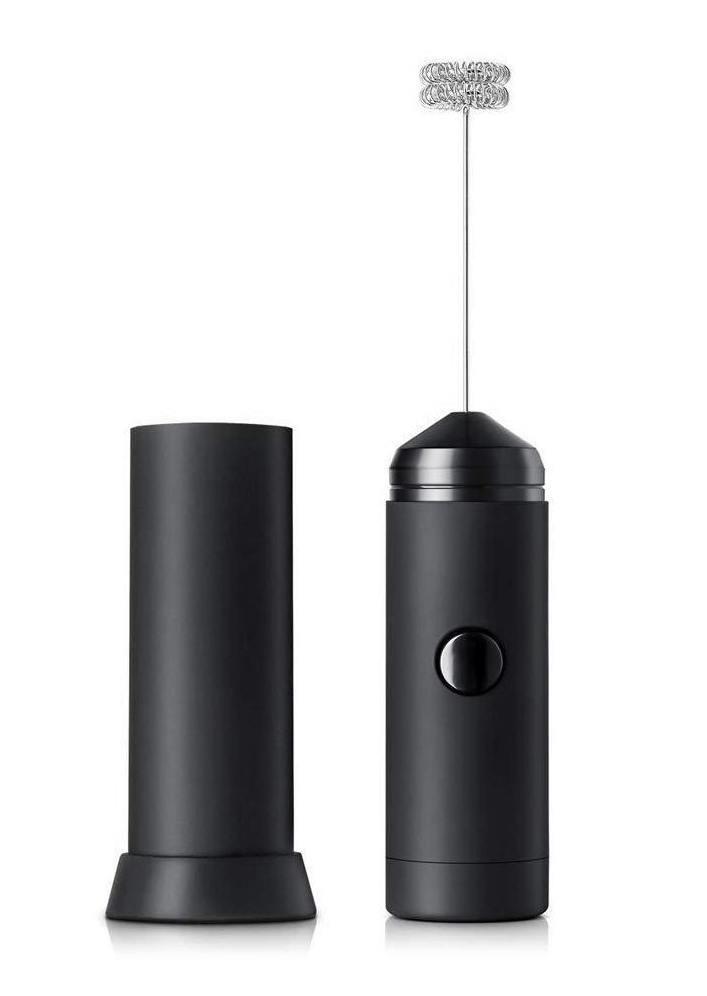 Price: $12.51
Not everyone prefers to use a pitcher-type milk frother, so here's a handheld one called the SeaLavender Milk Frother. It features a powerful motor that can produce thick and fluffy foam in less than 30 seconds.
It's not only great for coffee — it's also perfect for matcha, latte, cappuccino, and any other frothed milk. Whatever form you want your caffeine boost to take, this milk frother will be of help!
Unlike most milk frothers, this one's very easy and convenient to use. There are no complicated features, just press the operating button until the desired consistency of the form is achieved.
In addition, washing it won't be a hassle because it's very easy to clean. Just turn on the machine and place it under running water, and all the milk and coffee will be gone!
Another thing we love about this milk frother is that it doubles as a whisk. If you're not preparing coffee, you may use this to whisk eggs or batter when baking. And because it's convenient and portable, this is also the best milk frother in Singapore for you if you're always on the go.
Highlights
Handheld
28 inches long
Soft handle
Easy to clean
Stainless whisk
3.   LeXpress KitchenCraft KCFRX
Best for Overall Value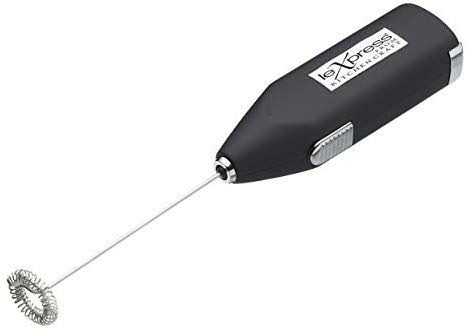 Price: $22.23
Morning coffee will get even more delightful when you have the LeXpress KitchenCraft KCFRX to whisk your coffee up with some fluffy and thick milk foam! Although mostly used for baking desserts and meringues, we believe that it's also great for caffeinated drinks.
Similar to most handheld electric milk frothers in Singapore, it features a lightweight body that makes it easy to store anywhere in your kitchen. Its rod and coil are also made from high-quality stainless steel, making it a durable option.
If you worry about the struggle of washing it, don't. It's easy to wash and you may even clean it by wiping it with a soft, clean cloth.
Highlights
Handheld
5cm x 3.5cm
Stainless steel rod and coil
Compact and portable
Recipes included
Customer Reviews
Here are some customer comments from Amazon:
"I'm a big fan of coffee and can easily consume several a day, so what could be better than being able to craft your own homemade latte, cappuccino or should you wish to, maybe even a flat white or two. So far this little thing has worked a treat and I've had many uses before the batteries (not included) need replacing, with it forming smooth textured milk and some pretty stable foam. I've found that heating the milk either in a small milk pan or just put it in a jug and nuking it, to hand warmth and the foam it creates is both richer and more stable than from cold."
"Very nice and lightweight. It does make nice foam for milk even if not as good as the one from coffee shop (but those machines are very expensive too) but it does make a nice homemade cappuccino. The only negative thing is the batteries but that's not a big deal if you don't use it very often."
4.   DeLonghi Distinta Milk Frother
Best for Extra Features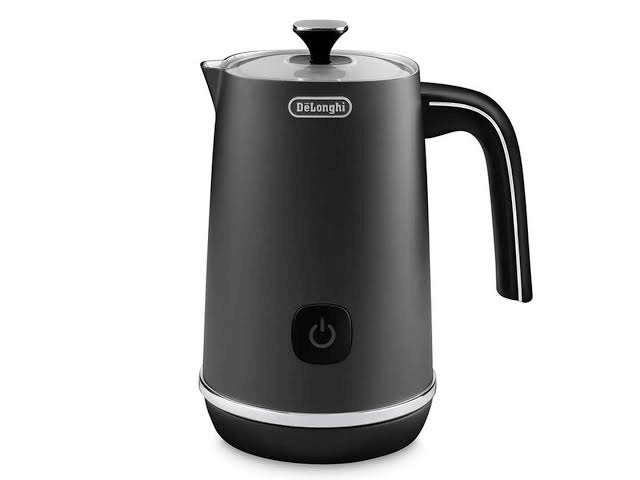 Price: $199.00
The Delonghi Distinta Milk Frother is definitely the most expensive option on our list, so we can only recommend this one to those with money to spare. It's a great frother if you can afford it, though.
First of all, this isn't your typical milk frother. It features a sophisticated and elegant design made from premium materials that can complement any kitchen.
One of the things that makes this one stand out is the magnet-driven whisk that produces a soft, creamy, and delicious milk froth. All you have to do is press the button and wait for the milk to reach your desired consistency — you don't have to manually whisk the milk yourself!
It comes with a transparent lid that lets you monitor the level and consistency of the milk froth. That way, you won't have to risk getting milk froth that's either too fluffy or too dense.
Lastly, it may look bulky and heavy to some, but it's very hassle-free to clean. You may even remove the drop-in whisk to make it easier to wash and wipe.
Overall, if you've got the budget to splurge for the best milk frother in Singapore, this one's a treat for you!
Highlights
Pitcher type
Durable body and base
Water resistant
Magnetic drive whisk
1-year warranty
Customer Reviews
Some reviews of the DeLonghi Distinta Milk Frother read as follows:
"This is a great frother if you are frothing dairy products. It has a good sized chamber and the milk makes beautiful micro-foam that would allow cafe art, if I were talented enough to do that! Unfortunately, I was hoping that it would froth almond milk. It does not. I have one that does, but it is tiny. I hoped that this one would give me more volume at one time. I cannot fault the machine…because it is designed to foam dairy. Therefore, this product deserves 5 stars, because it does what it is supposed to do, brilliantly. This is one of those things that makes having coffee at home that much more delightful!"
"I purchased this one after my last one broke. It is a lot nicer than my last frother, but the price is a lot more, too. I think it is worth it. The froth is beautiful, hot, and does exactly what I want it to- froths the milk while the coffee brews. Also, it is easier to clean than my last one, even if it is hand wash only."
5.   Electric Milk Frother
Best for Durability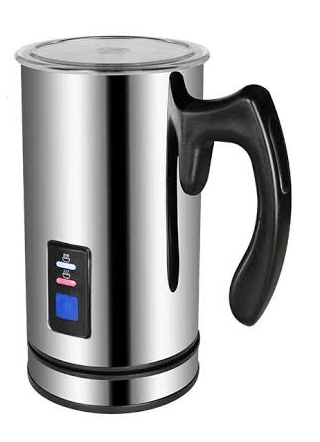 Price: $46.90
If you want a milk frother that's guaranteed to last for a long time, then look no further than this electric milk frother in Singapore. Despite not coming from an established brand, it has managed to be one of the best-reviewed milk frothers on Lazada Singapore!
For those who dream about making barista-level coffee, then this one would definitely help you achieve that dream. Its lightweight and portable design allows you to have control over the details of your latte art without straining your hands and fingers.
What's more, it has the heating capacity to warm up the milk to its ideal temperature, which is 65 degrees. If the milk froth is at the right temperature, it will be easier for it to achieve your desired consistency.
Highlights
Pitcher type
Durable design
Made from stainless steel
With heating capacity
Non-stick coating
Customer Reviews
If you doubt the powers of this milk frother, then its reviews will make you think otherwise.
A customer who got it from Lazada commented that it's one of the best milk frothers they have ever tried. It was able to whip up soft, fluffy, and creamy milk froth every time they used it.
Some were so impressed that they plan on buying it for their friends and families. One owner said that it's a great substitute for expensive milk frothers because it produces the same results for a much lower price.
No matter whether you use this or one of the branded selections above, though, what matters is that you have the perfect froth for your cup. That's why it's important to have one of the best milk frothers in Singapore with the perfect cup of coffee!
Have you used an excellent milk frother in the past that wasn't on our list? Tell us about it by leaving a comment below!
Oh, and if you're a coffee lover who loves to grind your own beans, then you should take a look at our list of the best coffee grinders in Singapore. Morning coffee will be much better when you pair any of these coffee grinders with your new milk frother!