A nighttime skincare routine wouldn't be complete without a hydrating face mask. It exfoliates the skin and revamps our complexion after a long day of hard work. If you don't know which ones to use, though, that's fine — as we've listed some of the best face masks in Singapore!
Each item is suitable for a certain skin type and we've noted it here. Whether you have a dry, oily, or combined skin type, you can easily find the right one for you!
1. The Body Shop Himalayan Charcoal Mask
Best for Extra Purification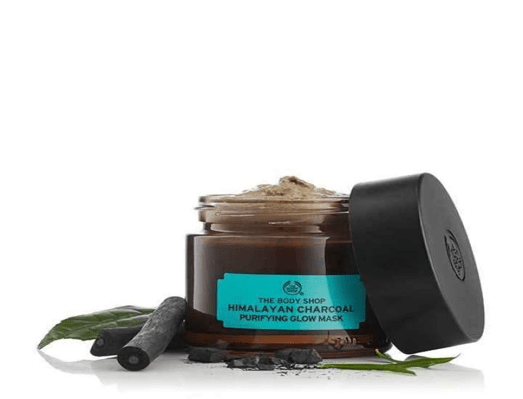 Price: $28.50
The Body Shop Himalayan Charcoal Mask is an all-natural and vegan clay mask that can remove all skin impurities to help you achieve clearer skin. It also minimises the appearance of pores for a healthier look.
You can use it after removing your makeup and cleansing your skin. To get the most out of it, it's recommended to use a facial mask brush so you can put on an even layer.
Highlights
100% vegan
Absorbs excess oil
Removes skin impurities
Reduces pores
Customer Review
Customers said that using The Body Shop Himalayan Charcoal Mask leaves the skin feeling refreshed, which is why it's one of the best face masks in Singapore to use before bedtime. A customer gave this review:
"This mask is so great because it leaves my face feeling super plump and fresh after every use. The jar looks tiny, but you don't need a lot of product to cover your face. Has a tingly, cooling sensation when you first put it in, then it dries hard. I use it twice a week as part of my skincare routine, otherwise on days where my skin feels dry or clogged."
2. Bioaqua Natural Aloe Vera Gel Face Mask
Best for Oily Skin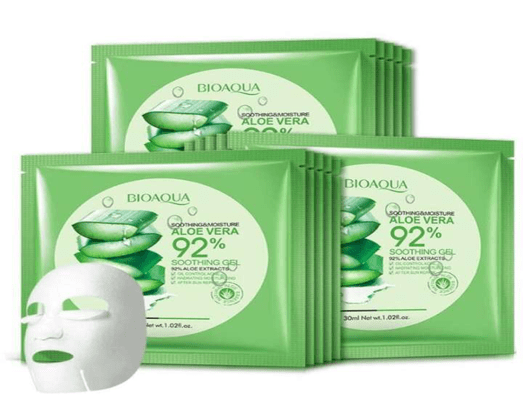 Price: $1.00 – $7.70
To keep your skin soft and moisturised, you can use the Bioaqua Natural Aloe Vera Gel Face Mask. Due to its Aloe Vera extract, it can also help to heal wounds and nourish the skin.
It's  a great option for those who have oily skin because it can control and reduce the oiliness of the skin. So, you don't have to worry about having a shiny look when wearing makeup.
Highlights
Eliminates dryness
Maintain skin's elasticity
Gentle to the skin
3. The Face Shop The Solution Mask
Best for Different Skin Concerns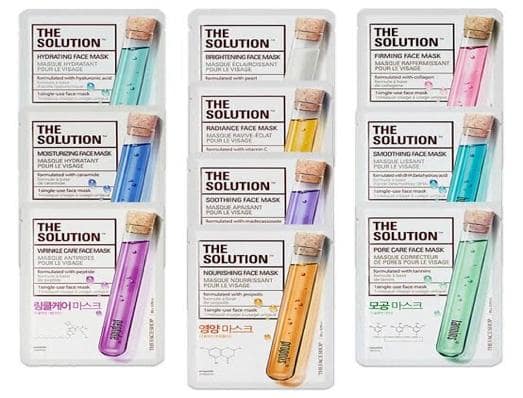 Price: $13.72
The Face Shop's The Solution Mask is a lightweight mask sheet line that solves various skin problems such as dryness, dullness, uneven skin tone, and more! It can also prevent early signs of ageing with the wrinkle care option.
Each mask is filled with nourishing ingredients that the skin quickly absorbs for absolute hydration. It's advisable to use the mask after applying skin toner.
Highlights
Lightweight mask
Deep hydration
Quick absorption
4. Neutrogena Hydro Boost Mask
Best for Dry Skin
Price: $28.80
Can't find the right product to solve dry skin? Well, you must try the Neutrogena Hydro Boost Mask!
It instantly quenches and deeply moisturises dry skin, leaving it hydrated and supple. To ensure a perfect fit for the face, this best face mask in Singapore contours to your skin for amazing absorption.
Highlights
Contours to the skin
Additional boost of hydration
 Customer Review
Most customers had a satisfying experience while using the Neutrogena Hydro Boost Mask. They mentioned its long-lasting hydration and affordable cost as well.
A customer posted this feedback:
"As someone with a low budget for skincare this product is absolutely perfect for an at home pamper session. I felt hydrated after every use, and would often leave it on for as long as I could to make sure all the product was soaked in. Definitely recommend, leaves skin a little on the sticky side but by putting on some moisturiser your skin will stay hydrated for a long time afterwards"
5. Innisfree Super Volcanic Peel Off Mask
Best for Deep Cleansing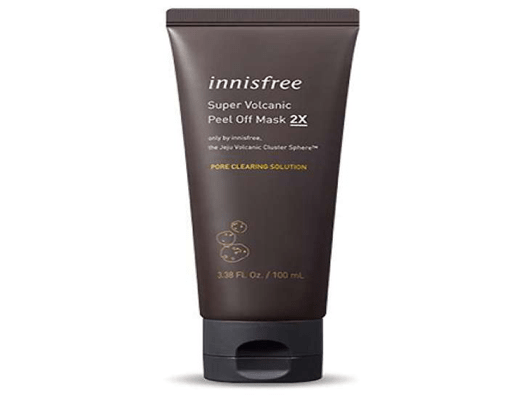 Price: $9.48
The Innisfree Super Volcanic Peel Off Mask is a no-wash clay mask that removes dead skin cells and impurities from the pores.
It's the best face mask in Singapore that you can use to have makeup-ready skin. You can apply it on oily areas and clogged pores and even the entire face as well.
Highlights
Remove dirt and excess sebum
Gently cools and rejuvenates the skin
Customer Review
Coming from a famous beauty brand, the Innisfree Super Volcanic Peel Off Mask has gained a lot of positive feedback from the customers who've experienced less oily, softer, and brighter skin because of its intensive skincare features.
Here's a review from one of the customers:
"I got it as a sample and tried it without thinking much of it. To my surprise it reduced the tiny bumps i have on my forehead. Thus i decided to buy one for myself. It is a milder version of the volcanic mud mask but is effective for me. It left my skin feeling soft but id recommend moisturising afterwards. My skin was also less oily the next few days. My skin also appeared brighter probably because it cleared the dirt"
6. Bio-Essence Bio Bounce Collagen Night Mask
Best for Overnight Hydration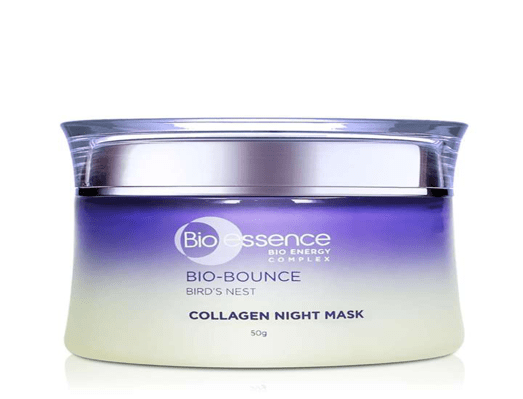 Price: $29.95
Looking for the best face mask in Singapore that'll make your skin smooth and fresh the next morning? The Bio-Essence Bio Bounce Collagen Night Mask can be your perfect companion during your nighttime skincare routine!
It deeply replenishes collagen for optimal skin renewal overnight, keeping your skin moisturised and bouncy. It can also brighten up your skin for a fair complexion.
Highlights
Skin rejuvenation
Contains whitening peptides for fair complexion
7. Lush Mask Of Magnaminty

Best for Face and Body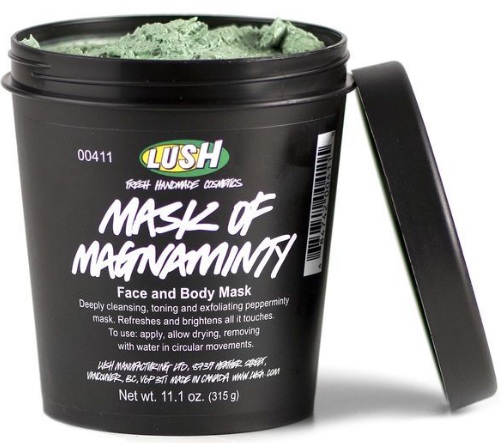 Price: $32.22
The Lush Mask Of Magnaminty is a face and body mask that provides intense yet gentle cleansing features. It can eliminate large pores and exfoliate flaky/dry skin as well as moisturise the skin.
Moreover, it can calm the redness of the skin. With these features, it's indeed one of the best face masks in Singapore.
Highlights 
Suitable for oily skin
Removes blackheads and pores

Doesn't contain any synthetic preservatives
 Customer Review
Many customers shared that they've seen great improvements on their skin after using the Lush Mask Of Magnaminty. They said it can reduce the pores without causing any skin dryness and has a cool minty feeling.
A customer wrote this review:
"Okay so this face mask was only $14 at lush. Which is a bargain compared to other pricey face masks that don't work as well. My lush was at the Kenwood Mall location and the workers were so nice it was insane. Somebody helped me right away and was super nice and recommended me this product, so I decided to buy it because my face has been having so many blackheads and oily skin it's bad bad. Anyways I use it and it's just been a week and it has done wonders already. Some of my blackheads have started to die down and my face no longer gets oily to the point were I feel nasty. Anyways I totally recommended this product to anybody."
And that's our list of the best face masks in Singapore! If you'd like to recommend more options, you may also share them with us!
Oh, and in addition to putting on a face mask, you might also want to try the best Korean eye creams in Singapore! Those products can reduce the dark circles around your eyes, giving you a fresher and healthier look!