The 6 Best Baby Gates in Singapore for Safety at Home
Your darling child has now learned how to take their first steps — you know what that means. It means it's time to invest in the best baby gates in Singapores!
When toddlers begin to walk, they have an uncanny ability of getting themselves into dangerous places or opening doors and latches. So stopping your tot from getting to certain places is a wise decision.
But first, let's go into the basics of choosing baby gates. Determining which of the gates we've picked suits your needs will be easier once you've taken a good look at this guide!
Baby Gates: Which One Should I Get?
There are plenty of baby gates or baby fence to go around, and the best one is dependent on the layout of your home.
You have to ask a number of questions to figure this out. Do you live in a one story home? Does it have stairs?
To make things simpler for you, just check out our buyer's guide below. This guide will help you get the baby gate that can suit your needs.
Two Types Of Baby Gates
There are 2 types of baby gates, and neither of them is better than the other because they address different needs. The only difference between them is the way they're opened.
Hardware-mounted baby gates
These gates are usually installed via manual tinkering. You have to screw them into a doorway, door frame, wall, or a banister.
They're the most secure baby gates one can find, making them especially fitting in spaces that have spots that pose danger — such as areas near stairs or a door leading to an outer terrace.
Pressure-mounted baby gates
Pressure-mounted baby gates are installed and held in place via tension. A gate with the correct measurements would be an exact fit within a doorway or a wall.
This type needs to be propped up perfectly to stand. They're easy to set up and transfer from room to room, but they are a bit less secure than the other type.
Styles of Opening
There are mainly 3 styles of opening a baby gate:
Swing through is the type of gate that swings open, like a saloon door.
Step over, is a gate that doesn't have any doors, so it requires anyone taller to climb over it.
Hybrid is usually the mix of a swing-through and a step-over.
But besides those, there are a few other types that usually fall into one of the above 3, as subcategories. Stair gates are made especially for banisters and stairwells, for example, and have more safety features than the other gates.
There are also Pet door gates, which have an opening for a pet in the household. The opening is usually as big as the pet, but not big enough for the baby to go through.

Locks
Take into consideration what kind of locks to pick, buttons or lift-open locks might be okay for babies. A toddler's natural need to fiddle things with their fingers might need something sturdier, or perhaps something lockless.
Material
Make sure to buy baby gates of nontoxic plastic or wood. You should also choose ones that have no small parts that can break or sharp edges. Mesh is fine as well.
Height, Width and MoreHeight, Width and More
Children also have the propensity to climb over things. That's why the recommended height for a baby gate is 22 inches or so.
Make sure the space for the bars of the gate is small enough so your tot's hands, head, and feet won't get stuck in there. Avoid the gates with accordion-style openings that form a diamond, as children's heads get stuck in those.
The Best Baby Gates in Singapore
Now that we know the tips and tricks to picking great baby gates as well as the types available, let's go to the list of the best baby gates or baby fence in Singapore. These picks vary in size, function, and cost.
1.   Regalo Easy Step Walk Thru Gate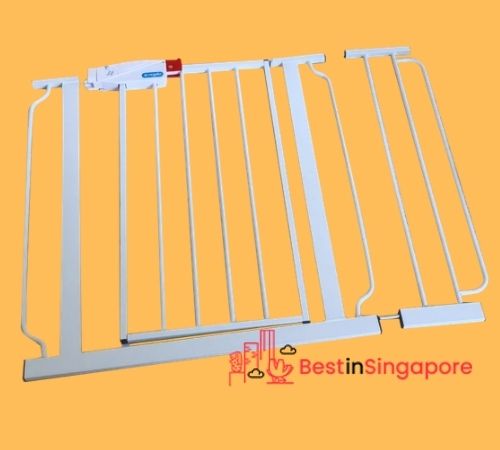 Price:$72.65
Limited Stocks At Amazon, Buy Now
Regalo's baby gate is a holy grail for many parents. It's easy to open and close, and tall enough not to be climbed over.
It's the perfect mix of wall-mount and pressure-mounted, so you can decide where to put it. And with an extra wide design, it expands to stairways and openings between 29-51 inches wide.
It's designed with a safety-lock, meets all safety standards, as well as coming with all the accessories needed to install it.
The slew of good reviews for this product makes it one of the best baby gates in Singapore.
Pros
Extra wide
Durable
Childproof safety locks
Cons
Dangerous without screwing in the wall cups
Doesn't work on 46" opening
Customer Reviews
Here are some reviews from Amazon about the this amazing product:
This gate will get the job done. Works as intended and it is not defective as some reviews have stated. There is a gap at the door jam area that looks like a defect when you take it out of the box but the gap will close as you tighten the adjustment screws to fit. There are reasons for included instructions and installation manual.
I am doing this review because I find it unfair to the manufacturer to have to endure unnecessary negative reviews and returns simply because of failure to read instructions.
-Said Elmis
Works well. The walkway is quite narrow as others have stated. Installed fine in my 49″ opening with both extension peices. I was intelligent enough to read the bright colored tag stating that the gap is normal, it really is, just tighten the sides and it bends into shape as it is designed to do.
-David J
2.   Cardinal Gates Outdoor Safety Gate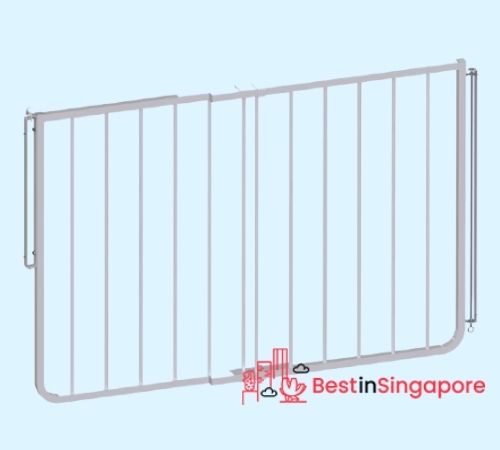 Price:$133.17
Limited Stocks Amazon, Buy Now
The Cardinal Gates set is perfect for outdoor use, especially if your little one enjoys playing outside.
It can be installed in veranda railings or banisters, and is sturdy due to being made of aluminum, It has a powder-coated finish that's rustproof and weatherproof.
It's hardware-mounted and it can be mounted at angles up to 30 degrees. It can also swing both ways and be locked. This alone makes it one of the best baby gates in Singapore for safety, as far as we're concerned!
Another bonus? If you have pets, this works well for them as well.
However, if you're the type who's finicky about design, this might not be a good pick since the dull color can clash with brighter paint colors.
Pros
Durable
Can be installed up to 30 degrees
Perfect for banisters
Cons
Customer Reviews
Here are some reviews from Lazada about the this amazing product:
I read tons of reviews..this is a very good gate. We are very happy. I was concerned about the latch because some of the reviewers didn't like it. I think it's just fine. No trouble to open or close. It's even better if you have small children. Still it's a piece of cake for any adult. My hubby installed the gate and he said the main thing is to use a level. He thinks it's a great as well.
-Jenni
Love, love, love. Installed without any problems. Do suggest you look at video on the Cardinal Gate site. It makes you comfortable to tackle the task. We purchased two, one with the 10" extension and other with 21" extension. I love the gates – so attractive and appears very substantial. From reading the reviews I expect to get many years use in rain, sun or snow. We replaced a tension gate that you constantly had to adjust and turn sideways to enter and exit which was a pain when you're going in and out training a puppy!! Was delightful using the new gate!! Should have purchased years ago.
-Mary
3.   Munchkin Easy Close XL Metal Baby Gate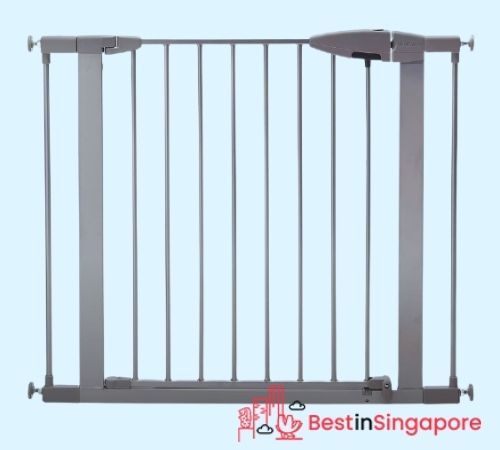 Price:$119.99
Limited Stocks At Amazon, Buy Now
Munchkin's gates are some of the top baby gates in Singapore if you're gunning for quality. You can open this while carrying a tot in one arm and the gates can be installed easily too.
It comes in 6 widths and swings both ways. This baby gate also has additional extensions that can be purchased on Amazon in case the 35″ doesn't do it for you.
It also has dual-locking, as well as hardware mounting and pressure mounting as well. The features make it one of the best baby gates in Singapore.
Just keep in mind that there's a 2-inch gap below the gate, though: you can easily trip over it.
Pros
Dual-locking
Lightweight
Easy to close
Cons
Trip hazard for older children, adults, and elderly people
Customer Reviews
Here are some reviews from Amazon about the this amazing product:
Used at the top of my stairs. Also bought 24″ zip ties and put the ties in plastic tubing around my banisters for extra security. The zip ties I bought on Amazon are industrial strength. The standard banister kits are soooo expensive. Works perfectly with 2 two year olds and 2 large dogs.
-J.B.
I have 3 boys, 3 dogs, and a pet pig. I've been through A LOT of baby/pet gates. This one is by far my favorite and the most durable. I own two of them! We have a fairly open floor plan so the fact that this gate can fit just over a 51" wide space right out of the box is even better! It's fairly easy to assemble and goes up even easier. You can lock it shut at the bottom or latch it so the gate only swings open one direction
-Lauren J.
4.   North States Wide Deluxe Décor Baby Gate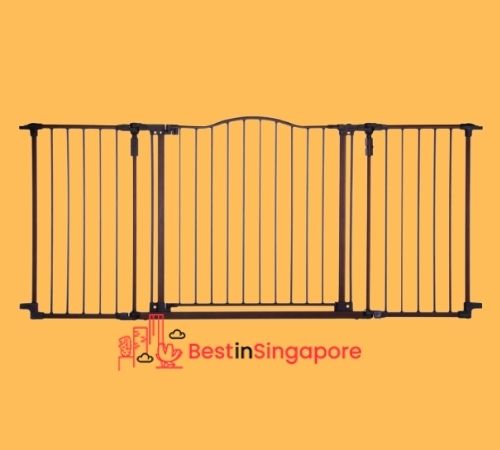 Price: $126.69
Limited Stocks At Amazon, Buy Now
The North States Wide Deluxe is an amazing choice if you want something pretty and functional. This gate is designed for large doorways, fitting openings up to 72 inches wide, and is very easy to open.
Another noteworthy feature is in the open-close mechanisms of this gate. The self-closing door features a child-proof double-locking system, as well as a hold-open feature for easy access for adults.
It can be mounted against straight or angled walls and banisters. All in all, this truly deserves a spot in the list of the best baby gates in Singapore.
Pros
Stay-open feature
Double-locking
Minimalistic design
Cons
Customer Reviews
Here are some reviews from Amazon about the this amazing product:
Hello fellow shoppers. I rarely get excited about a product when I leave a review but this is the exception. I was looking for a pet gate for our two furry friends and nothing really caught my attention. Thanks to the person who left a review about a gate she/he did not like and mentioned the North States pet gate. I did some more research and found it on Amazon, and purchased a "used like new" gate at significant savings. The gate arrived at 6:30 am, well before the 8 pm projected delivery time, delivered by the USPS. It was in an unopened box, protected by the shipping box. All the pieces were inside undamaged. Understand that the installation requires mounting the hardware the gate is attached to more or less permanently by drilling into drywall, or moulding on the bottom. There are two templates included for the top and bottom brackets on each side of the gate. These must be lined up exactly for the door to function properly. The reason for the four star rating is because the supplied screws are way to long and there were no drywall anchors included. I purchase some extra at Home Depot to ensure the mounting brackets stayed in the wall. I used the supplied screws to attach the bottom brackets to the floor moulding. The gate works as intended and will keep the little guys safe in a confined area when we leave the house. Oh, I forgot to mention the gate is metal, not wood or plastic. Hope this helps in your decision making.
-Do It Myself
Seems this product has undergone some revisions and a lot of reviews are out of date. In short, the lower brackets can now be adjusted inward to accommodate installation in areas with base molding.
To open you have to both push the button on top and flex the gate upward and off of a locking stud. So it's pretty well toddler proof. If opened 90 degrees it stays open, otherwise gently springs closed.
The bottom is all vinyl parts that glide smoothly on wood floors (no exposed screws or other sharp metal. Shouldn't hurt your floor even though it flexes and moves around a bit. Soft wood floors might still have a problem… you'll know if you have soft wood thoug because it's already full of dents.
The screws are still cheap so you might use longer and better ones and you better find studs to install into if not installing in a framed opening. As others mention, ignore the installation paper guide and install by placing the brackets on the gate and the gate against the wall while resting on the floor to mark the holes.
It's very attractive for what it is. Nice finish (powder coated? metal). We might keep it even after the kids grow up as it keeps the dogs away from our front door.
-Dave
5.   Evenflo Soft and Wide gate
Price:$49.99
Limited Stocks In Amazon, Buy Now
Evenflo's Soft and Wide Baby Gate may look very flimsy, but it's one of the best choices for a baby gate in Singapore. This unique gate doesn't have a door, and it doesn't swing open and shut like most other gates.
It can be installed in spaces that are very wide, but do be reminded that this is more of a divider rather than a gate. It's sturdy, reliable, and doesn't require tools for installation.
It can be used for openings up to 60″ wide, but this adorable divider can be a tripping hazard… especially for short people and the elderly.
If you have an uneven door opening, then this is an ideal installation due to its adjustability. These features have put it squarely on the list of the best baby fences or best baby gates in Singapore.
Pros
Extra-wide
Ideal for uneven openings
Has rubber guards to avoid messing walls.
Cons
No opening or latches
Trip hazard
6.   AGUARD Baby Safety Gate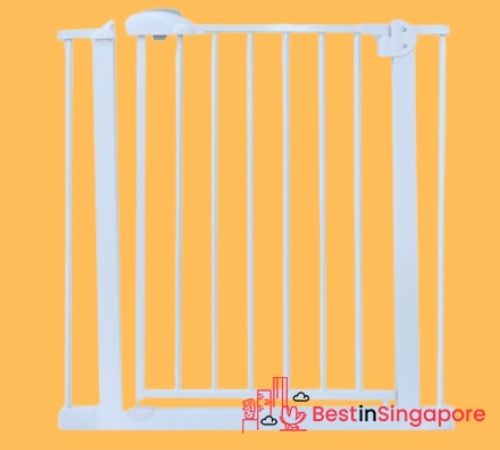 Price:$79.90
The AGUARD Safety Gate is perfect for households in need of a sturdy yet easy to install safety gate. It uses a pressure-mounted system, so you can rest assured that it will be fixed to your entryway securely.
Made of steel and silicone, this safety gate is can be used for securing both your pets and your children. It uses a double locking mechanism to ensure that your children won't be able to open it easily.
With the AGUARD Safety Gate, you can keep the little ones safe. If you have both pets and bubs at home, this could well be the best baby gate in Singapore for you.
Pros
Easy to install
Durable
Auto-swings to close
Cons
Not suited for unstable walls
And our list of the best baby gates in Singapore comes to a close. We hope this list helped with your search for a baby gate!
Did we miss a great option, though? Tell us its name and what makes it great in the comments below!
And do you also need to see which physical stores have amazing baby gifts? Then head over to the list of the best baby gifts in Singapore and check out our picks for those.
We can also help if you need something to monitor the baby while sleeping: check out the best baby monitors in Singapore for that!