The 5 Best Android Music Players in Singapore
Looking for a great way to play music on your mobile phone? We can help, as our list today is about the best Android music players in Singapore!
There are tons of apps where you can search, play, and share music with your loved ones but not all of them feature a large and accessible music library. Some of them also lack categorised lists.
That's why we made this list — to compile the apps that offer the most features while skipping common issues like the ones noted above. We've pretty much found everything you've been looking for in a music player, so take a look at our picks now!
1. Spotify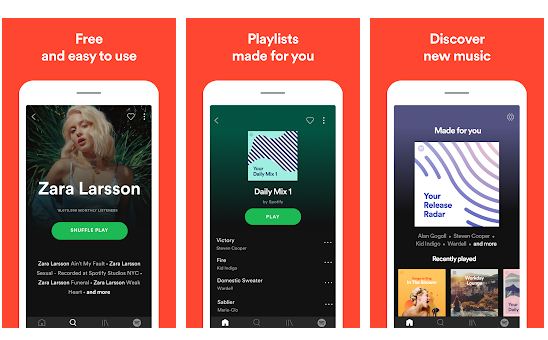 As we all know, Spotify is the most-downloaded music streaming app on PlayStore. This is because of its extensive range of music selections that are accessible on your phone, tablet, and more devices.
Whether you're working out, partying, or just chilling, they have thousands of playlists prepared for you so you can instantly play music that'll boost your mood. You can also listen to some podcasts that are only available on this platform.
Highlights
Inspirational and educational podcasts
Artists and friends music collections
Customer Reviews
Many users have enjoyed the easy-to-use interface of Spotify, saying that they can instantly find the songs that they want to listen to and be updated about new music releases.
This has made them one of the best Android music players in Singapore. A user posted this feedback:
"This is my go-to app for music. I've used other music streaming apps in the past but Spotify is the only app that has all the music and podcasts I want to listen to. The 'behind the lyrics' part is another feature I love, it gives me a lot of information about the song and it's origin and related stuff, alongwith the lyrics. It's integration with the Microsoft Xbox Game Bar is another feature worth noting."
2. Deezer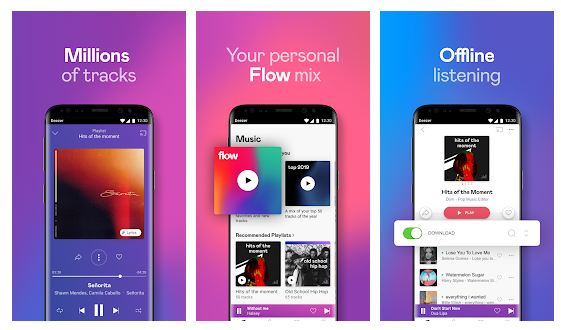 Deezer features millions of tracks where you can discover new and old artists mixed with recommendations tailored to your musical tastes. On every track that you play, lyrics are included, so you can sing along to your favourite songs.
The best thing about it is that you can import your MP3s and playlists into the platform, giving you high-quality audio. From the latest releases up to the beloved classics, you can listen to all of them!
Highlights
Import MP3s
Free trial for the premium version
Customer Reviews
Deezer has gained plenty of wonderful reviews because of its wide variety of features and recommendations that matched users' tastes. That's why it's considered the best Android music player in Singapore.
Here's a review posted by one of its users:
"I have been using the app more than 3 years and I love it. Every update made seem to improve the app every time. What I really love about the app is it's ability to easily find majority of the music you wouldn't find easily on other music apps and the design of the apps, it's structure everything is much simpler but also beautiful put together. You really have a good designing team. Deezer has been my favourite music for a very long time and will be as long as the app is still active."
3. SoundCloud
Searching for a music streaming app where you can listen to the greatest indie and world-class artists? If so, then SoundCloud is the perfect choice for you!
Most artists who want to freely share their songs online are using this platform. You see, it's not just a music streaming app but is also an open community where anyone can upload their original compositions and have the chance to be recognised through their music.
You can also discover songs that can only be found on SoundCloud such as DJ sets, remixes, and freestyles. If you prefer new and fresh tracks to the mainstream ones, then this can be the best Android music player in Singapore for you!
Highlights
Remixes and freestyles
Connect with fellow listeners
Free trial for the premium version
Customer Reviews
Most users said that they were able to discover more indie artists through the SoundCloud community. One of the users shared this experience:
"I love SoundCloud! I've tried a few other music apps, but none are quite like SoundCloud. It's user friendly, loaded with music, and you can still enjoy it's functions without paying for service. Although, I definitely recommend you subscribe to the Go+ because of all the benefits and extras you get…"
4. YouTube Music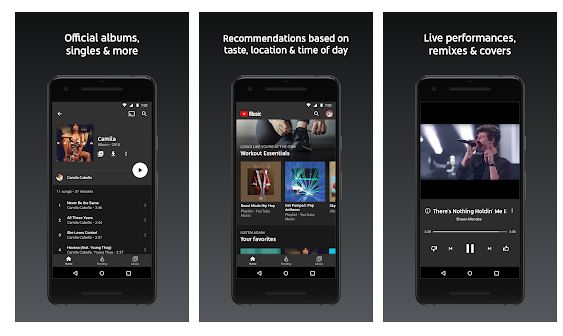 YouTube has recently released its own streaming service called YouTube Music, a one-of-a-kind platform where you can find whole sets of albums and remixes as well as your favourite song covers!
What makes it unique from other streaming apps is that you can even watch the live performances of your favourite artists. So whether you're into glamorous styles of pop, chill and calm acoustic sessions, or exciting rock music, you can listen and watch them all on this platform.
Highlights
Song covers and remixes
Official music releases
Customer Reviews
Despite being a new streaming service, YouTube Music has already garnered a lot of praise from users. They said that they enjoyed the live performances and sessions of their favourite artists on it.
This is why the app is one of the best Android music players in Singapore. A user left this feedback:
"What can I say. It's the Official YouTube Music version. Great, week thought out app. At first, I didn't think it was necessary as YouTube was already well established and you could stream (or for a monthly subscription, download) anything including music. But this YouTube Music app is a very well polished app specifically designed for streaming or downloading music. I was wrong. 5 Stars."
5. Poweramp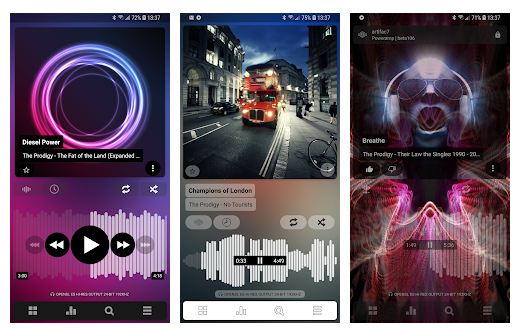 With Poweramp, there's so much more than listening to music and watching live performances. You can also adjust the audio settings with its graphic equaliser tools, letting you listen to your favourite tracks with an enhanced audio experience!
The equaliser consists of bass and treble adjustment, reverb, mono mixing, and many more! It can even play different audio formats, so you can import any song you'd like without having to convert them.
Highlights
Lyrics support
Customised settings
Stereo expansion and tempo control
Fast library scan
Customer Reviews
Users said that they had a delightful experience using Poweramp because they adjust the quality of music based on their own preferences — the main reason why it has become the best Android music player for most users.
One of the users left this review:
"This particular app makes music come life!!! Clarity of sound, soft subtle surround sounds are heard fine. STEREO sound blend well from start of play till the end. I like the design of the app, and icon. If you can make the volume boost a little louder, that would be great! You claim this is a trial app, but to me it is a GREAT WORK!!! Keep up the good work. 5 STARS for you."
And that's our list of the best Android music players in Singapore! Got more options in mind? You may also share them with us!
As you explore different genres and listen to your favourite artists, you might want to wear the best noise-cancelling headphones in Singapore! This will let you have a better listening experience!