The 6 Best Wine Chillers in Singapore
Has your wine collection grown too large for your refrigerator? Or maybe you simply want some fine wines to drink during special days? Whichever it is, having the best wine chiller in Singapore will help you keep the wine's quality for a long time, making it a worthwhile investment.
If you need one of those, we've found you some of the best wine chillers in Singapore, listed right here in this article.
However, our selections offer a variety of features. If you have no idea what to look out for when buying one, it'd be better to know the things that you must consider first.
How to Pick the Right Wine Chiller
Every wine chiller has a different temperature range, storage capacity, and features. To help you find out which kind of wine chiller best suits your needs and preferences, check out the factors below:
1. Temperature range
The common range for wine chillers falls between 11 to 14 degrees Celsius. If you only drink a certain type of wine, then there's no need to opt for a full temperature range.
For light and sparkling white wines, a lower range like 5 to 8 degrees Celsius would be fine. On the other hand, full-bodied white wines and fruity red wines require 8 to 12 degrees Celsius.
If you have port wines and full-bodied reds, you'd need one with a higher range, starting from 17 to 19 degrees Celsius. Keep in mind that all types of wines require cooling at 12 degrees Celsius before serving.
2. Types of cooling zones
A wine chiller is either made with a single or double zone cooling function. Those models with a single-zone function provide one temperature zone and control as well — which is ideal for those who only consume one type of wine or are just starting to build their wine collection.
They're also great for short-term wine storage and are more affordable compared to the dual-zone wine chillers.
For those who have a wide collection of both red and white wines, it's mostly recommended to buy one with a dual-zone system. Dual-zone wine chillers can help preserve different wines at the recommended temperatures for their types.
3. Thermostat
You must be aware that a small change in temperature can fully affect the taste, colour, and overall structure of wine. This is why it's important to consider the accuracy of the thermostat.
It's better to have a digital thermostat rather than a manual one. A digital thermostat provides a clearer display for an easier storing process.
Some even offer flexible settings through which you can set separate temperatures for different wines.
4. Build
When it comes to wine chillers, every single part of the overall design is crucial. This includes the shelves, which must be sturdy enough to fully support heavy bottles.
It'd also be better if the shelves are removable so you can store more bottles. For dual-zone wine chillers, the gasket and seals must be airtight to maintain the set temperatures.
A good wine chiller must also have a strong base so it won't easily break despite regular opening and closing of the door. Make sure that it's a half-inch off the floor to ensure stability.
5. Storage capacity
For wine collectors most likely to have a great number of guests every now and then, you'd need a wine chiller that can handle a large wine collection.
But if you only drink by yourself or one other person on a regular basis or are just starting to collect quality wines, then a small unit with low capacity would be more efficient for you.
Since wine bottles vary in sizes, they might not fit in your chosen unit too… so be sure to pick one that can fit large bottles without shifting.
6. Cooling system
There are two kinds of cooling systems, compressor and thermoelectric system. Wine chillers with compressor cooling systems operate like a regular fridge as they have powerful yet loud and heavy machines.
Thermoelectric chillers are more energy-efficient and offer quieter operation with low vibrations. However, they might have mild fluctuations in temps depending on the outside temperature.
The Best Wine Chillers in Singapore
Let's now see the top models on the market today, as we've listed the best wine chillers in Singapore! Our picks come with various sizes and impressive functions, so you'll surely find the one that you've been looking for.
1. Europace EWC 6910 Wine Chiller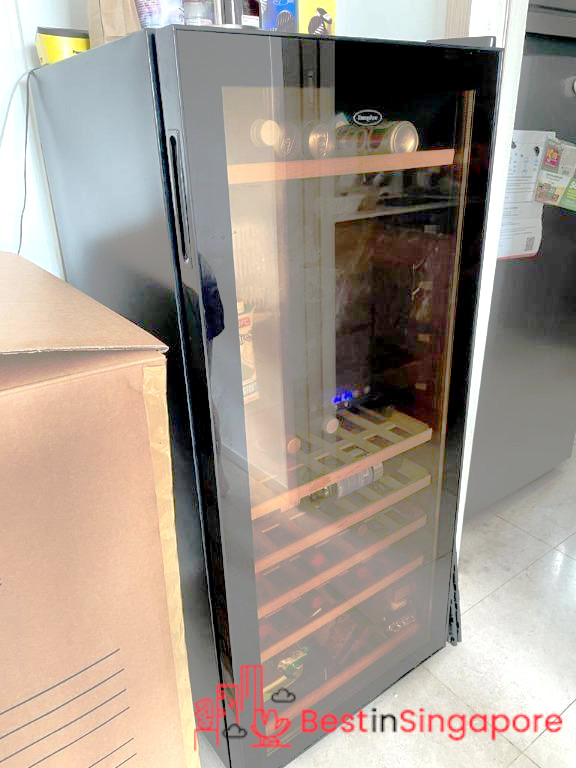 Price: $1,399.00
The Europace EWC 6910 Wine Chiller features a dual-zone cooling system, providing more accurate, even, and consistent temperature for all types of wines.
You can set the temperature between 5 to 20 degrees Celsius for every individual zone, making sure that you can properly preserve your wines.
This best wine chiller in Singapore is designed with 3-layered durable glass to minimise the condensation when in a high-humidity environment. This way, you can be sure that your beloved wines will always be in optimal condition.
It's also built with large and high-quality stainless steel that can handle up to 91 bottles. So if you're an avid wine collector or you run a restaurant/bar, this can be a great option for you!
To prevent any stains or marks like fingerprints on the door, this wine chiller is fully polished at a unique angle, providing a seamless finish.
Pros
Digital temperature control
Energy-saving compressor
Stainless steel ventilation finish
Anti-vibration feature
Anti-UV protection
3-fold sliding telescopic shelves
Cons
2. Kadeka KSJ115EW Wine Chiller
Price: $263.00
The Kadeka KSJ115EW Wine Chiller is a small and compact unit, perfect for those who don't often drink wine but like to store a certain collection for special occasions. This can also be the best wine chiller in Singapore for those who are just starting to build up their collection.
It has a 15-bottle capacity with a single-zone cooling system. If you do enjoy a specific type of wine, then this would be a good choice for you.
Its offered temperature range falls between 7 to 15 degrees Celsius, an ideal range for full-bodied white wines and fruity red wines.
It also has a 2-layered tinted glass door to help keep a consistent temperature. It's built with high-quality wooden shelves, capable of carrying large and heavy bottles.
Pros
Auto defrost function
Recessed handle
Wooden shelves
Anti-UV glass door
Cons
For a limited wine collection only
3. Valenti VAW47S Wine Chiller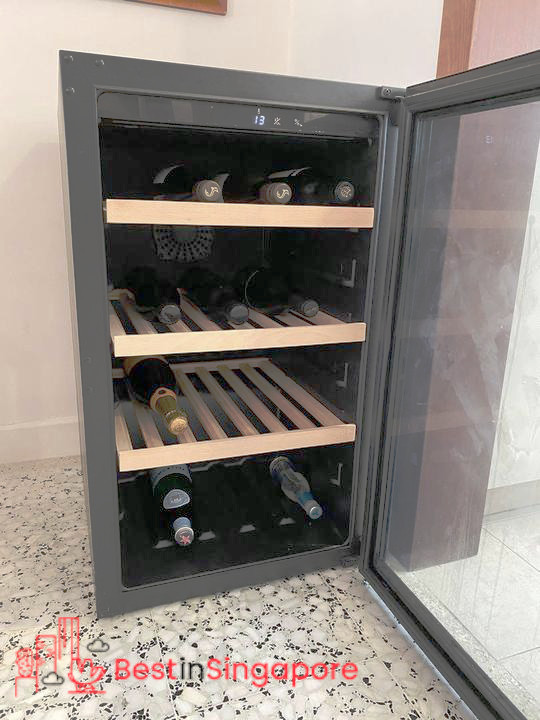 Price: $569.00
The Valenti VAW47S Wine Chiller is a classic mid-sized model that you can use for wines and other beverages as well. So, if you do enjoy other drinks like beers and colas, then this could be the right storage solution for you.
It has a single-zone cooling system with a temperature range of 7 to 18 degrees Celsius, offering a wider range compared to most wine chillers on the market.
Its fan motor is frost-free, so you won't have to worry about frequent defrosting. It has a strong structure that can hold up to 47 bottles, which is a fair capacity for accommodating small celebrations at home.
With its touchpad control and LED display, you can easily modify and monitor the temperature setting. It also has lights, although they only turn on when you swing open the door.
Pros
3 wooden shelves rack
Frost-free motor
Silent operation
Touchpad temperature control
Cons
Lack of key lock
Lights will only turn once the door is opened
4. Farfalla FWC-24S3G Wine Chiller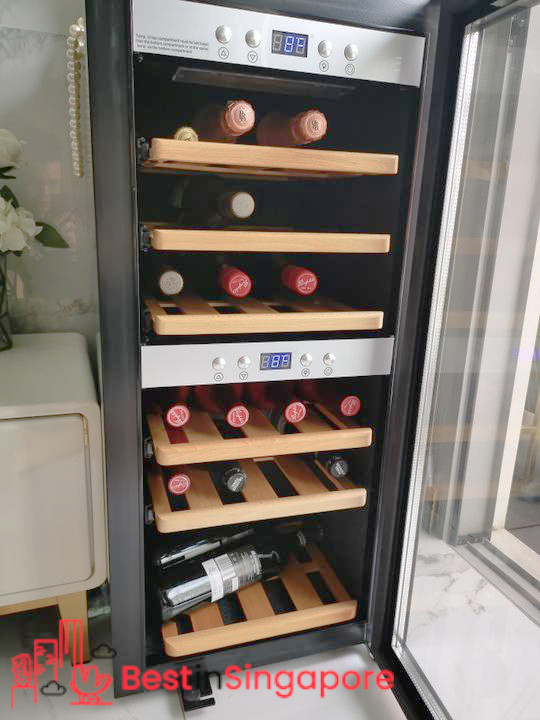 Price: $555.00
The Farfalla FWC-24S3G Wine Chiller features a total of 2 compartments and each comes with varied temperature settings, allowing you to preserve different types of wines. Its wooden shelves are also removable so you can easily clean the overall unit.
For a highly functional and long-lasting build, it's designed with a stainless steel door frame and 3-layered brown glass. Unlike the previous option, it comes with a door lock to fully secure your wine collection.
This best wine chiller in Singapore also has an interior blue LED light so you can instantly choose which bottle to drink even without opening the chiller. Moreover, its compressor has fan cooling so it can always provide smooth operation.
Pros
Dual-zoned cooling system
Anti-UV glass door
Built-in lock
Low power consumption
Cons
A bit slim for larger bottles
5. Tecno SW-180 Wine Chiller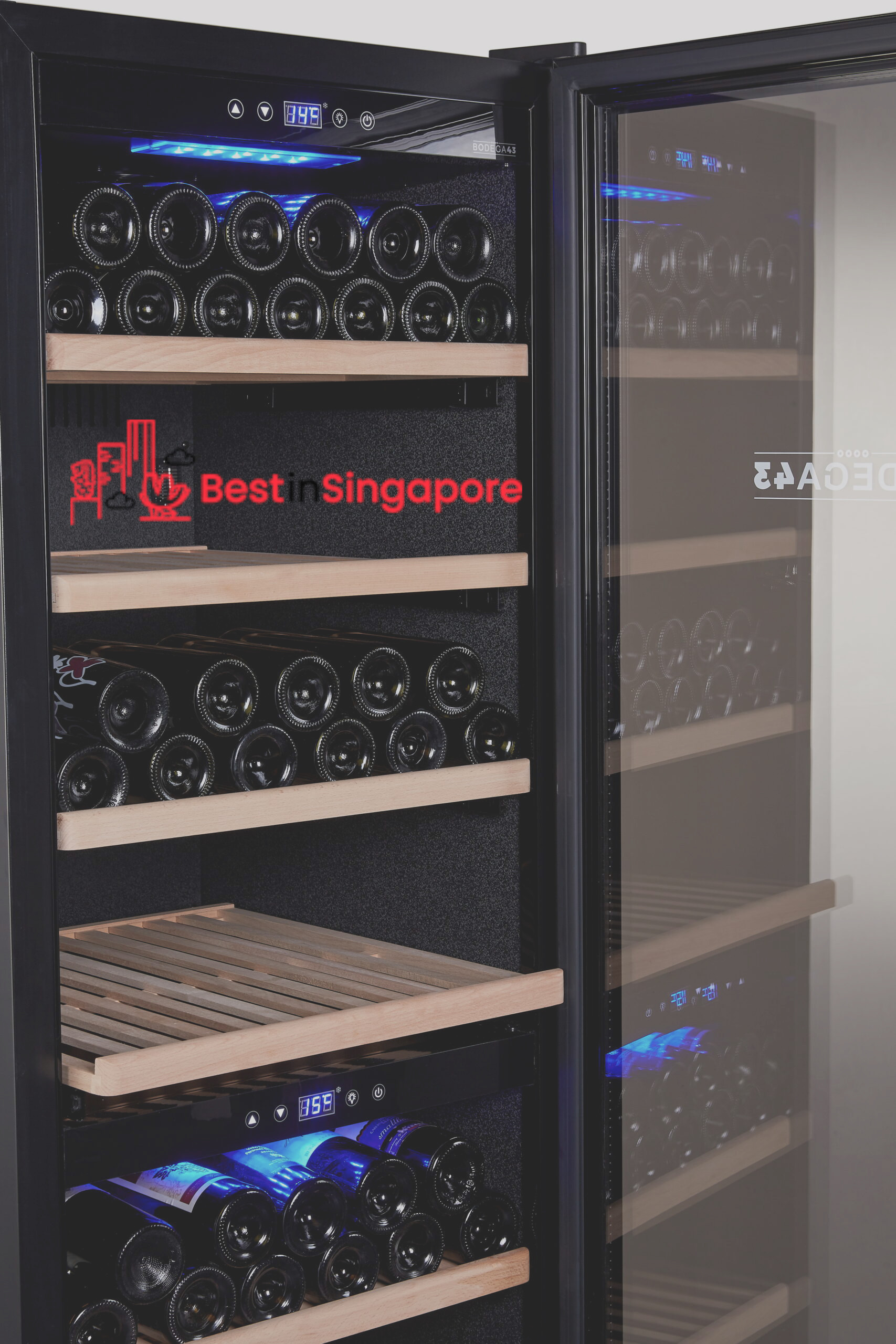 Price: $2,449.00
The Tecno SW-180 Wine Chiller offers the largest capacity here: you can store up to 176 wine bottles with a total capacity of 480 litres. With its 8 wooden telescopic shelves accompanied by a dual-zone system, you can preserve your entire wine collection!
You can instantly manage the temperature through its user-friendly digital controls and LED display. It also has an LED interior light so you can easily see the range of your collection and pick one without opening the door.
Its door is made up of 3-layered glass to reduce condensation and for absolute durability. This best wine chiller in Singapore is also equipped with a lock and key for additional security.
Pros
Dual-zone cooling system
Up to 176 bottle capacity
Anti-UV glass door
Easy-to-adjust wooden shelves
Lock and key feature
3-layered glass
Cons
Requires large room space
6.  171 Bottles Wine Cooler – CW 1700ED AT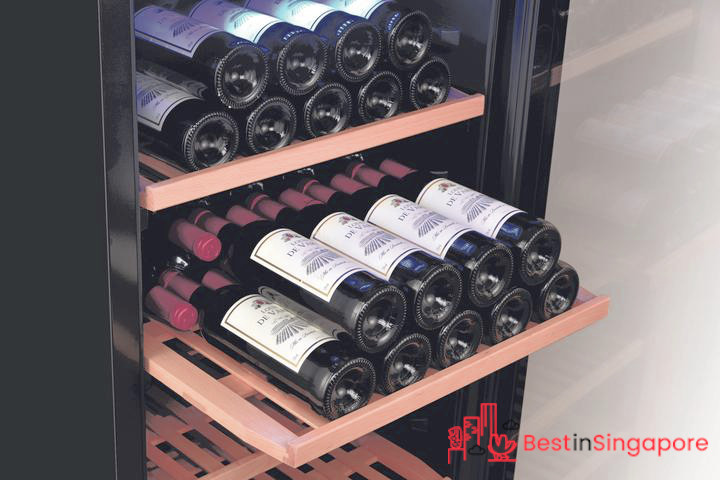 Price: $2,999.00
Shop Now on Chateau Wine Coolers
Keep your wines cool and your electricity bills low with Chateau Wine Coolers' 171 Bottles Wine Cooler – CW 1700ED AT. Unlike other chillers, this wine cooler utilizes a low emissivity coating on its door, ensuring that the cold stays in for longer.
To make it better, it has a UV-Insulated Triple Glazed Glass Door which keeps out heat and UV light, while still allowing its contents to be visible.
You may be surprised with its price but this item is still totally worth it since its capacity is up to 171 Bottles or around 415L. And to be honest, we prefer this because of its temperature can rage from 5℃-22℃.
Other features we like about this cooler is that it has Active Charcoal Filter and it is lockable. Perfect for those who have children around.
With the 171 Bottles Wine Cooler – CW 1700ED AT, you can store your wines safely and without worry.
Pros
1 Year warranty for Spare Parts & Service
5 Years warranty for Compressor
Digital Touch Control + Temperature Display 
Cons
And that's our list of the best wine chillers in Singapore! If we missed other great options, you may also share your recommendations with us!
And to help you find the finest and rarest wines on the island, here are the best wine shops in Singapore! They offer huge wine collections that come from different countries and regions, giving you a comprehensive range to choose from.