The 5 Best Baby Cots in Singapore
When planning for a baby's nursery, one of the top priorities of any parent is to have the right cot — one that's both safe and comfortable for the baby. With the best baby cot in Singapore, your baby can have a good night's sleep and you'll be at ease too.
However, with the various brands and models on the market, it might take you a long time to find the perfect cot that'll not only look beautiful in the nursery but that will also keep your baby safe.
We're here to help you. In this list, we've rounded up the best baby cots in Singapore!
But before we go onto our list, you might have a lot of questions like which factors to look out for when buying one. That's why we've also shared some tips on how to pick a good baby cot.
How to Choose the Right Baby Cot
As we all know, most baby cots are quite expensive. So, you must make sure that you know how to determine the one that perfectly suits your needs.
To help you with that, we've included the top features that you must keep in mind as you shop for the best baby cot in Singapore.
1. Nursery Size
First of all, you have to ensure the cot you buy fits the nursery. So before you buy one, measure the space available, leaving a few inches from the cot's place to the drapes, cords, and electrical outlets.
Since baby cots are mainly designed for limited spaces, it'll be easy for you to find the right size. The average size of a cot is approximately 124 x 64cm but if you can fit in a larger cot, then all the better.
2. Adjustable Heights
Next, check if the cot has an adjustable base height. This way, you can easily get the baby in and out of the cot without having to bend over and suffer from an aching back.
This is an essential feature to consider, especially during the first few months. Also, flexible height settings ensure that you can still use it as your child grows, saving you from buying another one.
3. Teething Rail
The little ones might chew the sides of the cot. So it's also important to have non-toxic teething rails to protect the delicate gums and teeth of your baby as well as prevent them from ingesting varnish or paint.
4. Storage
It's highly recommended to have a cot with a fair storage size so you can instantly access baby essentials whenever needed.
Some have a large basket placed beneath the cot or small side pockets where you can easily slip in some supplies.
5. Safety
Last but not least, safety is likely to be the greatest concern of every parent. To ensure absolute safety, the locks on droppable sides must be secure and the mattress must also be of the proper size (with no more than six centimetres away from the bars).
The Best Baby Cots in Singapore
With these factors in mind, let's now see our selected best baby cots in Singapore!
These are the ones we found to meet our standards in the above areas, although they have enough variation among them to be suitable for different users. Take a look and see which one best suits your needs.
1.   Puku Baby Wooden Cot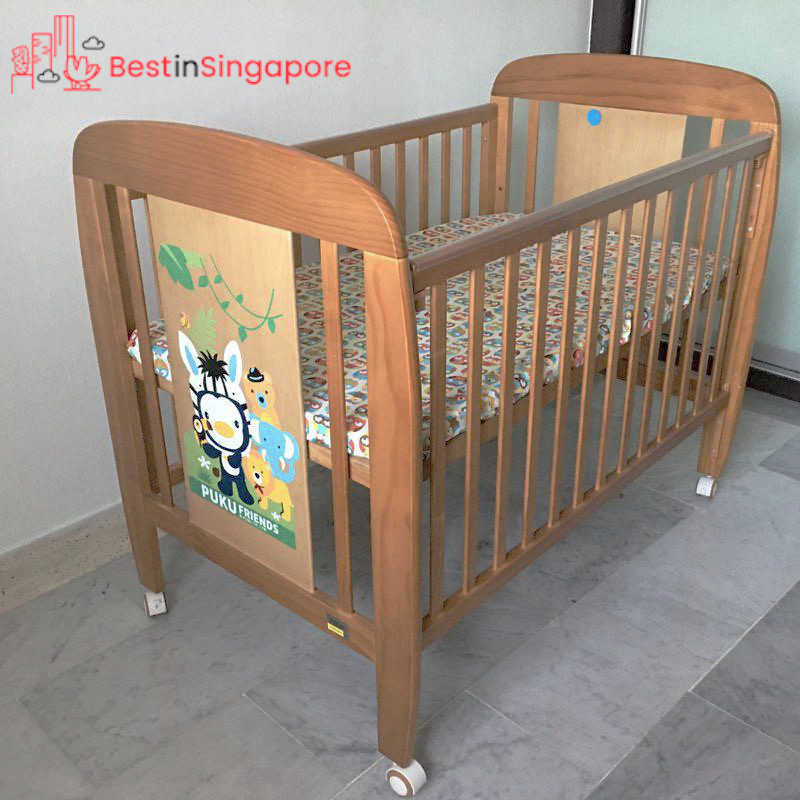 Price: $279.00
Looking for a cot that grows with your child? Well, then you'll certainly like the Puku Baby Wooden Cot, for it can be used by newborns, toddlers, and even kids up to 6 years old!
For a newborn, you can use it as a baby cot and once your baby turns 6 months old, you can convert it into a co-sleeper crib. And if you no longer need a cot, you may easily convert it into a study table, giving your kids an instant space to read and learn.
For safety, it's built with a 4-level adjustable height so you can easily reach your baby. It's also designed with rounded corners and non-toxic paint to make sure that the bedside corners won't cause any harm in case your baby bumps into it.
It also has a 2-inch mattress that fits the cot. The best thing about it is that it comes at an affordable price!
Pros
4-level adjustable height
Thick bed board
Non-toxic paint
Rounded corners
Cons
2.   Graco Pack 'n Play Simple Solutions Play Yard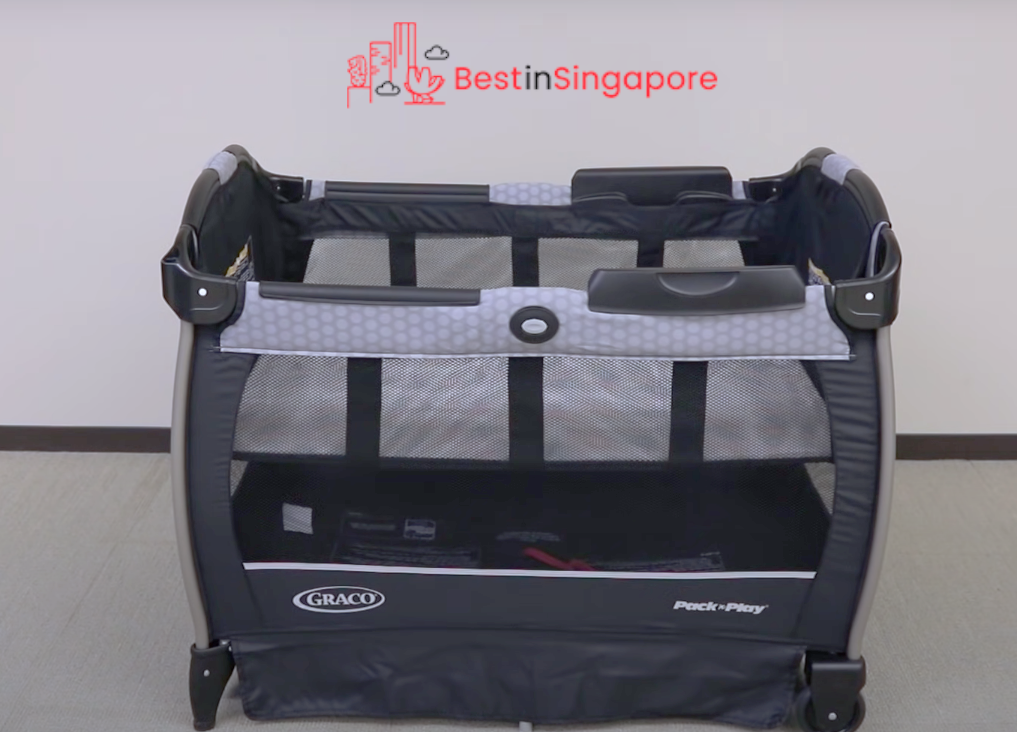 Price: $212.64
The Graco Pack 'n Play Simple Solutions Play Yard is a portable cot that features an integrated diaper-changing station, making it much easier for you to keep your baby clean and fresh all the time. Along with this, an additional storage pouch is included for baby essentials.
As your baby grows, it can be transitioned into a toddler play yard, providing a safe place for your child. It also has a removable full-size bassinet for infants to have comfortable sleep.
This best baby cot in Singapore has wheels and feet fold-in for easy storage. You can also bring it during travel as it comes with a carrying bag and fast push-button fold function.
Pros
Two different heights
Diaper-changing station
Storage pockets
Quick push-button fold feature
Carrying bag included
Machine wash
Cons
Lack of strong support for the changing table
Customer Reviews
Most customers said that the Graco Pack 'n Play Simple Solutions Play Yard has a sturdy design and easy-to-set-up structure. They also mentioned that it's ultra-portable when folded, making it a great travel companion during outdoor trips.
A customer gave this feedback:
"I received this as a gift, and found it super simple to assemble. I wasn't sure if I needed a playpen until my child is over six months and moving around more, but I love that this style allows you to have two different heights for the mattress- the upper is perfect for newborns to nap in. I was most impressed by how small it was when folded. Because babies have so much stuff, I was pretty concerned that it would just be an extra thing to have to pack, and would take up tons of space when not in use- or when travelling- but it's super compact! Lastly, I like the neutral grey, with a small amount of jungle animal print. It doesn't stick out like a sore thumb in a family room, which is great."
3.   Palette Box Sweet Dreams Deluxe Baby Cot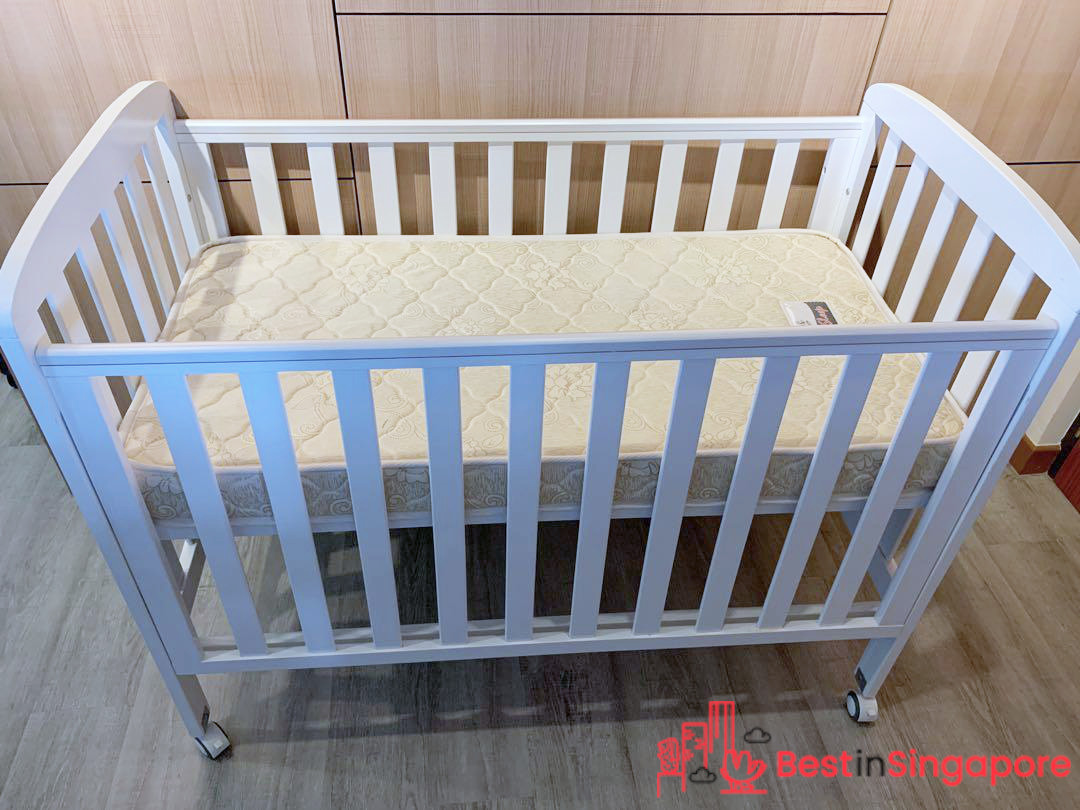 Price: $338.00
The Palette Box Sweet Dreams Deluxe Baby Cot is a 7-in-1 convertible cot that you can use as a baby cot, toddler bed, co-sleeper bed, kid's bench, and even study table! It also has an adjustable drop gate for easy access!
Its adjustable height settings are suitable for your baby from birth until 6 years old. It also has removable and lockable nylon caster wheels so you can easily manoeuvre it whenever you want to move the cot.
This best baby cot in Singapore is made up of premium pinewood coated with non-toxic paint to ensure safety and durability. It's also designed with a simple yet aesthetic style that matches any room decor!
Pros
Suitable from birth up to 6 years old
Adjustable drop gate
Removable lockable nylon castor wheels
Non-toxic paint
Cons
Drop gate issues for some cases
4.   Beblum Lavo 5 Convertible Baby Cot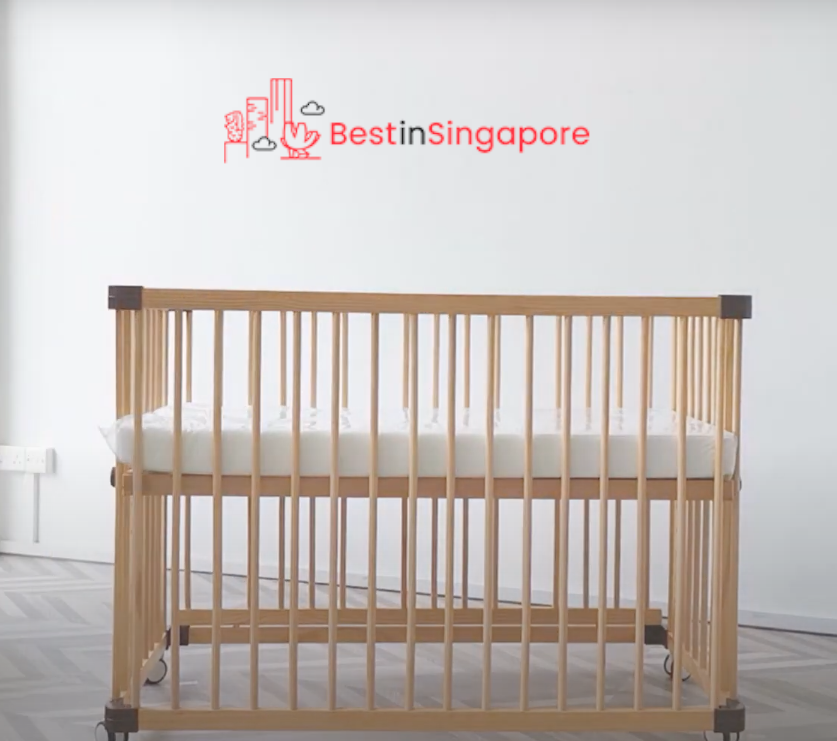 Price: $449.00
Among the other options, the Peplum Lavo 5 Convertible Baby Cot has the highest versatility: you can use it as a baby cot, co-sleeper, toddler bed, playpen as well as table, chair, and even sofa! This is why it has become one of the best baby cots in Singapore.
It's also made up of a high-quality combination of woods, offering great durability. It has a total of 9 height adjustment levels, which is quite rare for cots.
The structure is coated with eco-friendly paint and the 360-degree wheels come with a brake for safety. It's also easy to install as you only need to assemble the parts by inserting the bars into the designated holes.
Pros
Fast assembly
9 height adjustments
Multi-functionality
Durable
Cons
5.   Joie Allura 120 Travel Cot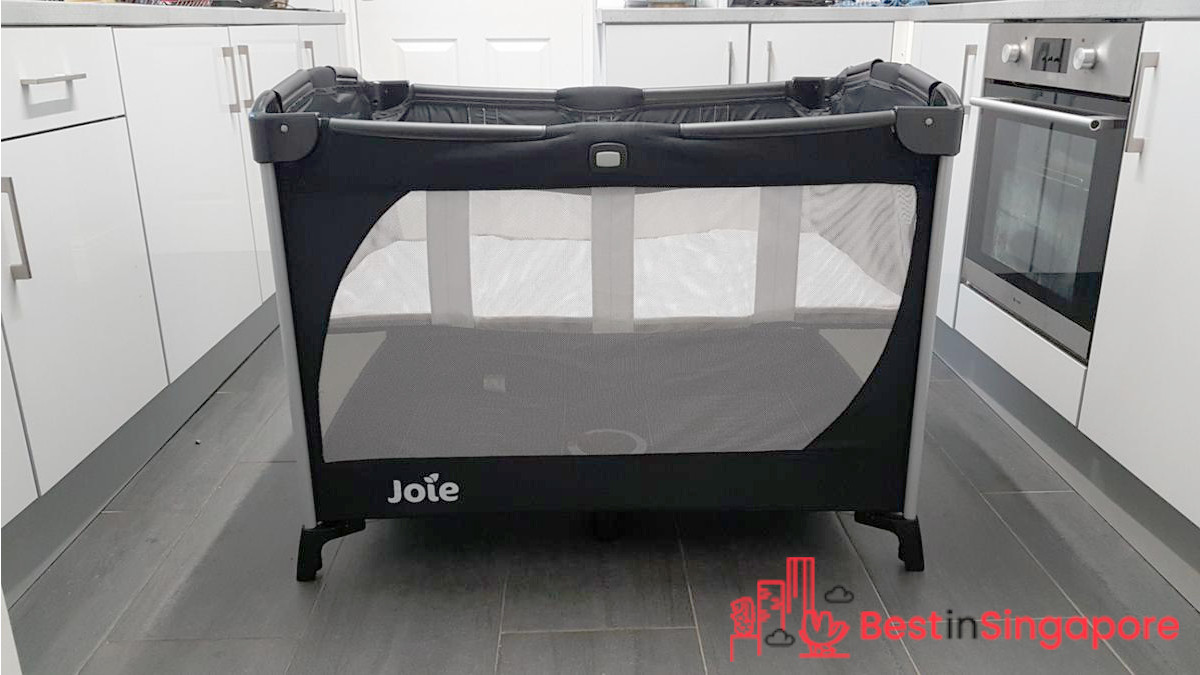 Price: $169.00
In need of a baby cot that you can use on-the-go? If so, then the Joie Allura Travel Cot might be the best baby cot in Singapore for you! With this model, you can bring everything you need without any hassle!
It comes with a full-size, removable bassinet and a carry bag so you can easily store and access all baby supplies. You can also set it up in just a few seconds!
This lightweight yet durable cot has a secret frame guarding your baby during nap time and playtime. It's also mesh-lined for ventilation on all 4 sides, keeping your baby comfortable during their sleep.
Pros
Compact and folded package
Convenient storage
2 integrated wheels
Removable mattress
Cons
Customer Reviews
Customers loved the durable and easy-to-assemble design of the Joie Allura Travel Cot. A customer wrote this feedback:
"I've used this product with my baby since she was 12 weeks old. She loves it! I have also used it to help transition a baby from Moses basket to cot & it has worked a treat. The travel cot is very easy to assemble & put away and can be done on your own. The bassinet feature is great."
And that's our list of the best baby cots in Singapore! If you've got more options in mind, feel free to share them with us!
You may also want to see the best co sleepers in Singapore if you're searching for certain types of cots that you can directly attach to the bed.