The 6 Best Weighing Scales in Singapore for Your Body Goals
Having some difficulties losing weight because of your cravings and lack of time to do daily exercise routines? With the best weighing scale in Singapore, you'll be able to keep track of your weight loss journey and see the results of your hard work more easily!
But with the countless weighing scales available on the market, how can you be so sure that you've got the right one?
To help you with that, we've narrowed down your options and listed only the best weighing scales in Singapore, offering absolute accuracy, detailed results, and long-lasting build!
However, before we jump into the list, you need to know first the most important factors to consider when buying a weighing scale. That way, you'll know how to find the best bathroom scale in Singapore.
How to Choose a Good Weighing Scale
Using a poorly-made weighing scale will only bring you inaccurate results, hindering you from achieving your fitness goals. That's why you must know which features to look out for before you shop for the best weighing scale in Singapore.
1. Weighing Capacity
Most weighing scales have a maximum weight capacity of 150kg. However, older models tend to be less accurate for those who weigh over 120kg.
So it's highly recommended to look for the latest/modern weighing scales, especially those that are made for larger individuals. Some even feature a maximum weight capacity of 300kg and an expanded range to ensure precise measurement.
2. Calibration
When it comes to calibration, it's best to choose a digital weighing scale, for it has automatic calibration. This means that it'll automatically go back to zero once you step off, showing more accurate results.
With an analogue scale, you need to calibrate it manually, which may lead to inaccurate readings. That's why most people tend to prefer the digital option when shopping for the best bathroom scale in Singapore.
3. Index
This feature is mostly found on digital weighing scales. These scales are built with a metal surface that allows calculation of body fat percentage.
With this detailed information, you can easily know how to modify your diet and exercise routine. This can also help improve your overall fitness and health because good health is not only based on your weight but on your body mass index as well.
Best Weighing Scales in Singapore
Now that you already know the key features to watch out for, let's take a look at our picks for the best weighing scales in Singapore!
Whether you need a basic or advanced scale, we've gathered the top models on the market, providing high accuracy, functionality, and durability!
1.   Xiaomi Mi Smart Scale 2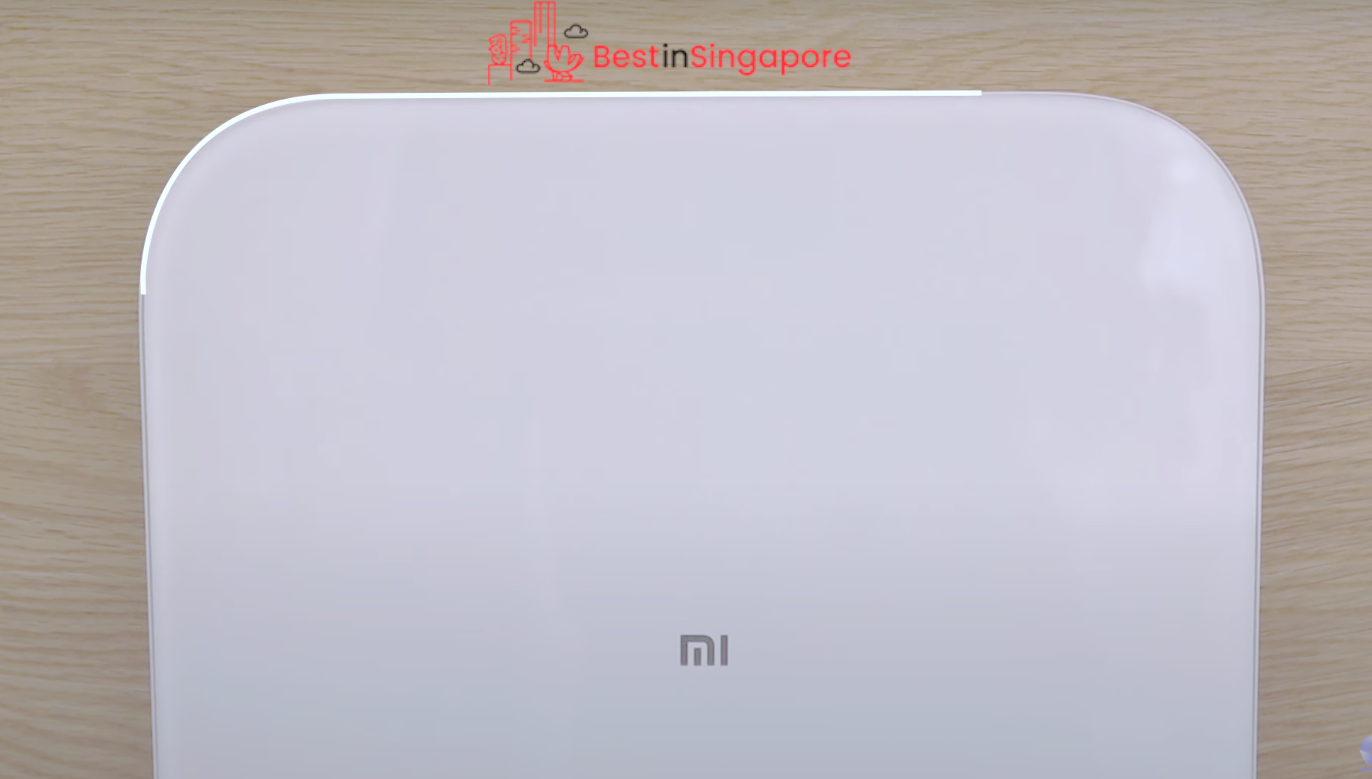 Price: $28.89
The Xiaomi Mi Smart Scale 2 offers a weighing capacity of up to 150kg with BMI measurement as well. The best thing about this bathroom scale is that it can even measure the smallest changes due to its high-precision sensor made from manganese steel.
It uses different algorithms to gather and analyse data, achieving only half the error margin and giving you more accurate measurements compared to most weighing scales.
You can easily keep track of your gradual improvements by connecting the Mi Fit app to the scale. The app shows easy-to-read graphs containing weight stats and overall health progress.
It can also save long-time weight records for more detailed information. Aside from this, it can store multiple user profiles so all family members can use the scale and monitor their progress.
The display comes with a unique light sensor that automatically adjusts the brightness so you can always have a clear view, even when in a low-light environment. With all of these features, you can immediately adjust your exercise and diet routine!
Pros
Can create user profiles
Light sensor
Sturdy polished glass
Low-energy Bluetooth Technology
Cons
Lacks a few of the statistics others provide
Customer Reviews
Most customers loved the wide range and flexible features of the Xiaomi Mi Smart Scale 2. A customer wrote this feedback about this bathroom scale:
"The Mi Scale is a really smart and good personal scale – but you have to ask yourself if you need all these values. In combination with a Mi Band you have another possibility to track your fitness. Personally, I find the eufy P1 visually more appealing than the Xiaomi scale.On the other hand, I like the Mi Scale's functions a lot better, both personal scales don't give much thought to the accuracy of the measured data. The eufy app is a bit more clearly arranged, there are also more statistics. So if you don't own any other Xiaomi fitness gadgets, you should rather use the eufy scale, but otherwise you are also very well positioned with the Mi Scale 2."
2.   Remax RL-LF02 Smart Scale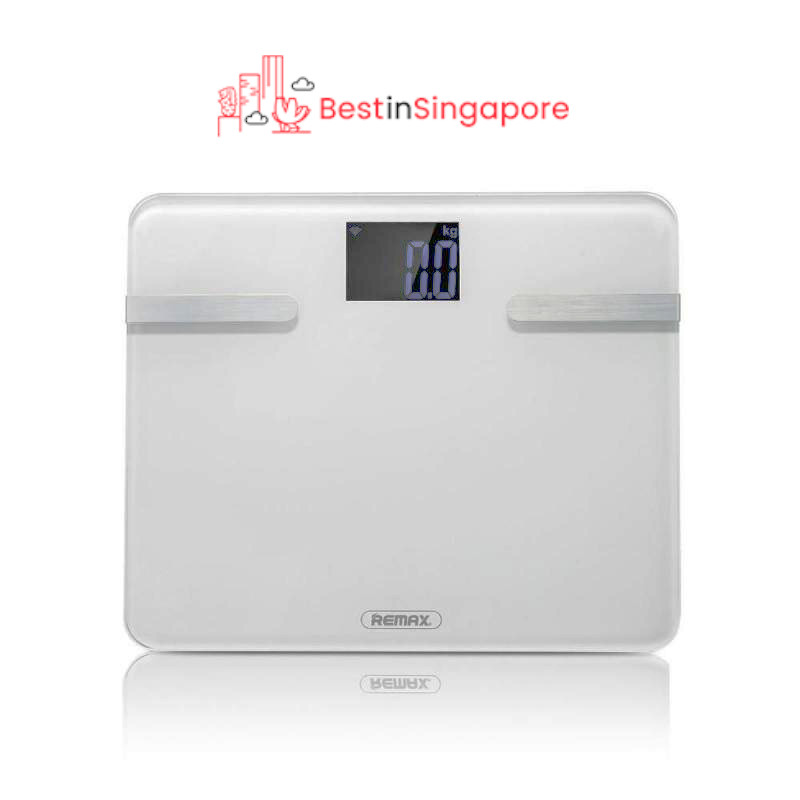 Price: $26.49
The Remax RL-LF02 Smart Scale is a lightweight and portable weighing scale that's capable of measuring bone, fat, and muscle mass. You can also connect it to an app so you can easily manage and monitor your weight, BMI, and other health data.
It also comes with a maternal mode feature, specially designed for mothers and babies so it can measure the baby's weight even while the mother is holding the baby.
Despite its ultra-slim design, it has thick tempered glass that can take weights up to 163kg as well as fully protect the surface from scratches. It may be sleek, but it's definitely tough! That's why it made our list of the best bathroom scales in Singapore.
Pros
Smart weight management app
BMI measurement
Maternal mode
Automatic on and off feature
Compact design
Cons
Maternal mode results can be slightly inaccurate for some cases
3.   Omron HN289 Digital Body Weighing Scale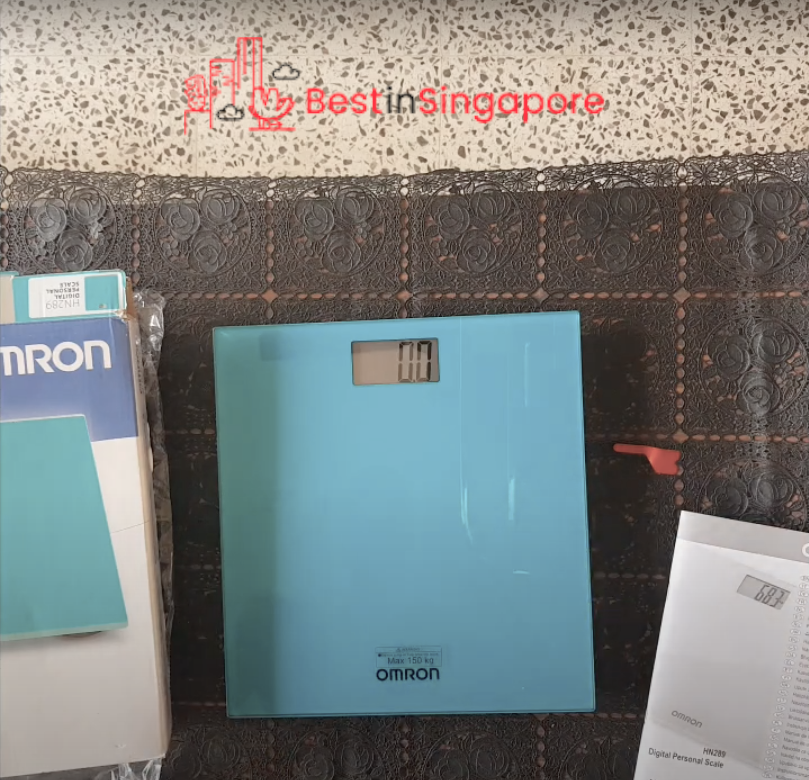 Price: $26.68
Coming from a well-known healthcare brand, the Omron HN289 Digital Body Weighing Scale has become one of the best weighing scales in Singapore because of its advanced features. This includes a 4 sensor technology providing absolute accuracy with precision display to the closest 100g increment.
It has a maximum weight capacity of 150kg, which is a good choice for a standard modern scale. To minimise energy consumption, it also has an automatic on and off feature — that's pretty much a must for any electronic bathroom scale in Singapore.
Its sleek and thin design comes with a high-grade tempered glass panel for long-lasting use. If you prefer a basic model that you can use casually, then this is a great scale to have.
Pros
4-sensor technology
Automatic on and off feature
Durable build
Easy to use
Cons
Doesn't have an app
Rubber legs might stick on the floor
Customer Reviews
Customers were highly satisfied with the accurate measurements provided by the Omron HN289 Digital Body Weighing Scale. They also said that it truly has a simple yet functional design.
A customer gave this review:
"Omron is my trusted brand while considering health related devices. The device is accurate, cross checked with the results from the nearby clinic. The device has a very good premium look and it perfectly matches any floors. The mechanism is very simple. Just pull out the sticker from the battery and you are ready to go. Auto on/off facility is really superb. If you are concerned in maintaining good health it will be a good companion for you and your family."
4.   Withings Body Body Composition Wi-Fi Scale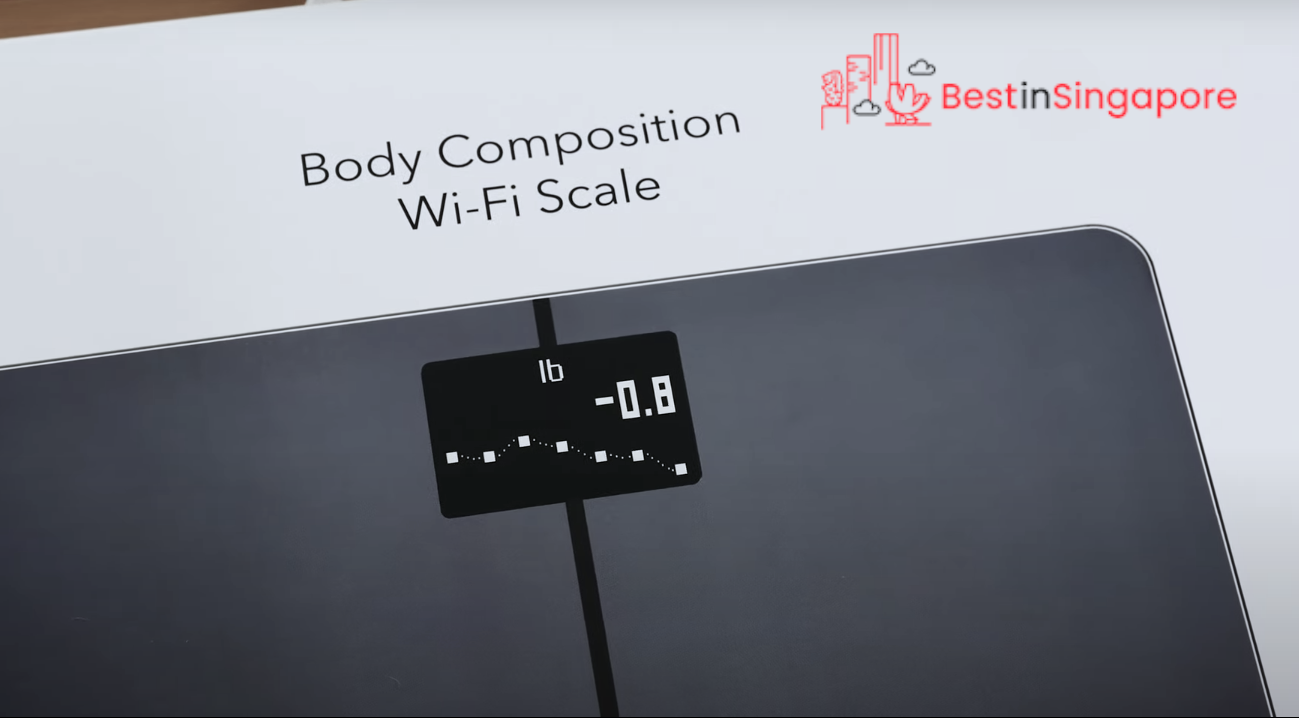 Price: $157.70
Unlike other smart scales, the Withings Body Body Composition Wi-Fi Scale is compatible with any fitness app… so if you're currently using a specific app, then you can easily add the weight measurement to your existing health data.
With this best weighing scale Singapore, you can manage nutrition tracking and full body composition as well as store records automatically, allowing you to set and achieve certain goals. It provides detailed insights including fat, muscle, and bone mass and water measurement as well.
It features an innovative position control technology that'll help you center your weight with on-screen visual cues for accurate measurement. It can also be used by the whole family, for it can save up to 8 user profiles.
Pros
Complete body health analysis
Automatic WiFi synchronization
Nutrition tracking
Daily weather forecast
Can be used by multiple users
Cons
Body fat and muscle mass measurement are slightly inaccurate
Customer Reviews
Many users claimed the Withings Body Body Composition Wi-Fi Scale is the best bathroom scale in Singapore because of its full-analysis overview and impressive app compatibility. A customer shared this experience:
"I really like this scale. Once you set it up and connect to WiFi, it will track your weight as well as body fat, muscle mass, water weight, etc. However, I don't think the body fat and muscle mass readings are entirely accurate, and that's why I only gave it 4 stars. I'm somewhere in the 8-12% body fat range. But from one day to the next, it will measure my muscle mass as much as 5 pounds up or down. Now I'm no doctor… but I'm pretty sure it is impossible to add 4 pounds of muscle in 24 hours. That being said, it's a really cool scale. You can set what readings you want to see each time. You can also set up multiple profiles and the scale will recognize who it is automatically (unless both people are within a couple pounds of each other). The free app also tracks all of your stats and shows your progress. The scale even displays the weather if you like to weigh in before you get dressed in the morning."
5.   iScale Digital Body Weighing Scale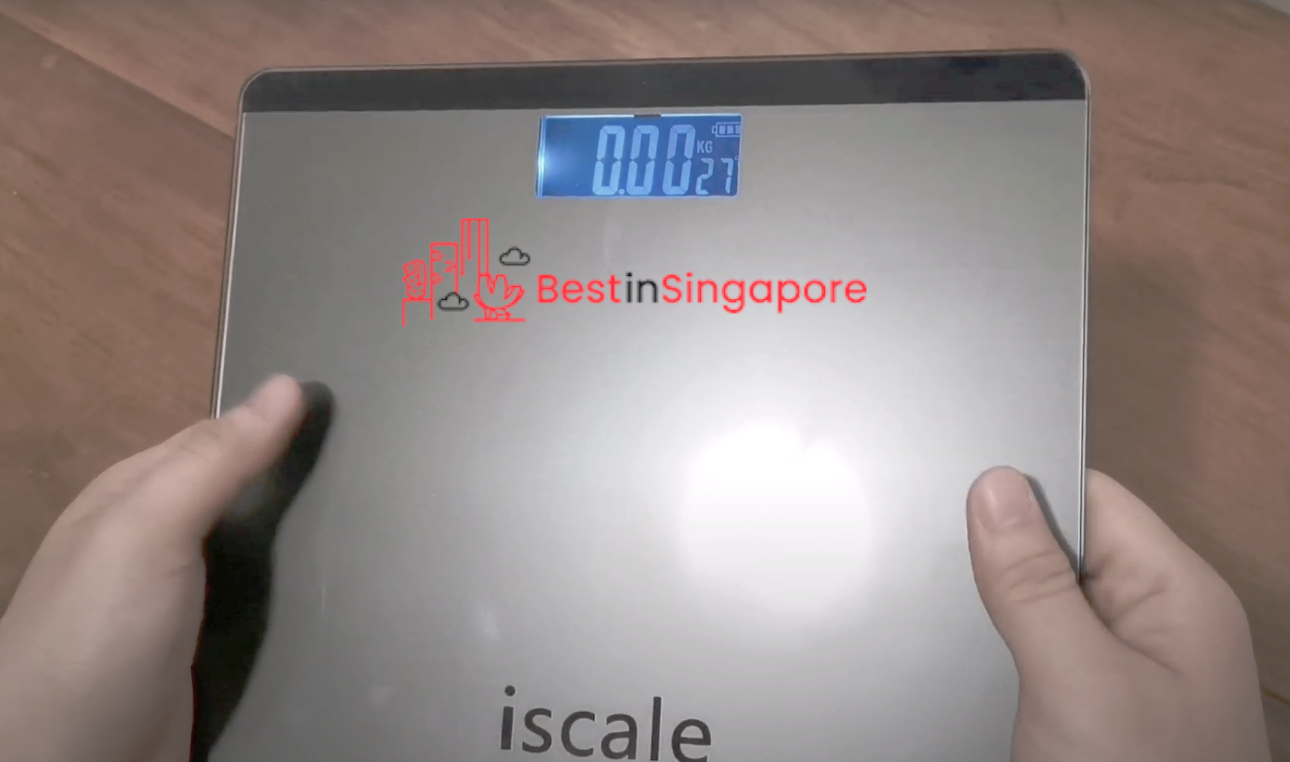 Price: $11.90
The iScale Digital Body Weighing Scale has a modern and sleek design with a large LED display and night-vision light screen for easy viewing. This best weighing scale in Singapore is a simple yet versatile model that features many useful functions.
Compared to most scales, it has a higher maximum weight capacity of 180kg. Aside from the weight display, it also shows the room temperature, which is quite rare in traditional scales.
It's also designed with an explosion-proof tempered glass and anti-rollover surface. It's little features of that sort that help explain why many recommended it to us as the best bathroom scale in Singapore.
Since it has a built-in rechargeable battery, you can simply charge it with a USB cable.
Pros
Power saving mode
Low battery reminder
Temperature room display
Anti-rollover surface
Cons
6. Filtech Artesa Weighing Scale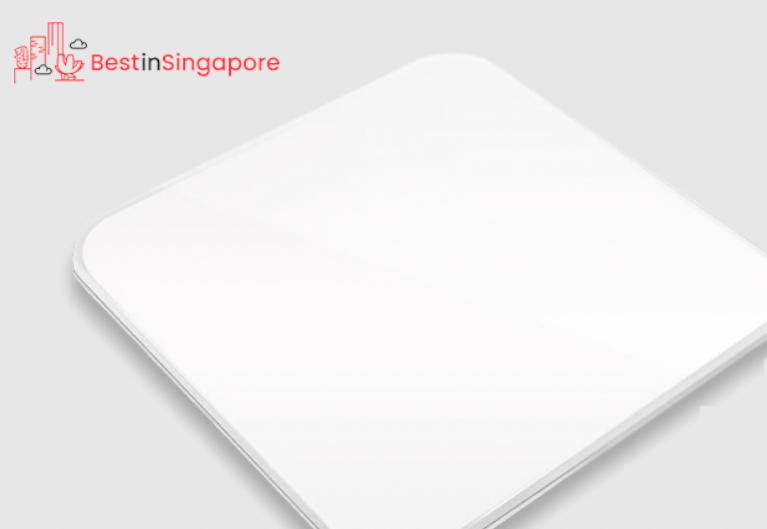 Price: $25.90
Offering a minimalistic feel, Filtech's Artesa Weighing Scale is the scale to purchase to fit any home style. It's the perfect decor while still providing its main use properly.
The scale is digital, providing an LED Display for a clearer view of the numbers. It also has an anti-slip base so you can use after your shower routine.
The superb accuracy of the Artesa Weighing Scale is another factor why you should consider this for your own usage.
For more information about the product, head on to Filtech's website. Simply send them a call if you have any other inquiries and they'll be sure to accommodate you.
Pros
Impeccable build quality
Extreme durability tempered glass
Cons
Accommodates only up to 180kg
And that's the end of our list of the best weighing scales in Singapore! Do you already know which one suits your needs the most? Let us know all about it!
And to further help you with your weight loss journey, you might want to try some of these best slimming teas in Singapore! They can help eliminate unwanted body fat, making them great additions to your health diet and routine!