The 8 Best Bathroom Mirrors in Singapore
If you've just moved into a new home or renovated your old place, then you're probably overwhelmed by the list of tasks that you need to do. This includes finding the best bathroom mirror in Singapore.
A mirror is a must-have addition to every bathroom, not only for vanity purposes but also to enhance the space of the room. Since it can reflect both natural and artificial light, it can make the room look larger and brighter as well.
That said, it's important that you know how to choose the right one. The wrong bathroom mirror can stick out in the wrong way in your bathroom… like a sore thumb.
And so, before we jump into our list of the best bathroom mirrors in Singapore, you might want to know first some of the things to consider when buying a bathroom mirror. This way, you can easily decide which model in our list complements your style and needs.
How to Choose a Good Bathroom Mirror
As you shop for a bathroom mirror, you'll come across a variety of models with different styles, shapes, and other features.
Most functions are often overlooked, so let's take a deeper look into some of the details that matter.
1. Size
First of all, you need to determine whether you want a bunch of small mirrors or a large one. Take a look at your bathroom space and see if you need one to make it look larger.
Before you shop, make sure to measure the height and width of the space allotted for the mirror. Leave a few inches of wall space on each side so you can be sure that it'll fit.
It'd be wise to pick one that's exactly as wide as the vanity for perfect alignment. It shouldn't be wider than the vanity itself.
Alternatively, you may consider a model with dimensions that are close to the size of the vanity.
2. Shape and Design
When it comes to mirror shapes, you can choose between oval, round, and rectangle mirrors. These are the most common shapes but if you want a unique model to add some character, then you can also opt for other shapes.
Keep in mind that the mirror must match the overall interior design of the bathroom. For example, a circular or frameless mirror would be great for modern bathrooms.
3. Framed or Frameless
If you want to give an illusion of more space, then a frameless mirror would be a good option. Frameless mirrors also appear more minimalistic and sophisticated.
But if you prefer to have a stylish interior, you may choose a framed mirror with a certain texture and colour. You can opt for vibrant coloured frames or an intricate design.
For the texture, there are a lot of options to choose from like wood, metal, glass, and many more materials. Also, take note that framed mirrors are a bit bulkier and can use up more surface area… so be sure that you have enough space in your bathroom.
4. Colour
If you want to brighten up the room, then you may go for the one with a bold colour. For a simple yet classic style, choose a black one.
There are also mirrors with decorative accent for a modern look.
Best Bathroom Mirrors in Singapore
Whether you want a plain or stylish mirror in your bathroom, we've found some of the best bathroom mirrors in Singapore that can complement any style! They also come with various sizes and designs so you'll surely find the right one for you.
1.   Umbra Hub Wall Mirror With Rubber Frame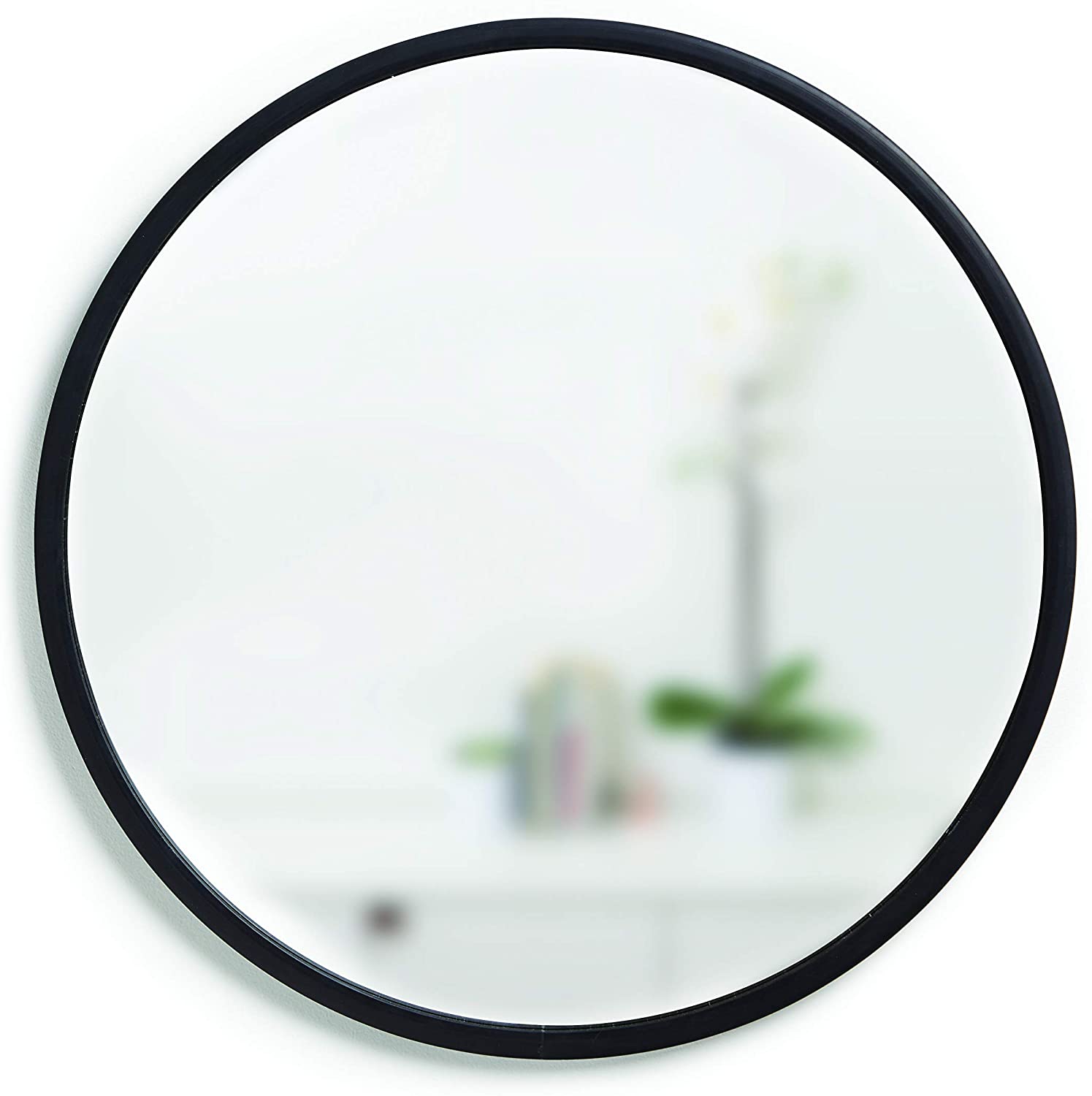 Price: $104.19
The Urban Hub Circular Mirror comes with a modern and industrialised design that can complement a variety of styles. It's also made with a quality rubber frame for durability.
The rubber frame acts as a protective bumper, which is a great feature for those who have small bathroom space. With its 24-inch diameter, it'll surely help to brighten up the room and make the space look larger.
Pros
Rubber frame
Durable build
Modern look
Cons
Hanging portion is slightly unstable
Customer Reviews
Most customers loved the Urban Hub Circular Mirror because of its modern and elegant style. They were also impressed with the unique and innovative rubber frame.
A user wrote this feedback:
"Just what I needed for my industrial bathroom remodel. The rubber edging is great for a bathroom since it won't russet like metal. Receive a lot of complements on it."
2.   Umbra Prisma Modern Geometric Shaped Oval Mirror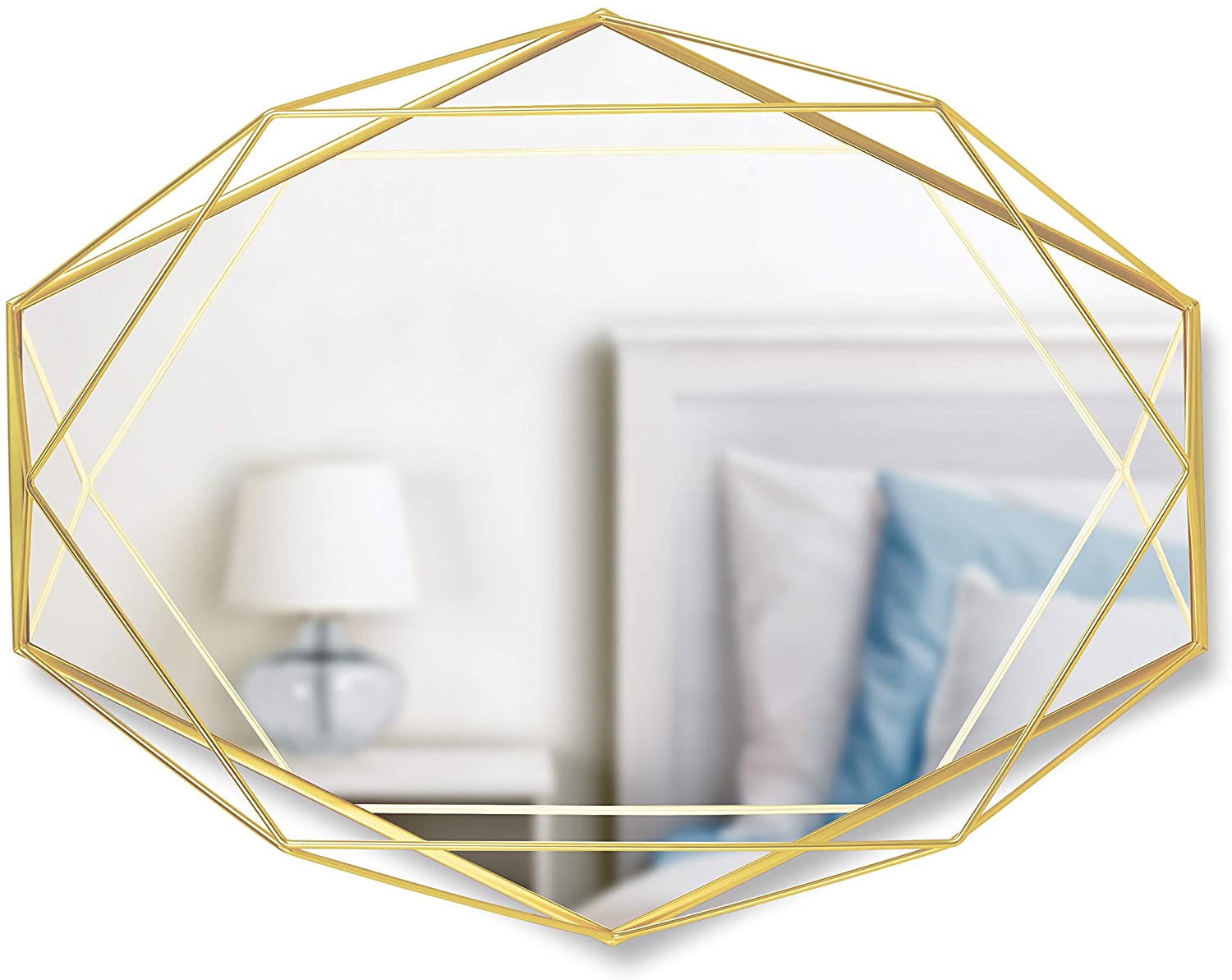 Price: $139.44
If you prefer to have a unique mirror design, then you'll absolutely love the Umbra Prisma Mirror! It features a three-dimensional geometric style, designed with an eye-catching frame made up of plated metal wires for a beautiful finish.
The best thing about this mirror is that you can hang your favourite jewellery or other small accessories over the wires so you can easily find them whenever you're getting ready.
It's also ideal for both large and small bathroom spaces as you can hang it either vertically or horizontally.
Pros
Can be used as a storage solution
Can be hung vertically or horizontally
Unique three-dimensional design
Plated metal wire
Cons
Might be too small for others
Customer Reviews
Many customers recommended the Umbra Prisma Mirror due to its fancy and classic design as well as its functionality. They said that they can easily put a little jewellery box and a vase on it, letting them save space and keep everything organised.
This is why it has become one of the best bathroom mirrors in Singapore. A customer left this feedback:
"I absolutely love this mirror! It's very contemporary and classy. I decided to use it as a vanity tray on my dresser. I can put my little jewelry box on it, my day to day jewelry as well as a vase to keep the look clean. You can also use this as a wall mirror, possibly in a small powder room or bathroom. The geometric design gives it dimension and the wired sides are thick quality that would be difficult to bend. You can also hang necklaces on it if you don't want them to tangle. This mirror/tray has so many options in different rooms of the home. In the bathroom it can be used as a mirror or a tray. Also, in a living/family room it can be used as an ottoman tray. I truly love it, I think it's a unique statement piece that has excellent quality. I recommend this to anyone looking for that missing decorative piece."
3.   Fritz Hansen Round Mirror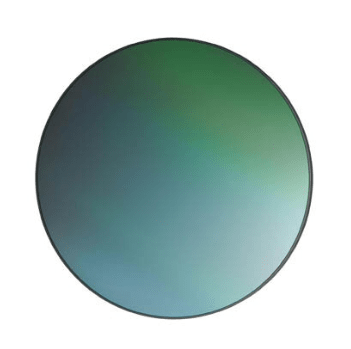 Price: $1,328.00
The Fritz Hansen Mirror Round is different from traditional mirrors, for it features a printed reflective glass instead of the classic silver backing. If you'd like to have an artistic mirror displayed in your bathroom, then this may be the best bathroom mirror in Singapore for you!
Its glass is designed with hand-painted graphics too. In that sense, it's more mirror-like than "an actual mirror", but if you can live with that, it's truly a great decorative addition to any room.
This mirror has a soft MDF/CDF lacquered frame and it can also be mounted horizontally or vertically.
Pros
Printed reflective glass
Soft yet durable frame
Aesthetic design
Cons
Used as bathroom decor only
4.   Homez Bathroom Mirror Cabinet D7042R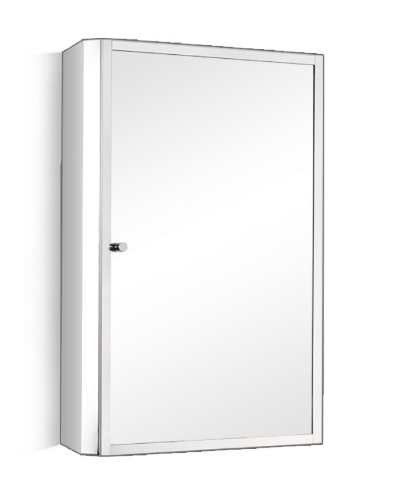 Price: $159.90
The Homez Bathroom Mirror Cabinet D7042R features a space-efficient design with its large and well-made storage cabinet behind the mirror. With this mirror cabinet, you can easily organise all bathroom essentials on the tiered shelf.
This multi-functional mirror also features clean and sophisticated lines that would suit any style. To ensure long-lasting quality, it has a thick coating of silvering and a high-quality hinge.
It also has a waterproof build with a polished stainless steel finish.
Pros
Cabinet with tiered shelf
Anti-rust stainless steel design
Waterproof and durable build
Cons
Slightly hard to mount on the wall
5.   Tuscani Bathroom Frameless Mirror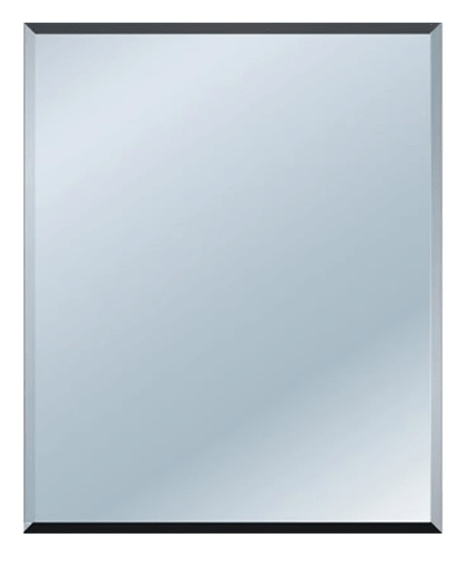 Price: $69.00
The Tuscani PN101M Mirror is a frameless model but due to its polished bevel edge, it transforms into an elegant mirror with a framed look. The glass around its edges is thinner, giving a visual depth that can also maximise the space of a room.
The edges are not sharp, so rest assured that it won't cause any harm in case you accidentally bump into it. This simple yet stylish mirror can complement any modern interior!
Pros
Polished bevel edge
Framed look
Modern style
Cons
Might not be suitable for large-spaced bathrooms
6. Parisienne French Classic Wall Mirror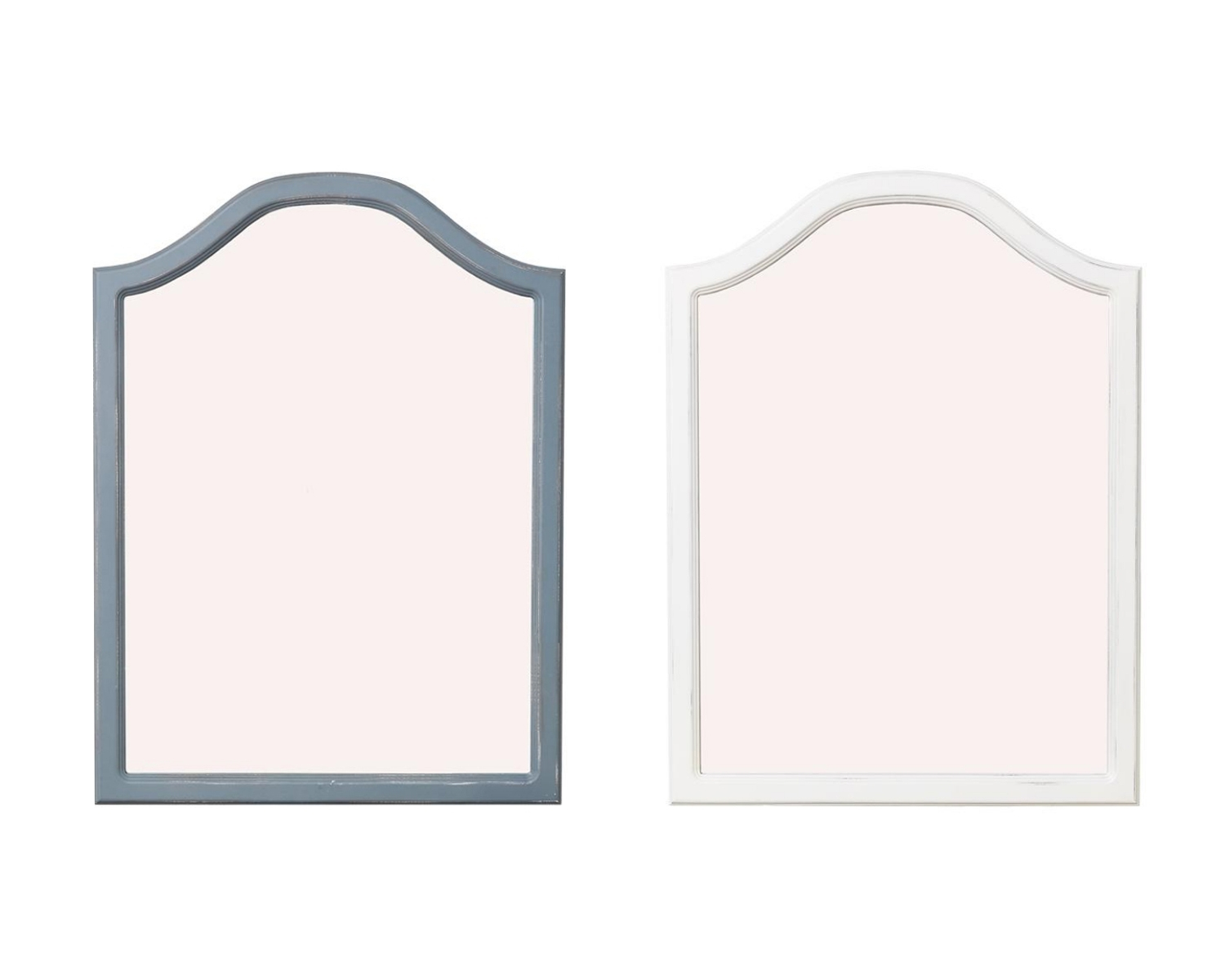 Browse through Born In Colour's Mirror Collections
Price: $149.00
Born In Colour is the place to look for the best furniture and accessories for your home. From shelves, racks, and tables to mattresses, lamps, and mirrors, you can get almost anything you'd need with them.
Among many of their mirrors, the Parisienne French Classic Wall Mirror is definitely a choice to consider as it can complement almost any place, having a simple look. Its French-influenced design allows for a wainscotting accent and distressed paint finish, something of being elegant and timeless.
By choosing the Classic Wall Mirror, you won't need to settle on just one colour. You can choose among the hues available, helping you to fit your own scheme at home.
Pros
Multiple colours available
Timeless design
French-inspired mirror
Cons
7. SaniQUO – HERA Frame Mirror HERA8060FM-ca Charcoal Ash
Best for Minimalist Design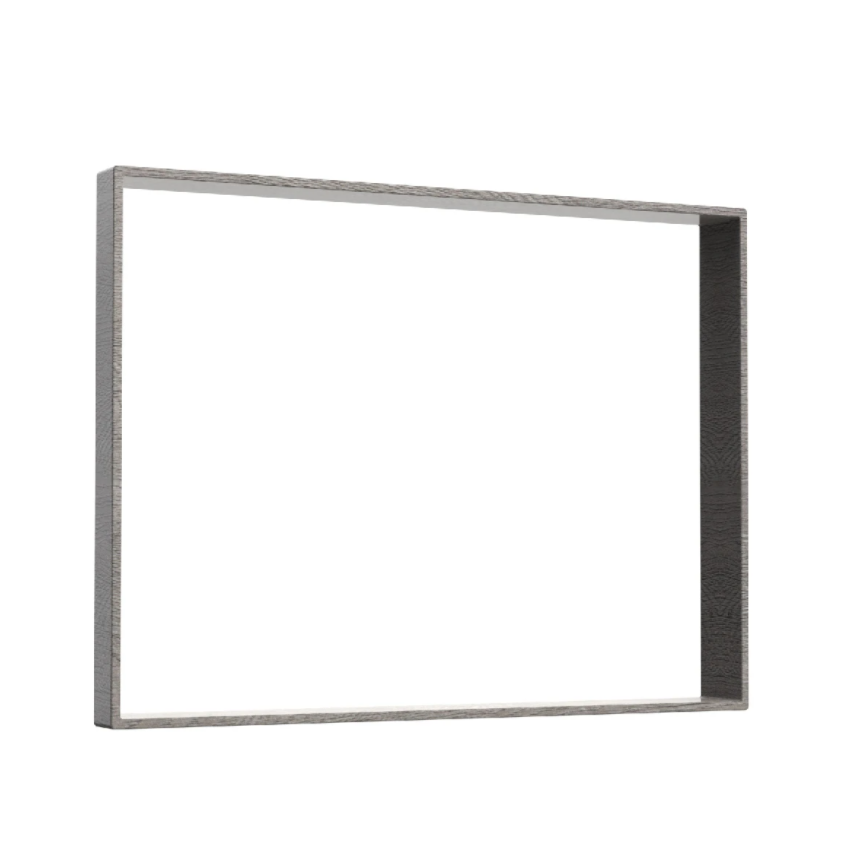 Price: $198.00
If you have a large space for your bathroom, it's good to fill it up with stylish mirrors. Here is a large, simple, yet elegant bathroom mirror by SaniQOU.
HERA Frame Mirror is a large mirror sizing to 800 X 600 X 70 mm which makes it a perfect for a mirror for large bathrooms. It's simple design also makes it diverse with its flexibility in being installed vertically or horizontally.
Finally, this piece also comes in different colours to choose form. Finding the perfect colour for this mirror can definitely elevate the look of your bathroom.
Pros
Vertical/Horizontal Mirror
Other colours available
Cons
8. Nobel Italy – MCB-4562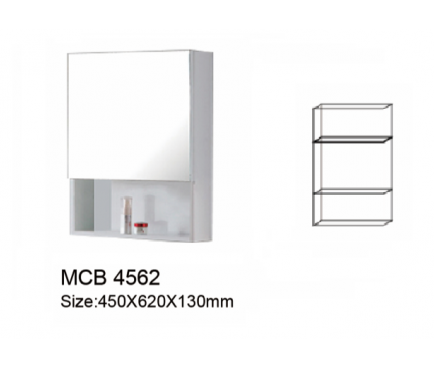 Price: Available for Enquiry
Nobel Italy's MCB-4562 is a geometric bathroom mirror that offers shelf space at the bottom of the design. The clean cut look works well for every type of bathroom design, especially modern styles. 
Another interesting feature about this model is that it was especially made for an environment that often comes in contact with water and vapour. The mirror's hinges are waterproof, and offers a soft-close feature. 
Pros
High-definition mirror
Easy to clean
Waterproof material
Cons
Not enough shelf space provided
Uneven look
And that's the end of our list of the best bathroom mirrors in Singapore! If you'd like to recommend more options, you may also share them with us!
And if you also need to install other bathroom fixtures, these best handyman services in Singapore can help you with the process to ensure that all fixtures are properly installed.