7 Picks for the Best Hair Wax in Singapore
If you're one those people who can't step out of the house without styling their hair with the best hair wax in Singapore, then today's list is definitely for you. We found some of the best hair wax in Singapore that every stylish person would want to get his hands on.
We should caution you now, though, that finding the best hair wax in Singapore that matches your hair's needs isn't that easy. After all, not everyone shares the same hair length, hair type, and preferred hairstyles.
So, before we move on to our picks, we're going to dig deeper into the different types of hair wax for you to know which one best suits your needs and personal style.
Let's start, shall we?
How to Choose the Best Hair Wax in Singapore
It can get frustrating at times looking for the best hair wax in Singapore because on top of the countless options, buyers have to consider the type of hair wax that matches their hair type.
For those who don't know, the 3 most common types of hair wax are mud, clay, and pomade. You have probably heard these words below, but we're sure that you don't know what makes them different from each other.
In line with that, each of these hair waxes is made specifically for a certain hair type and hair style. Let's go over each hair wax type below to know which is the right option for you.
1. Mud Wax
If you're looking forward to styling your hair with a quiff partnered by a sharp fade, we recommend getting a hold of a mud wax.
It's the perfect option if you're hoping for a strong, extreme hold, and a matte finish. It can also give your hair more volume and texture, making it appear fuller and firmer.
Professional hairdressers and hair stylists suggest combining mud wax and pomade for a glossier texture and more natural-looking hair volume.
2. Clay
While mud wax is nowhere near a recent invention, clay waxes are relatively newer and more preferred by teens and millennials.
These waxes have either an extremely thick or very creamy consistency as they actually contain a real clay ingredient in their formulation.
This type is the ideal option for those looking to hide their thinning and receding hairline as it makes hair feel and appear thicker.
It's also highly recommended to those who like messy hairstyles with tons of volume and texture.
On top of that, clay waxes have the ingredients to moisturise and strengthen the hair, so if you've been suffering from dry hair recently, then this one might be the one to end all your hair problems.
3. Pomade
Pomade waxes are divided into 2 types: water-based and oil-based. Both these are designed to make combed hairstyles look stronger and fuller, but differ in terms of consistency.
Water-based ones are the more friendly and popular option because it's not that hard to wash them off during ashower. Oil-based pomades, on the other hand, are more dependable in terms of infinite moldability.
Professional hair stylists and hairdressers would suggest a water-based pomade because it offers the opportunity to restyle your hair throughout the day.
Generally, pomade waxes are the ideal option if you want to make your hair look slicker, fuller, and neater while giving it a glossy shine.
The Best Hair Wax in Singapore
Now that we know more about how to pick a hair wax that caters to your hair type and preferred style, it's time to go over our picks for the best hair wax in Singapore.
These picks vary in type, size, and cost, but all of them do a great job of making your hair look and feel stronger and fuller!
1.   Suavecito Pomade – Strong Hold
Best for Affordability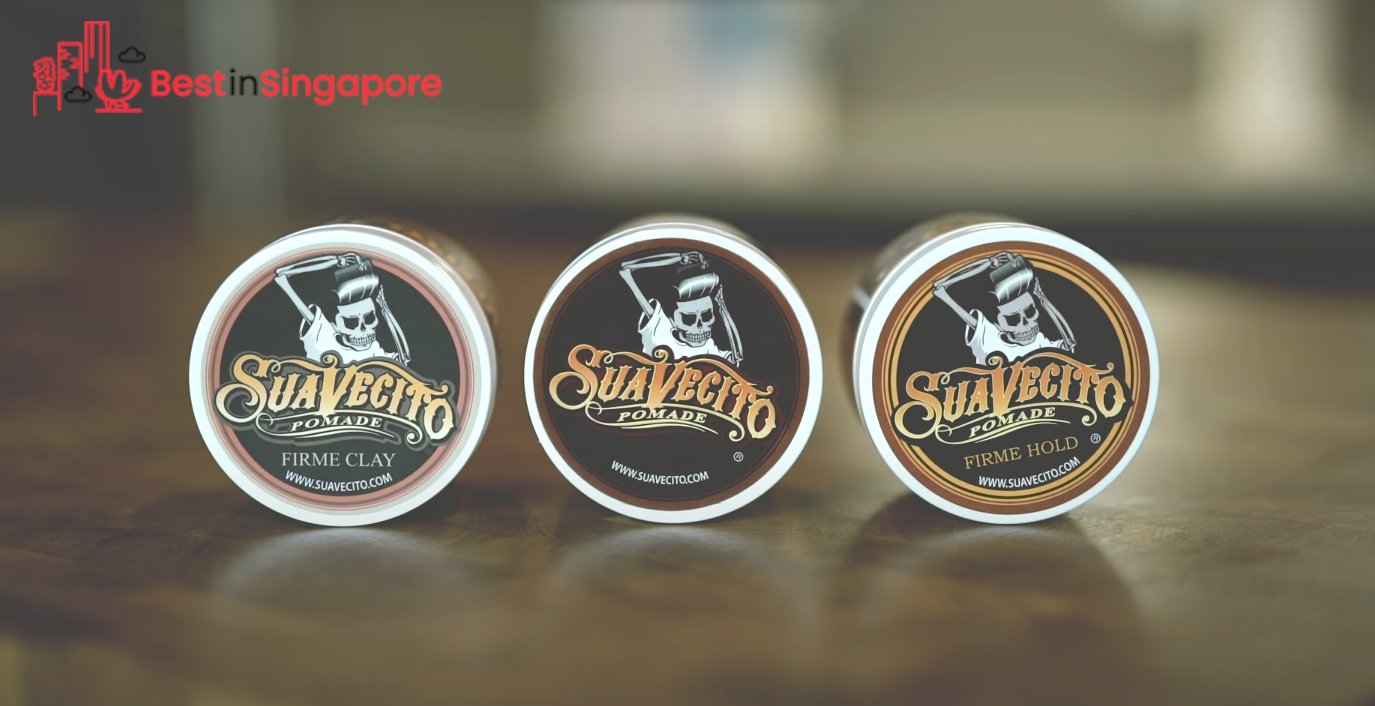 Price: $19.50
If you're looking for a cheaper option, then you definitely want to get your hands on the Suavecito Pomade – Strong Hold version. It might be ridiculously cheap, but it covers everything that the best hair wax in Singapore does, if not more.
One thing really worth noting about the Suavecito Pomade is its natural and organic ingredients such as olive oil, vegetable wax, and the like. Buyers can be confident that there are no harmful chemicals or ingredients mixed in it.
The Suavecito Pomade works well with literally any hair type and length, but it does wonders for those with shorter hair. Some customers even say that it works best with combed and formal hairstyles.
Pros
Affordable
Natural and organic ingredients
More suitable for short hair
Cons
Thick consistency, hard to wash off of the hair
2.   Ultimate Matte Wax
Best for a Strong Hold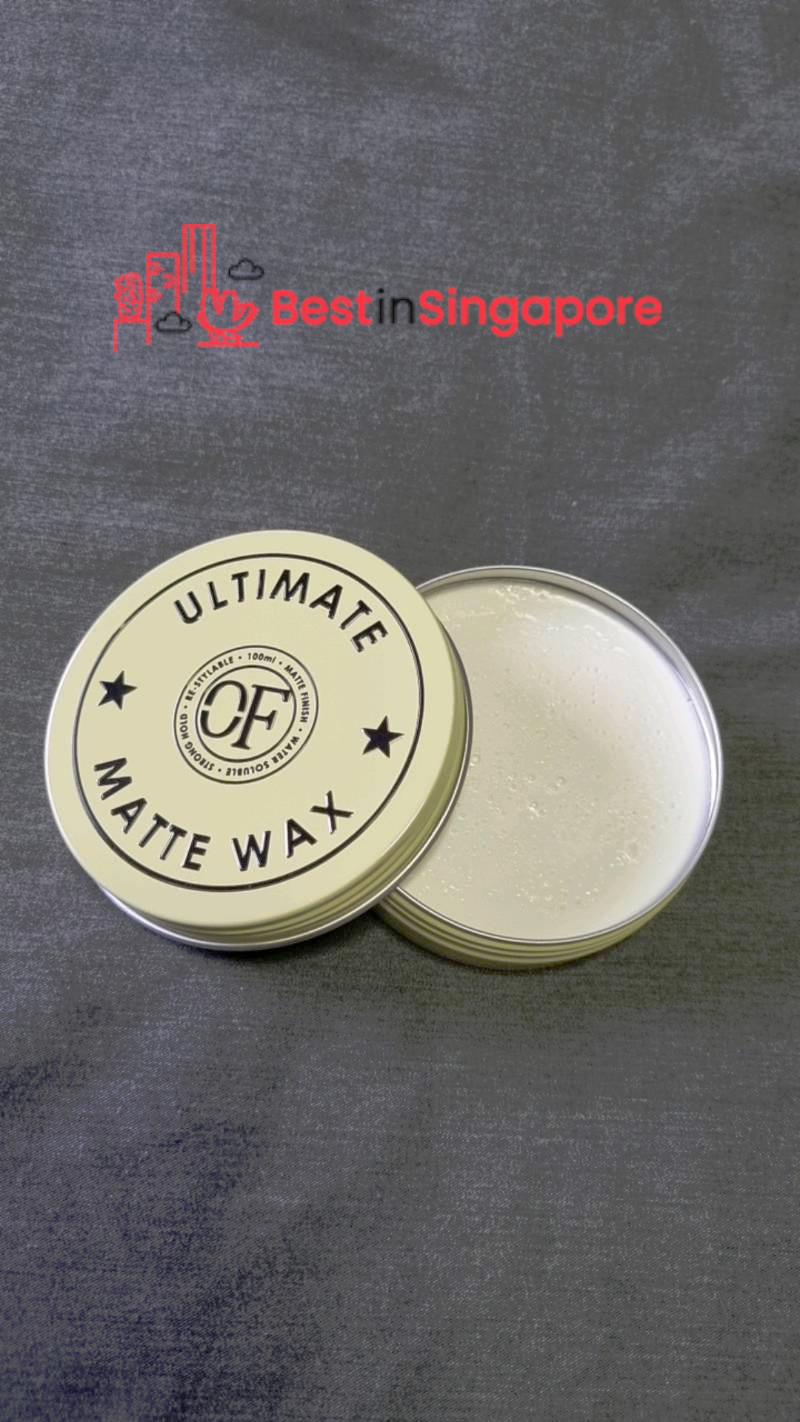 Price: $9.20
Considered the best hair wax in Singapore among the younger generation of men, Ultimate Matte Wax can give even the shortest hair a strong hold that can last for the entire day.
It's famous for its formula that provides a matte finish with maximum hold and no sight of flakes. It's even water soluble, so washing it off during a shower won't take as much time as with other hair waxes.
More than that, the Ultimate Matte Wax doesn't melt easily under the heat — which we think is an ideal feature given that it's constantly scorching hot in Singapore. It comes with a masculine smell, too!
In terms of hair length, the Ultimate Matte Wax is strongly recommended for those with short and medium-length hair.
Pros
Affordable
Maximum hold
Water-soluble
With masculine scent
Cons
Not entirely made of natural ingredients
Customer Reviews
Here are some of the comments of its buyers:
"Absolutely love this. Just a tiny bit plus hair spray, I don't have to fix my hair for the entire day. Does not have a very strong smell which is very much appreciated as well and washes out easily. Will definitely buy again. Thank you!"
"Smell good, the wax is light & able to hold the shape for the entire day, won't melt. Bought for my hubby, he is very satisfied as he used to sweat easily and the wax not like other brands, would melt easily after sweat caused the hair look oily & ugly!"
3.   Gatsby Moving Rubber Extreme Mat
Best for Casual and Lifted Hairstyles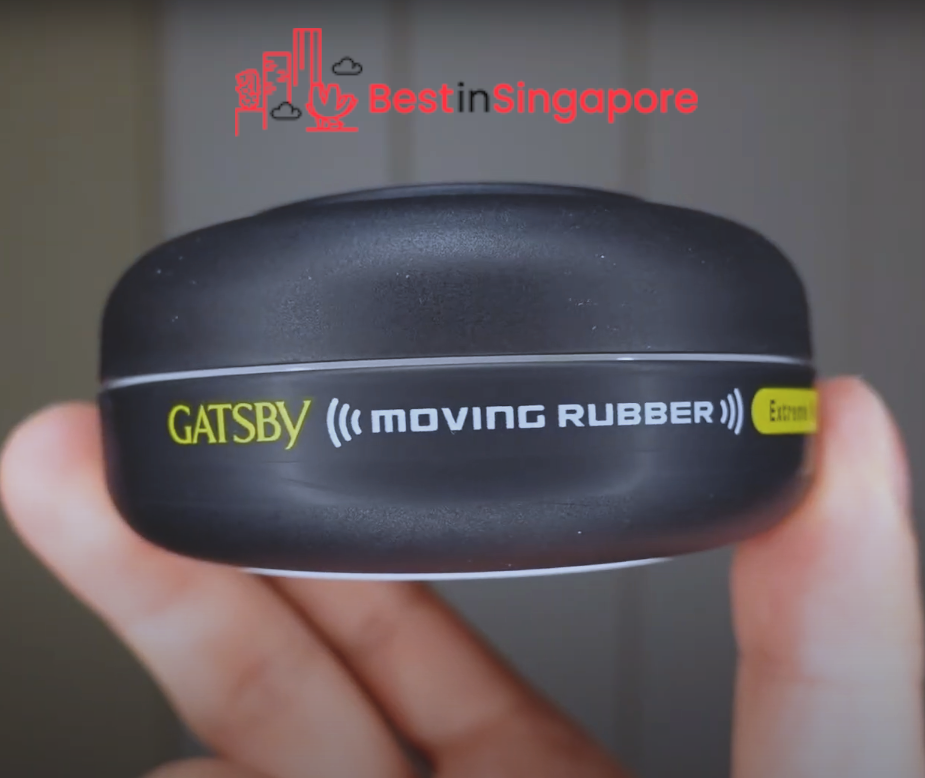 Price: $9.60
Since Gatsby is undoubtedly one of the most trusted names in hair wax around the world, we couldn't help but include one of its products in our list. Here's the Gatsby Moving Rubber Extreme Mat, and we're sure that it's the best hair wax in Singapore.
Firstly, its price. At only $9.60, the Moving Rubber Extreme Mat edition is one of the most affordable hair waxes on the market. 
Secondly, the quality considering the price. The Moving Rubber has a really good hold, making it easy to create casual or lifted hairstyles that have no shine. Plus, it's also easy to restyle and wash off. 
Lastly, like most Gatsby products, the Moving Rubber Extreme Mat has a pleasant scent, unlike many hair waxes. Unfortunately, the hair wax comes in a small tub, but the small amount needed to make it work more than makes up for it. 
Pros
Easy to style
Creates a mattified, no-shine effect
Ultra-strong holding power
Paraben-free
Cons
Comes in a small container
4.   SHISEIDO UNO Matte Effector Hair
Best for Matte Finish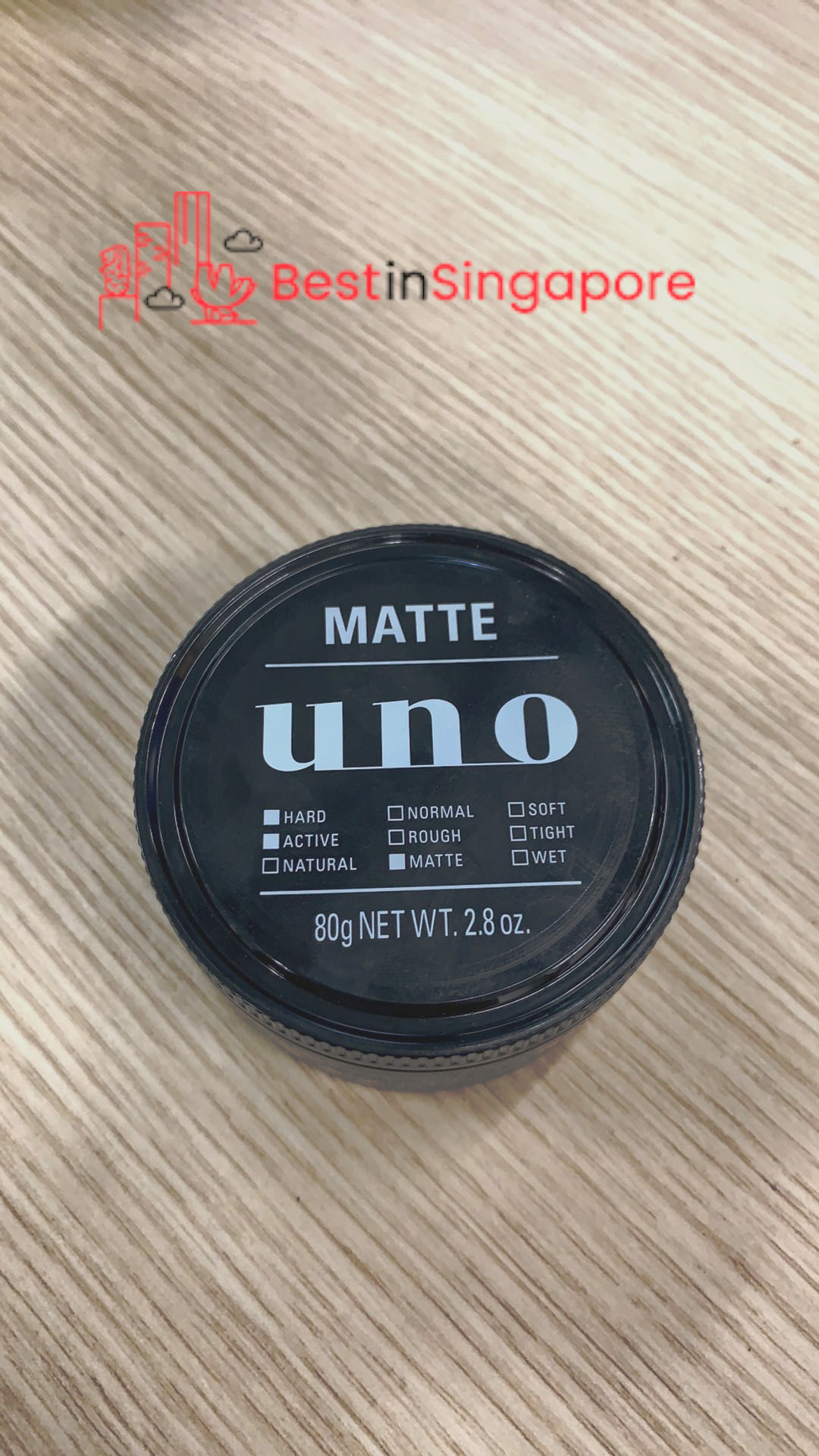 Price: $11.90
If you're looking for the best hair wax in Singapore that does a matte finish like no other, then look no further than the SHISEIDO UNO Matte Effector Hair. More than giving your hair a strong hold, it will give it a fine, clean, and healthy look as well!
What's more, the SHISEIDO UNO Matte Effector Hair is made up of the some of the most important ingredients in hairstyling such as hydrogenated polyisobutene, cetearyl octanoate, microcrystalline candelilla Wax, and propylene glycol.
Since most of these ingredients aren't natural, it's not recommended to use heavy amounts of the SHISEIDO UNO Matte Effector Hair on a daily basis. Keep everything in moderation, as the saying goes.
Pros
Neat and glossy look
Formulate in glossy look
Suitable for all hair types
Cons
Some ingredients can have harsh effects, especially when not used in moderation
5.   Hair Dough Styling Clay For Men
Best for Improved Hair Texture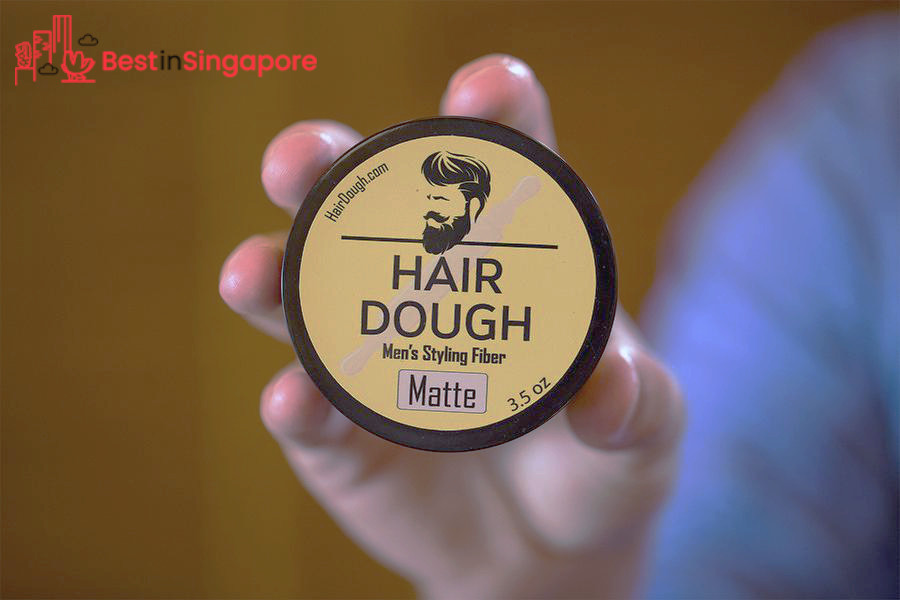 Price: $23.69
If you're willing to spend on a quality hair wax, then we highly recommend checking out the Hair Dough Styling Clay For Men. It's made from carefully blended ingredients that every gentleman needs to make their hair look stronger and thicker.
On top of that, it's designed to deliver a shine-free finish that doesn't leave any unwanted residue on the scalp and ends of the hair, unlike other low-quality hair waxes.
Another reason we call it the best hair wax in Singapore is the fact that it can improve the overall thickness and texture of the hair. It allows users to bundle their hair together and makes it easier to distribute hair strands equally.
What's more, cleaning and washing your hair at the end of the day won't be a pain! It's water-based and soluble too, so it won't expose your hair to any harmful chemicals that might destroy its condition in the long run.
Pros
Ideal for all hairstyles
Water based and soluble
Shine-free matte finish
Cons
Delivery is limited to selected areas
Customer Reviews
Take a look at some of the comments posted by its buyers:
"I've tried so many pomades, waxes, fibers, and so on. Most are pretty disappointing, and I find myself perpetually browsing for something new to try. Thankfully I took a chance on this stuff, because it's fantastic! Aside from the fresh/clean scent (closely resembles Lipton lemon iced tea, in my opinion), this product offers a flexible (yet firm) hold. I tend to be heavy-handed with product, but I only need a dime-sized amount for what I'm after. Seriously, give this stuff a shot – you won't be disappointed."
"I'll be honest. I had been a loyal user of Dollar Shave Club's Boogies Casual Hair Clay. Then they just stopped selling it. Something about a problem with one of the ingredients. Really? So, like other loyal users, I went online to find a suitable replacement. No joke: this is the sixth different product I've tried in the last three months. I just opened it and used it for the first time this morning and immediately ordered two more cans. You know, just in case. If you've been looking for a suitable replacement for Boogie's (rip), look no further. This has a similar feel, a better smell and an identical hold for about the same price. Finally, I have found my missing piece."
6.   Amby Hex Energy Gum (Grey)
Best for Ease of Use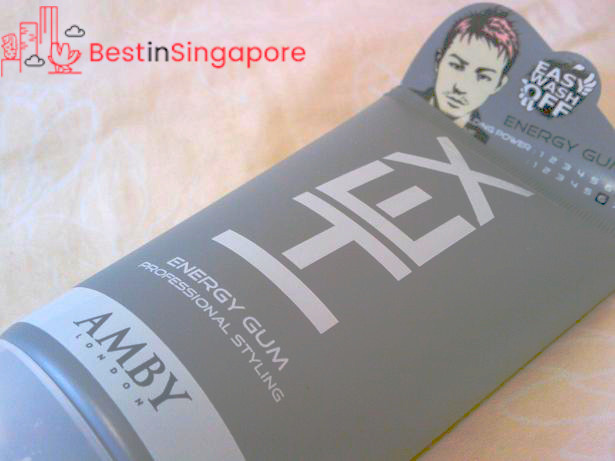 Price: $10.50
Need a 'WAKE-UP' look that your hair Wax can't give you? Get it from Amby HEX Styling Lab range.
Amby HEX comes in hair wax, gum and gel. There is a wide range of strength and shine to choose from both types.
"EASY WASH OFF" CONFIDENCE IN A TUBE – To achieve in anything, a man must have confidence. It's hard to have that inner strength if you don't look your best. With our no-flake and non-greasy formula, not only will you gain the confidence you need to win, but you'll look powerful and strong doing it.
PERFECT FOR ALL HAIR TYPES – It doesn't matter who you are or what you need from your hair, we've got you covered. Whether you want short, sexy hair, or something a bit longer and stronger, every warrior deserves to have a product as strong as they are. Spike it up, or slick it back. No matter what, We'll make sure you look like a true champion.
Pros
Easy styling
Easy wash off
Cons
Product smell might not be to your liking
7. Suavesmith – Texturing Matte Wax
Best for Natural Matte Finish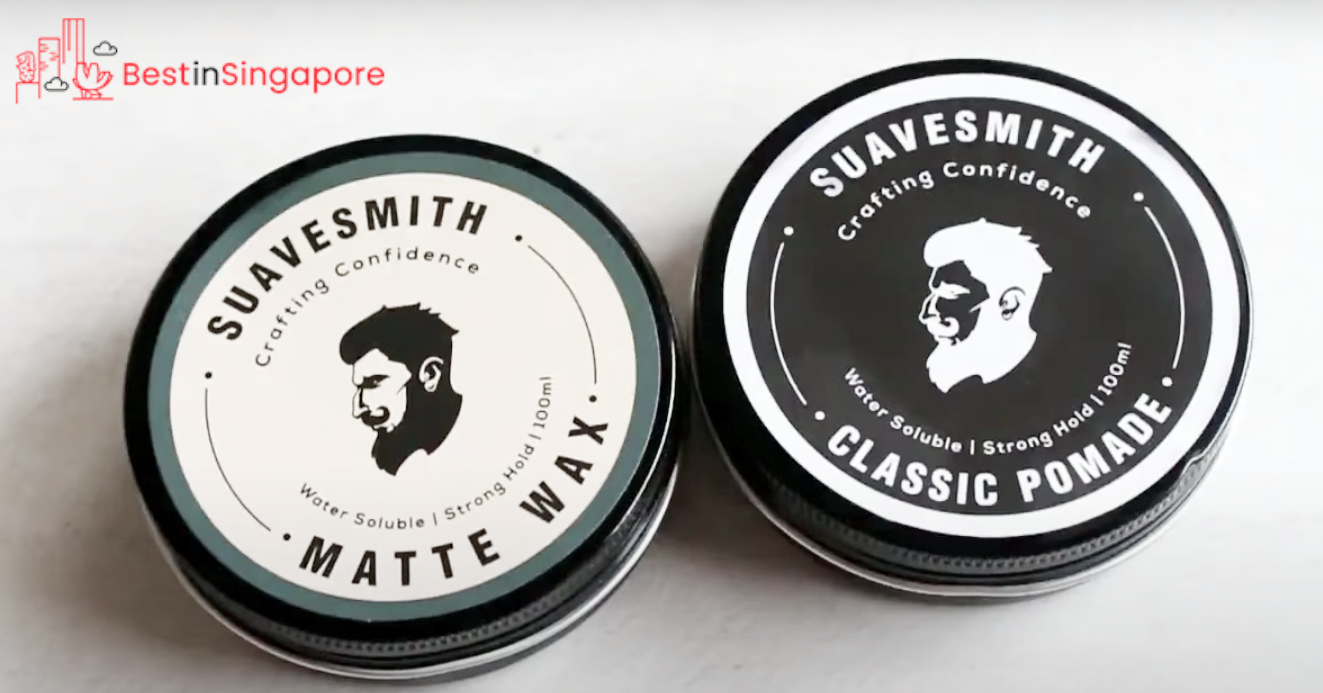 Price: $14.95
Finding the perfect hair wax product that doesn't stick on your fingers can be tricky. It's a good thing that Suave Smith's Texturing Matte Wax can fix that for you.
The Texturing Matte Wax by Suave Smith is a water-based product that offers you a stronghold for your hairstyle with a matte finish. It can last throughout the day without fail and is suitable for those who have an active lifestyle.
This hair wax is perfect for short textured looks or even complex styles. The best part is that it's easy to apply with a comb and just as easy to wash off from your hair and your fingers.
Pros
Strong Hold
Natural Matte Finish
Great Smelling
Water-Based
Guaranteed Not To Flake
Cons
And with that, we conclude our list of picks for the best hair wax in Singapore. If you've tried any of these hair waxes in Singapore, share with us how it improved your hairstyling game!
By the way, if your hair looks like it needs a treatment, then we recommend visiting the best hair salons in Singapore too. All these hair salons offer a wide range of services that may include what your hair needs!