The 8 Best Vietnamese Restaurants in Singapore
Craving healthier meals filled with refreshing and Asian flavours? Then you should visit the best Vietnamese restaurants in Singapore, as their cuisine is full of delightful seafood and vegetable dishes!
Vietnamese foods are known to feature a great balance of flavours and nutritious ingredients, so for the vegans out there, their traditional dishes would be a feast for you!
Here's our list of the best Vietnamese restaurants in Singapore where you can explore Vietnamese dishes and have a good time with your family and friends, all at affordable prices!
1. Mrs Pho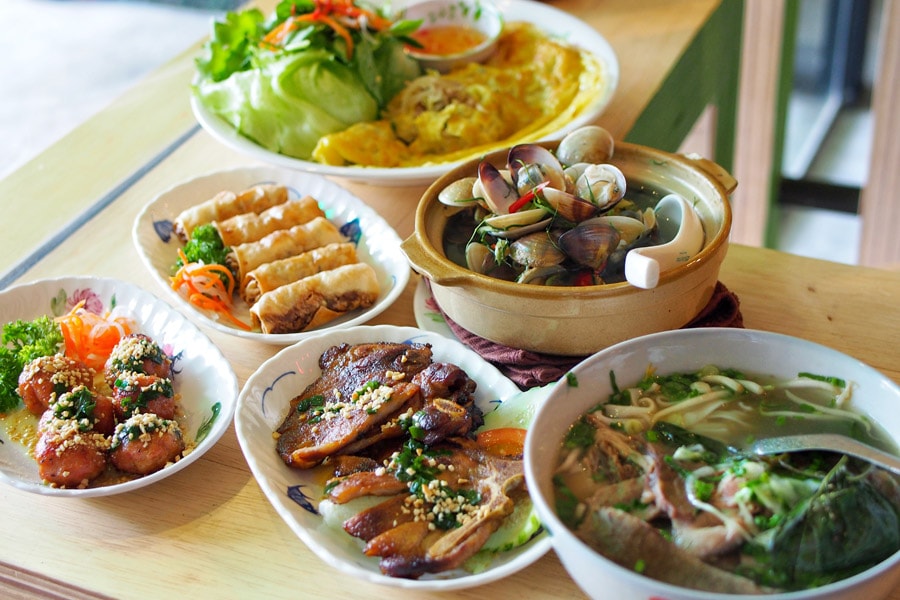 For delicious homemade meals that'll taste just like your grandmother's recipes, Mrs Pho makes authentic cultural dishes without any fusion which is why they're one of the best Vietnamese restaurants in Singapore.
Their menu consists of signature pho dishes, seafood and beef noodle soups, homemade drinks, and more. They even have a specialised vegan menu filled with salad, vegetarian fried rice and fried noodles!
Highlights
Authentic dishes
Accessible locations
Customer Reviews
Most customers have recommended dishes from Mrs Pho, saying that they had a delightful authentic dining experience there. A customer from Google Reviews posted this review:
"Authentic Vietnamese food. Very fresh ingredients used. Best papaya salad ever, not the kind doused in vinegar. The crab noodles are a must-try"
2. Fat Saigon Boy
BEST FOR
Vietnamese-Australian cuisine
WEBSITE
Facebook
ADDRESS
2 Science Park Dr, Singapore 118222
CONTACT DETAILS
+65 6221 6784
OPERATING HOURS
Monday and Tuesday: 11am–3pm
Wednesday to Friday: 11am–3pm, 5:30–8:45pm
If you'd like to try modern Vietnamese cuisine, then you should visit Fat Saigon Boy! They offer contemporary Vietnamese dishes mixed with Australian tastes, giving you the perfect combination of intercontinental dishes.
Their menu consists of original and unique dishes such as Vietnamese beef gyoza, tenderloin pho, signature pork and salmon dish, and many more. These signature dishes are the reasons they've become the best Vietnamese restaurant in Singapore!
Highlights
Fusion dishes
Vegan options
Customer Reviews
Customers praised the perfect balance of flavours and large portions of the dishes at Fat Saigon Boy. A customer left this review on Google Reviews:
"Fusion vietnamese food. Very big portion. Nice sidedish. Must try the Rice cracker with pulled pork"
3. Long Phung
| | |
| --- | --- |
| BEST FOR | Authentic seafood dishes |
| WEBSITE | Facebook |
| ADDRESS | 159 Joo Chiat Rd, Singapore 427436 |
| CONTACT DETAILS | +65 6440 6959 |
| OPERATING HOURS | Daily, 12–11pm |
As one of the longest-running and best Vietnamese restaurants in Singapore, Long Phung has become a local favourite known for their authentic dishes and warm ambience. The main highlight of their menu is the array of signature and frills-free seafood dishes!
They have a full range of well-curated dishes filled with fresh vegetables and a variety of flavours, all cooked with traditional Vietnamese style! Their must-try meals include seafood dry noodles, special beef pho, and more!
Highlights
Casual ambience
Affordable menu prices
Customer Reviews
Customers keep on coming back to Long Phung because of their delicious seafood dishes and some even had their own favourites! A customer shared this experience on Google Reviews:
"It was my second time to come here and wanted to eat this Vietnamese Pho again. This is so delicious. Spring roll is also my recommendation. They have raw and fried one and both are so delicious, too. And they accept only cash here so be careful. There's usually long que outside so it shows that this Vietnamese restaurant is so popular!"
4. NamNam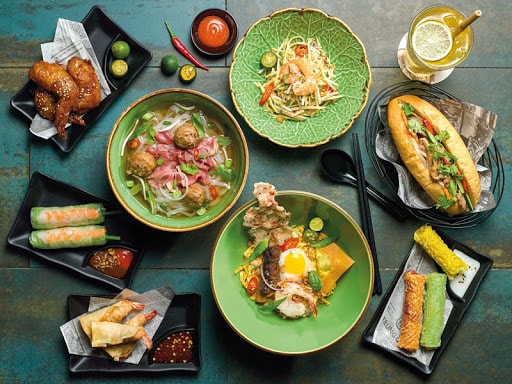 NamNam is famous for their organic Vietnamese pho and banh mi. They take pride in their traditional dishes that are all cooked without MSG preservatives and sustainable dining practices — which gives you a healthier menu and environment.
They serve a variety of noodles, savoury baguettes, and other street favourites. With their international outlets, they've proven that they're truly one of the most popular and best Vietnamese restaurants in Singapore.
Highlights
Eco-friendly environment
Catering services
Customer Reviews
Many customers have complimented the signature dishes and overall services of NamNam. A customer gave this feedback on Google Reviews:
"A very good Vietnamese noodle bar .. the food is very tasty and the service was nice and fast.. ideal for a quick lunch bite .. I ordered the pho with beef, vermicelli noodle with pork and the signature banh mi sandwich .. all food are delicious."
5. Little Saigon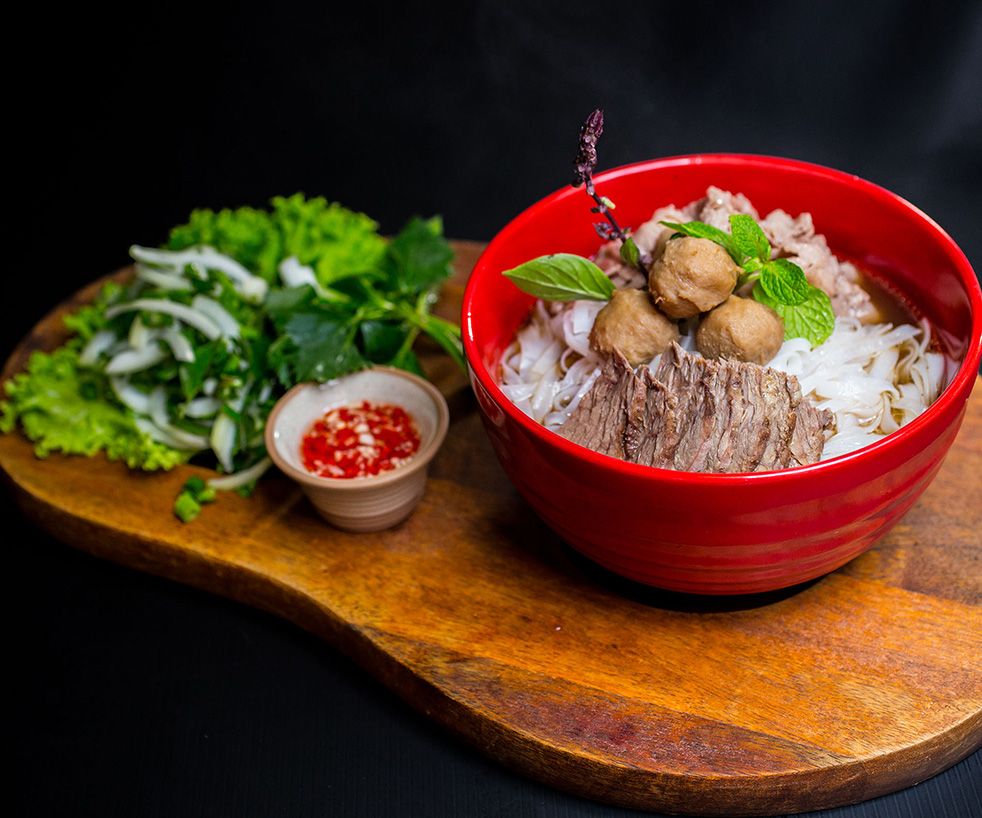 BEST FOR
Traditional and modern dishes
PRICING
Menu
WEBSITE
https://littlesaigonasia.com/
ADDRESS
Blk E, Clarke Quay #01-02 River Valley Road Singapore 179024
CONTACT DETAILS
+65-63377862 (Only for phone reservations)
OPERATING HOURS
Monday to Thursday 4pm to 1am
Friday 4pm to 2am
Saturday 12nn to 2am
Sunday 12nn to 1am
Eve of Public Holiday 4pm to 2am
Public Holiday 4pm to 1am
The refreshing menu of Little Saigon features a great harmony between traditional and modern Vietnamese dishes. Since their main chef is a Vietnamese culinary master, you can be sure that you'll have a wonderful cultural dining experience.
Classic papaya and chicken salads, beef noodle soups, and seafood rolls are some of their main highlights. With their classic modern dishes that are suitable for everyone's tastes, they've become one of the best Vietnamese restaurants in Singapore.
Highlights
Party events
Special promotions
Customer Reviews
Little Saigon has gained a lot of positive reviews from customers who were very impressed with the wide menu selections and nice ambience. A customer from Google Reviews wrote:
"Nice place for good beer and Vietnamese food. Service was good and kind. Quite plenty selection of food and drink. Price is quite on high level as impacted on the location.
Location easy to find just beside the river in Clarke Quay. The only Vietnamese food in the neighborhood."
6. Ăn Là Ghiền
| | |
| --- | --- |
| BEST FOR | Vietnamese Delicacies, Barbeque |
| PRICING | Menu |
| WEBSITE | https://www.anlaghien.sg/ |
| ADDRESS | 45 Geylang Lorong 27 Singapore 388177 |
| CONTACT DETAILS | 6951 0293 |
| OPERATING HOURS | Daily 8am – 10pm |
Ăn Là Ghiền (ahn-la-gi-hn) is an authentic Vietnamese restaurant that is located in Singapore. They have a wide variety of authentic Vietnamese selections, as well as ample choices of food items for BBQ and Hotpot.
They have different cuts of meat that are charcoal-barbequed, leaving a taste that has their customers craving for more. Their furniture and ambiance at the premises are also carefully selected to make sure they bring the full Vietnam experience to their patrons.
Their Traditional Vietnamese Barbeque and Hot Pot sets them apart from the growing number of Vietnamese restaurants in Singapore. They aim to make your eating experience with their services a memorable time that you'll cherish for eternity.
Highlights
Hot Pot
Traditional Vietnamese Barbeque
Customer Reviews
Here is a review left by a very satisfied client:
"Really great food. Easy to order and contact them during CB. Delivery was on time. Highly recommend"
"Just had our dinner, both my husband & myself whereby we ordered to deliver to our home. Food are all at reasonable price and is Good!!!! My 1st time trying Vietnamese food. Is up to our expectations as food were delivered without delayed as promised. Thanks to the joyful and polite staff as they had added on to our enjoyment at this point of Circuit Breaker time. Keep up the good job."
7. Que
BEST FOR
On-the-go Food
PRICING
https://que.sg/menu/
WEBSITE
https://que.sg/
ADDRESS
111 Somerset Road, #01-K10
Singapore 238164
CONTACT DETAILS
+65 8409 0647
[email protected]
OPERATING HOURS
Tuesday – Wednesday: 11.30AM – 8pm
Monday &Friday: 11:30-8:30pm
Saturday: 11:30-3pm
Que is a kiosk in Singapore that offers quick Vietnamese fixes for you to eat on the go. They're known for mixing authentic style with modern twists to keep the taste familiar yet refreshing.
Although they have a smaller menu compared to other restaurants, rest assured that Que makes up for it through providing the highest quality of ingredients and unique flavors you'd fall in love with. They have most of the classics– such as Bun Cha, Banh Mi, Pho Ga, and Pho Bo, among others.
Highlights
Mouth-watering food
Cheap prices
Home-made taste
8. The Orange Lantern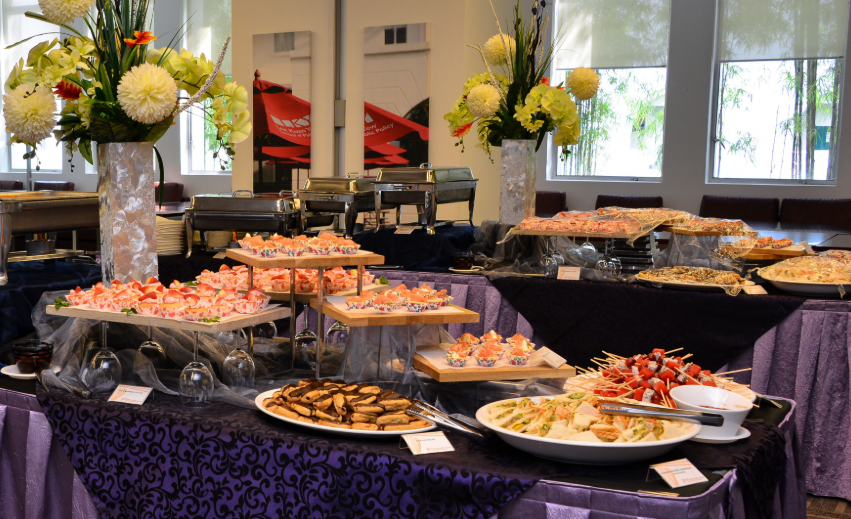 Orange Lantern's aim is to showcase their Vietnamese roots, from their interior decoration to the food they serve. Their concept was inspired by the design of traditional Vietnamese silk lanterns, where they aim to bring good fortune, cheer, and warmth to customers through the food they serve.
Their menu is comprised of authentic Vietnamese cuisine that is also HACCP and Halal certified. Start off by trying their refreshing Mango Salad as an appetizer. Do not miss out on their fresh vegetables and try their Golden Tofu with Seaweed Floss, and for your main course, try their Special Beef Noodle Soup. Finally, you can top it all off with their refreshing Lemongrass tea.
Highlights
Great Customer Service
Authentic Vietnamese Food
Customer Reviews
"pleased to see the same manager who has given excellent service over the years – courteous, helpful and able to perform his operation swiftly.
Food is excellent. One tip is to try out all the different appetisers instead of having a main dish such as pho. I will continue to support this restaurant whenever I go to Harbourfront or Vivo City. Overall, love the food experience here!"
"The food was quite good. But what really made me have it a 5star rating was this staff Ken. While waiting for my ferry I decided to grab a bite as I was walking around, Ken was calling out ,"try our Vietnamese food". Ken was very friendly so I went in to try. He was recommending the menu and all that, excellent hospitality. Very pleasant dining experience"
And that's it for our list of the best Vietnamese restaurants in Singapore! If we missed some great places, let us know, as we may also include them with our picks!
And for more healthy menu options, you might be interested in these best vegetarian catering in Singapore. That gives you another set of places that make the best hearty yet healthy meals on the island.