Our 11 Favourite Clinics for Chinese Medicine in Singapore
TCM (Traditional Chinese Medicine) has proven to be highly effective for improving muscle strength, quality of sleep, as well as reducing inflammation and many more health benefits. So, to maintain a healthy body and mind, you might want to try visiting a clinic that offers the best Chinese medicine in Singapore.
Lucky for you, we've gone across the island just to find the clinics where you can be treated with the best Chinese medicine in Singapore. It's worth noting that a fair number of these are also known for tuina massages in Singapore, although broadly speaking, what they all really specialise in is TCM.
Anyway, read our list below to know more about their services.
(Note: The list is in no particular order.)
Oriental Remedies Group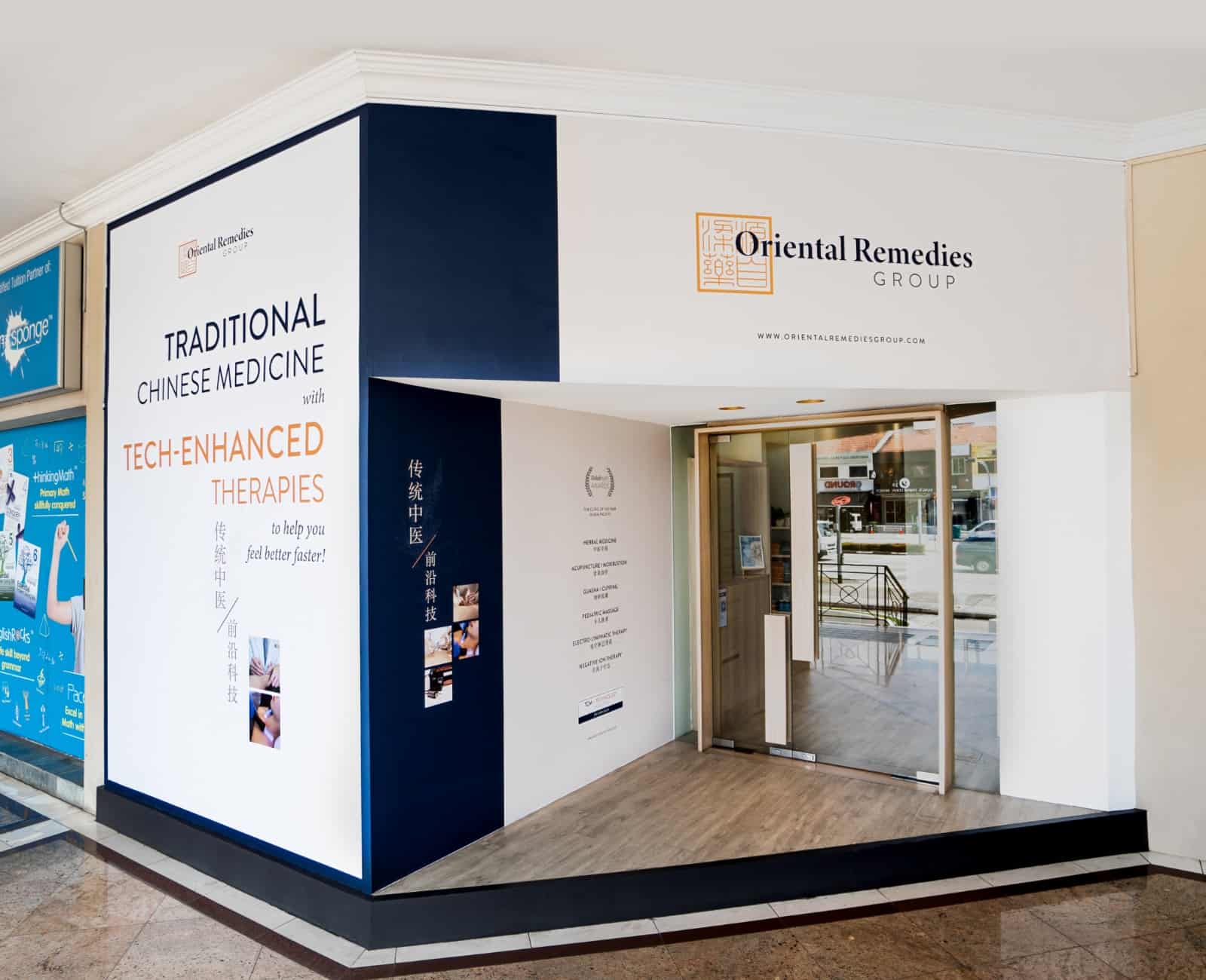 BEST FOR 

Key Services and Condition:

Cancer Support

Cardiovascular Diseases (including Hypertension & Stroke)

Autoimmune conditions (including Eczema, Topical Steroid Withdrawal) 

Fertility and gynaecological concerns

Mental Wellness and Anxiety

Chronic Conditions and Pain Management

WEBSITE
https://www.orientalremediesgroup.com/
ADDRESS

Oriental Remedies (Jurong East):
253 Jurong East Street 24 #01-227 Singapore 600253


Oriental Remedies (East Coast):
171 East Coast Road, #01-06, Singapore 428877

Oriental Remedies (Upper Thomson)
200 Upper Thomson Road, #01-10, Thomson Imperial Court, Singapore 574424


CONTACT DETAILS
(65) 8742 2163 |

[email protected]

OPERATING HOURS

Jurong East
Mondays and Sundays – 9am to 6pm
Tuesdays to Saturdays – 9am to 9pm

 

East Coast
Closed on Mondays
Tuesdays to Sundays – 10am to 7pm


Upper Thomson
Closed on Mondays
Tuesdays to Sundays – 10am to 7pm
Oriental Remedies Group (ORG) is a leading patient-centred healthcare provider offering effective treatments grounded in Traditional Chinese Medicine (TCM) and enhanced with medical technology. 
From a humble single physician TCM clinic, we grew into a team of bilingual physicians who, on average, have each acquired more than 10 years of TCM experience. Trained in both Biomedical Science and TCM, our physicians are well-equipped with scientific knowledge as well as wisdom from traditional medicine. With our medical proficiencies and passion to help patients, we aim to help everyone who passes through our doors feel better faster through the implementation of tech-enhanced treatments using state-of-the-art medical devices from the USA and Japan. 
At the core of our vision is to empower communities to lead a healthy and fulfilling life. We believe that with quality and targeted care, we are able to reduce suffering and improve patients' life quality to #BeTheBestYouCanBe.
Highlights
Herbal Medication

Acupuncture

Cupping, Tuina

Pediatric Massages

Electro-Lymphatic Therapy (ELT)
Anne Tiang TCM Clinic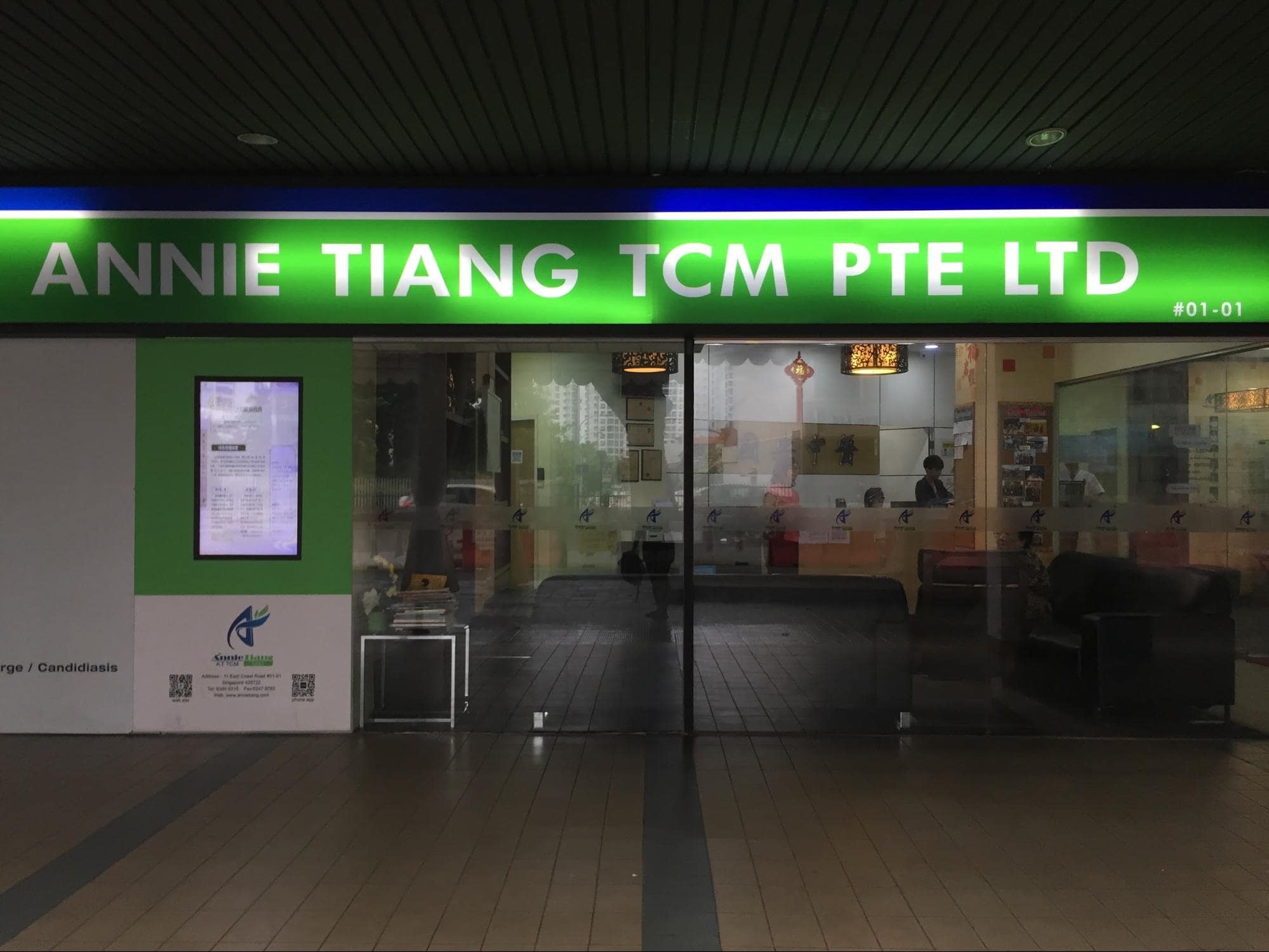 Anne Tiang TCM Clinic features a group of experienced physicians who specialise in Chinese medicine. Being one of the longest-running TCM clinics on the island, the clinic provides a competent range of treatments such as pain relief, acupuncture, orthopaedics, TCM massage and treatment, and more.
They also specialise in women's health, as well as weight loss and facial treatments. When it comes to internal medicine, they help treat hypertension, high cholesterol, diabetes, and headache.
Highlights
Acupuncture
Chinese medicine products
Internal medicine treatments
Oak Health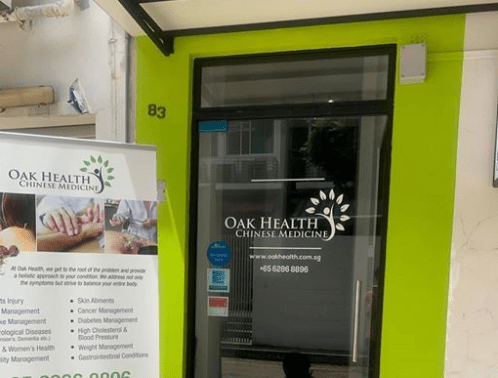 BEST FOR
Various kinds of acupuncture treatments
WEBSITE
https://www.oakhealth.com.sg/
ADDRESS
83 East Coast Road Singapore 428786
CONTACT DETAILS
+65 62868896
OPERATING HOURS
Weekdays: 11am–9pm

Saturday: 10am–5pm
Oak Health offers an inclusive list of natural Western and Chinese treatments that target the root causes of health conditions. These conditions include chronic diseases, neurological diseases, men, and women's health, skin conditions, as well as kids ailments.
From the most complex diseases such as cancer up to the basic conditions like cold/flu, they have every treatment that you need. They're also said to have some of the best TCM massages in Singapore.
Aside from these treatments, they also sell Chinese medicine products to help you maintain a healthy and stable condition even when you're at home.
Highlights
Scalp Acupuncture
Effective Herbal Medicine
Effective Treatments
Enok TCM Clinic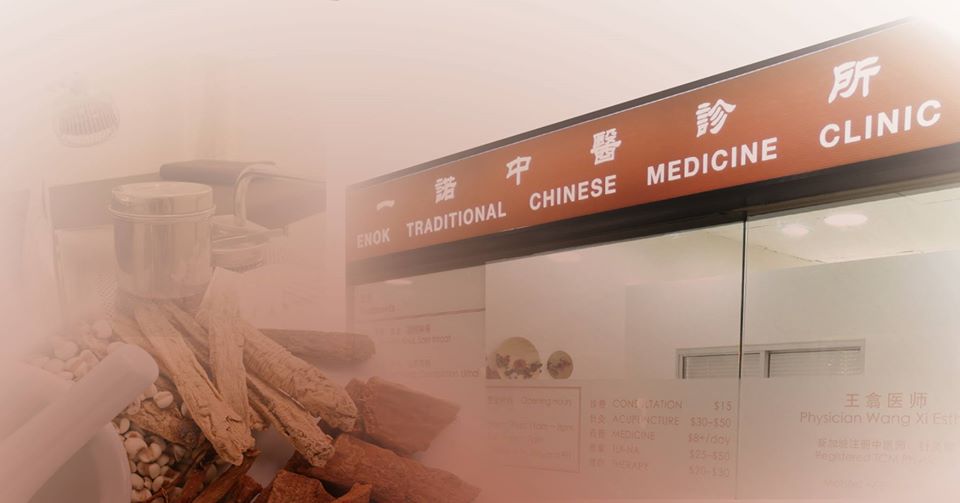 | | |
| --- | --- |
| BEST FOR | Combination of traditional and modern treatments |
| WEBSITE | https://www.enokclinic.com/ |
| ADDRESS | 14 Scotts road #05-48 Far East Plaza, S228213 |
| CONTACT DETAILS | (+65) 9658 7802 |
| OPERATING HOURS | Weekdays (except Friday) )and Saturday: 11am–8pm |
Enok TCM Clinic is an award-winning clinic that provides an excellent combination of traditional techniques and modern technology. Rest assured that their non-invasive treatments are absolutely safe and have minimal side effects.
Their professional and skilled physicians specialise in acupuncture, herbal medication, and therapy. These treatments serve as a solution for diabetes, asthma, insomnia, body pains/injuries, skin diseases, and many more.
Highlights
Herbal medicine and therapy
Gynaecology and cosmetology
Accessible location
Heritage TCM Clinic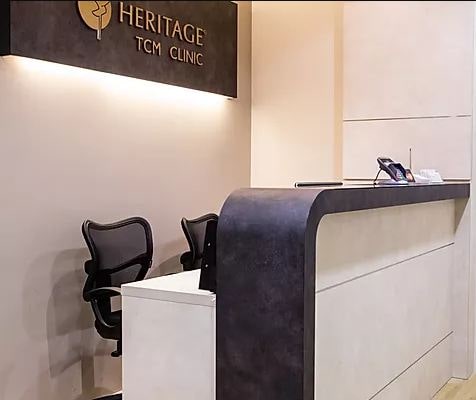 | | |
| --- | --- |
| BEST FOR | Personalised TCM diagnosis, medication, and treatment. Physicians are bilingual in English & Mandarin |
| WEBSITE | https://hstmedical.com/ |
| ADDRESS | 304 Orchard Road Lucky Plaza, #05-43 Orchard Medical Specialists Centre Singapore 238863 |
| CONTACT DETAILS | T: +65 6836 0817 |WhatsApp: +65 97267911 | email: [email protected] |
| OPERATING HOURS | Mon – Fri: 10am – 7pm | Sat: 10am – 2pm | Closed on Sun and PH |
For several years, Heritage TCM Clinic has been providing effective and reliable Chinese medicine treatment in Singapore. Their personalised treatments using herbal remedies, acupuncture and cupping can help manage certain conditions as well as maintain optimal health.
The herbal prescriptions come in the form of modern and hygienic herbal granules, which are convenient to consume and does not require tedious preparation. These approaches can help you with pain management, stress, fatigue, insomnia, anxiety, digestive system disorders (IBS, constipation, GERD, indigestion), sinus issues, women's wellness & fertility, general wellness & balancing and other health-related problems.
Experienced TCM physicians are bilingual in English & Mandarin, and trusted by both local and overseas patients. You will be well taken care of by empathetic and patient TCM physicians at affordable fees.
Highlights
Herbal medication in hygienic granules for convenient and easy consumption
Acupuncture & Cupping
Pain Management
AMK TCM Clinic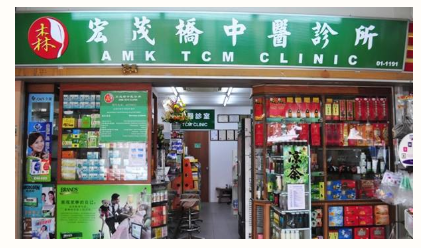 BEST FOR
Acupuncture, Prescription and Consultation
WEBSITE
https://www.amktcm.com/
ADDRESS
Blk 102, #01-1191 Hougang Avenue 1
CONTACT DETAILS
[email protected]
+65 6280 7172
OPERATING HOURS
Mon – Sat: 9:00AM – 08:00PM
Sunday: 9:00AM – 2:00PM Closed on Public Holidays
AMK TCM Clinic is a one stop TCM Healthcare & Treatment centre located in the Hougang area in Singapore. Their professional and skilled physicians specialise in performing Acupuncture, Acupuncture Slimming, Tui-Na, and Cupping Therapies.
When it comes to internal medicine, they help those with hypertension, hypotension, headaches, and more. One of their main focuses is to help you understand your physique, and how you can restore your inner balance and functions.
They also offer both tuina massages and TCM massages.
Highlights
Sells supplements
Acupuncture treatment
MacPherson TCM & Wellness Clinic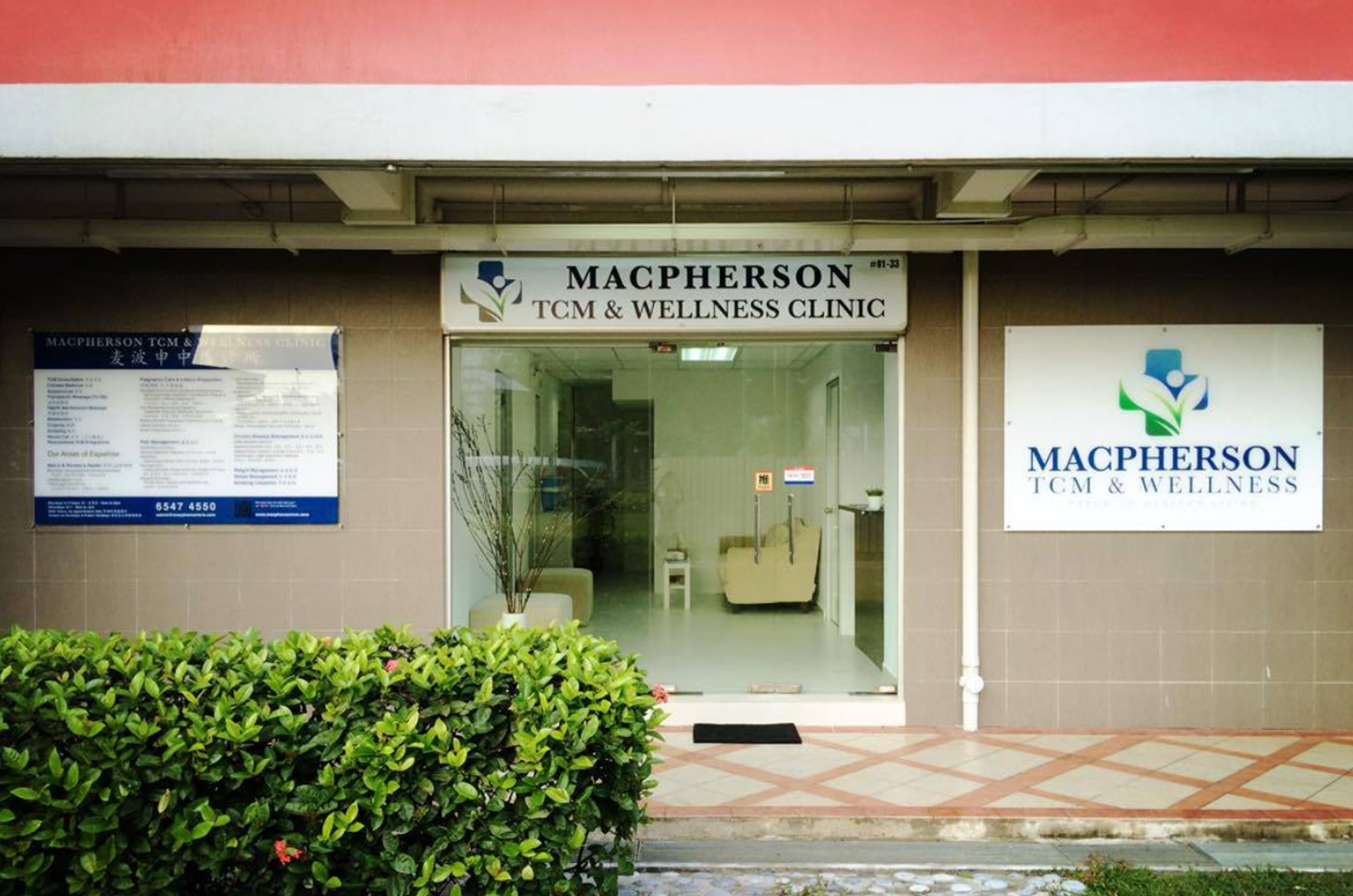 BEST FOR
Pain Management, Fertility Support, Pregnancy Care
WEBSITE
https://www.macphersontcm.com/
ADDRESS
81 MacPherson Lane #01-33
Singapore 360081
CONTACT DETAILS
Tel : 6547 4550
WhatsApp : 8278 0645
E-mail : [email protected]
OPERATING HOURS
Monday to Saturday: 9am – 6pm, by appointments only

After hours, please contact for availability
MacPherson TCM & Wellness Clinic is a Traditional Chinese Medicine (TCM) clinic that provides high quality and reliable treatments. They're one of the only few TCM establishments that integrates TCM with Western Medicine perspectives, thereby optimizing their treatment results. In addition, they pride themselves on the highest standards of safety and hygiene.
MacPherson TCM is a one-stop place for a personalized, holistic TCM treatment. They offer full TCM services, which include TCM Consultation, Chinese Medicine Prescription, Acupuncture, Therapeutic Tuina (Chinese ancient form of massage), and Moxibustion.
Their main areas of expertise include pain management, fertility support, pregnancy care and labour preparation, as well as chronic disease management such as sleep disorders, gastrointestinal disorders, and allergic conditions.
Among their best TCM massages in Singapore is the tuina massage, by the way, so you can go to them for that too.
Highlights
Pain management
Fertility support
Pregnancy care
TCM Yishun Singapore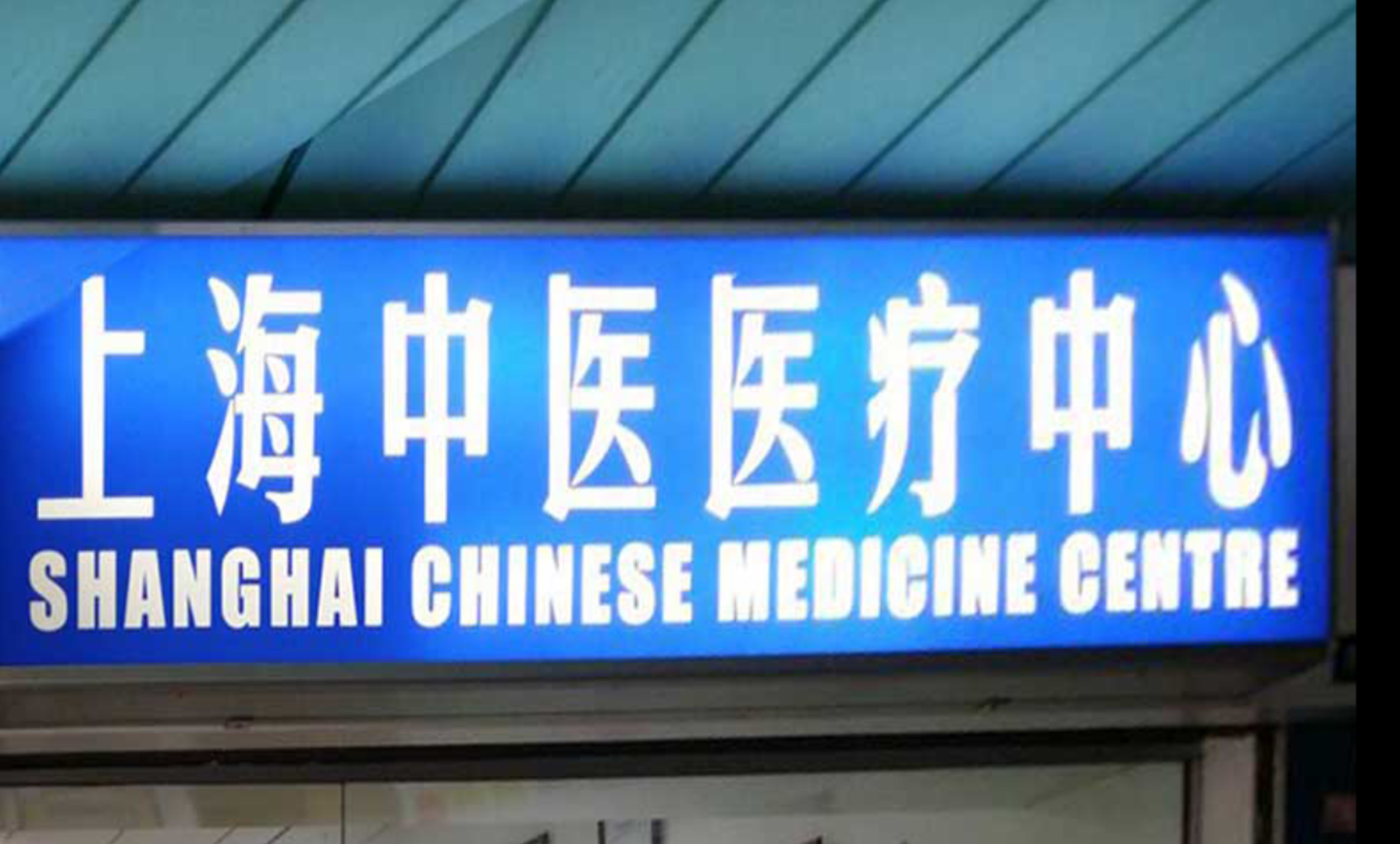 TCM Yishun Singapore is a leading establishment in Singapore when it comes to Chinese medicine. They have mastered the adaptation of using Chinese herbs and traditional methods to help cure almost any sickness.
Their services are applied to various fields in medicine, namely in pediatrics, gynaecology, orthopedics, dermatology, cosmetology, and even for cancer treatment. They make sure to include medicines for any illness that they have come across, as well as ones that they may encounter.
Aside from their amazing practices, what makes TCM Yishun Singapore one of the best is their physicians' vast knowledge and experience when it comes to traditional Chinese medicine. If you're ever in need of assistance with your illness, and you feel like traditional methods would help you better, then you might want to check out TCM Yishun Singapore.
Highlights
Internal TCM
Wellness Special Discount package
TCM cancer treatment
Yong Kang TCM Clinic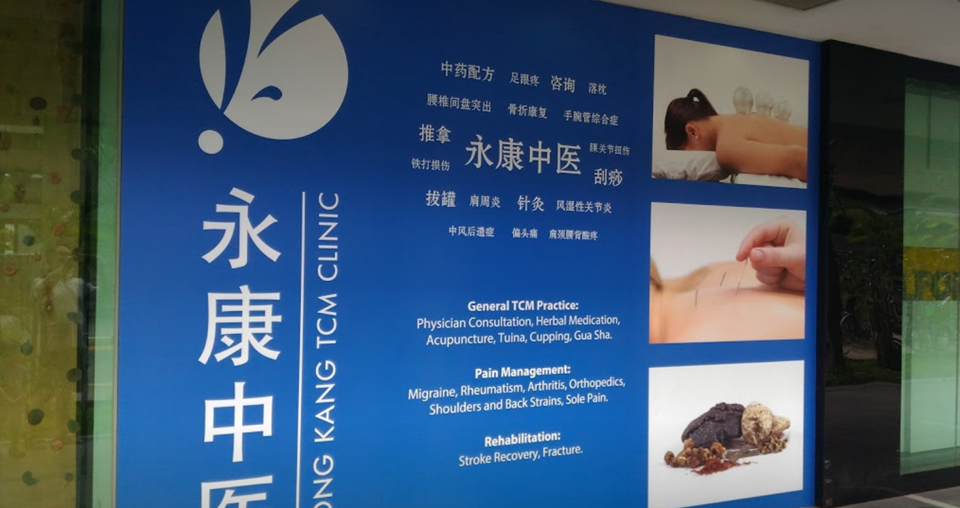 | | |
| --- | --- |
| BEST FOR | Traditional Chinese Medicine Treatments |
| WEBSITE | https://www.yongkangtcm.com/ |
| ADDRESS | 21 Choa Chu Kang North 6, Singapore 689578 #01-29 |
| CONTACT DETAILS | Telephone: 6310 7157, WhatsApp: 8775 3415, Email: [email protected] |
| OPERATING HOURS | Monday-Saturday, 11am-9pm & Sunday, 11am-8pm |
Since 2003, Yong Kang TCM Clinic has been offering a comprehensive range of Traditional Chinese Medicine Treatments for different types of acute and chronic diseases such as migraine, chronic fatigue, women's health, and common fatigue.
Besides that, their treatments also cover all sorts of muscular and skeletal-related pains. Patients who are suffering from stroke or any injuries are welcome to their centre for rehabilitation treatment. Their TCMPB registered physicians with skills and experiences have shown their expertise and professionalism in every TCM treatment.
At Yong Kang TCM Clinic, the goal is to provide holistic and effective healing methods that are made easy and accessible for every resident in Singapore. You can spot them at different locations all over Singapore such as Jubilee Square #01-04, VivoCity #02-172, Sun Plaza B1-21, and Jurong Point #01-29.
Highlights
Acupuncture

Pain Management

TCM Facial and Slimming Treatment

Herbal Medication

Yong Kang Wellness Capsule
Shanghai Chinese Medicine Centre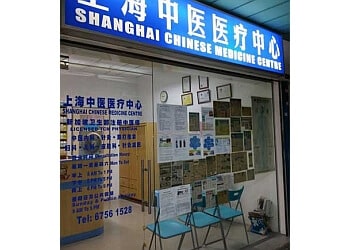 BEST FOR
Inclusive treatments for children and teenagers
WEBSITE
https://tcm-shanghai.com.sg/index.php?lang=en
ADDRESS
Blk 925 Yishun Central 1 #01-243 Singapore 760925
CONTACT DETAILS
+65 67561528
OPERATING HOURS
Weekdays and Saturday: 9am–12pm, 2–5pm, 6–9pm

Sunday: 9am–12pm
Shanghai Chinese Medicine Centre uses ancient Chinese-based medicines such as traditional herbs and specialises in internal treatment. They have a comprehensive set of services including paediatric, teenage health conditioning. cancer treatment, slimming, and more.
Other treatments for women's health, body pain, sports injuries, skin diseases, and insomnia are also among their specialities. They combine acupuncture with the best Chinese medicine in Singapore to resolve these conditions and prevent possible complications.
Highlights
Family wellness packages
Pre and postnatal care
Long Zhang Tang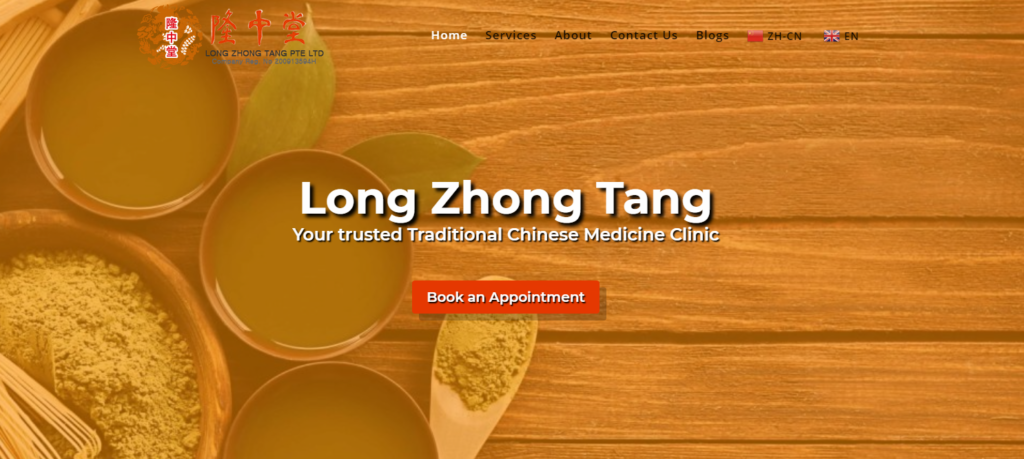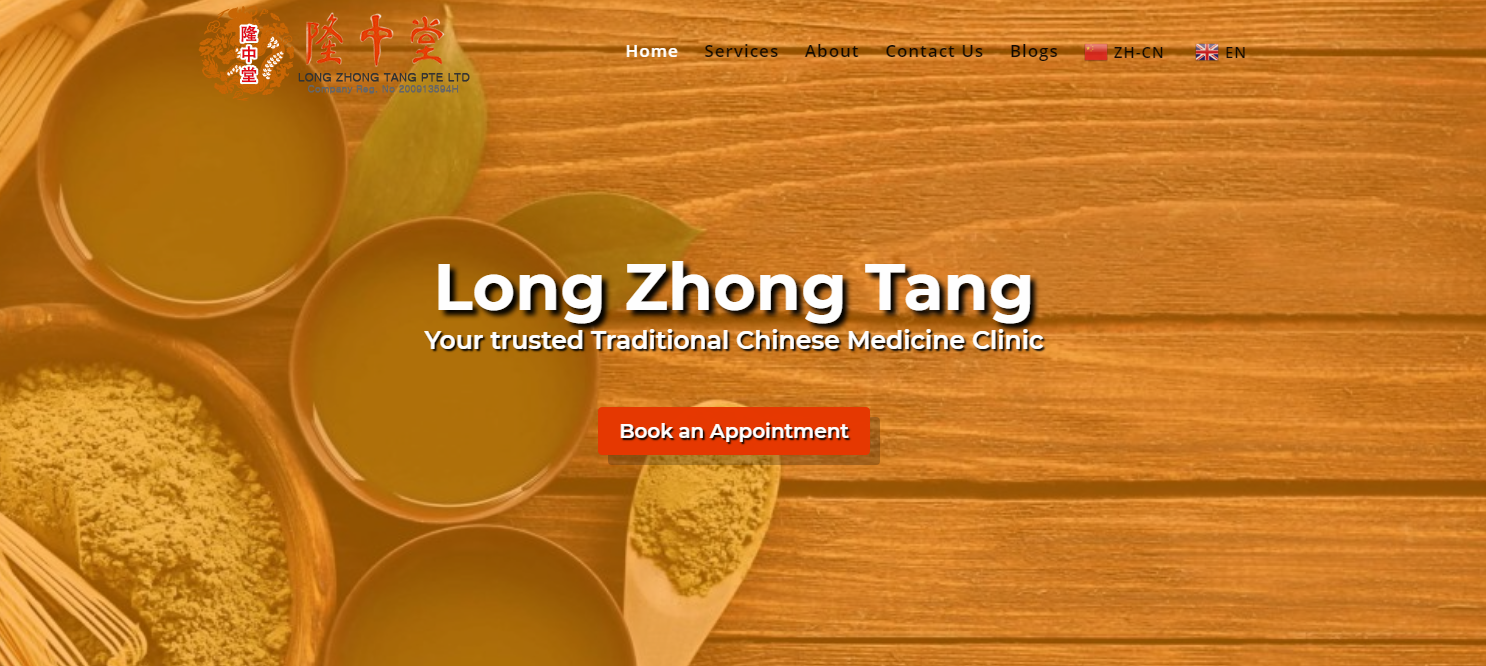 BEST FOR
Traditional Chinese Medicine
WEBSITE
https://www.tcm-r-us.com.sg
ADDRESS
36 Duxton Rd Singapore 089500 (Near Tanjong Pagar MRT Station)

Blk 333 #01-27 Kreta Ayer Road Singapore 080333 (Near Outram Park MRT Station)
CONTACT DETAILS
(65) 6223 6398 (Duxton Branch)
(65) 6295 5868 (Chinatown Branch)
[email protected]
OPERATING HOURS
10am-7pm (Tuesdays closed at 1pm)
Closed on Sundays and Public Holidays
Like most things, not all Traditional Chinese Medicine providers are the same. At Long Zhong Tang, you need not worry about results thanks to the expertise of the physicians there.
Professor Zhang, for example, has over forty years of experience in the field, while physicians Goh and Tan are reputable and responsibile physicians.
If you feel as if you're ill or if you're feeling aches despite having a clean bill of health, Long Zhong Tang's treatments may be of help to you. The clinic has one of the most experienced teams of Acupuncture, Tui Na and other Traditional Chinese Medicine experts in the industry.
Not only that, but the TCM clinic focuses not just on treating symptoms, but we've perfected the healing art of treating root causes of major illnesses.
Also, the clinic has created an enviable track record where patients, who were disappointed by other forms of treatments, have been effectively treated for their underlying illnesses by our in-house Traditional Chinese Medicine specialists.
Now, it's also worth mentioning that TCM isn't the only treatment available at Long Zhang Tang. The clinic also offers Chinese Orthopaedic and Chinese Medicine for those who are in need of them. If you're interested, Long Zhang Tang has two branches: one in Duxton and another in Chinatown.
Highlights
Renowned team of physicians
By appointment only
Proven track record in Traditional Chinese Medicine treatments
And that's the end of our list of clinics with the best Chinese medicine in Singapore. Do you already know which one you'd like to visit? If so, then let us know why you decided to have a consultation with them!
If you'd like to see more options, you might be interested in these places that offer the best acupuncture in Singapore. Aside from acupuncture, these clinics also offer a whole range of TCM treatments.