The Top 11 Clinics for Best Acupuncture in Singapore
Suffering from frequent body pain or severe skin/health conditions? If so, then you may try to visit a clinic that provides the best acupuncture in Singapore.
With acupuncture treatment, such chronic pains can be relieved, diseases can be prevented, and various skin concerns can be solved. It's one of the most effective and safest ways to strengthen our physiques and boost immunity.
That's why we've searched all over the island and gathered the most-recommended clinics that perform the best acupuncture in Singapore. Our list consists of excellent professionals, high-quality treatments, economic prices, and accessible locations.
(Note: This list is in no particular order.)
1. Annie Tiang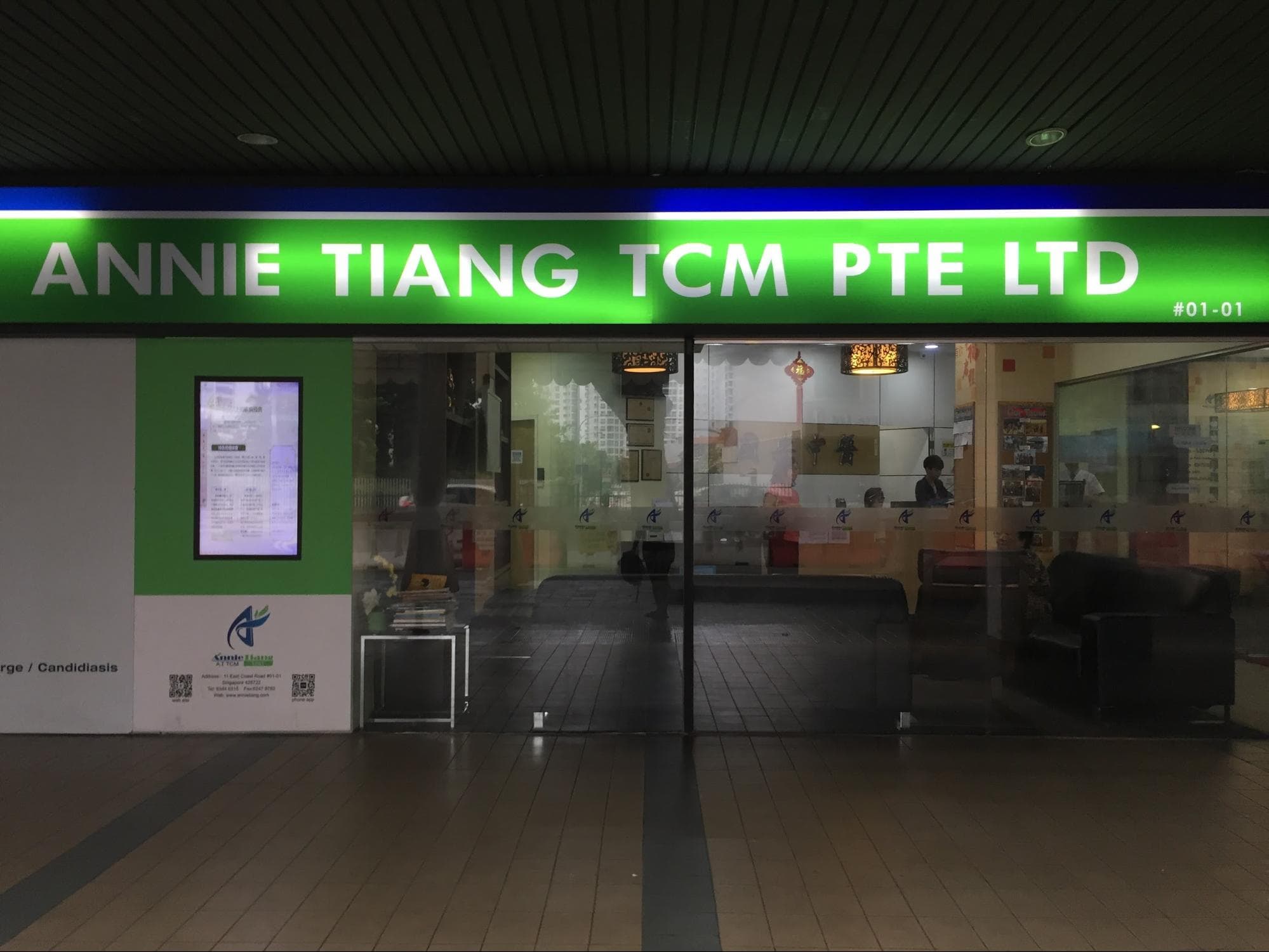 With several decades of service, Annie Tiang has become one of the clinics that specialize in acupuncture, orthopedics, traditional Chinese medicine, gynecology, and more.
When it comes to their best acupuncture in Singapore, their team of well-experienced physicians perform specific treatment for neck stiffness and lower back pain.
Along with acupuncture treatments are some herbal formulas that'll help heal these chronic pains with a faster and more effective process. They also have facial acupuncture for facial beauty and even hair problems.
Highlights
Facial acupuncture
Healthcare products
Customer Reviews
Customers were very impressed with their effective acupuncture treatments. They shared notes about their worthwhile experience at Annie Tiang. A customer from Google Reviews wrote:
"Very good service! I feel so happy and comfortable do my treatment of back pain. Only 6 times cure my more than 10 years problem.I buy a course of acupuncture and massage here. The price is reasonable.Dr Joseph and Therapy David is awesome.I introduce a lot of my friends here.All very satisfied.Compare with others TCM clinic,Annie Tiang TCM is the best!!!"
2. Bao Zhong Tang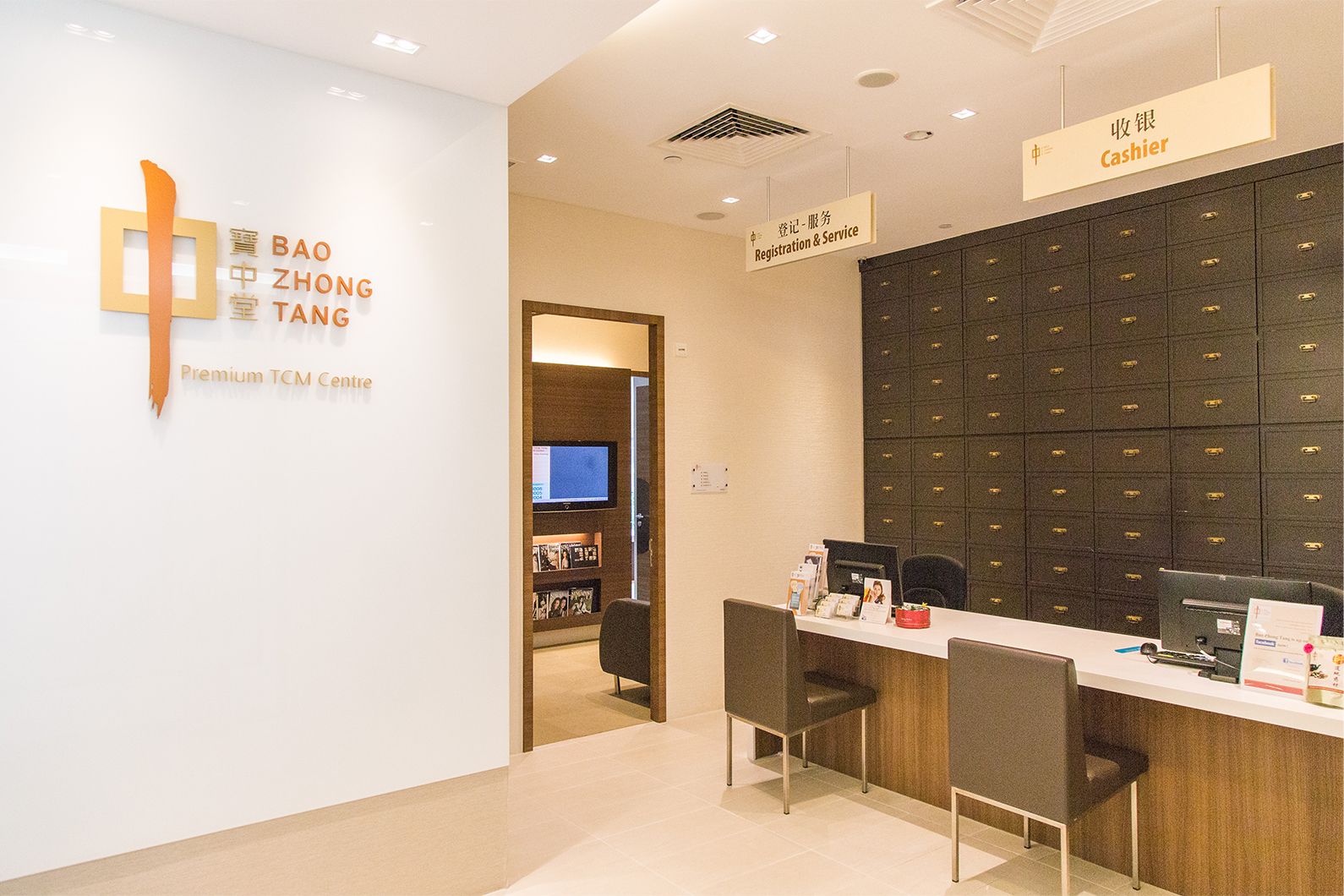 | | |
| --- | --- |
| BEST FOR | Health maintenance and treatment for health conditions |
| WEBSITE | https://baozhongtang.com.sg/ |
| ADDRESS | 8 Sinaran Dr, #07-13/14 Specialist Center, Singapore 307470 |
| CONTACT DETAILS | +65 6327 7866 |
| OPERATING HOURS | Monday, Tuesday, Thursday, Friday, Saturday: 9am–6pm |
Bao Zhong Tang provides an inclusive range of traditional Chinese medicine therapies such as their best acupuncture in Singapore as well as other medical services, including herbal medicines, cupping, and paediatric massage.
With their acupuncture treatment, they help treat migraine, premenstrual syndrome, common cold, immune system disorders, chronic pain, hypertension, stroke, and more.
Highlights
Pediatric treatments
Herbal tea products
Home visit consultation
Customer Reviews
Many customers have seen immediate improvements after a few sessions from Bao Zhong Tang. A customer recommended their services and posted this review on Google Reviews:
"Had really bad upper back pain, and was seen by TCM practitioner Joanna. after one session of acupuncture and cupping, my pain improved tremendously, and by the next day was near fully recovered. Prices are affordable and I highly recommend Bao zhong tang."
3. Wei's TCM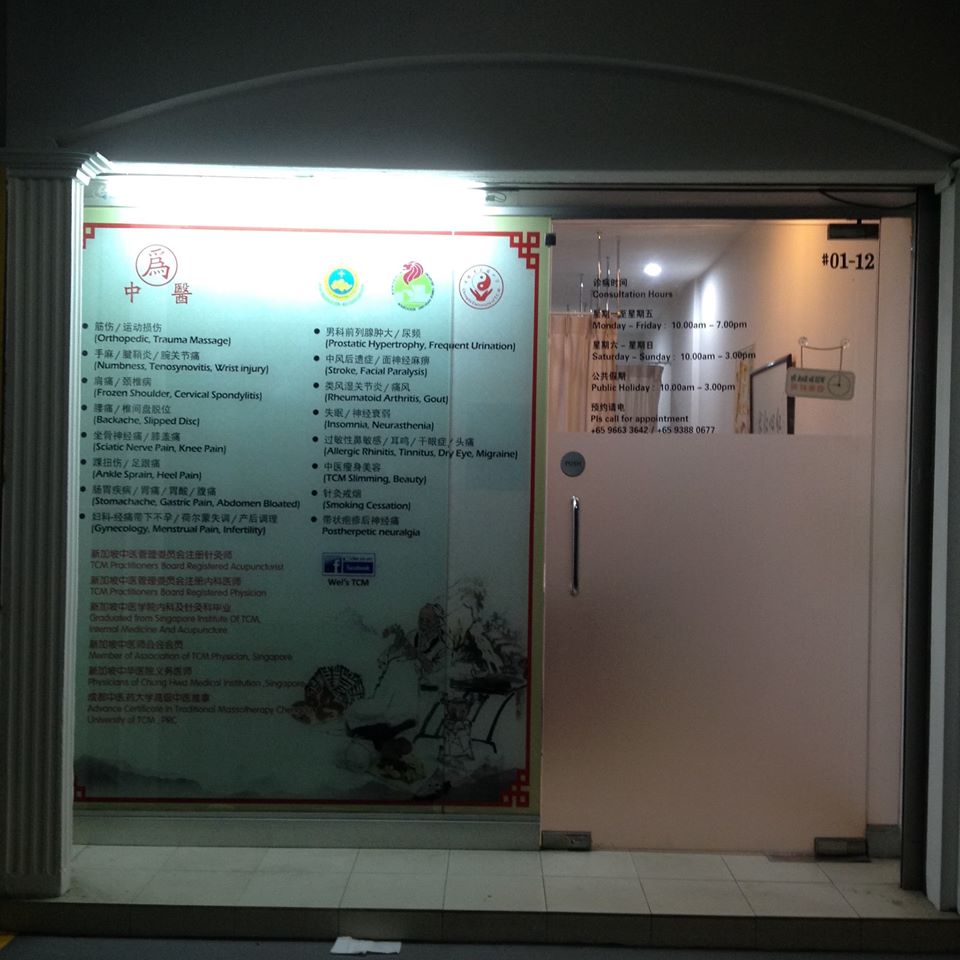 | | |
| --- | --- |
| BEST FOR | Full range of treatments |
| WEBSITE | Facebook |
| ADDRESS | #01-12,, 94 Lor 4 Toa Payoh, Singapore 310094 |
| CONTACT DETAILS | +65 9663 3642 |
| OPERATING HOURS | Daily except Monday: 10am–8pm |
As one of the longest-running clinics on the island, Wei's TCM has become recognized by many locals due to their wide range of treatments. This includes trauma massage, facial paralysis treatment, and more.
When it comes to their best acupuncture in Singapore, they treat chronic body pain, nerve pain, stomachache, stroke, migraine, allergy, and more. Medicinal treatments for slimming and beauty care are also part of their services.
Highlights
Women's health treatment
Aesthetic body treatments
Customer Reviews
Most customers have complimented the excellent physicians at Wei's TCM, saying that aside from great treatment, they also give some tips and advice for a faster recovery. A customer from Google Reviews gave this feedback:
"Frankie is so amazing! He is so knowledgable, and recommends as it is. My shoulders's been hurting for a month now and decided to give TCM a go. He recommended acupunture and put hot medication on my shoulder to help ease the pain. He gave some tips and showed ways I can stretch my arm and what exercises I should avoid to help the healing process. His rates are affordable. I would definitely be back if I need any more help with any muscle/joint pains or sprains. Thank you!"
4.

TCM Yishun Singapore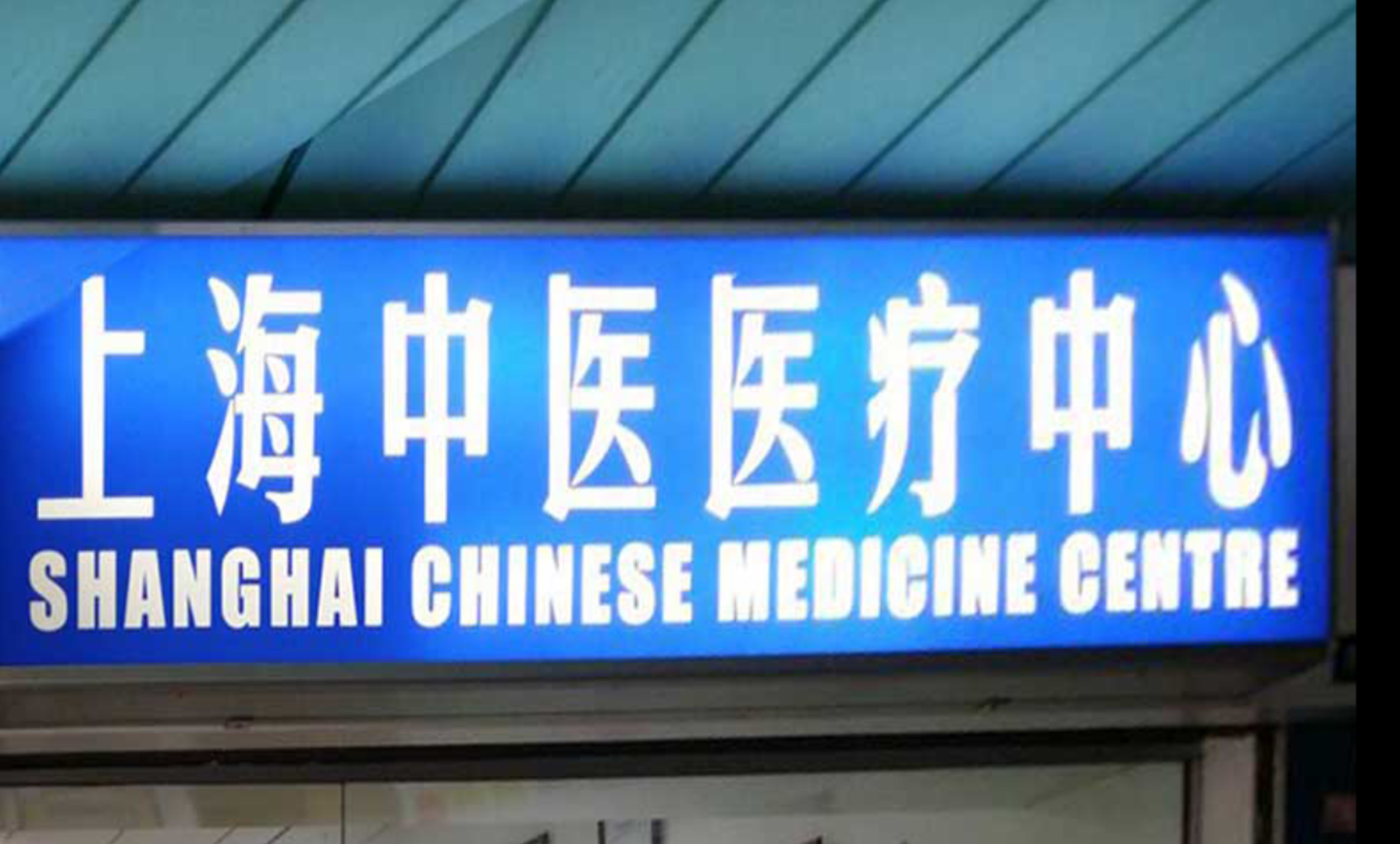 TCM Yishun Singapore is a leading establishment in Singapore when it comes to Chinese medicine. They have mastered the adaptation of using Chinese herbs and traditional methods to help cure almost any sickness.
Their services are applied to various fields in medicine, namely in pediatrics, gynaecology, orthopedics, dermatology, cosmetology, and even for cancer treatment. They make sure to include medicines for any illness that they have come across, as well as ones that they may encounter.
Aside from their amazing practices, what makes TCM Yishun Singapore one of the best is their physicians' vast knowledge and experience when it comes to traditional Chinese medicine. If you're ever in need of assistance with your illness, and you feel like traditional methods would help you better, then you might want to check out TCM Yishun Singapore.
Highlights
Acupuncture
TCM treatment infertility
TCM Slimming acupuncture
Sprains Tcm treatment
5. Enok TCM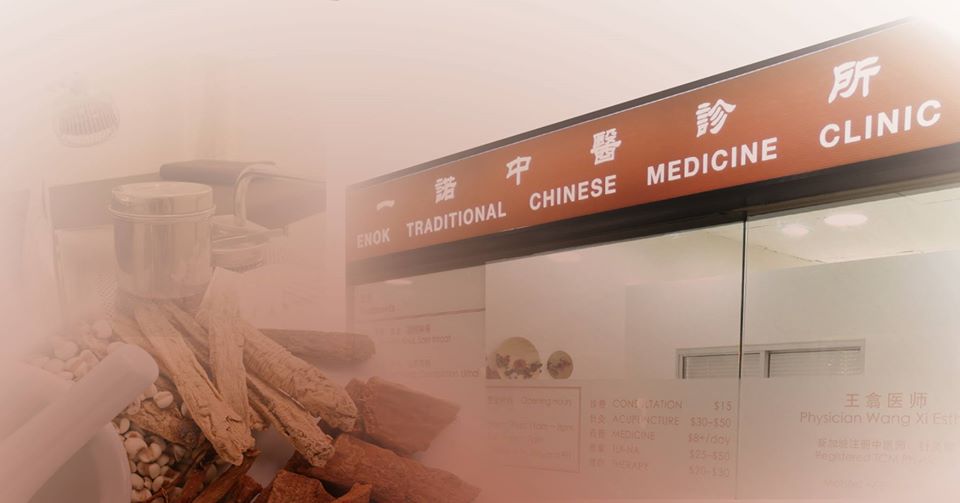 | | |
| --- | --- |
| BEST FOR | Optimal health improvement |
| WEBSITE | https://www.enokclinic.com/ |
| ADDRESS | 14 Scotts road #05-48 Far East Plaza, S228213 |
| CONTACT DETAILS | (+65) 9658 7802 |
| OPERATING HOURS | Weekdays (except Friday) and Saturday: 11am–8pm |
Enok TCM focuses on leading you towards a healthier lifestyle as they offer traditional techniques combined with advanced technology. They help bring balance to your health with non-invasive treatments — including their best acupuncture in Singapore.
Their acupuncture treatments help improve blood circulation and treat various illnesses. Other treatments such as pain and injury management, gynecology, and cosmetology are also part of their services.
Highlights
Treatment for illnesses
Pain and injury management
Customer Reviews
Enok TCM has received a lot of praises from many customers who've experienced healing treatments. A customer wrote this review on Google Reviews:
"Great physicians, a true healer that understand the way the body works and the relationship we have with nature and food. She has a vast amount of experience in Chinese medicine and acupuncture. Her consultation fee does not do her justice with the amount of time spent and the knowledge she is willing to impart. I fly to Singapore from US yearly just to see her. Not a single doctor, holistic practitioner nor acupuncturist in East coast and west coast of US was able to help me, until I met Dr."
6. Meng TCM Wellness Centre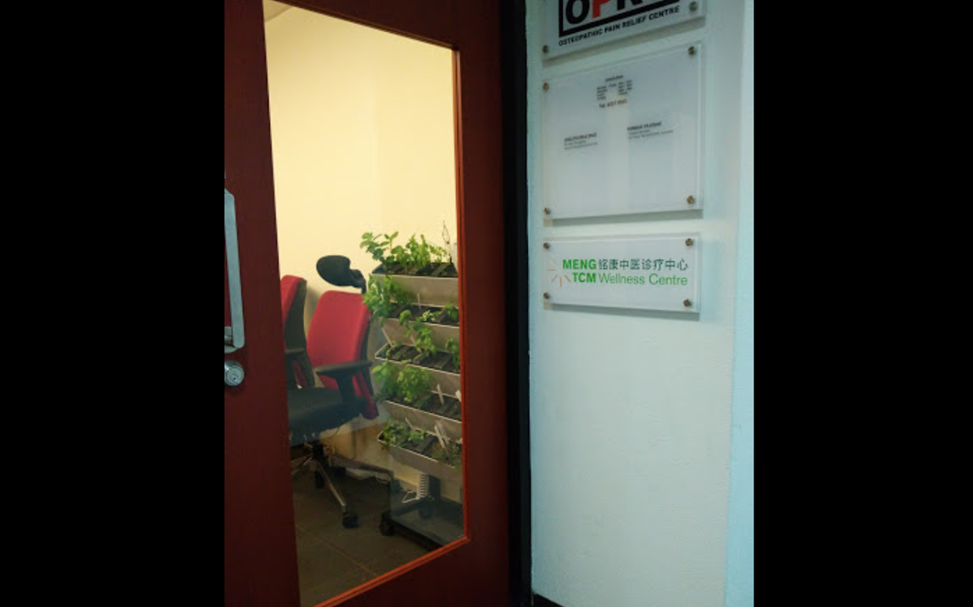 BEST FOR
Traditional Chinese Medicine
WEBSITE
https://www.mengtcm.com/
ADDRESS

133 New Bridge Road, #14-06 Chinatown Point (office block), Singapore 059413

CONTACT DETAILS
[email protected]
+65 6327 8545
OPERATING HOURS
Mon, Wed, Fri: 9:30 am to 6:00 pm
Tues, Thurs: 12:00 pm to 6:00 pm
Sat: 11:00 am to 2:00 pm
Sun & PH: Closed
Meng TCM Wellness Centre offers different types of Traditional Chinese Medicine ranging from acupuncture to herbal medicine, along with a few other methods. The registered physician specialises in pain management and acupuncture, so you can rest assured knowing that you're in great hands.
They can help treat conditions both acute and chronic. These include, but aren't limited to, pain management, cardiovascular diseases, and urinary conditions.
Highlights
Pleasant Environment
Accessible Location through MRT
Ample Car Park Facilities
Experienced TCM Practitioners
7. Laser Acupuncture Centre (LAC)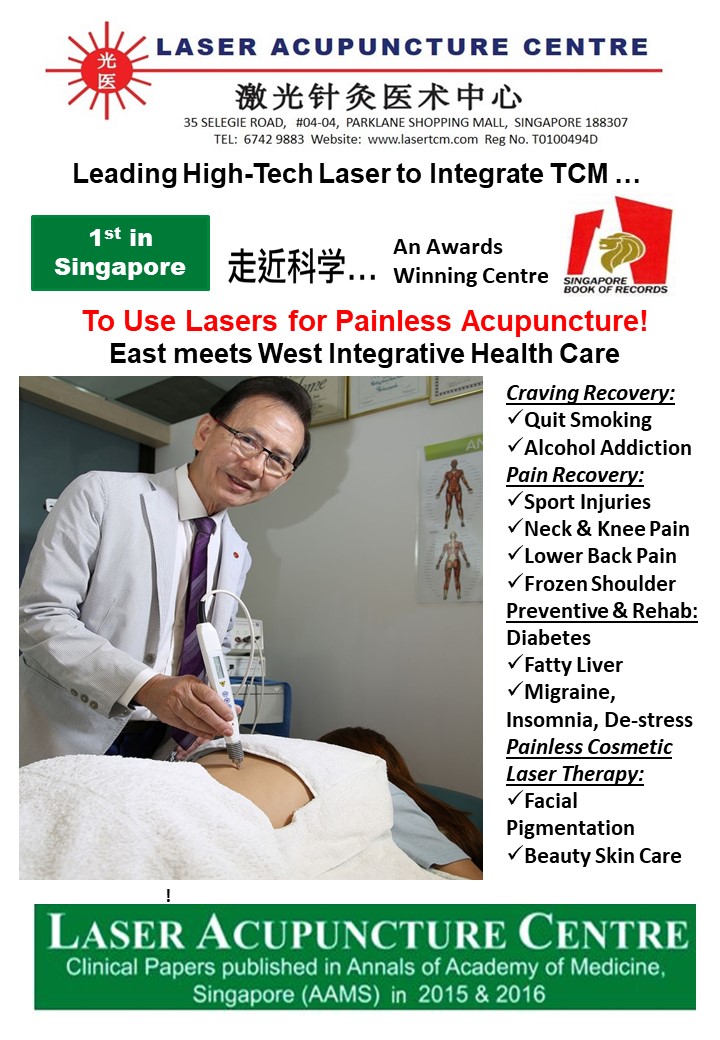 BEST FOR
Laser Therapy Technique
WEBSITE
http://www.lasertcm.sg/
ADDRESS

35 Selegie Road, #04-04 Parklane Shopping Mall Singapore 188307

CONTACT DETAILS
Tel : 6742 9883 Fax : 6744 3194
Email : [email protected]
OPERATING HOURS
Mon-Fri : 09.30 – 6.30pm
Sat : 09.30am – 3.00pm
Laser Acupuncture Centre (LAC) is one of the first in Singapore to introduce the revolutionary modernization in acupuncture, wherein you get great effects without the needles and pain. They offer what they call the 'Photomedicine of the 21st Century: Painless Laser Acupuncture.'
Laser Light is one of the best methods to use as it penetrates deep into the skin and tissues, helping with problems like Frozen Shoulder, Tennis Elbow, and Insomnia.
Highlights
Professional Services
Experienced Physicians
Affordable Rates
Online Booking for Appointments
8. GOW TCM Healthcare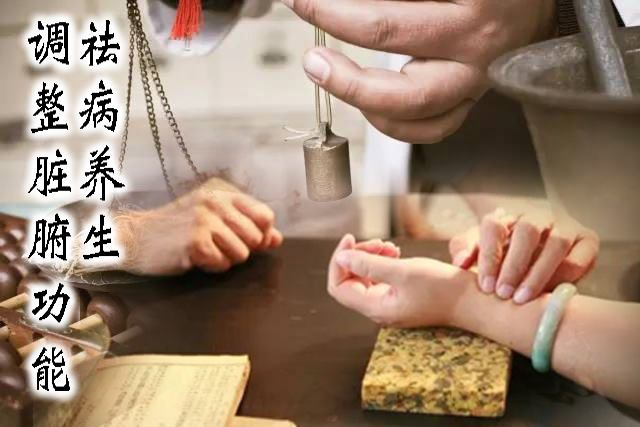 BEST FOR
Chinese Medicine for Weight Loss
WEBSITE
http://www.tcm-doctor.com/
ADDRESS
Blk 510 JURONG WEST STREET 51 #08 – 106 SINGAPORE 640510
CONTACT DETAILS
+65 92344920 | [email protected]
OPERATING HOURS

Mon – Tues – Wed – Fri: 9.30am – 8pm

Thur – Sat & Sunday: 9.30am – 4pm
GOW TCM Healthcare is a licensed Chinese Remedy Clinic in Singapore that uses the foundation of over 5,000 years of experience and practices.
The physician in charge, Physician Esther Gow, was trained under highly skilled TCM doctors in China. She has since then accumulated 20 years of experience and is considered an expert in the field.
Their Acupuncture and Chinese Medicines in the clinic can help a variety of medical problems like Acne, Impotency, Influenza, and even Parkinson's Disease. See what other problems they can help with on their website– you're sure to be surprised by how numerous it is.
Highlights
Effective Services
Well-handled medicines
Highly skilled physician
Decades of Experience
Customer Reviews
Here is what a client had to say about Physician Gow's excellent service and the clinic's over-all greatness:
"I have parkinson disease's. Although the western medicine helps to control my trembling but one side of my hand and both my legs feel very weak and still trembles abit every now and then. After having acupuncture and chinese herbs from Dr Gow, my hand and legs have been more strengthen. I used to have trouble frying food and even taking out coins from my purse and I even have to drag my legs to walk. After a few months with Dr Gow, my hand and legs are much more agile now. Thanks to Physician Gow."
9. Oak Health Chinese Medicine
BEST FOR
Traditional Therapy and Integral Therapy
WEBSITE
https://www.oakhealth.com.sg/
ADDRESS
83 East Coast Road – Level 2

Singapore 428786

CONTACT DETAILS
[email protected]
+65 62868896
OPERATING HOURS
Tuesday – Friday, 11:00AM-9:00PM, Saturday 10:00AM-5:00PM
If you are new to Chinese Medicine, then look no further than Oak Health Chinese Medicine. They specialize in many difficult-to-treat conditions such as neurological conditions, internal health, and chronic pain issues. All treatments and medications are carefully customized to each individual's needs and have proven to be highly effective. Physicians in Oak Health targets mainly the root cause of one's health conditions, which in turn eases the symptoms.
Oak Health Chinese Medicine operates as a clinic, seeing people from all walks of life, treating a range of conditions from acute to chronic diseases.
With their dedicated team of Physicians, therapists, nurses, and support team they will help you manage your condition through their holistic services that will surely go a long way. After all, what they want the most is to serve and assist you with your health.
Highlights
Service-oriented staff
Accurate pulse diagnosis
Scalp acupuncture
Effective medication
Emotional healing
Customer Reviews
Here are some satisfied patients from Oak Health:
"Oak Health is my very first TCM clinic I've ever visited and I must say that it exceeded my expectations! The clinic had a minimalist, modern and clean look and design. The staff were genuinely very warm, friendly and helpful. And, Dr Gabriel was very knowledgeable and experienced on such a whole other level, he seemed psychic! 😀 His treatments were very effective and affordable. I highly recommend visiting Oak Health if you have any existing ailments, especially if Western medicine has been ineffective. Five stars!"
"Dr Gabriel Chan is very professional and good with acupuncture for knee problem and frozen shoulder. He explains the treatment process and is very patient with all his patients.
Yes, I always walk out with a smile. His staff are very helpful and patient. Very service oriented."
10. Heritage TCM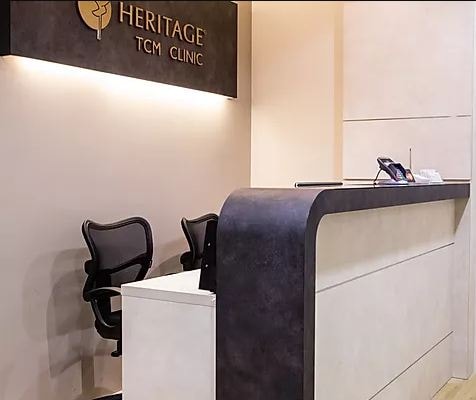 | | |
| --- | --- |
| BEST FOR | Best for Depression treatment |
| WEBSITE | https://www.heritagetcm.com.sg/ |
| ADDRESS | 304 Orchard Road Lucky Plaza, #05-43 Orchard Medical Specialists Centre Singapore 238863 |
| CONTACT DETAILS | +65 6836 0817 |
| OPERATING HOURS | Weekdays: 11am–5pm |
Heritage TCM provides health and wellness treatments for certain conditions. They have therapies for severe illnesses and maintenance for optimal health.
Their services include personalised TCM diagnosis, acupuncture, cupping, and herbal medications. Their best acupuncture in Singapore is used to treat chronic pain, injuries, sinus congestion, insomnia, female fertility, stroke, as well as depression.
Highlights
Herbal medication
Cupping treatment
Customer Reviews
Customers have been acquiring the services of Heritage TCM for years and they said that it's because of their skilled physicians and comprehensive treatments. A customer left this post on Google Reviews:
"I have been going to Heritage TCM for many years. It started with treatment for my shoulder and knee pain and can concur that the acupuncture is painless as Dr. Tan is highly skilled. Since then I have also consulted Dr. Tan for other ailments which are all very effective."
11. AMK TCM Clinic
BEST FOR
Acupuncture, Prescription and Consultation
WEBSITE
https://www.amktcm.com/
ADDRESS
Blk 102, #01-1191 Hougang Avenue 1
CONTACT DETAILS
[email protected]
+65 6280 7172
OPERATING HOURS
Mon – Sat: 9:00AM – 08:00PM
Sunday: 9:00AM – 2:00PM Closed on Public Holidays
AMK TCM Clinic is a one stop TCM Healthcare & Treatment centre located in the Hougang area in Singapore. Their professional and skilled physicians specialise in performing Acupuncture, Acupuncture Slimming, Tui-Na, and Cupping Therapies.
When it comes to internal medicine, they help those with hypertension, hypotension, headaches, and more. One of their main focuses is to help you understand your physique, and how you can restore your inner balance and functions.
They also offer both tuina massages and TCM massages.
Highlights
Sells supplements
Acupuncture treatment
And that's the end of our list of the best acupuncture in Singapore. If you'd like to suggest more clinics, feel free to share them with us as we may also include them on our list.
If you're looking for foot treatments in particular, by the way, then check out our list of the best foot reflexology in Singapore as well. Those selections offer pain relief, blood circulation improvement, and more!