If your pet has been acting odd lately, there's a chance that they might be sick. Instead of waiting for them to return to their usual mood, it's better to drop by the best vet clinics in Singapore to know what's wrong.
There are a lot of veterinary clinics scattered all over Singapore, but we can attest that not all of them look after our pets as well as we do. Since we want to help every pet owner, we created a list of the best vet clinics in Singapore that you can trust with your pet's well being.
We know how important a pet's life is to every pet owner, so we're here to share with you some of the best vet clinics in Singapore that can provide the best treatments for your pets.
1.  Amber Vet
BEST FOR 
Cats and Dogs Services
SERVICES
Vaccination, Consultation, Acupuncture, Surgery, Ultrasound, X-Ray, Dental Services, and Sterilisation
WEBSITE
https://ambervet.com/
ADDRESS
50 Burnfoot Terrace, Singapore 459837
CONTACT DETAILS
(65) 6245 5543 |

[email protected]

OPERATING HOURS
Monday – Saturday, 9:30 AM – 6:30 PM
Amber Vet is considered one of the best vet clinics in Singapore for its wide variety of treatments for dogs and cats, including dental services, ultrasound, x-rays, vaccinations, and many more. Pet owners can even bring their dogs and cats for a quick medical consultation.
What's more, it is also one of the few vet clinics that do advanced surgery such as laparoscopy, endoscopy, and eye surgeries. Its veterinarians are also equipped with the latest medical instruments.
Highlights
Convenient location
Experienced vets
Advanced medical technology
Customer Reviews
Here are some reviews posted on their website:
"Over the years we have seen a number of vets and there are a lot of good ones here in Singapore, but if you are looking for the absolute best for your beloved fur baby then you need look no further then Ambervet with Dr Loon and his colleagues. We have been with Ambervet for 5 years now and have been very happy with the love, care and professional expertise of Dr Loon in dealing with minor health concerns to the more major problems that can sometimes occur."
"Unlike the other clinics I've been to, we rarely have to wait too long for our turn at Amber Vet. I guess it's because most appointments are booked in advance. I also like the fact that the nurses will make an effort to call and preempt if there is any delay from the last appointments. The vets and nurses are friendly and caring. Their waiting area is comfortable to wait in too."
2.  Singapore Veterinary Animal Clinic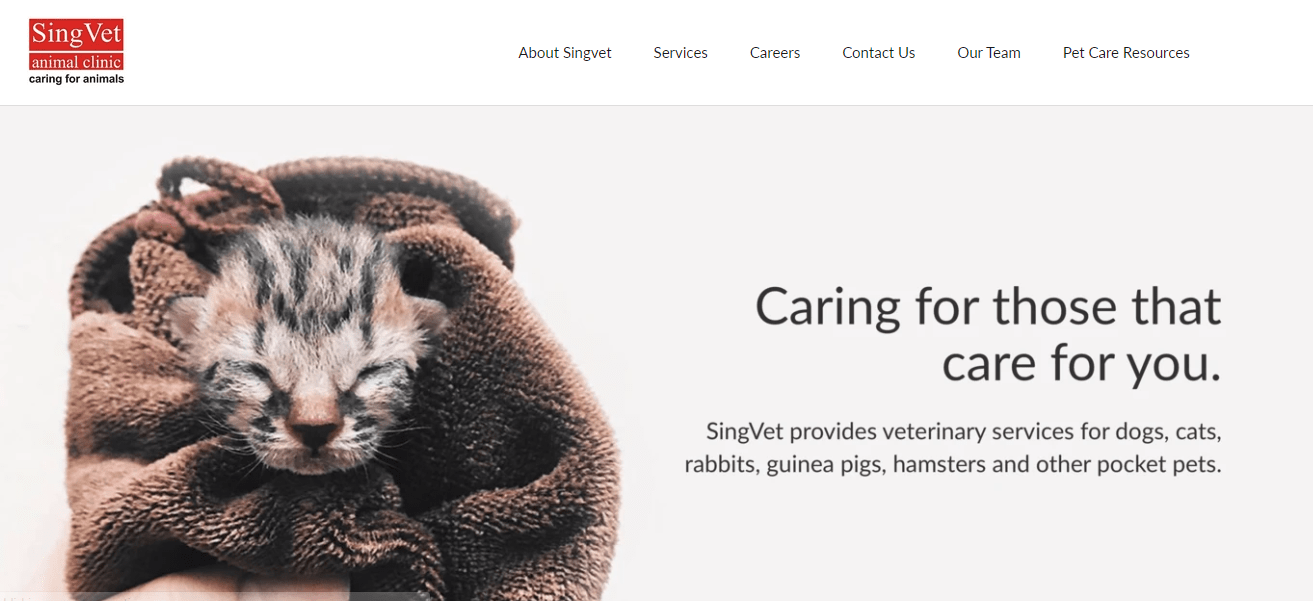 | | |
| --- | --- |
| BEST FOR  | Experienced Vets |
| SERVICES | Vaccination, Consultation, Hospitalization, Orthopedic Surgery, Dental Surgeries, Ultrasound, and Disease Screening |
| WEBSITE | https://singvet.sg/ |
| ADDRESS | #01-11 Woodlands Mart, Woodlands Ave 6, Block 768, Singapore 730768 |
| CONTACT DETAILS | 6365 0308 |
| OPERATING HOURS | Monday – Saturday, 9:00 AM – 6:00 PM |
If you're looking for a veterinary clinic that provides services to a variety of animals, then SingVet Animal Clinic is the right option for you! It offers veterinary services to dogs, cats, rabbits, guinea pigs, hamsters, and many more — which is why we name it one of the best vet clinics in Singapore.
SingVet Animal Clinic only has 10 years of experience under its belt, but it has managed to gain the trust of a lot of pet owners in Singapore. It also boasts a team of trained and professional veterinarians, nurses, and support medical staff.
Highlights
10 years of experience
Multiple payment methods
Advanced medical equipment
3.  Gentle Oak Veterinary Clinic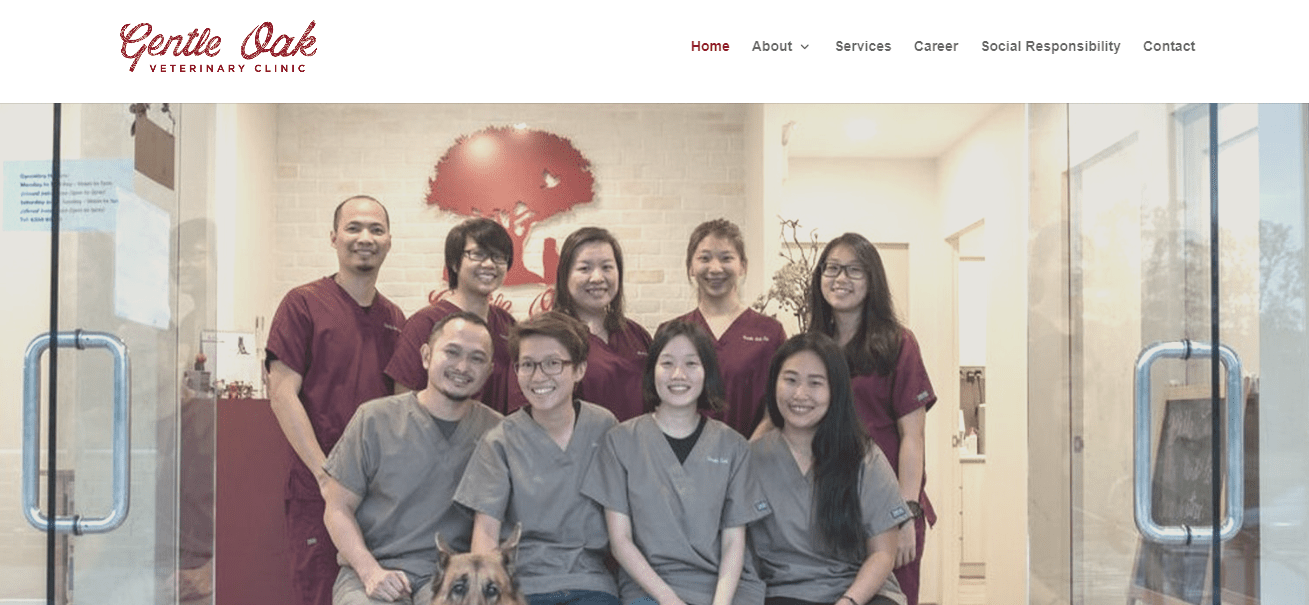 BEST FOR 
Reasonable Prices
SERVICES
Vaccination, Consultation, Dentistry, Ultrasonography, Surgeries, House-call Services, and Therapies
WEBSITE
https://gentleoakvet.com.sg/
ADDRESS
Blk 21 Ghim Moh Rd, #01-225, Singapore 270021
CONTACT DETAILS
+65 6250 8001 |

[email protected]

OPERATING HOURS
Monday – Saturday, 9:00 AM – 8:00 PM
Gentle Oak Veterinary Clinic has surgical rooms, consultation rooms, preparation rooms, and even fully equipped laboratories. One of the reasons we consider it one of the best vet clinics in Singapore is its wide array of services that include dental treatments, surgical consultation, all types of vaccinations, and even therapies.
What's more, it's composed of competent veterinarians who will care for your pets as if they own them. Customers seem to return to its clinic for the advanced and efficient medical technologies that allow them to treat different diseases.
More importantly, it promises customers that they won't have a hard time paying for treatments. All its services are priced reasonably to ensure that more pet owners will have access to its world-class services.
Highlights
Competitive pricing
State-of-the-art facilities
Customer Reviews
Check out what customers have to say about its about its vets and services:
"I'm truly happy to find Gentle Oak. It is by far the best animal clinic I have visited, with a team of compassionate vets and staff who truly care for animals, be they pets or street rescues. My gratitude to Dr Alice and Dr Travis for their dedication and professionalism. They are awesome! I love that they offer complementary natural therapies. You won't smell antiseptics at this clinic. There is only the smell of gentle, calming oils. This is the best smelling clinic in SG!!"
"Dr Lim was so good, reassuring, with a genuine and obvious passion for her work, and we felt extremely comfortable with her. We'd been looking for a regular vet for a while and are happy to continue visiting Gentle Oak and seeing Dr Lim."
4.  Oasis Vet Clinic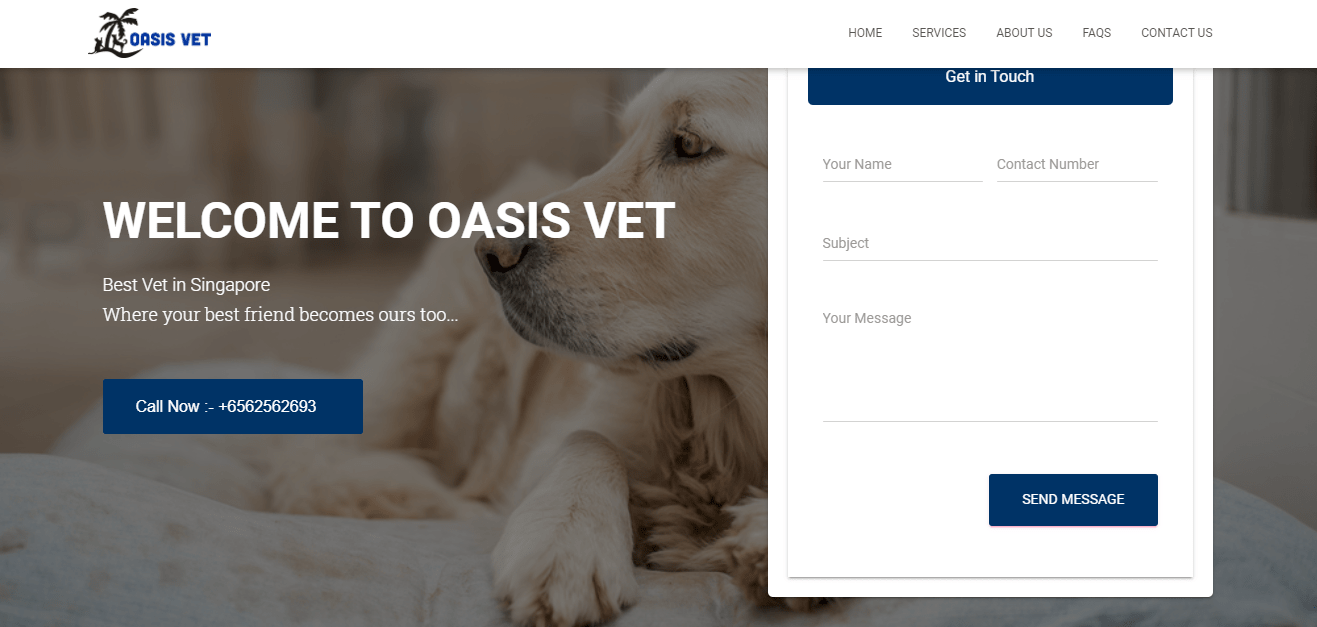 | | |
| --- | --- |
| BEST FOR  | All Types of Treatment |
| SERVICES | Health Screenings, Eye Examinations, Surgeries, and Vaccinations |
| WEBSITE | https://oasis-vet.com/ |
| ADDRESS | 15 Venus Rd, Singapore 574302 |
| CONTACT DETAILS | +65 62562693 |
| OPERATING HOURS | Monday – Saturday, 10:00 AM – 8:00 PM |
Oasis Vet Clinic is among the few clinics that offer all types of treatments, from vaccinations to health screenings. It uses only the latest and most advanced technologies in treating pets and keeping them healthy.
One of the reasons we consider it one of the best vet clinics in Singapore is its compassionate approach to caring for all pets. It promises that it will maximise all options to ensure that your pet is in healthy condition.
What's more, it also employs experienced and highly qualified veterinarians and nurses, so rest assured that your beloved pets will be in safe hands.
Highlights
Qualified medical staff
Maximum assistance
Customer Reviews
Take a look at some of the comments posted on Google Reviews:
"The Team at Oasis goes beyond to make your pet comfortable. They are very reassuring and will walk side by side with you all the way. My cat's relocation to another country went really smoothly because the Team had put his welfare, top priority. Words cannot express how grateful I am to everyone on the Team that took time out to get to know my cat and ensure that everything is done, at his time. Thank You, Oasis!" 
"Dr Nair genuinely cares for dogs. She keeps both my Singapore Specials in good health. One of them has very very itchy skin and Dr Nair has been the only vet so far who has been able to treat this condition and keep it under good control. Her fees are reasonable and she does not recommend any procedure or tests or medicines unless my dogs really need them. Thanks Dr Nair!"
5.  The Visiting Vets Clinic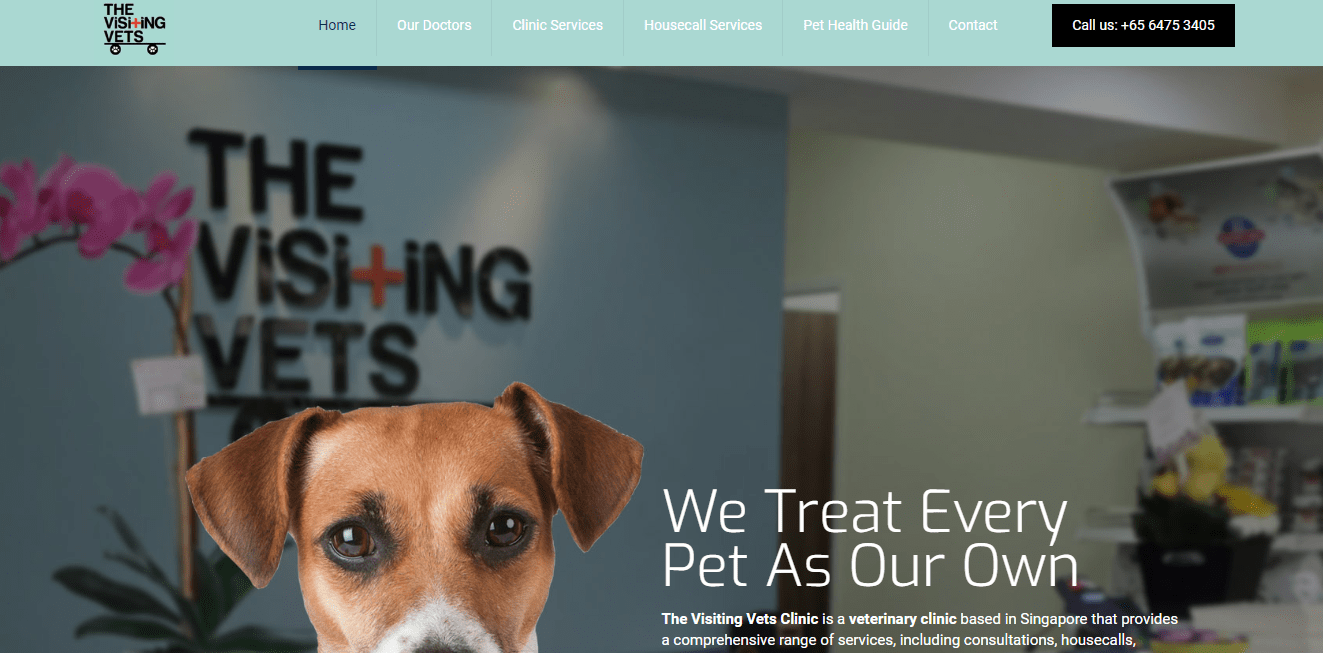 BEST FOR 
Home Services
SERVICES
Dental Services, Vaccinations, Internal Medicine, Diagnostic Services, and Surgeries
WEBSITE
https://thevisitingvets.com.sg/
ADDRESS
9 Taman Serasi, #01-09 Botanic Gardens View, Singapore 257720
CONTACT DETAILS
+65 6475 3405 |

[email protected]

OPERATING HOURS
Monday – Saturday, 10:00 AM – 7:00 PM
The Visiting Vet Clinic is one of the few vet clinics that do home services — which is why we deem it one of the best vet clinics in Singapore. If you're too busy to drive to the nearest clinic, you can just call its services and its team of vets will be at your doorstep as soon as possible.
What's more, its veterinarians promise to look after your pets as if they are their own, giving them only the best medical treatments. It offers a comprehensive range of services, consultations, diagnostic, surgical services and dental treatment.
Highlights
House calls
Experienced veterinarians
Customer Reviews
It has an average rating of 4.9 on Google Reviews, proving that its services can be trusted by every pet owner in Singapore. Here are some comments by customers:
"We would like to thank Dr Huang and his team for giving us time, for giving us space, for being sensitive in our situation and for not rushing us to give one last love before putting our beloved cat to sleep. I highly recommend this clinic to everyone. There's something about Dr Huang's approach.. We felt his sincerity, unlike many others. Who would've known if we were to bring our cat here 1st, he might've been healthy. From the bottom of our hearts, Thank you."
"My cat is 12 years old and has been to a total of 5 different vet clinics. When comparing between these clinics, I can definitely say that The Visiting Vets is probably the best clinic my cat has visited. It is most reasonably priced, efficient, professional and they can actually handle my grumpy cat. I've been to this clinic thrice and I've never been disappointed. I called to ascertain if the conditions warrant a visit to the vet and Dr Stephanie was very patient with my long list of symptoms."
And that's it for our list of the best vet clinics in Singapore. If you have visited any of these clinics in the past, don't hesitate to share your experiences with us!
Besides looking after your pet's health, you should never forget to check up on your own health! In case you haven't been to a medical clinic recently, here is our list of the best clinics in Singapore that you can visit during your free time.