The 15 Best Vet Clinics in Singapore
If your pet has been acting odd lately, there's a chance that they might be sick. Instead of waiting for them to return to their usual mood, it's better to drop by the best vet clinics in Singapore to know what's wrong.
There are a lot of veterinary clinics scattered all over Singapore, but we can attest that not all of them look after our pets as well as we do. Since we want to help every pet owner, we created a list of the best vet clinics in Singapore that you can trust with your pet's well being.
We know how important a pet's life is to every pet owner, so we're here to share with you some of the best vet clinics in Singapore that can provide the best treatments for your pets.
1.  Amber Vet
BEST FOR 
Cats and Dogs Services
SERVICES
Vaccination, Consultation, Acupuncture, Surgery, Ultrasound, X-Ray, Dental Services, and Sterilisation
WEBSITE
https://ambervet.com/
ADDRESS
50 Burnfoot Terrace, Singapore 459837
CONTACT DETAILS
(65) 6245 5543 | [email protected]
OPERATING HOURS

Mondays and Thursdays: 9.30 am to 8.00 pm

Tuesdays, Wednesdays, Fridays, Saturdays and Sundays: 9.30 am to 6.30 pm

Public Holidays: Closed
Amber Vet is considered one of the best vet clinics in Singapore for its wide variety of treatments for dogs and cats, including dental services, ultrasound, x-rays, vaccinations, and many more. Pet owners can even bring their dogs and cats for a quick medical consultation.
What's more, it is also one of the few vet clinics that do advanced surgery such as laparoscopy, endoscopy, and eye surgeries. Its veterinarians are also equipped with the latest medical instruments.
Highlights
Convenient location
Experienced vets
Advanced medical technology
Customer Reviews
Here are some reviews posted on their website:
"Over the years we have seen a number of vets and there are a lot of good ones here in Singapore, but if you are looking for the absolute best for your beloved fur baby then you need look no further then Ambervet with Dr Loon and his colleagues. We have been with Ambervet for 5 years now and have been very happy with the love, care and professional expertise of Dr Loon in dealing with minor health concerns to the more major problems that can sometimes occur."
"Unlike the other clinics I've been to, we rarely have to wait too long for our turn at Amber Vet. I guess it's because most appointments are booked in advance. I also like the fact that the nurses will make an effort to call and preempt if there is any delay from the last appointments. The vets and nurses are friendly and caring. Their waiting area is comfortable to wait in too."
2.  Singapore Veterinary Animal Clinic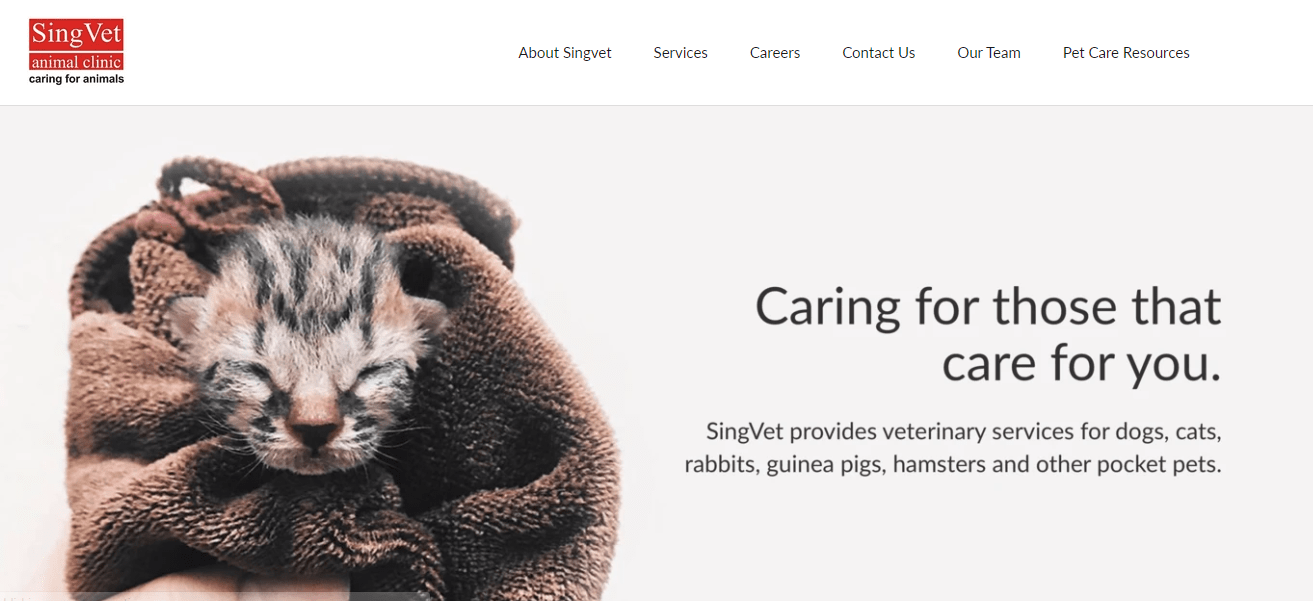 | | |
| --- | --- |
| BEST FOR  | Experienced Vets |
| SERVICES | Vaccination, Consultation, Hospitalization, Orthopedic Surgery, Dental Surgeries, Ultrasound, and Disease Screening |
| WEBSITE | https://singvet.sg/ |
| ADDRESS | #01-11 Woodlands Mart, Woodlands Ave 6, Block 768, Singapore 730768 |
| CONTACT DETAILS | 6365 0308 |
| OPERATING HOURS | Monday – Saturday, 9:00 AM – 6:00 PM |
If you're looking for a veterinary clinic that provides services to a variety of animals, then SingVet Animal Clinic is the right option for you! It offers veterinary services to dogs, cats, rabbits, guinea pigs, hamsters, and many more — which is why we name it one of the best vet clinics in Singapore.
SingVet Animal Clinic only has 10 years of experience under its belt, but it has managed to gain the trust of a lot of pet owners in Singapore. It also boasts a team of trained and professional veterinarians, nurses, and support medical staff.
Highlights
10 years of experience
Multiple payment methods
Advanced medical equipment
3.  Gentle Oak Veterinary Clinic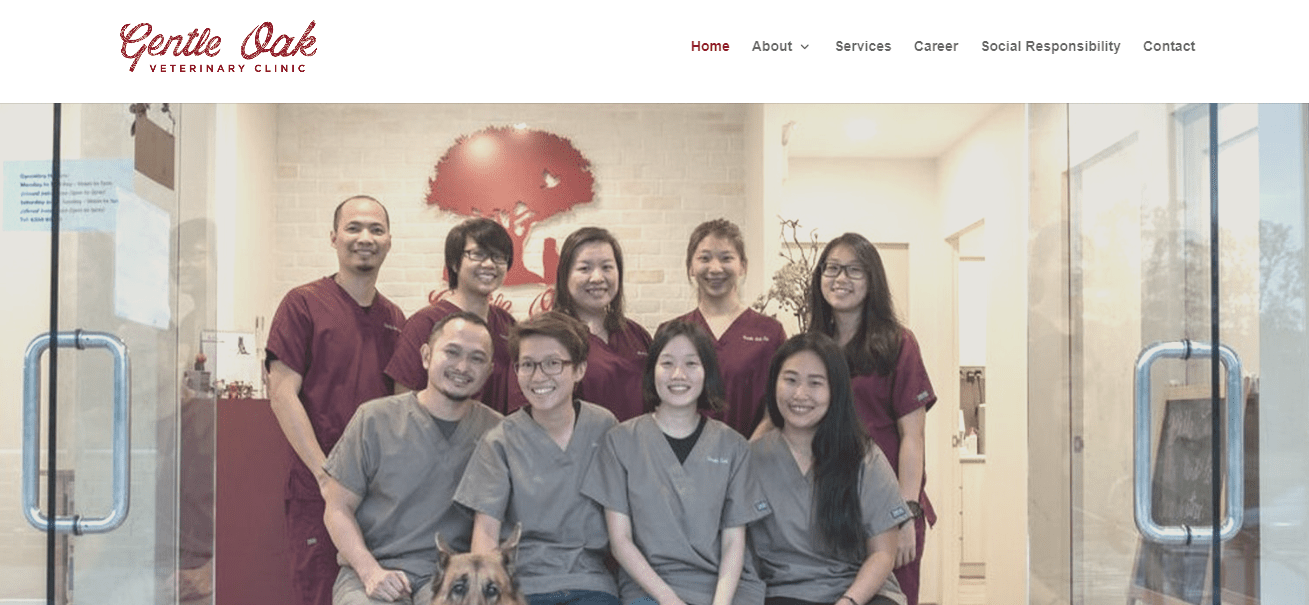 BEST FOR 
Reasonable Prices
SERVICES
Vaccination, Consultation, Dentistry, Ultrasonography, Surgeries, House-call Services, and Therapies
WEBSITE
https://gentleoakvet.com.sg/
ADDRESS
Blk 21 Ghim Moh Rd, #01-225, Singapore 270021
CONTACT DETAILS
+65 6250 8001 |

[email protected]

OPERATING HOURS
Monday – Saturday, 9:00 AM – 8:00 PM
Gentle Oak Veterinary Clinic has surgical rooms, consultation rooms, preparation rooms, and even fully equipped laboratories. One of the reasons we consider it one of the best vet clinics in Singapore is its wide array of services that include dental treatments, surgical consultation, all types of vaccinations, and even therapies.
What's more, it's composed of competent veterinarians who will care for your pets as if they own them. Customers seem to return to its clinic for the advanced and efficient medical technologies that allow them to treat different diseases.
More importantly, it promises customers that they won't have a hard time paying for treatments. All its services are priced reasonably to ensure that more pet owners will have access to its world-class services.
Highlights
Competitive pricing
State-of-the-art facilities
Customer Reviews
Check out what customers have to say about its about its vets and services:
"I'm truly happy to find Gentle Oak. It is by far the best animal clinic I have visited, with a team of compassionate vets and staff who truly care for animals, be they pets or street rescues. My gratitude to Dr Alice and Dr Travis for their dedication and professionalism. They are awesome! I love that they offer complementary natural therapies. You won't smell antiseptics at this clinic. There is only the smell of gentle, calming oils. This is the best smelling clinic in SG!!"
"Dr Lim was so good, reassuring, with a genuine and obvious passion for her work, and we felt extremely comfortable with her. We'd been looking for a regular vet for a while and are happy to continue visiting Gentle Oak and seeing Dr Lim."
4.  Oasis Vet Clinic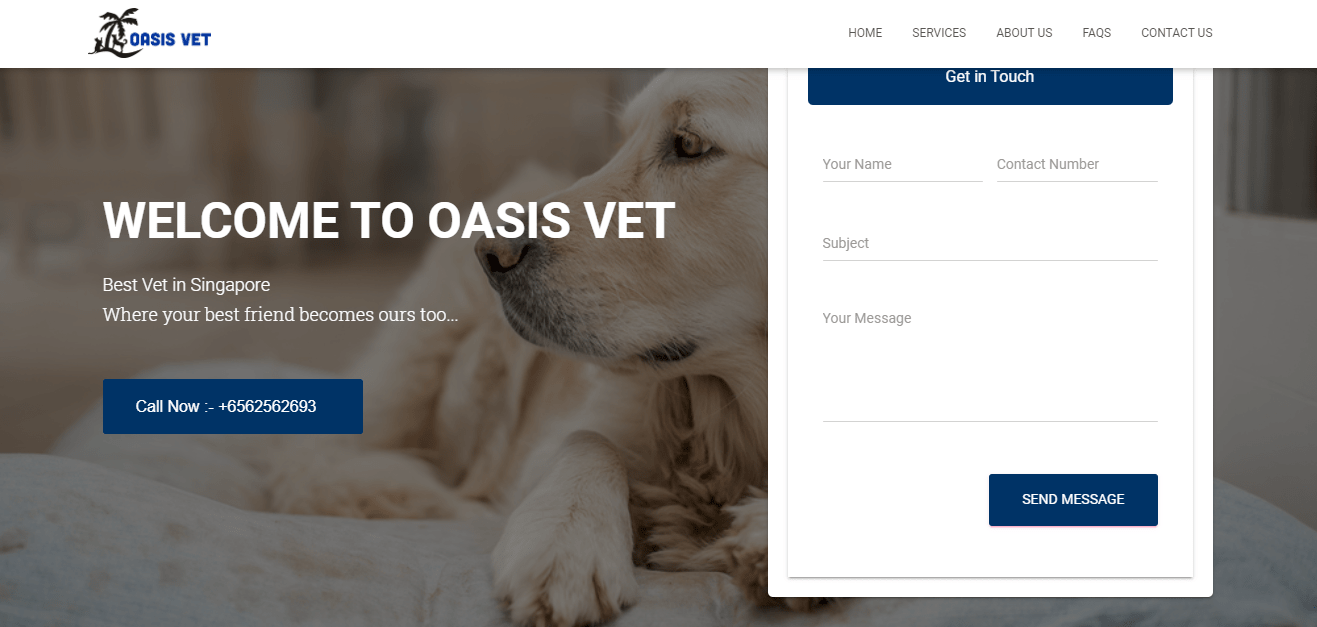 | | |
| --- | --- |
| BEST FOR  | All Types of Treatment |
| SERVICES | Health Screenings, Eye Examinations, Surgeries, and Vaccinations |
| WEBSITE | https://oasis-vet.com/ |
| ADDRESS | 15 Venus Rd, Singapore 574302 |
| CONTACT DETAILS | +65 62562693 |
| OPERATING HOURS | Monday – Saturday, 10:00 AM – 8:00 PM |
Oasis Vet Clinic is among the few clinics that offer all types of treatments, from vaccinations to health screenings. It uses only the latest and most advanced technologies in treating pets and keeping them healthy.
One of the reasons we consider it one of the best vet clinics in Singapore is its compassionate approach to caring for all pets. It promises that it will maximise all options to ensure that your pet is in healthy condition.
What's more, it also employs experienced and highly qualified veterinarians and nurses, so rest assured that your beloved pets will be in safe hands.
Highlights
Qualified medical staff
Maximum assistance
Customer Reviews
Take a look at some of the comments posted on Google Reviews:
"The Team at Oasis goes beyond to make your pet comfortable. They are very reassuring and will walk side by side with you all the way. My cat's relocation to another country went really smoothly because the Team had put his welfare, top priority. Words cannot express how grateful I am to everyone on the Team that took time out to get to know my cat and ensure that everything is done, at his time. Thank You, Oasis!" 
"Dr Nair genuinely cares for dogs. She keeps both my Singapore Specials in good health. One of them has very very itchy skin and Dr Nair has been the only vet so far who has been able to treat this condition and keep it under good control. Her fees are reasonable and she does not recommend any procedure or tests or medicines unless my dogs really need them. Thanks Dr Nair!"
5.  The Visiting Vets Clinic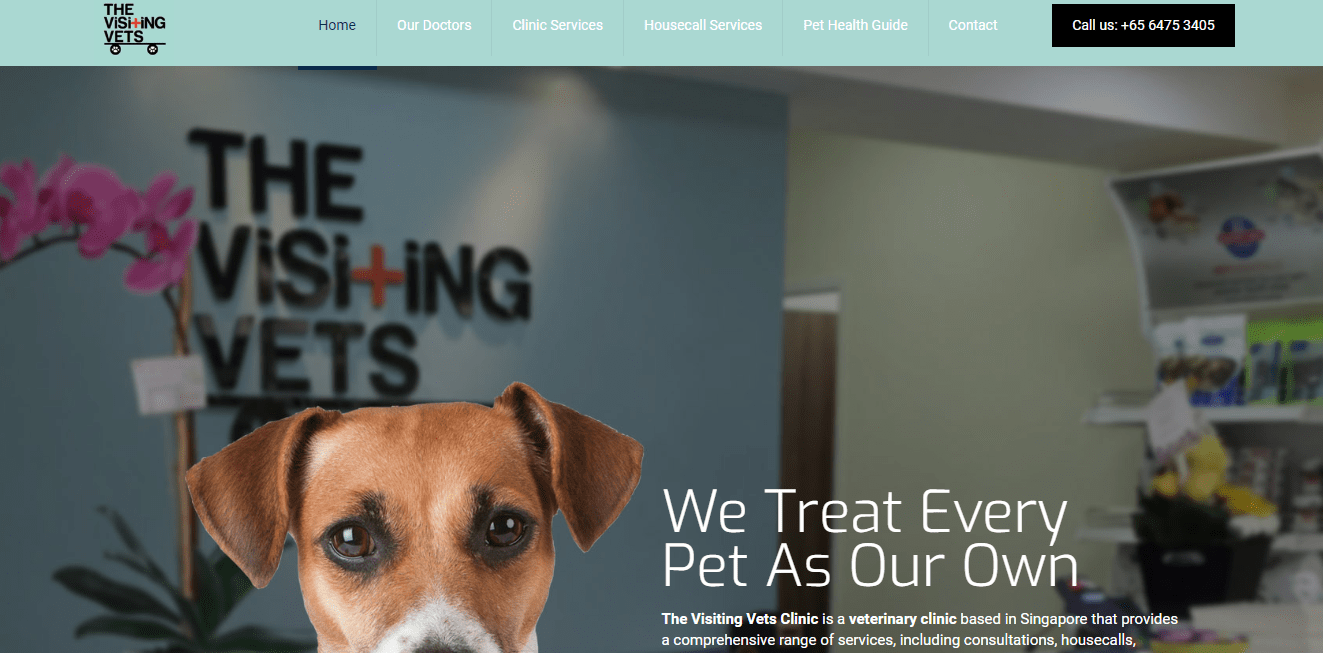 BEST FOR 
Home Services
SERVICES
Dental Services, Vaccinations, Internal Medicine, Diagnostic Services, and Surgeries
WEBSITE
https://thevisitingvets.com.sg/
ADDRESS
9 Taman Serasi, #01-09 Botanic Gardens View, Singapore 257720
CONTACT DETAILS
+65 6475 3405 |

[email protected]

OPERATING HOURS
Monday – Saturday, 10:00 AM – 7:00 PM
The Visiting Vet Clinic is one of the few vet clinics that do home services — which is why we deem it one of the best vet clinics in Singapore. If you're too busy to drive to the nearest clinic, you can just call its services and its team of vets will be at your doorstep as soon as possible.
What's more, its veterinarians promise to look after your pets as if they are their own, giving them only the best medical treatments. It offers a comprehensive range of services, consultations, diagnostic, surgical services and dental treatment.
Highlights
House calls
Experienced veterinarians
Customer Reviews
It has an average rating of 4.9 on Google Reviews, proving that its services can be trusted by every pet owner in Singapore. Here are some comments by customers:
"We would like to thank Dr Huang and his team for giving us time, for giving us space, for being sensitive in our situation and for not rushing us to give one last love before putting our beloved cat to sleep. I highly recommend this clinic to everyone. There's something about Dr Huang's approach.. We felt his sincerity, unlike many others. Who would've known if we were to bring our cat here 1st, he might've been healthy. From the bottom of our hearts, Thank you."
"My cat is 12 years old and has been to a total of 5 different vet clinics. When comparing between these clinics, I can definitely say that The Visiting Vets is probably the best clinic my cat has visited. It is most reasonably priced, efficient, professional and they can actually handle my grumpy cat. I've been to this clinic thrice and I've never been disappointed. I called to ascertain if the conditions warrant a visit to the vet and Dr Stephanie was very patient with my long list of symptoms."
6.  Passion Vet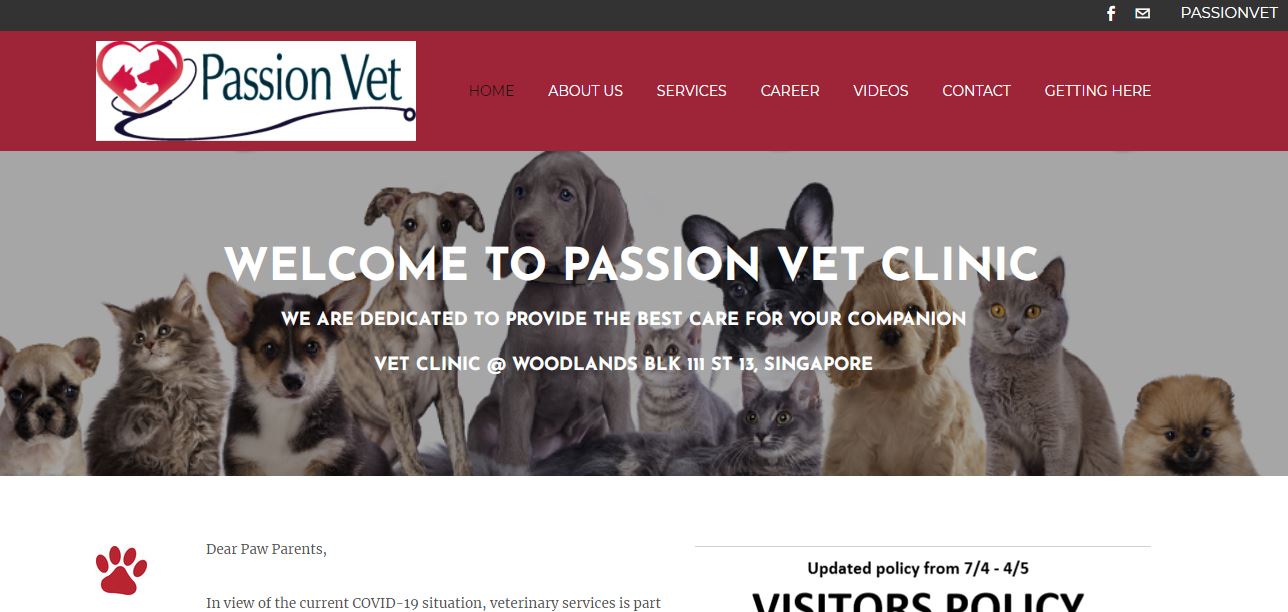 BEST FOR 
Wide range of necessary vaccinations
SERVICES
Deworming, Acupuncture, Blood Tests, Dental Scaling, Vaccinations
WEBSITE
http://www.passionvet.com/
ADDRESS
Blk 111 Woodlands Street 13, #01-86, Singapore 730111
CONTACT DETAILS

66358725 |

[email protected]

OPERATING HOURS
Weekdays: 10am–4pm, 6–9pm
Weekends: 10am–5pm
Passion Vet consists of a group of skilled, well-trained, and experienced veterinarian surgeons who perform an inclusive range of treatments and surgical procedures. This includes necessary vaccinations, deworming, acupuncture, dental scaling, and more.
They also provide hospitalisation treatments if your pet needs to undergo a major operation. They also run different types of blood tests for a more accurate diagnosis.
Highlights
Different types of blood tests
Sterilisation/Castration
Traditional Chinese Medicine (TCM) consultation
Customer Reviews
Customers were highly satisfied with the range of services and friendly staff of Passion Vet, which is why they're known to be one of the best vet clinics in Singapore. A customer shared this experience:
"The service was great and the vet was very gentle to my cat. All the staff there were all very patient with our questions and doubts. The price is very reasonable as well (as a comparison to my visit to another vet clinic). Thank you all so much for your help!"
7.  Pets Avenue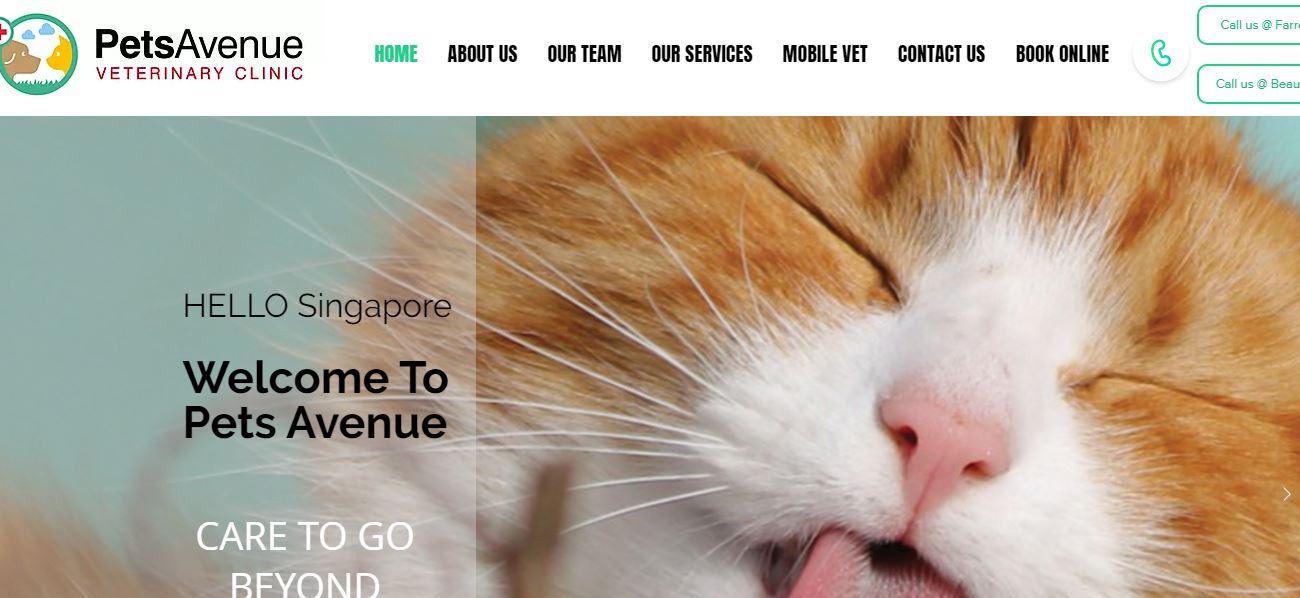 Pets Avenue offers a wide range of veterinary procedures, a professional medical team, and modern facilities. Their services include wellness health checks, internal medicine, nutrition, hospitalisation, and more. They also perform other health care treatments involving dermatology and dentistry.
Most importantly, they provide house calls and home visits in case of emergency so your pet can receive immediate treatment and you can prevent further health risks. This is one of the many reasons many have considered them to be the best vet clinic in Singapore.
Highlights
Dermatology services
Emergency vet
Customer Reviews
Pets Avenue has earned the trust of many customers who complimented their responsive services and effective treatments. A customer from Google Reviews wrote:
"Excellent experience. As expats, Pets Avenue made us feel as if we never left home. On several occasions they responded immediately, and even came to our location. Many staff members went above and beyond what was expected. With multiple dogs, with several surgical procedures, we had plenty of opportunity for errors, but we only got impressive results and excellent service. Rest assured, your pets will feel at home at Pets Avenue."
8. Beecroft Bird & Exotic Veterinary Clinic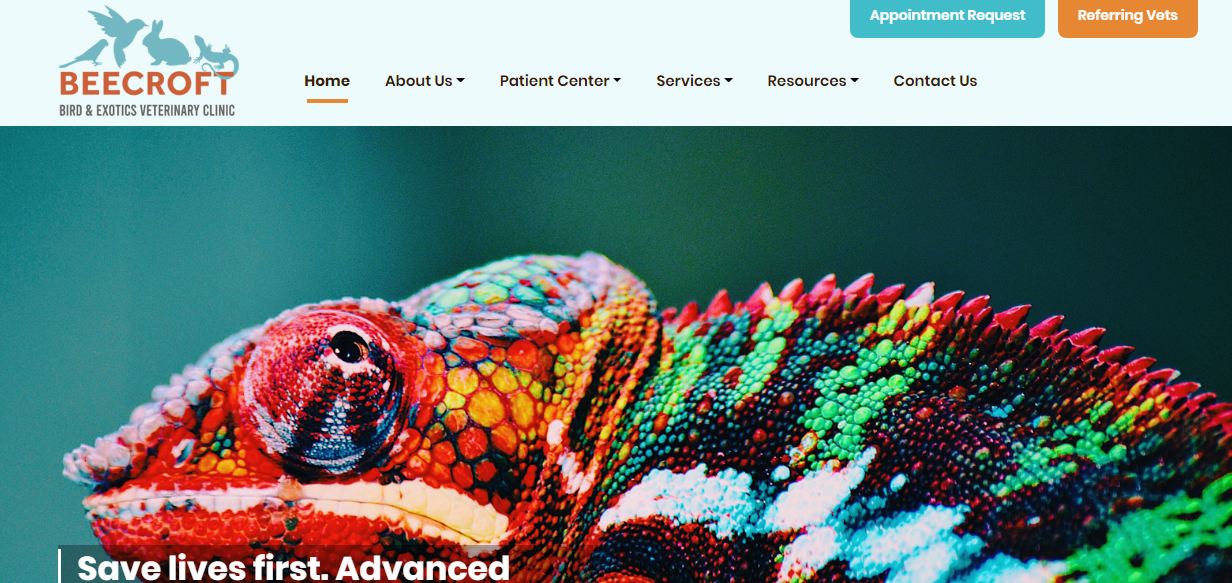 BEST FOR 
Exotic pets treatment
SERVICES
Orthopaedic Surgery, Life Stage Care, Medical Grooming, Dental Care, Surgery
WEBSITE
https://www.birdvet.com.sg/
ADDRESS
59, Upper East Coast Road. Singapore 455217
CONTACT DETAILS
+65 6803 8344
OPERATING HOURS
Monday 9.00 AM – 7.30 PM
Tuesday 9.00 AM – 7.30 PM
Thursday 9.00 AM – 9.00 PM
Friday 9.00 AM – 6.30 PM
Saturday 9.00 AM – 5.30 PM
Wednesdays and Sundays – Closed
Beecroft Bird & Exotic Veterinary Clinic offers advanced health care treatments, specifically for birds and exotic pets, which is a bit challenging to find on the island.
As they're the only clinic that specialises in exotic and rare species, they've become the best veterinary clinic in Singapore for pets who are in need of specialised care.
They consist of specially-trained vets who treat turtles, snakes, birds, rabbits, fish, and many more. From simple health checkups up to complex surgical procedures, they perform all necessary treatments to maintain and improve the pet's health.
Highlights
Advanced health care treatments for exotic pets
Surgical procedures for complex conditions
Customer Reviews
Beecroft Bird & Exotic Veterinary Clinic has earned a lot of delightful feedback from the customers who've experienced specialised services for their unique pets. A customer left this post on Google Reviews:  
"I took my African grey to barcroft and I was extremely happy with the services and the kind of care dr katerina and sr doc rina should . Very knowledgeable doctors and very compassionate as wel. Will highly recommend them. They took good care of my AG parrot and she is perfect now."
9. Animal & Avian Veterinary Clinic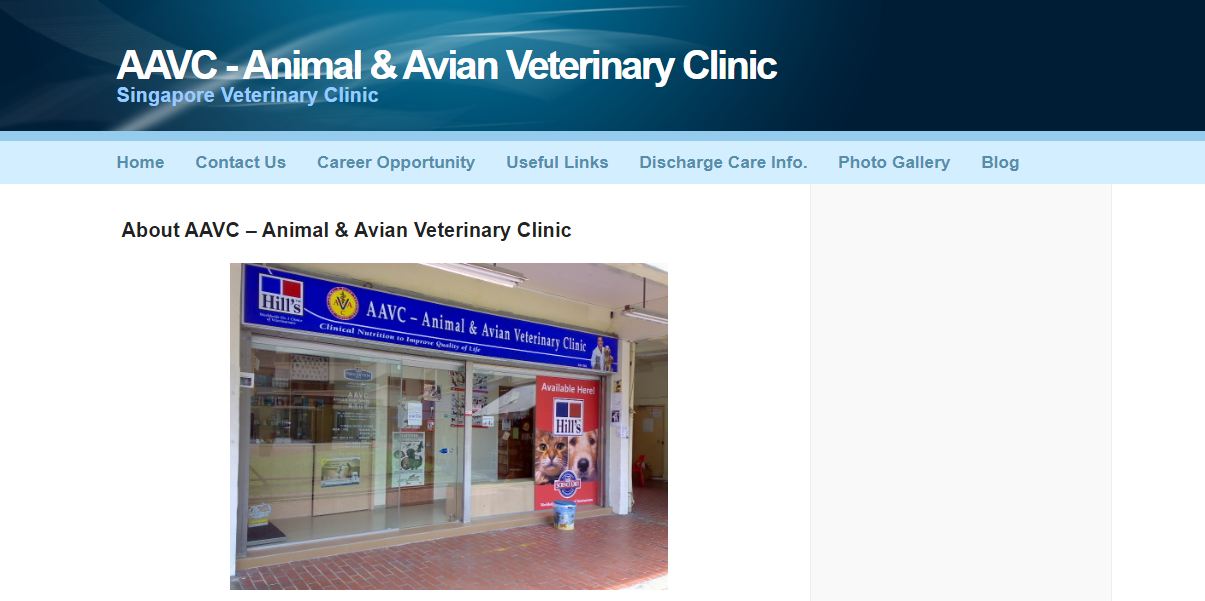 BEST FOR 
Basic and advanced treatments
SERVICES
Health consultations, Surgical Treatments, Dental Care
WEBSITE
https://aavcsingapore.webs.com/
ADDRESS
Blk 716, Yishun St. 71 #01-254 Singapore 760716
CONTACT DETAILS
(65) 6853 9397
OPERATING HOURS
Weekdays: 10am–2pm, 5–8pm
Weekends: 10am–2pm
Animal & Avian Veterinary Clinic consists of well-experienced and skilled veterinarians who specialise in treating traditional pets as well as birds. Also, if you're unable to bring your pet to the clinic, they offer house-call services so you can have an immediate consultation and prevent further risks.
They provide basic and advanced treatments such as vaccinations, surgical procedures, dental services, and more. With their fair range of services and treatments, they've become one of the best vet clinics in Singapore!
Highlights
House-call services
Surgical procedures
Customer Reviews
Animal & Avian Veterinary Clinic has earned the trust of many customers because of their knowledgeable and responsive staff who've done exceptional care to pets. A customer gave this review on Google Reviews:
"Attentive vets and nurses. I brought my hamster in to see the vet and quite immediately, the nurse was able to determine my hamster required oxygen treatment and requested I hand over the little one. Thankful to the patience of the staff in explaining my hamsters condition and in providing the right treatment and advice."
10. Animal Practice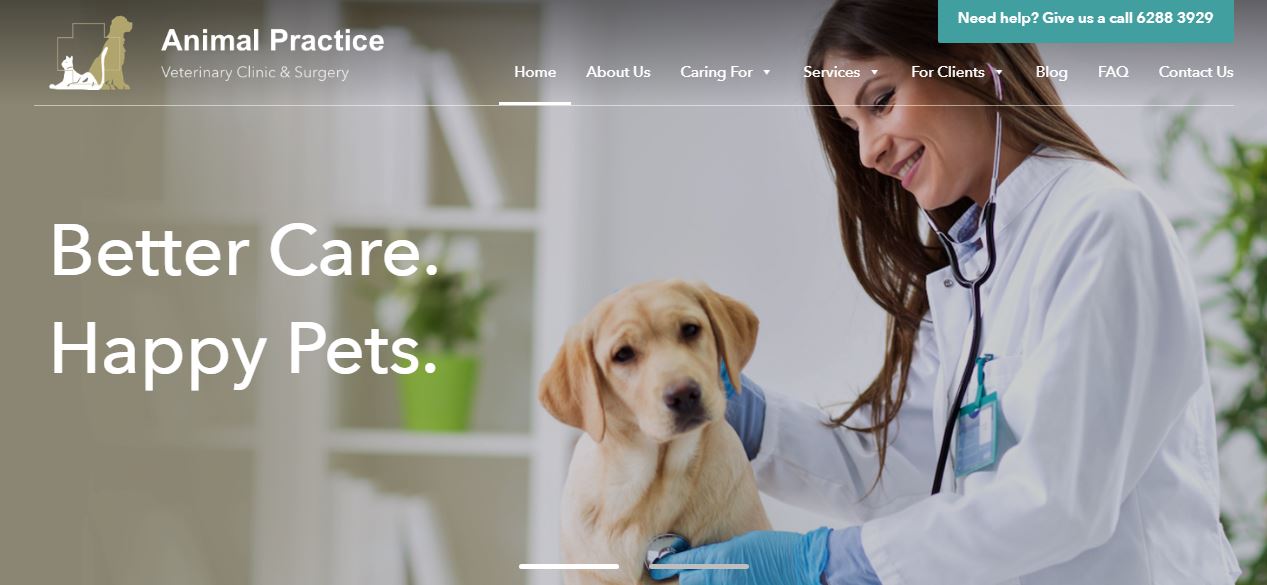 BEST FOR 
Basic and complex treatments
SERVICES
Basic consults, Referral consults, Surgeries – including Orthopedics, Digital xray, Endoscopy, Ultrasound, Blood chemistry tests, Isolation ward facility,
WEBSITE
https://animalpractice.com.sg/
ADDRESS
1017 Upper Serangoon Road #01-01 Singapore 534755

 

1015 Upper Serangoon Road #01-00 Singapore 534753

CONTACT DETAILS
6288 3929 | animalpr

[email protected]

OPERATING HOURS
Daily

 

9am – 12pm
2pm – 5pm
6pm – 8pm
Animal Practice provides medical diagnosis, treatment therapies, and surgical procedures necessary for a pet's condition. They help treat dogs, cats, rabbits, and rodents.
Their team of vet specialists specialise in basic and major procedures as they conduct wide and comprehensive diagnostics, allowing them to perform the needed surgery and recovery process.
There's no need to worry if you're on a tight budget as their services are tailored within their clients' means. Throughout the years they've grown from a basic vet clinic to a general vet health centre, proving that they're indeed one of the best vet clinics in Singapore.
Highlights
Comprehensive veterinary services
Principal vet has over 30 years of experience
Donates vaccines to a dog welfare group
Offers separate wards for ICU, rabbit, dogs and cats
Customer Reviews
Here are some reviews left behind by satisfied clients of the clinic:
"First time bringing my pet of 10yrs for a visit due to it having bad diarrhoea for 3 days and my regular vet has closed down. Front desk staffs are friendly and provided me with directions to the private parking. Waiting time can be long without appointment. Was attended to by Dr Kevin. Was dispensed some medications after consult and reviewed in 3 days time. After medications my pet slowly got better and the diarrhoea stopped after 2 days of medication. 2nd visit for the review my pet was seen by Dr Gemma. Was told that my pet is back to normal and to continue and complete the medications dispensed. Glad that i followed their advise and found this friendly neighbourhood Vet clinic. I find that their charges are reasonable."
11. Hillside Veterinary Surgery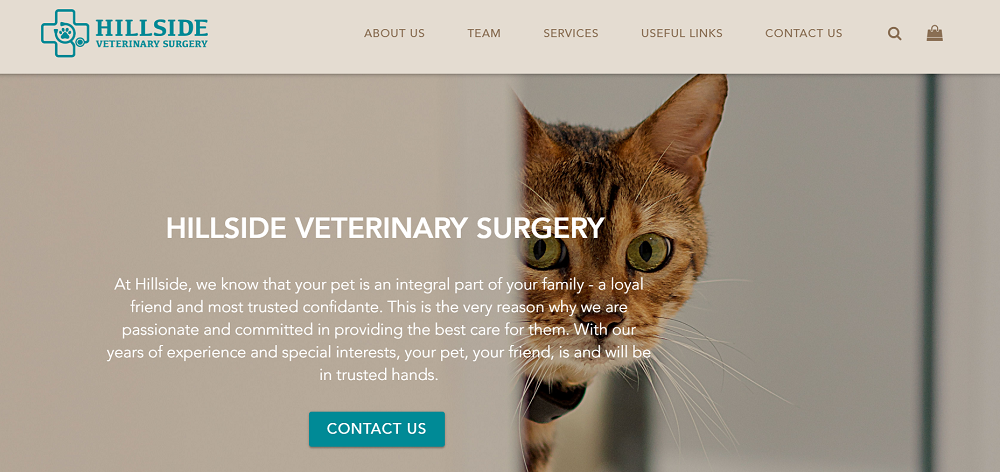 | | |
| --- | --- |
| BEST FOR  | Extensive and quality veterinary services |
| SERVICES | Routine Consultations, Internal Medicine, Dernatology, Specialised Surgery, Dental Services, Oncology |
| WEBSITE | https://www.hillsidevets.com.sg/ |
| ADDRESS | 787A Upper Serangoon Road, Singapore 534655 |
| CONTACT DETAILS | Tel.: 6909 5338 / 6909 5339 |
| OPERATING HOURS | Mondays to Fridays 9:30 AM – 12:30 PM , 2:00 PM – 4:30 PM, 6:00 PM – 8:30 PM |
Hillside Veterinary Surgery is a boutique animal practice that is commited to providing its patients and customers with advanced veterinary care. The clinic is equipped with the latest technology and materials that will provide your pet with a variety of veterinary care and services.
Your pets will not be treated as just pets, but as patients and family. Their services include vaccinations, micropchipping, health screening, and health documentation. Your best friend will be safe in their hands.
Highlights
Visiting Specialist Surgeon from Australia
Highly experienced veterinarians
Customer Reviews
Here are a few reviews left by satisfied clients of the clinic:
"Been to many many vets for my dog and Hillside is still my personal favourite. Very friendly polite staff, and competent vets. Not to mention the clean spacious clinic and competitive prices. Can always trust Hillside to take care of my dog. Dr Simon Quek especially is really good with diagnosing and treating."
"It's great to see vets who are so excited, passionate and 100% concerned about your pet, as you are. I was recommended here by a fellow cat love. We'd recently gone back because she had an abscess in her gum that we Uncovered on our kitties' annual. Dr D is the best! She is so understanding and gentle and definitely knows her cats. She made sure our baby girl's care came first and keep us updated on her situation. Now our baby girl is recovered, super energetic and affectionate."

"Thank you so much Hillside team. You have helped save my little Pepito since his near-death emergency last year! All the loving care and help to get him back to good health whenever he was rushed in is greatly appreciated! He couldn't have made it without all of you! Never easy with this grumpy old boy and all the many issues he has but you always have such good spirits about helping him and so kind to listen to answer my 1001 questions. Special thanks to Dr Simon, Dr Ruth and Dr Amanda, Hai Ning, Eunice, Vic, Jen, Joe… as well as every wonderful team member!! Your patience, concern and warm smiles always help calm the situations at hand. God bless you all for your big hearts!" 
12. Animal World Veterinary Clinic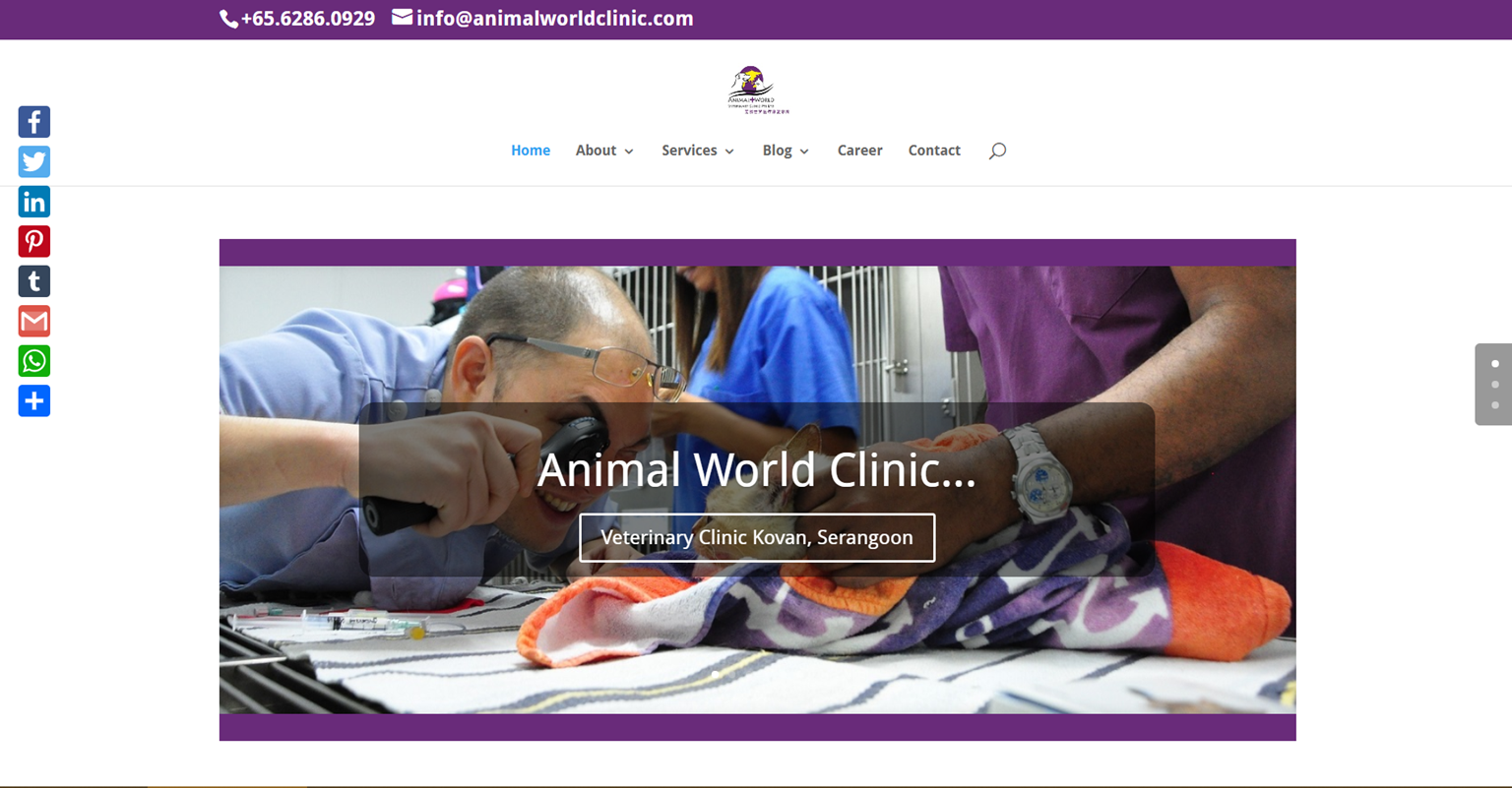 Animal World Veterinary Clinic is a team of professional veterinary doctors who aim to provide the best care for animals– at a reasonable price. They're experienced professionals in the field, so you know that your fur baby is in great hands.
They're also one of the few veterinary clinics who offers almost all services for any veterinary needs, from minor check-ups and grooming to physiotherapies and surgery. Animal World Veterinary Clinic is truly the place for all your pet's needs.
What's even better though, is that they now offer pet pick-up for your convenience. In partnership with other leading veterinary specialists in Singapore, they can pick-up and drop-off your fur babies to your house so that you don't have to waste time driving to the clinic, going home, then coming back to pick your pet up.
Highlights
Highly Skilled Veterinanrians
Compassionate staff
Competitive rates
Customer Reviews
Customers are greatly thankful for how great the vets are in Animal World. They're all very nice and caring to the animals and offer the best solutions for any problems. Take a look at what a very happy customer had to say about the clinic's service to her fur baby:
"Brought the studio cat for treatment on Tuesday. She wasn't doing too well, breathing heavily and very lethargic. Dr. Brandon and the rest of the team did a stellar job in making Luna feel comfy in the cold rainy weather. Despite me going in at 2.15pm, when the team was on their lunch break, they did not turn me away. Instead, Luna was paid attention to till 2.45pm when the team came back from their lunch break, way ahead of the stated 3.30pm time.
They weren't pushy in the medication and allowed me to consider the blood test, which really gave us all a peace of mind when the bloodwork results came out. Dr. Brandon very patiently explained each line from the bloodwork and thereafter explained his diagnosis and course of future action should Luna not take positively to the medication.
Luna is doing much better now, super talkative and showing love to everyone at the studio. Thanks everyone!"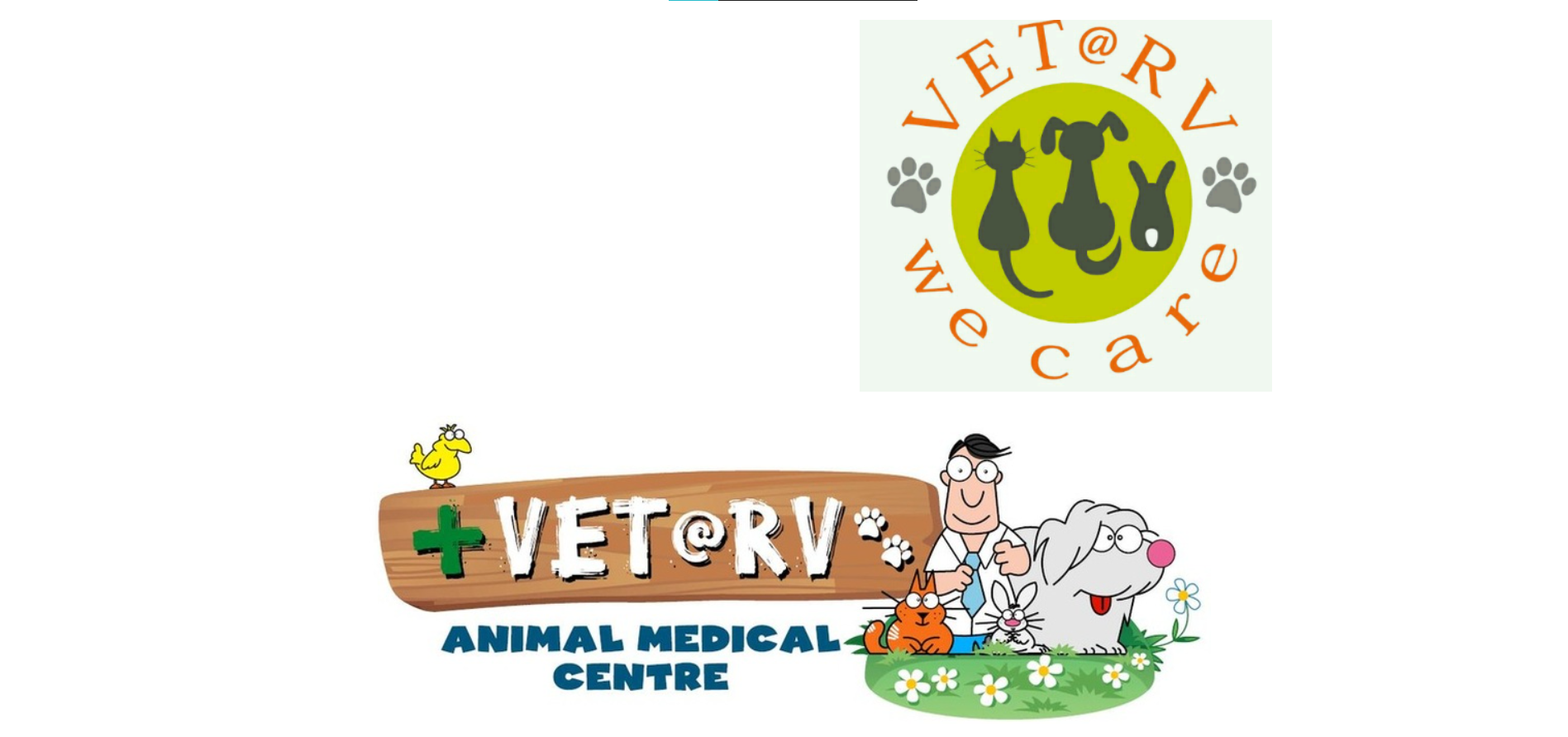 [email protected] is a clinic that aims to deliver only the best when it comes to Veterinary Medicine. They strive to provide excellent care to every patient that they admit.
Their team is knowledgeable in various aspects of Veterinary Medicine, so that their advise remains efficient and effective no matter the problem. Whether the issue is simple or complicated, they make sure that each of their patients are attended to properly.
Most importantly, they are open and transparent when it comes to discussing the medical conditions of their patients. You can count on them to treat any problem you bring to them seriously and sincerely.
Highlights
Best options for disease prevention and treatment
Committed providing excellent services
Open communication
Environmentally friendly practice
14. Vet Central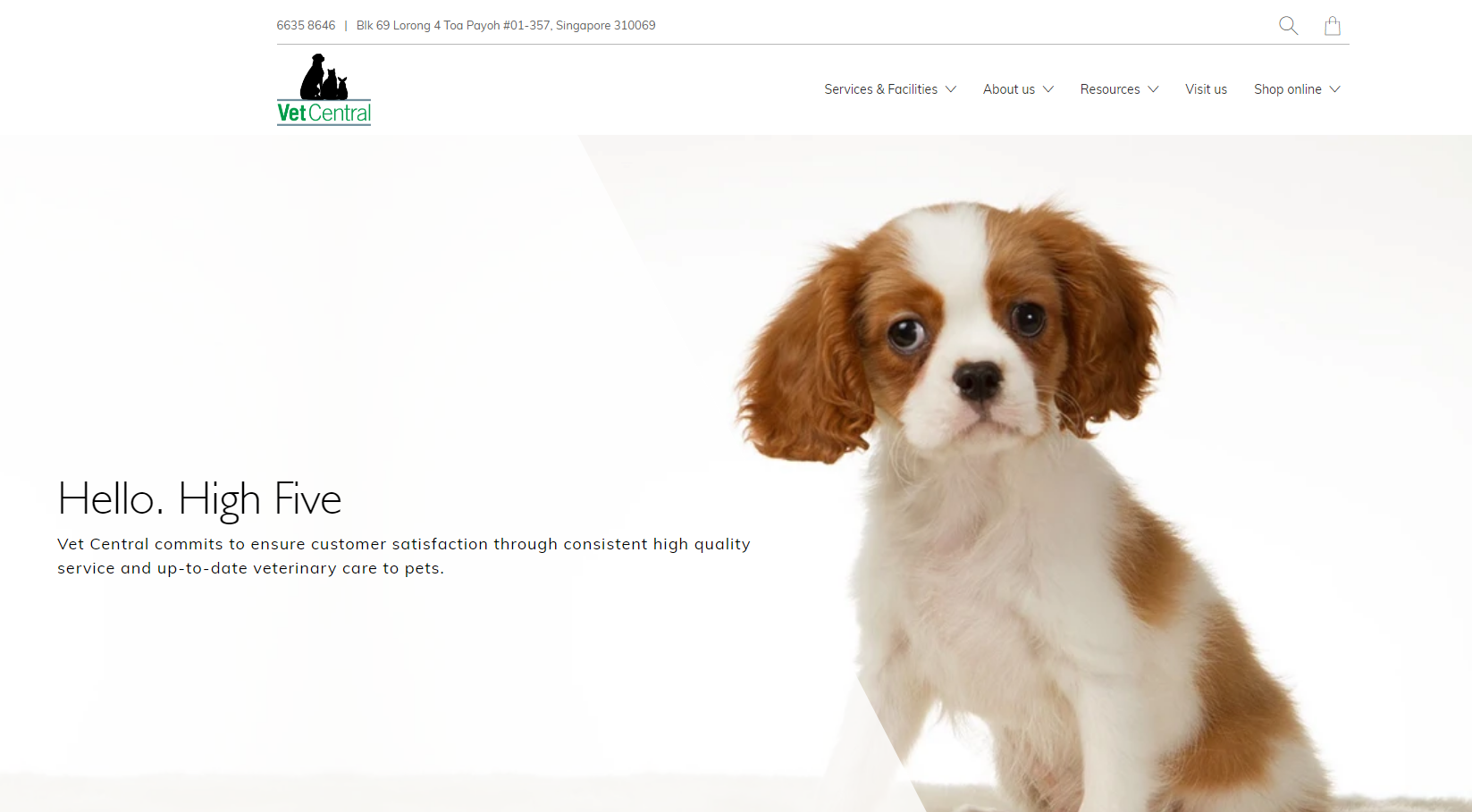 BEST FOR 
Up-to-date veterinary care for pets
SERVICES
WEBSITE
https://vetcentral.com.sg
ADDRESS
Blk 69 Lorong 4 Toa Payoh 
#01-357, Singapore 310069
CONTACT DETAILS
OPERATING HOURS

Mon, Wed, Fri: 
9am – 12pm, 2pm – 5pm, 6pm – 7.30pm

Tue, Thur, Sat:
9am – 12pm, 2pm – 5pm

Sundays: 
2pm – 5pm

Closed on Public Holidays
Vet Central is one of the best veterinary clinic in all of Singapore, offering a wide variety of services for dogs, cats, rabbits, and other small mammals. Some of these services include dental services, comprehensive physical examinations, senior care, microchipping, and many more. 
Another interesting fact about Vet Central is that they're fully equipped to handle surgeries as well. They spay and neuter, perform biopsies, and even suggest risk reduction with anaesthesia by offering a pre-anaesthetic blood testing for pets.
Home care items are also available at Vet Central. 
Highlights
Wide array of veterinary care
Transparent services and pricing
Experienced veterinary team
Customer Reviews
Here are some comments posted on Google Reviews:
"Huge thanks to Dr. Wendy and the staffs here ✨ This was my first time sending my beloved rabbit for neuter – something I had been overly paranoid about. The drop-off at the receptionist was quick and efficient with friendly service. During the wait, both the staffs and Dr. Wendy were also quick to catch on my call enquiries and needs while kindly attending to them. Pick-up was just as smooth and I was elated to see my bunnies doing well.
As soon as my neutered one got home, he was up and about – already eating and drinking (though a little blur blur from the anaesthetics as my mom commented) 😂
Huge relief from this pleasant and wonderful service. 5 stars, would send my other one for her's 🌟💯"
"Nurses all look presentable and professional. Our family loves Dr Christine's calm gentle demeanour and friendliness. She is very knowledgeable and professional about her work as well, so I always feel safe leaving my bunnies with her/ following her advice. Additionally, after my experiences with them and reading other reviews, I can tell they take feedback seriously and have taken steps to make changes to be better.:)
15. Pet Space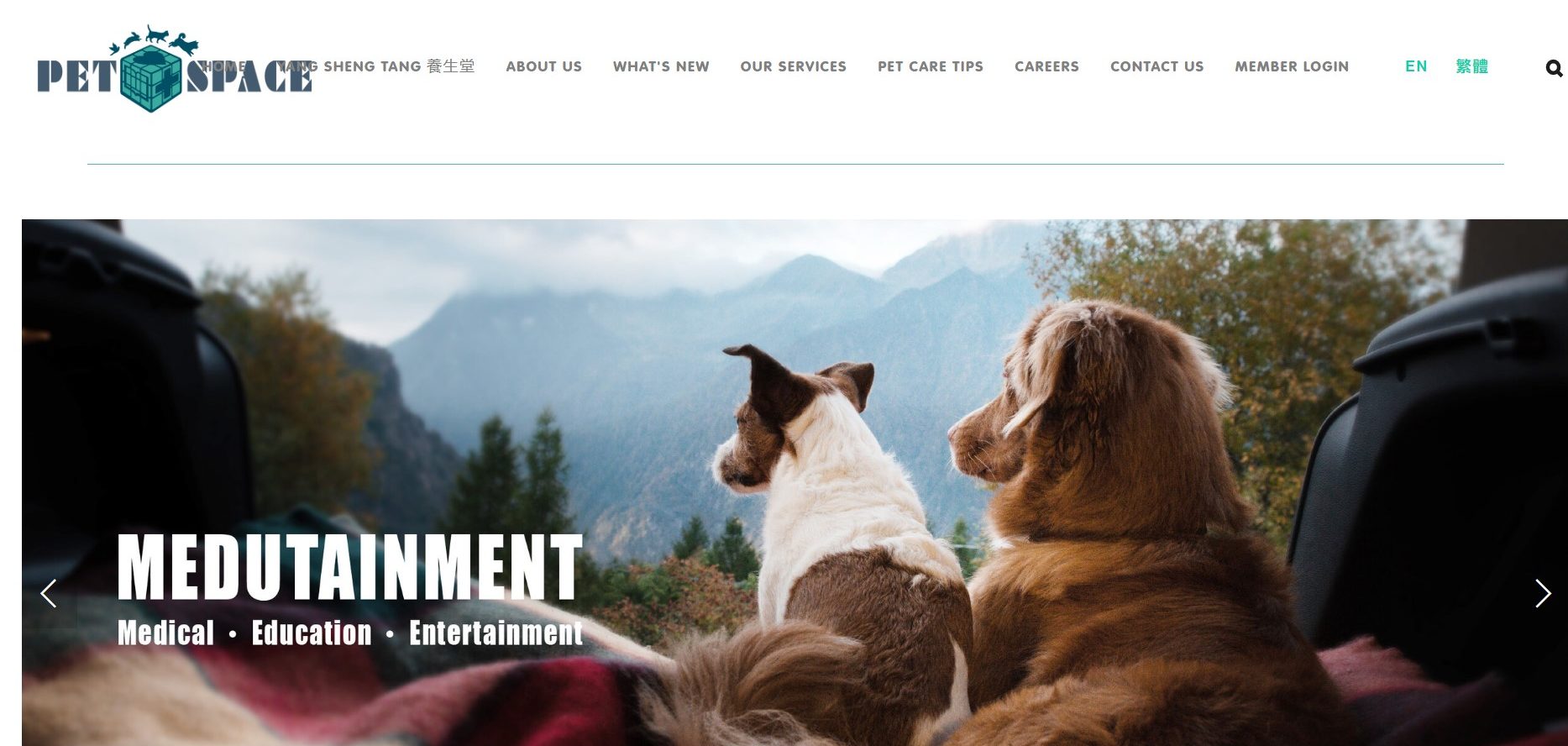 | | |
| --- | --- |
| BEST FOR | Medical, Education and Entertainment |
| SERVICES | Emergencies, Surgery, Traditional Chinese Medicine, Allergy Test, Dentistry, Microchipping, Vaccinations, ECG Screening, Medical Boarding, House Call, Grooming |
| WEBSITE | https://petspace.group/ |
| ADDRESS | 482 Serangoon Road Singapore 218149 |
| CONTACT DETAILS | (+65) 6252 2623 | [email protected] |
| OPERATING HOURS | 24 Hour Operations |
If you're looking for a Pet Vet with a wide varierty of services, then Pet Space might be the one you're looking for. They offer a range of medical services, educational events and even runs an online store for all your pet supplies.
Their medical services include 24 hour emergency, surgeries that include spaying and castration and other kinds. They also offer allergy tests, dentistry, microchipping, ECG screening and many more!
Pet Space also understands that some dogs might already be too old to walk, which is why they also offer house call medical services where your vets will come to you. Grab a membership now at Pet Space and you can benefit from all these services with possible discounts.
Highlights
Year-long Memberships with multiple benefits
Emergencies and surgery services
Online store for pet supplies
Educational pet care tips
Customer Reviews
Hazel, a client, leaves this review on google:
"It's a good experience landed my pets there and they came back with happy faces! Nice boss nice staff to serve our pets! Very reasonable price as well although it's located at town area. Professional groomers you can totally place your pet with them with a piece of mind. Will 100% recommend to all my friends."
16. Mount Pleasant Veterinary Group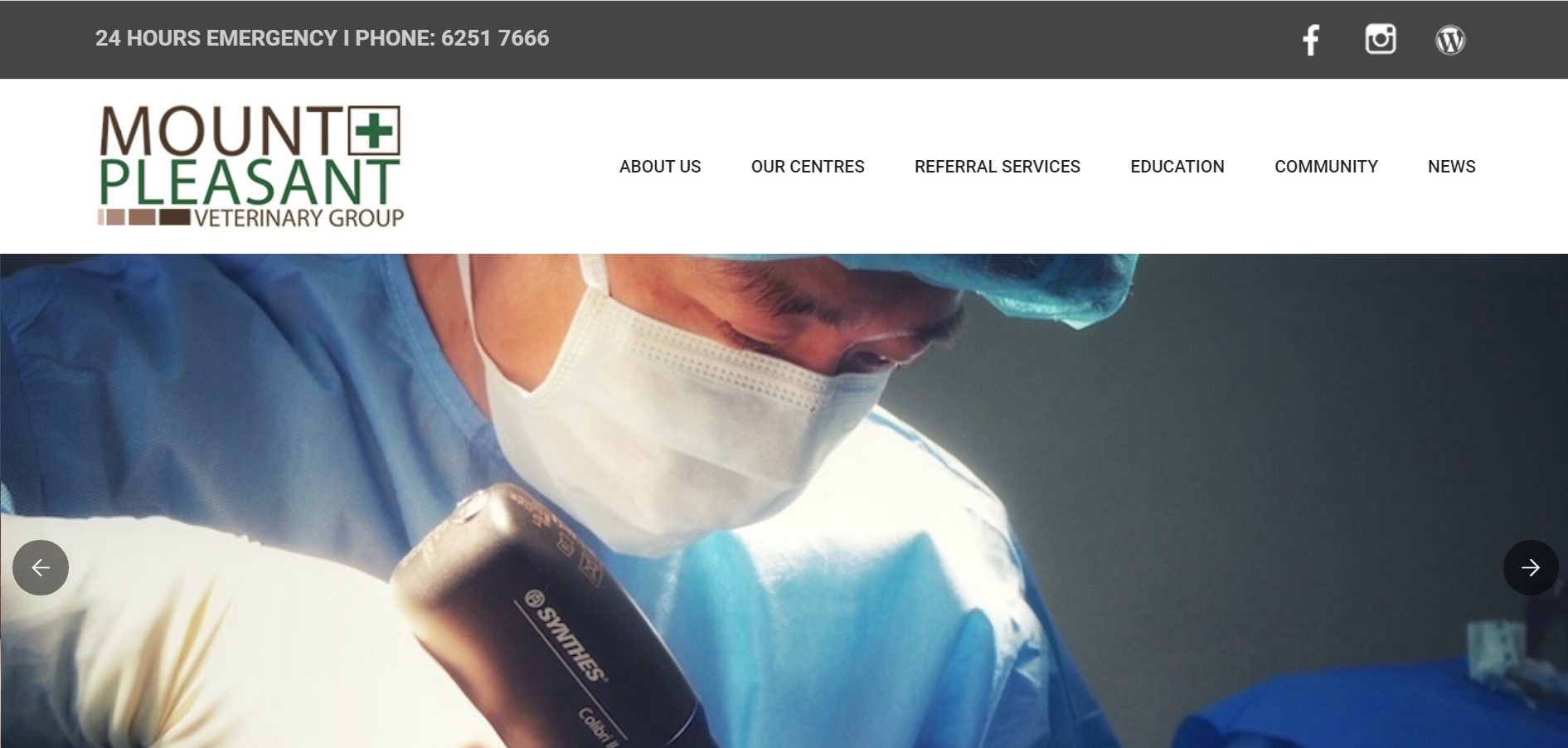 | | |
| --- | --- |
| BEST FOR | Animal Hospital, Inclusivity of various pets |
| SERVICES | Full range of diagnostic, medical and surgical referral services |
| WEBSITE | http://www.mountpleasant.com.sg/ |
| ADDRESS | 2 Jalan Gelenggang Singapore 578187 |
| CONTACT DETAILS | (+65) 6251 7666 | [email protected] |
| OPERATING HOURS | Monday – Sunday, 9:30 to 8:30 AM (Hours may differ) |
With over 30 years of experience, Mount Pleasant Veterinary Group can assure you that your pets will be in care. Their team consists of veterinary specialists in animal internal medicine and surgery.
On top of this, they also have vets with various special interests including ophthalmology, oncology, dermatology, advanced imaging, avian medicine and veterinary acupuncture.
Mount Pleasant also has multiple locations across Singapore and are inclusive of various kinds of small pets such as birds, guinea pigs, rabbits and the like. Expect that your fur babies will only receive the best medical care with Mount Pleasant Veterinary Group.
Highlights
24-hour tertiary care centre
Blood Donor Programme
Team consists of a veterinary specialist
Customer Reviews
Here are some reviews posted on their website:
"We appreciate what the doctors and nurses did for our Buddy. He was well taken care of when he was there last year and unfortunately, this year, Buddy was too sick to recover and we have to let him go. We like to thank the nurses and Dr Sharon for the love and care for Buddy. We also like to thank Dr Foo for his concern and care over Buddy. He has even called to send his condolences for Buddy. Great doctor!"
"This is truly an animal hospital fully staffed by vets and nurses in the "wards". It's run like hospital with strict visiting hours. The wards are fully staffed by qualified nurses and can provide details on your pet's daily progress. They are truly caring and professional with their patients. The hospital have an ultrasound equipment, and specialists for other conditions. Impressed with their wards. Glassed off area for cats, another for ICU, contagious diseases, and wards for large dogs. Really impressed with the nursing care providers."
And that's it for our list of the best vet clinics in Singapore. If you have visited any of these clinics in the past, don't hesitate to share your experiences with us!
Besides looking after your pet's health, you should never forget to check up on your own health! In case you haven't been to a medical clinic recently, here is our list of the best clinics in Singapore that you can visit during your free time.