The 14 Best Vet Clinics in Singapore
If your pet has been acting odd recently, there's a huge chance that they might be sick. In that case, you need to bring them to the closest veterinary clinic as soon as possible to prevent their health from getting worse.
We know how important a pet's life is to every owner, so we're here to share our picks for the best vet clinics in Singapore that can provide the best treatment for your beloved pets.
But before we get to that, we'll go over the cost of veterinary services in Singapore. That way, you have an idea of how much to pay for the services that your pet needs.
The Cost of Veterinary Services in Singapore
There's no denying that choosing to take care of pets is a lifetime commitment that costs a lot of money.
It doesn't end with providing them with food and shelters because pet owners carry the responsibility of making sure that their pets are healthy, which means making regular visits to the vet.
After all, pets get sick and need medical treatments just like humans — and sometimes, theirs can be just as expensive.
The fee of a consultation with a veterinarian ranges from $25 to $70, excluding the treatment that your pet may need. The consultation fee tends to be more expensive during weekends, public holidays, or after-hours consultations.
When it comes to the medical treatments, there are several factors that influence their costs, such as day and time of visit, consumables, and whether or not it's an emergency consultation.
Here's a closer look into the average cost of the common veterinary services in Singapore:
| | |
| --- | --- |
| VET SERVICE | AVERAGE COST |
| House calls | $200 to $400 (on top of regular consultation fees) |
| Microchipping | $50 and up |
| Vaccination | $50 to $150 |
| Dental scaling | $150 to $700 |
| Teeth extractions | $10 to $80 per tooth |
| Sterilisation | $150 to $1,000 |
| Parasite, flea, and mite treatment | $40 to $450 |
| Blood profile | $190 to $300 |
| Kidney or liver biochemistry panel | $45 to $60 |
| X-rays | From $130 |
| Bone fracture treatment | $2,500 and up |
| Ear surgeries | $500 per ear |
| Eye surgeries | $500 to $1,000 |
| Tumour removal | $100 to $600 |
| Hernia repair | $900 to $2,500 |
| Gastrointestinal surgeries | $1,500 and up |
| Euthanasia | $300 and up |
As with any medical service, additional charges may apply depending on whether there are unforeseen circumstances that may call for further treatment.
Some veterinary clinics ask for a 50% deposit before starting any procedure on your pets. The rest of the bill is usually settled upon discharge.
The Best Vet Clinics in Singapore
Anyway, now that you have an idea of the cost of visiting vet clinics in Singapore, it's time to move on to our picks.
By the way, our list is in no particular order.
Amber Vet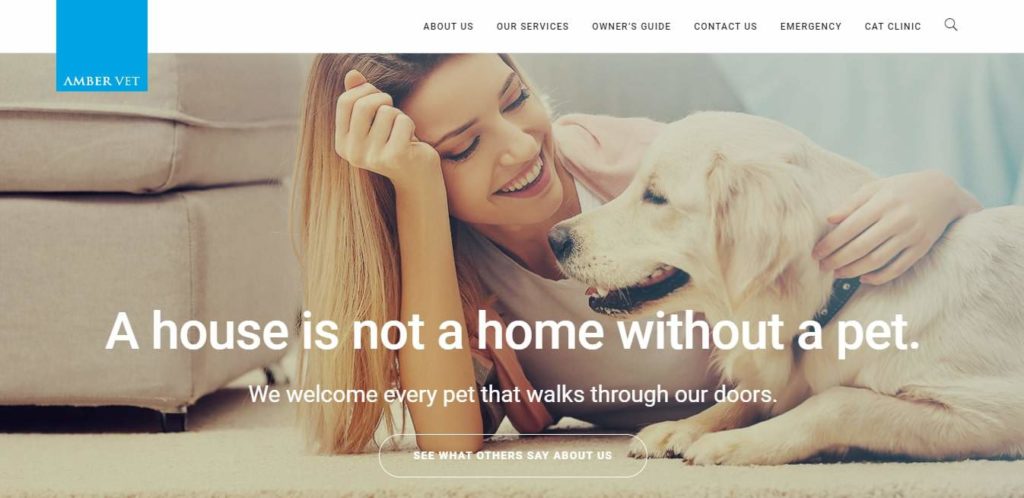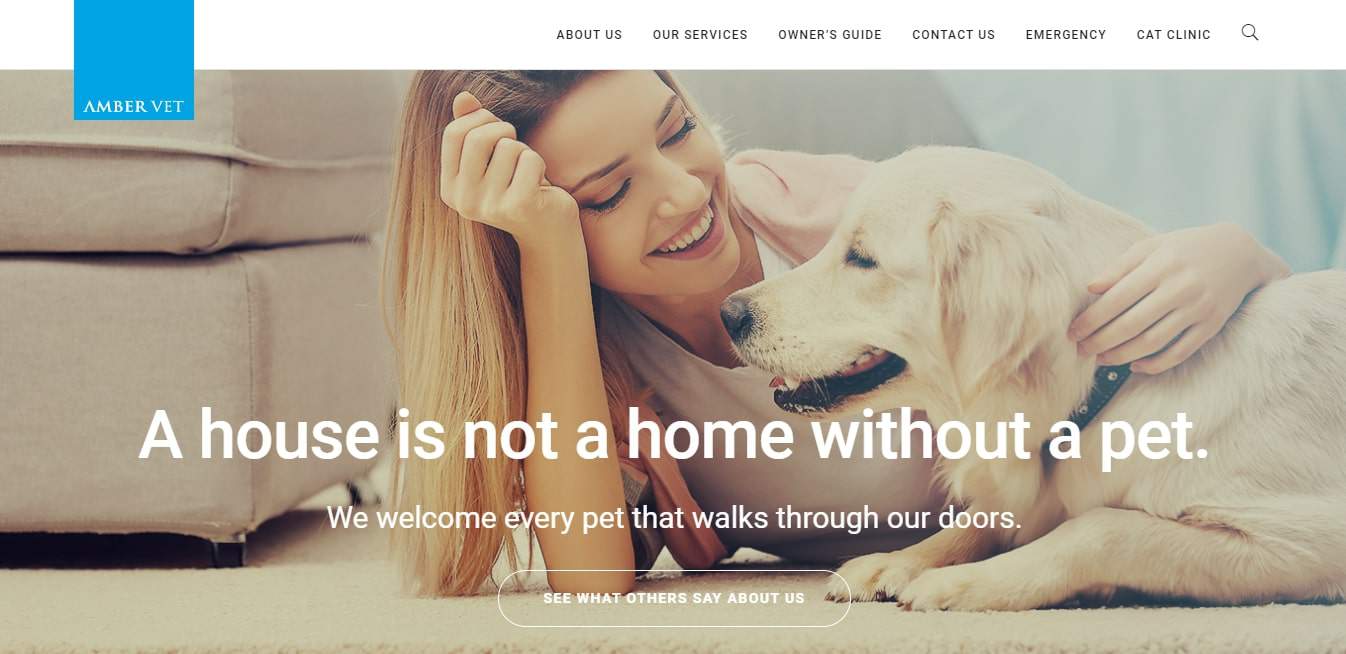 SERVICES
Vaccination, Consultation,Chemotherapy, Acupuncture, Surgery, Ultrasound, X-Ray, Dental Services, and Sterilisation
WEBSITE
https://ambervet.com/
ADDRESS
50 Burnfoot Terrace, Singapore 459837
CONTACT DETAILS
(65) 6245 5543 |

[email protected]

OPERATING HOURS
Monday and Thursday: 9:30 AM – 8:00 PM
Tuesdays, Wednesdays, Fridays, Saturdays and Sundays: 9:30 AM – 6:30 PM
Conveniently located at Burnfoot Terrace, Amber Vet provides a long list of treatments for dogs and cats, including dental services, ultrasound, x-rays, vaccinations, and diagnostics, among others.
As it's a veterinary clinic with five in-house veterinarians, we couldn't help but add it to our list. There's a designated doctor for surgeries, dental treatments, and diagnostics, which customers like most about it.
Speaking of surgeries, Amber Vet is one of the few vet clinics in Singapore that conduct chemotherapy and advanced surgery such as laparoscopy, endoscopy, and eye surgeries. This means that it can handle even the most severe of medical conditions.
We highly recommend checking it out if you're looking for a veterinary clinic with impressive facilities. It has a large reception area, multiple consultation rooms, and high-end medical equipment.
Amber Vet offers after-hours emergency services for pets who need urgent medical attention. However, you need to be an existing customer in order to be eligible for this special service.
After-hours emergency services
Conducts surgeries and chemotherapy
Convenient location
Houses five experienced vets
Slightly above-average rates
Emergency services are open only to existing customers
Customer Reviews
Here are some reviews posted on their website:
"Over the years we have seen a number of vets and there are a lot of good ones here in Singapore, but if you are looking for the absolute best for your beloved fur baby then you need look no further than Ambervet with Dr Loon and his colleagues. We have been with Ambervet for 5 years now and have been very happy with the love, care and professional expertise of Dr Loon in dealing with minor health concerns to the more major problems that can sometimes occur."
"Unlike the other clinics I've been to, we rarely have to wait too long for our turn at Amber Vet. I guess it's because most appointments are booked in advance. I also like the fact that the nurses will make an effort to call and preempt if there is any delay from the last appointments. The vets and nurses are friendly and caring. Their waiting area is comfortable to wait in too."
Singapore Veterinary Animal Clinic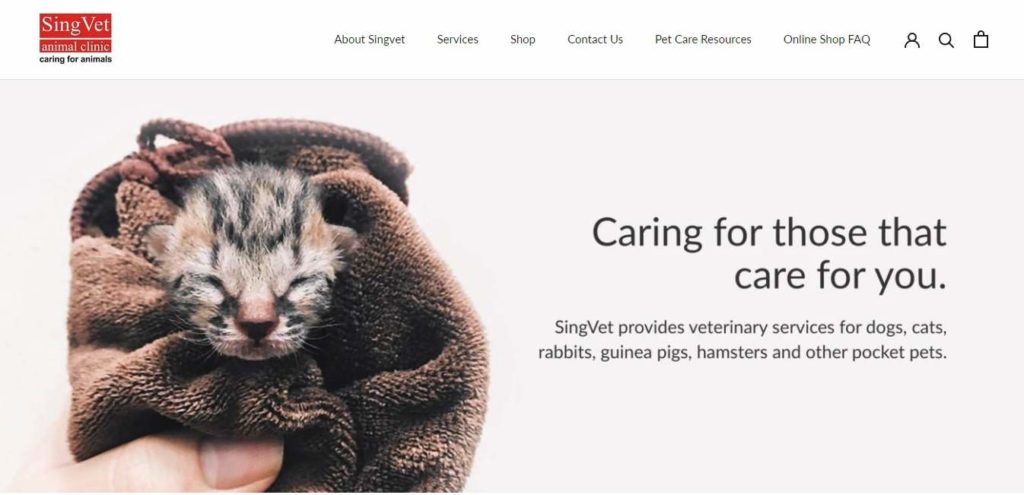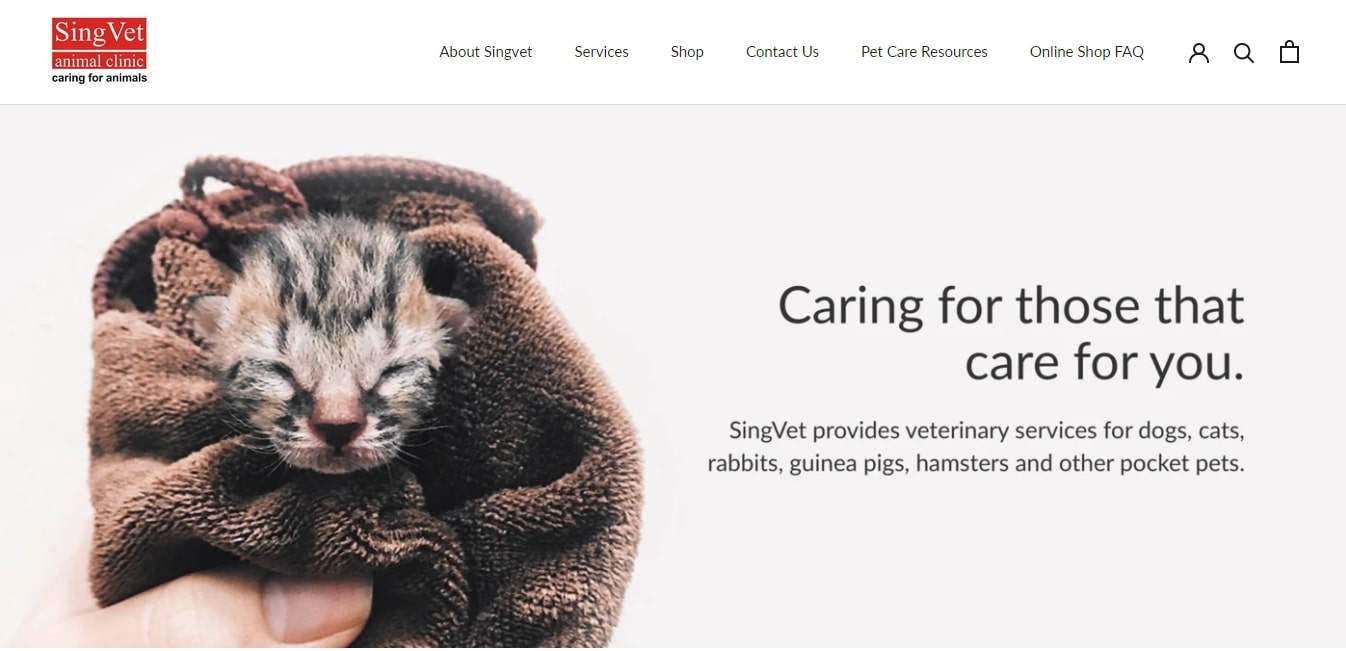 SERVICES
Vaccination, Consultation, Hospitalisation, Laboratory and Imaging, Orthopedic Surgery, Dental Surgeries, Ultrasound, and Disease Screening
WEBSITE
https://singvet.sg/
ADDRESS
#01-11 Woodlands Mart, Woodlands Ave 6, Block 768, Singapore 730768
CONTACT DETAILS
6365 0308
OPERATING HOURS
Monday, Wednesday, Friday, and Saturday: 9:00 AM – 9:00 PM
Tuesday, Thursday, and Sunday: 9:00 AM – 6:00 PM
Established in 2010, Singapore Veterinary Animal Clinic has grown into one of the most trusted vet clinics in Singapore thanks to its extensive range of services and team of friendly vets and nurses.
If other vet clinics can only provide treatments to dogs and cats, this one can look after a wide variety of animals, including rabbits, guinea pigs, hamsters, and other domestic pets (on top of dogs and cats).
Its veterinary services cover all types of general consultations, diagnostics, surgeries, and laboratory services and imaging.
SingVet Animal Clinic is also one of the largest vet clinics in our list, with three resident veterinarians and six veterinary nurses, which means that there will always be a specialist to take care of your pets.
Another thing we like about this vet clinic is that it functions as a pet shop as well, selling items like pet food, medications, supplements, pet supplies, and preventative tools.
Since it looks after a huge number of patients every day, SingVet Animal Clinic highly recommends booking an appointment. It's open to walk-in customers, but those with appointments will be accommodated first.
10 years of experience
Open from Monday to Sunday
Large team of vets and nurses
Open to walk-in customers
Inconsistent operating hours
Customer Reviews
Here's what previous customers had to say about their experience:
"I brought my cat in as a walk-in, and was seen without too much of a wait . I was treated respectfully, and the doctor was very informative about the results of the tests they conducted on my cat. I was happy with their explanations, and gave recommendations to try for my cat's diet. I never felt pushed or forced into making decisions and I think they conduct a very ethical service in this practice." -Tamsyn Ooi
"Thank you Dr Estella and team for helping my pets and their never ending issues ❤ read a review saying the doctors here are dishonest but I beg to differ. The team at SVAC has always being transparent on costs, very helpful with answering questions, and very patient when it comes to my pets" -Kumi Tanaka
Gentle Oak Veterinary Clinic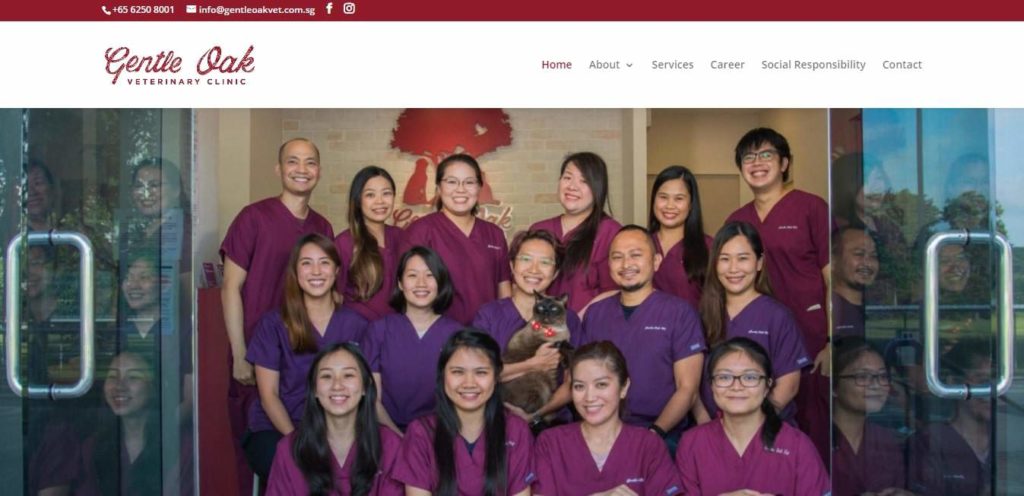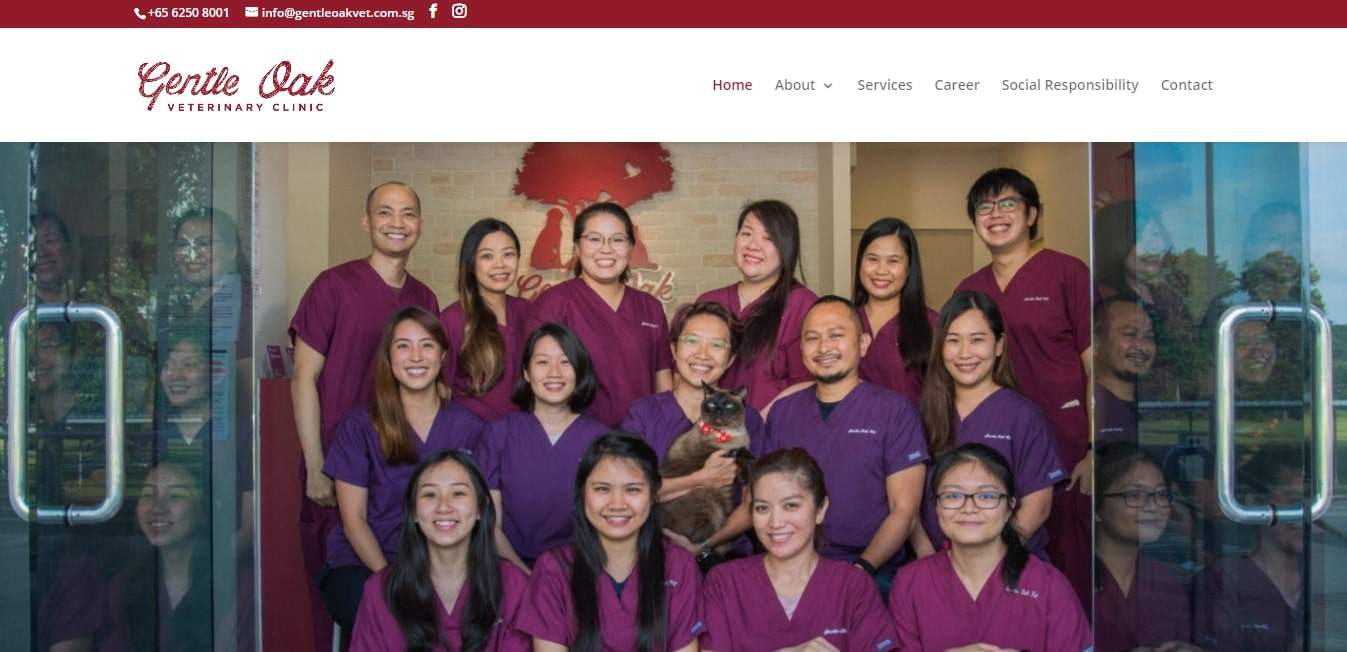 When it comes to medical facilities, Gentle Oak Veterinary Clinic is the one to beat. It has multiple surgical rooms, consultation rooms, preparation rooms, hospitalisation wards, and even fully equipped laboratories.
It also doesn't fall short in terms of range of medical services. Aside from general consultations, it provides dental treatments, minor and major surgeries, all types of vaccinations, and integrative therapies, among others.
More than that, its veterinary team is made up of compassionate veterinarians and technicians who will care for your pets as if they were their own. That's something that every pet owner should look for in a veterinary clinic.
It hits the mark if you're after a veterinary clinic with competitive rates. All its services are priced reasonably to ensure that more pet owners will have access to its top-notch treatments.
All in all, Gentle Oak Veterinary Clinic is a highly recommended choice for any pet parent, mainly for its affordable services and friendly veterinary team.
Competitive rates
Large veterinary team
Topnotch facilities
All week availability
Complaints about long waiting times
Walk-ins are discouraged
Customer Reviews
Check out what customers have to say about its vets and services:
I'm truly happy to find Gentle Oak. It is by far the best animal clinic I have visited, with a team of compassionate vets and staff who truly care for animals, be they pets or street rescues. My gratitude to Dr Alice and Dr Travis for their dedication and professionalism. They are awesome! I love that they offer complementary natural therapies. You won't smell antiseptics at this clinic. There is only the smell of gentle, calming oils. This is the best smelling clinic in SG!!"
"Dr Lee was so good, reassuring, with a genuine and obvious passion for her work, and we felt extremely comfortable with her. We'd been looking for a regular vet for a while and are happy to continue visiting Gentle Oak and seeing Dr Lee."
Oasis Vet Clinic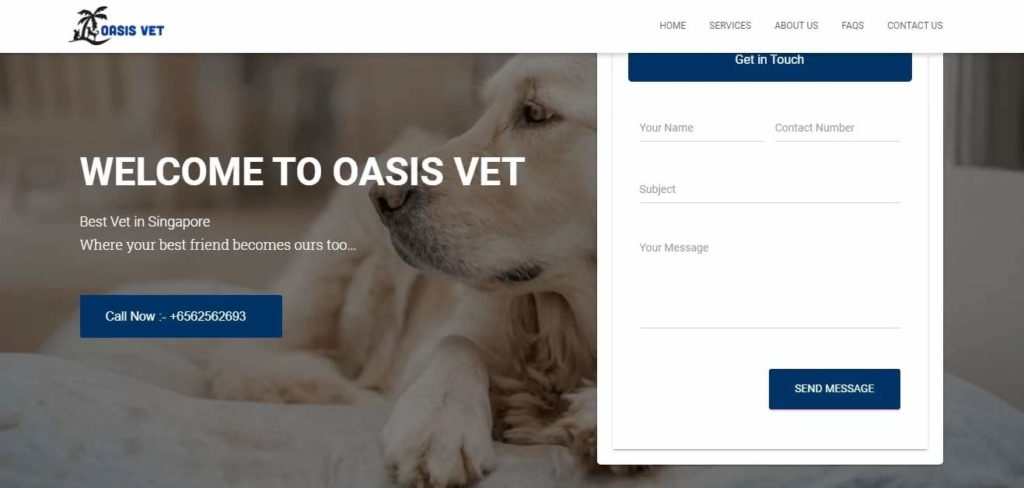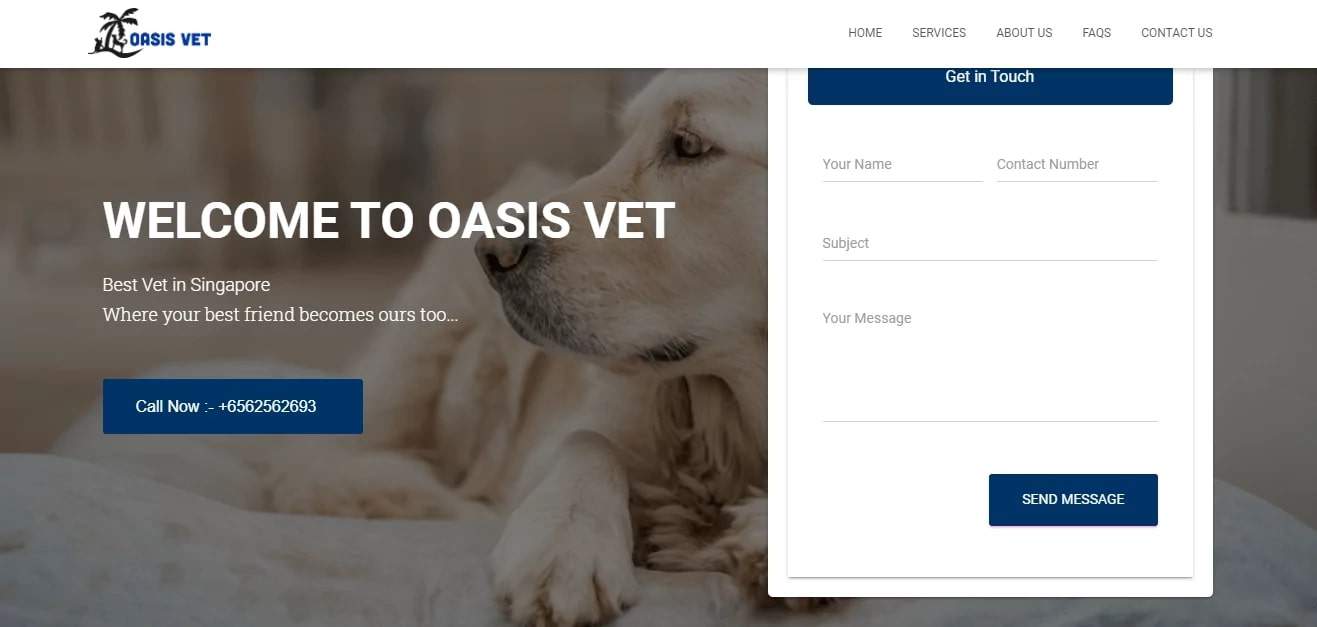 | | |
| --- | --- |
| SERVICES | Consultations, Health Screenings, Preventative Care, Blood Pressure Management, Skin Allergy Investigation, Eye Examinations, Surgeries, and Vaccinations |
| WEBSITE | https://oasis-vet.com/ |
| ADDRESS | 15 Venus Rd, Singapore 574302 |
| CONTACT DETAILS | +65 62562693 |
| OPERATING HOURS | Monday to Sunday: 10:00 AM – 8:00 PM |
Oasis Vet Clinic is headed by two veterinarians whose specialty is feline medicine. However, rest assured that they can also provide treatments to dogs and other domestic animals.
It earned a spot here for two main reasons.
For one, its veterinary services cover all treatments that pets usually need, including general consultation, vaccination, preventative care, blood pressure management, urine analysis, eye examination, and blood chemistry, among others.
Second, it may not have the largest veterinary team, but it's made up of friendly and dedicated vets and nurses who will look after your beloved pets as if they were their own.
Another thing we like about Oasis is that it's open to both walk-ins and appointments. There's no need to book an appointment especially if it's an urgent concern.
Oasis Vet Clinic is highly recommended to cat owners because it's certified by International Society of Feline Medicine, which means its doctors can provide treatment whatever medical condition your cat is dealing with.
Convenient location
Friendly doctors and nurses
Walk-ins are allowed
The Visiting Vets Clinic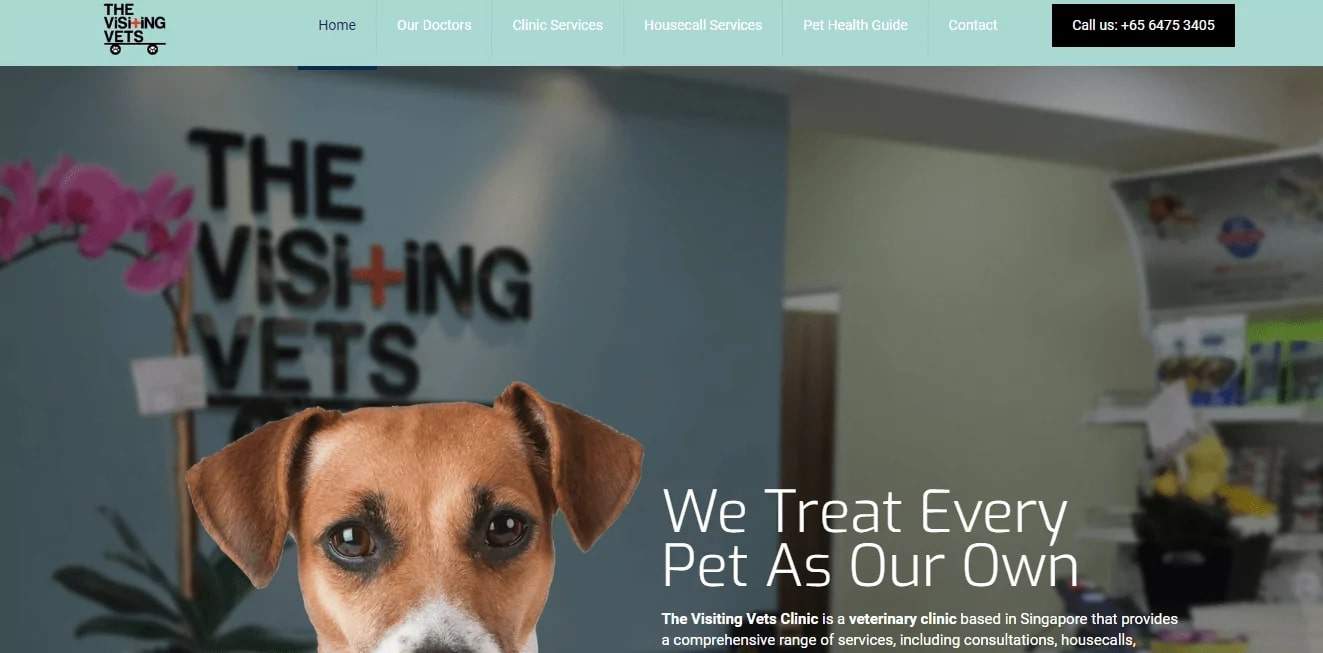 SERVICES
Dental Services, Vaccinations, Internal Medicine, Diagnostic Services, Surgeries, and Housecall Services
WEBSITE
https://thevisitingvets.com.sg/
ADDRESS
9 Taman Serasi, #01-09 Botanic Gardens View, Singapore 257720
CONTACT DETAILS
+65 6475 3405


[email protected]

OPERATING HOURS
Monday to Saturday: 10:00 AM – 7:00 PM
There's not a lot of vet clinics in Singapore that do home services, so there's no way we're not adding The Visiting Vets to our list. It's the perfect choice for pet owners who always don't have time to drive their pets all the way to the clinic.
The Visiting Vets's veterinary team is made up of four dedicated doctors, all of whom have years of experience under their belt. They don't look after just domestic pets, but other animals as well.
In terms of range of services, it's the same as what most vet clinics have, but the great thing about it is that you can choose to have the treatment at the comfort of your own. Its home services include vaccination, consultation,
The Visiting Vet is also the leading vet clinic on the island when it comes to internal medicine, so if you have a pet that suffers from respiratory diseases, diabetes, liver disease, cancer, infections, and even skin conditions, bring them here.
Easy booking of appointment
Housecall services
Extensive medical treatments
Known for internal medicine
Customer Reviews
It has an average rating of 4.9 on Google Reviews, proving that its services can be trusted by every pet owner in Singapore.
Keandra Ngee shared this comment:
"Happy with my cat's checkup with Dr Dawn. Staff are especially highly professional. Prices are expected so no big surprises here. Even a slight surprise by the value of what I paid for the quality expertise from here. Highly recommended of course. Tucked in a quaint neighborhood opposite Botanic Gardens, drive straight in through the guard house and first block on your right. Plenty of parking there"
Another customer named Christopher Chang posted this:
"I rarely post reviews but it's time I dish out some praise to the Visiting Vets. The team has and continues to impress my 2 golden retrievers Marcus and Zoey and the rest of my family over the last 5 years or so. Besides the obvious skill and experience required to run a full service clinic, their bedside manner and empathy displayed at all my interactions with them have been nothing short of extraordinary. Keep up the great work!"
Passion Vet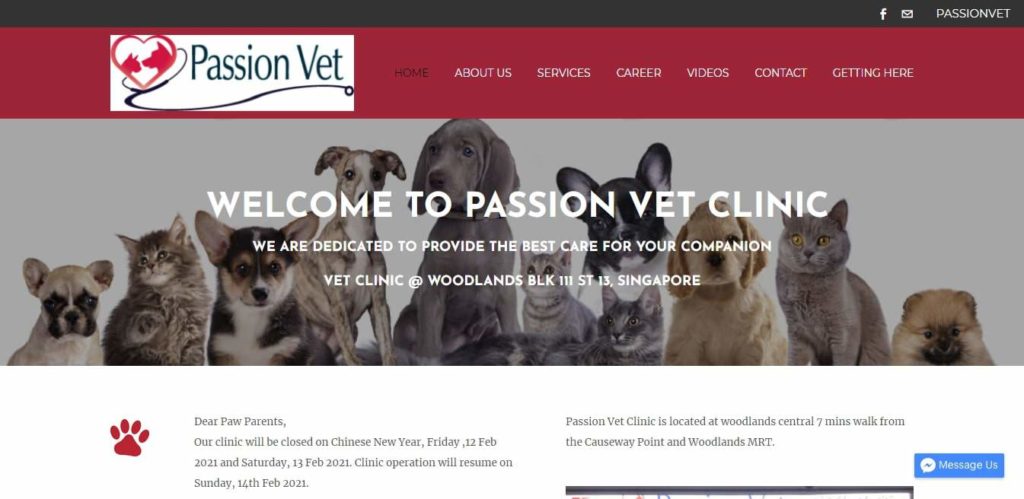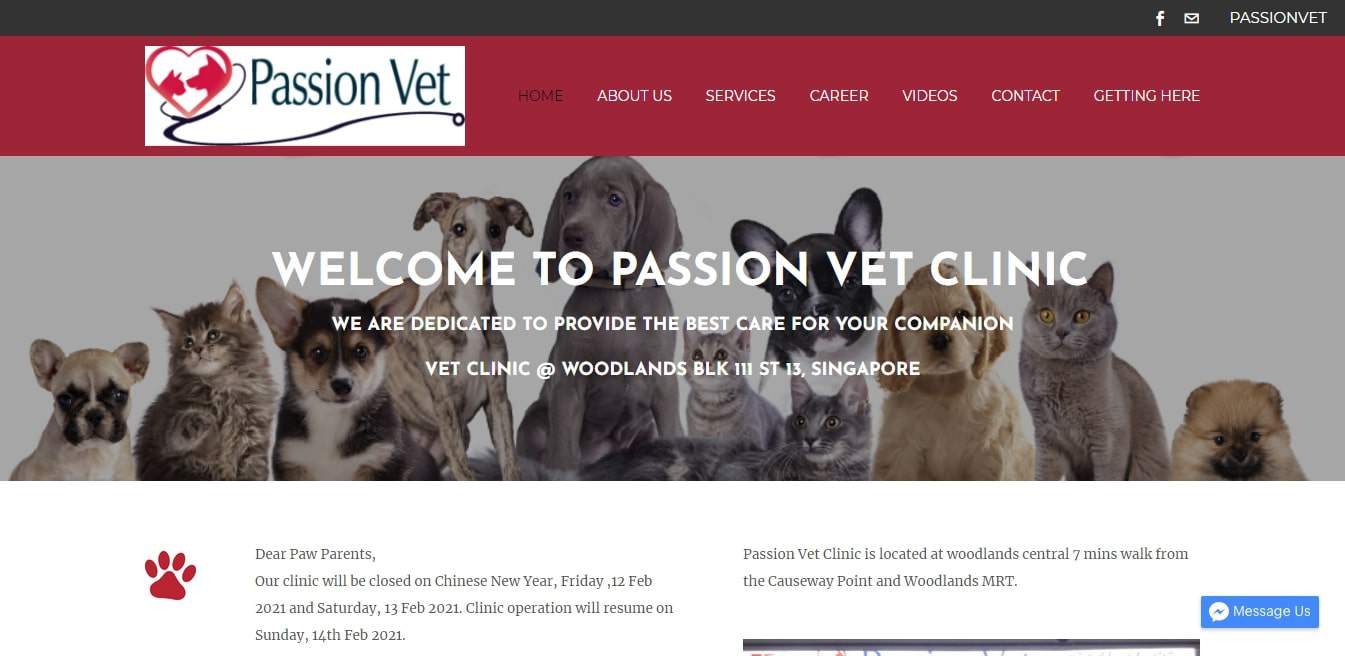 SERVICES
Deworming, Acupuncture, Blood Tests, Dental Scaling, Vaccinations, Microchipping, Hospitalisation, Soft Tissue Surgery, and Ultrasound
WEBSITE
https://www.passionvet.com/
ADDRESS
Blk 111 Woodlands Street 13, #01-86, Singapore 730111
CONTACT DETAILS
66358725 |

[email protected]

OPERATING HOURS
Monday to Friday: 10:00 AM – 9:00 PM
Saturday to Sunday: 10:00 AM – 5:00 PM
Passion Vet houses a team of trained and experienced veterinarian surgeons who perform an extensive range of treatments and surgical procedures, from general consultations down to minor surgeries.
Other veterinary treatments include vaccinations, acupuncture, deworming, radiography, blood tests, dental scaling, and ultrasound, among others. It provides hospitalisation as well, which is for pets with severe conditions that need to undergo a major surgery.
Passion Vet is one of the few vet clinics on the island that perform traditional Chinese medicine on all species of domestic animals, which is good news for pet parents who follow this type of medical approach.
Additionally, pet owners with emergency concerns may drop by any day of the week as it's open from Monday to Sunday. Its operating hours on weekdays usually lasts until 9:00 PM, but make sure to be there an hour before.
It's quite accessible too, as it's only a few minutes walk from Woodlands MRT, so there's no need to ride a taxi or book a Grab to find it.
Performs traditional Chinese medicine
Accessible location
Operates seven days a week
Additional charges apply after 8pm
Customer Reviews
Customers were highly satisfied with the range of services and friendly staff of Passion Vet, which is why they're known to be one of the best vet clinics in Singapore. A customer shared this experience:
"The service was great and the vet was very gentle to my cat. All the staff there were all very patient with our questions and doubts. The price is very reasonable as well (as a comparison to my visit to another vet clinic). Thank you all so much for your help!"
Pets Avenue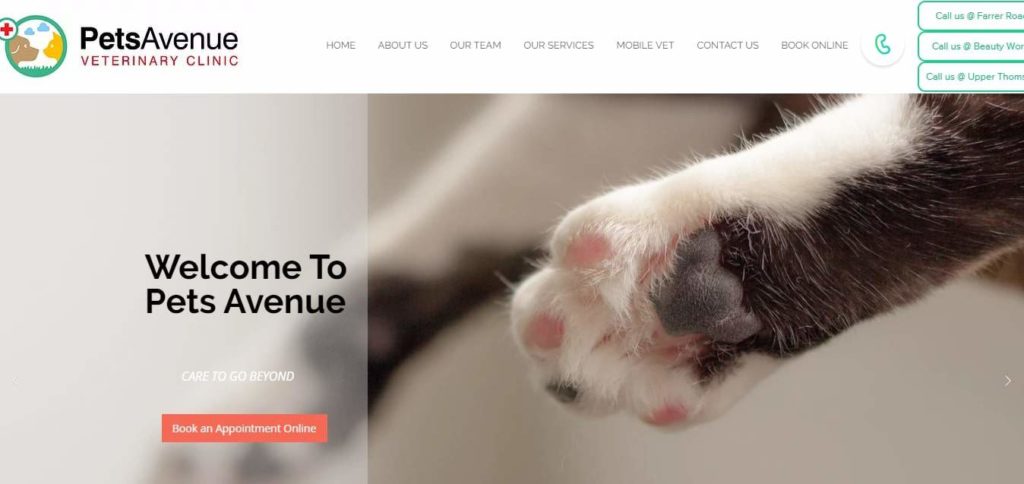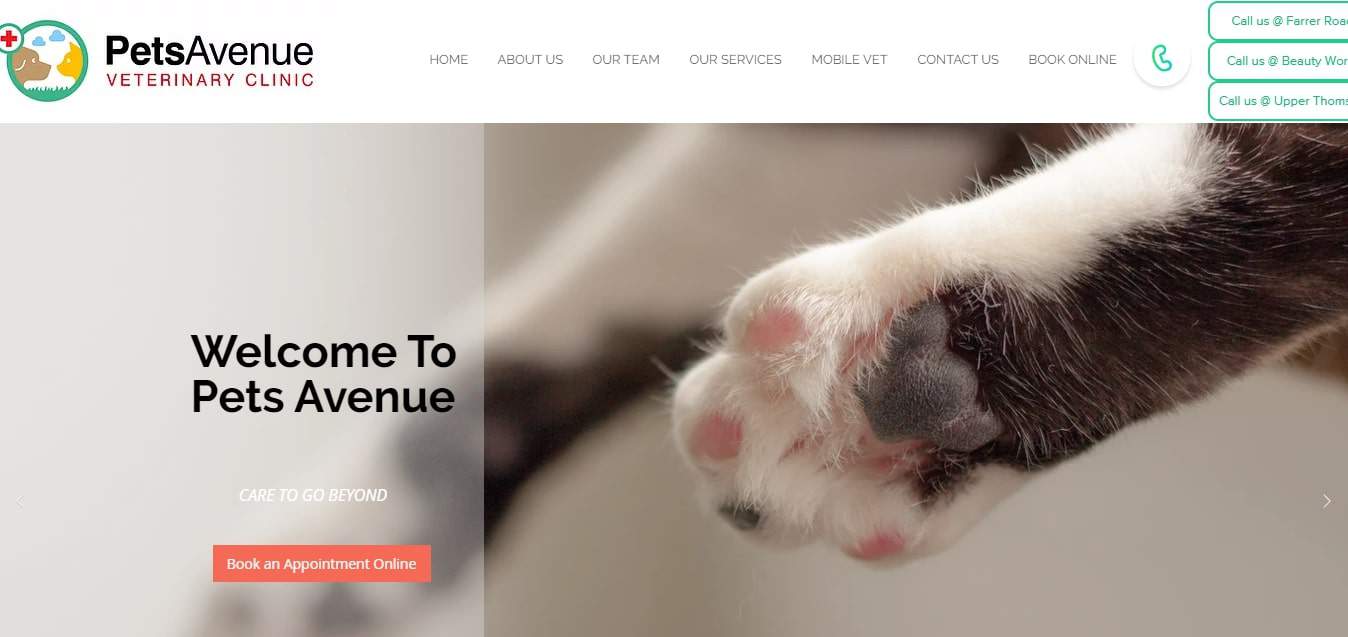 SERVICES
Hospitalisation Care, Dermatology, Dentistry, Internal Medicine, Nutrition, Consultation, Emergency Services, Surgery, and Home Visits
WEBSITE
https://www.petsavenuevet.com/
ADDRESS
8 Empress Road #01-11 Singapore 260008

50 Jalan Jurong Kechil Singapore 598578

193 Upper Thomson Road Singapore 574338
CONTACT DETAILS
64710111
63630333
62590555


[email protected]

OPERATING HOURS
Monday to Friday: 10:00 AM – 9:00 PM
Saturday to Sunday: 9:00 AM – 5:00 PM
Pets Avenue has three branches scattered all over the island, making it one of the most accessible vet clinics in Singapore. Here are other reasons it made the cut to our list:
For one, it has one of the largest veterinary teams among our picks, with 11 skilled veterinarians and 15 dedicated veterinary paraprofessionals. With that, there will always be a doctor on call to consult with.
On top of that, Pets Avenue offers a comprehensive range of veterinary services and surgical procedures tailored to improve the health of your pets. This includes vaccinations, dental care, ear cleaning, parasite treatment, skin treatment, and more.
Its housecall services are open to those with pets that are afraid to leave their homes. All procedures will be done in the comfort of your home, but don't expect that this service is going to be cheap.
We admit that it's not the most budget-friendly vet clinic out there, but considering the range of its services, most customers tend to look past the price. Its consultation alone already costs $130.
Accepts home services
Large team of doctors and nurses
Three branches in Singapore
Treatments and surgeries are expensive
Customer Reviews
Here's what pet owners had to say about its services:
"What an amazing, friendly and helpful team at Pets Avenue! Not only did they accommodate our last minute appointment, they have also been detailed in explaining our puppy's condition, reassuring us that all is taken care of. Special thanks to Arvind who went above and beyond making sure our queries are addressed post visit!" -Stephe Ong
"I had to call in for a last minute appointment for my cat to get vaccinated for an overseas trip. They immediately agreed and they even helped me so that I could send the documents within the time frame. They are very professional and caring, which I really appreciate! thank you everyone who helped Unie" -Samoona Pun
Beecroft Bird & Exotic Veterinary Clinic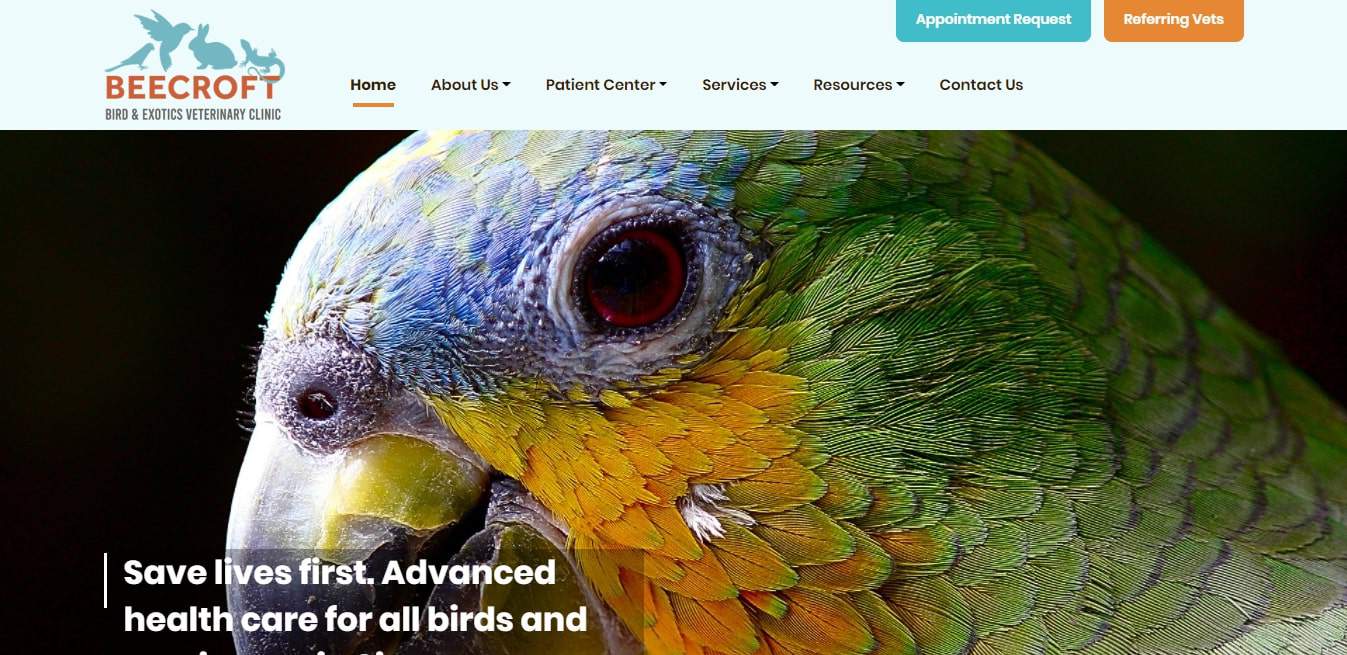 SERVICES
Wellness Exams, Comprehensive Diagnostics, Spay and Neuter, Orthopaedic Surgery, Medical Grooming, Soft Tissue Surgery, Advanced Dental Care, and Nutritional Counselling
WEBSITE
https://www.birdvet.com.sg/
ADDRESS
59, Upper East Coast Road. Singapore 455217
CONTACT DETAILS
+65 6803 8344
OPERATING HOURS
Monday to Tuesday: 9:00 AM – 7:30 PM
Thursday: 9:00 AM – 9:00 PM
Friday: 9:00 AM – 6:30 PM
Saturday: 9:00 AM – 5:30 PM
If you're looking for a veterinary clinic for birds and exotic pets, then look no further than Beecroft Bird & Exotic Veterinary Clinic. It's the only place on the island that looks after avian species and non-traditional pets, so we couldn't help but add it here.
Since exotics pets are considered rare, Beecroft's primary goal as a veterinary clinic is to prolong their lifespan through medical treatments, which include wellness exams, orthopaedic surgery, and even medical grooming.
Its work doesn't end there, though. Beecroft can handle a wide range of conditions that exotic animals usually have, just like what a regular vet clinic does.
Beecroft has the facilities and expertise to take care of animals such as parrots, slow lorises, turtles, snakes, rabbits, fish, and hamsters, among others. Its vets can perform simple health checkups up to complex surgical procedures.
It's also open to pet owners who are thinking about adding an exotic pet to their homes. You can talk to its vets about which pet matches your preference and ask for tips on how to take care of them.
Given all these, when it comes to specialised veterinary care for birds and exotic pets, there's really no better option than Beecroft Bird & Exotic Veterinary Clinic.
The only clinic in Singapore for birds and exotic animals
Specialised care for birds and exotic pets
Open to all exotic species
Comprehensive wellness exams
Inconsistent operating hours
Expensive services, given that it's a specialised vet clinic
Customer Reviews
Lim Jing Yu posted this comment on Google Reviews:
"I brought my budgie here last Oct (4 months ago) and he was diagnosed with metal poisoning. He was hospitalised for 2 nights and given 5 days of antibiotics. Dr Rina was really helpful and patient with our questions, and the nurses were gentle with the animals too. My budgie is doing so much better and he's back to his playful self. The bill here is a little more expensive than regular vets, but worth it."
Another customer named Desmond Lee shared his own feedback:
"Brought my quaker to the clinic as it was not eating and lost weight. Was attended by Dr Athena & diagnosed with metal substance in her & also lots of yeast. Put her on medication for a week & went back for review. They are very helpful & professional. They even text u to follow up on condition on a public holiday. My quaker is not happy & back to her normal self. Thanks u guys"
Animal & Avian Veterinary Clinic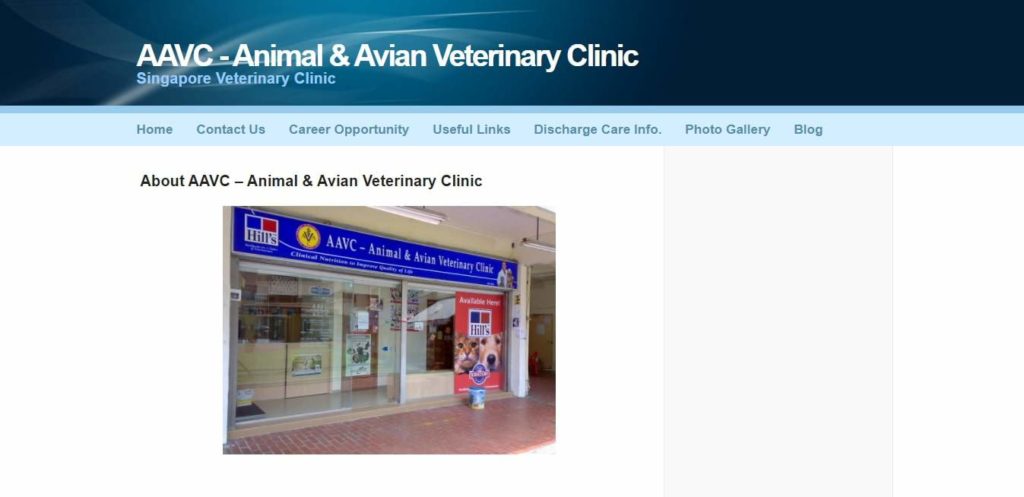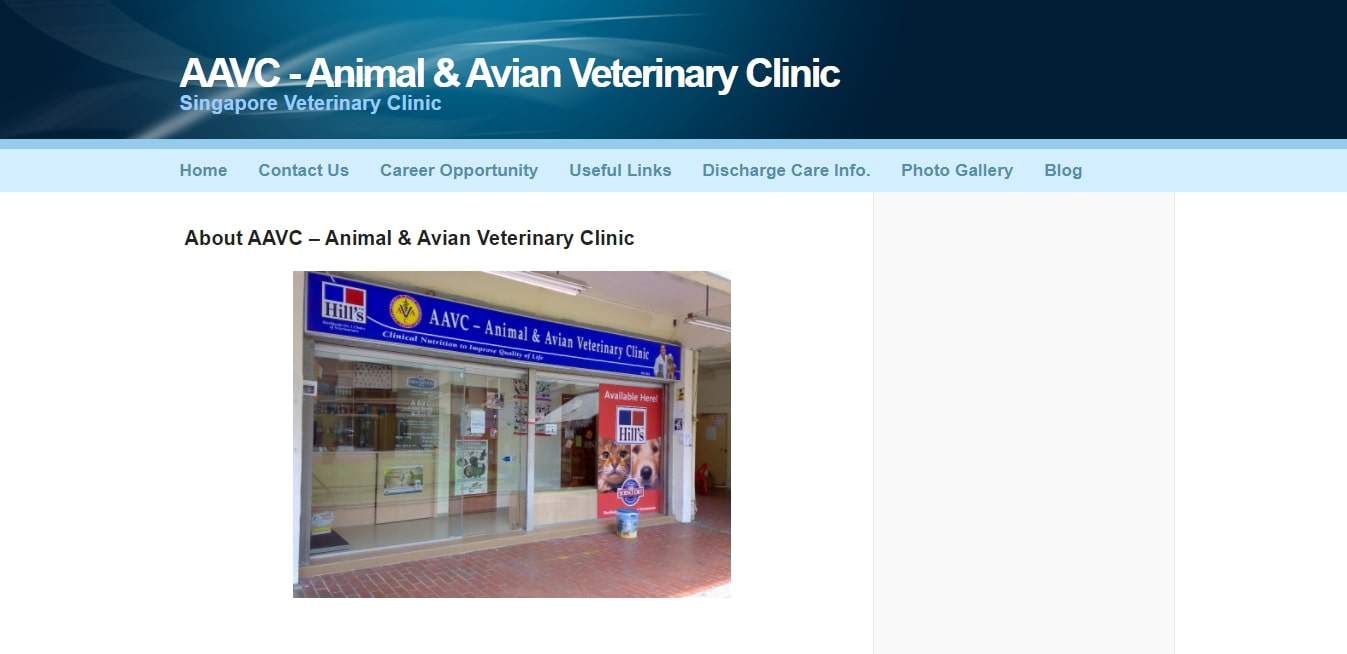 SERVICES
Consultations, Dental Care, Surgical Services, and Housecall Services
WEBSITE
https://aavcsingapore.webs.com/
ADDRESS
Blk 716, Yishun St. 71 #01-254 Singapore 760716
CONTACT DETAILS
(65) 6853 9397
OPERATING HOURS
Monday to Friday: 10:00 AM – 8:00 PM
Saturday to Sunday: 10:00 AM – 2:00 PM
Animal & Avian Veterinary Clinic has been providing top-notch medical treatments to domestic pets and birds for over a decade now. It's a vet clinic that's open to both on-site and housecall services.
If most vet clinics require appointments, Animal & Avian Veterinary Clinic operates on a walk-in basis. Customers only need to book an appointment if their concern requires a dental procedure or surgery.
It's a small clinic compared to our picks, so its services only extend to consultation, minor surgeries, and minor dental procedures. We can't really recommend it if your pet is suffering from a severe medical condition.
It also has limited staff and resources, so it's unable to accommodate emergencies past its operating hours. However, it can refer you to a veterinary clinic that operates 24/7 and can handle emergency situations.
Despite the limits on its services, Animal & Avian Veterinary Clinic promises that the quality of treatments provided to every pet is never compromised.

That said, we can only recommend Animal & Avian Veterinary Clinic if your pet is long overdue for their health examination or needs to have their teeth checked.
More than a decade of experience
Budget-friendly treatments
Open for housecall services
Small clinic, so limited service
Customer Reviews
Animal & Avian Veterinary Clinic has earned the trust of many customers because of their knowledgeable and responsive staff who've done exceptional care to pets. A customer gave this review on Google Reviews:
"Attentive vets and nurses. I brought my hamster in to see the vet and quite immediately, the nurse was able to determine my hamster required oxygen treatment and requested I hand over the little one. Thankful to the patience of the staff in explaining my hamster's condition and in providing the right treatment and advice."
Hillside Veterinary Surgery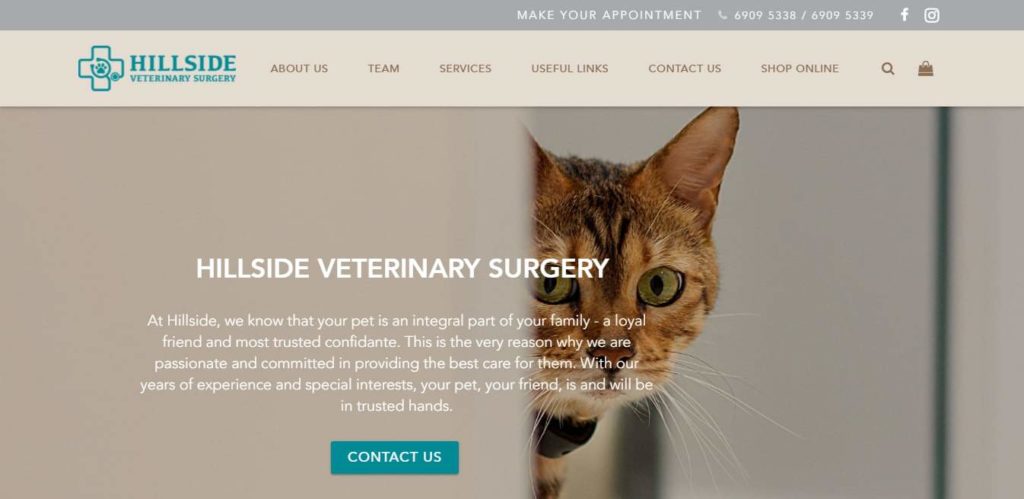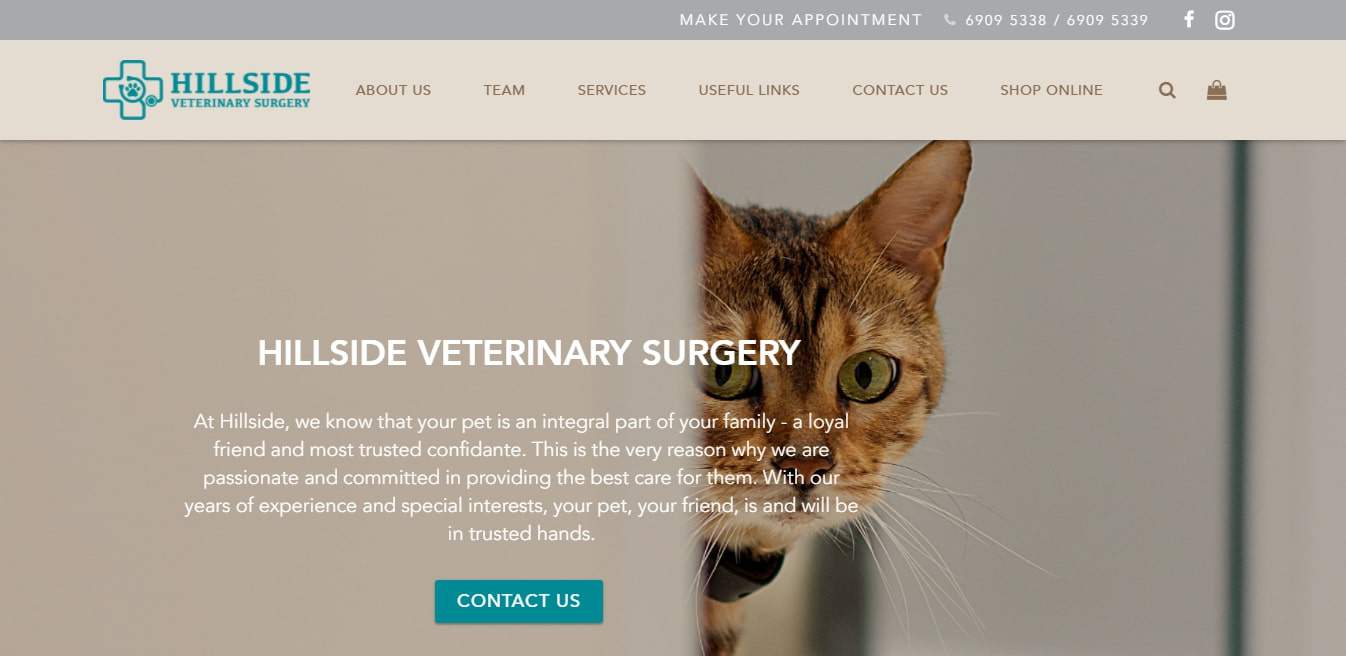 SERVICES
Routine Consultations, Internal Medicine, Dermatology, Specialised Surgery, Dental Services, Oncology, Anaesthesia and Monitoring, and Diagnostic Imaging
WEBSITE
https://www.hillsidevets.com.sg/
ADDRESS
787A Upper Serangoon Road, Singapore 534655
CONTACT DETAILS
6909 5338
6909 5339
OPERATING HOURS
Monday to Friday: 9:30 AM – 8:30 PM
Saturday to Sunday: 9:30 AM – 4:30 PM
Located on Upper Serangoon Road, Hillside Veterinary Surgery is a boutique veterinary clinic with an extensive range of medical treatments and surgeries.
Hillside Veterinary Surgery's veterinary services include vaccination, microchipping, health screening, blood and urine tests, skin testing, and dental scaling, among others. It conducts a few routine and specialised surgeries as well.
If there's one thing that makes it stand out from other vet clinics, it'd have to be its full-range facilities. Aside from surgery and monitoring rooms, the cats and dogs are placed in separate rooms to ensure a comfortable environment for recovery.
On top of that, there's an intensive care section for animals with severe conditions where they will be monitored for 24 hours. Basically, you won't have to worry about the welfare of your pet when Hillside is your vet clinic.
Its veterinary team is made up of four surgeons, a nurse, a laboratory manager, and a veterinary technician. It may not be one of the largest vet teams among our entries, but customers can be sure that their pets will be accommodated right away.
Aside from its in-house surgeons, Hillside sometimes invites specialist surgeons from Australia to look after the pets of their regular customers.
Comprehensive medical treatments
Impressive facilities
Armed with high-end technologies
With in-house pet store
Customer Reviews
Zenia Montero Chang shared this comment on Google Reviews:
"Dr. Quek is a great doctor! My dog had an immune reaction to a rabies vaccine prior to coming to SG from the US and he inspected her to make sure she is doing well. We also asked him to see if my dog is a good candidate for teeth cleaning, as she would need to go under general anaesthesia. He quickly conducted the blood work and scheduled her for the following week. Her teeth are so clean now! The staff are also very responsive via WhatsApp. Prices are reasonable. Thanks Hillside!"
Here's what Venecia Ng had to say:
"Dr Song is a rabbit savvy vet. Been there several times, service is good. Dr Song is patient and friendly. She takes her time to explain the care required to take care of a sick rabbit and what to expect. Will continue to visit the same vet. Seen many dogs and cats at this vet too, many of them are regulated. Recommended veterinary service."
Animal World Veterinary Clinic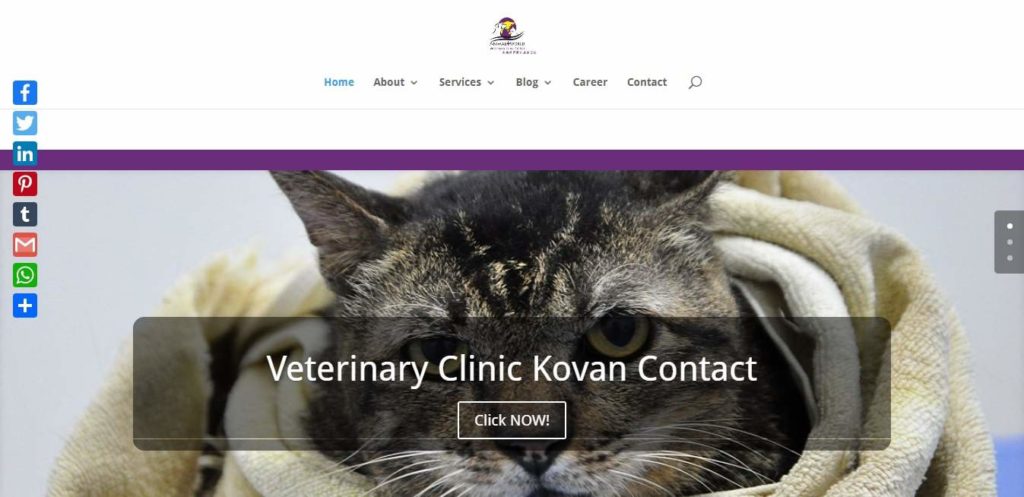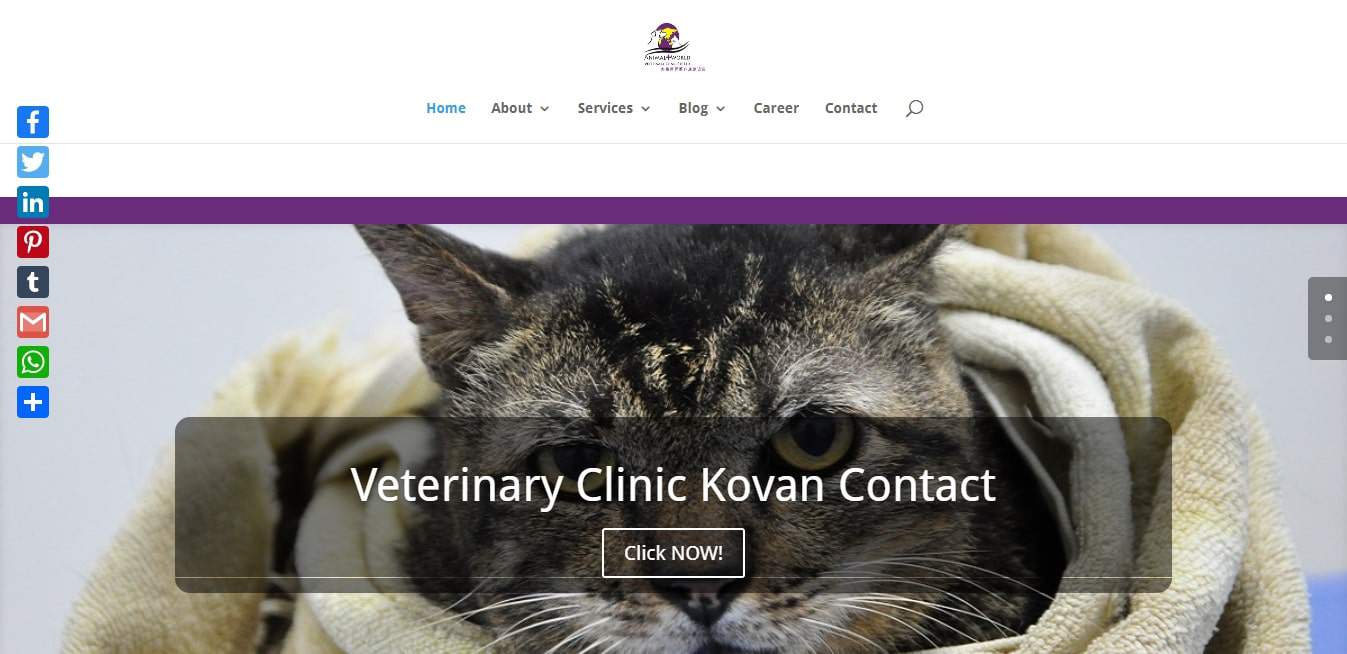 SERVICES
Consultations, Physiotherapy, Oncological Surgery, Sterilisation, Haematology, Microchipping, Orthopaedic Surgery, Acupuncture, Herbal Medicine Therapy, and Blood Transfusion
WEBSITE
https://animalworldclinic.com/
ADDRESS
16 Yio Chu Kang Rd, Singapore 545527
CONTACT DETAILS
+65 6286 0929
OPERATING HOURS
Monday, Tuesday, Thursday, and Friday: 10:30 AM – 8:30 PM
Wednesday: 10:30 AM – 8:00 PM
Saturday: 9:30 AM – 8:00 PM
Sunday: 9:30 AM – 6:00 PM
If you're after a veterinary clinic with a wide range of services and friendly doctors, then we recommend checking out Animal World Veterinary Clinic. You've probably heard of it, as it's one of the most in-demand vet clinics in Singapore.
Animal World Veterinary Clinic is the go-to vet clinic of pet owners with injured cats and dogs. One of its most popular treatments is physiotherapy, which consists of different rehabilitation techniques designed to support the recovery of your pets.
Another popular treatment is the weight loss and fitness programmes for overweight domestic pets. It's among the few vet clinics that have this type of treatment, so we really had to make it a part of our list.
In terms of equipment, Animal World Veterinary Clinic doesn't fall short. What allows it to accommodate all sorts of injuries and conditions is its comprehensive range of treatment facilities and modern medical equipment.
What makes all these better, though, is that it can pick up and drop off your pet for your own convenience. If you're too busy to drive all the way to the clinic, this service will definitely be a huge help.
All in all, Animal World Veterinary Clinic is a great choice for all pet owners, whether your pet needs an annual consultation or a specialised surgery for their injuries.
Provides physiotherapy
Extensive range of services
With fitness programmes for pets
Pickup and drop off services
Most treatments are pricey
Inconsistent operating hours
Customer Reviews
A customer named Isaac Josiah said the following about his experience with Animal World:
"First time visiting this clinic. Came to this clinic because the vet I've been following for 3 years has moved here. Staff are very friendly and proactive in assisting customers. Very patient, caring and helpful nurses and staff. Thank you for making our visit nice and comfortable!"
Meanwhile, Chris LeBron posted this:
"Amazing veterinary clinic. I can't recommend them enough. Our cat was really not into the visit, but the staff were very understanding and waited patiently for him to calm down (spoiler alert: he never really did) so they could take his blood and give him a booster shot. So nice. Seriously, if you need a vet, come here. They're good and clearly care about animals; if you adopt your pet (as opposed to buying them from a breeder) they offer a bit of a discount."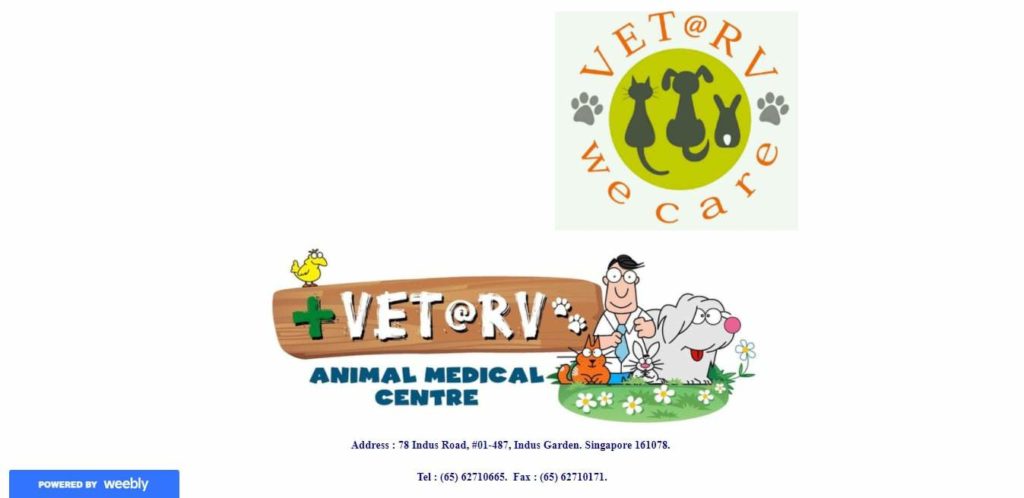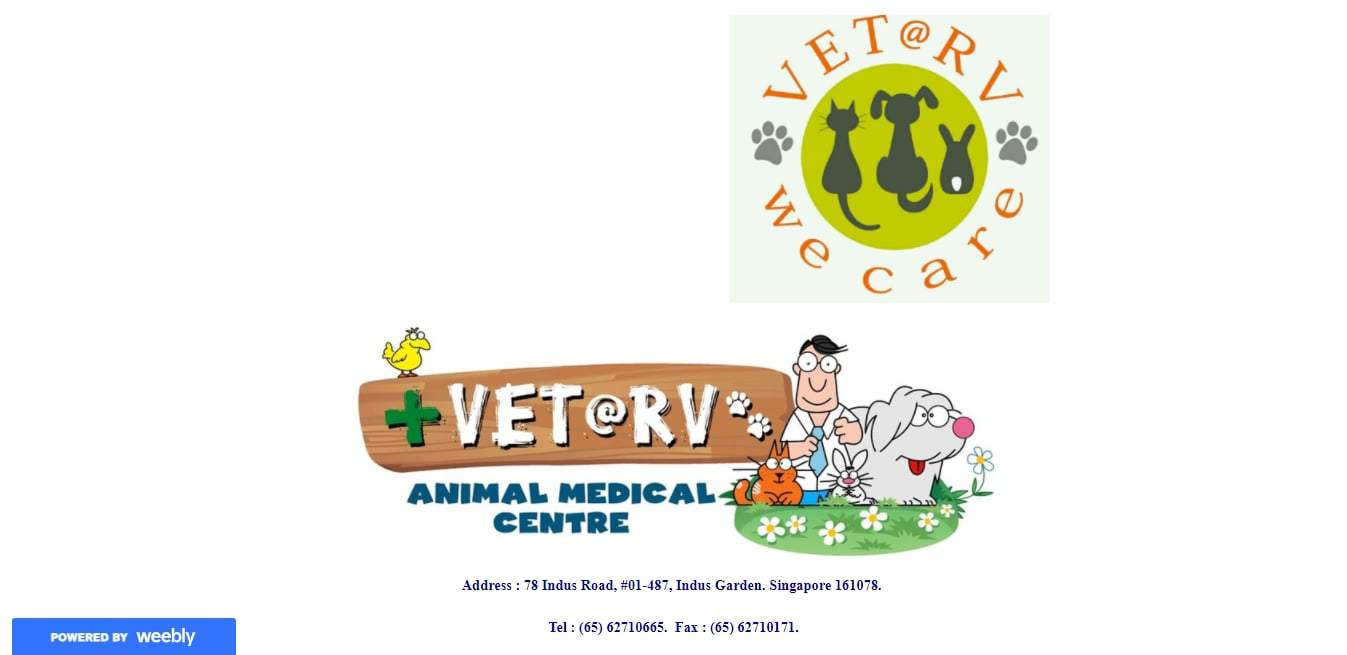 SERVICES
Consultations, Dermatology, Surgical Services, Health Screenings, Wellness Checks, Vaccinations, Prenatal and Postnatal Checkups, Deworming, Microchipping, Blood Chemistry, and Dental Care
WEBSITE
https://www.vetatrv.com/
ADDRESS
78 Indus Road, #01-487, Indus Garden. Singapore 161078
CONTACT DETAILS
(65) 62710665
(65) 62710171


[email protected]

OPERATING HOURS
Monday to Saturday (except Tuesday): 12:00 PM – 11:00 PM
Do you only have free time after work hours? Well, worry no more because [email protected] operates until 11 in the evening, making it one of the few vet clinics on the island that can accommodate emergency services at night.
[email protected] is headed by Dr. Tan Eng Khim, a veterinarian who earned his degree at Murdoch University, which is one of the most prestigious veterinary schools in the world. He'shas treated all types of domestic pets, including dogs, cats, rabbits, hamsters, and more.
In terms of range of treatments, Dr. Tan's clinic doesn't fall short. Its veterinary services cover general consultations, specialised surgeries, laboratory services, dental care, and health screenings for travels.
[email protected] is the perfect choice if you're looking for a veterinary clinic that also offers pet grooming and pet supplies. Additionally, Dr. Tan provides behavioural consultation if you want to know why your pet is behaving in a certain way.
What we like the most about [email protected] is that, despite being a small clinic with a small staff, it's managed to offer a variety of services that mostly huge vet clinics only have.
Convenient location
Longer operating hours
Night consultations
Competitive rates
Customer Reviews
Peisan Ooi posted this comment on Google Reviews:
"Staff are loving, caring and professional. Short waiting time, probably because appointments are managed and booked well in advance. I've been bringing my pets to Dr Tan for the last 10 years. Dr Tan is a passionate vet with many postgraduate qualifications. Over the years, I recommended many friends to see Dr Tan for his knowledge, expertise and experience. Many of my friends are impressed and have chosen to continue to see him as their family vet."
Here's what another customer had to say:
"My dog Mocha saw Dr Tan 2 weeks ago for his skin and eye conditions. Dr Tan was very professional and very detailed in his explanation of the skin and eye condition. The consultation lasted 45minutes. Now Mocha's skin and eyes have fully recovered. The staff are friendly, professional and helpful. I'm glad Mocha is under the care of such a professional and caring team." –S. Lee
Pet Space (Animal Recovery Veterinary Centre)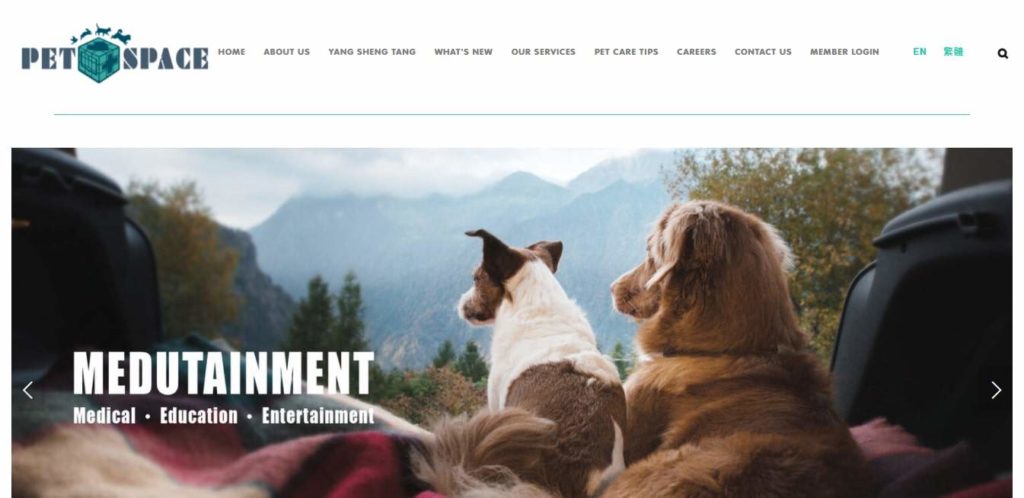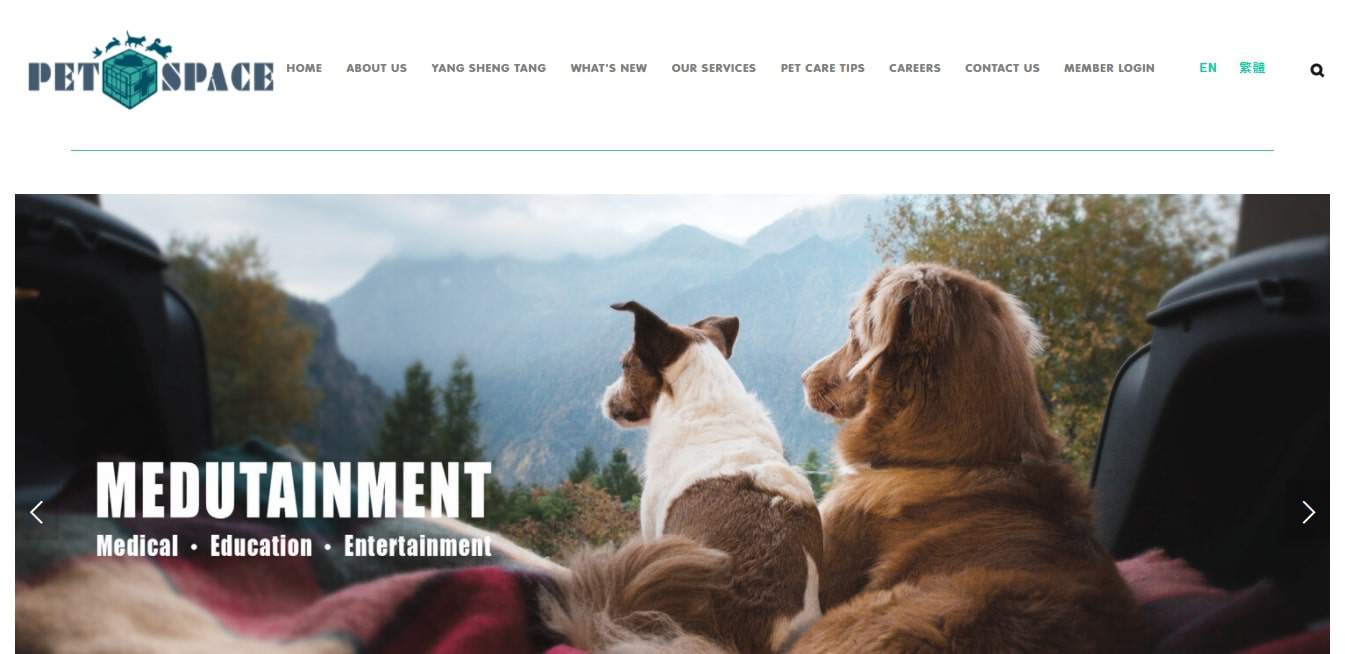 SERVICES
Emergency Services, Surgeries, Ultrasonography, ECG Screening, Medical Boarding, Hospitalisation, Traditional Chinese Medicine, Allergy Test, Dentistry, Vaccinations and House Calls
WEBSITE
https://petspace.group/
ADDRESS
482 Serangoon Road Singapore 218149
CONTACT DETAILS
(+65) 6252 2623


[email protected]

OPERATING HOURS
Open 24 Hours
Tagged as one of Hong Kong's most popular vet clinics, Pet Space has made its way to the island of Singapore. It landed on our list based on three main reasons.
First, Pet Space is one of the few vet clinics in Singapore that operate 24 hours for the whole year, allowing pet owners with urgent concerns to drop by any time of the day, even during the wee hours of the night.
Second, it uses a unique approach called "Medutainment," which means taking care of pets and supporting their owners through medical care, education, and entertainment. Basically, pet owners will also be taught how to better take care of their beloved pets.
Lastly, its veterinary services cover everything that pets usually need, including dental care, surgery, herbal medicine, allergy tests, microchipping, vaccinations, ECG screenings, medical boarding, and even pet grooming.
Pet Space offers housecall services as well, which are mainly for pets that are too old to walk out of their house and travel all the way to the clinic. It comes at a higher cost, but you can be sure that your pet will be treated properly.
It deals with a huge number of pets every day, so pet owners are advised to book an appointment to prevent waiting in line for hours at the clinic.
Open 24 hours
Unique medical approach
Easy booking of appointment
A branch of a prominent vet clinic in Hong Kong
Expensive veterinary clinic
Customer Reviews
Wijeweera Spenser, a client, left this review on Google:
"Our baby boi came here for a hospital referral through another vet. I must say that the team here showed a lot of compassion and care towards both the pets and owner alike. They never hesitated to provide a very detailed explanation before carrying out their treatment plans and always were willing to go the extra mile to make boi boi feel comfortable. Boiboi our Pomeranian was always scared and would shake non stop in fear whenever he went to the vet but at this clinic he was really at ease and happy making his treatment so much easier. Thank you Dr Kelly, and team. Especially Randy, Eddie, Bal and Yasmin, you really changed the way Boi Boi saw vets and not dread his visits here."
Another client, Emily, also left this review on Google:
"This week has been a trying time, came to animal recovery for a second opinion and so glad we did. Bruno's doctor spent an hour and a half discussing his medical history, current problems and went through a thorough examination process. We have decided to change his vets permanently to Animal Recovery vets. Highly recommended."
Mount Pleasant Veterinary Group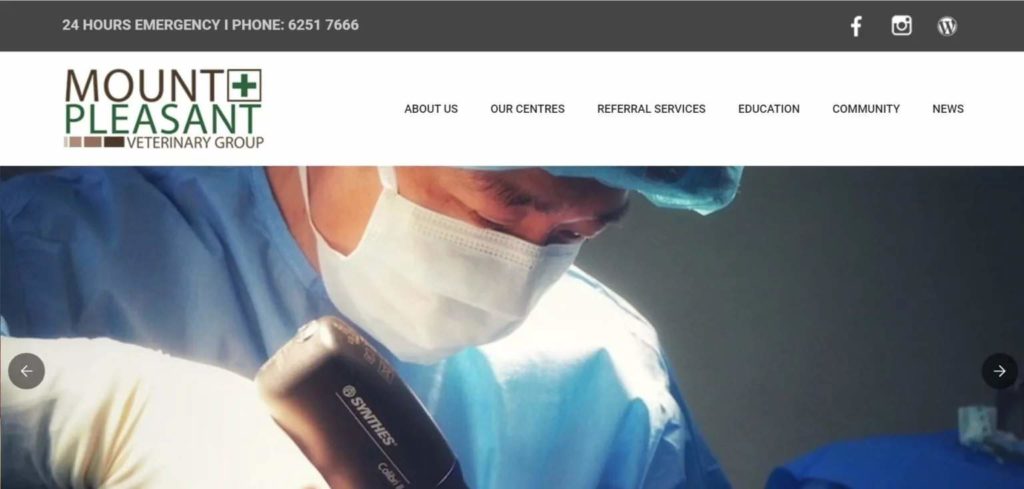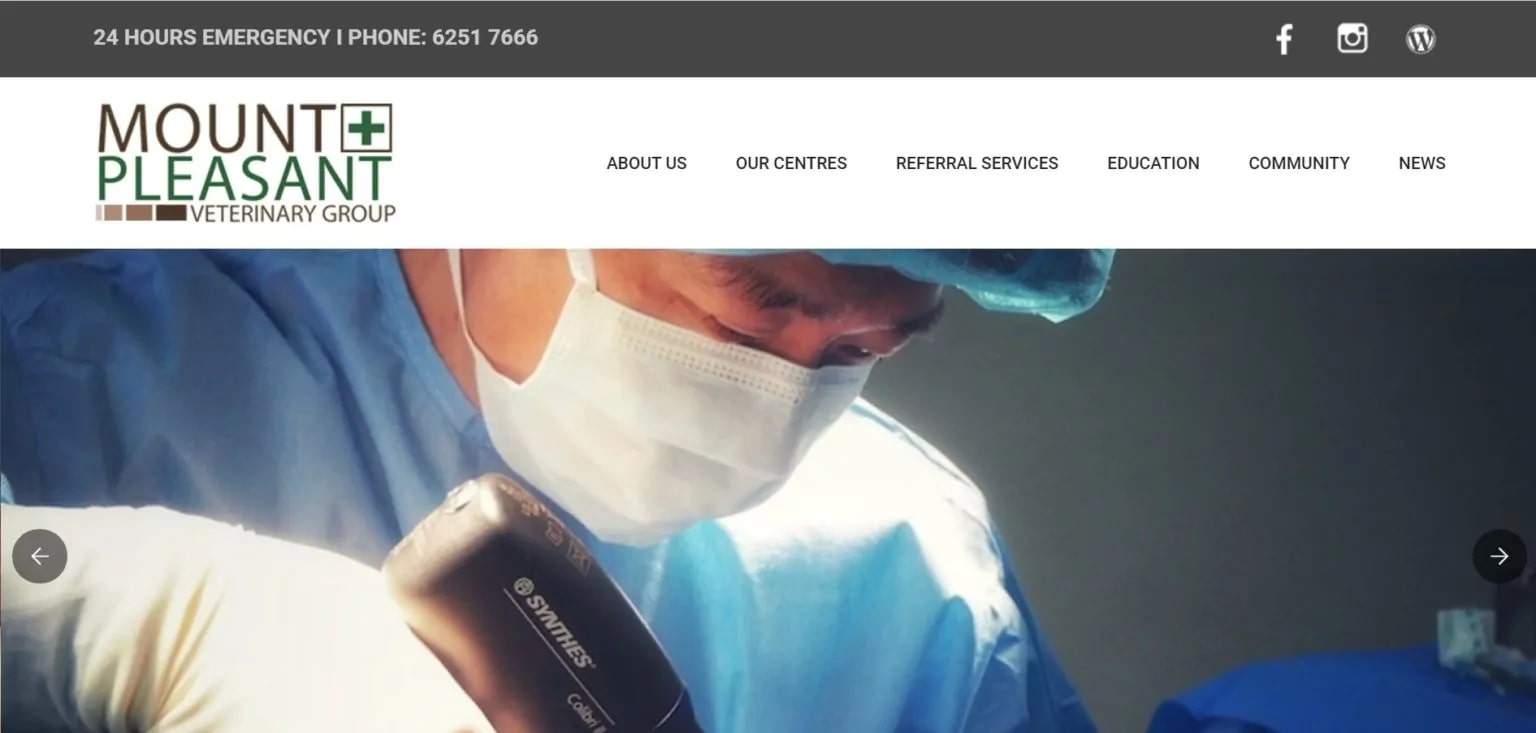 SERVICES
Vet Specialist, MRI, CT, Chemotherapy, Blood Transfusion, Echocardiogram, Orthopaedic & Reconstructive Surgery, Cataract Surgery, Avian Medicine, TCM & Acupuncture
WEBSITE
http://www.mountpleasant.com.sg/
ADDRESS
2 Jalan Gelenggang Singapore 578187
CONTACT DETAILS
(+65) 6251 7666


[email protected]

OPERATING HOURS
Monday to Friday: 9.30am – 8.30pm
Saturday & Sunday: 9.30am – 4.30pm
With over 30 years of experience, Mount Pleasant Veterinary Group is a name that almost every pet owner in Singapore is familiar with.
It's a group of experienced veterinary specialists that operate in eight clinics nationwide, including a tertiary care that operates round the clock for pets that need intensive and critical medical care.
In line with that, it's safe to say that it's the most accessible veterinary clinic on the island. Its branches are conveniently scattered all over Singapore to make sure that there's a centre always close to everyone.
Mount Pleasant Veterinary Group earns the top spot when it comes to specialties.
Its veterinary team are experts in internal medicine, dermatology, oncology, veterinary acupuncture, avian medicine, ophthalmology, and advanced imaging. They are now equipped with a 1.5 Tesla MRI which can quickly and accurately diagnose diseases in pets.
All in all, Mount Pleasant Veterinary Group would be a great choice for all pet owners out there, regardless of level of medical attention their pets need.
30 years of experience
Eight branches islandwide
Convenient locations
Emergency care centre is open for 24 hours
Wide area of expertise
Customer Reviews
Here are some reviews posted on their website:
"Mount Pleasant Veterinary Group, Dr Dennis Choi and all the lovely staff who greeted us with a smile for the last 8 months of regular appointments. Thank you for your perseverance to find a solution to save Bobby's leg. When the cheapest thing for an old street dog is not to try, Dr Choi never gave up. Now Bobby can enjoy a full quality life, with all four legs. We are delighted with the result and cannot recommend your services enough. You win the compassionate and expertise award!"
"This is truly an animal hospital fully staffed by vets and nurses in the "wards". It's run like a hospital with strict visiting hours. The wards are fully staffed by qualified nurses and can provide details on your pet's daily progress. They are truly caring and professional with their patients. The hospital has ultrasound equipment, and specialists for other conditions. Impressed with their wards. Glassed off area for cats, another for ICU, contagious diseases, and wards for large dogs. Really impressed with the nursing care providers."
FAQs about Vet Clinics
---
And that's it for our list of the best vet clinics in Singapore. If you have visited any of these clinics in the past, don't hesitate to share your experiences with us!
Besides looking after your pet's health, you should never forget to check up on your own health! In case you haven't been to a medical clinic recently, here is our list of the best health screening clinics in Singapore that you can visit during your free time.