Where to Get the Best Upholstery in Singapore
Have you just moved into a new home or office and want to reupholster your old furniture for it? Then you should look for the companies that do the best upholstery in Singapore!
We've listed local favourites when it comes to companies that do the best upholstery in Singapore today. This way, you no longer have to go all around the island just to find the most reliable ones.
They have a wide range of services, quality designs, and accessible rates and locations. So take a look at our list below to find out more about their collections and services.
1.  Ginit Upholstery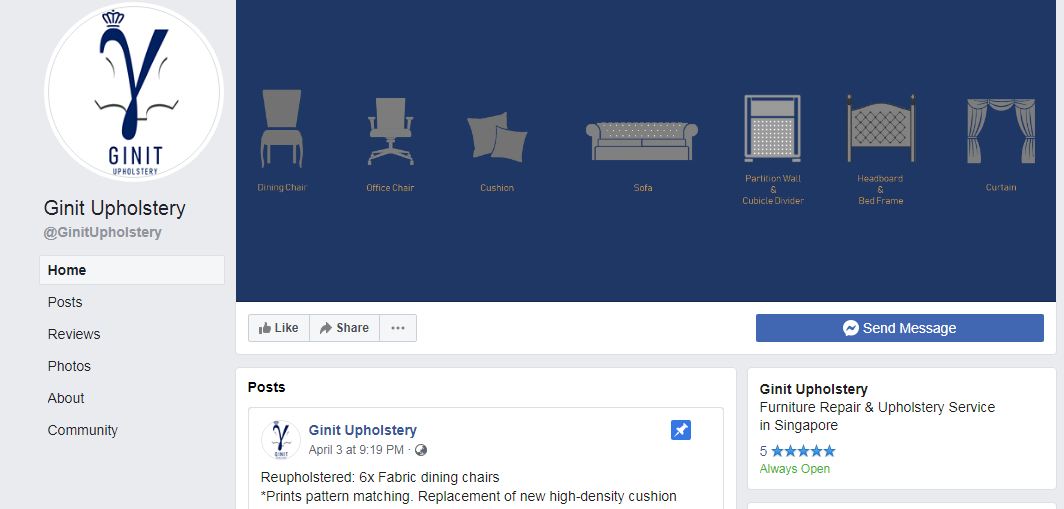 | | |
| --- | --- |
| BEST FOR  | Repair and customization services |
| WEBSITE | https://www.facebook.com/pg/GinitUpholstery/Facebook |
| ADDRESS | 31 Sungei Kadut Street 1 Singapore |
| CONTACT DETAILS | +65 9738 6730 |
Ginit Upholstery offers upholstery services for residential and commercial furniture, and this includes their repair and custom-made furniture services. They can work with sofas, chairs, cushions, wall partitions, headboards, bed frames, and curtains.
They use high-quality materials to restore faded colours and out-of-style-designs and make items look like newly purchased furniture. That's why they're said to produce some of the best upholstery in Singapore.
Highlights
Residential and commercial furniture
Customisation services
2.  Soon Seng Heng
| | |
| --- | --- |
| BEST FOR  | Wide range of reupholstery services and custom-made upholsteries |
| WEBSITE | http://www.soonsengheng.com/ |
| ADDRESS | Bedok Reservoir Rd, #01-56 Block 117, Singapore 470117 |
| CONTACT DETAILS |   |
| OPERATING HOURS | Daily, 9am–6pm |
Soon Seng Heng is the longest-running family-owned company that has been providing furnishing services for many locals. Their services include redecorating, reupholstering, and refurnishing.
They offer their upholstery and reupholstery services for sofas, chairs, bench, dividers, antiques, and more. They also specialise in creating custom-made upholstery such as blinds, curtains, draperies, and office furniture.
Most of their clients are from small business and large corporations, proving that they indeed offer some of the best upholstery in Singapore.
Highlights
Delivery services
Special promotions
3.  Cushion Specialist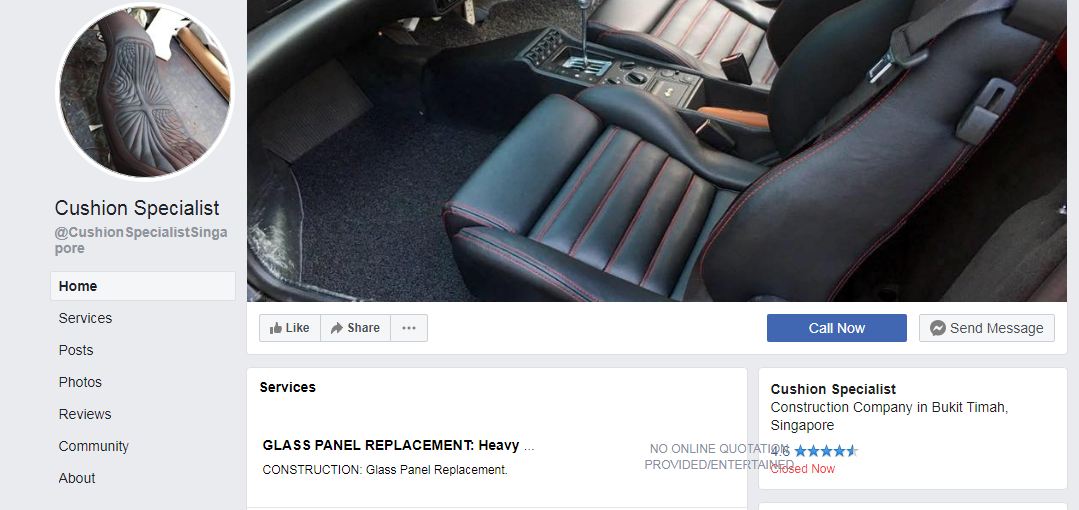 | | |
| --- | --- |
| BEST FOR  | Vehicle reupholstery |
| WEBSITE | Facebook |
| ADDRESS | 140 Upper Bukit Timah Road, #02-14 Beauty World Plaza, Singapore 588176 Bukit Timah, Singapore |
| CONTACT DETAILS | +65 6466 4498 |
| OPERATING HOURS | Weekdays: 2pm to 7pm |
With several decades of experience, Cushion Specialist has mastered the art of upholstery and reupholstery services. Their services for the best upholstery in Singapore have been used in commercial, residential, and even industrial fields!
Aside from home furniture and upholstery, they also do vehicle reupholstery, which includes full and partial vehicle upholstery such as ceiling roof linings, dashboard, and door panels for all models. They also repair vinyl, cloth, and leather interiors as well as offer complete hood service.
Highlights
Full and partial vehicle upholstery
Cushion seat reupholstery for industrial or construction vehicles
Custom-made curtains
4.  Ho Soon Lee Sofa Maker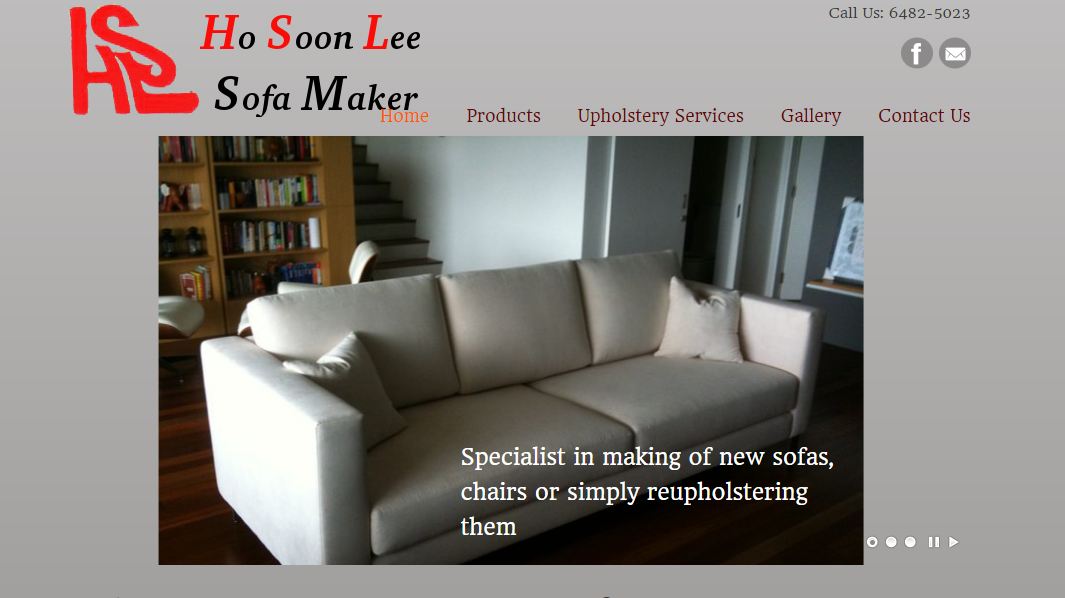 BEST FOR 
Customisation services for all types of furniture
WEBSITE
http://www.hosoonlee.com.sg/
ADDRESS
Block 5022 Ang Mo Kio Industrial Park 2 #01-39 (S)569525
CONTACT DETAILS
6482-5023 , 8128-2863
OPERATING HOURS
Mon-Fri: 9am-5pm Sat: 9am-3pm (Lunch hour: 11.30am-12.30pm)
Closed on Sundays and Public Holidays
If you have a personalised furniture design in mind, then you must visit Ho Soon Lee Sofa Maker! They specialise in providing unique masterpieces based on their clients' ideas and renowned designers' skills, letting you have your own piece of functional artwork at home.
Whether it's for residential, commercial, or contractor purposes, they offer a full range of customisation and reupholstery services. This is why they offer the best upholstery in Singapore.
Highlights
Whole range of customisation services
High-quality product materials
5.  First Curtains

| | |
| --- | --- |
| BEST FOR  | Curtain and blinds |
| WEBSITE | http://www.firstcurtains.com/ |
| CONTACT DETAILS | 21 Toh Guan Road East #04-15, Toh Guan Centre Singapore 608609 |
| OPERATING HOURS | DAILY: 9am–6pm |
First Curtains is an establishment known for their wonderfully made curtains and blinds, but their expertise doesn't stop there. Their sofa re-uphosltery is one of a kind, bringing life to your furniture, but also making sure that it brings comfort to you!
Transforming old fixtures into ones that look brand new is what they do, so worry not as they have proven to re-vamp everything that is made available for them to fix.
What sets them apart from other upholstery business is that they don't settle with plain and simple. As much as possible, they make sure to incorporate a little fun in their works, which makes things very noticeable.
The furniture they can re-upholster are Sofas, Dining Chairs, Couch, Wicker chairs, Bed headboard, and many more.
Highlights
Excellent service
Exceptional designs
Durable fixtures
6. Khai Kong Industrial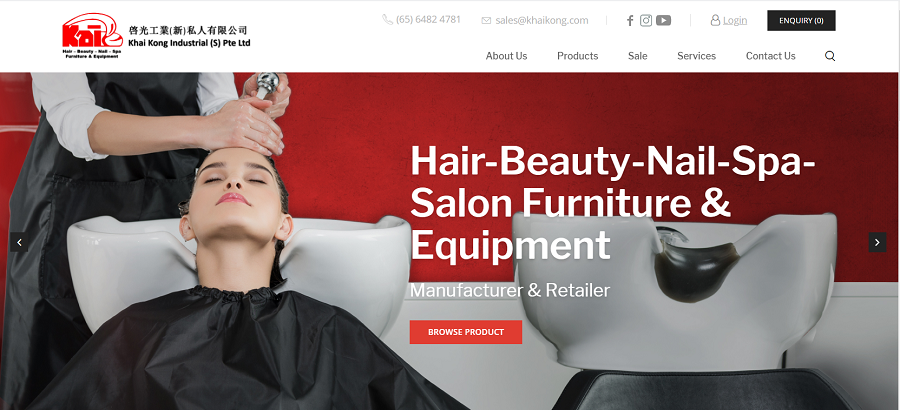 BEST FOR 
Salon Furnitures
WEBSITE
http://www.khaikong.com/
ADDRESS
Blk 5049, Ang Mo Kio Industrial Park 2, #01-637 / 639 / 551, Singapore 569552
CONTACT DETAILS
Tel: (+65) 6482 4781
Email:[email protected]
OPERATING HOURS
Monday – Friday: 9am to 6pm
Saturday: 9am to 3pm
Sunday and Public Holidays: Closed
Khai Kong Industrial is known to be one of the leading businesses when it comes to providing salon furniture in Singapore. Their impeccable taste in quality and design is unparalleled, which has people coming back for more of their services. They also offer re-upholstery for your salon, spa furniture and many more.
With over 40 years of experience in the field, you can rely on Khai Kong Industrial to provide you with only the best materials for your furniture, ensuring that not only its quality but also its comfortability is top notch.
Highlights
Premium Quality Materials
Customizable Designs
Wide Variety of Furniture Choices
7. Roselle Mont Clair Furnishing Pte Ltd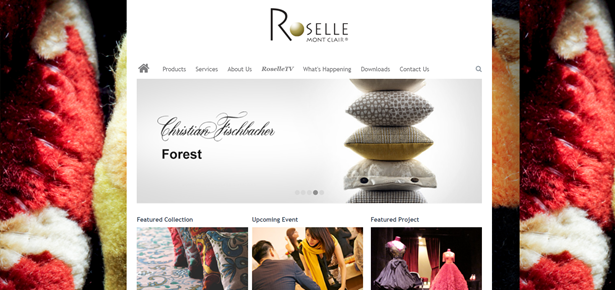 BEST FOR 
Furniture upholstery and customisation
WEBSITE
www.rosellemontclair.com
ADDRESS
#04-22/23 Showroom: #04-28, One Commonwealth, Singapore 149544
CONTACT DETAILS
Tel: +65 6472 4431 | [email protected]
Fax: +65 6472 4281
OPERATING HOURS
N/A
Roselle Mont Clair specialises in upholstery that provides both comfort and style. They pride themselves in creating art in the form of furniture– transforming materials to a beauty you'll surely love.
The business was established in 1986, since then continuing to flourish and becoming a well-known brand in the Asia Pacific. Become a part of their long list of patrons and be wowed by how much they can improve your living space in a short amount of time, with all of it under an affordable price.
Highlights
Skilled Installation
Dedicated craftsmanship
Provides great design advices
Supports non-profit causes
8. Mega Marketing & Services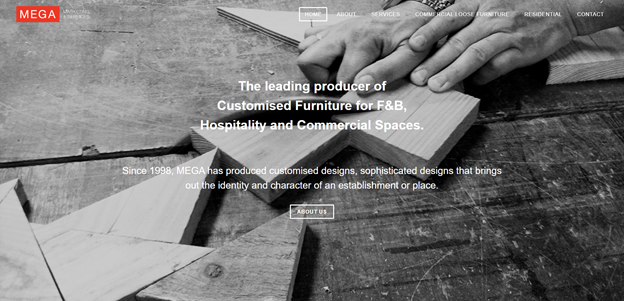 BEST FOR 
Furniture Customisation
WEBSITE
https://www.megamarketingsvcs.com/
ADDRESS
41 Sungai Kadut Loop, Singapore 729509
CONTACT DETAILS
Kenneth Lim (HP 65 9237 3246)
Shawn Lim   (HP 65 9675 4251)
OPERATING HOURS
Monday – Saturday: 9am–6pm
Deemed by the people as one of the best upholstery places in the country, Mega Marketing & Services provides products that surpass the industrial standards for furniture. They've continuously crafted excellent pieces not only for residences, but also for other establishments and commercial spaces.
Their services are mainly commercial furniture customisation, residential customisation, and refurbishment works– though they may be able to accommodate other related requests. They always make sure to work with great designers and architects so that they can visualise their concepts properly, while still following their client's specific requests.
Highlights
Fast and efficient service
Competitive Prices
Wide range of upholstery fabrics
9. Eunike Living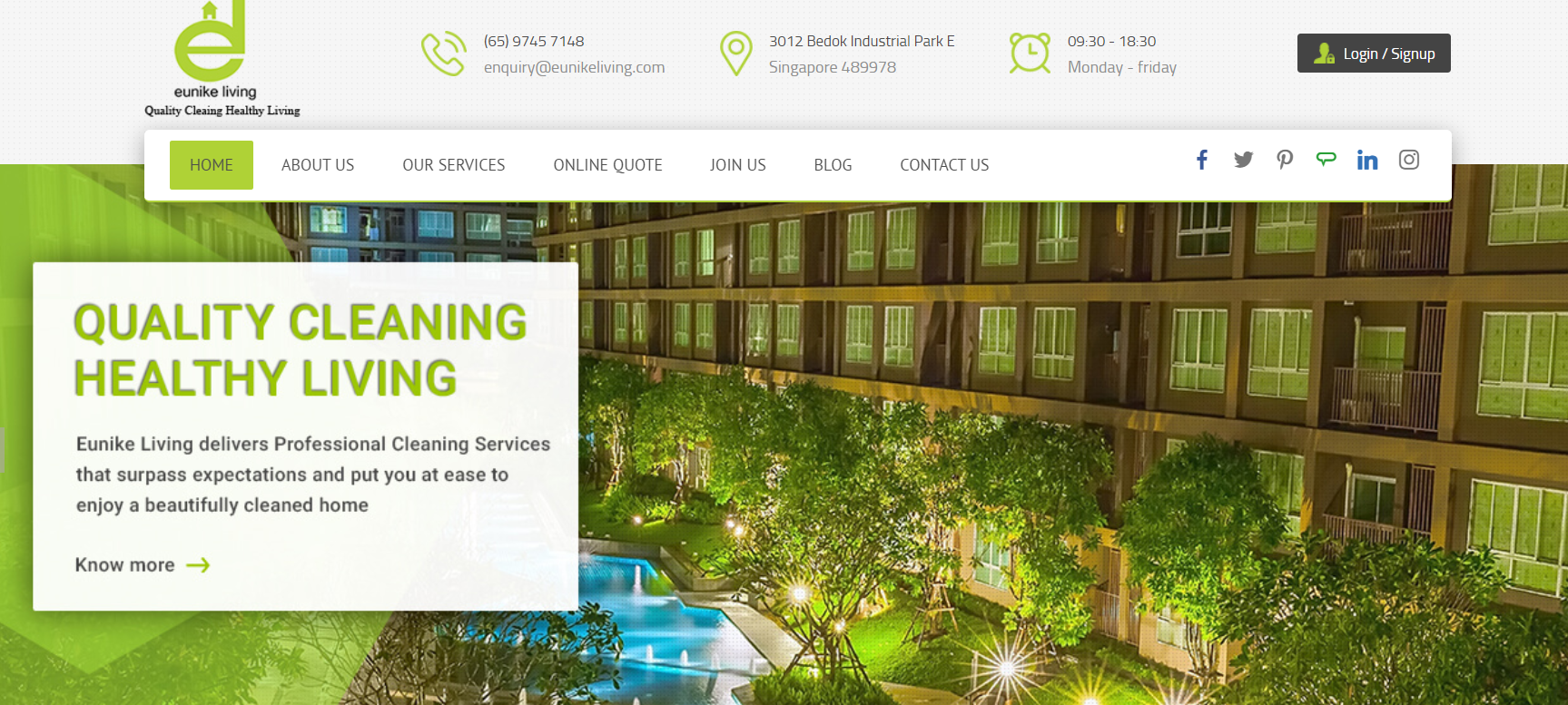 What is a beautiful upholstered furniture, when it is not maintained properly through cleaning? Well, it is simply just a dirty fixture not worth looking. But you won't have to worry about any of that as Eunike Living is here to accommodate any of your cleaning needs.
They offer a comprehensive upholstery cleaning service that ensures leaving your furniture spotless and still high in quality. They use only the appropriate cleaners for the fabrics and partners it up with the leading drycleaning technology, for stellar results.
It doesn't matter if your upholstery is a mix of fabrics, may it be leather, denim, cloth fabric or any other, because Eunike Living will make sure to clean it to the last bit, and of course, leave you satisfied with it.
Highlights
Fast and efficient cleaning services
Personalised customer service
Friendly personnel
10.  De Hygienique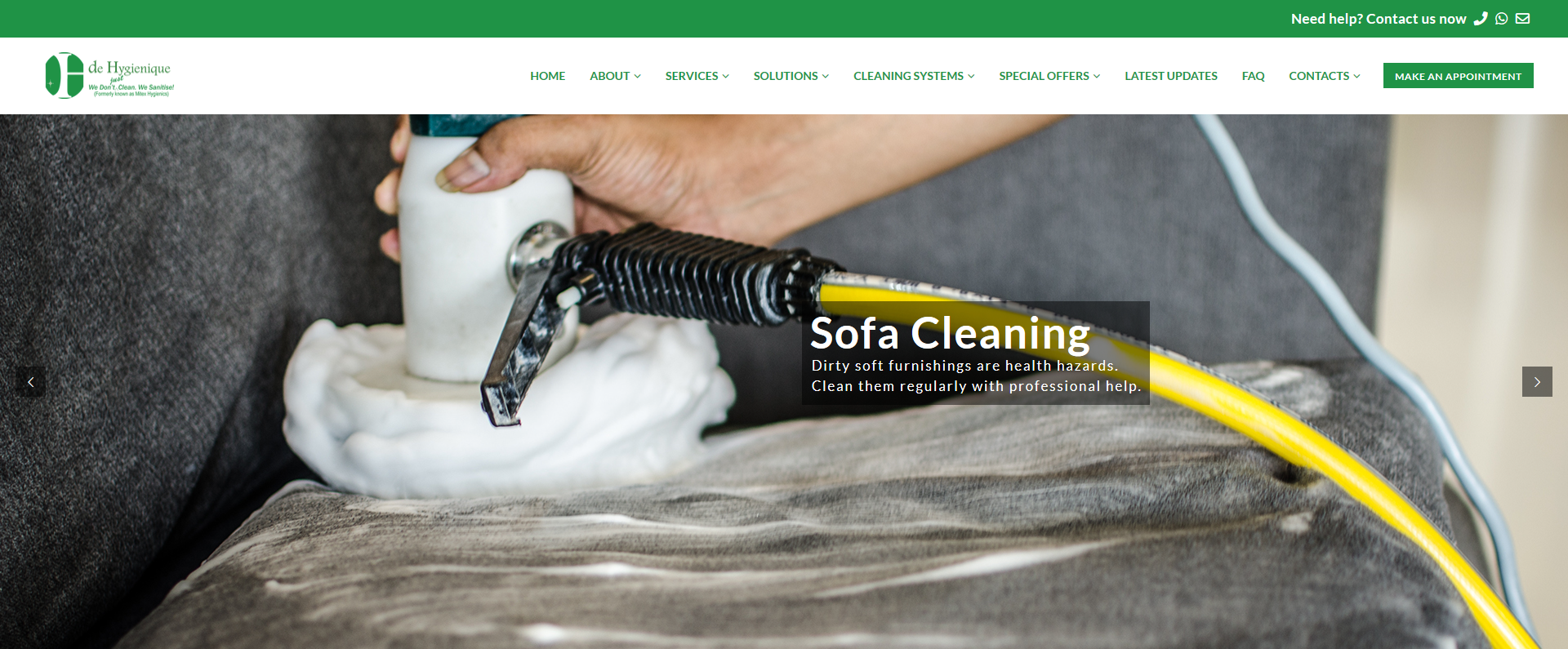 | | |
| --- | --- |
| BEST FOR  | Safe Cleaning Technology |
| SERVICES | Mattress Cleaning, Carpet Cleaning, Sofa Cleaning, Upholstery, Rug Cleaning, Dining Chair Cleaning, and Leather Cleaning |
| WEBSITE | https://www.dh-asia.com/services/upholsteries-hygienique |
| ADDRESS | 53 Ubi Avenue 1 #03-44 Paya, Ubi Industrial Park, Singapore 408934 |
| CONTACT DETAILS | +65 6749 1950 |
| OPERATING HOURS | Monday – Friday, 6:00 AM – 8:00 PM |
Thanks to their 17 years of experience, De Hygienique has become one of the most trusted upholstery cleaners in Singapore. They have clients coming from both residential and commercial areas. One of their biggest advantages is being the first company in Asia to ever use chemical-free, non-toxic, and safe cleaning products and technologies.
De Hygienique not only cleans upholstery swiftly, but also requires no drying time after their their work, due to their dry shampoo encapsulation method. Clients are able to use their sofas immediately after treatment is finished.
Their services don't end with upholstery cleaning. You can also depend on them for your leather, sofa, carpet, fabric wall, and carpet needs.
Highlights
Effective treatment
Safe and non-toxic
Experienced cleaners
Customer Reviews
Here's what clients have to say about the services of De Hygienique:
"Amazing service indeed! My husband & I feel very fresh with our king size mattress and my sofa looks brand new now! The two service men were very neat and kind, even to my fur-kid, thanks! They were time punctual as well. This company's service is really reliable & I strongly recommend it to you!"
"After an initial mess up with my appointment De Hygienique made good by offering a 20% discount to compensate me for the inconvenience. Whilst not ideal at least this was an acknowledgement that a mistake was made and I'm happy to report that the cleaning service thereafter was very good."
11.  Mactrim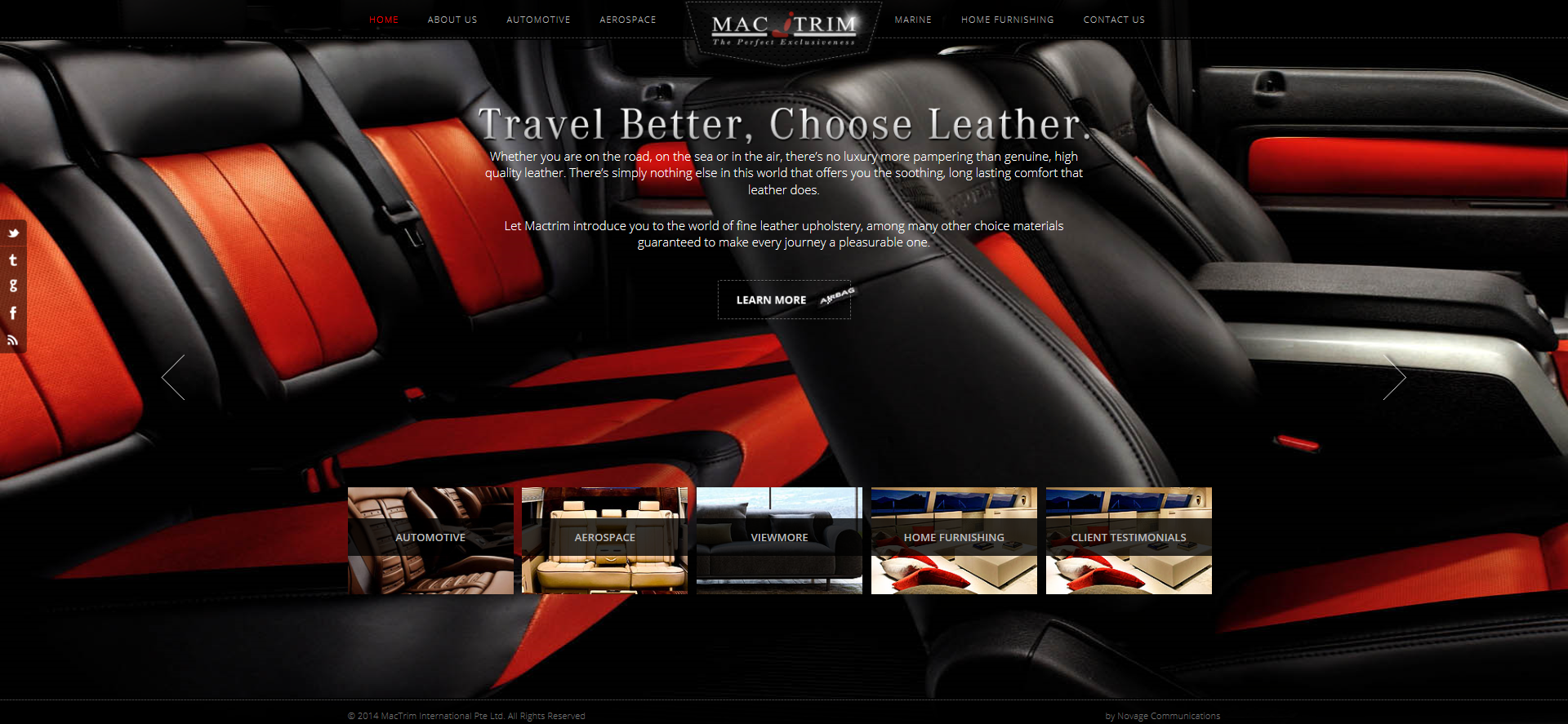 BEST FOR 
Leather Upholstery
SERVICES

Leather Upholstery Distribution, Customisation, and Installation

WEBSITE
http://mactrim.com/home-furnishing/
ADDRESS
10 Kaki Bukit Road 1
KB Industrial Building #01-36
Singapore 416175
CONTACT DETAILS
Tel: +65 6841 3066
Fax: +65 6844 5133
[email protected]
OPERATING HOURS
N/A
Mactrim is Singapore's #1 leather seat manufacturer for various industries, from automotive to aerospace and marine industries. Besides offering high quality products at an affordable price, they also provide customisation and installation services.
Home furnishing is one of the industries they're focused on. To continue delivering items of excellent quality, they work with various expert architects and interior designers to create furniture. With their high standards and innovation, you can rest assured that they will be able to create furniture that is well-suited to your tastes.
Macrim values their customer relationships– they treat their customers with the highest priority. If you ever have any upholstery needs, make sure to leave it in their capable hands.
Highlights
Affordable Prices
Product Warranty
Customisation Options
Customer Reviews
Here's what clients have to say about the services of Mactrim:
"Did a fabric upholstery instead of the norm leather one. Supplied my own fabric cover but met with a gd deal for the service at Mactrim. Will recommend to others." 
"Change my car seat for $800. They also retail upholstery care product for their seats, gd service."
12.  Toh Ping Sofa & Construction
BEST FOR 
Customised Furniture
SERVICES
Home goods, furniture store, furniture construction
WEBSITE
https://www.tohpingsofa.com
ADDRESS
35 Kaki Bukit Industrial Terrace, Singapore 416115
CONTACT DETAILS

Email: [email protected]

Phone: 6744 2172/ 6744 0850

Fax: 6743 4828/ 6747 8508

OPERATING HOURS

Monday-Friday: 8:30am – 5:30pm

Saturday: 8:30am – 12:30pm
Toh Ping Sofa & Construction provides manufactured and customised sofas for their customers. They're dedicated to creating only the best quality products each and every time.
Their team of designers and engineers are skilled in their craft. Any sofa they make or modify is sure to come out excellently.
As a company that's patron to big brands and hotels, there's no doubt that they're on another level when it comes to sofas. If you decide to purchase one of their items, you're guaranteed to receive something that's one-of-a-kind.
Highlights
Top quality work
Custom-made sofas
Talented designers and engineers
1 year warranty on all products
And that's our list of services providing the best upholstery in Singapore! Have you already decided which store you'd like to visit? If so, then let us know why you picked their services.
By the way, we have a number of other handyman and home decor service lists you might want to check out too. For instance, if you've just received your custom-made blinds and you're not sure how to install them, this list of companies doing the best blind installations in Singapore might help you.