The Top 4 Trading Apps in Singapore
Gone are the days of relying on actual brokers to buy and trade stocks. These days, you can do it yourself with just a few clicks, a decent WiFi connection, and trading knowledge.
Today, we're listing down the best trading apps in Singapore for beginners and seasoned traders. We've reviewed their commission fees, interface, customer service, and other things you should know.
So if you're ready, let's dive right into it!
What are the fees involved in using trading apps?
In the traditional sense, traders pay fees to brokers for a variety of services, whether it's buying and selling stocks or asset management. The same idea applies to using trading apps—you pay a commission fee every time you make a trade.
Apart from commission fees, online trading platforms or apps also charge other fees such as platform fees, maintenance fees, and other applicable fees depending on your transaction. 
This varies per trading platform, so it's important to check the corresponding fees of your chosen platform before making a trade. 
For our picks, we noted the commission fees you can expect when using their platform. To get the full details of their fees, visit their respective websites linked below. 
Trading Platform
Commission Fees
Tiger Brokers
From $0.005/share (US stocks)

From 0.03% (HK stocks)

From 0.04% (SG stocks)

From 0.03% (China A-shares)

From 0.03% (AU stocks)

Moomoo
$0.0099/share (US stocks)

0.03% (HK stocks)

0.06% (SG stocks)

0.03% (China A-shares)

Interactive Brokers
No fees (US-listed stocks and ETFs)

0.08% (SG stocks)

0.08% (HK stocks)

€3 (fixed for trades up to €6,000)

Saxo Markets
0.02% to 0.06% (US stocks, varies per plan)

0.03% to 0.08% (SG stocks, varies per plan)

POEMS
$3.88 (flat fee for US-listed stocks and ETFs)

0.08% (SG stocks)

0.08% (HK stocks)
The Best Trading Apps in Singapore
Here's a quick run-through of our selection criteria:
Alright, here are our top picks of the best trading apps in Singapore!
1. Moomoo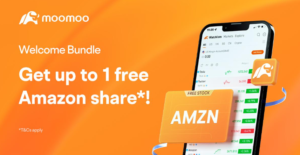 | | |
| --- | --- |
| WEBSITE | https://www.moomoo.com/sg |
| ADDRESS | 1 Raffles Quay North Tower #39-02, Singapore 048583 |
| CONTACT DETAILS | +65 6439 1100 |
| OPERATING HOURS | Monday – Friday, 9:00 AM – 6 PM |
If you're looking for a trading tool that has access to a wide array of investment choices, don't fret because Moomoo checks out all of those, with tons of additional features.
Moomoo got your back in everything involving trades; it is one of the most secure and trusted trading platforms, being a subsidiary of NASDAQ: FUTU.
It is also a licensed broker-dealer and custodian by the Monetary Authority of Singapore with license no. CMS101000. Moomoo is now one of the twelve SGX members with full memberships among other 79 members, which is also the first digital broker to receive it.
The Moomoo app has low commission rates due to their full-online business model, and it has a free level 2 market that gives access to real-time bids. With over 18 million users worldwide, Moomoo informs us with 24/7 financial news so that you can stay informed in all the detailed analysis of stock price fluctuations.
Great Customer Support
Various charts and indicators for trading
7/24 authorized news
Trusted and Secure
Customer support may be hard to reach during weekends
Customer Reviews
Excellent Customer Service
"Excellent customer service, I was quite surprised that they called me in person to follow up on my deposit matters. Fund deposit process has been speeding up since early March, gonna put more money into my account. I like the APP design, easy to use, very informative!" – Jensiu Yau
Easy to Use
"I find the account opening extremely easy and fast approval process.  No complex form to fill as I use Singpass.  I have several trading account with other platform but I find MooMoo is rather easy to apply and user friendly. Also very easy and fast to transfer fund from my DBS account.   I have a good experience with the customer service recently.  They responded to my email enquiry promptly and extending great help.  And I get the free Apple share plus cash voucher :)" – Yee Loy Pang
2. Interactive Brokers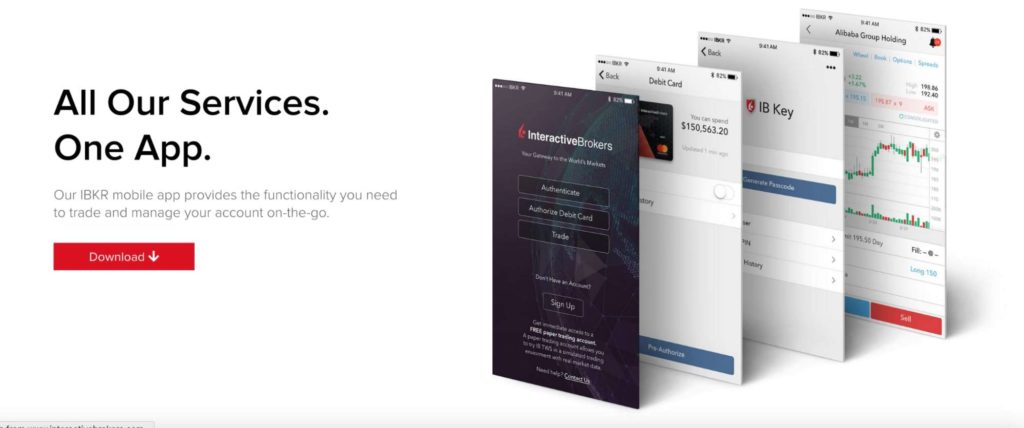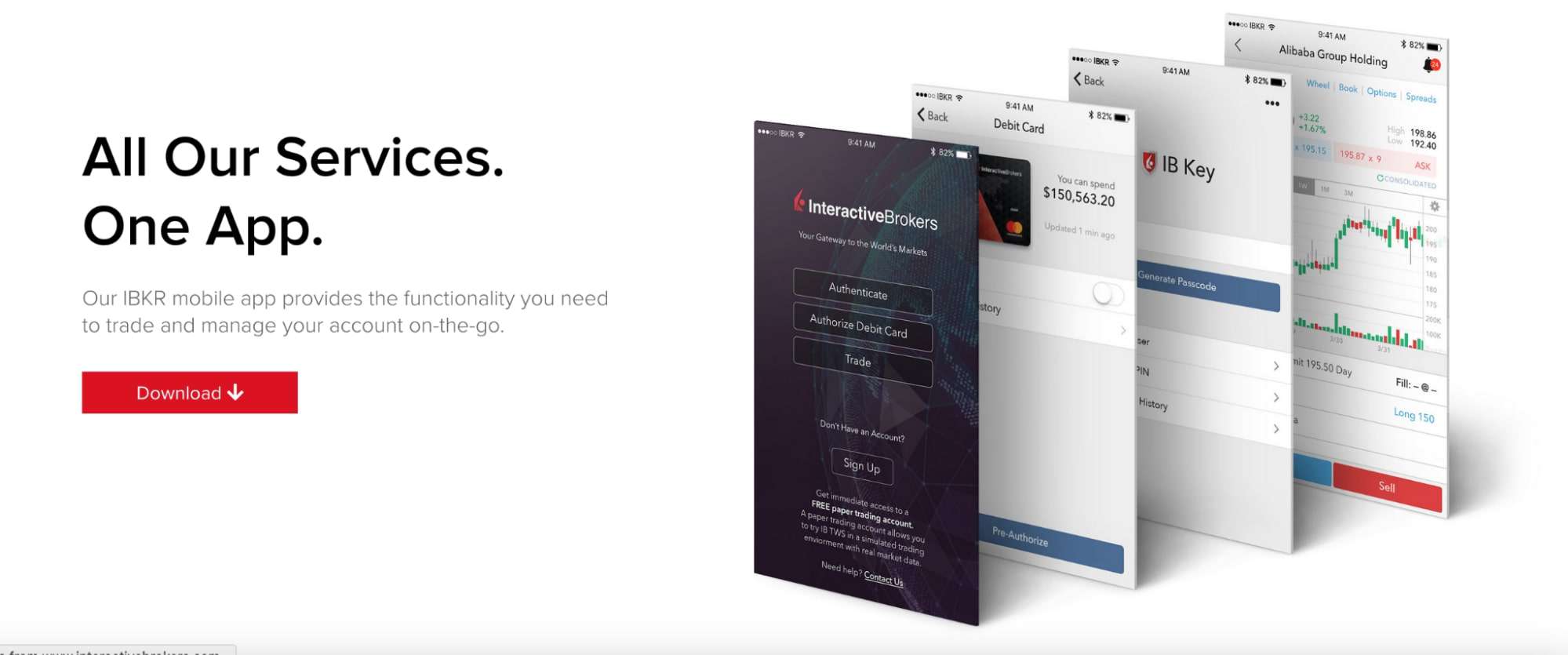 | Title | Info |
| --- | --- |
| FEATURES | Trade stocks, options, futures, currencies, bonds, gold, cryptocurrencies, advanced quotes and research, analysis tools, etc |
| WEBSITE | https://www.interactivebrokers.com/en/trading/tws-mobile.php |
| ADDRESS | #40-02A, Asia Square Tower 1, 8 Marina View, Singapore 018960 |
| CONTACT DETAILS | 800-101-3456 |
| OPERATING HOURS | Mon to Fri: 8:00 am – 5:00 pm |
Interactive Brokers earns a spot here primarily because of their extensive range of markets. Apart from stocks, you also have the option of trading or investing in US spot gold, cryptocurrencies, bonds, and more. 
Off the bat, we can see that Interactive Brokers isn't really for beginners, but rather for more seasoned traders. One indication of this is their interface, seeing that they have all these features that make it difficult for beginners to understand and use. 
The app can also be quite unstable, especially when the market is volatile. Furthermore, you'll have to pay extra if you want to access real-time stock quotes, much to the dismay of frequent traders. 
Overall, it takes some time to get used to the platform, but it shouldn't be much of a problem considering that you can customise your layout. 
We do like how flexible their features are in trading and funding trades though. Here, you can fund your account using any one of 24 currencies, and trade any product in a different currency. 
We also like the fact that there are zero commissions on US stock trading—no minimum and maximum amounts. Otherwise, fixed rates apply for non-US listed stocks and ETFs, which are still considerably low. 
As far as customer support is concerned, it can also be a bit inconsistent. Queues are either short or long, depending on the day.
Wide market range
Customisable layout
No commissions on US stock trading
Relatively low commission fees
Available in web and mobile platforms (Apple and Android)
Interface not beginner-friendly
App can be unstable
Customer support can be slow
Customer Reviews
Commission rates are the most transparent
"It's one of the few brokerage that allows one to access all markets in the whole world – EG: TD only offers US, some of the other brokerages also only offers a small subset of the world's exchanges. The commission rates are the most transparent and low if one were to consider all sorts of hidden fees that other brokerages like to add – FX Spreads, custodian fee, dividend handling fee, corporate action fee, etc. Mobile app's UI is good. TWS has a steep learning curve, but is the most versatile, allowing one to customise the UI to one's own requirements." —Sean, Seedly
Commission is super cheap
"Main selling point is that the commission is super cheap. The platform fee of $10/month may seem a lot at first but if your portfolio is >100k USD or if you're under 26 years old the platform fee becomes $3/month. The platform fee can also be covered by trading commissions, so the more trades you make a month, the platform fee to be paid for that month will be reduced accordingly." —Ang Yong Ming, Seedly
3. Saxo Markets
Title
Info
FEATURES
Curated stock lists, gainers and losers, and trending investment themes, stocks, mutual funds, ETFs, bonds, managed portfolios, performance analysis
WEBSITE
https://www.home.saxo/en-sg/platforms/overview
ADDRESS
3 Church St, #30-00 Samsung Hub, Singapore
CONTACT DETAILS
+65 6303 7800 |

[email protected]

OPERATING HOURS
Contact for more information
If there's one thing that makes Saxo Markets stand out from the rest, it's flexibility. Saxo Markets has different types of trading platforms to cater different experience levels, from beginners to experienced traders.
For instance, SaxoInvestor is the one to choose if you want a straightforward investment platform that provides you a quick way of managing your trades and other common investment products. 
The app, available in the App Store and Google Play, has everything beginners need to trade and keep track of their stocks, ETFs, mutual funds, and bonds—no complicated features to worry about. There are also a bunch of educational tools perfect for novices.
Meanwhile, more experienced traders will benefit more from SaxoTraderPRO or SaxoTraderGO, both of which contain more advanced tools like CFD trading and options.
All things considered, we can say that their platforms are pretty easy to use, relative to the user's knowledge and skill level, of course.
When it comes to pricing, commission fees will be adjusted depending on the plan you choose. While there's a free plan available, it's a shame to see that commission fees can be quite high.
For example, commission fees for US stocks are fixed at $3 under the free plan. Meanwhile, the "diamond" plan has fixed commission fees for US stocks at $0.65. 
Customer support features will also depend on the plan you choose. For instance, "platinum" and "diamond" plan users will get priority phone support while those with lower tier plans have to rely on regular digital support. 
Wide market range
Several platforms available for different skill levels
Available in web and mobile platforms (Apple and Android)
Easy to use platform
Relatively fast customer assistance 
High commission fees under free plan
Limited features under free plan 
Customer Reviews
Highly recommended for new and experienced investors
"One of the most intuitive and user friendly platforms out there in the market. Offers a wide range of asset classes across global markets – perfect for the multi asset long-term investor. Margin calculations can be easily understood from the interface. Performance analysis is also very useful to understand the return drivers of your portfolio better. Highly recommended for both new and experienced investors! However, for a basic account user, there is no 24/7 chat available although all of your queries can be addressed via a ticket system and usually takes a few working days to be resolved. The customer support gets better for platinum accounts and above." —Asyraf Salman, Google Reviews
No issues whatsoever with transfer of funds
"I've been using Saxo for approx 6 months. Very happy with the app & overall UI experience with the platform. Excellent customer service via phone: no wait time & v prompt follow up. Ticket response time could be improved. Fees vs local bank platforms is one of the reasons i'm happy with Saxo. No issues whatsoever with transfer of funds. Overall, would highly recommend." —Charlie Reiser, Google Reviews
4. POEMS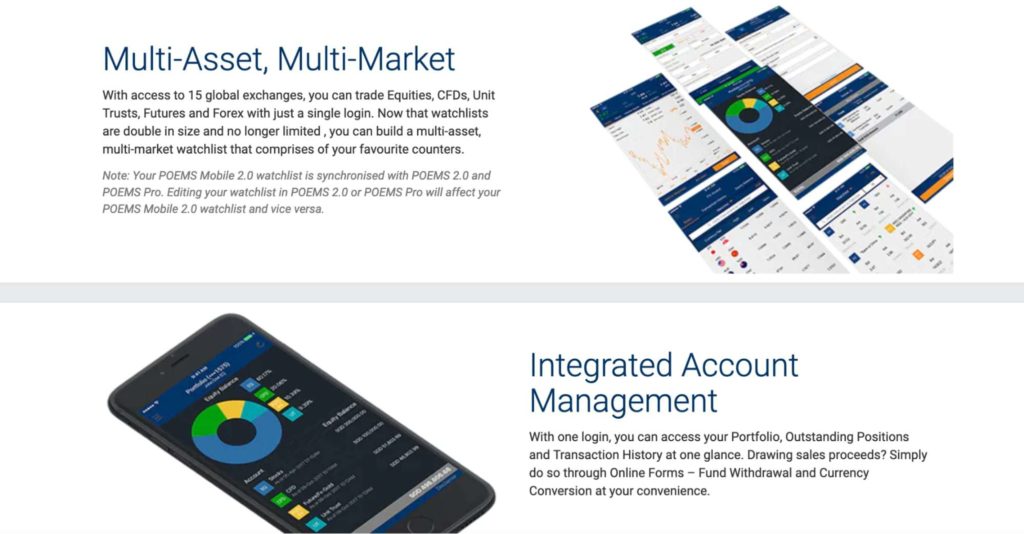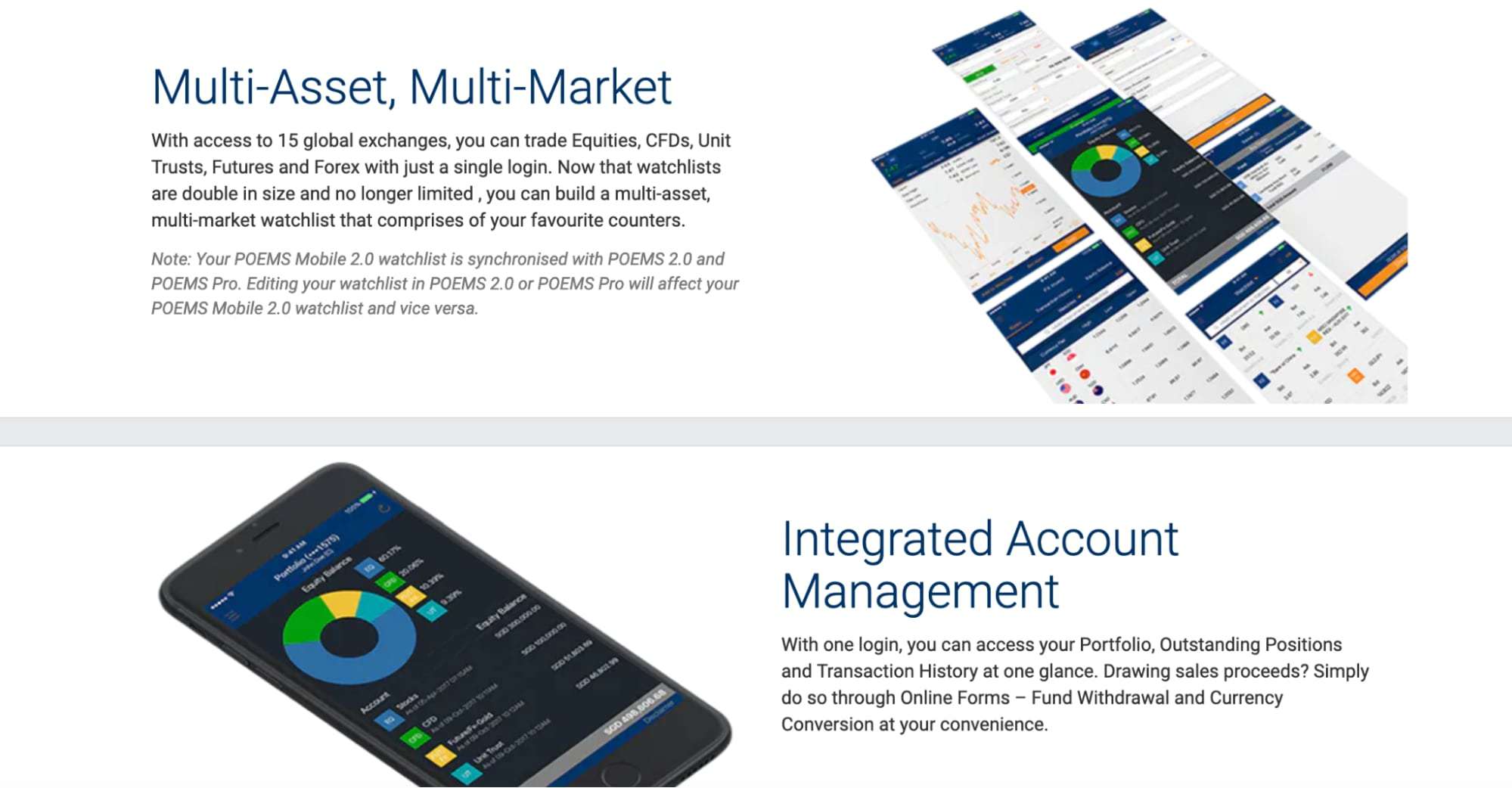 Title
Info
FEATURES
Stocks & shares, ETFS, unit trust, bonds, excess funds management, managed account services, securities advisory service, Phillip smart portfolio, money market fund, regular savings plan, supplementary retirement scheme (SRS), gold, etc.
WEBSITE
https://www.poems.com.sg/
ADDRESS
Nearest location available here
CONTACT DETAILS
+65 6531 1555 |

[email protected]

OPERATING HOURS
Mon to Fri: 8:45 am – 12:00 am
POEMS is a homegrown company offering a suite of trading platforms. Just like with our previous entry, you can choose among different trading platforms depending on your skill level and needs.
For instance, POEMS 2.0 is their flagship platform with access to over 40,000 products across 26 exchanges worldwide including stocks, ETFs, gold, futures, and much more. We found that it's equipped with all the basic features that beginners need to manage their accounts.
Both web and mobile platforms are fairly simple to use. We also like how helpful some features are such as "live order notifications," which get you customisable, real-time updates for your orders. 
There are also other specialised platforms for professional traders and active traders. For example, Phillip FXTrader gets you access to multibank quotes with one click. 
On the other hand, POEMS Pro allows you to fully customise your workspace according to your needs. It works best for seasoned traders as it supports multi-screens and other risk management features. 
We also heard that customer service is generally fast in answering queries, whether it's through email or phone calls. 
While they don't really have the lowest commission fees around, we found them to be generally reasonable. It's a bummer to see them charge a holding fee for inactive users, so make sure to take that into account as well. 
Wide market range
Several platforms available for different skill levels
Available in web and mobile platforms (Apple and Android)
Relatively fast customer assistance 
Easy to use platform
Relatively high commission fees
Holding fee applies for inactive users
Customer Reviews
Happy with my trading experience
"Have been using Poems ever since I started trading 🙂 happy with my trading experience thus far, hence no wish to change to other platforms. Customer support provides accurate information, and refers us to our brokers when they are unable to provide exact details pertaining to our accounts." —Abundance Rebecca Chiang, Seedly
Transfer of funds is also very friendly
"Personally, I like the cash plus account when I trade Singapore shares. For US shares, it's also competitive to other bromate films. The transfer of funds is also very friendly. Last but not least, these are not possible with support from my best broker Mr Tan Pheng Hong (AL9)." —Kian Chong Lim, Seedly
FAQs about Trading Apps
More Resources about Investment in Singapore