10 Best Standing Desks in Singapore for your Home
Have you been enduring back pains and other body aches due to long hours of sitting at your desk and finishing rush deadlines? If you have, then it's time to switch your conventional setup out for the best standing desk in Singapore!
Even if you have coffee breaks and occasional stretching, you'll still spend several hours a day sitting at your workspace — this is why standing desks in Singapore have become more in demand for many professionals, especially for those who mostly work from home.
It brings essential health benefits such as improved posture, the ability to burn more calories, and an instant exercise routine. But you'll learn all about that as we go through our buying guide and picks for the best desks!
Things to Keep in Mind When Buying Standing Desk
First things first: buying the best standing desk in Singapore can be difficult because there are a lot of options. Some are better for certain situations than others too!
That's why it's extremely important to know which factors you must take into consideration to find the right one for you.
Whether it's your first time to buy one or you've failed to choose the right one before, here are some of the features that you need to keep in mind so you can have a desk that fits your needs and preferences.
1. Height Range
If you're searching for standing desks in Singapore that you can use as an add-on (which means that you'll place it on top of your own desk), then you need to consider its height range. If the combined height is too tall or short for you, then you need to explore other options.
2. Weight Capacity
As you continue to use your desk for extensive hours, you need to make sure that it'll not give in to the pressure that you're likely to mount on it. If the structure has a limited or small weight capacity, then it might not be able to last long and you might even end up getting hurt.
Check both the weight of your laptop/desktop and the standing desk. See if the maximum weight of the desk can hold your devices.
3. Adjustability
The flexible setting is what makes a standing desk highly functional. Most features must be adjustable so you can have a setup that suits your needs.
It'd be better to choose one that you can adjust to make it a sitting/standing desk, especially if you get tired easily. If it's going to be used by different people, then it must be able to accommodate a range of heights.
4. Material
When it comes to the best standing desks in Singapore, metal or sustainable wood are the best options. These materials are durable, sturdy, and can withstand heavy-duty use.
Desks that are made from cheap plastic have a shorter lifespan so they may not be worthy purchases for everyone.
5. Easy-to-assemble and Ergonomic Design
Standing desk installation processes vary. Some require a simple assembly while others need a complex mounting.
It'd be better to have a desk that doesn't take too much time and energy to assemble, so check installation processes before buying.
6. Workspace
Last but not least, you also need to determine if your chosen desk fits within your workspace. So before you go on a shopping spree, take the measurements of your workspace first so you can compare it later on.
Most importantly, if you're going to use your desktop, there's a need for more space for the wires, so make sure that the area is spacious enough for your needs.
Best Standing Desks in Singapore
Now that you know all the factors that you need to consider, take a look at our selected best standing desks in Singapore!
We've rounded up the top picks on the market and each one of them serves fine quality and impressive functionality, offered at economic prices!
1.  Omnidesk Pro 2020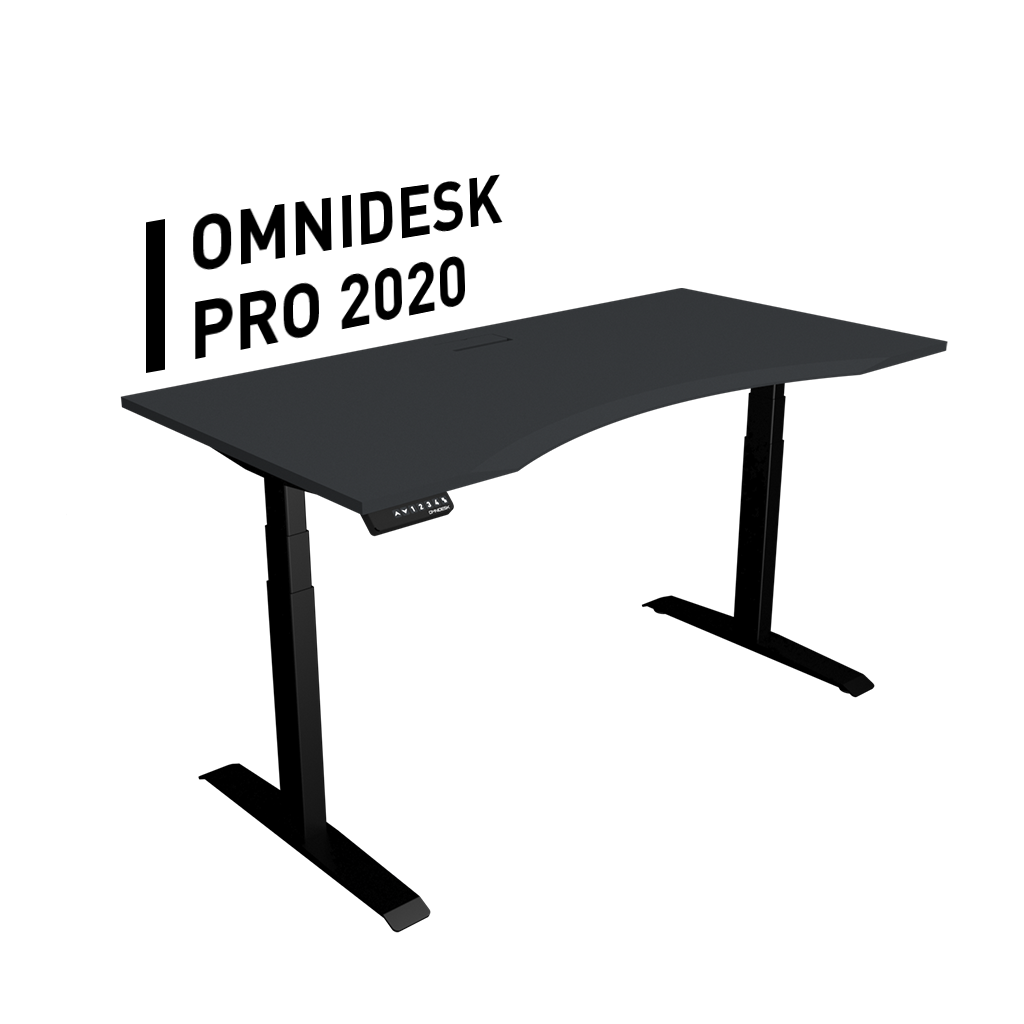 Price: $760
Shop Now on Omnidesk Pro 2020 
First created in 2018, the Omnidesk Pro is reinvented in 2020, after two years, as truly the icon you should be considering. From its spectacular specs before, it's now even more better, and less pricier.
The omnidesk Pro 2020 is a flagship electric standing desk that is fully customizable, from stand, to size, and even the type of material and accessories. You can choose between a white or a black base, both still offers an elegant and sleek look.
The desktop itself has three options, the Signature Straight Edge, the Signature Ergo Curve, and the Eco Bamboo Ergo Curve.
They want you to have full control of your necessity and comfort. HEad on to the website to check out more details and personalize your very own desk, which starts at only $760!
If you want an adjustable table in Singapore that can easily be adjusted to your height and preference, this one's for you.
Highlights
5-year warranty
48" to 72" desktop size
Can add additional accessories and specs
Fully customizable
Black or White Colour
Customer Reviews
Customers have given nothing but good reviews for the Omnidesk Pro 2020. They say it has a good value for money and is definitely worth the purchase. Here's one feedback from the site:
"I chose Omnipro desk based on recommendation from a friend. So far been using it for close to a month and I would say it's fantastic." – Jimmy K.
2.  ErgoEdge EverDesk+ Lite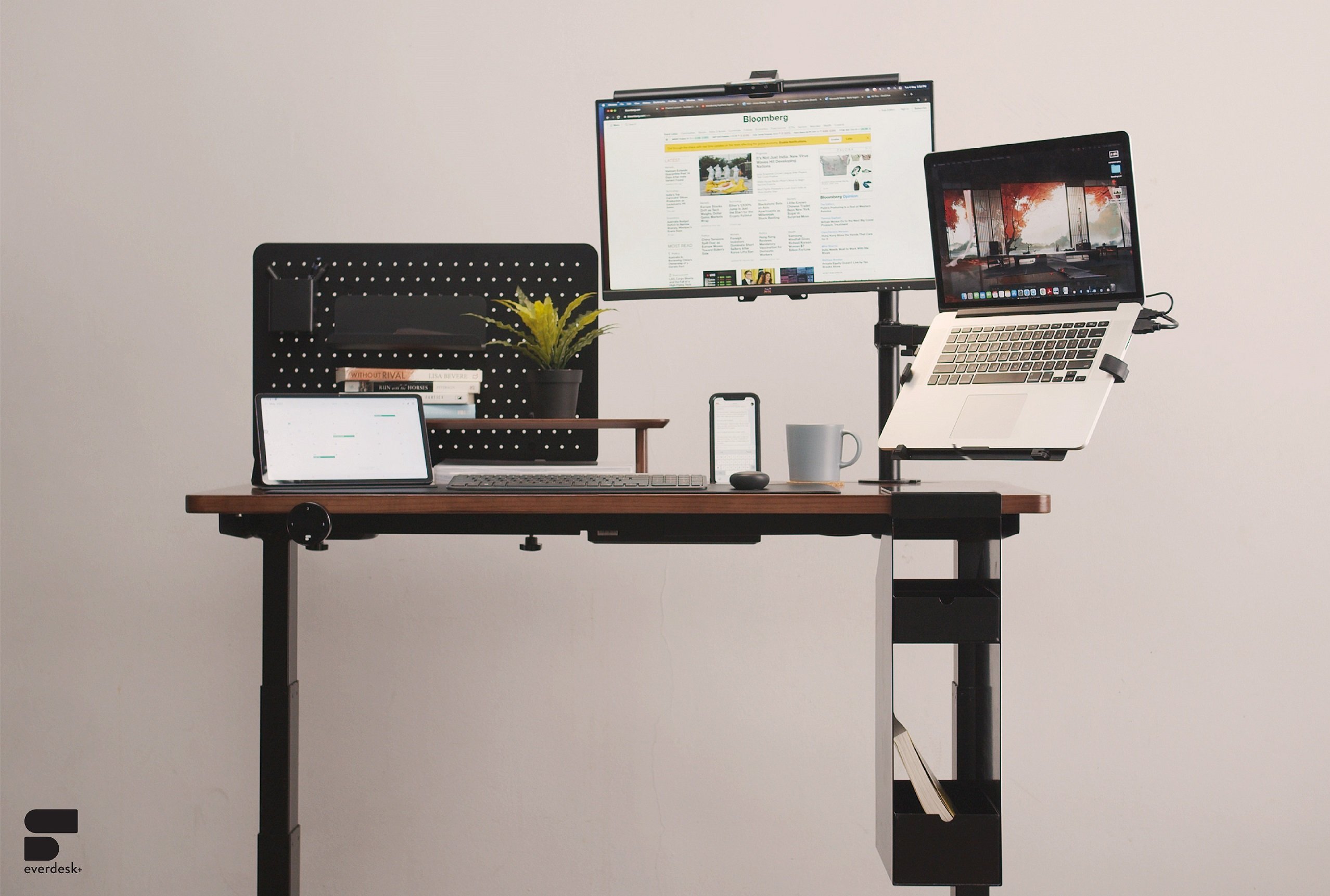 Price: from $599
The EverDesk+, Ergo Edge's most recent creation, features customizability in several ways. For one, it comes in three different sizes,  120cm x 60cm, 140cm x 65cm, 160cm x 70cm.
Next, the EverDesk+ surface can be made either by classic engineered wood or natural wood. 
Third, the EverDesk+ comes in six different top finishes, namely Lily White, White Oak, Dark Walnut, Onyx Black for the classic ones and Aged Dark Walnut and Raw Ashen Oak for the natural wood tops.
Lastly, it has several pockets and structures that you can use for just about anything. Whether you need a place to hide ugly wirings or hold your tablet, the EverDesk+ has a nook for such needs.
Aside from these customisable features, we also like that the EverDesk+ is easy to assemble. Despite this, Ergo Edge still does installations upon request.
The EverDesk+ also has a T-shape structure, making it stable and wobble-free at all times and at any height. To add to this, EverDesk+ adjustment height noises that are below 65 dB.
What's more, it also comes with an unbeatable 10-year warranty with a chance for an extended 4-year warranty for an additional $150.
Overall if you want the best standing desk in Singapore that can aesthetically fit in your living space, this is for you.
Highlights
Can support up to 70kg
3 different surface sizes
Nooks for wirings, tablets, phones, and accessories
Silent and wobble-free at all heights
Up to 10 years warranty
Customer Reviews
Here are some praises for the EverDesk+ from its customers:
"I was looking for a regular height adjustable desk and stumbled upon EverDesk+. Was very impressed by the attention to detail and how customisable it is! Went for the Lite frame version as it is more suited to my needs. Was pleasantly surprised that it was still within my budget after adding all the accessories I wanted! Great value for money. Sales staff were also very proactive and patient. Would come back again for more accessories!"-Sofia N.
"Love the number of options available for this standing desk. Initially decided against getting one since it couldn't be moved. But it can also come with a set of wheels. Hooray for me, makes things much easier when moving about in the room.Not to mention cleaning."-Daniel L.
3.  takeAseat Ergonomic Laptop Desk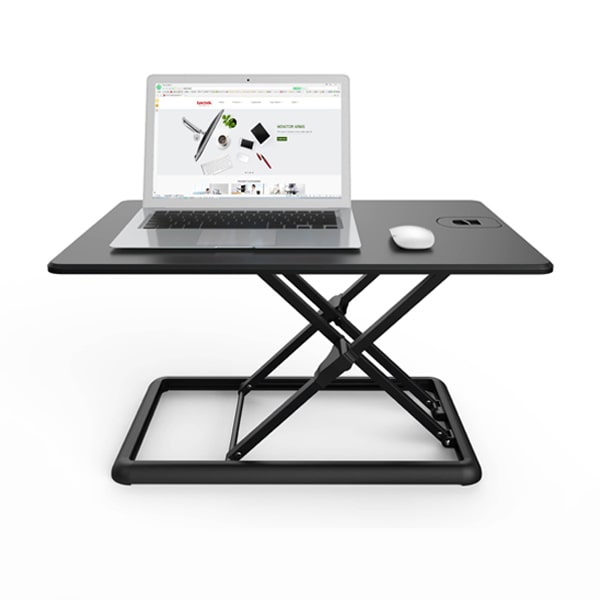 Price: $158.00
If you're looking in particular for a sit stand desk in Singapore that you can use for your laptop, the takeAseat Ergonomic Laptop Desk is a great choice for you. It's slim and portable so you can easily set it up at the top of your own desk and it doesn't take too much space when you store it.
It's perfect for office use since it has a total of 5 different height settings for absolute flexibility. To adjust the height, you may simply choose between the preset heights and push the button.
Highlights
40 cm to 4 cm height
8kg weight capacity
Ultra-slim design
5 preset adjustable height levels
Safety lock
Surface dimension 66cm (length) x 47cm (depth)
Customer Reviews
The takeAseat Ergonomic Laptop Desk has become the best standing desk in Singapore for many professionals because of its portability and simplicity. They also complimented the easy-to-use adjustment button.
Here's a review from a customer:
"I love it! It's easy to use. Convenient to carry. Not too expensive. Good for my back."
4.  Solos Advanced Standing Desk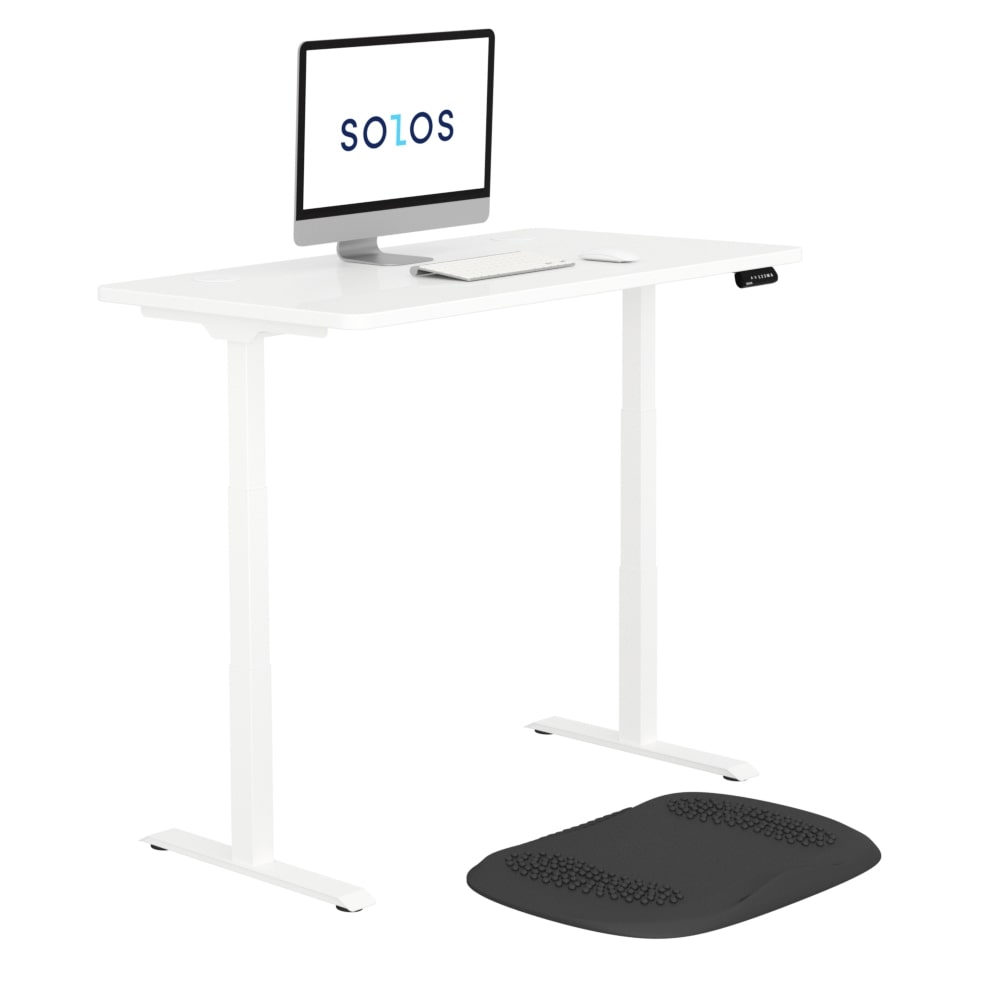 Price: $888.00
The Solos Advanced Standing Desk in Singapore features modern technology with its dual turbo motors, with which you can instantly and smoothly adjust its height in no time. It provides a powerful lift system with a big height range.
The best thing about it is that it has a smart controller where you can charge your devices and set up your own custom heights. You can even set an alarm so you'd never forget to take a break from work.
It's also built with high-quality steel frame and wooden surface board for strong and solid stability.
Highlights
Signature control features
Anti-collision system
8 to 48.4 inch height range
125 kg weight capacity
Easy to assemble
55″ x 27″ surface area
Customer Reviews
Customers said that they were fully satisfied with the fast and smooth operation of the Solos Advanced Standing Desk. They were also delighted with the customisable settings that are rarely found on most desks.
A customer gave this feedback:
"I bought it for my husband, I don't want him to sit on it all day long , this works perfect as I expect. And he loves it so much,"
5.   VariDesk Pro Plus 36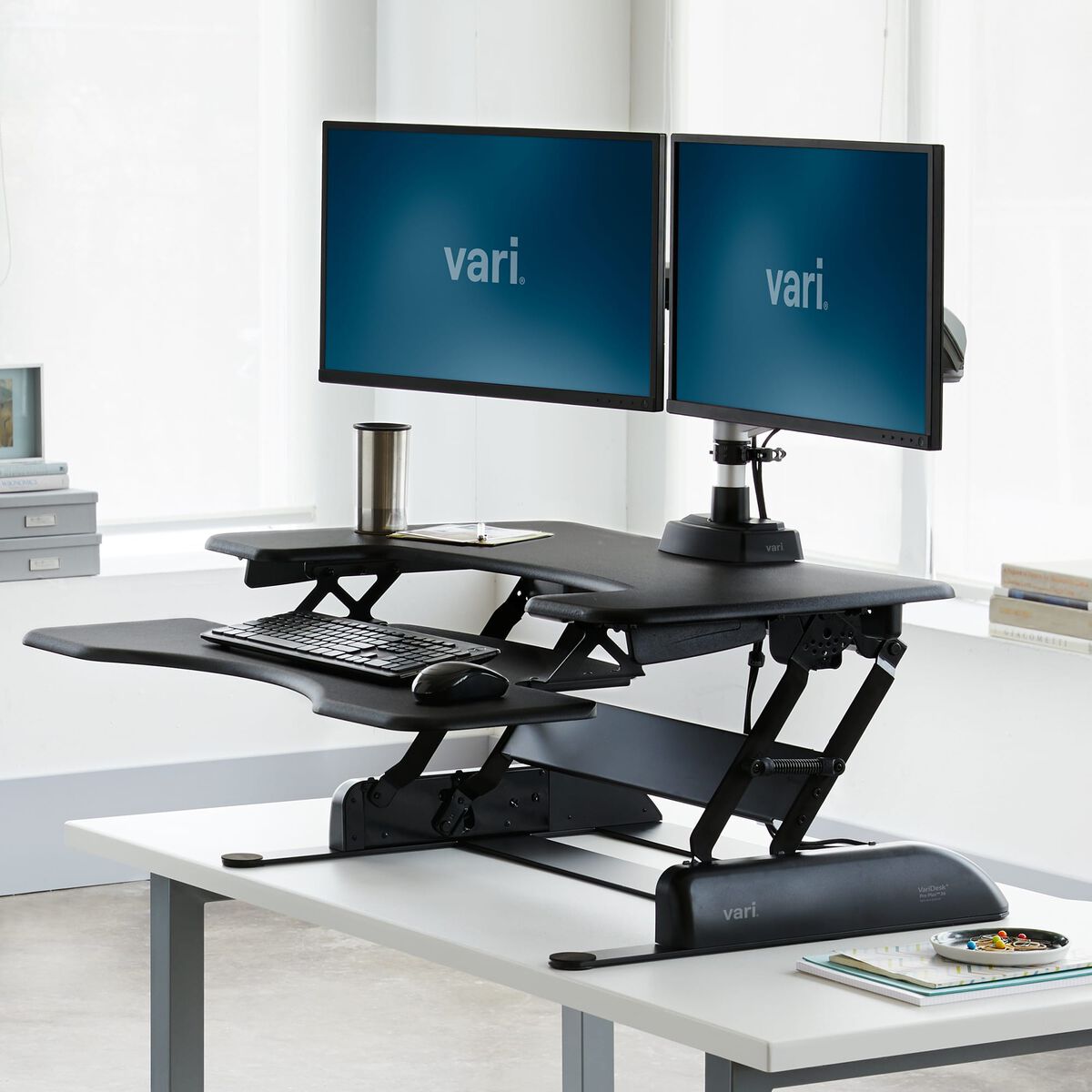 Price: $899.00
If you want a sit stand desk in Singapore that can be used for both the home and office, you may need this one. With the VariDesk Pro Plus 36, you can skip the assembly and get it pre-assembled for convenience. It's designed with a heavy-duty base and thick steel frame that can carry two monitors and it also has a scratch-resistant 3D laminate finish.
This best standing desk in Singapore features a rowing and dual handle lift operation to reduce impact on the back when you're raising the desk. It also has a number of height settings so you can easily find which height fits you the most.
Highlights
36″ x 25.75" surface dimensions
5″ maximum height
35lb weight capacity
Dual handle design
Reduce pinch point risks
Customer Reviews
The VariDesk Pro Plus 36 has received a lot of positive reviews from the customers saying that the desk is comfortable and easy to use. They also mentioned the large surface that allows them to do multiple tasks at the same time.
Here's a feedback from a customer:
"Fully assembled and ready to go. Lifts up and down with ease and locks easily. Gives me twice as much space because so many items can go on the varidesk itself in a neat compact way. Comfortable to work at and looks great. I couldn't be happier with this purchase!"
6.   Standing Desk Converter With Height Adjustable Keyboard & Counterbalance Monitor Arm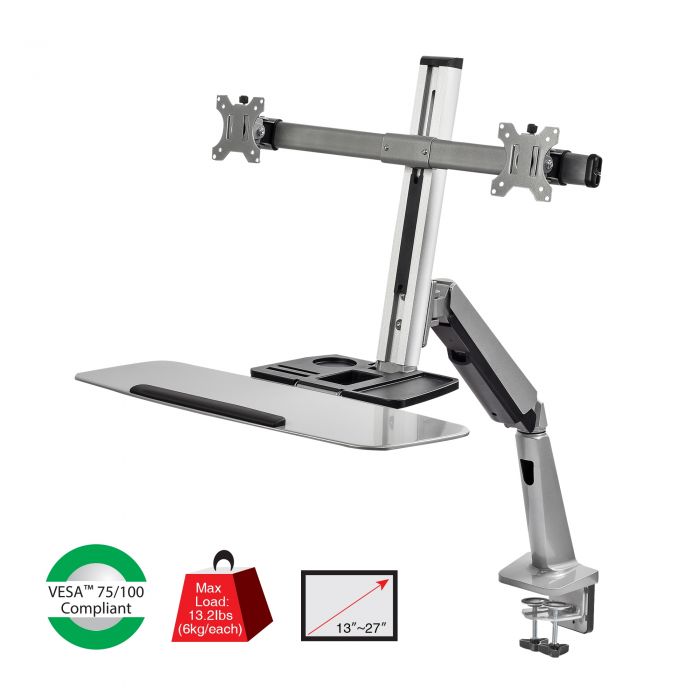 Price: $299.99
Working in an uncomfortable position for a long time, will surely make our muscles sore and aching up until tomorrow, but we don't always have a choice in that matter. Fortunately, with the right equipment, you can avoid having any of these from happening.
Getting Siig's Standing Desk Converter will ease all of your worries as soon you purchase it. The entirety of this standing desk in Singapore is specially made with the customers convenience in mind, so it is suitable for each and every one of us.
With its ergonomic design, it can easily provide comfortable sitting or standing viewing positions. It also reduces neck and back pain while you work, for it is thoroughly designed with these common problems in mind.
Highlights
Supports displays from 13″ to 27″ in size with weight capacity of up to 13.2lbs (6kg) for each display
Supports 360° arm swivel
Compatible with VESA mounting patterns 75x75mm and 100x100mm
7. Altizen Pro Sit Stand Desk Converter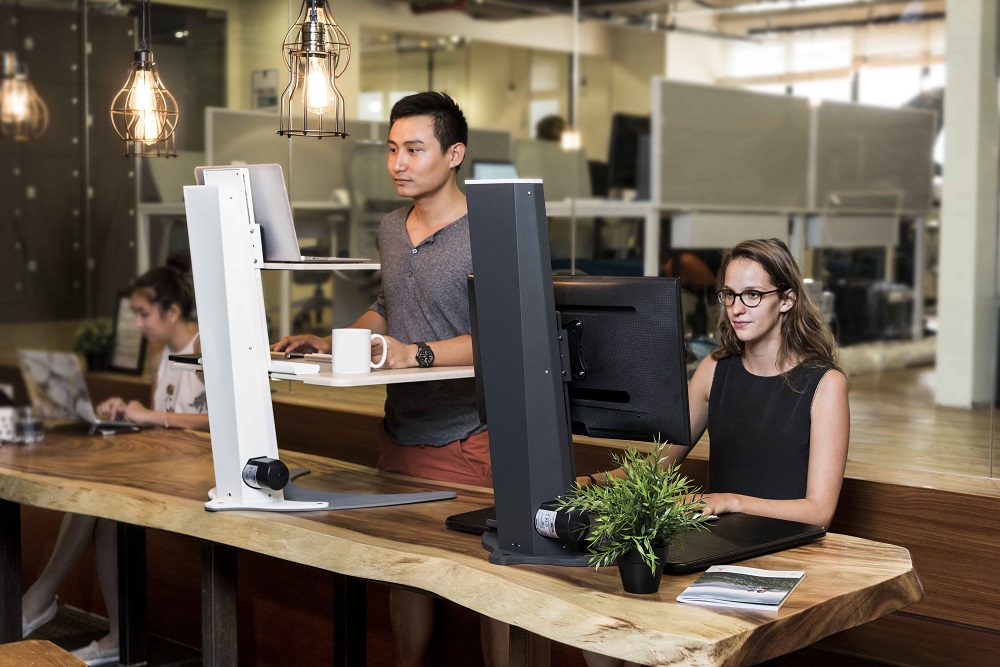 Price: $999
Altizen Pro 
Shop Now on Altizen Online Store 
Looking for a truly ergonomic standing desk in Singapore that will last you a long time? Go for Altizen Pro Smart Standing desk. Endorsed by professional physiotherapists, Altizen Pro standing desk delivers unparalleled ergonomics with cutting-edge technology.
Advanced features like real-time posture detection and app connectivity help you personalise sit-stand goals, measure calorie burn, and track progress. Think of the Pro as your personal health coach. The Pro pushes the limits of ergonomic excellence.
For those who love modern and smart design, this is the best standing desk in Singapore for you.
Highlights
One-touch elevation with memory height and near-silent motor
Travel height of 50cm, suitable for users up to 2m tall
Easily switchable between single monitor, dual monitor, and laptop
Large working area 70 x 45cm for all your work essentials
Independent and easy screen height adjustment
98° degree pillar gradient for optimised eye-screen distance
Built from laser-cut cold-rolled steel for reassuring stability and durability
App connection for sit-stand goal customisation and activity reminder
Customer Reviews
Many customers and companies choose Altizen and recommend Altizen to their peers because of its superior quality, ease of use, flexibility and prompt support. While rock-solid stable, Altizen is also light enough to be moved by a single person. You can easily move it from desk to desk or between offices. Altizen also comes with modular mounts for single, dual monitors and even laptops, so you don't have to buy a whole new converter each time you change your set up.
Here are some of the feedbacks:
"It's firmly constructed or strongly made. The support quite responsive and helpful :)"
"We have compared several similar workstations and have decided to go with Altizen. The product itself is very sturdy and easy to use. Their sales team was able to customise the setup which fits perfectly for our daily workflow. Installation and after-sales support are a breeze. As now we get more standing time, this contributes a lot to our creative thinking which is vital to our field of work."
8. Altizen Active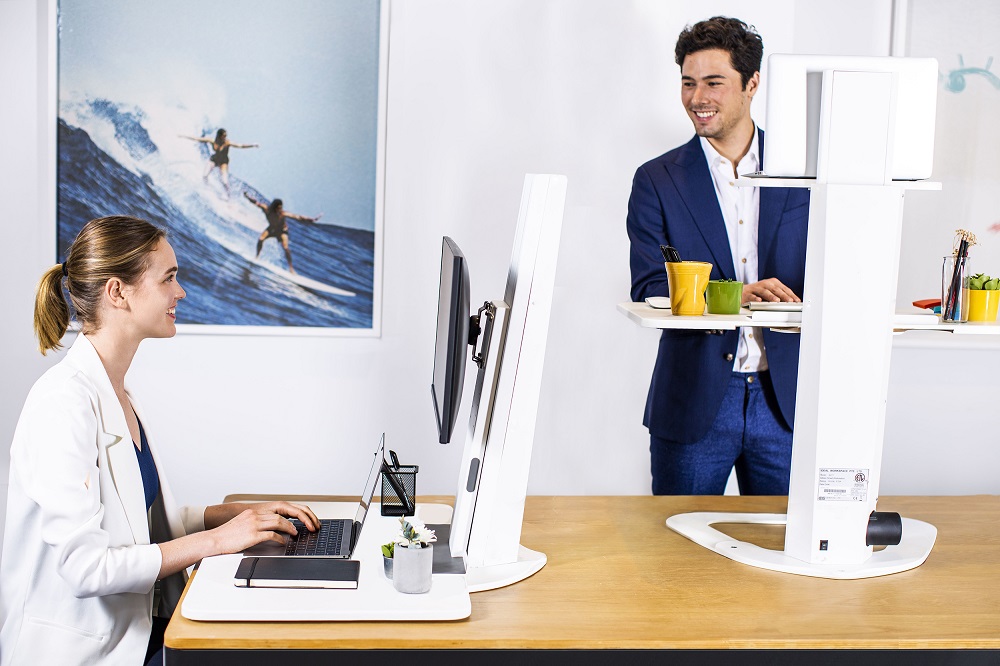 Shop Now on Altizen Online Store 
Altizen Active is similar to the Altizen Pro in terms of quality and functionality, except that it does not come with the smart app connection and is, therefore, more economically priced.
Designed and engineered locally, Altizen Active is one of the best standing desk in Singapore with exceptional build quality and is extremely easy to use and install.
Highlights
Silent motor with 2 memory heights
Travel height of 44.5cm (suits even a 1.9m tall user)
Easily switchable between single monitor, dual monitor and laptop
Generously sized 80 x 48 cm workspace for all your work tools
Independent monitor height adjustments with 11 customisable heights
98° degree pillar gradient for optimised eye-screen distance
6mm radius work surface for all-day comfort
Wireless handset for ultimate ease of use
Customer Reviews
Clients like that Altizen Active could blend functionality and elegance very well. And they also rave about the responsiveness of their customer support team.
Check out what other clients say:
"Fabulous & functional! Altizen is stylish, fit for purpose & works exactly as described. Being a freestanding desktop unit, the set up fits each different desk style & arrangement we have in our office. Yuqi & the team provide excellent customer support & service. Arrange your free trial today!"
"Great desk, I've used it because it's a portable one so I can bring it with me when I change job etc so it's great 🙂 and very good service too they let me trial the desk first before deciding to buy it 🙂 Highly recommend it to anyone"
9. Fitfit Health Electric Standing Desk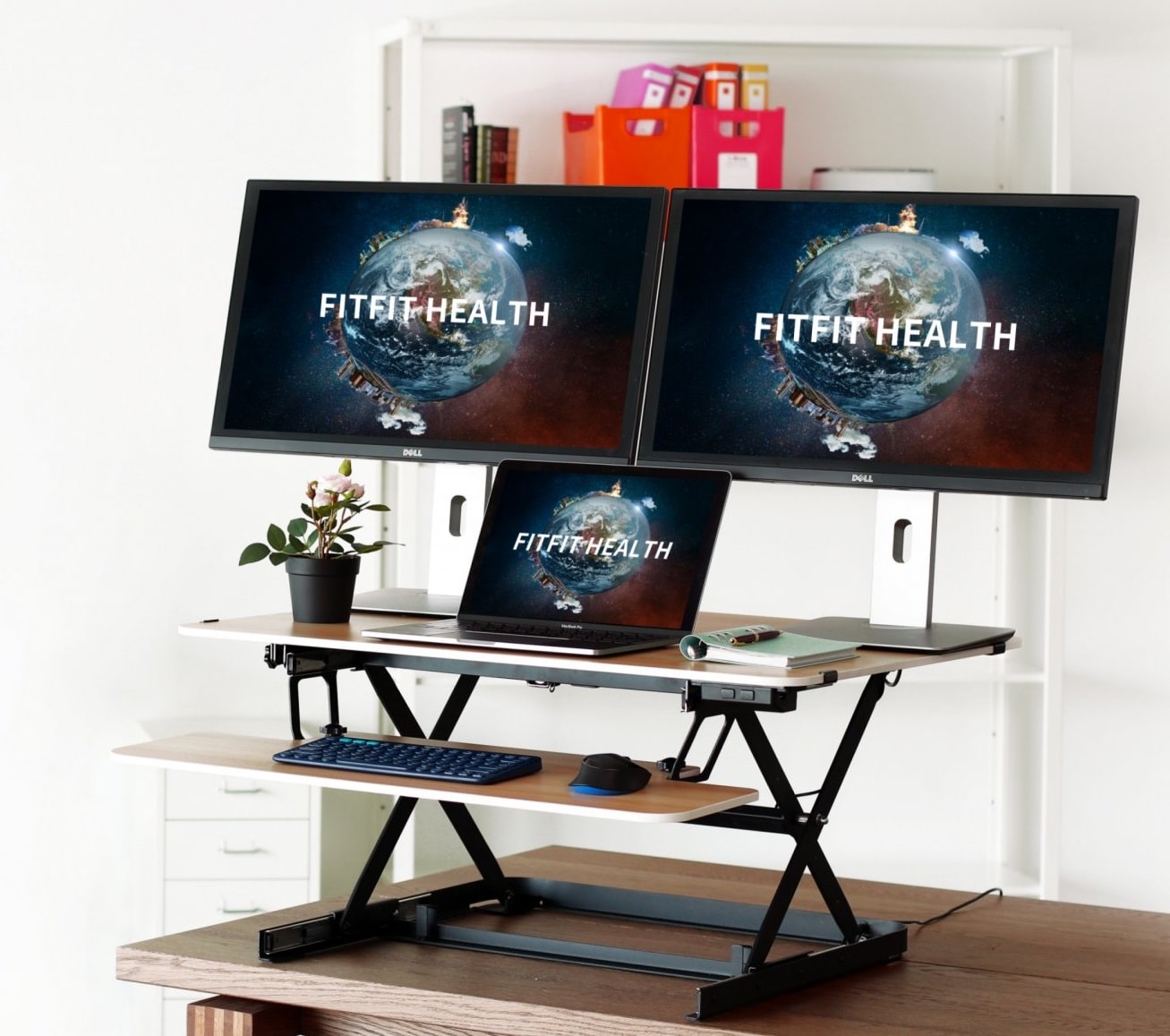 Price: $368.00
The Fitfit Health Electric Standing Desk also offers automatic operation, letting you adjust the height with just a touch of a button. Moreover, this one can be placed on the top of your own desk, making it more convenient to use.
Unlike other standing desks in Singapore, it has a unique dual-coloured desk platform. Just by unscrewing the sides, you can flip the desk and get a classic black design.
The surface is made from quality wood and the frame and base are designed with steel material. So, rest assured that it's for long-time use.
The main surface area can fit up to two standard monitors and a single laptop. It's the best standing desk in Singapore for multimedia editors, programmers, and professionals who need multiple screens for their work.
Highlights
80cm x 60 cm dimensions
13cm to 43 cm height range
6 kg weight capacity
Dual coloured desk platform
Removable keyboard tray
USB charging port
Customer Reviews
Most customers were impressed with the flexible features of the Fitfit Health Electric Standing Desk. They said that both colours are aesthetically pleasing and that it complements the overall workspace.
This is why many have named it the best standing desk in Singapore. A customer wrote this review:
"A very well built product and finishing is of high quality.  It is easy to set up and done in less than 10mins.  It functions per specification.  Keyboard and mouse top have fixed locations.  A good investment if you do not want to be seated for a long time.  Actually it kept me more alert standing.  A good investment for me."
10. Build Your Desks Model K2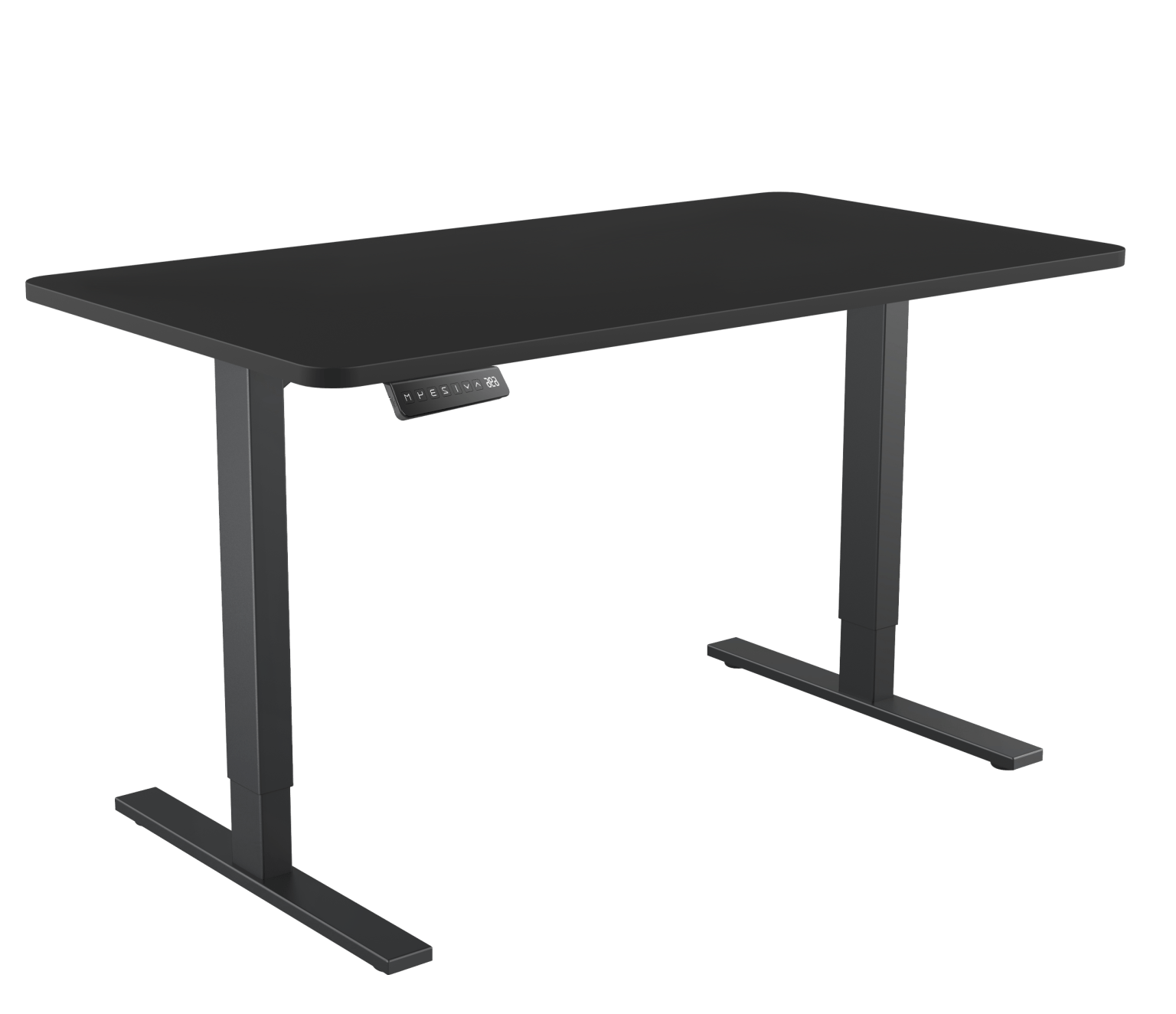 Price: $588.00
The Model K2 is a table fit for everyone. Considered as their bestseller, the standing desk has an adjustable height range with a smooth and fast speed of 4cm/s.
You can choose between different wood works and sizes for the table top, too, or opt for no table top at all!
Live up to the name and build your desk, head over to their website and customize your very own Model K2.
This is the best sit stand desk in Singapore with a minimalist design.
Highlights
Adjustable height
Fits a table top from 1m all the way up to 1.8m
Suitable for someone of height 1.4m to 1.85m
And that's our list of the best standing desks in Singapore! If you've got more suggestions in mind, feel free to share them with us!
And if you'd like to attach additional monitor support on your desk, see these best monitor stands in Singapore. With these selections, you can have more stability and even better cable management!